'STAR TREK: DISCOVERY' RENEWED FOR SEASON 4; WATCH VIDEO
10/16/20 @ 6:10 pm EST
Source:
Variety
| Categories:
Star Trek
|
Comments
(0) |
E-mail Article
|
Add a Comment
Star Trek: Discovery
has been renewed for Season 4 at CBS All Access,
Variety
reports.
News of the renewal was announced in a video featuring series stars Sonequa Martin-Green and Doug Jones as well as executive producers and co-showrunners Alex Kurtzman and Michelle Paradise. In addition, they announced that production on Season 4 will officially begin on Nov. 2.
Season 3 of
Discovery
debuted on Oct. 15. In addition to Martin-Green and Jones, the series stars Anthony Rapp, Mary Wiseman, and Wilson Cruz. Along with Kurtzman and Paradise, Heather Kadin, James Duff, Frank Siracusa, John Weber, Olatunde Osunsanmi, Rod Roddenberry, and Trevor Roth serve as executive producers. CBS Television Studios produces.
Video:
https://youtu.be/iJkvk3Y4WCg
STEPHENIE MEYER SAYS MORE BOOKS COMING IN 'TWILIGHT SAGA'
11/30/20 @ 6:49 pm EST
Source:
ComicBook
| Categories:
MIsc
|
Comments
(0) |
E-mail Article
|
Add a Comment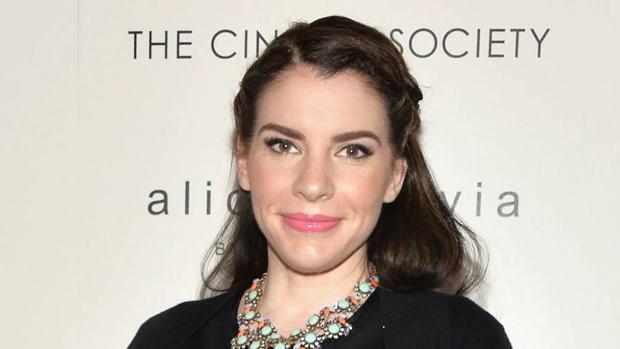 Thanks to the success of Stephenie Meyer's
Midnight Sun
, the telling of
Twilight
from Edward Cullen's perspective, there may be more books in the series on the way. Released back in August,
Midnight Sun
quickly sold more than a million copies in North America during its first week of release and during a virtual event with Books-A-Million, Meyer revealed that there are two more books in the series that she wants to write -- though it's not something she's going to be doing just yet.
Meyer explained that while there are two more books in the world of the
Twilight Saga
that she'd like to do eventually, she's focused on creating new worlds for now.
"There are two more books I think in the world that I want to write. I have got them outlined and a chapter written I think of the first one, so I know it's there. I am not ready to do that right now, I want to do something brand new," she said. "For me, a lot of the joy of writing comes from creating and I really want to do a new world and new rules and new mythology. Mythology is kind of my thing."
In
Midnight Sun
, Meyer retells the story of Edward and Bella that kicked off the saga with
Twilight
. The difference here is that it's told through Edward's eyes. The book was initially planned for release 12 years ago but was scrapped when the manuscript was leaked online. For fans,
Midnight Sun
was worth the weight, something evidenced not just by the book's massive success during its first week. The book ignited a new wave of
Twilight
mania, prompting many fans to take to social media to flip out a bit about the book and how different things are from Edward's perspective. (via
ComicBook
)
YOUR FIRST LOOK AT 'DUNE: HOUSE ATREIDES' #3
11/30/20 @ 6:37 pm EST
Source:
BOOM! Studios
| Categories:
MIsc
|
Comments
(0) |
E-mail Article
|
Add a Comment
BOOM! Studios today revealed a first look at DUNE: HOUSE ATREIDES #3, adapted & scripted by Brian Herbert and Kevin J. Anderson, who co-wrote the eponymous prequel novel based on Frank Herbert's notes and illustrated by artist Dev Pramanik (
Paradiso
), colorist Alex Guimarães (
Buffy: Every Generation
) and letterer Ed Dukeshire (
Once & Future
), in partnership with Herbert Properties LLC and in full coordination with Abrams ComicArts, who are publishing in the fall the first of three graphic novel adaptations of Herbert's original classic novel
DUNE
.
Young Duncan Idado is given an ultimatum: escape or die. Meanwhile, Leto Atreides is introduced to the hyper-advanced city of Ix where his future will be shaped in unimaginable ways. The Planetologist Pardot Kynes ventures into the plains of Dune, and makes a destiny-altering discovery. And Reverend Mother Gaius Mohiam confronts Baron Harkonnen with a proposition he can't refuse...
Created by visionary writer Frank Herbert,
Dune
debuted in 1965, has sold millions of copies and is arguably the most admired science fiction novel of all time. After winning the Hugo Award and inaugural Nebula Award,
Dune
inspired a best-selling novel series and led to multiple live-action adaptations, including the upcoming feature film from Legendary Pictures. The influence of
Dune
extends well beyond the world of entertainment, with an incalculable influence on modern scientific thinking about politics, religion, outer space, environmentalism and more.
The DUNE: HOUSE ATREIDES limited series is published in coordination with Abrams ComicArts, who will release a graphic novel trilogy adapting Frank Herbert's original novel
Dune
, with volume one coming November 24, 2020. The
Dune
graphic novels from ComicArts are also adapted and scripted by Brian Herbert and Kevin J. Anderson, and will be illustrated by Raúl Allén and Patricia Martín, and feature covers by Bill Sienkiewicz.
DUNE: HOUSE ATREIDES is the newest release from BOOM! Studios' eponymous imprint, home to critically acclaimed original series, including
Once & Future
by Kieron Gillen and Dan Mora;
Something is Killing the Children
by James Tynion IV and Werther Dell'Edera;
Faithless
by Brian Azzarello and Maria Llovet;
Klaus
by Grant Morrison and Dan Mora;
Folklords
by Matt Kindt and Matt Smith;
The Red Mother
by Jeremy Haun and Danny Luckert; and
Alienated
by Simon Spurrier and Chris Wildgoose. The imprint also publishes popular licensed properties including
Buffy the Vampire Slayer
from Jordie Bellaire and David López; Firefly from Greg Pak and Dan McDaid; and
Mighty Morphin Power Ranger
s from Ryan Parrott and Daniele Di Nicuolo.
DUNE: HOUSE ATREIDES #3 features main cover art by Michael Walsh (
Jim Henson's The Storyteller: Ghosts
) and variant cover art by Rod Reis (
Mighty Morphin Power Rangers
).
Print copies of DUNE: HOUSE ATREIDES #3 will be available on December 23, 2020 at local comic book shops (use
comicshoplocator.com
to find the nearest one). Digital copies can be purchased from content providers, including comiXology, iBooks, Google Play, and Madefire.
A BRAND NEW VALKYRIE TAKES FLIGHT AGAINST THE KING IN BLACK; WATCH TRAILER
11/30/20 @ 6:33 pm EST
Source:
Marvel
| Categories:
Marvel
|
Comments
(0) |
E-mail Article
|
Add a Comment
The Valkyries, some of the finest warriors in the Marvel Universe, will rise again this January in KING IN BLACK: RETURN OF THE VALKYRIES. Written by Jason Aaron and Torunn Grønbekk with art by Nina Vakueva, this brand-new series will star Jane Foster, Dani Moonstar, Hildegarde, and a brand-new Valkyrie with a startling origin. This band of Asgardian legends will reunite to take down Knull as his unrelenting darkness threatens to overtake the Nine Realms. As Knull's conquest spreads throughout the galaxy, the Valkyries will be locked in a battle only they can hope to overcome.
What is the secret weapon the mysterious new Valkyrie holds and more importantly, will it be enough to turn the tide? Find out on January 6th but in the meantime, see the Valkyrie come to the aid of the Marvel Universe like never before in the
KING IN BLACK: RETURN OF THE VALKYRIES trailer,
featuring never-before-seen art!
"The Valkyries – these powerful women who navigate both the spaces of the living and the dead – are inherently interesting to me," says co-writer Torunn Grønbekk. "The role demands a perspective on life and battle that is quite unique; they see the whole picture, always, and when you combine that with the great humanity you find in characters like Jane Foster and Dani Moonstar, you get something really special. It takes courage to see the world through the eyes of a Valkyrie (especially when that world is under attack by Knull!), and that makes for complex and exciting stories of the kind I want to tell."
The Valkyries' greatest era is upon us! Don't miss it when KING IN BLACK: RETURN OF THE VALKYRIES #1 hits stands on January 6th!
HIROYUKI SANADA JOINS BRAD PITT IN SONY'S 'BULLET TRAIN'
11/30/20 @ 6:22 pm EST
Source:
Deadline
| Categories:
MIsc
|
Comments
(0) |
E-mail Article
|
Add a Comment
Deadline
reports that veteran actor Hiroyuki Sanada is set to join the A-list ensemble of the Sony action pic
Bullet Train
starring Brad Pitt. Joey King, Aaron Taylor Johnson, Brian Tyree Henry, Zazie Beetz, Michael Shannon, Logan Lerman, Masi Oka and Andrew Koji are also on board.
Hobbs & Shaw
helmer David Leitch will direct and also supervise the script, which will be written by Zak Olkewicz.
The film is based on the Japanese novel
Maria Beetle
by bestselling author Kotaro Isaka. Ryosuke Saegusa and Yuma Terada of CTB Inc., who represent Isaka and the IP, are executive producers on the project.
Kelly McCormick will produce
Bullet Train
through 87North along with Antoine Fuqua. Kat Samick is exec producing and Brittany Morrissey is the executive overseeing the project for Sony Pictures.
Plot details are vague, and it is unknown who Sanada will be playing.
'WILLOW': ERIN KELLYMAN, CAILEE SPAENY AND ELLIE BAMBER POISED TO STAR IN DISNEY+ SERIES
11/30/20 @ 6:18 pm EST
Source:
Deadline
| Categories:
MIsc
|
Comments
(0) |
E-mail Article
|
Add a Comment
Ellie Bamber (
Nocturnal Animals
), Cailee Spaeny (
The Craft: Legacy
) and Erin Kellyman
(Solo)
are in negotiations for the three female leads in
Willow
, Disney+ and Lucasfilm's upcoming TV series follow-up to the 1988 fantasy movie, with the film's star Warwick Davis reprising his title role, Deadline reports.
The new incarnation of
Willow
comes from Jonathan Kasdan, who wrote the pilot and serves as co-showrunner alongside Wendy Mericle; Jon M. Chu, who will direct the pilot episode; the original film's director Ron Howard and writer Bob Dolman; as well as Lucasfilm, which produced the movie. A rep for Disney+ declined comment.
The
Willow
movie, written by Dolman from a story by George Lucas, starred Davis as a reluctant farmer who leads a ragtag crew on a quest to protect a special baby from a tyrannical queen who vows to destroy her.
The series, which marks Lucasfilm's first venture into non-
Star Wars
storytelling since 2015, will take place years after the events of the film. It introduces all-new characters to the enchanted realm of fairy queens and two-headed Eborsisk monsters, and welcomes back its hero Willow Ufgood (Davis).
No additional details about the series' storyline have been released.
ROBERTO BENIGNI'S NEW 'PINOCCHIO' MOVIE GOING WIDE THIS HOLIDAY SEASON
11/30/20 @ 1:01 pm EST
Source:
Deadline
| Categories:
MIsc
|
Comments
(0) |
E-mail Article
|
Add a Comment
Roadside Attractions is opening Roberto Benigni's new
Pinocchio
movie from filmmaker Matteo Garrone on Christmas Day stateside on 2,000 screens.
It's more good news for those theaters which are braving the Christmas holiday. This past Thanksgiving proved that families will venture out during the pandemic where they feel safe and head to the movies; Universal/DreamWorks Animation's
The Croods: A New Age
is moving to a $14.2M five-day opening.
Having grossed $1.1M in the UK via distributor Vertigo Releasing back in August from an English language version, that
Pinocchio
print will be booked at U.S. and Canada theaters versus a subtitled one. Garrone's
Pinocchio
opened in Italy a year ago where it grossed $17.1M, repping 84% of the pic's $20.4M WW box office to date.
The movie also played this past year's Berlin Film Festival.
In this live-action version, which Roadside acquired U.S. on back on Nov. 19, Oscar winner Benigni plays Geppetto in his second go-round with the classic Italian IP. Following the success of
Life Is Beautiful,
Benigni wrote, directed and starred in a 2002 Miramax version of
Pinocchio
which grossed $44.3M worldwide. In that version he played the title character. In the Garrone version, Pinocchio is played by nine-year-old newcomer Federico Ielapi. (via
Deadline
)
'THE WALKING DEAD'S SCOTT GIMPLE PROMISES RICK GRIMES MOVIE WILL BE 'AMAZING'
11/30/20 @ 12:53 pm EST
Source:
ComicBook
| Categories:
Walking Dead
|
Comments
(0) |
E-mail Article
|
Add a Comment
Walking Dead
fans have been longing for information about Andrew Lincoln's return to Rick Grimes for years now, let alone the movie itself or even a release date. However, the powers that be behind-the-scenes of
The Walking Dead
universe have been hard at work on the story of the first movie, going through a couple of drafts now and making sure the story of it all is delivered in its most polished and satisfying form possible.
Now,
The Walking Dead
chief content officer Scott Gimple is making some big promises about the movie in saying he expects it to be "amazing."
"I'll give you some things that are hardly definitive, but I just want to reiterate: We are continuing to work on the movie. It is happening," Gimple said. "We're taking this time from COVID and we're hunkering down and Mr. [Andrew] Lincoln, Mr. [Robert] Kirkman, Mr. [David] Alpert, AMC, Universal — we're all charging forward it on it. It's just taking a bit more than TV. And then [we're] working on the new shows. So we have stuff into the future of
The Walking Dead
, and a lot of very different stuff. I'm really excited to hopefully have some more stuff to talk about with you coming into the New Year."
Furthering the details of the film, Gimple did tease that fans might not have seen the last of the relationship between Rick and Michonne, famously billed as Richonne.
"It's weird, I was talking to somebody this afternoon, people should pay attention to the way that Michonne left the show," Gimple told
ComicBook.com.
"There's something going on there. Yeah, King Bach was there. I'm very grateful to him. We probably haven't seen the end of him either. It was King Bach for a reason. But that was a pretty big group she was with."
SUPER NINTENDO WORLD OPENS ON FEBRUARY 4TH
11/30/20 @ 12:40 pm EST
Source:
The Verge
| Categories:
MIsc
|
Comments
(0) |
E-mail Article
|
Add a Comment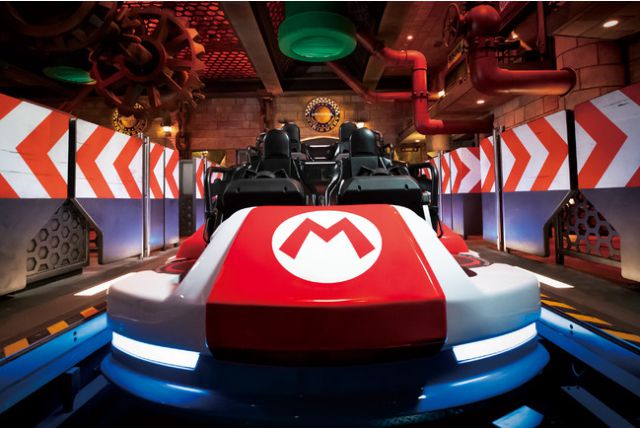 Universal Studios Japan has announced an opening date for its long-awaited Nintendo-themed area. The Super Nintendo Land zone will open at the Osaka theme park on February 4th, 2021.
That's actually a little earlier than expected — last month, Nintendo said that the project would open in spring. A themed cafe and merchandise store have already opened in the larger Universal Studios Japan park.
USJ and Nintendo have also provided details on what is sure to be one of the park's flagship attractions: a
Mario Kart
-themed rollercoaster. It's housed inside a reconstructed Bowser's castle and makes use of AR and projection mapping technology, with riders donning AR headsets shaped like Mario's cap.
The opening of Super Nintendo World will be closely watched as a model for the theme park industry, which has been hit hard by COVID-19. Last week, the Walt Disney Company announced plans to lay off 32,000 employees, mostly in its parks division. (via
The Verge
)
HEAVY METAL REVIVES ICONIC HEROINE 'TAARNA' FOR NEW PSYCHEDELIC COMIC
11/30/20 @ 12:36 pm EST
Source:
Screen Rant
| Categories:
MIsc
|
Comments
(0) |
E-mail Article
|
Add a Comment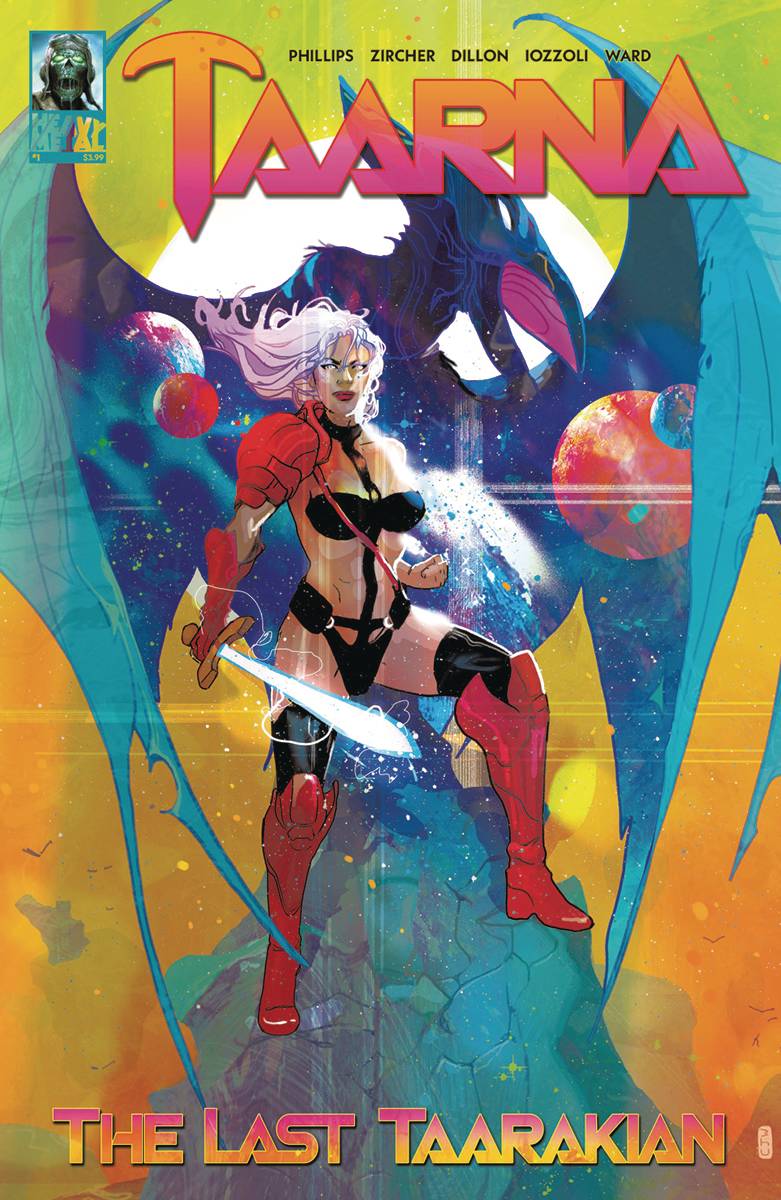 Cosmic adventures in psychedelic settings are no rarity in the pages of Heavy Metal and, launching in a few short weeks, they're bringing back one of their most iconic characters: Taarna, the Last Taarakian.
The heavenly heroine from the 1981 animated feature
Heavy Metal
will breathe life anew in a new comic book series written by Stephanie Phillips and illustrated by Patrick Zircher.
A philosophical meditation on the nature of saviors and divine justice in general, Phillip's new iteration of the character sees this guardian of the galaxy as a universe incarnate, a being whose consciousness transcends space and time, manifested in the form of a statuesque beauty with a sword riding a pterodactyl, destroying dark gods and saving planets-full of innocents at a time with her strength and willpower alone.
This new miniseries will be the second take on the character following an unrelated series published in 2019. That series, written by Alex De Campi and illustrated by Isaac and Esau Escorza, was more of a sci-fi military thriller, while this newest entry feels more like a return to the more fundamental aspects of the heroine. In this new wild adventure, Taarna, now revealed as a god-like protector, will do battle with Kako, the embodiment of chaos across multiple planes of existence in an effort to save the universe. (via
Screen Rant
)
High-minded concepts and visceral-bloody action are on the horizon. Far-flung fantasy has a new home, and it is once again Heavy Metal.
Taarna #1
, written by Stephanie Phillips, illustrated by Patrick Zircher with colors by Jessica Kholine goes on sale December 16, wherever comic books are sold.
'LUCIFER' SEASON 5: GOD'S EXTENDED STAY ON EARTH TEASED
11/30/20 @ 12:18 pm EST
Source:
ComicBook
| Categories:
DC
|
Comments
(0) |
E-mail Article
|
Add a Comment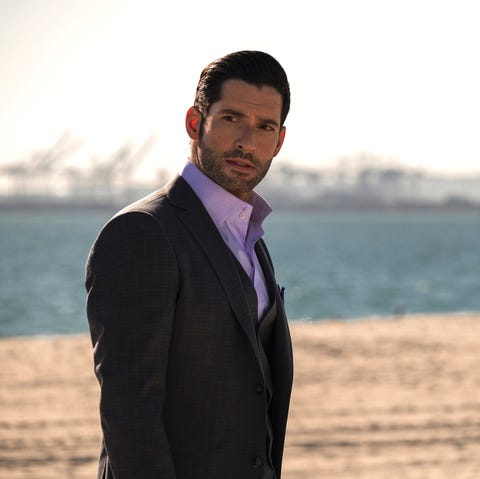 Lucifer
fans are eagerly awaiting the drop of the second half of the fifth season of the popular Netflix series and while there's not yet a release date, fans do have an idea of what is in store when their favorite devil returns.
On Twitter, the show's official account teased an "extended stay" on Earth for a character -- and fans have figured out that it's likely Lucifer's dear old dad, God himself, who will be sticking around for a while. (via
ComicBook
)
The first half of
Lucifer
Season 5 is now streaming on Netflix.