'SPIDER-MAN 3': TOBEY MAGUIRE & ANDREW GARFIELD CASTING RUMORS DEBUNKED BY SONY
10/15/20 @ 9:01 pm EST
Source:
Screen Rant
| Categories:
Marvel
|
Comments
(0) |
E-mail Article
|
Add a Comment
Sony Pictures has today debunked
Spider-Man 3
rumors of former Peter Parker actors Tobey Maguire and Andrew Garfield joining the Marvel movie cast. Maguire played the wall-crawling superhero in all three of Sam Raimi's movies -
Spider-Man
,
Spider-Man 2
and
Spider-Man 3
- while Garfield took over the role for Sony's reboot of the franchise in 2012's
The Amazing Spider-Man
. After Garfield's second turn as Peter Parker,
The Amazing Spider-Man 2
, didn't perform as well as expected, Sony struck a deal with Marvel Studios that allowed the latter to introduce Spider-Man to the Marvel Cinematic Universe, with Tom Holland cast in the role.
This week, rumors circulated online that Maguire and Garfield were either in talks or already locked in to play their respective Peter Parker characters in Sony and Marvel's
Spider-Man 3
. However, in a statement to
ET Canada
, a representative of Sony Pictures said,
"Those rumored castings are not confirmed." Studios don't always comment on casting rumors, but in this case, Sony has debunked the currently circulating rumors about Maguire and Garfield. (via Screen Rant)

Of course, that's not to say things won't change. Sony's statement doesn't indicate whether they're trying to cast Maguire and Garfield, just that it's not confirmed at this time. It's also possible that even if the actors were to officially sign on to the project, their castings would be kept a secret in order to surprise viewers once Spider-Man 3 hits theaters.

Spider-Man: Homecoming 3 from Sony and Marvel Studios is now slated to hit theaters on Dec. 17, 2021.
'DOCTOR WHO HOLIDAY SPECIAL' TRAILER RELEASED
11/29/20 @ 11:17 pm EST
Source:
BBC America
| Categories:
Doctor Who
|
Comments
(0) |
E-mail Article
|
Add a Comment
BBC America
has released a new trailer for the coming
Doctor Who Holiday Special: Revolution of the Daleks
.
As reported by DF News, the
Special
gives the Doctor's greatest foes a brand new look and also brings back John Barrowman as the iconic Captain Jack Harkness.
The
Doctor Who Holiday Special: Revolution of the Daleks
will air on New Year's Day -- January 1, 2021 -- on BBC America.
Trailer:
https://youtu.be/N9zcnNlMEBI
'DOCTOR WHO' MULTI-DOCTOR CROSSOVER FINALE
11/29/20 @ 10:57 pm EST
Source:
ComicBook
| Categories:
Doctor Who
|
Comments
(0) |
E-mail Article
|
Add a Comment
In May, Big Finish announced that its long-running
Doctor Who
audio series would come to an end. That end begins in early 2021 with the 275th installment of the main
Doctor Who
audio range,
The End of the Beginning
.
As the series began with a three-Doctor crossover
The Sirens of Time
in 1999, it will conclude with a crossover event featuring the four main Doctors who were featured in that audio range: the Fifth Doctor (Peter Davidson), the Sixth Doctor (Colin Baker), the Seventh Doctor (Sylvester McCoy), and the Eighth Doctor (Paul McGann). It should be an appropriately epic ending for the longtime bastion of classic
Doctor Who
.
Here's the synopsis: "The Universe is in a state of crisis, facing destruction from the results of a strange spatio-temporal event. And the Doctor is involved in three different incarnations – each caught up in a deadly adventure, scattered across time and space. The whole of creation is threatened – and someone is hunting the Doctor. The three incarnations of the Doctor must join together to confront their implacable pursuer – but in doing so will they unleash a still greater threat?" (via
ComicBook
)
The End of the Beginning
releases in March 2021.
'THE FLASH' PAUSES PRODUCTION AFTER POSITIVE COVID-19 TEST
11/29/20 @ 10:47 pm EST
Source:
Deadline
| Categories:
DC
|
Comments
(0) |
E-mail Article
|
Add a Comment
A team member working on The CW series
The Flash
in Vancouver has tested positive for Covid-19,
Deadline
reports. The asymptomatic diagnosis was confirmed through the rigorous testing protocols implemented by
The Flash
studio Warner Bros TV for all of its production employees.
Out of an abundance of caution, production on
The Flash
has been temporarily suspended and contact tracing has been initiated. According to sources, the studio is currently evaluating adjustments to the production schedule in order to resume filming without the affected employee and potential close contacts, who are self-isolating.
The Flash
was among a number of series filming in Vancouver whose start of production was delayed because of a backlog at a local lab processing Covid tests.
WATCH IT: 'BLACK PANTHER' NOW FEATURES SPECIAL CHADWICK BOSEMAN TRIBUTE
11/29/20 @ 10:43 pm EST
Source:
Deadline
| Categories:
Black Panther
|
Comments
(0) |
E-mail Article
|
Add a Comment
Deadline
reports that the late actor Chadwick Boseman will be honored in the original
Black Panther
with a new opening montage highlighting his appearance in the title role.
Disney Executive Chairman Bob Iger touted the change on Twitter. The first viewing of the change was available Sunday night during a Disney+ showing of the film and is now showing on Twitter (see below).
Iger termed the added montage "a special tribute to someone that was and always will be near and dear to our hearts."
Boseman died on August 28 at age 43 after a four-year battle with colon cancer. He kept his struggle a secret from all but a few and continued working during his treatment for the disease.
Boseman Panther montage:
https://twitter.com/i/status/1333078267302187009
A FOOTBALL STORY EVEN NON-FANS WILL FIND INTERESTING
11/29/20 @ 12:45 pm EST
Source:
Deadline
|
Comments
(0) |
E-mail Article
|
Add a Comment
Many unthinkable things have happened this year because of COVID-19 and today we find another. The Denver Broncos are schedule to play the New Orleans Saints this morning, but the team has no active quarterbacks on the roster. And if you've ever seen a football game, or even a football related movie, you probably know that the quarterback is kind of an important position.The three quarterbacks they have on the team, Drew Lock, Brett Rypien and Blake Bortles all came in contact with a player who has tested positive for the cornavirus. Though the team hasn't named the player, its believd to be reserve quarterback Jeff Driskle who was placed on the teams reserve/COVID-19 list this week. Now the team tried to petition the league to allow them to use one of their coaches, Rob Calabrese as the starter, but the NFL denied the request. That leaves them their "emergency quarterback", running back Royce Freeman or a wide received on the practice squad named Kendell Hinton who played some quarterback in college at Wake Forest. It's not the first time a team has had to go without a quarterback. Back in 2006 the Carolina Panthers had a game where the ran the Wildcat Formation (baically using a runningback in place of a quarterback) for almost the entire game because of injuries and the won. So it's not impossible... but it is unlikely and Vegas halted the betting on the game. It should be interesting to watch.
#SAVEDAREDEVIL TRENDS AS RIGHTS HAVE RETURNED
11/29/20 @ 12:26 pm EST
Source:
Twitter
|
Comments
(0) |
E-mail Article
|
Add a Comment
Marvel Studios were scheduled to get the rights back to Daredevil today after the character's successful three season run on Netflix. To go with the return, the hashtag #SaveDaredevil is being used by fans to encourage (read: beg) the studio and head cheese Kevin Feige to put the series back into production. Part of the arraingement with the streaming service was a two-year moratorium on using the character in a series/movie after it was cancelled... that ends today.The series wasn't the first time the character had been brought to live-action. He was once portrayed by Rex Smith in the 1989 TV Movie, Trial of the Hulk and then again in the Ben Affleck lead feature film from 2003. But the 2015 debut of Charlie Cox in the role of Matt Murdock was a huge hit with fans and helped grow the original programing at Netflix along with it's companion series: Jessica Jones, Luke Cage, Iron Fist, Punisher and the Defenders. All of which have been cancelled by the streaming service.Actors from the series seem eager to return including Vincent D'Onofrio who plays the series big bag, Wilson Fisk. D'Onofrio has talked about it many times on his social media and even hinted that he would like to bring the character into the films as the Kingpin is often battling with Spider-Man. Hopefully Feige and the powers that be at Marvel Studios are checking their Twitter accounts today.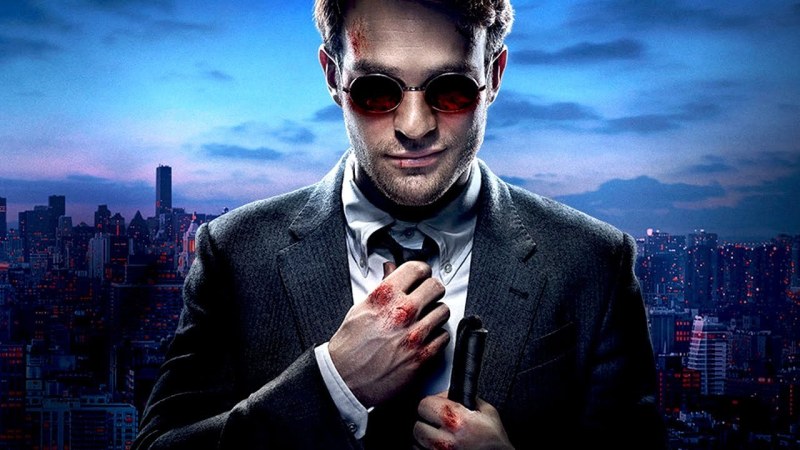 PETITION TO REPLACE AMBER HEARD ON AQUAMAN 2 REACHES 1.5 MILLION
11/29/20 @ 12:11 pm EST
Source:
Deadline
|
Comments
(0) |
E-mail Article
|
Add a Comment
The personal battle between Amber Heard and Johnny Depp continues to remain in the news. Both actors have accused the other of domestic abuse and most recently seemed somehow connected to the removal of Depp from the next Fantastic Beast film. The role of Grindelwald will now be played by Mads Mikkelsen.Since hte initial news broke involving her alleged actions, fans of the Aquaman franchise have been pushing for Warner Bros to replace Heard in the role of Mera that she originated in the 2018 film. The sequel is set to be released in 2022 with Jason Momoa and Patrick Wilson both set to return along with director James Wan. There has been no word about it from the studio, it is likely they will have to justify their action or inaction having already removed Depp. The petition has crossed the 1.5 million signature mark, halfway to it's goal of 3 million.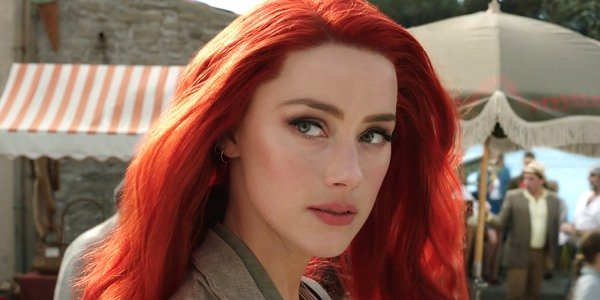 DARTH VADER ACTOR DAVID PROWSE DIES AT AGE 85
11/29/20 @ 11:57 am EST
Source:
Deadline
|
Comments
(0) |
E-mail Article
|
Add a Comment
David Prowse, the former British bodybuilder turned iconic villain, passed away yesterday at the age of 85 according to his manager. Bowing Management tweeted: "It's with great regret and heart-wrenching sadness for us and million of fans around the world, to announce that our client DAVE PROWSE M.B.E. has passed away at the age of 85."The 6'6" actor was cast as Darth Vader in the original
Star Wars
film and performed the part during production and then the voice was dubbed over by actor James Earl Jones. Prowse made his debut in the James Bond spoof
Casion Royale
as Frankenstein's Monster, a role he would play again in the more serious Hammer Horror films:
Horror of Frankenstein
and
Frankestein and the Monster From Hell
. He had a storied career including regular appearances on Doctor Who, The Saint and Space 1999 and a appeard in the 1971 classic A Clockwork Orange where George Lucas first noticed him.He went on to earn a MBE in part to his time playing the Green Cross Code Man in British safety films.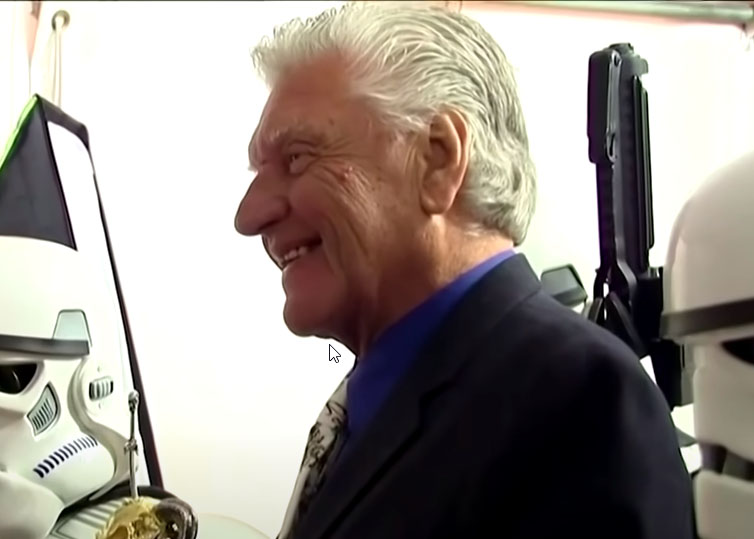 DWAYNE JOHNSON SHARES PHOTOS FROM YOUNG ROCK SERIES
11/28/20 @ 4:50 pm EST
Source:
Instagram
|
Comments
(0) |
E-mail Article
|
Add a Comment
Production has begun on
Young Rock
, a new sitcom based on the life of former wrestler turned actor Dwayne "the Rock" Johnson. Earlier today on his Instagram account, Johnson shared a few photos from the set introducing us to Adrian Groulx who will be playing the title character. We see him below getting a lesson from his Uncle Andre the Giant. Also we see actor Joseph Lee Anderson who will be portraying Rocky Johnson, the Rock's father.A release date for
Young Rock
has not been set.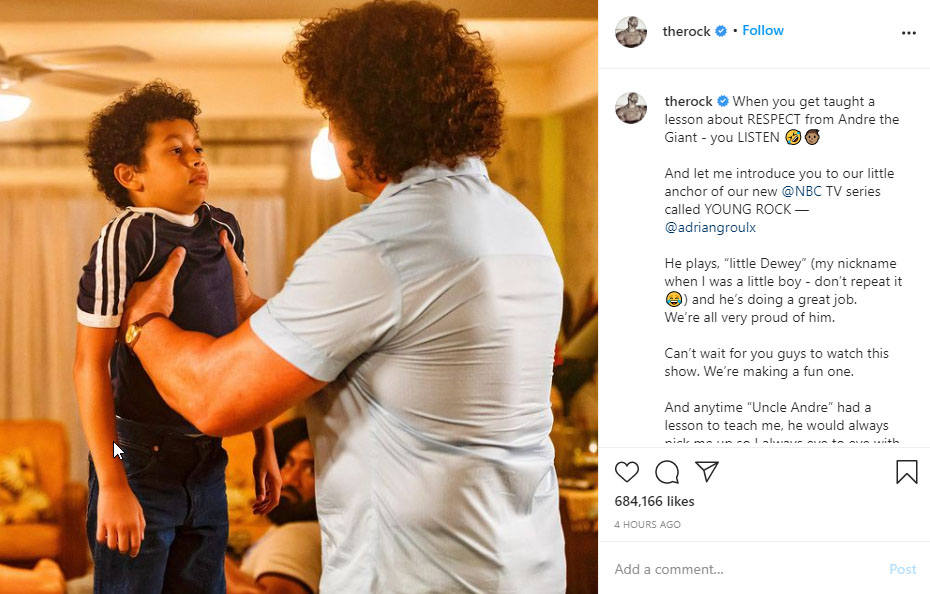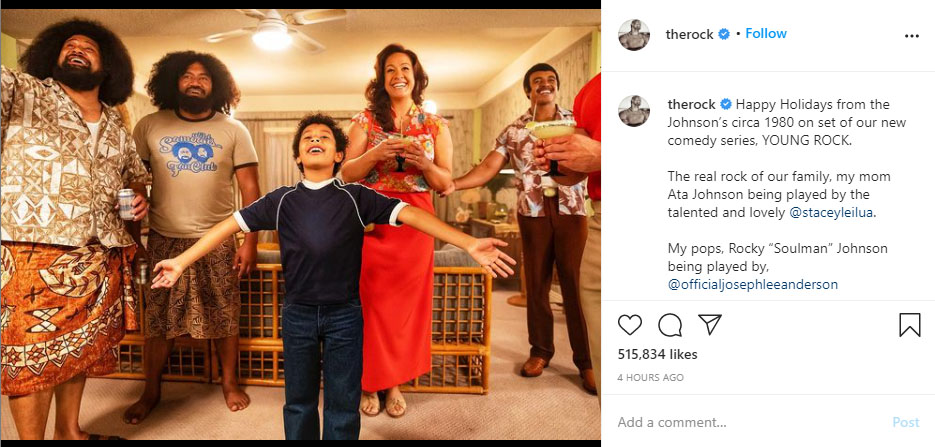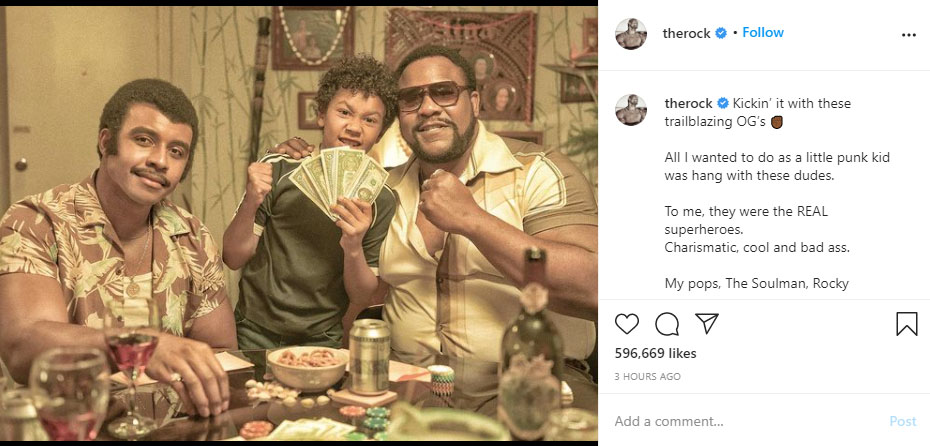 WILL LARS MIKKELSEN RETURN TO THE STAR WARS UNIVERSE?
11/28/20 @ 4:29 pm EST
Source:
IMDB
|
Comments
(0) |
E-mail Article
|
Add a Comment
*** SPOILERS for the latest episode of The Mandalorian ****
In the latest episdoe of the Disney+ series, The Mandalorian, we saw the live-action debut of the fan favorite character Ahsoka Tano played by Rosario Dawson. The character first appeared in the animated The Clone Wars series co-created by Dave Filoni, who also co-created The Mandalorian and both directed and wrote this weeks episode. The former Jedi also appeared in another animated series, Star Wars: Rebels that Filoni was behind. And while they'd been setting up Din Djarin taking the child (now named Grogu) to a Jedi, the appearance of Ahsoka Tano may mean something much bigger.The episode felt like a back-door pilot and that was driven home the most when she declined to train Grogu and sent them on their way. That, and the name drop she did at the end of the episode. The reason she was on Corvus in the first place was to get a lead on one of the biggest villains in Star Wars, Grand Admiral Thrawn. While they are building up Moff Gideon (Giancarlo Esposito) for this series and connecting him to Mandalor and the Dark Saber, Thrawn would overshadow all of that if he were to be brought into this series. But making him the big bad of an Ahsoka Tano series would make a lot of sense.Whether the character shows up in either series leads to the important question, who should play the Chiss strategist? Well, one of the popular choices is the man who voiced the character in the Rebels series, actor Lars Mikkelsen. The actor has appeared in many popular series including facing off against Benedict Cumberbatch's Sherlock and Henry Cavill's Witcher.Ironically another popular name that keeps coming up is Lars' older brother Mads Mikkesen, who also crossed paths with Cumberbatch, but as Doctor Strange and when up again Daniel Craig's James Bond. And while Mads may be too busy now having just signed on to portray Grindelwald replacing Johnny Depp, I think Lars is a more likely option with him already beeing in the Star Wars family. And while they went with Dawson to play Ahsoka over Ashley Eckstein who voiced her in the animated films, they did bring in Katee Sackhoff to play Bo-Katan Kryze after having voiced her in the past. If the episode was indeed a back-door pilot, then we can expect to hear something about a new series soon.