'BATWOMAN': PHOTOS FROM "WHO ARE YOU?"
10/10/19 @ 10:54 am EST
Source:
The CW
| Categories:
DC
|
Comments
(0) |
E-mail Article
|
Add a Comment
The CW
has released a batch of photos for "Who Are You?", the fourth episode of
Batwoman's
debut season.
The episode airs at 8 ET Sunday, October 27 on The CW.
'BLACK WIDOW': NEW PHOTOS OF NATASHA AND YELENA SURFACE ONLINE
07/06/20 @ 10:06 pm EST
Source:
ComicBook
| Categories:
Marvel
|
Comments
(0) |
E-mail Article
|
Add a Comment
New photos from the upcoming
Black Widow
movie have made their way online as Empire Magazine is set to publish their movie slate feature issue. As
Black Widow
has been delayed to November, the upcoming issue takes a deep dive into the film and offers up some new looks at Natasha in her white suit and Yelena in the green vest which Natasha later wears in
Avengers: Infinity War
. The photos also offer up a look at Natasha's showdown with Taskmaster and a peek at the Taskmaster costume in the raw, as it appeared on the film's set in London. (via
ComicBook
)
Black Widow
is scheduled to hit theaters on November 6.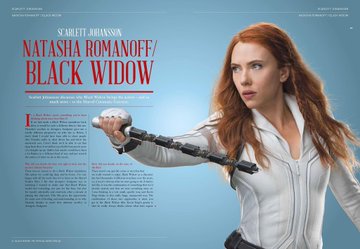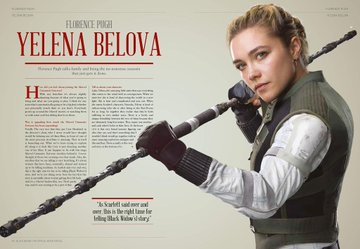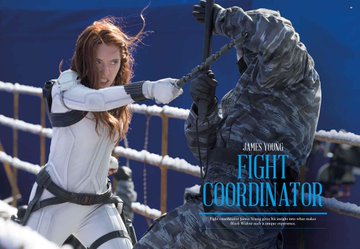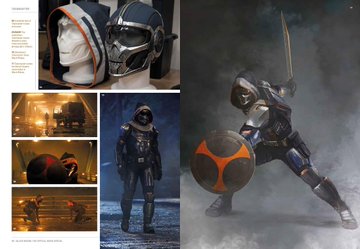 PEACH MOMOKO SIGNS MASSIVE COVER DEAL WITH BOOM! STUDIOS
07/06/20 @ 9:51 pm EST
Source:
BOOM! Studios
| Categories:
MIsc
|
Comments
(0) |
E-mail Article
|
Add a Comment
BOOM! Studios announced today that it has signed a massive deal with superstar artist Peach Momoko, that will see the debut of twenty covers on top comic book series from the award-winning publisher through 2021.
The next variant cover from this new deal will be available on
Wynd #2
, on-sale on July 22, and Momoko's art will be featured on variants to subsequent issues (#3-5) of the series through October. Then, fans will discover Momoko's stunning work on variant covers to
Buffy the Vampire Slayer #19
in November and on a top-secret new series launching in the same month.
Peach Momoko is an illustrator from Japan who works mainly with traditional mediums such as watercolor, ink, and colored pencils. Her work has appeared on the biggest series from publishers including Marvel, DC, Image Comics, IDW, and more.
"I am very excited to be painting for many, many BOOM! covers coming up!" said Peach Momoko. "I'd say more, but instead I'm going to keep painting and let the covers show you how much fun I'm having here!"
"Peach Momoko's work is spectacular and we're thrilled that she's joining the all-star team of cover artists contributing to BOOM! Studios' biggest series," said Matt Gagnon, Editor in Chief, BOOM! Studios. "Peach has quickly become one of the most exciting and popular artists in comics. Our readers are in for a treat when they see what she has planned for covers to
Wynd, Buffy the Vampire Slayer
and some top-secret projects releasing later this year."
BRAD PITT COMMITS TO BOARD 'BULLET TRAIN;' DAVID LEITCH TO HELM SONY PICTURES ACTION FILM
07/06/20 @ 9:47 pm EST
Source:
Deadline
| Categories:
MIsc
|
Comments
(0) |
E-mail Article
|
Add a Comment
Deadline
reports that Brad Pitt is set to star in
Bullet Train
, the Sony Pictures action movie that just got as director David Leitch, the helmer of
Deadpool 2
and
Fast & Furious Presents: Hobbs & Shaw
.
Zak Olkewicz wrote the script, based on the Japanese novel
Maria Beetle
by Kotaro Isaka. In the novel, five assassins find themselves on a fast-moving bullet train from Tokyo to Morioka with only a few stops in between. They discover their missions are not unrelated to one another. The question becomes, who will make it off the train alive and what awaits them at the terminal station?
Pitt is coming off an Oscar-winning performance in the Quentin Tarantino-directed
Once Upon a Time in Hollywood
. The actor is firming up his dance card, eyeing several projects but committing only to this one for now. A start date for later this year is eyed.
YOUR FIRST LOOK AT 'SEVEN SECRETS' #1 FROM BOOM! STUDIOS
07/06/20 @ 9:43 pm EST
Source:
BOOM! Studios
| Categories:
MIsc
|
Comments
(0) |
E-mail Article
|
Add a Comment
BOOM! Studios today revealed a first look at SEVEN SECRETS #1, the premiere issue of the hotly-anticipated new original comic book series from New York Times bestselling author Tom Taylor (
DCeased
), artist Daniele Di Nicuolo (
Mighty Morphin Power Rangers
), colorist Walter Baiamonte, and letterer Ed Dukeshire, introducing readers to seven powerful secrets—words, wonders, weapons, and worse—with the power to change the world.
For centuries, the Order has trusted in Keepers and Holders to guard the Secrets in seven briefcases against all harm but when their stronghold is attacked and the secrets put in peril, the entire Order must face their greatest fear—an enemy who knows too much and is willing to kill to get what he wants.
Now, the Order's newest member, Caspar, must discover the truth of the Secrets before the enemy does, or risk losing everything.
SEVEN SECRETS #1 also features variant covers by acclaimed illustrators Miguel Mercado (
Mighty Morphin Power Rangers
), Matteo Scalera (
Black Science
), and InHyuk Lee (
DCeased
).
Print copies of SEVEN SECRETS #1 will be available on August 12, 2020 exclusively at local comic book shops (use
http://www.comicshoplocator.com
to find the one nearest you) or at the BOOM! Studios webstore. Digital copies can be purchased from content providers like comiXology, iBooks, Google Play, and Madefire.
'STARGIRL' RENEWED FOR SEASON 2, MOVES TO CW FROM DC UNIVERSE
07/06/20 @ 9:39 pm EST
Source:
Variety
| Categories:
DC
|
Comments
(0) |
E-mail Article
|
Add a Comment
Variety
reports that
Stargirl
has been renewed for a second season at The CW.
With the renewal, The CW and its digital platforms will be the exclusive in-season home of the series starting with its second season. Season 2 will not stream on the show's original home at DC Universe. It was announced ahead of the series premiere that episodes of the show would air on The CW the day after their streaming debut on DCU.
Stargirl
follows high school sophomore Courtney Whitmore (Brec Bassinger) as she moves to Blue Valley, Nebraska after her mother remarries Pat Dugan (Luke Wilson). There, she inspires an unlikely group of young heroes to stop the villains of the past. It also stars Amy Smart, Trae Romano, Cameron Gellman, Yvette Monreal, Anjelika Washington, Meg DeLacy, Neil Jackson, Jake Austin Walker, Christopher James Baker and Hunter Sansone.
VAULT ANNOUNCES DAVID MACK VARIANT FOR 'VAMPIRE: THE MASQUERADE' #1
07/06/20 @ 12:47 pm EST
Source:
Vault Comics
| Categories:
MIsc
|
Comments
(0) |
E-mail Article
|
Add a Comment
Vault is thrilled to announce a set of new Vampire: The Masquerade #1 variant covers from legendary artist David Mack (Kabuki, Cover, Daredevil).

The gorgeous, painted piece by Mack will come in two different printed variants. The first, in a lush purple and blue, will be a standard, open order variant. The blood red version will be a special, deluxe variant, printed on thick card stock, with silver foiling and spot-gloss highlights, and will retail for $9.99.

"Vampire: The Masquerade is a legendary property with a mystique & mythology of epic art," said artist David Mack. "I'm thrilled to add my take to this world of imagination."

Each issue of the Vampire: The Masquerade will include exclusive material for Vampire: The Masquerade 5th Edition of the tabletop RPG from Modiphius Entertainment. These materials enable readers to play alongside the unfolding comic events in their own in-game chronicles.

Sink your teeth into the hidden world of vampires, ghouls, and hunters who live in the shadows and scheme among us. In the comic series, Cecily Baine, an enforcer for the Twin Cities' elite cabal of Kindred (vampires), takes a mysterious young vampire under her wing and is swept up in a conspiracy that can shake the foundations of vampire society.

Vampire: The Masquerade is co-written by Tim Seeley, Tini Howard, and Blake Howard, with art by Dev Pramanik and Nathan Gooden, with colors by Addison Duke, letters by AndWorld Design, design by Tim Daniel, and covers by Aaron Campbell, Nathan Gooden, and David Mack. The first issue will hit store shelves on August 5.


VAMPIRE: THE MASQUERADE #1


Writers: Tim Seeley, Tini Howard, Blake HowardArtist: Devmalya Pramanik, Nathan Gooden
Colorist: Addison Duke
Letterer: Andworld Design
Designer: Tim Daniel
Covers: Aaron Campbell, Nathan Gooden, David Mack

From the internationally best-selling World of Darkness universe, Vault brings readers a brand-new Vampire: The Masquerade comic series, Winter's Teeth.

When Cecily Brine, a courier for the Twin Cities Camarilla, takes a mysterious younger vampire under her wing, she's dragged into an insidious conspiracy. Will she be able to escape with her unlife and protect her aging, Alzheimer's afflicted sister, or will she be yet another pawn sacrificed to the Masquerade?
Meanwhile, an Anarch coterie investigates a mysterious killing.
'BILL & TED'S EXCELLENT ADVENTURE' COMING TO 4K; SEE THE TRAILER!
07/06/20 @ 12:42 pm EST
Source:
Empireonline
| Categories:
MIsc
|
Comments
(0) |
E-mail Article
|
Add a Comment
By and large, 2020 has not been excellent. But if anyone can inspire us all to party on, it's the Wyld Stallyns themselves, Ted 'Theodore' Logan and Bill S. Preston. With the loveable doofus duo set to return to the big screen in long-awaited threequel
Bill & Ted Face The Music
later this summer, that's not the only bodacious Bill & Ted news to be excited about – because their beloved original outing, 1989's
Bill & Ted's Excellent Adventure
, has been scrubbed up and given the 4K treatment. No way? Yes way!
Trailer:
https://youtu.be/f6JyEp2etsQ
The 4K restoration will be available beginning August 10 – 4K UHD Blu-ray, limited edition Steelbook, Blu-ray, DVD and digital download.
Bill & Ted Face the Music
opens in theaters on August 28.
'SANDMAN' AUDIO PRODUCTION COMES TO LIFE WITH NEW ART AND TRAILER
07/06/20 @ 12:27 pm EST
Source:
DC Comics
| Categories:
DC
|
Comments
(0) |
E-mail Article
|
Add a Comment
"I am moving through your dreams…"
We're just over a week away from the debut of Audible's ambitious new audio production of
The Sandman
and as if we weren't already too excited to sleep (sorry, Morpheus!), we now have the official cover art and an enticing new trailer to share with all of you.Just to recap, Neil Gaiman's acclaimed series of graphic novels will soon be available as an Audible Original adapted and directed by visionary audio producer Dirk Maggs. Gaiman is intimately involved as the project's Creative Director, Executive Producer and Narrator. Actor James McAvoy will lead the impressive cast as Morpheus along with Kat Dennings as Death, Michael Sheen as Lucifer, Taron Egerton as John Constantine and many, many more. We've already gotten one trailer for
The Sandman's
audio production, but Audible has released a brand new one, which features some dramatic, dreamlike visuals along with our first taste of McAvoy in the starring role.
Trailer:
https://youtu.be/yS4mGesO2m4
We also have our first look at the production's cover art. Fans of both the original Vertigo comic series and the bestselling graphic novel collections that followed know that cover art is pretty important when it comes to
The Sandman,
so it's great to see this latest take step up with a breathtakingly cosmic cover image that appropriately reflects the mythic nature of Gaiman's tale.
Audible's
The Sandman
adapts the first three graphic novels in Gaiman's series and is due to be released on July 15. That gives you just enough time to pre-order it at Audible.com/TheSandman and to binge read your copies of the books.
'THE EPIC TALES OF CAPTAIN UNDERPANTS' TRAINS FOR SPACE TRAVEL IN NEW CLIP
07/06/20 @ 12:14 pm EST
Source:
ComicBook
| Categories:
MIsc
|
Comments
(0) |
E-mail Article
|
Add a Comment
DreamWorks'
Captain Underpants
franchise has been delighting fans of all ages over the past few years, and it looks like it's officially headed into the cosmos.
ComicBook.com
is debuting a new clip from
The Epic Tales of Captain Underpants in Space!
, the upcoming special season of the series. The clip, shows what is required for space training at the P.O.O.P.S.I.E. space agency, with some pretty hilarious results.
The Epic Tales of Captain Underpants in Space!
is the latest continuation of the franchise, following three traditional seasons, a
Hack-a-ween
Halloween special, and an
Epic Choice O'Rama
interactive special.
The Epic Tales of Captain Underpants in Space!
will be available to stream exclusively on Netflix beginning July 10th.
Clip:
https://youtu.be/M3F10ceuHp0
J.J. ABRAMS RUMORED TO BE PRODUCING NEW 'CONSTANTINE' FILM
07/06/20 @ 12:02 pm EST
Source:
The Direct
| Categories:
DC
|
Comments
(0) |
E-mail Article
|
Add a Comment
The Direct
is reporting a rumor that a live-action Constantine movie is in development at Warner Bros., with Bad Robot serving as the production company and JJ Abrams attached as a producer. The film will have a similar feel and tone to Bad Robot's other upcoming projects, which include the
Justice League Dark
HBO Max show as well as the Zatanna movie.
It is currently unknown whether this will be a soft reboot with Keanu Reeves reprising the titular role, or if this will be a complete reboot with a new actor portraying the character.
This potential development serves as a welcome-back for the character of John Constantine, who has seen his fair share of adaptations. Keanu Reeves was the first to portray the character in live-action in the 2005 film
Constantine
, and actor Matt Ryan portrayed the occult detective in his own television series while making appearances on
Arrow
and eventually joining the cast of
Legends of Tomorrow
.