AFTERSHOCK COMICS IS BALTIMORE BOUND
10/08/19 @ 4:54 pm EST
Source:
AfterShock
| Categories:
MIsc
|
Comments
(0) |
E-mail Article
|
Add a Comment
'BATWOMAN' PREVIEW: TWO BETHS, NO WAITING
01/27/20 @ 11:34 am EST
Source:
The CW
| Categories:
DC
|
Comments
(0) |
E-mail Article
|
Add a Comment
The CW
has released a new preview for the coming
Batwoman
episode, "Take Your Choice".
What's going on with Beth and Alice (both played by Rachel Skarsten)? We don't know, but it looks like it will cost one Kate-twin their existence!
Batwoman
airs Sundays at 8/7c on The CW. The episode "Take Your Choice" airs Feb. 2.
Preview:
https://youtu.be/w7L2Nld1RYE
'SUPERGIRL': "BACK FROM THE FUTURE PART TWO" PREVIEW RELEASED
01/27/20 @ 7:41 am EST
Source:
The CW
| Categories:
DC
|
Comments
(0) |
E-mail Article
|
Add a Comment
The CW
has released a preview for "Back From the Future Part Two," an upcoming episode of
Supergirl.
The preview offers a glimpse of Winn's continued time in the present - as well as a possible budding romance for Kara.
Supergirl
airs Sundays at 9/8c on The CW. "Back From the Future Part Two" airs Feb. 2.
Preview:
https://youtu.be/9a9SPuLyIeg
KOBE BRYANT, DAUGHTER GIANNA DIE IN HELICOPTER CRASH
01/27/20 @ 7:32 am EST
Source:
ESPN
| Categories:
MIsc
|
Comments
(0) |
E-mail Article
|
Add a Comment
NBA legend Kobe Bryant and one of his daughters were among several people killed Sunday in a helicopter crash in Calabasas, California, reported
ESPN
.
Bryant was 41.Bryant was on his way to a youth basketball game with his daughter Gianna Bryant, who was 13, when the helicopter crashed, ESPN sources said. Los Angeles County Sheriff Alex Villanueva said in a news conference that there were no survivors, and according to the flight manifest, there were nine people on board the helicopter.
Los Angeles County fire chief Daryl Osby said Sunday afternoon that the Federal Aviation Administration was on the scene and will work with the National Transportation Safety Board to investigate the crash.
Villanueva and Los Angeles County chief medical examiner Dr. Jonathan Lucas said later Sunday evening that, given the terrain and condition of the crash site, they expect the recovery effort to take anywhere from a couple to several days. After recovery is complete, the identification process can begin.
The cause of the crash was unknown. The helicopter departed from John Wayne Airport in Orange County at 9:06 a.m. PT. It was going to Mamba Sports Academy in Thousand Oaks for Gianna's game, sources told ESPN. The first 911 call reporting the crash was received at 9:47 a.m.
DF News offers its sincere condolences.
SET PHOTOS FROM 'THE ETERNALS' SHOW OFF KIT HARINGTON'S BLACK KNIGHT
01/25/20 @ 4:28 pm EST
Source:
Heroic Hollywood
| Categories:
Marvel
|
Comments
(0) |
E-mail Article
|
Add a Comment
New set photos from Marvel's upcoming film,
The Eternals
, shows off Kit Harington's heroic character, Dane Whitman aka the Black Knight.
Last year, Marvel officially revealed the release date and cast for its upcoming film,
The Eternals
. While few details of the film are known, it will focus on an ancient group of aliens who have been living in secret on Earth for thousands of years with some tragedy forcing them out of concealment. Among the cast is
Game of Thrones
star Harington portraying the Black Knight
The character first appeared in
Avengers
#47 and is actually one of several characters to hold the title. The nephew of a villain who was also known as the Black Knight, Whitman took on the mantle as a means of restoring honor to the name. Harington will reportedly be portraying this version of the character although it is unknown how his character will be involved with
The Eternals
.
New set photos provide a new look at Harington in
The Eternals
. The images sadly do not show the Black Knight in traditional chivalric armor, but do show him interacting with members of the cast. (via
Heroic Hollywood
)
The Eternals
premieres in theaters on November 6.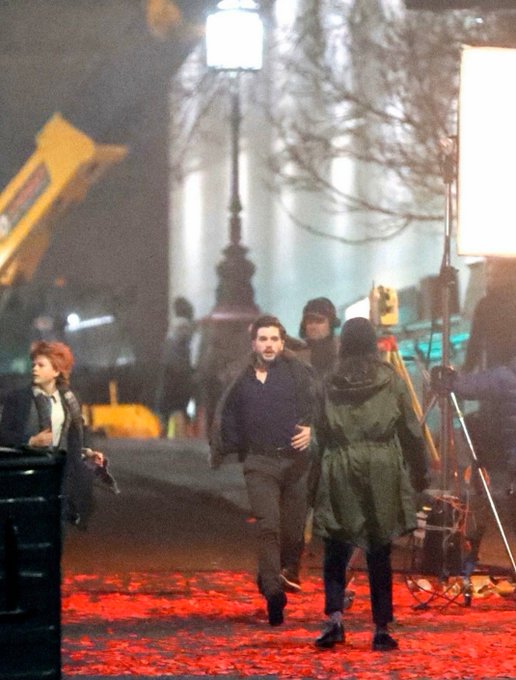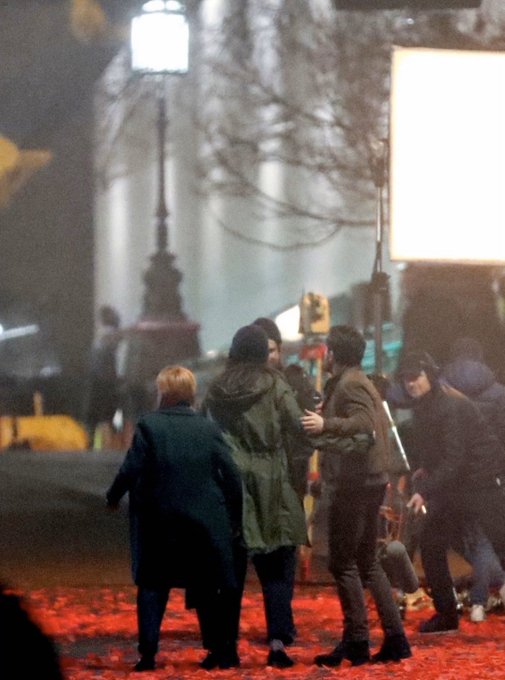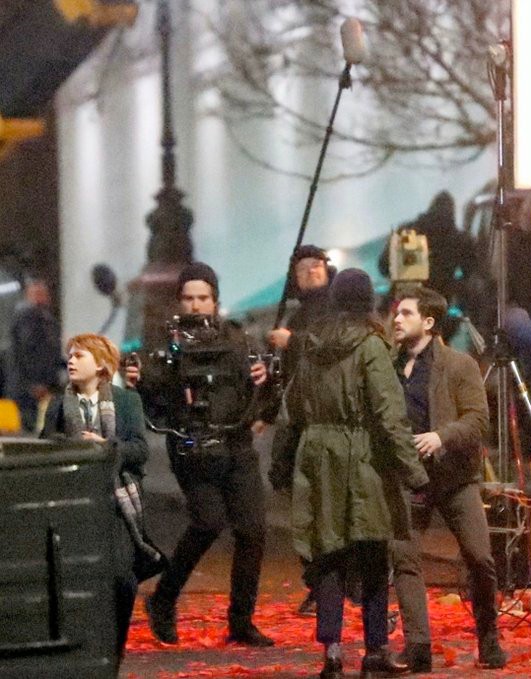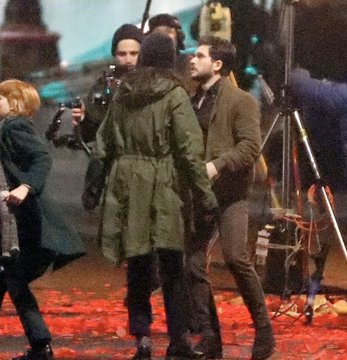 'THE FALCON & THE WINTER SOLDIER' ADDS NOAH MILLS IN MYSTERY ROLE
01/25/20 @ 4:02 pm EST
Source:
Deadline
| Categories:
Marvel
|
Comments
(0) |
E-mail Article
|
Add a Comment
Deadline
reports that
The Enemy Within
and
The Brave
alum Noah Mills has signed on to cast of the Disney+ Marvel Studios series
The Falcon and the Winter Soldier,
joining Anthony Mackie, Sebastian Stan, Daniel Bruhl, Emily VanCamp, Wyatt Russell, Desmond Chiam and Miki Ishikawa.
The upcoming series, a spinoff of the
Captain America
movies, has Mackie and Stan reprising their respective roles as the Falcon and Bucky Barnes, which will be directed by Kari Skogland.
It's been revealed that Bruhl will reprise his role as Baron Zemo while VanCamp will return as Sharon Carter (aka Agent 13), and Russell will play John Walker who is also known in the comics as the fanatic U.S. Agent.
Specific details about the story as well as other roles are being kept tightly under wraps. Disney has declined to comment.
The series, executive produced by Malcolm Spellman, is slated to premiere on Disney+ in August.
ROBERT ZEMECKIS CLOSES DEAL TO DIRECT AND CO-WRITE DISNEY'S LIVE-ACTION 'PINOCCHIO'
01/25/20 @ 3:54 pm EST
Source:
Deadline
| Categories:
Disney
|
Comments
(0) |
E-mail Article
|
Add a Comment
Deadline
reports that Oscar-winning filmmaker Robert Zemeckis is fully aboard Disney's live-action remake of its animated classic
Pinocchio.
He'll direct, and co-write the next draft with Chris Weitz for a possible year-end production start.
Casting is still being determined.
Zemeckis and Weitz will write off the previous draft that the latter penned with Simon Farnaby. The original 1940 Disney animated classic film ($85M lifetime domestic B.O. unadjusted for inflation) follows a wooden puppet, his father-creater Geppetto and the former's quest to become a real boy.
Andrew Miano and Weitz are producing
Pinocchio
through their Depth of Field label. Jack Rapke and Jackie Levine are executive producing.
No release date has been set.
THE AVENGERS' NEXT GREAT THREAT IS MOON KNIGHT (YES, REALLY)
01/25/20 @ 3:50 pm EST
Source:
Screen Rant
| Categories:
Marvel
|
Comments
(0) |
E-mail Article
|
Add a Comment
Moon Knight is about to become the Avengers' next great threat. Really.
These are exciting times for the vigilante. Marvel's April solicits confirm the Age of Khonshu is about to begin in Jason Aaron's
Avengers
.
Originally introduced as a villain, Moon Knight morphed into Marvel's twisted version of Batman. The son of a Jewish rabbi, Marc Spector left the Marines to become a mercenary, and a mission to Egypt brought him into contact with the Egyptian moon god, Khonshu. He was blessed with a new lease of life, albeit a very loose grasp of reality.
Marvel Studios recently announced a
Moon Knight
series for Disney+, and naturally, the comics have responded by moving him to center-stage.
But why has Khonshu seemingly gone rogue, and how can he be defeated? It's reasonable to assume Moon Knight will be the key, perhaps positioning him for a power-up of unprecedented proportions, and maybe even ultimately a position on the Avengers. One thing's for sure: Moon Knight is the number one hero to watch in 2020. (via
Screen Rant
)
MARVEL'S 'HOWARD THE DUCK,' 'TIGRA & DAZZLER' DEAD AT HULU
01/25/20 @ 3:36 pm EST
Source:
Hollywood Reporter
| Categories:
Marvel
|
Comments
(0) |
E-mail Article
|
Add a Comment
THR
reports that Marvel is cleaning house.
As the transition from the Jeph Loeb-led era of Marvel Television comes to its end and Kevin Feige begins to have greater creative control over film and television projects, the comic book company has opted to end development of two of its four animated Hulu comedies. No longer moving forward are
Howard the Duck
and
Tigra & Dazzler,
the latter of which was paused in December as part of a creative overhaul. The other two shows in Marvel's original four-show animated comedy universe set up at Hulu —
MODOK
and
Hit Monkey
— will continue on as planned.
Animated crossover
The Offenders
is also unlikely to move forward given that half the combined universe has been scrapped. Still, the character of Howard the Duck has had several cameos in the Marvel Cinematic Universe and it's likely he will appear in future projects. Sources say that the decision to scrap two of the four shows was ultimately made by Marvel, not Hulu. Both Disney-owned companies declined comment.
'THE SACRIFICE OF DARKNESS' GRAPHIC NOVEL DEBUTS FROM BOOM! STUDIOS
01/24/20 @ 4:18 pm EST
Source:
BOOM! Studios
| Categories:
MIsc
|
Comments
(0) |
E-mail Article
|
Add a Comment
BOOM! Studios announced today a new original graphic novel, THE SACRIFICE OF DARKNESS, from
New York Times
bestselling author Roxane Gay, writer Tracy Lynne Oliver, artist Rebecca Kirby, and colorist James Fenner, adapting Gay's New York Times bestselling short story "We Are the Sacrifice of Darkness" into a full-length graphic novel and expanding the short story about a tragic event that forever bathes the world in darkness, available in October 2020.
Follow a woman and a man's powerful journey through this new landscape as they discover love, family, and the true light in a world seemingly robbed of any. As they challenge the world's notions of identity, guilt, and survival, they find that no matter the darkness, there remain sources of hope that can pierce the veil.
Roxane Gay's writing appears in
Best American Nonrequired Reading 2018, Best American Mystery Stories 2014, Best American Short Stories 2012, Best Sex Writing 2012, Harper's Bazaar, A Public Space, McSweeney's, Tin House, Oxford American, American Short Fiction, Virginia Quarterly Review,
and many others. She is a contributing opinion writer for
The New York Times
. She is the author of the books
Ayiti, An Untamed State
, the New York Times bestselling Bad Feminist, the nationally bestselling
Difficult Women
and New York Times bestselling
Hunger: A Memoir of My Body.
She is also the author of
World of Wakanda
for Marvel and the editor of
Best American Short Stories 2018
. She is currently at work on film and television projects, a book of writing advice, an essay collection about television and culture, and a YA novel entitled
The Year I Learned Everything
. In 2018, she won a Guggenheim fellowship.
"Some stories don't leave you and such was the case with my short story 'We are the Sacrifice of Darkness.' When BOOM! Studios approached me about writing a graphic novel, I immediately knew what kind of story I wanted to tell--one about family and sorrow, faith that survives in a world of darkness, true love and an indelible bond between two people with the world against them," said author Roxane Gay. "It has been a thrill to be able to bring breadth and depth to the world I created in my short story, and to be able to do so with one of my favorite writers, Tracy Lynne Oliver. She is an amazing collaborator who always pushes me creatively. We are excited to have this graphic novel out in the world later this year."
Tracy Lynne Oliver is a writer based in Los Angeles. She has been published online at a variety of places such as Medium, Fanzine and Occulum. Her story,
This Weekend
was chosen to be in
Best Microfiction 2019
. This is her first graphic novel adaptation.
"'We are the Sacrifice of Darkness' was one of my favorite Roxane Gay stories, so I was more than thrilled with the opportunity to transform it into a graphic novel format," said writer Tracy Lynne Oliver. "I once again fell in love with the characters and their struggles and yearning for love, warmth and light in this dark, cold world they were thrust into. I am so excited for readers to see this story brought to life in such a visually stunning way."
Rebecca Kirby is a comic artist and illustrator based out of Philadelphia best known for her original comics,
Biopsy
and
Cramps
, which have been featured on Vice and
Waves
, featured in Fantagraphics
Now: The New Comics Anthology #4.
"It's been an incredible experience working with everyone as we create a graphic novel full of striking contrasts and tender moments splashed across the page," said artist Rebecca Kirby. "I've had a great time illustrating the beautiful story that Roxane and Tracy have crafted, and I hope fans will have just as great an experience reading it."
THE SACRIFICE OF DARKNESS is the latest release from BOOM! Studios' award-winning Archaia imprint, home to inspiring graphic novels such as
Big Black: Stand at Attica
by Frank "Big Black" Smith, Jared Reinmuth, and Ameziane,
We Served the People
by Emei Burell, The Realist by Asaf Hanuka,
Girl on Film
by Cecil Castellucci and Vicky Leta, Melissa Duffy, V. Gagnon & Jon Berg,
New World
by David Jesus Vignolli,
About Betty's Boob
by Vero Cazot and Julie Rocheleau,
Waves
by Ingrid Chabbert and Carole Maurel,
The Grand Abyss Hotel
by Marcos Prior and David Rubín, and more.
"It's an honor to bring new dimension into Roxane Gay's story, alongside Tracy, Rebecca, and James who have really evolved into an exciting, singular narrative voice," said Dafna Pleban, Senior Editor, BOOM! Studios. "Grappling with questions of hope, culpability and identity, the graphic novel medium brings to life a world struggling to move on with a visual intensity and specificity that will make for a whole new reading experience for devoted Roxane Gay fans and new readers alike."
Print copies of THE SACRIFICE OF DARKNESS will be available for sale in October 2020 at local comic book shops (use
comicshoplocator.com
to find the nearest one), bookstores, or at the BOOM! Studios webstore. Digital copies can be purchased from content providers, including comiXology, iBooks, Google Play, and Madefire.
GWEN STACY FACES HER GREATEST CHALLENGE YET IN 'GHOST-SPIDER' #7
01/24/20 @ 4:15 pm EST
Source:
Marvel
| Categories:
Marvel
|
Comments
(0) |
E-mail Article
|
Add a Comment
Throughout Seanan McGuire's current run of GHOST-SPIDER, the dimension-hopping Spider-Woman has been fighting crime and taking down enemies all while adjusting to her new school in the main Marvel Universe! But just when Gwen Stacy gets the swing of her exciting new life in next month's GHOST-SPIDER 7, a deadly new threat will be revealed… Having played a pivotal role in last year's ABSOLUTE CARNAGE event, fellow dimension skipper Maker's latest machinations will turn Gwen's life upside down! What does this villainous mastermind want with Gwen and how will he use his superior intellect to change her world forever?
Take a sneak peek at this radical issue and pick up GHOST-SPIDER 7
by Seanan McGuire and Ig Guara at your local comic shop on Februrary 19th!