'AVENGERS: SECRET WARS': MICHAEL WALDRON TAPPED TO PEN UPCOMING INSTALLMENT FOR MARVEL STUDIOS
10/03/22 @ 12:39 pm EST
Source:
Deadline
| Categories:
Marvel
|
Comments
(0) |
E-mail Article
|
Add a Comment
Following the success of
Loki
and
Doctor Strange in the Multiverse of Madness,
Michael Waldron looks to be in line for another high-profile Marvel property as
Deadline
reports that he is set to write
Avengers: Secret Wars
for Marvel Studios.
Deadline recently broke that Jeff Loveness was on board to write
Avengers: The Kang Dynasty,
following the news Destin Daniel Cretton would direct
Kang Dynasty
for Marvel Studios, and now both films have locked up their writers. Insiders add that
Secret Wars
will have its own director, though it's assumed all parties will be in touch while the films are in development. Marvel Studios President Kevin Feige is producing.
Marvel Studios had no comment on the Waldron news.
Like
The Kang Dynasty,
plot details are being kept under wraps.
Avengers: Secret Wars
was part of the massive unveiling of the future phases of the Marvel Cinematic Universe at this summer's San Diego Comic-Con, including its November 8, 2025, release date.
Insiders say meetings for the job took place last month and while a number of writers met, many believed Waldron was the front-runner given how much trust the studio has in the writer. Waldron has been on a roll with the studio over the last year starting with last years smash hit
Loki
series for Disney+. Waldron served as exec producer and showrunner on the series which was so popular it became one of few Marvel series to receive a second season renewal. That series is currently in production.
MASTER OF THE MYSTIC ARTS RETURNS TO RESHAPE YOUR REALITY IN NEW 'DOCTOR STRANGE' SERIES
12/08/22 @ 7:31 pm EST
Source:
Marvel
| Categories:
Doctor Strange
|
Comments
(0) |
E-mail Article
|
Add a Comment
Jed MacKay's acclaimed work on the Doctor Strange mythos has captivated readers over the past year and this March, a thrilling new chapter begins. Spinning out of the character's terrifying demise in
Death of Doctor Strange
and Clea's time as Sorcerer Supreme in
Strange
comes an all-new ongoing series for Stephen Strange where he'll resume his duties as Marvel's Master of the Mystic Arts!
This time around, MacKay will be joined by superstar artist Pasqual Ferry, known for his stylish work on recent titles like
Namor: Conquered Shores
and
Spider-Man: Spider's Shadow
. These two talents have devised a grand plan for Doctor Strange centered around a shocking mystery that strikes at the very heart of Strange's legacy and purpose. The journey that follows will harken back to the iconic hero's psychedelic and otherworldly storytelling, taking readers to places only Strange would dare to go and introducing enemies only he could hope to defeat, including a brand-new threat that Strange shares a personal connection with. In honor of this new saga, Doctor Strange will be donning a revamped costume designed by the legendary Alex Ross, who will also be gracing the series with breathtaking covers!
Stephen Strange is back! Reunited with Clea and Wong, it's back to business as usual for the Sorcerer Supreme. Have your children fallen into a deep nightmarish slumber? Are demonic refugees invading your home? Is your husband possessed by a satanic entity? Then call Doctor Strange! But when someone else begins to issue their own dark justice on Strange's mightiest foes, Strange embarks on an interdimensional search for answers, only to discover the culprit may be closer to home than he thinks…
"After
Death of Doctor Strange
, after
Strange
, we open the next act in our ongoing saga of the Sorcerer Supreme in DOCTOR STRANGE #1!" MacKay proclaimed. "It's been really exciting to have the opportunity to not only continue exploring the magical side of the Marvel Universe with the inhabitants of 177A Bleecker Street, but to follow the lives of the Stranges as the last year and a half has put them through the wringer. Pasqual has been putting together a truly magical book, and I'm super psyched to show people what's in store for Stephen and Clea Strange- and of course, we won't be giving them any time off after recent events..."
"When I started working for Marvel, there were three comics I had always wanted to draw:
Fantastic Four
,
Spider-Man
, and
Doctor Strange
," Ferry said. "Why Doctor Strange? Because his stories include all the elements I love as an artist—the fantasy, science fiction, and imagination. Above all, the fact that I could look at Steve Ditko's work as a reference really motivates me! When he drew Doctor Strange, all the utopian and imaginary sceneries were incredible. So this is a very special moment in my career, and I'm looking forward to seeing where the character is going to take us with this new narrative. I know a lot of artists, including myself, consider Doctor Strange a challenge, like there is a need to add something new to the character because it offers you that possibility. For me, Doctor Strange is a big challenge, but I embrace it."
Enter a new reality alongside comic books' greatest magical hero when DOCTOR STRANGE #1 hits stands in March!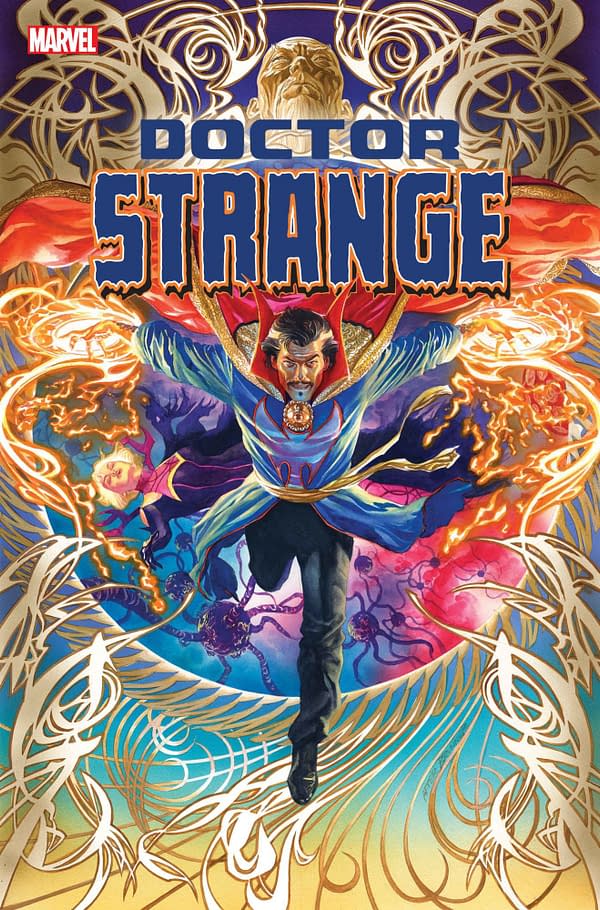 JAMES GUNN SOUNDS OFF ON DC FILMS' FUTURE
12/08/22 @ 7:19 pm EST
Source:
Variety
| Categories:
DC
|
Comments
(0) |
E-mail Article
|
Add a Comment
Filmmaker James Gunn has made his first lengthy public statement about the future of DC Studios after he and producer Peter Safran took the reins of the Warner Bros. Discovery division in October.
"Peter and I chose to helm DC Studios knowing we were coming into a fractious environment, both in the stories being told and in the audience itself and there would be an unavoidable transitional period as we moved into telling a cohesive story across film, TV, animation and gaming," Gunn tweeted Thursday. "But, in the end, the drawbacks of that transitional period were dwarfed by the creative possibilities and the opportunity to build upon what has worked in DC so far and to help rectify what has not."
Gunn's decision to speak out was catalyzed by a lengthy story posted Wednesday by The Hollywood Reporter, which broke the news that a sequel to 2020's "Wonder Woman 1984" was not moving forward at Warner Bros. with director Patty Jenkins.
Variety
confirmed that aspect of the report, but sources cautioned that several other assertions within it — that potential sequels to "Man of Steel" with Henry Cavill and "Black Adam" with Dwayne Johnson were likely also dead, and that Jason Momoa might transition from playing Aquaman to the DC anti-hero Lobo — were far more speculative.
Gunn and Safran are due to present their current plans for the DC Universe across film, television and gaming next week to Warner Bros. Discovery CEO David Zaslav, and insiders say they've been keeping their strategy close to the vest within the company.
DOOM APPROACHES IN 'WYND: THE THRONE IN THE SKY' #5
12/08/22 @ 7:04 pm EST
Source:
BOOM! Studios
| Categories:
MIsc
|
Comments
(0) |
E-mail Article
|
Add a Comment
BOOM! Studios today revealed the first look at the Eisner-nominated blockbuster fantasy WYND: THE THRONE IN THE SKY #5, the final issue of the five-issue chapter in the acclaimed original series by Eisner Award-winning writer James Tynion IV (
Something is Killing the Children
) and artist Michael Dialynas (
Teenage Mutant Ninja Turtles
), the GLAAD Award-winning creative team behind
The Woods
, with letterer AndWorld Design (
The Many Deaths of Laila Starr
), available in December 2022.
The final battle is here as the Faerie army closes in! The kids seemingly have nowhere to escape, with Wynd in dire straits as he takes it upon himself to battle the Faerie General. What will it take to save the children, and more importantly, what role does Wynd's blood play in all of this?
WYND: THE THRONE IN THE SKY #5 features main and variant cover art by acclaimed series artist Dialynas, as well as variant cover art by acclaimed illustrators Martin Simmonds (
The Department of Truth
) and Werther Dell'Edera (
Something is Killing the Children
).
WYND is the newest release from BOOM! Studios' eponymous imprint, home to critically acclaimed original series, including
BRZRKR
by Keanu Reeves, Matt Kindt, and Ron Garney;
Something is Killing the Children
by James Tynion IV and Werther Dell'Edera;
Once & Future
by Kieron Gillen and Dan Mora;
We Only Find Them When They're Dead
by Al Ewing and Simone Di Meo;
Eve
by Victor LaValle and Jo Mi-Gyeong;
The Many Deaths of Laila Starr
by Ram V and Filipe Andrade;
Grim
by Stephanie Phillips and Flaviano;
Briar
by Christopher Cantwell and Germán García;
Stuff of Nightmares
by R.L. Stine and A.L. Kaplan;
The Approach
by Jeremy Haun, Jason A. Hurley, and Jesus Hervas;
Damn Them All
by Simon Spurrier and Charlie Adlard;
Behold
,
Behemoth
by Tate Brombal and Nick Robles;
Specs
by David M. Booher and Chris Shehan;
Once Upon a Time at the End of the World
by Jason Aaron, Alexandre Tefenkgi, Leila del Duca, and Nick Dragotta;
Know Your Station
by Sarah Gailey and Liana Kangas; and the upcoming
A Vicious Circle
by Mattson Tomlin and Lee Bermejo;
Mosely
by Rob Guillory and Sam Lotfi; and
Harrower
by Justin Jordan and Brahm Revel. The imprint also publishes popular licensed properties, including
Dune: House Harkonnen
from Brian Herbert, Kevin J. Anderson, and Michael Shelfer;
Mighty Morphin Power Rangers
from Melissa Flores and Simona Di Gianfelice; and
Magic
from Jed McKay, Rich Douek, and Ig Guara.
Print copies of WYND: THE THRONE IN THE SKY #5 will be available on December 14, 2022 exclusively at local comic book shops (use
comicshoplocator.com
to find the one nearest you) or at the BOOM! Studios webstore. Digital copies can be purchased from content providers like comiXology, iBooks, Google Play, and Kindle.
Fans and readers can purchase copies of WYND BOOK THREE: THE THRONE IN THE SKY SC, collecting the entire five-issue series, in local comic shops on August 9, 2023 and in bookstores everywhere on August 15, 2023.
NEW 'TOKYO GHOST' HARDCOVER ART REVEALED
12/08/22 @ 6:57 pm EST
Source:
Image Comics
| Categories:
Image
|
Comments
(0) |
E-mail Article
|
Add a Comment
Comics titan Rick Remender's Giant Generator Studios line of bestsellers will see a number of exciting upcoming releases next year—including a long-anticipated reprint of the
Tokyo Ghost
hardcover co-created with artist Sean Gordon Murphy—all published by Image Comics. Image is pleased to reveal new cover art by Murphy to grace the upcoming
Tokyo Ghost
hardcover reprint which will land on shelves in April 2023.
"The demand for evergreen favorites such as
Tokyo Ghost, Deadly Class
,
Fear Agent, Seven to Eternity, LOW,
and
Death or Glory
has been unrelenting so I'm very excited to announce we're putting them all back in print in the deluxe oversized hardcover format as well as a new line of complete series compendiums beginning with our bestselling title
Black Science
," said Remender. "We're also seeing newer hits like
The Scumbag
and
A Righteous Thirst for Vengeance
given the Deluxe hardcover treatment for the first time. I've spent the majority of the last decade working with the most dedicated people in comics to complete the first wave of Giant Generator books, allowing the best artists in the industry to take the time they need to tell the stories to the best of their abilities and with wave one of Giant Generator finally completed it's a joy to ensure these works of exquisite art live on in the prestige formats they deserve."
Upcoming Giant Generator titles greenlit for publication include to following, with more to come:
12/21
—Seven To Eternity
deluxe hardcover (co-created with artist Jerome Opeña)
4/19/2023
—Tokyo Ghost
deluxe hardcover (co-created w/Murphy, featuring new cover art by Murphy)
4/5/2023
—Deadly Class
Book One deluxe hardcover (co-created with artist Wes Craig)
4/5/2023
—Black Science: The Complete Story
compendium trade paperback edition (co-created with artist Matteo Scalera featuring new cover art by Scalera)
6/14/2023
—The Scumbag: The Complete Story
deluxe hardcover
(featuring various collaborating artists, cover by Greg Tocchini)
6/28/2023
—
Deadly Class
Book Four deluxe hardcover (co-created with artist Craig)
8/9/2023
—A Righteous Thirst for Vengeance
deluxe hardcover (co-created with André Lima Araújo)
11/8/2023
—
Fear Agent Book One
deluxe hardcover (co-created with artist Tony Moore & Opeña)
11/15/2023
—
Fear Agent Book Two
deluxe hardcover (co-created with artist Moore & Opeña)
These books will be available at local
comic book shops
and
independent bookstores
, Amazon, Barnes & Noble, Books-a-Million, and Indigo.
The series are also available across many digital platforms, including Amazon Kindle, Apple Books, and Google Play.
'THE DARK TOWER' TV SERIES IN THE WORKS FROM 'THE HAUNTING' CREATOR MIKE FLANAGAN
12/08/22 @ 6:33 pm EST
Source:
Variety
| Categories:
Dark Tower
|
Comments
(0) |
E-mail Article
|
Add a Comment
"The Haunting of Hill House" and "Midnight Mass" creator Mike Flanagan and his producing partner Trevor Macy have acquired the rights to adapt Stephen King's "The Dark Tower" into a TV series.
Flanagan and Macy revealed the news Thursday in an interview with Deadline, which dove more into the pair's recent decision to move their Intrepid Pictures' overall deal from Netflix to Amazon.
"Predating our deal with Amazon, we acquired the rights to 'The Dark Tower,' which if you know anything about me, you know it has been my Holy Grail of a project for most of my life," Flanagan said. "We actually have those rights carved out of our Amazon deal, which doesn't mean that they can't or won't get behind it at some point — you don't know. But that's something we've been developing ourselves and are really passionate about finally getting it up on its feet at some point."
Amazon previously had the rights to "The Dark Tower" themselves and were working on a project that only made it to the pilot phase. Those rights lapsed and Flanagan and Macy picked them up before setting their new pact with Amazon, which was announced Dec. 1.
Variety
confirmed that the "Dark Tower" project was carved out of Flanagan and Macy's new deal at Amazon, though sources say that doesn't necessarily mean the series won't end up on Prime Video — just that others do have a shot at it, as well.
SCOUT COMICS TEAMS WITH CHISPA COMICS, MUCHO MAS MEDIA FOR LATINX SUPERHERO UNIVERSE
12/08/22 @ 11:50 am EST
Source:
ComicBook
| Categories:
MIsc
|
Comments
(0) |
E-mail Article
|
Add a Comment
A new superhero universe is in the works, featuring Latinx characters and creatives behind the scenes.
The publisher behind creator-owned series like Commander Rao, Charm City,
She Bites
(formerly known as
The Vampire's Babysitter
), and
Eternus
from Andy Serkis and Andrew Levitas, is teaming with Chispa Comics and multimedia company Mucho Mas Media to launch a Latinx-focused shared universe. Most comics fans are familiar with the shared universes from Marvel and DC, but they are primarily filled with white characters. The world Scout Comics, Chispa Comics, and Mucho Mas Media are envisioning will help bring some much-needed representation to comics.
The Thirteen
from Chispa is the first title to kick off this new shared universe, which is the brainchild of Mucho Mas Media, in partnership with distributor Scout Comics.
The Thirteen
is described as "an elite league of super-powered humans with Mesoamerican roots."
The Thirteen
will debut in 2023 through a series of one-shot origin stories: the first six set to premiere at San Diego Comic-Con, the last seven to drop at New York Comic-Con. An ongoing series will follow the one-shots in 2024, featuring the entire line-up, and three other spinoff series featuring smaller teams of heroes.
Origin stories for
The Thirteen
come from a group of writers, some of whom are represented by Mucho Mas subsidiary Inclusion Management:
Zopilote
by Hector Rodriguez III,
The Wake
by Jasminne and Lupe Méndez,
Pyroclast
by Frederick Luis Aldama,
Cloudbreak
by Leticia Urieta,
Florescent
by Héctor González,
Dragonthrall
by Veronique Medrano,
Vendaval
by Ire'ne Lara Silva,
Shaper
by Angelo Bowles,
Gila Girl
by Henry Barajas,
Molt
by Laura Galán-Wells,
Revive
by Oscar Garza and Rolando Esquivel,
Blue Deer
by David Bowles, and
Coneja
by Kevin García. Negotiations with illustrators and writers are underway. (via
ComicBook.com
)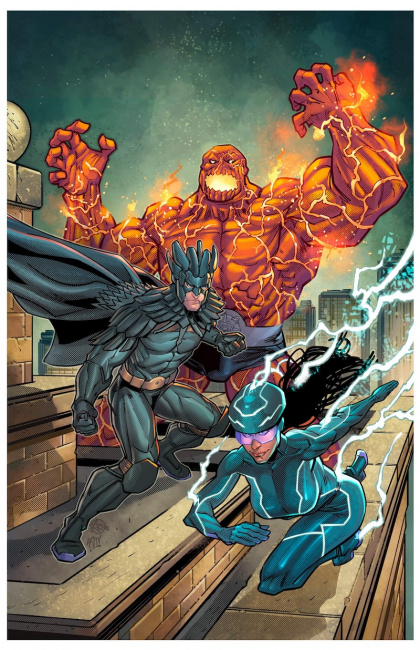 IT'S VENOM VS. DOOM AS DAVID MICHELINIE RETURNS WITH MORE 'VENOM: LETHAL PROTECTOR'
12/08/22 @ 8:50 am EST
Source:
Marvel
| Categories:
Venom Leathal Protector
|
Comments
(0) |
E-mail Article
|
Add a Comment
This year, Venom co-creator David Michelinie made his epic return to the world of symbiotes in VENOM: LETHAL PROTECTOR, and the hit series took readers back to Venom's early days as a wicked web-slinger. Now, prepare for round two as Michelinie is back with another all-new five-issue Venom saga in VENOM: LETHAL PROTECTOR II!
Known for his legendary run on AMAZING SPIDER-MAN where he introduced and defined Venom alongside Todd MacFarlane, Michelinie knows better than anyone how dangerous Venom can be. Join him for another captivating adventure set in the sinister symbiote's past when brains — and Spider-Man — were still on the menu! This time, Michelinie will unite with rising star Farid Karami to weave an epic, blockbuster story pitting Venom against one of comic books' most iconic villains—DOCTOR DOOM!
Swinging from the streets of NYC to the kingdom of Latveria, Eddie Brock is challenged like never before! What (or WHO) will Venom need to overcome the fiercest foe in the Marvel U? One thing's for certain, this monster's bringing the mayhem!
"One of the happiest parts of my career was when I was originating and developing Venom," Michelinie said. "So returning to that era is like having my own time machine. And to put Venom up against Doctor Doom, my favorite villain...sweet icing on the cake!"
BROCK VS. DOOM. 'NUFF SAID! Be there for this incredible showdown when VENOM: LETHAL PROTECTOR II arrives in March!
'RICK AND MORTY' RELEASES NEW LOOK AT SEASON 6 FINALE
12/08/22 @ 8:08 am EST
Source:
ComicBook
| Categories:
Rick and Morty
|
Comments
(0) |
E-mail Article
|
Add a Comment
Rick and Morty
is getting ready for the final episode of its sixth season, and the series has released a new look at what fans can expect from the final episode!
It's been a pretty wild season overall as it kicked off with a huge new addition to the canon, changed the status quo in significant ways, and spent the following episodes exploring new aspects of the Smith Family as characters. With such a trajectory going in many different directions, and with many more seasons already in the works, there is a lot of mystery as to how
Rick and Morty
will end Season 6.
The final episode of
Rick and Morty
Season 6 is titled "Ricktional Mortpoon's Rickmas Mortcation," and will be airing on Adult Swim on Sunday, December 11th at 11:00PM EST. Adult Swim's planning a special Yule Log to air following the finale as well, so there will be plenty to look forward to following the holiday special vibes of this upcoming episode. (via
ComicBook.com
)
Preview:
https://youtu.be/kCUKn-zD_wE
PATTY JENKINS' 'WONDER WOMAN 3' REPORTEDLY NOT MOVING FORWARD
12/08/22 @ 8:19 am EST
Source:
Hollywood Reporter
| Categories:
DC
|
Comments
(0) |
E-mail Article
|
Add a Comment
Call it DC Rebirth or DC: Genesis. Maybe call it Identity Crisis or Flashpoint. These titles of past DC comics event series aptly describe the state of Warner Bros.' DC movies, which are on the cusp of a new era but not before a potentially messy transition period.
A cleaning of the slate is common when a new executive team is put in place to run a studio or division but there is likely little precedent for the amount of Clorox James Gunn and Peter Safran could spray as they prepare to launch DC Studios and guide superhero movies for the next half decade and beyond.
THR
is reporting that Patty Jenkins'
Wonder Woman 3
is not moving forward and is considered dead in its current incarnation.
Sources say that Jenkins recently submitted her treatment, co-written with Geoff Johns, and that Gunn and Safran, as well as Warner Bros. Pictures co-chairs and co-CEOs Michael De Luca and Pamela Abdy, broke the news to the filmmaker, telling her the project — as it stood — did not fit in with the new (but still unfolding) plans. Jenkins directed and co-wrote the previous two movies, starring Gal Gadot and released in 2017 and 2020. No decision has been made about next steps.
And while costs are not a factor — insiders say that DC Studios will not have any overburdensome financial restrictions — the studio could end up saving tens of millions of dollars by not making the third installment. Gadot, according to sources, was on track for a $20 million payday for
Wonder Woman 3
while Jenkins would have received $12 million. Those figures don't include any possible backend bonuses.
Warners had no comment.
TURKISH SUPERHERO SERIES 'ALTAY' FOR TRT DIGITAL SETS CAST
12/08/22 @ 7:43 am EST
Source:
Deadline
| Categories:
MIsc
|
Comments
(0) |
E-mail Article
|
Add a Comment
Turkey is getting its first set of superheroes.
Deadline
reports that the cast has been set on
Altay
, a series for streaming platform TRT Digital that will kick off plans for a Turkish superhero universe in the mold of Marvel.
The show has gone into production ahead of a 2023 launch, with T World Entertainment attached.
Several high profile Turkish stars have been cast, including Cem Özer, Batuhan Bayar, Aslı Sümen, Beste Kökdemir , Elif Doğan , Cemil Büyükdöğerli, Çetin Sarıkartal, Toprak Sergen and Muhammet Uzuner, who starred in Nuri Bilge Ceylan's Cannes Film Festival Grand Prize-winning movie
Once Upon a Time in Anatolia
.
Bobby Roth (
Marvel's Agents of SHIELD, Lost, Criminal Minds
) is Supervisor Director on the project.
Altay
is being billed as the first superhero series and universe from Turkey, inspired by the golden age of Eastern science. Using a Marvel and DC blueprint, the plan is to expand the universe with future series, though these will be inspired by different cultures and will be set in a variety of countries.
Altay
will follow 35 mortal superheroes who use the latest technology and ancient wisdom to overcome global challenges such as environmental disasters and wars, and battle with a cast of villains in the universe.
In 2023, the universe
Altay
inhabits, known as the T World Cinematic Universe, will comprise four seasons and 26 episodes, with each available on the TRT Digital platform.