PAUL BETTANY JOINS TOM HANKS IN 'HERE' FROM ROBERT ZEMECKIS
09/28/22 @ 11:44 am EST
Source:
Deadline
| Categories:
MIsc
|
Comments
(0) |
E-mail Article
|
Add a Comment
Paul Bettany is set to join Tom Hanks and Robin Wright in Miramax's
Here
, with Robert Zemeckis directing and Eric Roth adapting the script. Zemeckis and Jack Rapke's ImageMovers will produce alongside Miramax's Bill Block. Sony Pictures will release the film in theaters in the U.S., with Miramax holding international rights.
Based on Richard McGuire's graphic novel,
Here
is described as a breathtaking and revolutionary odyssey through time and memory. The innovative film is centered around a single geographic location in New England — starting as wilderness and later becoming the site of a home – where a story of love, loss, struggle, hope and legacy play out between couples and families over generations.
The project came together earlier this year, becoming one of the bigger packages to hit the market given that it would reunite the
Forrest Gump
team of Hanks, Zemeckis, Wright and Roth; the pic bowed nearly 30 years ago, taking home six Oscars including Best Picture.
Sony would eventually land distribution rights to
Here
in May when the film was taken to the Cannes film market. (via
Deadline
)
MISSIONS THAT WILL DECIDE THE FATE OF MUTANTKIND IN MARCH'S X-MEN TITLES
12/08/23 @ 12:00 pm EST
Source:
Marvel
| Categories:
X-Men
|
Comments
(0) |
E-mail Article
|
Add a Comment
In Jonathan Hickman's 2019
House of X
and
Powers of X
, the dawn of Krakoa ushered in a revolutionary period of X-Men comic book storytelling. Now, the Krakoan age comes crashing down and the current group of X-creators are making sure it goes out on a high note! Two interconnected series—Gerry Duggan and Lucas Werneck's FALL OF THE HOUSE OF X and Kieron Gillen and R.B. Silva's RISE OF THE POWERS OF X—will close out the era. The mythos-shattering events of these twin sagas will bleed out into special limited series including CABLE, DEAD X-MEN, RESURRECTION OF MAGNETO, and X-MEN FOREVER. In addition, current X-Men ongoing titles WOLVERINE, X-FORCE, and X-MEN will also deal with the dramatic repercussions of Krakoa's fall with the culmination of nearly five years' worth of intricate plotting and redefining character arcs. Today, fans can learn about the various X-Men issues hitting stands in March. It's the peak of the FALL OF THE HOUSE OF X and the final war of Krakoa is fought on multiple fronts throughout time and space! Harsh defeats and inspiring victories await as Nathan Summers teams up with his younger self to take down the new threat of the Neocracy in CABLE, Betsy Braddock assists a group of fallen X-Men on their desperate mission in DEAD X-MEN, and Storm and Magneto face off against an iconic X-Men villain in the afterlife in RESURRECTION OF MAGNETO. In addition, the Phoenix Force's role in mutantkind's future is revealed in X-MEN FOREVER and one of the greatest best friend duos in the Marvel Universe reunite for some good old fashioned vengeance in X-MEN #32! Also in March, Wolverine and Sabretooth continue their bloodiest and most momentous showdown ever in new installments of SABRETOOTH WAR and Beast finally gets what's been coming to him as X-FORCE reaches its milestone 50th issue.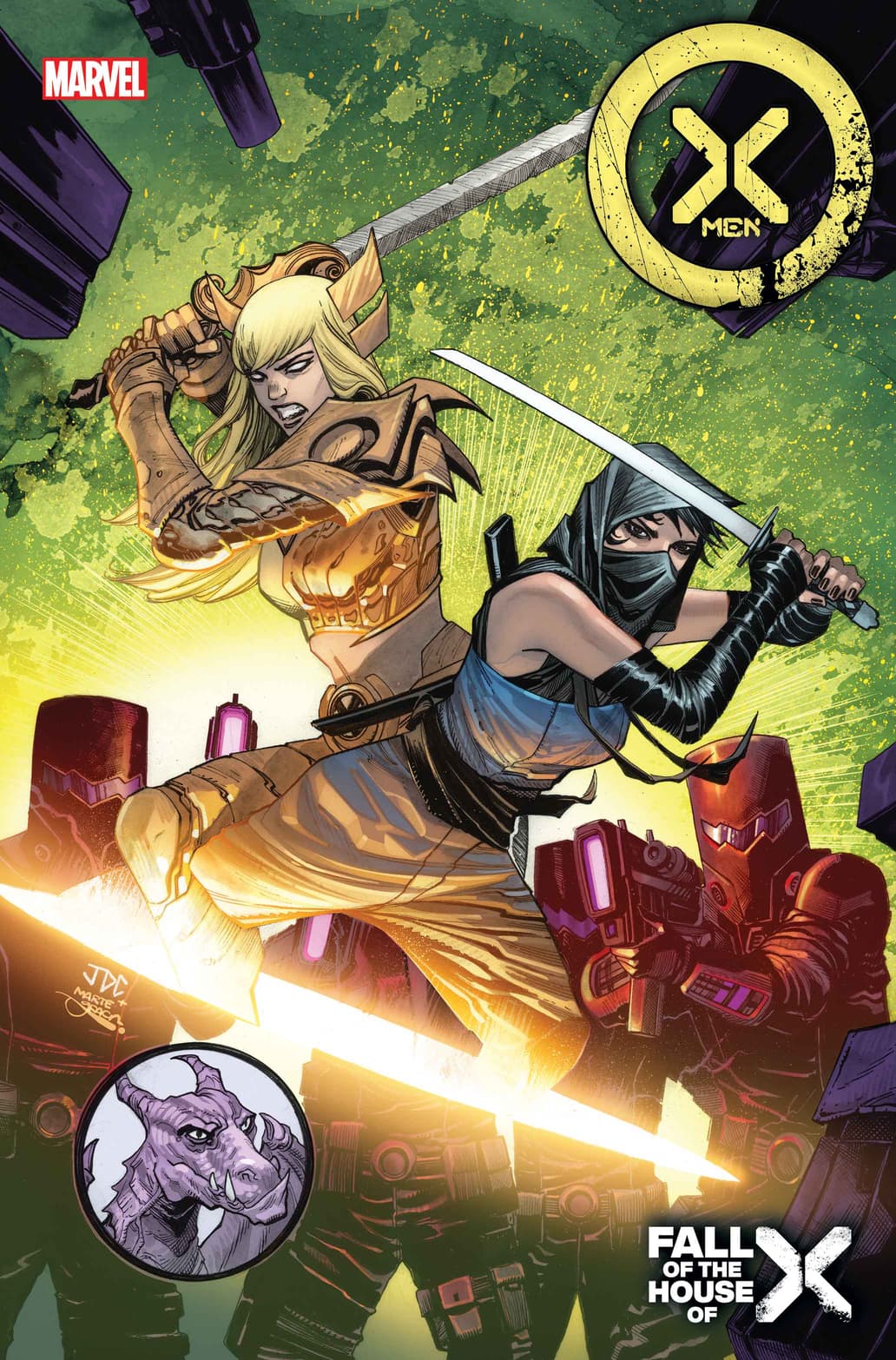 MARVEL SETTLES FIGHT OVER SPIDER-MAN, DOCTOR STRANGE RIGHTS
12/08/23 @ 11:49 am EST
Source:
Hollywood Reporter
| Categories:
Marvel
|
Comments
(0) |
E-mail Article
|
Add a Comment
It looks like Marvel won't be bringing its battle over the rights to Spider-Man and Doctor Strange into the new year. Attorneys for the company and the estate of Steve Ditko on Wednesday notified the court that they've reached an amicable settlement and expect a stipulation of dismissal with prejudice to be filed in the coming weeks. This all started back in 2021 when Marvel filed a series of lawsuits in response to copyright termination notices from Larry Lieber and the estates of Gene Colan, Steve Ditko, Don Heck and Don Rico. A very long list of characters were at issue including Iron Man, Captain America, Black Widow, Hulk and Thor. In June, all but one of the matters settled. The last remaining dispute was with the heirs of Ditko, who co-created Spider-Man and Doctor Strange. Marvel was represented by Dan Petrocelli and Molly Lens of O'Melveny, and Patrick Ditko was represented by Marc Toberoff. (via
The Hollywood Reporter
)
'BOY AND THE HERON' MAKES $2M+ PREVIEWS, EYES $10M OPENING
12/08/23 @ 11:38 am EST
Source:
Deadline
| Categories:
MIsc
|
Comments
(0) |
E-mail Article
|
Add a Comment
After one Japanese title delivered at the sleepy December box office last weekend, that being
Godzilla Minus One,
here's another that's set to dominate: Studio Ghibli and GKIDS' Hayao Miyazaki's
The Boy and the Heron
which is looking at a No. 1 lead with $10M+ after $2.39M Thursday and early access previews. The comp here is quite literally last weekend's Japanese live-action title
Godzilla Minus One
which saw previews of $2.1M before minting a $4.7M Friday, and 3-day of $11.4M at 2,308 theaters.
The Boy and the Heron
played at 1,774 theaters yesterday in U.S. and Canada with showtimes starting at 5PM. The pic is booked at 2,205 theaters this weekend, including IMAX and PLF. It's the first ever Studio Ghibli film to be presented in Imax. There were awards-qualifying preview engagements that began on Thanksgiving in New York and Los Angeles and those figures are going to be rolled into daily grosses on a prorated basis over the next two weeks per GKIDs. (via
Deadline
)
'LOKI' VIEWING SPIKES WITH SEASON 2 FINALE
12/07/23 @ 7:07 pm EST
Source:
Hollywood Reporter
| Categories:
Marvel
|
Comments
(0) |
E-mail Article
|
Add a Comment
Loki
scored its biggest tune-in of season two for the week of its finale, rising by almost 200 million minutes over the prior week. That's the good news. The bad news for the Marvel/Disney+ series is that despite the jump,
Loki
still finished its second season well behind the first in terms of viewing time, according to Nielsen's streaming ratings. Kids' favorite
Bluey
led the overall rankings for the week of Nov. 6-12, and
Friends
continued to post higher than usual numbers two weeks after the death of star Matthew Perry.
Loki
had 753 million minutes of viewing for the week (its finale debuted on Nov. 9), a 34 percent jump from the previous week and its best showing of the season by a wide margin. The previous season two high was 588 million minutes for Oct. 9-15. Over the six weeks of season two, the series racked up about 3.39 billion minutes of viewing (including repeat viewing of the first season, as Nielsen counts all episodes of a show in its streaming rankings). Season one's six episodes in the summer of 2021 amassed 5.23 billion minutes of viewing, putting season two down about 35 percent. (via
THR
)
LIVING TRIBUNAL IS REBORN IN RON LIM'S 'G.O.D.S.' HOMAGE COVER
12/07/23 @ 7:02 pm EST
Source:
Marvel
| Categories:
GODS
|
Comments
(0) |
E-mail Article
|
Add a Comment
At the core of the Marvel Universe, there exists a pantheon of omnipotent forces that shape the very building blocks of reality! Many of these strange beings have been around since the earliest days of Marvel Comics, and are now being transformed before reader's eyes in Jonathan Hickman and Valerio Schiti's revolutionary G.O.D.S. series which will delve into their nature and motives like never before. And who better to spotlight their new designs than one of the pioneer architects of the Marvel cosmos—artist Ron Lim! Known for his galaxy shaping work on
Silver Surfer
and the Infinity sagas, Lim will depict Schiti's new designs for Marvel's cosmic entities in six COSMIC HOMAGE VARIANT COVERS. Gracing the covers of G.O.D.S. #3-8, see Lim take on Schiti's modern looks for Oblivion, Living Tribunal, Master Chaos, Lord Order, Infinity, and Eternity in homages to his iconic covers for the Cosmic Powers series, the 1994 series where he and Ron Marz spun revelatory tales starring cosmic powerhouses like Thanos, Terrax, and more. "It's so cool revisiting these covers after all these years," Lim shared. "I remember how much fun I had working on them. Valerio Schiti's new character designs are fantastic and it's a blast drawing them on these homage covers!" Lim's latest COSMIC HOMAGE VARIANT COVER for next month's G.O.D.S. #4 showcases the new design for THE LIVING TRIBUNAL. Check it out now and preorder it at your local comic shop today!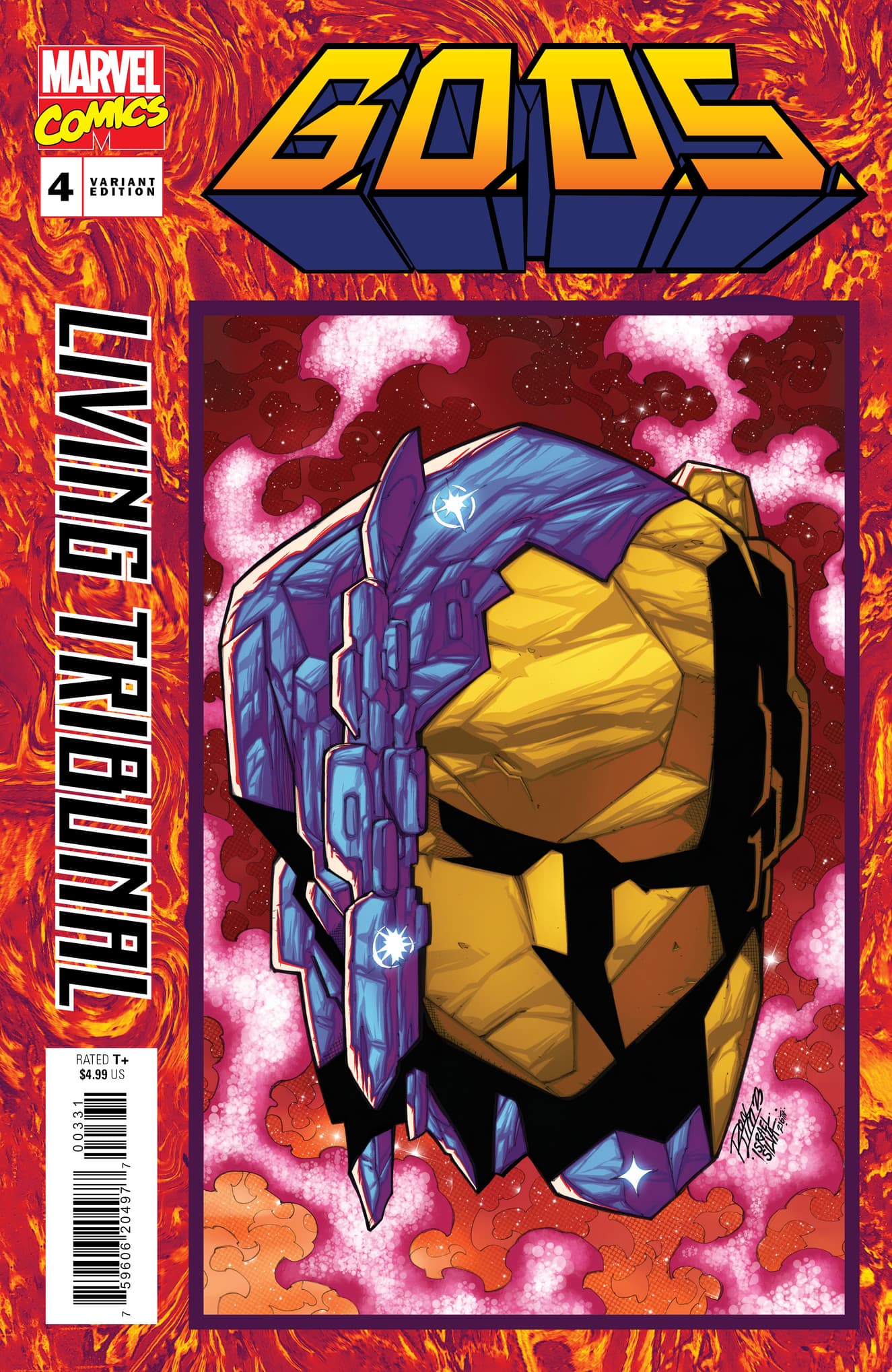 'MR. & MRS. SMITH' TRAILER PUTS DONALD GLOVER AND MAYA ERSKINE IN PERIL
12/07/23 @ 12:23 pm EST
Source:
Hollywood Reporter
| Categories:
MIsc
|
Comments
(0) |
E-mail Article
|
Add a Comment
The first teaser trailer for
Mr. & Mrs. Smith
from Amazon's Prime Video showcases the beginnings of a relationship between its two lead characters — and a lot of bullets. The series, loosely based on the 2005 film starring Brad Pitt and Angelina Jolie, has Donald Glover and Maya Erskine playing the two title characters. The show is something of an inverse of the movie: Rather than a married couple discovering each other's real job as a rival assassin, Glover and Erskine will play two people recruited for a spy agency and told to pose as a couple. The teaser showcases the relationship developing in between shots of gunfights, explosions and chase scenes. It also gives glimpses of some of the show's stacked guest cast, which features Alexander Skarsgård, Eiza González, Sarah Paulson, Sharon Horgan, Ron Perlman, Billy Campbell, Úrsula Corberó, Paul Dano, Michaela Coel, John Turturro, Parker Posey and Wagner Moura. (via
THR
)
Teaser Trailer:
https://youtu.be/dPhhRFkrNts
FIRST LOOK AT SERPENTOR KHAN'S SURPRISE IN 'G.I. JOE: A REAL AMERICAN HERO' #303
12/07/23 @ 12:16 pm EST
Source:
Skybound
| Categories:
G.I. Joe
|
Comments
(0) |
E-mail Article
|
Add a Comment
Today Skybound, in collaboration with leading toy and game company Hasbro, revealed all-new interior pages from G.I. JOE: A Real American Hero #303 by legendary series writer Larry Hama (Marvel's Wolverine), fan-favorite artist Chris Mooneyham (DC's Nightwing, Sgt. Rock and the Unknown Soldier) and colorist Francesco Segala (Mighty Morphin Power Rangers). Featuring covers by the incomparable Andy Kubert (Marvel's X-Men), issue #303 of the iconic series arrives in comic book shops on January 17, 2024. The Joes send a covert team to learn the truth about Springfield, but Serpentor Khan has a deadly surprise in store for them... In addition to the main cover by Andy Kubert and colorist Brad Anderson, issue #303 will also feature an open-to-order variant cover with a black and white version of Kubert's stunning main cover, and a 1:10 incentive cover series by Brad Walker (Detective Comics) and colorist Francesco Segala. The return of G.I. JOE: A Real American Hero continues the historic collaboration between Skybound and Hasbro, alongside the all-new shared Energon Universe that features Void Rivals by Robert Kirkman (Invincible, The Walking Dead) and artist Lorenzo De Felici (Oblivion Song), TRANSFORMERS by writer/artist Daniel Warren Johnson, Duke by writer Joshua Williamson (DC's Superman, Dark Ride) and artist Tom Reilly (The Thing), and Cobra Commander by writer Joshua Williamson and artist Andrea Milana (Impact Winter: Rook). Fans should expect can't-miss moments from every issue of the Energon Universe, as secrets are unveiled along the path to answering the BIG questions, including #WhereIsMegatron. G.I. JOE: A Real American Hero #303 (Lunar Codes below SRP: $3.99) will be available on Wednesday, January 17, 2024 at 
comic book shops
 and digital platforms including Amazon Kindle, Apple Books, comiXology, and Google Play.
The full list of variant covers is below:
G.I. JOE: A Real American Hero #303 Cover A by Andy Kubert and Brad Anderson (Lunar Code)
G.I. JOE: A Real American Hero #303 Cover B by Andy Kubert (Lunar Code)
G.I. JOE: A Real American Hero #303 Cover C (1:10 incentive) by Brad Walker & Francesco Segala (Lunar Code)  
ZACK SNYDER'S 'REBEL MOON' EARLY RELEASE ANNOUNCED BY NETFLIX
12/07/23 @ 12:11 pm EST
Source:
ComicBook
| Categories:
MIsc
|
Comments
(0) |
E-mail Article
|
Add a Comment
Zack Snyder's
Rebel Moon
is hitting Netflix a little bit early this month. On social media, the Netflix account teased a special December 21 release date at 7pm PT. So, the countdown is already on for Zack Snyder's latest project. CCXP last week brought some new reveals about the film. The convention also saw the director stepping onto the show floor to offer direct instruction to fans who wanted to get into their own custom trailer for the film. So, the hype just continues to build. In fact,
Rebel Moon
's first chapter is just the start of the ride with the sequel already announced and in the works. In the newest
Rebel Moon
teaser, the pulse-pounding action takes center stage. But,
Rebel Moon: Part One: A Child of Fire
fans are already whispering about the ending. Snyder only threw gasoline on the fire when he teased a cliffhanger in an interview with
Total Film
. "The truth is that movie one is a set-up for movie two," Snyder revealed. "The end is a crazy cliffhanger that launches you into The Scargiver." (via
ComicBook.com
)
Teaser:
https://twitter.com/i/status/1732761897269633143
BRUCE CAMPBELL CONFIRMS PLANS FOR MORE 'EVIL DEAD' MOVIES
12/06/23 @ 5:21 pm EST
Source:
Collider
| Categories:
MIsc
|
Comments
(0) |
E-mail Article
|
Add a Comment
Evil Dead Rise
, the excellent latest installment in the
Evil Dead franchise, was released in theaters in April this year. Now that the dust has settled, Bruce Campbell, the original franchise star and now, producer of the series has been reflecting on how the film was received by audiences and the Evil Dead fanbase at large. Along with fellow producers Robert Tapert and Sam Raimi, the film was a welcome addition to the franchise which began in 1982 and introduced the concept of the Book of the Dead to a new generation of fans as well as delighting those of a certain vintage. When asked by Collider if he, Raimi, and Tapert had plans for the Evil Dead franchise going forward, Campbell responded in the affirmative. The good news for fans is that they shouldn't need to wait a decade for another outing, but they should start to arrive more frequently. "We're going to do them probably more like every two to three years now, rather than every 10 years," Campbell said. "But, hey, we've seen with Star Wars — you don't want to wear people out. Keep them guessing! We never wore out our welcome with Evil Dead because we never choked them."
MAX DROPS 2024 TEASER FEATURING FIRST LOOKS FROM 'THE PENGUIN,' MORE
12/06/23 @ 5:11 pm EST
Source:
Deadline
| Categories:
MIsc
|
Comments
(0) |
E-mail Article
|
Add a Comment
Max has dropped a teaser for its 2024 lineup that includes never-before-seen footage from new HBO Originals like the limited series
The Sympathizer
, along with the comedy series
The Franchise
and the new Max Original
The Penguin
starring Colin Farrell (who utters, "the world ain't built for guys like us.")The brand spot also features first looks from
Curb Your Enthusiasm, Industry
(welcome, Kit Harington!)
, My Brilliant Friend, The Jinx, Tokyo Vice
and
Hacks,
as well as fresh peeks of
House of the Dragon
and
True Detective: Night Country
starring Jodie Foster and Kali Reis. And more! (via
Deadline
)
Teaser trailer:
https://youtu.be/X6yoTKa58Qw