DYNAMITE COMICS: VAMPIRELLA & CHRISTOPHER PRIEST COME TO NFTS
09/24/21 @ 10:27 am EST
Source:
Dynamite
| Categories:
Dynamite
|
Comments
(0) |
E-mail Article
|
Add a Comment
Vampirella is bringing the heat to the NFT collectibles sphere today, with a hotly anticipated launch of digital comics, graphic novels and more on Terra Virtua. Featuring the work of critically acclaimed industry legend Christopher Priest (
Black Panther, Deathstroke
), Ergün Gündüz, and superstar J. Scott Campbell (
Gen13, Amazing Spider-Man),
there is something for every kind of collector.
Front and center for this drop is the 50th anniversary prestige comic series of Vampirella. Written by Christopher Priest, drawn by Ergün Gündüz, and lettered by Willie Schubert, its historic first issue will be available now as a non-fungible digital collectible. Upon its initial release in comic book stores, it quickly became the highest selling full priced periodical in Dynamite's history. Terra Virtua will also be offering the
Seduction of the Innocent
graphic novel, compiling the first six full issues of the series, plus the #0 issue originally released for Free Comic Book Day 2019. A deluxe Director's Cut edition will also be available, with a more limited run and additional extra features only capable in the NFT space.
Both of the two previous Director's Cut deluxe NFT graphic novels, for
The Boys
by Garth Ennis and Darick Robertson, and
Red Sonja: Queen of Plagues
by Gail Simone and Walter Geovani have already completely sold out. While collectors are already selling and seeing incredible returns on the secondary market, with a Dynamite record of $5,000 for one of these resales.
Writer Christopher Priest will also be conducting an AMA, "Ask Me Anything" on Reddit for fans looking to learn more about his work on Vampirella, his broader career, the NFT collectibles space, and much more.
Questions can be asked now
, and Priest will be responding with answers Friday September 24 at 12 PM noon EST.
In addition to the comic and graphic novel releases, Terra Virtua has created a special 3D Vampirella statue based on the art of J. Scott Campbell. This first of its kind for Dynamite features animated features that truly bring it to life, as Vampirella's cape and whole body move. The platinum edition of the statue will be available in a 24 hour auction starting at 9 AM EST.
These releases are in addition to the aforementioned
The Boys
and
Red Sonja,
both with NFT editions still available. As well as a wide range of unique digital lithographs, featuring Dynamite's most popular characters portrayed by some of their respective definitive and top tier artists. Fans can stay tuned to Dynamite and Terra Virtua via email and social media for additional news as more exciting NFT releases roll out.
These limited-edition digital collectibles are available to purchase on Terra Virtua here:
https://terravirtua.io/marketplace?page=1&nft_type_code=COMICS&brand_code=DYNAMITE
JUSTIN TIMBERLAKE, ANNA KENDRICK CAST IN 'TROLLS' HOLIDAY SPECIAL
10/21/21 @ 9:22 am EST
Source:
ComicBook
| Categories:
MIsc
|
Comments
(0) |
E-mail Article
|
Add a Comment
Dreamworks's
Trolls
franchise is once again leaning into the music in a big way, casting Anna Kendrick and Justin Timberlake in the upcoming
Trolls: Holiday in Harmony
.
The made-for-TV film will debut on November 26th on NBC, and will also feature returning
Trolls
movie veterans Kenan Thompson, Rachel Bloom, Ron Funches, Kunal Nayyar, Anderson Paak, and Anthony Ramos. The special will include four original songs, and a digital soundtrack for the special will be released by RCA Records (featuring performances by Kendrick, Timberlake, Bloom, and other cast members and musicians) on November 26th, to coincide with the airing on NBC, and the special itself will be available for purchase a few days later.
While most of the star-studded cast do not play their Trolls characters in the TV spinoff series, Timberlake, Kendrick, Funches, and others have appeared in two theatrical films (
Trolls
and
Trolls World Tour
) since 2016, as well as a previous holiday special, 2017's
Trolls Holiday
.
The same-week streaming release is hardly surprising, considering that
Trolls World Tour
became the first major feature film to opt for home release as a result of the covid-19 pandemic, and its success helped embolden film studios to experiment a little more with release models over the past year and a half. (via
ComicBook.com
)
'WORLD WAR HULK' FILM REPORTED TO BEGIN PRODUCTION IN 2022
10/21/21 @ 9:11 am EST
Source:
Geeks WorldWide
| Categories:
Marvel
|
Comments
(0) |
E-mail Article
|
Add a Comment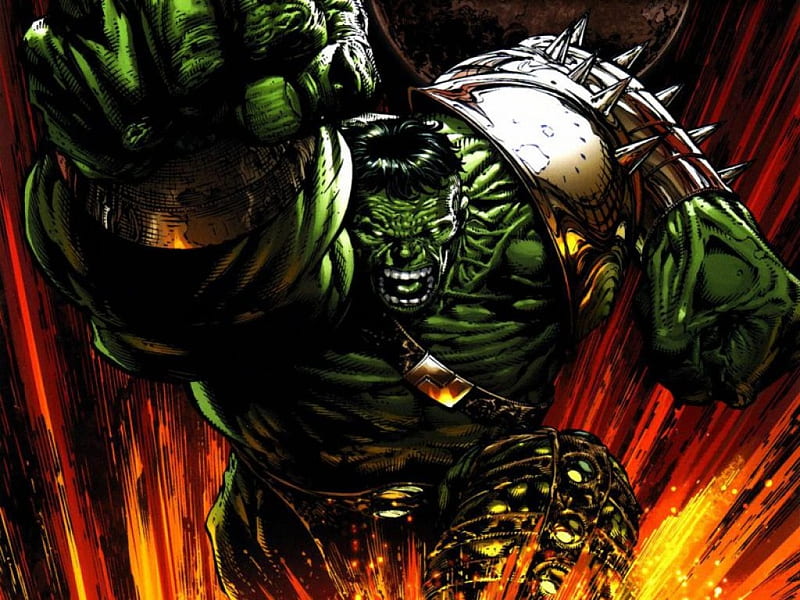 Buckle up, Hulk fans!
She-Hulk
is reportedly not the only Hulk-related content coming in the next few years.
Geeks WorldWide
is reporting that a Hulk movie is on the way and it is currently being called
World War Hulk
. Yes, we are finally to have a new "solo" Hulk film in active development at Marvel Studios and we were told it is currently slated to start production in late 2022, likely following the events of the upcoming
She-Hulk
series on Disney +.
While
She-Hulk
plans to further expand on the Hulk mythos and cast of characters via streaming, this movie news might be confusing to some readers due to the rumored status of Hulk's film rights. The reason why Hulk only has one movie so far is because his film rights formerly belonged to Universal Pictures. However, if GWW's source prove accurate, a new Hulk film means Marvel/Disney has regained the rights and
World War Hulk
may only be the first in a series of Hulk films to come.
'BATWOMAN': "FREEZE" PREVIEW RELEASED
10/21/21 @ 8:57 am EST
Source:
The CW
| Categories:
DC
|
Comments
(0) |
E-mail Article
|
Add a Comment
The CW
has released a new preview for "Freeze", the third episode of
Batwoman
's third season. As the title suggests, the episode is expected to feature a new character taking on the gimmick of Mr. Freeze.
"Freeze" is slated to air on The CW on October 27th.
Preview:
https://youtu.be/STmcaSsSTdk
'GODZILLA' ANNIVERSARY SHORT BRINGS BACK THE KING OF MONSTER'S WEIRDEST FOE
10/21/21 @ 8:48 am EST
Source:
CBR
| Categories:
Godzilla
|
Comments
(0) |
E-mail Article
|
Add a Comment
A new teaser trailer gives a brief glimpse at Godzilla's upcoming rematch with Hedorah, the Smog Monster.
The clip comes from a new short movie that will be released as part of the upcoming Godzilla Fest 2021. Godzilla Fest is a yearly celebration of the King of the Monsters, and this year the festival will be streamed on Nov. 3 on the official Godzilla YouTube channel. The full short will make its premiere at the festival, and was directed by Kazuhiro Nakagawa. Godzilla and Hedorah's new fight was shot over the course of three days at Toho Studios, and reusues the monster costumes that were last seen in 2004's
Godzilla: Final Wars
, the movie that celebrated the 50th anniversary of the franchise.
In addition to the new short, Godzilla Fest will also host a panel for
Godzilla: Singular Point
, the 13 episode anime series by studio BONES (
My Hero Academia, Eureka Seven
,) that premiered on Netflix earlier this year. The series featured the return of Jet Jaguar, another one of Godzilla's classic opponents from the 1970s. (via
CBR
)
Teaser trailer:
https://youtu.be/pSgeUsVj2J4
AMAZON LOCKS IN GARTH DAVIS SCI-FI THRILLER 'FOE' IN $30M+ DEAL
10/20/21 @ 3:57 pm EST
Source:
Deadline
| Categories:
MIsc
|
Comments
(0) |
E-mail Article
|
Add a Comment
Saoirse Ronan, Paul Mescal, Aaron PierreAmazon Studios has completed its worldwide acquisition of Garth Davis' sci-fi thriller
Foe
in a deal
Deadline
reports to be north of $30M.
The package was one of the hot titles at the Cannes market this year as Amazon was in exclusive negotiations with sellers FilmNation, CAA and UTA.
Four-time Oscar nominee Saoirse Ronan (
Little Women
) and
Normal People
star Paul Mescal were already set to star. Also revealed today: fast-rising Brit actor Aaron Pierre is replacing LaKeith Stanfield on the movie.
Foe
is set in a near future when corporate power and environmental decay are ravaging the planet. Junior (Mescal) and Hen (Ronan) are a young couple married seven years and living a solitary life on their isolated farm. One night, a stranger named Terrance (Pierre) knocks on their door, bringing news that throws their lives into turmoil: Junior has been randomly selected to travel to a large, experimental space station orbiting Earth. The most unusual part? Arrangements have already been made so that when he leaves, Hen won't have a chance to miss him, because she won't be left alone — not even for a moment. Hen will have familiar company that pushes her to make a life-changing decision.
'SING 2' TO WORLD PREMIERE AT AFI FEST
10/20/21 @ 3:58 pm EST
Source:
Variety
| Categories:
MIsc
|
Comments
(0) |
E-mail Article
|
Add a Comment
Variety
reports that Illumination's
Sing 2
, the animated film written and directed by Garth Jennings, will world premiere at AFI Fest on Nov. 14 at the TCL Chinese Theatre.
The movie, a sequel to 2016's
Sing
, follows a koala named Buster Moon (Matthew McConaughey) as he and his cast of performing animals prepare for their biggest concert yet in Redshore City, and must convince a reclusive rockstar (Bono) to join them. The film will feature more than 40 covers of classic and contemporary hit songs.
Returning stars, along with McConaughey, include Reese Witherspoon, Scarlett Johansson, Taron Egerton, Tori Kelly, Nick Kroll and Jennings. They are joined by new cast members Pharrell Williams, Halsey, Bobby Cannavale, Letitia Wright, Eric André and Chelsea Peretti.
Sing 2
is produced by Illumination founder and CEO Chris Meledandri, along with Janet Healy. After the AFI Fest premiere, the pic will hit theaters on December 22.
'DOCTOR WHO' ANNOUNCES HALLOWEEN EPISODE
10/20/21 @ 3:43 pm EST
Source:
ComicBook
| Categories:
Doctor Who
|
Comments
(0) |
E-mail Article
|
Add a Comment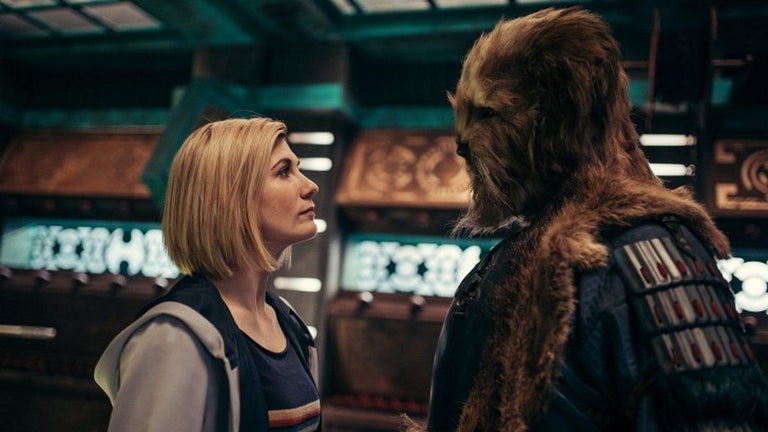 Doctor Who
is getting into the Halloween spirit when it returns for its thirteenth season, titled
Doctor Who: Flux
, later this month.
The iconic Brit series will return on Halloween, October 31st, and it's now clear that the choice of date wasn't coincidental. In what may be a nod to
Doctor Who
's holiday special tradition,
Doctor Who: Flux
's premiere episode is titled "The Halloween Apocalypse." That seems very in the spirit of previous episodes like "The Christmas Invasion," the 2005 holiday special that saw David Tennant step into the show's lead role as the Tenth Doctor.
The BBC also revealed
Doctor Who: Flux
's guest cast. The list of stars joining previously announced cast members Jodie Whittaker, Mandip Gill, John Bishop, and Jacob Anderson includes Robert Bathurst (
Cold Feet
,
Toast Of London
,
Downton Abbey
), Thaddea Graham (
The Irregulars
,
Us
), Blake Harrison (
The Inbetweeners
,
A Very English Scandal
,
World On Fire
), Kevin McNally (
Pirates of the Caribbean
,
Designated Survivor
,
Downton Abbey
), Craig Parkinson (
Line of Duty
,
Intergalactic
,
The English Game
), Sara Powell (
Unforgotten
,
Damned
), Annabel Scholey (
The Split
,
Britannia
), Gerald Kyd (
Cold Feet
,
Britannia
) and Penelope Ann McGhie (
The Crown
,
Harry Potter
), and Rochenda Sandall (
Line Of Duty
), Sam Spruell (
The North Water
), Craige Els (
Ripper Street
), Steve Oram (
The End of the F-ing World
), Nadia Albina (
The One
), Jonathan Watson (
Two Doors Down
), Sue Jenkins (
Brookside
,
Coronation Street
) and Paul Broughton (
Clink
,
Brookside
). (via
ComicBook.com
)
Doctor Who: Flux
premieres on BBC America on October 31st.
'BLACK PANTHER' CELEBRATES 200TH ISSUE WITH GIANT-SIZED SPECTACULAR
10/20/21 @ 3:35 pm EST
Source:
Marvel
| Categories:
Black Panther
|
Comments
(0) |
E-mail Article
|
Add a Comment
This January, the third issue of Academy Award-winning writer John Ridley and Marvel's Stormbreaker artist Juann Cabal's highly-anticipated run on BLACK PANTHER will also mark the character's milestone 200th issue! To celebrate, BLACK PANTHER #3 will be an oversized issue with bonus stories celebrating the past and foreshadowing the future of the Black Panther and the world of Wakanda. Ridley will also introduce a new hero who rises up to protect the people of Wakanda while T'Challa finds his life and role as Black Panther thrown into turmoil! Fans will be able to witness the beginning of this new hero's journey before seeing him become a key player of Ridley's run in future issues.
In addition, the main story in the 200th issue of BLACK PANTHER will see T'Challa face off against the X-Men! With assassins closing in and Wakanda's faith in him shaken, T'Challa goes to visit Storm on the newly terraformed Mars. But this will not be a happy reunion as T'Challa has ulterior motives for his visit. And back home, Shuri discovers who is behind the attacks on Wakanda's secret agents — a revelation that will change everything.
Be sure to pick up BLACK PANTHER #3 when it hits stands on January 26! And stay tuned for announcements about the other creators who will be contributing to this landmark issue!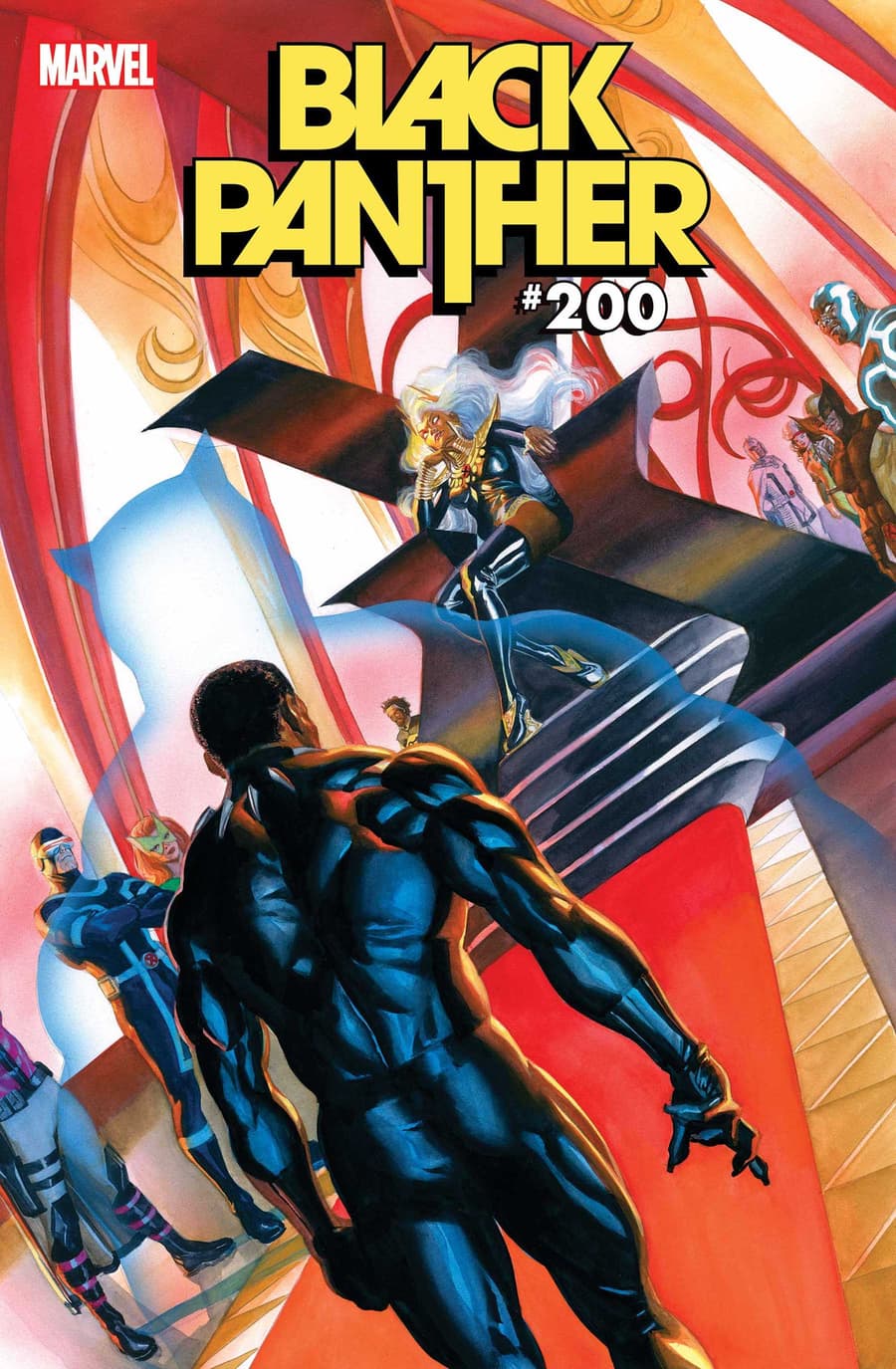 EMBARK ON A NEW ADVENTURE IN FORTHCOMING 'BOLERO' THIS JANUARY
10/20/21 @ 3:25 pm EST
Source:
Image
| Categories:
Image
|
Comments
(0) |
E-mail Article
|
Add a Comment
An all-new sci-fi/romance begins in the upcoming
Bolero
by rising stars Wyatt Kennedy and Luana Vecchio. This visually-stunning five issue miniseries will launch from Image Comics in January 2022.
"Page by page, Wyatt and I put our whole love and passion for comics into this miniseries to convey the strong sense of loneliness and despair that many feel after the end of a relationship," said Vecchio. "Running away might often seem like the simplest solution, but there is no simple solution when dealing with pain"
Kennedy added: "I sincerely can't thank Image enough for giving us the chance to tell this story. I've lived with it and these characters for nearly six years, and no one besides the tremendously talented Luana Vecchio could have imbued this with such soul and joy and kept me from rewriting it for the 87th time."
A woman running away from a broken heart discovers a mother-key into parallel universes. The rules are: The key can work on any door. The mother will only let you visit 53 universes. Do not ask to speak to the mother. Never hop more than 53 times.
Sex Criminals
meets
Eternal Sunshine of the Spotless Mind
in this fantastical, emotional journey featuring a beautifully diverse cast of characters.
Bolero #1
will be available at
comic book shops
on Wednesday, January 12:Cover A by Vecchio - Diamond Code NOV210047Cover B by Jim Mahfood - Diamond Code NOV210048Cover C by Maria Llovet - Diamond Code NOV210049
Bolero #1
will also be available for purchase across many digital platforms, including Amazon Kindle, Apple Books, and Google Play.
A NEW MCU DOCUMENTARY ON 'BLACK WIDOW' HAS ARRIVED ON DISNEY+
10/20/21 @ 7:48 am EST
Source:
ComicBook
| Categories:
Marvel
|
Comments
(0) |
E-mail Article
|
Add a Comment
The Marvel Cinematic Universe is currently in the middle of a small break, as fans wait for the premiere of
Eternals
following the conclusion of
What If...?
Season 1. We've still got a couple of weeks before the new movie hits theaters, but Marvel Studios and Disney+ have released some new entertainment in the form of behind-the-scenes footage to keep fans occupied. This Wednesday morning, Disney+ debuted another Marvel documentary, diving deep into the making of
Black Widow
.
Black Widow
hit theaters and Disney+ Premier Access earlier this year, and was recently added to the regular Disney+ lineup last month. Now fans can take a peek behind the scenes.
Marvel and Disney have been releasing new episodes of the
Assembled
documentary series all year, revealing how all of the new Marvel movies and TV shows are made.
Black Widow
is the latest to get the treatment and
Shang-Chi
will surely be next, following the film's arrival on Disney+ next month. (via
ComicBook.com
)
Marvel Studios Assembled: The Making of Black Widow
is now streaming on Disney+.