DYNAMITE BRINGS COSMIC MASTER DAN ABNETT TO BARSOOM!
09/19/19 @ 2:20 pm EST
Source:
Dynamite
| Categories:
Dejah Thoris
|
Comments
(0) |
E-mail Article
|
Add a Comment
DEJAH THORIS is back in a brand new ongoing series by sci-fi superstar Dan Abnett, launching this December!
Writer Dan Abnett (
Guardians of the Galaxy, Aquaman
) and his fellow creators are heading to Barsoom to chronicle the latest tales of Dejah. His co-pilot for this mission is artist Vasco Georgiev (
Xena
). The crew is rounded out by colorist Dearbhla Kelly (
Red Sonja
) and letterer Simon Bowland (
James Bond Origin
).
Barsoom has always been a dying world, teetering on disaster, but it may be closer to death these days. Dejah Thoris has been many things in life; a wife, a mother, royalty and an adventurer. Now her role as a scientist must take center stage, as she attempts to investigate why her homeworld is freezing. Other skills come into play when it's discovered that political factions may be hiding the secrets of this global catastrophe. Glittering palace intrigue and visceral adventure abound in this new series, as Dejah joins her fellow Women of Dynamite "trinity" of Vampirella and Red Sonja.
"I've been a huge fan of Edgar Rice Burroughs's Barsoom stories since I was a kid - without question a fundamental cornerstone of Science Fiction, and an inspiration for so much of the cosmic wonder that we love today," said writer Dan Abnett. "I jumped at the chance to write a saga in that world. It's a dynastic epic of intrigue, action and adventure, with Dejah at the heart of it, and we've got an amazing art team to bring it to life."
Abnett is the perfect match for the world of Barsoom, based on his pedigree of work. With a career spanning three decades across countless publishers, his most influential work is arguably his tenure spearheading Marvel's spacefaring heroes for over half a decade. This body of work, nearly universally beloved by fans and critics included creating the modern iteration of the Guardians of the Galaxy and revamping several other characters. This cosmic epic provided the blueprint for Marvel Studios' successful Guardians of the Galaxy franchise and the comics division will release a new sequel the same month as Dejah Thoris, with Abnett involved. While the intricacies of royal intrigue necessary for Barsoom can be found in his recently concluded Aquaman run. Readers may also be familiar with his sci-fi tales from a deep shelf's worth of Warhammer 40,000 novels.
"The series' protagonists are strong (mentally and physically), beautiful women and it is very important to me that their unique personalities be reflected in their character designs and actions. Dejah and her friends will be kicking lots of butt and will look great doing it," said artist Vasco Georgiev. "Designing the Barsoom landscape and architecture is a dream as I also work as an architect. I try to give every city, building, and space a unique and instantly recognizable identity. The charm of Barsoom is that it combines futuristic technology and architecture with medieval design and customs. Imagining how to unify these concepts in every panel is a veritable treat."
Besides her kickass abilities, acute intelligence, leadership abilities and charm, Dejah Thoris is of course renowned for her beauty. Dynamite has assembled a team of four cover artists for this first issue that are upheld by fans as masters of beautiful heroines. Painter Lucio Parrillo (
Vengeance of Vampirella, Red Sonja: Birth of the She-Devil
) is a natural choice, with his decade-long attachment to the franchise, having drawn countless covers for Dynamite's first foray into Barsoom. On the other hand, Joseph Michael Linsner (
Dawn, Vampirella: Roses for the Dead
) has tragically only drawn one Dejah cover before, so Dynamite is correcting this egregious wrong. Even worse than that, Billy Tucci (
Shi, Roses for the Dead
) has plenty of experience drawing powerful women, but has never drawn the Princess of Mars. Completing the set is a breathtaking wraparound cover by the one and only Adam Hughes! Dynamite will also be offering an extremely limited black-bagged risqué version for those who want to appreciate Dejah's full beauty in a manner more in line with Burroughs's original vision. Cosplayer Mai (@maidenhellxo) returns to Dejah with another cover and the first cosplay cover on a solo Dejah Thoris series!
"We've wanted to work with Dan again for years, but he was tied up exclusively with DC for Rebirth, and he crafted some great stories adding to their mythos. When discussing a new Dejah Thoris series, we wanted to wait for Dan once we knew that was a possibility, and glad we did. His series is incredible, and I cannot wait for the fans to check it out!," said Dynamite CEO/Publisher Nick Barrucci. "Considering how great the scripts are, we wanted an artist who could complement them, and with Vasco coming off of his Xena run, he was the perfect fit. With some of our closest friends doing covers in Hughes, Parrillo, Tucci, Linsner and the fantastic cosplayer Mai, that's the cherry on top to excite new fans to pick up the series!"
DEJAH THORIS
#1 will be solicited in Diamond Comic Distributors' October 2019 Previews catalog, the premier source of merchandise for the comic book specialty market, and slated for release in December 2019. Comic book fans are encouraged to preorder copies of the issue with their local comic book retailers. It will also be available for individual customer purchase through digital platforms courtesy of Comixology, Kindle, iBooks, Google Play, Dynamite Digital, ComicsPlus, and more!
'JOKER' $58M+ SERIOUS 2ND WEEKEND OCTOBER RECORD
10/12/19 @ 11:16 am EST
Source:
Deadline
| Categories:
DC
|
Comments
(0) |
E-mail Article
|
Add a Comment
Deadline
reports that
Joker
's second weekend is more powerful than imagined, busting past its low $40M projections to what is now looking at $58.7M, the best second weekend for a film in October, easily beating that of Warner Bros.'
Gravity
($43.1M).
All the factors–comic book movie, great reviews and solid exits–are putting this film higher. Even with a $138M Ang Lee-directed Will Smith action film in the market, adult moviegoers are opting for
Joker,
the DC villain origins film they've never seen before, and much of that has to do with literally the Rotten Tomatoes score:
Joker
's 68% certified fresh to Paramount/Skydance Media's
Gemini Man
's 26% Rotten. The aggregator site is literally telling people to shell out their $15-$20/ticket for one film over the other.
Gemini Man
is heading to a $20M domestic opening in 3rd place–horrible for a film this size–and finance sources say that the movie would need to gross $275M worldwide to reach break-even which would occur two years after all material ancillary markets play out.
'WALKING DEAD': ALPHA MEETS BETA FOR FIRST TIME OPENER
10/12/19 @ 6:53 am EST
Source:
AMC
| Categories:
Walking Dead
|
Comments
(0) |
E-mail Article
|
Add a Comment
AMC
has released a vid with the opening minutes of this Sunday's episode of
The Walking Dead
.
Titled "We Are the End of the World," the episode will feature Alpha (Samantha Morton) encounters the masked Beta (Ryan Hurst), her future Whisperer lieutenant, in its opening minutes.
"We Are the End of the World" airs this Sunday at 9/8c on AMC.
TWD
opening minutes Ep. 10x2:
https://youtu.be/9SUblYAm3y4
MARVEL: GREETINGS FROM MONSTER ISLAND!
10/12/19 @ 6:40 am EST
Source:
Marvel
| Categories:
Marvel
|
Comments
(0) |
E-mail Article
|
Add a Comment
YOUR FIRST LOOK AT GABBY RIVERA & ROYAL DUNLAP'S B.B. FREE #1
10/12/19 @ 6:36 am EST
Source:
BOOM! Studios
| Categories:
MIsc
|
Comments
(0) |
E-mail Article
|
Add a Comment
BOOM! Studios today revealed a first look at
b.b. free #1
, the premiere issue of the all-new original series from acclaimed author Gabby Rivera (
Juliet Takes a Breath
) and debut artist Royal Dunlap (
Buffy The Vampire Slayer
), an adventure about finding your strength and your truth when the whole world is against you, available in November 2019.
Years after the Plague That Ate Greed wiped out the ultra rich, b.b. free and her dad live in a small, close-knit community in the Florida Islands, where everything is shared and everyone's got each other's backs. b.b. is getting to be a teenager, though, and she's starting to get more and more interested in the world beyond her swamp. For now, her only tie to the outside world is her underground radio show. But when she discovers a secret so large it could tear her family and entire community apart, b.b. realizes that there's a lot her father isn't telling her… and she might just have to head out into the world on her own to find the truth.
b.b. free
is the latest release from BOOM! Studios' critically acclaimed BOOM! Box imprint, home to popular original series such as
Lumberjanes
by Shannon Watters, Grace Ellis, Brooklyn A. Allen, and Noelle Stevenson;
Giant Days
by John Allison, Lissa Treiman, and Max Sarin;
The Backstagers
by James Tynion IV and Rian Sygh;
Heavy Vinyl
by Carly Usdin and Nina Vakueva;
Fence
by C.S. Pacat and Johanna The Mad; and
Goldie Vance
by Hope Larson and Brittney Williams.
Print copies of
b.b. free #1
will be available for sale November 6, 2019 exclusively at local comic book shops (use
comicshoplocator.com
to find the nearest one) or at the BOOM! Studios webstore. Digital copies can be purchased from content providers, including comiXology, iBooks, Google Play, and Madefire.
STEP INTO AN AFRO-FUTURIST ADVENTURE WITH ALL NEW OGN 'KUDZU: HEART OF THE MOUNTAIN'
10/12/19 @ 6:34 am EST
Source:
BOOM! Studios
| Categories:
MIsc
|
Comments
(0) |
E-mail Article
|
Add a Comment
BOOM! Studios announced today
KUDZU: HEART OF THE MOUNTAIN
, a brand new original graphic novel from cartoonist Dustin Bolton, presents a stunning new vision of sci-fi and fantasy fused together in an unforgettable story about discovering your future by first understanding your past.
Years after a worldwide ecological disaster, a young boy named Kudzu uncovers his family history...which is tied to the terrible event that destroyed the world! But as he learns the truth, Kudzu is drawn into a clash of worlds that threatens all of mankind, but may also be the key to giving the planet a new start.
Dustin Alexander Bolton is an artist and writer from Memphis, TN. Bolton earned his Bachelor of Arts in Film and Animation from Rhode Island School of Design before beginning his professional career in Atlanta, GA. He forged his early career as an animator on several popular Adult Swim shows, including
Harvey Birdman
. Bolton's professional roles have since evolved through various advertising roles for major brands, including Disney, Warner Media, and AT&T. His debut graphic novel emerges from the high tech-fantasy in 80's pop culture and sci-fi films, the magical worlds crafted by Studio Ghibli's Hayao Miyazaki, and the rich cultural heritage of African American families across the American south.
"I'm so excited to unveil the world of
KUDZU
with its mythic beasts, rusty mechs, and caverns full of a mysterious power called tama,"said cartoonist, Dustin Bolton. "I also can't wait for everyone to meet Kudzu, the boy who bonds with an ancient power to save his fragile homeland from the grips of a tyrant, and ultimately discovers the power that lies within himself.
KUDZU: HEART OF THE MOUNTAIN
is the latest release from BOOM! Studios' award-winning KaBOOM! imprint, home to comics for middle grade and younger readers including licensed series such as
Adventure Time, Steven Universe, Regular Show, Ben 10,
and
Over The Garden Wall
, along with original series like
Just Beyond: The Scare School
by R.L. Stine and Kelly & Nichole Matthews,
Hex Vet
by Sam Davies, RuinWorld by Derek Laufman,
Hotel Dare
by Terry Blas and Claudia Aguirre, and
Pandora's Legacy
by Kara Leopard and Kelly & Nichole Matthews.
"This is a truly excellent graphic novel for fans of adventure, science fiction, fantasy, and crazy heroics—so, a little bit of everything for everyone."said Chris Rosa, Editor, BOOM! Studios. "Dustin takes us on an adventure that spans across a magical world full of new discoveries, as well as new dangers, as young Kudzu and his friends set off to save the world."
Print copies of
KUDZU: HEART OF THE MOUNTAIN
will be available for sale in August 2020 at local comic book shops (use
comicshoplocator.com
to find the nearest one), bookstores, or at the BOOM! Studios webstore. Digital copies can be purchased from content providers, including comiXology, iBooks, Google Play, and Madefire.
'WALKER, TEXAS RANGER' REBOOT STARRING JARED PADALECKI LANDS AT THE CW
10/12/19 @ 6:32 am EST
Source:
Deadline
| Categories:
MIsc
|
Comments
(0) |
E-mail Article
|
Add a Comment
Deadline
reports that The CW has landed for development
Walker,
a reimagining of CBS' 1990s action/crime series
Walker, Texas Ranger,
with Jared Padalecki set to star and executive produce.
Like the original series, created by Albert S. Ruddy & Leslie Greif, the reboot, in which Walker is getting a female partner, will explore morality, family, and rediscovering our lost common ground. It centers on Cordell Walker (Padalecki), a widower and father of two with his own moral code, who returns home to Austin after being undercover for two years, only to discover there's harder work to be done at home. He'll attempt to reconnect with his children, navigate clashes with his conservative family, and find unexpected common ground with his new partner (one of the first women in Texas Rangers' history), while growing increasingly suspicious about the circumstances surrounding his wife's death.
The original 1993
Walker, Texas Ranger
starring Chuck Norris aired on CBS for eight seasons and spawned a followup TV movie, the 2005
Walker, Texas Ranger: Trial by Fire
.
DOC OCK HAS A DIFFICULT CHOICE TO MAKE IN NEW 'MARVEL'S SPIDER-MAN'
10/11/19 @ 3:22 pm EST
Source:
Marvel
| Categories:
Marvel
|
Comments
(0) |
E-mail Article
|
Add a Comment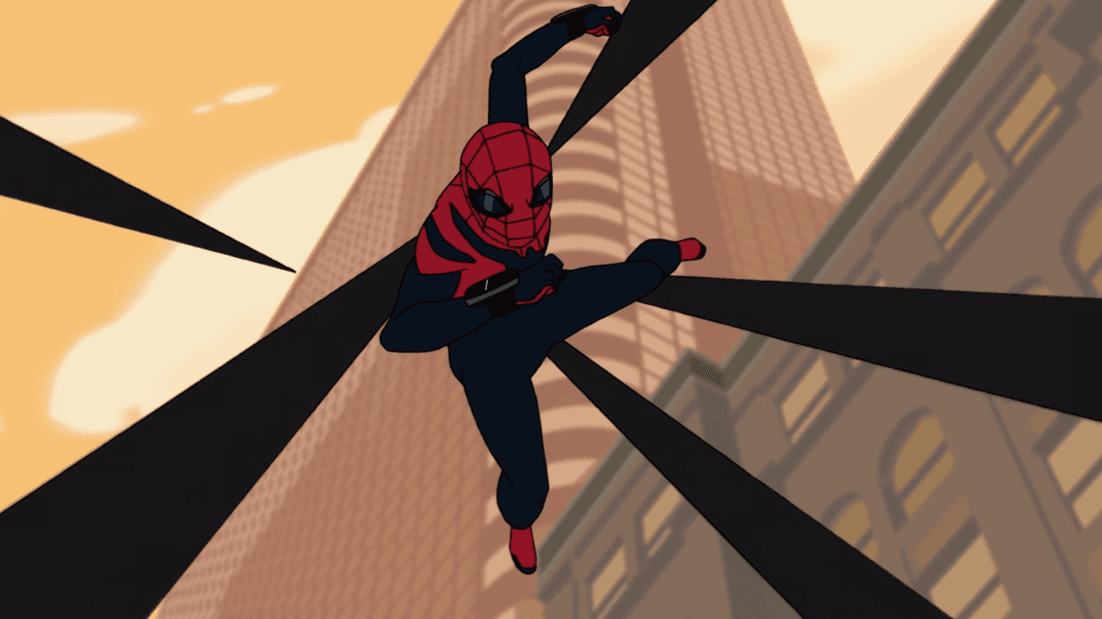 Just when Doctor Octopus thought the worst was behind him, he finds himself in the clutches of one of his greatest foes yet, Venom! Everything's about to come to a head in the latest episode of
Marvel's Spider-Man
.
Marvel's Spider-Man
Clip:
https://youtu.be/u6TaKHRe8YI
Doc Ock is still masquerading as
Peter Parker
, and thus Spider-Man, but his Superior Spider-Man might not be a match for this bad guy. After Venom escapes and attacks Midtown High looking for revenge against Peter, Doc Ock must step up and save the day.
But even worse, Venom realizes that this Peter is not who he says he is, and threatens to hurt Anna Maria, who Ock has recently befriended. Now he's got to choose: Give Peter back his body, or lose his only friend?
Marvel's Spider-Man
airs Sunday, October 13 from 9:30-10:00 pm ET/PT.
BURT WARD SPOTTED FILMING "CRISIS ON INFINITE EARTHS" CROSSOVER
10/11/19 @ 3:12 pm EST
Source:
Batman News
| Categories:
DC
|
Comments
(0) |
E-mail Article
|
Add a Comment
Anyone ever associated with a DC TV franchise seems to be in Vancouver filming The CW's "Crisis on Infinite Earths" Arrowverse crossover. Tom Welling has been up there filming on the Kent family farm set, Kevin Conroy is just hanging out, and now Burt Ward has been spotted.
We've known for some time that Ward -- who played Dick Grayson/Robin in ABC's original
Batman
TV series opposite the late Adam West's Caped Crusader -- would be involved with the crossover, but we still don't know in what capacity. We were told in the original report he would appear in the
Batwoman
episode, but we don't know yet if he is playing a form of Dick Grayson or not. Although, judging by his sweater in the BTS shot below (from
Hollywood North Buzz's
Twitter account), we're digging some Robin vibes. (via
Batman News
)
"Crisis on Infinite Earths" will be split over the winter break.
Supergirl
will kick things off on Dec. 8,
Batwoman
will follow on Dec 9, and
The Flash
will air on Dec. 10. Things will then pick back up on Jan. 14 with
Arrow
, and will wrap up with
Legends of Tomorrow
on the same night.
'THE STAND': EION BAILEY, KATHERINE MCNAMARA & HAMISH LINKLATER JOIN CBS ALL ACCESS LIMITED SERIES
10/11/19 @ 2:53 pm EST
Source:
Deadline
| Categories:
MIsc
|
Comments
(0) |
E-mail Article
|
Add a Comment
Deadline
reports that Eion Bailey
(Once Upon a
Time), Katherine McNamara (
Arrow
) and Hamish Linklater (
Legion
) have been cast in
The Stand
, CBS All Access' limited-series adaptation of Stephen King's classic novel.
The trio joins Alexander Skarsgard, James Marsden, Amber Heard, Odessa Young, Jovan Adepo, Owen Teague, Henry Zaga, Brad William Henke, Whoopi Goldberg, Daniel Sunjata and Nat Wolff in the drama, which is filming in Vancouver.
Bailey will play Teddy Weizak, a superflu survivor and member of the body crew, alongside Harold (Teague), in Boulder, CO. McNamara is Julie Lawry, a small-town girl with a wild side who is one of Lloyd's (Wolff) conquests in Las Vegas. Linklater is set as Dr. Ellis, a military colonel and infectious-disease specialist who dreams of being the hero who stops the superflu.
Written by Josh Boone and Ben Cavell,
The Stand
is King's apocalyptic vision of a world decimated by plague and embroiled in an elemental struggle between good and evil. The fate of mankind rests on the frail shoulders of the 108-year-old Mother Abagail (Goldberg) and a handful of survivors. Their worst nightmares are embodied in a man with a lethal smile and unspeakable powers: Randall Flagg, the Dark Man (Skarsgård).
MORBIUS ARTIST MARCELO FERREIRA SIGNS EXCLUSIVE AGREEMENT WITH MARVEL
10/11/19 @ 2:43 pm EST
Source:
Marvel
| Categories:
Marvel
|
Comments
(0) |
E-mail Article
|
Add a Comment
Announced this past weekend at New York Comic-Con's Retailer Panel, artist Marcelo Ferreira has signed an exclusive agreement with Marvel Comics. Known for his work on books like WAR OF THE REALMS: PUNISHER, FRIENDLY NEIGHBORHOOD SPIDER-MAN, and ABSOLUTE CARNAGE VS. DEADPOOL, Ferreira has already garnered praise from fans and critics alike for his takes on some of Marvel's most iconic characters. Now he'll be bringing Morbius the Living Vampire to life with writer Vita Ayala in an all-new ongoing series debuting in November. Proven to be a powerhouse in delivering fearsome action sequences, Ferreira's skills will no doubt make MORBIUS' struggles and adventures more frightening than they've ever been before!
"I have been working with Marvel for the past 12 months, and I am nothing but thrilled that I have been offered this exclusive deal," says Ferreira. "Starting with MORBIUS, I am sure we will be able to deliver great comics to the fans for another year and on!"
"Working with Marcelo is an amazing collaborative experience! He is always excited for and engaged in the project, and always has so many ideas to bring to the table," says Ayala. "Every page I see on MORBIUS is a thousand times more intense and dynamic than I imagined. I am so happy to be able to work with him!"
"Marcelo is an incredible talent, one who I was fortunate enough to work with before MORBIUS on ABSOLUTE CARNAGE VS DEADPOOL. In reading those issues before they went to the printer I – and I think everyone here at Marvel – was struck by Marcelo's classic action sensibilities," says Editor Devin Lewis. "Marcelo's style fit in perfectly with what we were building across ABSOLUTE CARNAGE, and when it came time to start building a MORBIUS book, he immediately caught my eye. It's clear from the very first page of his work that you see that Marcelo is a huge Marvel fan and has done his homework. HOW TO DRAW COMICS THE MARVEL WAY is in the marrow (hah!) of his work, and Marcelo gives the reader something on every single page, if not every single panel. The work he's been doing in MORBIUS is some of the most visceral, scary and, yes, bloody stuff I've ever worked on in my time at the House of Ideas, and I'm so excited for everyone out there to sink their teeth into it!"