'SOUTH PARK' SETS HOUR-LONG "PANDEMIC SPECIAL" EPISODE; CLIP RELEASED
09/15/20 @ 9:45 pm EST
Source:
Hollywood Reporter
| Categories:
MIsc
|
Comments
(0) |
E-mail Article
|
Add a Comment
South Park
has set a one-night, hourlong "Pandemic Special" that will tackle the numerous issues of 2020 as only the long-running cartoon can, Comedy Central has announced.
The usual 30-minute show has done several multiple-part series in the past, but never an episode running longer than a half-hour in the show's 23-year history (not counting the feature film,
South Park: Bigger, Longer and Uncut
). The special will air Sept. 30 at 8 p.m.
It is unclear when a new, full season will premiere.
"Randy comes to terms with his role in the COVID-19 outbreak as the on-going pandemic presents continued challenges to the citizens of South Park. The kids happily head back to school but nothing resembles the normal that they once knew; not their teachers, not their homeroom, not even Eric Cartman," reads a summary of the special (via
THR
).
A clip was also released:
https://youtu.be/u6bEaBeOVkg
NEW 'CHILDREN OF THE CORN' REBOOT GETS R RATING
10/21/20 @ 10:11 pm EST
Source:
ComicBook
| Categories:
MIsc
|
Comments
(0) |
E-mail Article
|
Add a Comment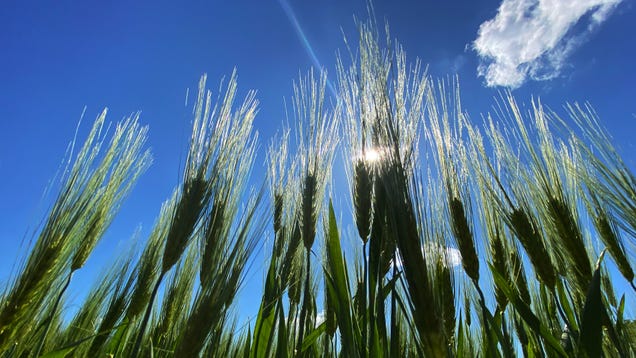 A new take on Stephen King's
Children of the Corn
wrapped production this past summer, with the new adaptation of the material officially earning an R rating.
With some horror fans discouraged by movies that end up with a PG-13 rating, potentially holding back on the terror, this rating will likely relieve fans who were apprehensive that the story's intensity would be restrained. The story was originally adapted for a film in 1984 and, while that film's firsts sequel landed in theaters, all subsequent installments have debuted on video services, the most recent of which being 2018's
Children of the Corn: Runaway
.
The new
Children of the Corn
earns its rating due to "violence and bloody images," reports
FilmRatings.com
.
Stephen King's
official website
describes the original short story: "Burt and Vicky are traveling through Nebraska on their way to California on a vacation meant to save their failing marriage. After being involved in an accident in which they run over a young boy who ran into the road, they take the body to Gaitlin, a small isolated community nearby. The story centers on their encounters with the strange citizens of Gaitlin and the entity they call 'He Who Walks Behind the Rows.'" (via
ComicBook
)
THE DEMON RIDER'S BACK IN JEFFREY VEREGGE'S 'MARVEL'S VOICES: INDIGENOUS VOICES' #1 COVER
10/21/20 @ 3:43 pm EST
Source:
Marvel
| Categories:
Marvel
|
Comments
(0) |
E-mail Article
|
Add a Comment
Next month, Marvel honors Indigenous history with MARVEL'S VOICES: INDIGENOUS VOICES #1, a landmark special exploring the legacy and experiences of Marvel's incredible cast of Indigenous characters in stories told by renowned Indigenous talent.
Today, Marvel is proud to present one of the covers of this upcoming book by celebrated artist and writer Jeffrey Veregge. This vibrant cover, done in Veregge's iconic artistic Formline style, depicts the Sorcerer Supreme and the Ghost Rider of the mid-1800s, Kushala. The Apache warrior, also known as the Demon Rider, immediately garnered fan interest when she made her startling debut in 2016's
Doctor Strange and the Sorcerers Supreme
by Robbie Thompson and Javier Rodriguez. As her origins were revealed, the character's story added new depth to both the mythologies of the Spirit of Vengeance and the Mystic Arts. Fans will get to learn even more about Kushala in an exhilarating new solo comic series coming in 2021!
Stay tuned for more information about the unique adventures in store for this fascinating new Marvel hero. In the meantime, see Jeffrey Veregge's cover below and be sure to check out MARVEL'S VOICES: INDIGENOUS VOICES #1 when it hits stores on November 18th!
MARVEL'S VOICES: INDIGENOUS VOICES #1 (SEP200605) Written by JEFFREY VEREGGE, REBECCA ROANHORSE, DARCIE LITTLE BADGER & STEPHEN GRAHAM JONES Art by JEFFREY VEREGGE, WESHOYOT ALVITRE, KYLE CHARLES & DAVID CUTLER Cover by JIM TERRY & BRIAN REBER Commentary by TABOO & BEN JACKENDOFF Variant Cover by JEFFREY VEREGGE (SEP208505) On sale November 18, 2020
'GHOSTBUSTERS: AFTERLIFE' RELEASE DATE SHIFTS TO SUMMER 2021
10/21/20 @ 3:37 pm EST
Source:
Deadline
| Categories:
MIsc
|
Comments
(0) |
E-mail Article
|
Add a Comment
Sony Pictures said Wednesday that it has moved the release date of Ghostbusters: Afterlife from March to June 11, 2021, which will be the same weekend as the first Ghostbusters film was released in 1984. It becomes the latest tentpole shift in the theatrical calendar given the ongoing restrictions of movie theaters amid the pandemic.

Carrie Coon, Finn Wolfhard, Mckenna Grace, Annie Potts, Ernie Hudson and Paul Rudd star in the new installment of the franchise, directed by Jason Reitman and produced by Ivan Reitman. Gil Kenan and Reitman penned the script, which centers on a single mom and her two kids who arrive in a small town and begin to discover their connection to the original Ghostbusters and the secret legacy their grandfather left behind.

Also today, Sony dated Screen Gems' sequel to its horror hit Don't Breathe for August 13, 2021. Rodo Sayagues co-wrote the script alongside the original film's director Fede Álvarez and is making his directorial debut. (via Deadline)
JARED LETO TO PLAY JOKER IN ZACK SNYDER'S 'JUSTICE LEAGUE'
10/21/20 @ 3:14 pm EST
Source:
Hollywood Reporter
| Categories:
DC
|
Comments
(0) |
E-mail Article
|
Add a Comment
Zack Snyder's new
Justice League
cut is getting some killer laughs.
Jared Leto, who played classic DC villain The Joker in 2016's
Suicide Squad,
has joined the reshoots for the "Snyder Cut," the filmmaker's definitive version of the 2017 superhero movie he was forced to exit and he never saw through completion,
THR
reports.
The project, officially titled
Zack Snyder's Justice League
, is being overseen by HBO Max, which is financing the new round of shooting and the completion of the many unfinished scenes, and will air as a four-episode event series next year.
Shooting is currently underway with Ben Affleck, Ray Fisher, and Amber Heard among those involved on top of Leto. It is unclear which other actors are involved.
Even as the shoot rolls ahead, two producers who were involved with the theatrical movie are quietly moving to the side. Jon Berg and Geoff Johns, then-studio executives who oversaw the movie and the reshoot by Joss Whedon that was meant to salvage the failed movie, will not be receiving producer credits on the Snyder Cut, sources say.
MARVEL: A NEW VALKYRIE RIDES INTO BATTLE AGAINST KNULL
10/21/20 @ 10:13 pm EST
Source:
Marvel
| Categories:
Marvel
|
Comments
(0) |
E-mail Article
|
Add a Comment
Last week, KING IN BLACK: RETURN OF THE VALKYRIES was announced. Written by Jason Aaron and Torunn Grønbekk with art by Nina Vakyeva, this highly-anticipated series will see Jane Foster reuniting the Valkyries to defend Midgard from Knull. Jane Foster will be joined by former Valkyrie Dani Moonstar, Asgardian warrior Hildegrande, and a new Valkyrie designed by artist Mattia De Iulis. Fans can see this mysterious new character in all her glory on Phil Noto's gorgeous variant cover for the debut issue.
"When [editor] Wil Moss asked me to create a new design for a Valkyrie, I didn't believe him!" De Iulis said. "I'm so excited about this because it is my first experience in this field and I'm really honored to work on this amazing and powerful character!"
Emerging just as Knull's takeover begins, this new Valkyrie's past holds dark secrets that will change everything you thought you knew about this group of Asgardians and reveal what their future in the Marvel Universe holds. Check out Phil Noto's cover and be there when this all-new Marvel hero joins the fight against Knull this January in KING IN BLACK: RETURN OF THE VALKYRIES #1.
KING IN BLACK: RETURN OF THE VALKYRIES #1 (OF 4) Written by JASON AARON & TORUNN GRØNBEKK Art by NINA VAKUEVA Cover by PHIL NOTO
HAPPY WONDER WOMAN DAY! GAL GADOT CELEBRATES WITH US! [VIDEO]
10/21/20 @ 2:20 pm EST
Source:
Twitter
| Categories:
Wonder Woman
|
Comments
(0) |
E-mail Article
|
Add a Comment
Happy Wonder Woman Day!
Wonder Woman Day falls on October 21st, commemorating the release of her first appearance in
All Star Comics
#8 (with the exception of 2017 which held the day on June 3 to tie in with the release of the Warner Bros. film of the same name).
And speaking of the DC film, what kind of celebration would it be without the star of
Wonder Woman
, Gal Gadot?
Today Gadot kicked off the celebration with a new video on
Twitter
. Check it out below, and Happy Wonder Woman Day!
Gal Gadot video:
https://twitter.com/i/status/1318938991689949186
MGM ACQUIRES COMIC 'MERCY SPARX' ABOUT SHE-DEMON FROM HELL WHOSE EARTH TIME SPARKS EXISTENTIAL CRISIS
10/21/20 @ 2:01 pm EST
Source:
Deadline
| Categories:
MIsc
|
Comments
(0) |
E-mail Article
|
Add a Comment
Deadline
reports that MGM has acquired screen rights to the female-driven comic book property
Mercy Sparx
, and set Nick Shafir to write the script. The Picture Company and Assemble Media are producing.
The title character is a female demon sent from Hell to Earth on a mission, which she must complete while hiding among humans. On Earth, Mercy has an existential crisis and begins to see the gray area between good and evil. It forces her to choose her place within it and compromises her mission. Shafir's script is said to be akin to a female
Constantine
, the adaptation that starred Keanu Reeves several years ago.
Created by Josh Blaylock, the comic book has become a cult favorite among fans since its debut ten years ago through Devil's Due Publishing, and the studio sees this as a franchise with an empowering female character at the center.
'ARCHER' RENEWED FOR SEASON 12 AT FXX
10/21/20 @ 2:22 pm EST
Source:
Variety
| Categories:
MIsc
|
Comments
(0) |
E-mail Article
|
Add a Comment
Variety
reports that
Archer
has been renewed for Season 12 at FXX. The 12th season of the animated comedy series is slated to debut in 2021 on FXX and FX on Hulu.
"
Archer
is back in a big way this season, with viewership up as the Emmy Award-winning spy series returns to its roots and begins to plot a 12th season next year," said Nick Grad, president of original programming for FX Entertainment. "Our thanks to Adam Reed, Matt Thompson, Casey Willis and the entire team at Floyd County Productions for keeping
Archer
as fun as ever and true to form. Together with its unbelievable voice cast, Archer is set to give fans another great season."
News of the renewal comes as Season 11 nears its end, with the seventh episode out of eight set to debut tonight on FXX and tomorrow on Hulu. The season saw Archer come out of his three-year coma and attempt to return to the spy game.
'SMOKEY AND THE BANDIT' SERIES IN THE WORKS AT UCP
10/21/20 @ 1:52 pm EST
Source:
Variety
| Categories:
MIsc
|
Comments
(0) |
E-mail Article
|
Add a Comment
The classic 1977 action comedy
Smokey and the Bandit
is getting the TV treatment,
Variety
reports.
UCP, a division of Universal Studio Group, and Seth MacFarlane's Fuzzy Door are teaming to develop a series based on the Burt Reynolds movie.
The series is being written by
Pineapple Express
director David Gordon Green and regular collaborator Brian Sides. MacFarlane and Green are both executive producing.
Smokey and the Bandit
is an epic adventure of family, small-town crime, unlikely heroes, legend and legacy. Inspired by the genre of 70s and 80s drive-in double-features, the series will explore the crossroads where humble realities meet those larger-than-life, all in a blast of tailpipe exhaust.
'SEVEN TO ETERNITY' BEGINS FINAL STORY ARC THIS NOVEMBER
10/21/20 @ 1:45 pm EST
Source:
Image
| Categories:
Image
|
Comments
(0) |
E-mail Article
|
Add a Comment
The fourth and final story arc of the bestselling fantasy series
Seven to Eternity
by writer Rick Remender (
The Scumbag, Deadly Class, Black Science
) and artist Jerome Opeña (
Fear Agent, Punisher
) will begin with issue
#14
this November.
The series is projected to come to its breathtaking conclusion in 2021 with an extra-length
Seven to Eternity #17
.
"We've spent over half a decade on this series, and everyone involved has worked themselves to death to make sure we land the plane in the same high style we launched it with," said Remender. "Jerome and Matt have put an ungodly amount of love into every single panel and we are all so excited to share the final leg of the journey with our patient readers."
In next month's issue, Adam and The Mud King must make a final sacrifice before it does. The origin of the Springs revealed. One giant evil consumes everything, and you celebrate it excitedly.
Seven to Eternity #14
Cover A by Opeña & Hollingsworth (Diamond Code SEP200054) and
Seven to Eternity #14
Cover B by Julian Totino Tedesco (Diamond Code SEP200055) will be available at
comic book shops
on Wednesday, November 18.
Seven to Eternity #15
Cover A by Opeña & Hollingsworth (Diamond Code OCT200223) and
Seven to Eternity #15
Cover B by Tula Lotay (Diamond Code OCT200224) will be available at
comic book shops
on Wednesday, December 16.
Seven to Eternity
is available for purchase across many digital platforms, including Amazon Kindle, Apple Books, comiXology, and Google Play.
Cover A by Opeña & Hollingsworth
Cover B by Julian Totino Tedesco
Cover A by Opeña & Hollingsworth