'JOKER'S MARC MARON TO VOICE LEX LUTHOR IN DC'S 'LEAGUE OF SUPER-PETS' MOVIE
09/14/21 @ 9:37 am EST
Source:
ComicBook
| Categories:
DC
|
Comments
(0) |
E-mail Article
|
Add a Comment
Marc Maron returns to the DC universe as the voice of supervillain mastermind Lex Luthor in
League of Super-Pets
.
The Netflix's
GLOW
actor, who played Gene Ufland opposite Joaquin Phoenix and Robert De Niro in the R-rated Batman villain origin story
Joker
, joins a cast that includes Dwayne Johnson (DC's
Black Adam
) as Krypto the Superdog and Kevin Hart (
The Secret Life of Pets
) as Ace the Bat-Hound.
In June, star and producer Johnson revealed a star-studded cast of voices from Kate McKinnon (
Ghostbusters
), John Krasinski (
The Office
), Vanessa Bayer (
Saturday Night Live
), Diego Luna (
Star Wars: Andor
), Natasha Lyonne (
Orange Is the New Black
), Jameela Jamil (
The Good Place
), and Keanu Reeves (
The Matrix Resurrections
).
"I just did a voiceover, I'm doing two animated movies, they're both coming out next year," Maron revealed. "I play Lex Luthor in
Super-Pets
and there's a lot of people, there's big stars in that one... It's exciting." (via
ComicBook.com
)
DC will reveal "new content" from
Super-Pets
when the virtual event DC FanDome returns for 2021 on October 16. Warner Bros. Pictures and Warner Animation Group will open
DC League of Super-Pets
on May 20, 2022.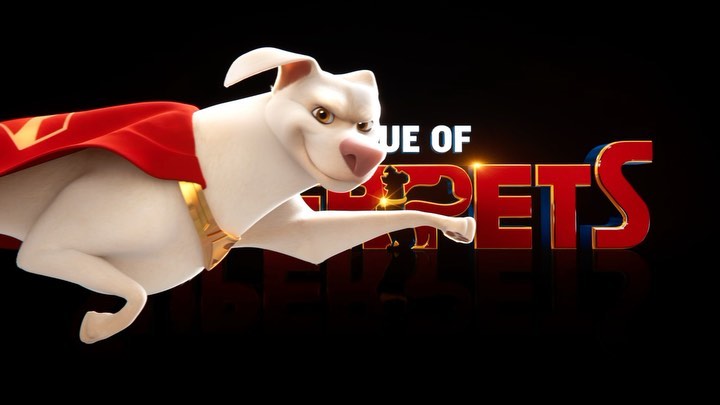 'THE LOST CITY': PARAMOUNT PUSHES UP RELEASE DATE FOR COMEDY
10/18/21 @ 6:10 pm EST
Source:
Deadline
| Categories:
MIsc
|
Comments
(0) |
E-mail Article
|
Add a Comment
Paramount comedy
The Lost City
will now open wide three weeks earlier than expected, the studio announced today, as its release date moves from April 15 to March 25, 2022.
The pic was previously set to open against
Fantastic Beasts: The Secrets of Dumbledore
, the third installment in Warner Bros.'
Fantastic Beasts
franchise, based on the book by
Harry Potter
author J.K. Rowling. The weekend of the 25th, however, is otherwise unoccupied.
The Paramount feature (formerly titled
The Lost City of D
) follows a reclusive romance novelist (Sandra Bullock) on a book tour with her cover model (Channing Tatum), watching as the pair get swept up in a kidnapping attempt that lands them in a cutthroat jungle adventure. It's said to be in the vein of Robert Zemeckis' classic
Romancing the Stone
, starring Michael Douglas and Kathleen Turner.
The Lost City
will be followed on Paramount's release schedule by titles including
Sonic the Hedgehog 2
(April 8),
Top Gun: Maverick
(May 27),
Transformers: Rise of the Beasts
(June 24),
Secret Headquarters
(August 12) and
Mission: Impossible 7
(September 30). (via
Deadline
)
'THE MUNSTERS' FIRST LOOK: ROB ZOMBIE SHARES THE CAST IN COSTUME IN FRONT OF ICONIC MANSION
10/18/21 @ 6:03 pm EST
Source:
Variety
| Categories:
MIsc
|
Comments
(0) |
E-mail Article
|
Add a Comment
Just in time for Halloween, Rob Zombie has shared the first photo of The Munsters cast (above), confirming Jeff Daniel Phillips as Herman Munster, Sheri Moon Zombie as Lily Munster and Dan Roebuck as Grandpa Munster.

The filmmaker wrote, "Since Halloween is rapidly approaching I thought it was the perfect time to MEET THE MUNSTERS! Direct from the set in good old Hungary I present Herman, Lily and The Count sitting in front of the newly completed 1313 Mockingbird Lane."

On June 7, Zombie announced that he would be writing and helming the film based on the '60s sitcom about a family of friendly monsters, and revealed that he will be constructing all of Mockingbird Lane. The film follows a family of benign monsters who relocate from Transylvania to the American suburbs. It is set up at Universal Studios' 1440 Entertainment division. (via Variety)

The Munsters is likely to be released in theaters and on Peacock next year. There is no clear release date yet.
'JACK RYAN': ABBIE CORNISH TO RETURN AS CATHY MUELLER IN SEASON 4 OF AMAZON SERIES
10/18/21 @ 5:49 pm EST
Source:
Deadline
| Categories:
MIsc
|
Comments
(0) |
E-mail Article
|
Add a Comment
Deadline
reports that a key character will be returning to Amazon Prime Video's
Tom Clancy's Jack Ryan
. Abbie Cornish, who portrayed Cathy Mueller in Season 1, will be back to reprise the role in the recently-announced fourth season.
There has been a lingering mystery surrounding Cathy Mueller, Ryan's love interest in the first season, as well as in the books. The character was never written out of the show, she just disappeared. There was not a single reference of her throughout Season 2, and the only clue given was Ryan (John Krasinski) sleeping with another woman early on in the season, and then later on saying he's single.
There is no information how Cathy will be reintroduced on the show. Her return could be set up in the upcoming third season, production on which recently wrapped with a premiere date still TBD.
Season 3 finds Jack Ryan (Krasinski) on the run and in a race against time. Jack is wrongly implicated in a larger conspiracy and suddenly finds himself a fugitive out in the cold. Now, wanted by both the CIA and an international rogue faction that he has uncovered, Jack is forced underground, crisscrossing Europe, trying to stay alive and prevent a massive global conflict.
MEL GIBSON FIRST STAR SET FOR 'JOHN WICK' ORIGIN SERIES 'THE CONTINENTAL'
10/18/21 @ 5:44 pm EST
Source:
Deadline
| Categories:
John Wick
|
Comments
(0) |
E-mail Article
|
Add a Comment
Deadline
reports that Mel Gibson has been set to star in
The Continental
, the prequel to the Keanu Reeves film series
John Wick
.
The Continental
will be presented as a three-night special-event TV series, produced for Starz by Lionsgate Television.
The Continental
will explore the origin behind the hotel-for-assassins, which increasingly has become the centerpiece of the John Wick universe. This will be accomplished through the eyes and actions of a young Winston Scott, who is dragged into the Hell-scape of a 1975 New York City to face a past he thought he'd left behind. Winston charts a deadly course through the New York's mysterious underworld in a harrowing attempt to seize the iconic hotel, which serves as the meeting point for the world's most dangerous criminals. No word yet on who'll play Winston Scott (the hotel owner is played in the films by Ian McShane). Gibson will play a character named Cormac.
The John Wick trilogy has grossed almost $600 million worldwide. The films have been scripted by Derek Kolstad and directed by Chad Stahelski, and
John Wick: Chapter Four
is currently shooting in Germany, France and Japan with Reeves reprising his assassin character.
Executive producers Greg Coolidge (
Wayne, Ride Along
) and Kirk Ward (
Wayne
) are writing the event series and serve as showrunners. Thunder Road Pictures' Basil Iwanyk and Erica Lee, Stahelski, Kolstad, David Leitch, Shawn Simmons, Paul Wernick and Rhett Reese will also serve as executive producers.
SHE-HULK IS BACK TO SHAKE UP THE MARVEL UNIVERSE IN NEW COMIC SERIES
10/18/21 @ 6:19 pm EST
Source:
Marvel
| Categories:
She-Hulk
|
Comments
(0) |
E-mail Article
|
Add a Comment
Marvel's sensational powerhouse returns! One of comics' most beloved heroes, Jennifer Walters, A.K.A. She-Hulk, will star in a new ongoing comic series starting in January. Written by acclaimed author Rainbow Rowell (RUNAWAYS) with art by Rogê Antônio (X-MEN: RED, HELLIONS), SHE-HULK will see the character embark on a journey that heralds back to her fan-favorite solo adventures of the past while embracing a fresh new future for the character. Promising to be a delight for fans as well as newcomers to She-Hulk's saga, the series will once again prove why Jennifer Walters is the greatest character around!
Following her transformative time in Jason Aaron's AVENGERS, She-Hulk is eager to put her rage-filled days behind her and return to practicing law in defense of the innocent. She's got a career to rebuild, friends to reconnect with (and maybe represent in a court of law) and enemies to…well, she may not want to connect with them, but they are DEFINITELY going to connect with her. And when a friend from her past comes knocking with a mystery she can't resist, she'll quickly be back to bashing. The last page of this debut issue is going to send Jen down a road she's never traveled, one that will shake up her life and possibly the whole Marvel Universe. "She-Hulk is the best of the best," Rowell said.
"She's smart, she's funny—and she's really and truly heroic (all that and she has the best hair in comics). Jen has always been at the top of my Marvel wishlist, and I'm thrilled to be writing her next chapter."
"I'm very excited and feel honored to be a part of this exciting new phase of She-Hulk," Antônio said. "Working with Rainbow Rowell has been inspiring and it's amazing how she lets her passion for the character shine through on every page. I hope the fans have as much fun reading as I'm having illustrating these new adventures."
A premiere issue so big it'll have not one but two dazzling main covers—one by astounding cover artist Jen Bartel and another by comics legend Adam Hughes! Be there when She-Hulk smashes her way into a new era on January 12!
DYNAMIC FORCES: COMIC COLLECTIBLES ON THE EXP MONDAY NIGHT 6-8 PM ET!
10/18/21 @ 1:20 pm EST
Source:
The Experience
| Categories:
MIsc
|
Comments
(0) |
E-mail Article
|
Add a Comment
Watch Dynamic Forces Tonight (10/18/2021: 6-8pm ET) for Graded CGC's, Sketch Cover Remarks, Signed Comics by John Romita Sr. , Vintage Comics and MORE!
With Special Guest 'Rockin Robbie' from Pop Culture Philosophers!
on THE EXP!
Tune in to watch at The EXP
DYNAMIC FORCES COMIC COLLECTIBLES SHOW 10/18/2021 Monday 6-8 PM ET
DYNAMIC FORCES COMIC COLLECTIBLES SHOW 10/20/2021 Wednesday 6-8 PM ET
ORIGINAL ART SHOW - 10/22/2021 Friday 7-8 PM ET
Featuring Silver/Bronze Age, Signed Books, Sketch Covers, Variant Covers, Original Art
and MUCH MORE!
Be sure to join Dynamic Forces for 1 hour of Original Comic Art and 2 hours of Limited Edition Comic Collectibles Every Monday, Wednesday and Friday!
Original Art Show Fridays from 7-8 PM ET and
Dynamic Forces Comic Collectibles Show Monday and Wednesdays from 6-8 PM ET!
ALSO, remember to check out Dynamic Forces for other rare Comic Collectibles
JACOB SCIPIO TO CO-STAR IN WARNER BROS. AND DC'S 'BATGIRL'
10/18/21 @ 1:14 pm EST
Source:
Deadline
| Categories:
DC
|
Comments
(0) |
E-mail Article
|
Add a Comment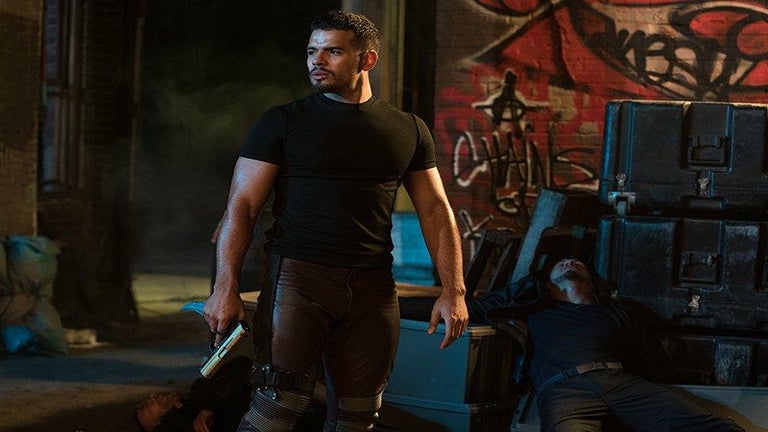 Bad Boys for Life
breakout Jacob Scipio is set to join Leslie Grace in Warner Bros and DC Films'
Batgirl
.
J.K. Simmons is also on board to reprise his role of Commissioner Gordon, and Grace recently landed the role of Barbara Gordon. Scipio's
Bad Boys For Life
directors Adil El Arbi and Bilall Fallah are helming.
The film will bow on HBO Max, marking one of the first major DC properties to debut exclusively on the streamer. Christina Hodson penned the script with Kristin Burr producing.
While plot details are under wraps, it is known that Barbara Gordon, the daughter of Commissioner Gordon, will be the character behind the cape in this version. Gordon is the most established version of the Batgirl character and was first introduced in 1961 as Betty Kane. Details behind who Scipio is playing are also unknown. (via
Deadline
)
'THE BATMAN'S VENGEANCE UNLEASHED IN EXPLOSIVE NEW TV SPOT
10/18/21 @ 1:07 pm EST
Source:
ComicBook
| Categories:
DC
|
Comments
(0) |
E-mail Article
|
Add a Comment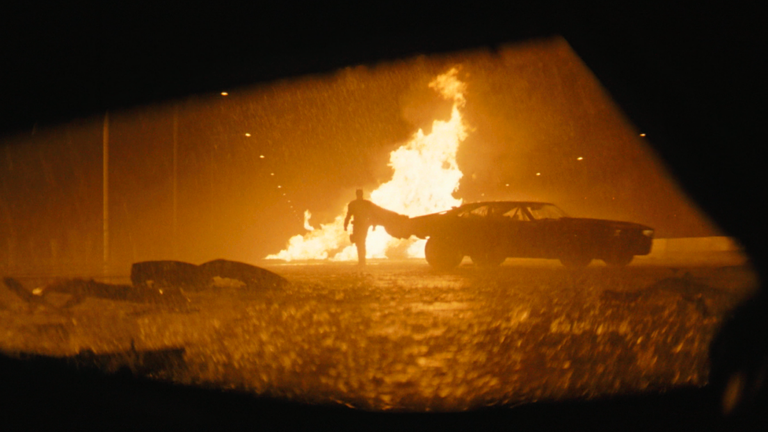 Gotham City is a powder keg about to erupt in an explosive and action-packed TV spot for
The Batman
.
The new 60-second spot from Warner Bros. Pictures comes the day after the Matt Reeves-directed reboot returned to the virtual DC FanDome event where Reeves, along with stars Robert Pattinson and Zoe Kravitz, presented a behind-the-scenes
production featurette
and an
exclusive trailer
.
Along with the first look at ally Alfred Pennyworth (Andy Serkis),
The Batman
shined the Bat-signal on Bruce Wayne (Pattinson), Catwoman (Kravitz), officer Jim Gordon (Jeffrey Wright), and Gotham rogues Riddler (Paul Dano) and the Penguin (Colin Farrell). (via
ComicBook
)
The Batman
opens only in theaters on March 4.
New TV Spot:
https://youtu.be/NrJRE678TiU
'BLACK PANTHER,' 'INDIANA JONES' SEQUELS PUSH BACK RELEASE DATES
10/18/21 @ 12:57 pm EST
Source:
Hollywood Reporter
| Categories:
Disney
|
Comments
(0) |
E-mail Article
|
Add a Comment
Black Panther: Wakanda Forever
is on the move.
Disney made a number of changes to Marvel's upcoming slate that, for the most part, sees titles delayed by several or more months, the studio said on Monday.
That includes the
Black Panther
sequel, which moves from July 8, 2022 to Nov. 11, 2022.
Doctor Strange in the Multiverse of Madness
kicks off the reshuffling in relocating from March 25, 2022 to May 6, 2022, a date previously occupied by
Thor: Love and Thunder
.
The next chapter in the
Thor
series will now open on July 8, the
Black Panther
sequel's previous launching pad.
The Marvels
moves from Nov. 11, 2022 to Feb. 17, 2023, which bumps
Ant-Man and the Wasp: Quantumania
to July 28, 2023.
Studio insiders say the Marvel shifts are primarily due to various production delays, as well as finding the best dates for movies as the film industry emerges from the pandemic. (via
THR
)
NETFLIX'S JOEY KING FANTASY PIC 'UGLIES' ADDS KEITH POWERS, BRIANNE TJU AND CHASE STOKES
10/18/21 @ 12:51 pm EST
Source:
Deadline
| Categories:
MIsc
|
Comments
(0) |
E-mail Article
|
Add a Comment
Keith Powers (
The Tomorrow War
), Brianne Tju (
I Know What You Did Last Summer
) and Chase Stokes (
Outer Banks
) have signed on to star opposite Joey King in
Uglies
, a dystopian fantasy film based on Scott Westerfeld's international bestseller of the same name, which McG is directing for Netflix,
Deadline
reports.
Uglies
is set in a world in which a compulsory operation at sixteen makes everyone pretty by conforming to an ideal standard of beauty.
While King will presumably portray the novel's lead character, Tally Youngblood, the roles to be played by the latest trio added have not yet been disclosed.
Krista Vernoff handled the screenplay adaptation. John Davis and Jordan Davis are producing for Davis Entertainment Company, with Robyn Mesinger for Anonymous Content; Dan Spilo for Industry Entertainment; and McG and Mary Viola for Wonderland. Joey King is exec producing alongside Jamie King, Scott Westerfeld, and John Fox.