'DOOM PATROL' RENEWED FOR SEASON 3 BY HBO MAX
09/13/20 @ 10:26 pm EST
Source:
DC Comics
| Categories:
DC
|
Comments
(0) |
E-mail Article
|
Add a Comment
HBO Max has exclusively ordered critically acclaimed Max Original
Doom Patrol
for a third season. Hailed by fans as "pure, strange magic" and called "the most complex and best superhero series on TV right now" by Uproxx, the next chapter of
Doom Patrol
will see the return of the most unique and unusual group of Super Heroes in the DC Universe. All episodes from the first two seasons of the Warner Bros. Television series are available to stream now on HBO Max.
Doom Patrol
executive producer Jeremy Carver said: "On behalf of the wonderful cast, writers and crew, we are thrilled and grateful for the opportunity to return to Doom Manor. And we are especially thankful for our partners at Berlanti Productions, Warner Bros. Television, DC UNIVERSE and, of course, HBO Max."
"
Doom Patrol
came to HBO Max with an already deep and passionate fan base and has risen to the top as one of the most watched Max Originals on the platform," said Sarah Aubrey, head of original content, HBO Max. "The series sits well in our portfolio and we are glad to greenlight a third season to continue this distinctive style of storytelling that resonates so well with critics and fans alike."
In season two of
Doom Patrol
, DC's strangest group of heroes—including Cliff Steele aka Robotman (Brendan Fraser), Larry Trainor aka Negative Man (Matt Bomer), Jane aka Crazy Jane (Diane Guerrero), Rita Farr aka Elasti-Woman (April Bowlby), and Victor Stone aka Cyborg (Joivan Wade)—attempted, once again, to save the world. Following the defeat of Mr. Nobody, the heroes found themselves mini-sized and stranded on Cliff's toy race car track. They began to deal with their feelings of betrayal by Niles Caulder aka The Chief (Timothy Dalton), while confronting their own personal baggage. As each member faced the challenge of growing beyond their own past traumatic experiences, they realized they must come together to embrace and protect the newest member of the family: Dorothy Spinner (Abigail Shapiro), Niles' daughter, whose powers remain a mysterious but real threat to bringing on the end of the world.
Doom Patrol
is produced by Berlanti Productions in association with Warner Bros. Television, with Jeremy Carver, Greg Berlanti, Sarah Schechter, Chris Dingess and Geoff Johns serving as executive producers. The series is based on characters created for DC by Arnold Drake, Bob Haney and Bruno Premiani.
'IRON FIST' RETURNS TO MARVEL THIS JANUARY
10/20/20 @ 4:29 pm EST
Source:
Nerdist
| Categories:
Marvel
|
Comments
(0) |
E-mail Article
|
Add a Comment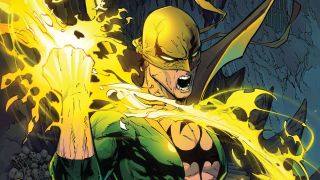 Marvel Comics' deadly living weapon is back to fight the good fight. Danny Rand, better known as the Immortal Iron Fist, returns.

Nerdist reports the hero makes his comeback in Iron Fist: Heart of the Dragon, a new limited series set for release in January 2021. Veteran Marvel scribe Larry Hama, best known for his epic runs on classic titles like Wolverine and G.I. Joe, will write the series. On interior art will be David Wachter (Teenage Mutant Ninja Turtles), with covers by Billy Tan. The solicit is below.

Iron Fist: Heart of the Dragon #1 (OF 6)

Larry Hama (W) • David Wachter (A) • Cover by Billy Tan

An Iron Fist Epic From Legendary Creator Larry Hama!

Someone is killing the ancient dragons that power the Heavenly Cities, and only Iron Fist and the Deadly Weapons can stop them… if they can discover who they are in time! Zombie armies, mystical portals, dragon hearts, some of the Marvel Universe's deadliest fighters all converge in one action-packed extravaganza, and the fate of all worlds hangs in the balance! Larry Hama and David Wachter are building a story that hits as hard as the Iron Fist itself!

'POWER RANGERS' GETTING FILM AND TV TREATMENT FROM 'I'M NOT OKAY WITH THIS' CO-CREATOR
10/20/20 @ 4:12 pm EST
Source:
Hollywood Reporter
| Categories:
Power Rangers
|
Comments
(0) |
E-mail Article
|
Add a Comment
The Power Rangers are morphing again.
THR
reports that Jonathan Entwistle, co-creator behind the recent series
I'm Not Okay With This
, has been entrusted to engineer and shepherd the next series of screen adaptations of
Power Rangers
, the colorful Hasbro superhero property.
But as opposed to the recent efforts, which focused primarily on the big-screen, the new initiative will see Entwistle overseeing, and directing, both film and television adaptations.
The move comes as eOne, the production banner acquired by Hasbro in late 2019, becomes more active in the development and the production of adaptations of Hasbro-based brands. A
Power Rangers
feature was previously in development by Entwistle at Paramount but now the reins have been taken by eOne while Entwistle is seeing his involvement deepen and branch out.
Entwistle will act as a conductor of a connected story universe that will bridge across multiple platforms.
'WILLOW' SEQUEL SERIES OFFICIALLY A GO AT DISNEY+
10/20/20 @ 4:05 pm EST
Source:
Variety
| Categories:
Disney
|
Comments
(0) |
E-mail Article
|
Add a Comment
The enchanting world of
Willow
, created by George Lucas, is officially coming to the small screen.
Disney+has confirmed a sequel series taking place years after the events of the original Ron Howard-directed pic is heading into production next year. Howard is returning to the project as executive producer alongside original star Warwick Davis, who will once again play the titular hero Willow Ufgood.
The series has also tapped
Crazy Rich Asians
and
In the Heights
director Jon M. Chu to helm the pilot and exec produce. Jonathan Kasdan
(
Solo
)
and Wendy Mericle (
Arrow
) will serve as showrunners.
Willow
the series hails from Lucasfilm and represents the company's first non-
Star Wars
venture since 2015. The show will introduce all-new characters to the magical realm of fairy queens and two-headed Eborsisk monsters. News of the official greenlight from Disney+ comes over a year after the project was first reported as coming down the pipeline. (via
Variety
)
'WICKED' DIRECTOR STEPHEN DALDRY EXITS UNIVERSAL MOVIE MUSICAL ADAPTATION
10/20/20 @ 4:00 pm EST
Source:
Deadline
| Categories:
Wizard of Oz
|
Comments
(0) |
E-mail Article
|
Add a Comment
Stephen Daldry has exited as the director of
Wicked
, Universal's long awaited screen adaptation of the smash hit stage musical. Sources tell
Deadline
that the studio wants this movie mounted more quickly than Daldry was comfortable moving. Also, there was a shortage of stage space in London that will make it not possible to shoot the film there, something that was important to Daldry.
Daldry's exit is reportedly amicable and becomes another creative casualty of the pandemic. Universal is back out looking for directors and it instantly becomes one of the more coveted Open Directing Assignments out there right now. The studio hopes to begin production late next year. Songwriter Stephen Schwartz and book writer Winnie Holzman teamed on the script and Marc Platt, who produces the stage musical with David Stone, is lead producer on the film.
The
Wizard of Oz
prequel is based on the Gregory Maguire novel
Wicked: The Life and Times of the Wicked Witch of the West
, and focuses on the early relationship between Glinda the Good and Elphaba, a green-skinned beauty before she ended up a flying hag on a broomstick.
JAMIE FOXX TO EP AND STAR IN VAMPIRE HUNTER MOVIE 'DAY SHIFT' FOR NETFLIX
10/20/20 @ 3:56 pm EST
Source:
Deadline
| Categories:
MIsc
|
Comments
(0) |
E-mail Article
|
Add a Comment
Deadline
reports that Jamie Foxx is back at Netflix with
Day Shift
, a vampire hunter feature which is being directed by first-time feature director JJ Perry.
John Wick
franchise director Chad Stahelski and Jason Spitz are producing for 87Eleven Entertainment along with Shaun Redick (
BlackKklansman
) and Yvette Yates Redick (
Malicious
) for Impossible Dream Entertainment.
Foxx, who also serves as an executive producer, will star as a hard-working blue-collar dad who just wants to provide a good life for his quick-witted 8-year old daughter, but his mundane San Fernando Valley pool cleaning job is a front for his real source of income, hunting and killing vampires.
Tyler Tice penned the original script, which was discovered by the Impossible Dream team when Tice won the Slamdance Writing Competition Grand Prize. The current revisions are by Shay Hatten, the screenwriter behind
John Wick: Chapter 3,
and the upcoming
John Wick: Chapter 4
as well as Zack Snyder's
Army of the Dead
for Netflix.
'THE WALKING DEAD': ANIMATED EPISODES, MORE SPINOFFS BEING CONSIDERED
10/20/20 @ 11:23 am EST
Source:
ComicBook
| Categories:
Walking Dead
|
Comments
(0) |
E-mail Article
|
Add a Comment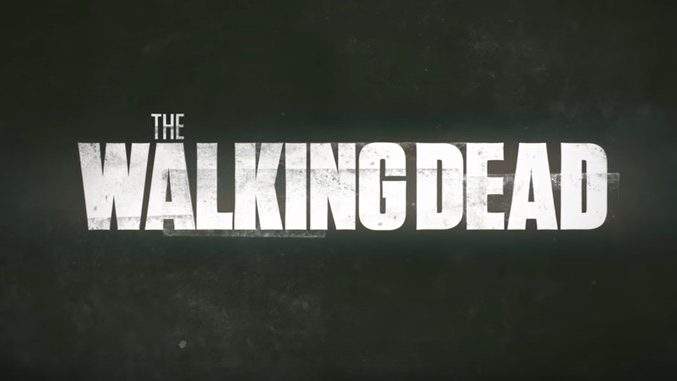 Within the considerations for spinoffs of
The Walking Dead
as the main series nears its true finale, chief content officer Scott Gimple reveals that the AMC zombie saga might continue in animated form. There are guaranteed spinoffs in the form of a Carol and Daryl series and
Tales of the Walking Dead
. With
Tales
, the franchise will introduce new characters and revisit familiar faces for short, episodic arcs. With the new series which brings a whole new storytelling format to the AMC franchise, Gimple suggests that animated episodes are certainly on the table and actually a goal.
"I will say that one thing I'm looking at hard is animation," said Gimple. "I mean, [Robert Kirkman] has a lot of talent around that, so that's one-stop shopping for me. [
World Beyond
co-creator Matt Negrete] and I actually come from animation. We worked initially together in animation back in the day. And then we also went to college together. … But I mean,
Invincible
is going to be a really interesting thing to see. Hour long animation? And the comic is fun, but it's not a comedy and it gets super dark and dramatic, regularly. So I can't wait for that. And Kirkman might lead the way on that too. It may lead us right back to a
Walking Dead
animated series." (via
ComicBook
)
The Walking Dead: World Beyond
airs Sundays at 10pm ET, following new episodes of
Fear the Walking Dead
at 9pm ET on AMC.
The Walking Dead
will return for 6 more episodes of Season 10 in the Spring. The 11th and final season of
The Walking Dead
will begin airing in the Fall of 2021.
NEW 'TEXAS CHAINSAW MASSACRE' TEASER POSTER RELEASED
10/20/20 @ 11:14 am EST
Source:
Legendary
| Categories:
MIsc
|
Comments
(0) |
E-mail Article
|
Add a Comment
Legendary Entertainment's
upcoming T
exas Chainsaw Massacre
reboot has unveiled a new poster for the movie helmed by David Blue Garcia (Tejano) and written by Chris Thomas Devlin. You can check out the poster below.
The new
Texas Chainsaw Massacre
hits theaters in 2021.
APPLE TV PLUS WILL GET CLASSIC PEANUTS HOLIDAY SPECIALS AS PART OF A NEW STREAMING DEAL
10/20/20 @ 11:03 am EST
Source:
The Verge
| Categories:
MIsc
|
Comments
(0) |
E-mail Article
|
Add a Comment
Apple TV Plus will be getting the beloved
Peanuts
Halloween, Thanksgiving, and Christmas holiday specials added to its catalog this year, and they'll each be available for free to non-subscribers for a short period of time.
The Halloween special,
It's the Great Pumpkin, Charlie Brown
, will be hitting Apple TV Plus today for subscribers and will be available for free from October 30th until November 1st.
A Charlie Brown Thanksgiving
will be available on November 18th and watchable for free from November 25th until November 27th. And
A Charlie Brown Christmas
will be out on December 4th and can be watched for free from December 11th through December 13th.
A new season of the Apple TV Plus-exclusive
Snoopy in Space
and new specials celebrating Mother's Day, Earth Day, New Year's Eve, and back to school were also announced today for Apple TV Plus. They'll join
The Snoopy Show
, which hits Apple TV Plus on February 5th, and a new Apple TV Plus
Peanuts
documentary that will be coming out next year. (via
The Verge
).
DANA BARATTA DEAD: 'DAWSON'S CREEK,' 'JESSICA JONES' WRITER-PRODUCER WAS 59
10/20/20 @ 10:58 am EST
Source:
Deadline
| Categories:
MIsc
|
Comments
(0) |
E-mail Article
|
Add a Comment
Writer-producer Dana Baratta, known for projects including
Dawson's Creek
,
Jessica Jones
and
Good Behavior
and a close collaborator with producer Melissa Rosenberg, died on Sunday. She was 59. Her family announced Baratta's death after a years-long battle with ovarian cancer.
In 1998, Baratta landed
Dawson's Creek
, the first of many TV series for which she would write and produce. She wrote seven episodes for the WB series that launched the careers of James Van Der Beek, Katie Holmes, Michelle Williams among others.
Throughout the early 2000s Baratta worked up the ladder and soon became a supervising producer for
North Shore,
then a co-executive producer for series including
Cracking Up, Runaway
and
Life Is Wild.
She also had an acting credit in Miguel Areta's 2000 indie hit
Chuck & Buck.
After serving as executive producer on Shonda Rhimes'
Private Practice
, Baratta began her collaboration with Rosenberg on
Red Widow,
which they co-executive produced. The two would reunite in 2015 to co-executive produce Netflix's Marvel series
Jessica Jones;
Baratta penned three episodes.
Her most recent writing and producing credits were for TNT's
Good Behavior
. (via
Deadline
)
Baratta is survived by her husband David Smith; her stepsons, Mathew Smith and his wife Jen, and Michael Smith. She is also survived by her sister Lise Baratta and her brothers Mark Baratta and David Baratta.
In lieu of flowers, gifts may be made to support UCLA's Dr. Beth Y. Karlan and her team's ovarian cancer research. More info
here
.
DF News extends its deepest sympathies for Ms. Baratta's family, friends and fans.
NEW CASPAR WIJINGAARD INCENTIVE COVER FOR 'A DARK INTERLUDE' #1
10/20/20 @ 10:49 am EST
Source:
Vault Comics
| Categories:
MIsc
|
Comments
(0) |
E-mail Article
|
Add a Comment
Vault Comics is excited to announce two new gorgeous Caspar Wijingaard incentive covers for
A DARK INTERLUDE #1
. Caspar's cover art will come in two different versions: a regular cover will be available as a 1:15 variant, while a deluxe foil edition printed on thick card stock will be available as a 1:30 variant.
A DARK INTERLUDE
is the "not-quite-a-sequel" to
FEARSCAPE
, co-created by writer Ryan O'Sullivan (
Void Trip, Dark Souls
) and star artist Andrea Mutti (
Port of Earth, Rebels
) with colors by Vladimir Popov, letters by Andworld, and design by Tim Daniel.
A DARK INTERLUDE
marks the return of comics most unreliable narrator and legendary jerk, Henry Henry, who recently took over Vault's twitter account for one unforgettable day.
Cover A (Kristantina): SEP201542
Cover B (Gooden & Daniel): SEP201543
Cover C (Isaacs): SEP201544
Cover D 1:15 (Wijingaard): SEP208238
Cover E 1:30 Foil (Wijingaard): SEP208239
A DARK INTERLUDE #
1 hits store shelves on November 11th. The synopsis can be read below:
After the stunning success of Fearscape, comes A Dark Interlude, the story of-No! The only offence to literature greater than the loathsome synopsis is the sequel. I will not stand idle while some poor excuse for an editor mangles and confuses my story, which is intact, perfect, and concluded, with this derivative drivel. Mark my words, this nonsense has nothing to do with my tale. I am not in it. I do not condone it. And you, dear reader, should not buy it.