DISNEY'S 'CRUELLA' MOVES TO MEMORIAL DAY 2021
08/20/19 @ 10:21 pm EST
Source:
Hollywood Reporter
| Categories:
Disney
|
Comments
(0) |
E-mail Article
|
Add a Comment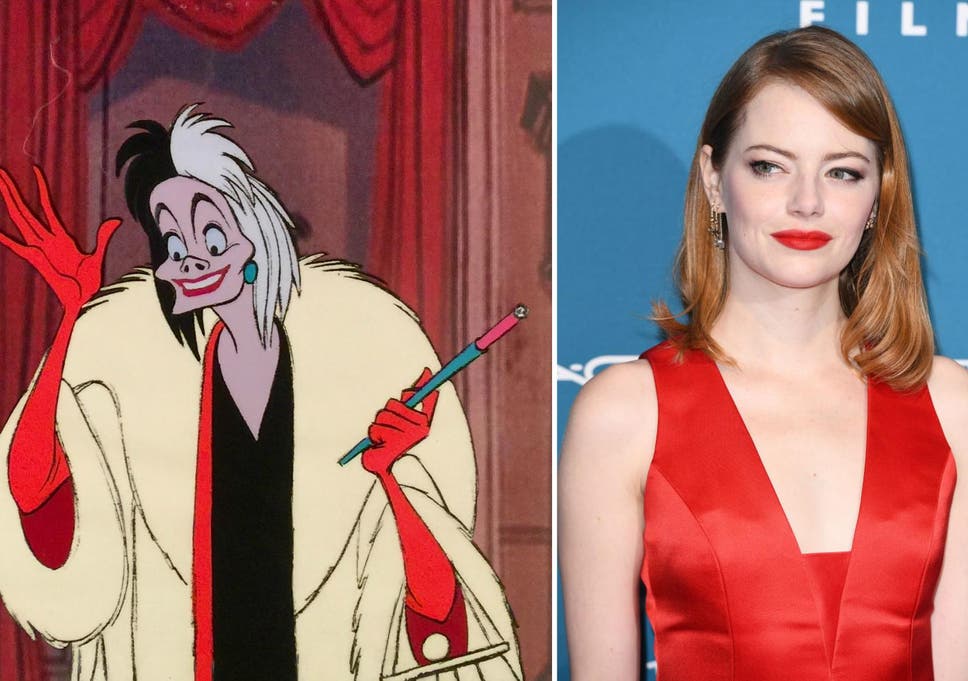 Disney is pushing
Cruella
from Dec. 23, 2020, to May 28, 2021, the beginning of the lucrative Memorial Day weekend,
THR
reports.
Emma Stone stars as Cruella de Vil, the villain of the 1961 animated classic
101 Dalmatians
.

It's not a surprise that Disney is moving Cruella, since Steven Spielberg's West Side Story — another property inherited in its deal with Fox — is set to open over Christmas 2020.
DC COMICS, DC UNIVERSE SEE LAYOFFS AMID WARNERMEDIA RESTRUCTURE
08/10/20 @ 10:18 pm EST
Source:
Variety
| Categories:
DC
|
Comments
(0) |
E-mail Article
|
Add a Comment
Variety
reports that DC Comics and streaming service DC Universe have been impacted by parent company WarnerMedia's corporate realignment, with layoffs at both units. But a source indicates that through WarnerMedia's streamlining efforts, the DC brand will actually be expanding, with DC chief creative officer Jim Lee overseeing creative of all DC-related growth in the company.
At DC Comics, editor-in-chief Bob Harras, editors Brian Cunningham and Mark Doyle, senior VP of publishing strategy and support services Hank Kanalz, VP of marketing Jonah Weiland, and VP of global publishing initiatives and digital strategy Bobbie Chase have all exited as part of the restructuring.
DC Universe employees have also been significantly impacted by the personnel reduction.
A DC spokesperson declined to comment on the layoffs.
AWARD-WINNING PRODUCER/DIRECTOR JOINS 'STAR TREK: PRODIGY' AS CREATIVE LEAD
08/10/20 @ 10:10 pm EST
Source:
TrekMovie
| Categories:
Star Trek
|
Comments
(0) |
E-mail Article
|
Add a Comment
At Comic-Con@Home, ViacomCBS finally revealed the name of their CG-animated Star Trek series headed to Nickelodeon, and on Monday they announced some new high-powered talent joining the
Star Trek: Prodigy
team.
Nickelodeon and CBS Television Studios announced that award-winning director and producer Ben Hibon (
Codehunters
) will direct, co-executive produce and serve as the creative lead of Nickelodeon's new animated series
Star Trek: Prodigy
. The CG-animated series follows a group of lawless teens who discover a derelict Starfleet ship and use it to search for adventure, meaning, and salvation.
Star Trek: Prodigy
will debut exclusively on Nickelodeon in 2021, targetting "a new generation of fans." (via
TrekMovie
)
'STAR WARS': CASSIAN ANDOR DISNEY+ SERIES CASTS ADRIA ARJONA
08/10/20 @ 10:03 pm EST
Source:
Variety
| Categories:
Star Wars
|
Comments
(0) |
E-mail Article
|
Add a Comment
Adria Arjona has been cast in the upcoming Cassian Andor series at Disney+,
Variety
has confirmed.
Arjona joins previously announced series lead Diego Luna and Alan Tudyk, both of whom will reprise their roles from the Star Wars film
Rogue One
. Genevieve O'Reilly and Denise Gough are also set to appear in the show, as will Stellan Skarsgard and Kyle Soller. Details on Arjona's role in the series are being kept under wraps.
Reps for Disney did not immediately respond to requests for comment.
The show focuses on Rebel agent Andor prior to the events of
Rogue One
in the early days of the Rebellion against the Empire. The show had been described as a "spy thriller" when plans for it were first revealed.
'SPONGEBOB SQUAREPANTS' SPINOFF SERIES 'THE PATRICK STAR SHOW' SET AT NICKELODEON
08/10/20 @ 9:56 pm EST
Source:
Deadline
| Categories:
MIsc
|
Comments
(0) |
E-mail Article
|
Add a Comment
SpongeBob's partner in crime is getting his own show.
Deadline
reports that Nickelodeon is finalizing deals for
The Patrick Star Show,
a
SpongeBob SquarePants
animated spinoff centered on SpongeBob's best friend Patrick Star, voiced by Bill Fagerbakke.
Voiceover recordings already reportedly have started for the project, which is expected to receive a 13-episode order and comes from the creative team behind the mothership series.
According to sources,
The Patrick Star Show
is in the vein of
The Larry Sanders Show
and
Comedy Bang! Bang!,
with Patrick (Fagerbakke) hosting his own late-night talk show. The series would revolve around Patrick and his family. Fagerbakke is being joined by a largely new cast voicing new characters, with
SpongeBob
cast members expected to make occasional appearances, reprising their roles.
A rep for Nickelodeon declined comment.
'GREEN ARROW AND THE CANARIES' EP: PILOT STATUS SAME; IN CW, WB HANDS
08/10/20 @ 9:52 pm EST
Source:
Bleeding Cool
| Categories:
DC
|
Comments
(0) |
E-mail Article
|
Add a Comment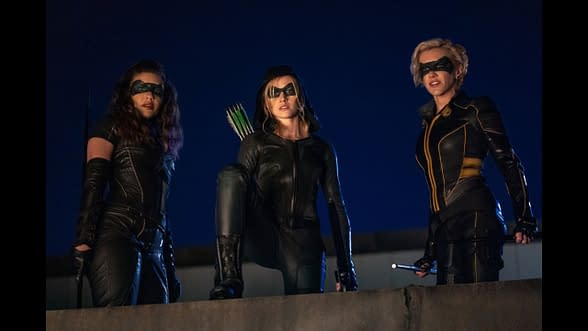 Now that we're less than two weeks away from DC FanDome (WarnerMedia's big, 24-hour promotion fest for all things Warner Bros., DC Comics, etc., on August 22), we can't keep our dumpster fires of speculation from crackling over this feeling that we might be getting an answer sooner rather than later as to the fate of potential Arrowverse series
Green Arrow and the Canaries.
If there
was
any news to report, pilot executive producer Marc Guggenheim would definitely be someone in-the-know. But unless he's whipped out his "social media poker face," it doesn't look like the project's status has changed. On Sunday, Guggenheim was asked on Twitter for an update on the pilot and if there was a timeframe for an announcement.
"Unfortunately, I don't know when an announcement will be made," the EP tweeted. "I thought it would be "soon" but that was, unfortunately, a very non-soon time ago. At the end of the day, the timing is in the hands of Warner Bros. and The CW." (via
Bleeding Cool
)
The Canary watch continues.
'X-O MANOWAR' RETURNS IN NOVEMBER TO VALIANT
08/10/20 @ 3:10 pm EST
Source:
Valiant
| Categories:
X-O Manowar
|
Comments
(0) |
E-mail Article
|
Add a Comment
Valiant's flagship hero returns this November in
X-O MANOWAR #2!

Aric of Dacia, aka X-O MANOWAR, is back and heading in a bold new direction with Harvey Award-winner DENNIS "HOPELESS" HALLUM (Star Wars: Darth Vader - Dark Visions) and astonishing artist EMILIO LAISO (Marvel's Spider-Man: Velocity). The first issue earned a spot in the top 100 best-selling comics when it debuted. Now, the action-packed second issue is set to arrive in comic shops on November 25th, 2020, with covers by Eisner Award-winning artist CHRISTIAN WARD (Invisible Kingdom), NETHO DIAZ (G.I. Joe: A Real American Hero), and a 1:25 variant by DANIEL WARREN JOHNSON (Wonder Woman: Dead Earth).




"X-O Manowar has always been a nuclear missile with the mind of a noble warrior," remarked Dennis. "He's unstoppable in combat. Need to defeat an alien warlord? Repel an intergalactic invasion or end a war? Aric's your guy. But this time, X-O Manowar is acting locally. What happens when a nuclear missile moves in down the street? How does a superweapon playing superhero save the neighborhood? How does he change the world?"


Check out the first four pages of X-O MANOWAR #2, below.


NETFLIX RELEASES FIRST TRAILER FOR HILARY SWANK'S 'AWAY'
08/10/20 @ 3:04 pm EST
Source:
Netflix
| Categories:
MIsc
|
Comments
(0) |
E-mail Article
|
Add a Comment
Netflix
has released a trailer for
Away
, the upcoming space drama starring Hilary Swank.
Away
is solicited as "a thrilling, emotional drama on an epic scale that celebrates the incredible advancements humans can achieve and the personal sacrifices they must make along the way. As American astronaut Emma Green (Hilary Swank) prepares to lead an international crew on the first mission to Mars, she must reconcile her decision to leave behind her husband (Josh Charles) and teenage daughter (Talitha Bateman) when they need her the most. As the crew's journey into space intensifies, their personal dynamics and the effects of being away from their loved ones back on Earth become increasingly complex."
Netflix's
Away
will premiere on September 4th.
Trailer:
https://youtu.be/3f_REapPwio
'THE BOYS' SEASON 2: SHAWN ASHMORE TO PLAY LAMPLIGHTER
08/10/20 @ 2:56 pm EST
Source:
TV Line
| Categories:
The-Boys
|
Comments
(0) |
E-mail Article
|
Add a Comment
Talk about a role reversal. Shawn Ashmore, who did very cool things with ice as one of filmdom's X-Men, will seriously heat things up during Season 2 of Amazon Prime's
The Boys
.
Ashmore, whose previous TV credits include
The Following
and
The Rookie
, will appear during the darkly comic superhero series' sophomore run as Lamplighter, a former superstar member of the Seven before he left under mysterious circumstances, to be replaced by Starlight. What's more, Lamplighter ties in directly to the Boys' tragic history — he's actually the reason they broke up eight years ago — so when the pyrokinetic enters their lives again, he dredges up painful memories, pokes at their raw nerves, and changes everything. (via
TV Line
)
Season 2 of
The Boys
will premiere Friday, Sept. 4 with the first three episodes, followed by a weekly rollout that will culminate in an epic season finale on Oct. 9. Season 3 is already a go, ordered last month.
SEASON 3 OF 'THE UMBRELLA ACADEMY' WILL PROBABLY FOLLOW A DIFFERENT PATH
08/10/20 @ 2:47 pm EST
Source:
Cheat Sheet
| Categories:
MIsc
|
Comments
(0) |
E-mail Article
|
Add a Comment
The first two seasons of
The Umbrella Academy
may have had some major differences — especially in the family dynamic realm. Since the siblings grew closer in the previous season, the follow-up was able to explore their interpersonal relationships a bit more heavily. Yet, in the narrative department, the two were rather synonymous.
Season 2 of
The Umbrella Academy
ends with the Hargreeves back in 2019, but their father is alive once more, and he has assembled a new team of elite heroes — The Sparrow Academy. Ben is one of the primary members. It's likely that upon meeting his original choices back in the '60s, Reginald chose to go in a different direction with his academy of kids. (via
Cheat Sheet
)
Season 3 of
The Umbrella Academy
(once confirmed) will likely see the Hargreeves children dealing with an altered past — different than their memory, and lacking their childhood home. Rather than confronting an apocalypse, the team will confront a new academy, with a leader they know and love (Ben) who has no clue who they are. One has to wonder if the two teams will mash-up to defeat the baddies together, or clash when it comes to how one should save the world.
'LION' DIRECTOR GARTH DAVIS TO DIRECT DISNEY'S NEW 'TRON' MOVIE WITH JARED LETO
08/10/20 @ 2:13 pm EST
Source:
Deadline
| Categories:
Disney
|
Comments
(0) |
E-mail Article
|
Add a Comment
After taking its time figuring out where it wants the next
Tron
installment to go, Disney's sci-fi franchise looks to have new life as
Deadline
reports that Garth Davis has been tapped to direct the film starring Jared Leto.
Davis has been better known for his smaller art house films over the years like 2018's
Mary Magdalene
and his critically acclaimed 2016 drama
Lion
, which received six Oscar nominations including for Best Picture.
Tron
would mark Davis' first tentpole, and though he is not known for big-budget projects, insiders say Davis aggressively pursued the job, eventually winning over execs.
The original 1982 film starring Jeff Bridges was set inside the computer program called the Grid, where a computer hacker is abducted and forced to participate in gladiatorial games. The film wasn't a hit and received mixed reviews, even though its special effects were seen as game-changing at the time. The cult following that swelled around the film in years to come as it played on cable only helped grow its popularity, to the point where Disney decided to move forward with a sequel,
Tron: Legacy
, in 2010, with Bridges reprising his role and Garret Hedlund and Olivia Wilde joining the franchise.
That film did go on to have box office success, bringing in $400 million globally, but even so plans for a sequel were pushed while Disney figured out how to move the story forward. The studio eventually scrapped plans for a direct sequel to
Tron: Legacy
, and even after Leto attached himself in 2017 and has been taking their time in figuring out next steps for this project.