CHRISTINA BLANCH TALKS THE DAMNATION OF CHARLIE WORMWOOD: A DYNAMITE INTERVIEW ON BLEEDING COOL
08/14/14 @ 4:31 pm EST
Source:
Bleeding Cool
| Categories:
MIsc
|
Comments
(0) |
E-mail Article
|
Add a Comment
Almost a month ago it was announced that the
Thrillbent
webcomic
The Damnation of Charlie Wormwood
by
Christina Blanch
,
Chris Carr
,
Chee
and
Troy Peteri
was being collected by
Dynamite
. Now
Byron Brewer
caught up with Blanch and asked about the transition from digital to print and how it might change things.
BYRON BREWER: Christina, how did Damnation of Charlie Wormwood make the jump from Thrillbent to Dynamite?
CHRISTINA BLANCH:
It's all thanks to Nick Barrucci of Dynamite. We were chatting at a con and we started talking about the book and he asked when it was coming out in print. I told him we were printing one issue of it just so I would have something to sign at conventions and he was surprised that I hadn't taken it somewhere. He and I then talked the next and it all just happened. It was amazing, and Dynamite has been wonderful to work with – we couldn't ask for anything better.
BB: What is it like producing a book for Thrillbent vs. a more mainstream company like Dynamite? Can you explain the process difference to the reader?CB:
The biggiest thing is that now we know that it will be in print so we well keep that in mind when writing and when Chee is drawing. However, we still want to give readers the digital comic experience on the screen so we aren't really changing too much. The big difference is in the production – taking the pages or the screens as we call them at Thrillbent and turning them into print pages. Our editor Mark Waid has been great in helping to do that and we are learning as we go. I'm sure we will get better at the transformation every issue.
BB: You and Chris Carr have written the property for Thrillbent. Will you both be on the miniseries, and if so how do you share those responsibilities of collaboration?CB:
Nothing will change. The whole creative team that we have on Charlie is so integral to the book that we don't want to change things. Our creative process is pretty simple but has changed over time. The first few issues we wrote together, in the same room, working through all of it. As time went by and schedules got busier and busier, it was harder to be in the same workspace. We have worked out an outline for each issue and one of us will write the book, the other will approve it, and then we send it to our editor Mark, ho then send it to our incredible artist Chee.For the uninitiated, tell us the concept of the book.
Charlie Wormwood is a teacher in the correctional education system aka prison. He isn't thrilled about it but job in education are not easy to get. He also happens to have a son who has been in and out of the hospital and they really can't figure out what is wrong with him. With bills piling up, Charlie is offered help from an unexpected source. This is the story of how far someone will go to help their child and how that journey changes that person. I don't want to give too much away. People have said it has a Breaking Bad vibe which I have to take their word on because I have internationally stayed away from that show so I don't subconsciously put in a similar storyline. When the book is done and that makes me sad, it will be nice to have Breaking Bad to watch as a treat.
BB: The book is very dark, from what I understand. How do you keep the emphasis on what sacrifices Charlie is making for his sick son?CB:
I've heard the book is dark. Some of our readers send me notes asking why I hate Charlie. I don't hate him. He does have some bad luck. But, the book is called the Damnation of Charlie Wormwood.
C2E2: VALIANT ANNOUNCES NINJAK: THE SHADOW WARS
04/26/15 @ 6:51 pm EST
Source:
Bleeding Cool
| Categories:
MIsc
|
Comments
(0) |
E-mail Article
|
Add a Comment
One of
Valiant's
announcements from
C2E2
for this summer is a new
Ninjak
story arc called
The Shadow Wars
kicking up with issue #6. The series will continue to be written by
Matt Kindt
while he will be welcoming artists
Raul Allen
(
Hawkeye
),
Juan Jose Ryp
(
Black Summer
),
Stephen Segovia
(
Convergence
) to the series along with regular artists
Clay Mann
and
Butch Guice
.
Ninjak went to Tokyo to destroy the shadowy Weaponeer arms cartel from the inside out, beginning with its secret council of shinobi masters…the Shadow Seven. Now, the world's top super-spy is cutting his way through the four death-defying members – The Barbe, Fitzy, Fakir, and Sanguine – that stand between him and the one secret that still eludes him… Who really wields the power behind the world's most powerful terrorist network? Who is the secret seventh member of the Shadow Seven? And what do they want with Colin King?
The storyline starts in August with
Ninjak
#6 drawn by Allen, #7 by Ryp, #8 by Segovia and #9 is the return of Mann. Guice will continue to draw
the Lost Files
second story. Featuring covers by
Mico Suayan
(
Bloodshot Reborn
),
Jelena Kevic-Djurdjevic
(
Divinity
),
Dave Johnson
(
100 Bullets
),
Matt Kindt
(
Mind MGMT
), and
Clayton Henry
(
Ivar,Timewalker
).
C2E2: MARVEL ANNOUNCES HOWARD THE HUMAN ONE-SHOT FOR SECRET WARS
04/26/15 @ 6:46 pm EST
Source:
Comicbook
| Categories:
Marvel
|
Comments
(0) |
E-mail Article
|
Add a Comment
During the Chicago Comic and Entertainment Expo today, Marvel Comics has announcedHoward The Human #1, a Secret Wars one-shot written by Skottie Young.

The story will find Howard, formerly a Duck, as a human being. What's more, Howard will be the only living homo sapien in a city filled with animals. Talk about a role reversal. But that doesn't mean Howard will have a ho-hum adventure. The former fowl will see plenty of cases as a private investigator, all while dodging bullets and crossing paths with a murderous anthropomorphic animal. Or, as Howard calls it, Monday.

Howard The Human #1 hits comics shops this August. (Source: Comicbook)
AVENGERS: AGE OF ULTRON CAST PLAYS TWO TRUTHS, ONE LIE
04/26/15 @ 6:27 pm EST
Source:
Comicbook
| Categories:
Age of Ultron
|
Comments
(0) |
E-mail Article
|
Add a Comment
In the latest promotional video for
Avengers: Age of Ultron
, the cast of the film plays "two truths, one lie."
And, as you can imagine, hilarity ensues.
You can check it out here:
https://youtu.be/5TLc61zbZyU
Avengers: Age of Ultron
hits U.S. theatres Friday!
ROBERT DOWNEY JR. TALKS ABOUT PRESENTING A PROSTHETIC IRON MAN ARM TO A YOUNG BOY
04/26/15 @ 6:24 pm EST
Source:
Comicbook
| Categories:
Iron Man
|
Comments
(0) |
E-mail Article
|
Add a Comment
During an appearance on
Late Night With David Letterman
,
Avengers: Age of Ultron
star Robert Downey, Jr. told the host about his recent experience giving a prosthetic arm based on the design of Iron Man's armor to a young fan.
A popular idea, a designer recently created a similar one at low cost to be mass-produced.
You can check it out here:
https://youtu.be/lQbUrLVrekc
"Avengers: Age of Ultron" hits U.S. theatres Friday!
RYAN REYNOLDS SAYS DEADPOOL IS HALFWAY THROUGH PRODUCTION
04/26/15 @ 6:18 pm EST
Source:
Comicbook
| Categories:
Deadpool
|
Comments
(0) |
E-mail Article
|
Add a Comment
Deadpool
may seem like it just started, but it's already halfway through production, according to star Ryan Reynolds.
While the average superhero epic tends to take much longer than that, some smaller movies like
Kick-Ass
and
Sin City
have had similarly-short production windows.
Based upon Marvel Comics' most unconventional anti-hero, DEADPOOL tells the origin story of former Special Forces operative turned mercenary Wade Wilson, who after being subjected to a rogue experiment that leaves him with accelerated healing powers, adopts the alter ego Deadpool. Armed with his new abilities and a dark, twisted sense of humor, Deadpool hunts down the man who nearly destroyed his life.Directed by Tim Miller, the film stars Ryan Reynolds, Morena Baccarin, Ed Skrein and Gina Carano.
It will be in U.S. theaters February 12, 2016.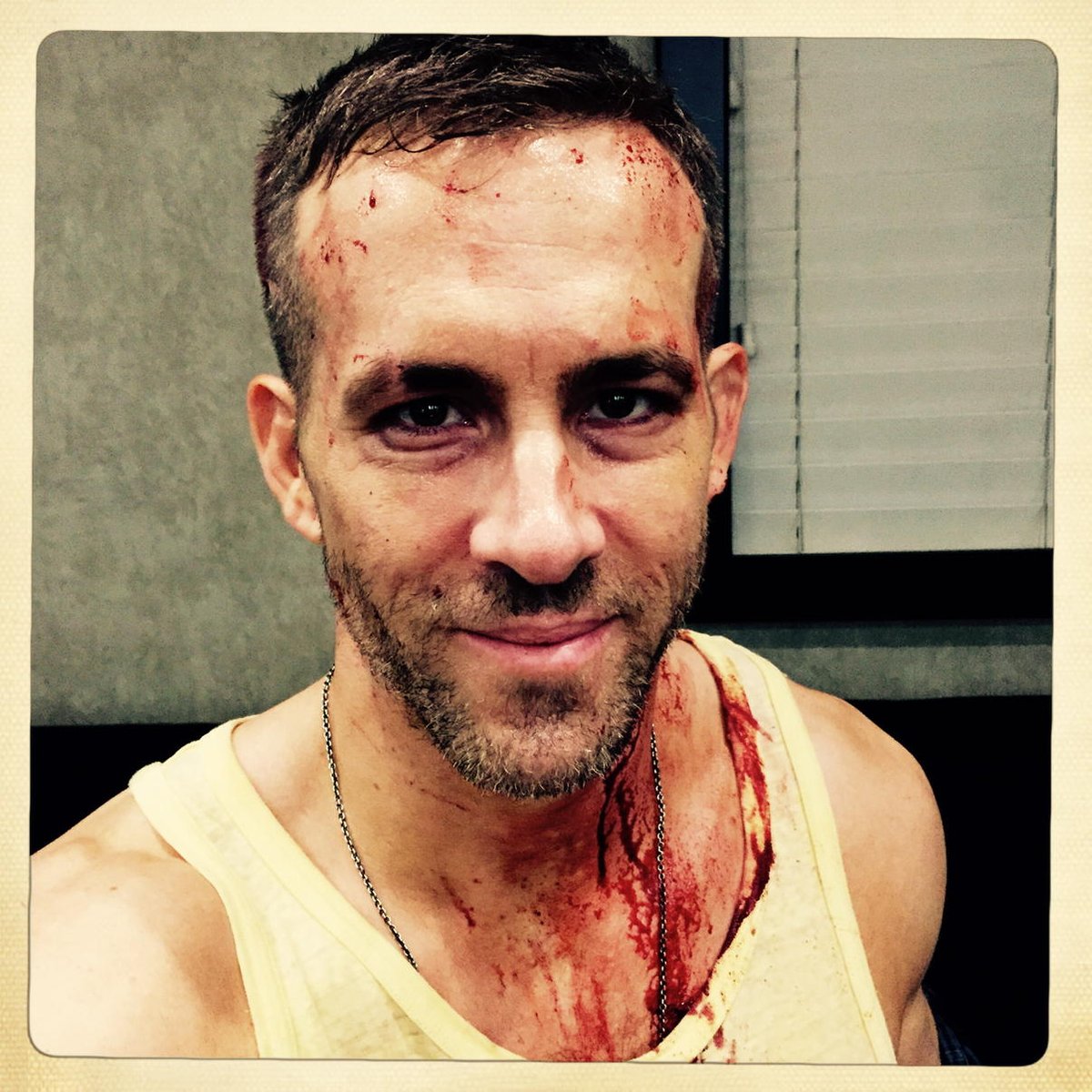 C2E2: MARVEL ANNOUNCES HANK JOHNSON: AGENT OF HYDRA #1 SECRET WARS ONE-SHOT
04/26/15 @ 6:08 pm EST
Source:
Comicbook
| Categories:
Marvel
|
Comments
(0) |
E-mail Article
|
Add a Comment
Get ready for Hank Johnson, the Marvel Universe's greatest nobody. During the Chicago Comic and Entertainment Expo today, Marvel Comics has announced
Hank Johnson, Agent of Hydra #1
, an upcoming Secret Wars One-Shot.
If you've never heard of Hank Johnson, you're not alone. Hank, a lowly Hydra agent, headlines the comedic look at Secret Wars'Earth-shattering insanity. In the one-shot, Hank must navigate through the perilous dangers of picking up his kids from school, reporting to Hydra's HR department, and longing for a more meaningful life. But hey, since Secret Wars is kind of re-writing all of existence, maybe he'll get his wish. Delivering the civilian shenanigans are former Curb Your Enthusiasm executive producer David Mandel on writing duties, and illustrator Michael Walsh on art. (Source: Comicbook)
C2E2: MARVEL GIVES CM PUNK HIS FIRST ONGOING SERIES WITH
04/26/15 @ 6:01 pm EST
Source:
Comic Book Resources
| Categories:
Guardians of the Galaxy
|
Comments
(0) |
E-mail Article
|
Add a Comment
Wrestler-turned-comic author CM Punk will follow his story in "Thor Annual" #1 with his very own ongoing series. Marvel today announced at C2E2 that the soon-to-debut UFC fighter (and Chicago native) will be co-writing the adventures of the Guardians of the Galaxy's most vicious member, Drax. Punk's co-writer has yet to be named.
Coming in winter 2015, "Drax" will also be the first solo series for the green-skinned Destroyer. Details on the story are currently thin, though it's said to follow Drax from "the intergalactic octagon to the far reaches of outer space." Ed McGuinness has illustrated the cover for issue #1, which you can see below, and the interior artist is expected to be named soon.
Besides the "Thor Annual," CM Punk has also turned in a tale for DC/Vertigo's "Strange Sports Stories." "Drax" marks his first full-length, continuing story. (Source: CBR)
AVENGERS: AGE OF ULTRONí OPENS TO MASSIVE $201.2 MILLION AT FOREIGN BOX OFFICE
04/26/15 @ 5:56 pm EST
Source:
Variety
| Categories:
Avengers
|
Comments
(0) |
E-mail Article
|
Add a Comment
"Avengers: Age of Ultron" debuted to a massive $201.2 million across 44 territories this weekend.
Disney and Marvel's super team adventure was the highest-grossing film in everywhere it opened, and has now rolled out in 55% of the international marketplace, including such major locales as France, Italy, Germany, the United Kingdom, Russia, Korea and Australia.
Going into the weekend, Disney was projecting a foreign debut of between $160 million to $175 million.
"The bar was high, but this is a sign of unbelievable momentum in the marketplace," said Dave Hollis, Disney's distribution chief. "It all goes back to the strength of the brand and the incredible work the Marvel team does in telling stories in such a consistent way and creating these worlds."
The hotly anticipated superhero sequel opens next week in the U.S., where it is expected to earn north of $200 million and could top the first "Avengers" film's record-breaking $207.4 million bow. Bringing Thor, Iron Man, Captain America and other costumed heroes together isn't cheap, and "Avengers: Age of Ultron" carries a $250 million pricetag.
The success of "Avengers: Age of Ultron" is a testament to the strength of the global market, which now accounts for 70% or more of a major film's box office gross. Two decades ago, foreign ticket sales usually comprised less than half of a movie's revenues.
"We are living in rarefied air with 'Avengers' to be even talking about these kind of numbers," said Paul Dergarabedian, senior media analyst at Rentrak. "A weekend like this is why a lot of people think it could be even bigger than the first one."
HULK SMASHES ON ROLLING STONE'S NEW COVER
04/26/15 @ 5:49 pm EST
Source:
Rolling Stone
| Categories:
Hulk
|
Comments
(0) |
E-mail Article
|
Add a Comment
He's big, he's green, he's ill-tempered – and for the first time since 1971, he's on the cover of
Rolling Stone
. As the cover story puts it: "The Hulk is the breakout star of the
Avengers
movies, breaking stuff for all us sinners, hulking out for every hung-up person in the whole wide universe."
So the new issue, on stands now, goes deep on both the Hulk and the real people in his sizable shadow. Senior Writer Brian Hiatt hung out in New York with Mark Ruffalo, who plays Bruce Banner (and via motion-capture, the Hulk) in May 1st's
The Avengers: Age of Ultron
and on Disney's Burbank lot with Joss Whedon, the movie's writer and director. Hulk co-creator Stan Lee and
Incredible Hulk
TV show executive producer Kenneth Johnson, among others, also chime in.
Here are some highlights from the story:
It took Whedon a while to realize where he got the idea for Bruce Banner's "I'm always angry" line in The Avengers:
"I thought, 'This feels psychologically true, like somebody could be like that,' " Whedon says. "And then about four months after the movie came out, something happened and I just lost my s**t. I was like, 'Oh! It's about me!'"
Ruffalo feels that the Hulk comes into his own as a character in the new movie.
"Now, Hulk is doing some acting," Ruffalo says. "He's not just raging. He's transitioning in and out of Banner, and that has its own inner life to it. We haven't even started to get into who the Hulk really is, what makes him tick. What is he fighting? What is he struggling against? What is he afraid of? We're only scratching the surface of it."
Ruffalo had doubts about playing the Hulk and Banner.
"I was scared, a little bit," he says. He was impressed with Robert Downey Jr.'s left-field Tony Stark, which "opened the way for this kind of indie character-actor approach, totally off the radar of what you would consider to be your classic movie star. And I thought, 'Can I do that? Can I be as clever and charming and facile?' It was like, 'Downey!'"
There was a reason that the Hulk never spoke on the Seventies TV show.
Lou Ferrigno was hearing-impaired and, executive producer Kenneth Johnson notes, "had 14 years of speech therapy, but it was all in Brooklyn. And do we really need him to say, 'Hulk smash?' It's like, hello, duh!" (Source: Rolling Stone)
DF SATURDAY NIGHT REVIEW: GUARDIANS OF THE GALAXY #26
04/25/15 @ 9:12 pm EST
Source:
Dynamic Forces
| Categories:
Guardians of The Galaxy
|
Comments
(0) |
E-mail Article
|
Add a Comment
By BYRON BREWER
The Black Vortex
, which may have lasted just a tad too long (no wonder that Celestial left, he had been waiting long enough, lol) has now run its course and the admittedly admirable voting style of the Spartax population comes back into play as Peter Quill accepts his job as king (president?) of that planet/empire. (If only Kosmic Kitty had left them in amber!)
Brian Michael Bendis really has developed a hand and a voice for these heroes, despite internet gripes. (C'mon, guys, DnA are not even DnA anymore!) The comedy in this comic extended beyond Rocket's ever-varying curses to arguments of which Elder of the Universe is which and a cornered Quill using his new power to take the Guardians along with him as his "Cabinet."
Kitty Pryde is in no way idol as she tries to bring herself into the customs of possibly being First Lady of Spartax as well as introducing Peter to the intricacies of having a Jewish mother-in-law.
Spartax under artist Valerio Schiti looks vast, expansive and hi-tech, and I must admit the alien crowd scenes really look great! We have seen brilliant space opera scripts torn down by bad art. In
Guardians of the Galaxy
#26, both art and script are strong.
I must admit I do not know where GotG – or the rest of the present Marvel Universe – will be when the fights are done on Battleworld. I DO know Bendis is doing
Guardians of Knowhere
and that is where I will be for the nonce.
In the meantime, #26 is a great issue and at your LCS now. Pick it up!