A SNEAK PEEK AT UPCOMING 'SUPPER CLUB' GRAPHIC NOVEL
08/02/22 @ 9:29 am EST
Source:
Image Comics
| Categories:
Image
|
Comments
(0) |
E-mail Article
|
Add a Comment
Image Comics is pleased to reveal a sneak peek excerpt from the highly anticipated
Supper Club original graphic novel by Jackie Morrow. This upper Young Adult, coming-of-age story is set to hit shelves from Image Comics this September.

Supper Club follows Seaside High seniors Nora, Lili, and Iris. Their conflicting schedules and mounting extracurriculars inspire the girls to form a secret cooking club where they can hang without sacrificing their future aspirations. Enter Supper Club—the delicious solution to their problems—that provides the perfect excuse for them all to come together, share much cherished recipes, and chow down on their own creations. But when life starts to crumble like a cookie under each girls' feet, can they really rely on comfort food to keep them all together? Will the Supper Club survive life's most challenging ingredients or will it burn to a crisp?

The Supper Club original graphic novel (ISBN: 978-1-5343-2421-3, Diamond Code MAY220030) will be available on Wednesday, September 14 and in bookstores on Tuesday, September 20. It can be pre-ordered at your local comic book shop or independent bookstore or via Amazon, Barnes & Noble, Books-a-Million, Indigo, Apple Books, and Google Play.


'DUNE: THE SISTERHOOD': EMILY WATSON & SHIRLEY HENDERSON TO STAR IN HBO MAX SERIES FROM LEGENDARY
10/04/22 @ 2:44 pm EST
Source:
Deadline
| Categories:
MIsc
|
Comments
(0) |
E-mail Article
|
Add a Comment
Emily Watson (
Chernobyl, God's Creatures
) and Shirley Henderson (
Harry Potter, Stan & Ollie
) will lead the cast of HBO Max's
Dune: The Sisterhood
from Legendary Television,
Deadline
reports.
The series, which is based on Frank Herbert's classic novel, is set 10,000 years before the ascension of Paul Atreides and follows the Harkonnen Sisters, played by Watson and Henderson, as they combat forces that threaten the future of humankind, and establish the fabled sect known as the Bene Gesserit.
Watson and Henderson will portray Valya Harkonnen and Tula Harkonnen, respectively, the formidable Harkonnen Sisters, who have risen to power in the Sisterhood, a secret organization of women who will go on to become the Bene Gesserit.
Diane Ademu-John serves as creator, writer, co-showrunner and executive producer. Alison Schapker serves as co-showrunner and executive producer. Johan Renck will direct the premiere episode and executive produce. Denis Villeneuve, who directed, co-wrote and produced the 2021
Dune
film, is executive producing with Jon Spaihts, Scott Z. Burns, Matthew King, John Cameron and Cait Collins, along with author Brian Herbert. Byron Merritt and Kim Herbert serve as executive producers for the Frank Herbert estate. Author Kevin J. Anderson serves as co-producer.
The series is co-produced by HBO Max and Legendary Television, the TV arm of Legendary which is behind the current film franchise. Its first installment was released in October 2021 and earned Oscar nominations for Best Picture and Best Adapted Screenplay.
JAMIE LEE CURTIS BIDS FAREWELL TO LAURIE STRODE IN 'HALLOWEEN ENDS' FEATURETTE
10/04/22 @ 11:53 am EST
Source:
Collider
| Categories:
MIsc
|
Comments
(0) |
E-mail Article
|
Add a Comment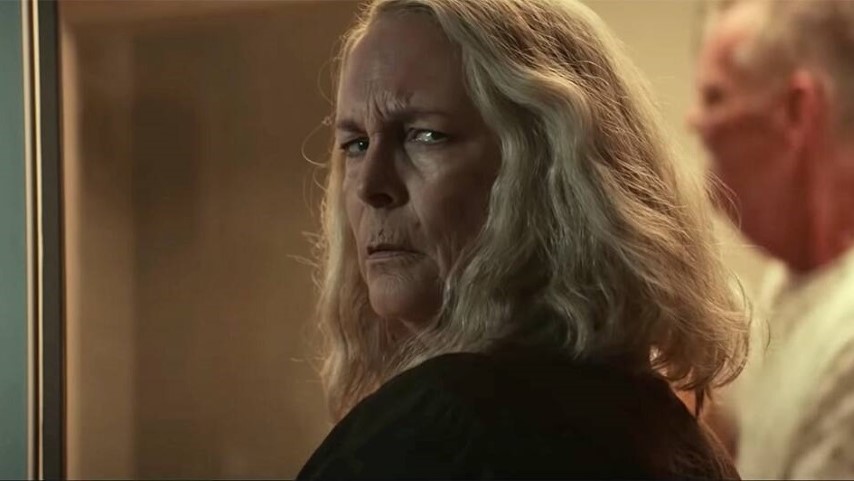 Michael Myers has returned, and Laurie Strode has finally said enough is enough. Universal Pictures has just released a new featurette for their upcoming horror film
Halloween Ends,
which is a tribute to Jamie Lee Curtis' last appearance as Laurie Strode, and also gives some insight into what viewers can expect out of the final film of the Michael Myers horror franchise.
The 60-second clip shows Curtis
behind the scenes of
Halloween Ends
, and opens with her saying, "Welcome back Laurie Strode. She gave it all, her heart, her soul, her blood. But that bubble burst because Michael comes back," suggesting that the finale to the series will be bloody and dramatic.
The rest of the clip offers brief glimpses of Jamie on the set, including getting into hair and makeup, making jokes with the film crew, and ultimately bidding farewell to the cast and crew. "It will be difficult to say goodbye to Laurie Strode. It's been an emotional movie for me, it has," Curtis says tearfully at the end of the featurette.
Curtis has portrayed Laurie Strode for nearly 45 years. The
Halloween
franchise is one of the oldest horror movie franchises in movie history, and her portrayal of Laurie is one of the longest instances that a character has been depicted by the same actor. The original
Halloween
was released in 1978. (via
Collider
)
Featurette:
https://youtu.be/G-T2VsD4qnc
MCU PHASE 5-6 RUMORED TO INTRODUCE MANY MORE NEW MARVEL MONSTERS
10/04/22 @ 11:34 am EST
Source:
The Direct
| Categories:
Marvel
|
Comments
(0) |
E-mail Article
|
Add a Comment
Spooky season is here, and for the first time ever, Marvel Studios is primed to take part in the annual festivities. As the MCU primes its first Halloween-themed project in
Werewolf by Night
, fans eagerly await the franchise's first dive into the monstrous side of Marvel Comics.
With hints of more to come in projects like Mahershala Ali's
Blade
, many are speculating that this is only just the beginning for the world of Marvel monsters. And turns out fans may have been even more right than they could have ever imagined.
The Direct
is saying that, according to some reports, after Michael Giacchino's werewolf-centric special presentation, monsters will be all over the MCU.
And this isn't just a case of creatures like Werewolf by Night and Man-Thing remaining hidden from the world, but these creatures will actually make themselves known to society and will live amongst the MCU's heroes and villains. Included in this is information that Jack Russell and Man-Thing will be appearing in other projects in the Marvel Studios slate.
The importance of monsters has been mentioned by Marvel Studios president Kevin Feige before, with the executive saying this corner of the franchise will "will ultimately become quite important."
Werewolf by Night
hits Disney+ on Friday, October 7.
STAR ARTIST YANICK PAQUETTE COVERS 'BEHOLD, BEHEMOTH' #1
10/04/22 @ 11:11 am EST
Source:
BOOM! Studios
| Categories:
MIsc
|
Comments
(0) |
E-mail Article
|
Add a Comment
BOOM! Studios revealed today the FOC variant cover from star artist Yanick Paquette (
The Sandman Universe: Nightmare Country
) with colors by Matheus Lopes (
Briar
) for BEHOLD, BEHEMOTH #1, the premiere issue of the brand new horror series from the bestselling
House of Slaughter
's Tate Brombal, as he brings his first original series to BOOM! Studios alongside highly acclaimed artist Nick Robles (
The Dreaming: Waking Hours
), and letterer AndWorld Design (
The Many Deaths of Laila Starr
), about how a man's fracturing world and monstrous nightmares foreshadow the unthinkable, in stores November 2022.
Greyson's world is crumbling following his brother's sudden and mysterious death. His sleepless nights are haunted by vivid nightmares of a terrifying monster, pushing him to the brink of losing both his sanity and his job as a social worker. But he's truly shaken to the core when his newest case—a young orphaned girl named Wren—is found at the scene of a brutal murder, just hours after first meeting Greyson. The line between nightmare and waking life blurs as Greyson soon discovers that the monster from his dreams might just be real—a mythical, ancient beast that is bringing about the end of the world, with shocking connections to both him and Wren...
BEHOLD, BEHEMOTH #1 features main cover art by series artist Robles, and variant covers by acclaimed comics creator Jeff Lemire (
Black Hammer, Sweet Tooth
) with colors by Patricio Delpeche and artist Andrea Sorrentino (
Gideon Falls
) with colors by Dave Stewart.
BEHOLD, BEHEMOTH is the newest release from BOOM! Studios' eponymous imprint, home to critically acclaimed original series, including
BRZRKR
by Keanu Reeves, Matt Kindt, and Ron Garney;
Something is Killing the Children
by James Tynion IV and Werther Dell'Edera;
Once & Future
by Kieron Gillen and Dan Mora;
We Only Find Them When They're Dead
by Al Ewing and Simone Di Meo;
Eve
by Victor LaValle and Jo Mi-Gyeong;
The Many Deaths of Laila Starr
by Ram V and Filipe Andrade;
Basilisk
by Cullen Bunn and Jonas Scharf;
Grim
by Stephanie Phillips and Flaviano;
Briar
by Christopher Cantwell and Germán García;
Stuff of Nightmares
by R.L. Stine and A.L. Kaplan; and the upcoming
The Approach
by Jeremy Haun, Jason A. Hurley, and Jesus Hervas,
Specs
by David M. Booher and Chris Shehan,
Know Your Station
by Sarah Gailey and Liana Kangas;
Damn Them All
by Simon Spurrier and Charlie Adlard;
A Vicious Circle
by Mattson Tomlin and Lee Bermejo; and
Once Upon a Time at the End of the World
by Jason Aaron, Alexandre Tefenkgi, Leila del Duca, and Nick Dragotta. The imprint also publishes popular licensed properties, including
Dune: Waters of Kanly
from Brian Herbert, Kevin J. Anderson, and Francesco Mortarino;
Mighty Morphin Power Rangers
from Ryan Parrott, Mat Groom, Moises Hidalgo, and Marco Renna; and
Magic
from Jed McKay and Ig Guara.
Print copies of BEHOLD, BEHEMOTH #1 will be available for sale on November 2, 2022 exclusively at local comic book shops (use
comicshoplocator.com
to find the nearest one) or at the BOOM! Studios webstore. Digital copies can be purchased from content providers, including comiXology, iBooks, Google Play, and Kindle.
DF INTERVIEW: JIM ZUB CELEBRATES A DECADE OF DERRING-DO A DOZEN YEARS LATER IN THE 'SKULLKICKERS SUPER SPECIAL'! (WHAT?)
10/04/22 @ 11:06 am EST
Source:
Dynamic Forces
| Categories:
MIsc
|
Comments
(0) |
E-mail Article
|
Add a Comment
DF Interview: Jim Zub celebrates a decade of derring-do a dozen years later in the 'Skullkickers Super Special'! (what?)
By Byron Brewer
When the Skullkickers enter the Academy of Serious Sorcery, it'll take all their wits and steel to defeat warped wizardry, whimsical wands, and wicked witchcraft.
Celebrate 10 years of skull-kicking goodness with a brand-new story of swords and sassery of the Skullkickers Super Special one-shot from writer Jim Zub (Conan the Barbarian, Dungeons & Dragons) and artist Edwin Huang (Street Fighter). All I needed to do was see Jim Zub's name on the solicit and I was on board with this interview. Here's what the creator/scribe told me about the "super special"!
Byron Brewer: Jim, having started doing this great profession about the same time as fans were recognizing your talents via Skullkickers, I cannot believe it has been 10 years. For the uninitiated, talk a little about your creation of the Skullkickers.
Jim Zub:
Would you believe it's actually been 12 years, not 10? Celebrating the 10th anniversary 12 years after our issue #1 launch is VERY on brand for Skullkickers.
In my defense, I first started working away on this story in time for the 10th anniversary, but the pandemic side-swiped everything.
Anyway, the important thing is that over a decade ago, Chris Stevens, Edwin Huang, Misty Coats, Marshall Dillon and I launched a swords & sassery-driven comic series called Skullkickers at Image Comics.
Chris and I had previously done two short stories for the Pop Gun anthology series called "Two Copper Pieces" about a pair of mercenary monster hunters causing trouble and that evolved into Skullkickers. If you count those original anthology stories, in some ways it's Skullkickers' 14th anniversary, but that just makes the whole thing even more complicated.
Anyway, Image was seeing a new surge in popularity at that time thanks to The Walking Dead and other creators were starting to make their mark with titles like Chew, 27 and Morning Glories. It was a great time for experimentation and building a new readership.
Byron: Before we get to the grand news of the super special coming anxious fans' way in November, recall what these characters meant to your career as a comic book writer, and the role they played in the superstar you are today.
Jim Zub:
I don't know about "superstar", but it definitely grabbed attention for my comic writing career and put me on the radar for a lot of readers and editors, leading to a lot of other projects like Pathfinder, Legends of the Dark Knight and Samurai Jack, which would springboard me to Conan-Red Sonja, Dungeons & Dragons and eventually Thunderbolts, Avengers and more.
It's fair to say that without Skullkickers I would not have the writing career I do today.
Byron: How did the idea for this special issue of Skullkickers come about? Is it a collection of former materials, all-new story and art, or a combo of both?
Jim Zub:
The Skullkickers Super Special is a new 36-page self-contained story done by the original creative team that's a reunion for old readers and a great way for new readers to see what all the fun is about. If you remember the original Skullkickers stories, that's great, but you don't need to have read any of them to get on board with this one-shot special.
Byron: What can readers old and new expect when they pick up the one-shot anniversary special coming from Image? Can you give us a summation of the plot and what our harried heroes will be facing? Will this by chance lead to a return to comics for Skullkickers?
Jim Zub:
Skullkickers has always enjoyed bulldozing classic fantasy tropes and this new comic story here is no exception. In our Super Special anniversary tale, we riff on the concept of "magic schools" and magic in fantasy settings in general. When our story begins, Rex and Rolf are infiltrating a magic school called the Academy of Serious Sorcery and Holistic Occult Learning (A.S.S.H.O.L) for their latest job, despite the fact that neither of them have any magical aptitude at all and detest spellcasting as a vocation. Staying in disguise and pulling off their mission is going to be a challenge and, as always, things spiral into entertaining disaster from there.
Byron: Talk about the awesome art of line artist Edwin Huang and colorist Misty Coats.
Jim Zub:
Our original Skullkickers art team is back and their skills are as sharp as ever. It's amazing to see how much we've all grown but we can all still slip back into "Skullkickers mode" to deliver the goods. Edwin's storytelling is even better than before, and Misty brings tons of atmosphere and excitement to every page. It was such a joy to "get the band back together" and build this new story to celebrate the series.
Byron: What can you tell us about the new tabletop role-playing game associated with Skullkickers?
Jim Zub:
This new comic story was part of an anniversary Kickstarter I ran in Fall of 2020. In addition to the new comic yarn, we developed a tabletop roleplaying game adventure set in the same ridiculous magic school so gamers could delve the depths of the Academy of Serious Sorcery and discover their own particular brand of trouble. That 200-page book, Caster Bastards and the Great Grotesque, was released as a hardcover to backers earlier this year and is still available via the Tayler Corp. store right here:
https://shop.schlockmercenary.com/collections/zub-stuff
or a digital PDF right here:
https://www.drivethrurpg.com/product/397852/SKULLKICKERS-Caster-Bastards-and-the-Great-Grotesque
The Skullkickers Super Special is the first time that non-backers and retailers can get their hands on the comic story. Soooo~ if readers like what's in the comic and enjoy playing D&D or other fantasy TTRPGs, they should definitely dig deeper and check out the RPG adventure as well.
Byron: This is on a subject as far afield of Skullkickers as you can get, but I had to ask you about a new precedent you are setting. Aren't you writing Conan the Barbarian and Red Sonja? The only other to do this, I believe, is their comics iteration creator, Roy Thomas… but you are doing it for two different companies! Is that correct, and 'splain?
Jim Zub:
It's true! I'm currently writing Unbreakable Red Sonja, a 6-issue mini-series for Dynamite that launches [this month] and also working on the relaunch of Conan the Barbarian coming from Titan in 2023. Getting the chance to write the two most famous characters in the Hyborian Age at the same time for two different publishers is quite an honor and I couldn't be happier.
Byron: Jim, what other items are busting forth from the Zubaverse?
Jim Zub:
A lot of projects that were delayed from 2020 and 2021 have finally kicked into gear this year so things are bustling. In addition to the Skullkickers Super Special, Unbreakable Red Sonja and Conan the Barbarian, I have:
Thunderbolts, a 5-issue mini-series at Marvel that started in August with Hawkeye leading a team of heroes trying to reform the team name sullied by Baron Zemo and Wilson Fisk.
Murderworld, a series of 5 one-shot specials at Marvel that connect together to tell a twisted tale of Arcade's ultimate contest with unexpected lethal results. The first part, Murderworld: Avengers, launches in November.
Rick and Morty VS Cthulhu, a new crossover mini-series published by Oni Press with artist Troy Little where we pit Rick Sanchez and the Smith family against H.P. Lovecraft's most famous creations, the ultimate contest of Nihilism Vs Narcissism. That launches in December.
Lots of fun stuff underway.
Dynamic Forces would like to thank Jim Zub for taking time out of his busy schedule to answer our questions. The Skullkickers Super Special one-shot from Image Comics is slated to be on sale November 9th!
For more news and up-to-date announcements, join us here at Dynamic Forces,
www.dynamicforces.com/htmlfiles/
, "LIKE" us on Facebook,
www.facebook.com/dynamicforcesinc
, and follow us on Twitter,
www.twitter.com/dynamicforces
.
'RICK AND MORTY' SEASON 6 RELEASES EPISODE 6 TRAILER
10/03/22 @ 10:42 pm EST
Source:
ComicBook
| Categories:
Rick and Morty
|
Comments
(0) |
E-mail Article
|
Add a Comment
Rick and Morty
has now crossed the halfway point of the sixth season of the series, and it has revealed the first look at what to expect next from the second half of the season with the trailer for Episode 6 of the season!
The sixth season kicked off with a huge change to the series' major lore and smaller changes to the status quo, but the following episodes have instead been focusing on more episodic adventures exploring new sides of the Smith Family. So it's really been hard to predict what could be coming in any particular episode thus far.
With the first five episodes of the season now done, and the series gearing up for the second half of the season, luckily there's no break in between the episodes just yet.
Rick and Morty
Season 6 Episode 6 is titled "Juricksic Mort" and is currently slated for a release next Sunday with Adult Swim. To tease what's coming next with a new alien invasion coming to the series, the trailer for Episode 6 shows off the first look at the next major episode. (via
ComicBook.com
)
Check it out here:
https://twitter.com/i/status/1576778267213721600
'THE RINGS OF POWER' SEASON 2 STARTS PRODUCTION IN THE U.K.
10/03/22 @ 10:31 pm EST
Source:
Hollywood Reporter
| Categories:
Lord of The Rings
|
Comments
(0) |
E-mail Article
|
Add a Comment
It's official: Amazon's
The Rings of Power
has started filming its next season.
THR
reports that production got underway Monday at the new hub at Bray Studios, just outside London.
The news follows the first official Nielsen ratings being released Thursday for the Prime Video series, showing
The Rings of Power
topped the streaming charts for its debut week with 1.3 billion minutes viewed (likely an Amazon series record given that only two hours were released).
The first season of the show was filmed in New Zealand over an epic stretch of 18 months during the pandemic. For season two, which will consist of eight episodes, Amazon switched the show's production to the U.K., which is considered more economical and is also where the company is establishing a multishow hub.
The Rings of Power
is approaching its seventh and penultimate episode of its debut season this week. The show chronicles author J.R.R. Tolkien's fabled Second Age, as a group of disparate heroes gradually come together to fight the return of darkness to Middle-earth.
TAISSA FARMIGA RETURNS TO STAR IN NEW LINE'S 'THE NUN 2'
10/03/22 @ 10:25 pm EST
Source:
Hollywood Reporter
| Categories:
MIsc
|
Comments
(0) |
E-mail Article
|
Add a Comment
Taissa Farmiga is back in the habit.
THR
reports that the actress is returning to
The Conjuring
horror universe to star in
The Nun 2
, New Line's sequel to its 2018 global hit.
Farmiga, who starred in the initial movie, will reprise her role as Sister Irene and joins
Euphoria
actress Storm Reid in the production, which will begin shooting later in October.
Michael Chaves will direct
The Nun 2
following his outing helming
The Conjuring: The Devil Made Me Do It
, the most recent entry in
The Conjuring
horror universe. That film opened at no. 1 at the box office in 2021 and pushed the collective gross of those movies over the $2 billion worldwide mark.
Nun
was a prequel spinoff from
The Conjuring 2
and featured Bonnie Aarons as a demonic nun. Set in a monastery in 1952, the story saw a priest and a young nun, played by Demian Bichir and Farmiga, respectively, attempting to fight the nun's evil possessions. The movie surprisingly became the highest-grossing installment of any of the
Conjuring
movies.
Details for the new installment are being kept in the dark but the 1950s period setting will remain.
AUSTIN AMELIO JOINS RICHARD LINKLATER'S 'HITMAN'
10/03/22 @ 10:18 pm EST
Source:
Hollywood Reporter
| Categories:
MIsc
|
Comments
(0) |
E-mail Article
|
Add a Comment
The Walking Dead
actor Austin Amelio has jumped on board Richard Linklater's action comedy
Hitman,
THR
reports.Amelio will appear in the film based on true events opposite Adria Arjona and Glen Powell, who will play a Houston cop working undercover as an in-demand hitman.
Amelio, who is also a pro skateboarder, is also a series regular on AMC's
Fear The Walking Dead
and recently wrapped an appearance on the indie drama
Phyliss, Silenced
, now in post-production.
On the film side, Amelio earlier starred as Nesbit in Linklater's Annapurna/Paramount film
Everybody Wants Some,
and in Terrence Malick's
Song to Song
opposite Ryan Gosling. Additional credits include Ryan Buffa's
Apples & Oranges,
Jeremy Mohler's
Love Radio
and Tony Costello's
Lost Nights.
Director Linklater is best known for movies like
Boyhood, Dazed and Confused
and more recently
Apollo 10 1/2: A Space Age Childhood.
SKYBOUND DEBUTS CAPTIVATING TRAILER FOR 'KROMA BY LORENZO DE FELICI'
10/03/22 @ 10:12 pm EST
Source:
Image Comics
| Categories:
Skybound
|
Comments
(0) |
E-mail Article
|
Add a Comment
Today Skybound debuted a brand-new trailer for Kroma, the new prestige comic book series being written, drawn, and colored by creator Lorenzo De Felici (Oblivion Song). Kroma by Lorenzo De Felici #1 arrives in comic book shops November 2, 2022.
The entrancing new trailer grants a sneak peek at a breathtaking visual adventure like no other. The Pale City hides a secret, where Kroma is imprisoned in darkness, taught she is the most evil thing alive. But where others only see a monster, Zet saw a human being and his world changed forever. In Kroma by Lorenzo De Felici, surviving their fates means certain death beyond the walls.
The trailer can be viewed right
here
.
In addition to the main cover by De Felici, the Kroma variant cover program will include two covers by rotating artists, including a colored dressed cover and a 1:10 black & white full art incentive cover, as well as a 1:25 black & white full art incentive cover by De Felici. The Kroma #1 variant lineup sports two striking covers by acclaimed multihyphenate creator James Harren (Ultramega).
Kroma by Lorenzo De Felici #1 will be available at 
comic book shops
 and digital platforms including Amazon Kindle, Apple Books, comiXology, and Google Play on Wednesday, November 2, 2022. 
The full list of covers is below:
Kroma by Lorenzo De Felici #1 Cover A by De Felici (SEP220029)
Kroma by Lorenzo De Felici #1 Cover B by Harren (SEP220030)
Kroma by Lorenzo De Felici #1 Cover C B&W Full Art (1:10 Copy Incentive) by Harren (SEP220031)
Kroma by Lorenzo De Felici #1 Cover D B&W Full Art (1:25 Copy Incentive) by De Felici (SEP220032)