CYBORG HAS MAJOR GIRLFRIEND TROUBLES IN 'DOOM PATROL' PROMO
07/29/20 @ 9:38 am EST
Source:
SuperHeroHype
| Categories:
DC
|
Comments
(0) |
E-mail Article
|
Add a Comment
DC Universe (via
SuperHeroHype
) has dropped a new promo for an upcoming episode of
Doom Patrol
.
It seems that Cyborg and his girlfriend have some significant issues to discuss as they are fighting inside what looks like a diner.
Doom Patrol
Episode 2x8 will debut on DC Universe and HBO Max on Thursday, July 30.
Promo:
https://youtu.be/-mWst2TtScU
'THE BOYS' SPINOFF PUT ON FAST-TRACK DEVELOPMENT AT AMAZON FOLLOWING MOTHERSHIP'S RECORD SEASON 2 LAUNCH
09/24/20 @ 8:28 pm EST
Source:
Deadline
| Categories:
The-Boys
|
Comments
(0) |
E-mail Article
|
Add a Comment
Amazon's superhero series
The Boy
s is getting a spinoff set in superhero college.
The project, written by
The Boys
executive producer Craig Rosenberg, had been in the works for awhile. It is being fast-tracked in light of the success of the original series' second season which marked the most-watched global launch of an Amazon Original series ever.
The Boys'
first season already had set a high viewership mark for Amazon when it debuted in summer 2019. In its first two weeks, Season 2 has nearly doubled the Season 1 worldwide audience (+89%), drawing millions of new viewers each week.
Set at America's only college exclusively for young adult superheroes (and run by Vought International), the untitled
Boys
spinoff is described as an irreverent, R-rated series that explores the lives of hormonal, competitive Supes as they put their physical, sexual, and moral boundaries to the test, competing for the best contracts in the best cities. Part college show, part
Hunger Games
— with all the heart, satire and raunch of
The Boys
.
The spinoff is from the entities behind the original series — Amazon Studios and Sony Pictures Television in association with Point Grey Pictures, Kripke Enterprises and Original Film. (via
Deadline
)
VAULT ANNOUNCES TWO DAVID MACK INCENTIVE COVERS FOR 'GIGA' #1
09/24/20 @ 4:46 pm EST
Source:
Vault Comics
| Categories:
MIsc
|
Comments
(0) |
E-mail Article
|
Add a Comment
Vault Comics is thrilled to announce two new gorgeous
David Mack incentive covers for Giga #1. Mack's cover art will come in two different versions. A regular cover will be available as a 1:15 variant, while a deluxe foil edition printed on thick card stock will be available as a 1:30 variant.

Giga is co-created by writer Alex Paknadel (Empyre: Celestial Messiah, Friendo) and rising star artist John Lê, with colors by Rosh, letters by Aditya Bidikar, and design by Tim Daniel.

Nobody knows why the skyscraper-sized mechs known as 'Giga' fought their bitter, centuries' long war. All they know is that when the fighting finally stopped, the dormant Giga became humanity's new habitat and new gods in one. When disgraced engineer Evan Calhoun finds an apparently murdered Giga, his society and the fascistic tech-centered religious order that controls it are rapidly thrown into chaos.

Giga #1 hits store shelves on October 28th.

Cover A (Lê): AUG201706
Cover B (Gooden & Daniel): AUG201707
Cover C (Gorham): AUG201708
Cover D (Mack): AUG208832
Cover E Foil (Mack): AUG208833


ARTISTS CELEBRATE THE RETURN OF 'THE ETERNALS' WITH EXTRAORDINARY COVERS
09/24/20 @ 4:41 pm EST
Source:
Marvel
| Categories:
Marvel
|
Comments
(0) |
E-mail Article
|
Add a Comment
Mastermind creators Kieron Gillen (
The Wicked + The Divine
,
Uncanny X-Men
,
Thor
) and Esad Ribić (
Secret Wars
,
King Thor
) join forces this November to redefine one of Marvel's most fascinating mythologies in ETERNALS #1. Readers will experience Jack Kirby's classic creation in an epic saga that will enthrall both longtime fans of the Eternals and those experiencing this enigmatic heroes for the first time.
Celebrate the grand return of these iconic characters with stunning variant covers by some of Marvel's most prominent artists including Russell Dauterman's gorgeous depiction of former Avenger Sersi through the ages and a battle between Marvel's greatest tricksters on Rian Gonzales' variant cover. Check them out below and keep your eyes peeled for more cover reveals for ETERNALS #1, on sale this November!
'WE ONLY FIND THEM WHEN THEY'RE DEAD' #1 GOES TO FOURTH PRINTING
09/24/20 @ 4:37 pm EST
Source:
BOOM! Studios
| Categories:
MIsc
|
Comments
(0) |
E-mail Article
|
Add a Comment
BOOM! Studios today announced that WE ONLY FIND THEM WHEN THEY'RE DEAD #1, the first issue of the new sci-fi epic from Al Ewing (
Immortal Hulk
), Simone Di Meo (
Mighty Morphin Power Rangers
), with color assistance by Mariasara Miotti and letters by AndWorld Design, about one man's unrelenting quest throughout space to discover the truth—no matter where it takes him, has sold out of its third printing at the distributor level!
In response to the overwhelming support from retailers and fans, BOOM! Studios has announced WE ONLY FIND THEM WHEN THEY'RE DEAD #1 FOURTH PRINTING, featuring brand new cover art by series artist Di Meo and available in stores October 21, 2020.
Meet Captain Malik and the crew of the Vihaan II, a spaceship that harvests resources from the giant corpses of alien gods found on the edge of human space. While other autopsy ships race to salvage the meat, minerals, and metals that sustain the human race, Malik sees an opportunity to finally break free from this system by being the first to find a living god. But Malik's obsession with the gods will push his crew into danger at the darkest reaches of space—unless the rogue agent on their trail can stop them first…
"WE ONLY FIND THEM WHEN THEY'RE DEAD #1 continues to excite fans of sci-fi and epic storytelling right out the gate, so we're very excited to be able to announce a fourth printing so everyone can join in the hunt as Captain Malik and crew travel to places unknown in search of the impossible," said Filip Sablik, President, Publishing & Sales, BOOM! Studios.
WE ONLY FIND THEM WHEN THEY'RE DEAD is the latest release from BOOM! Studios' eponymous imprint, home to critically acclaimed original series, including
Once & Future
by Kieron Gillen and Dan Mora;
Something is Killing the Children
by James Tynion IV and Werther Dell'Edera;
Faithless
by Brian Azzarello and Maria Llovet;
Alienated
by Simon Spurrier and Chris Wildgoose;
Wynd
by James Tynion IV and Michael Dialynas; and
Seven Secrets
by Tom Taylor and Daniele Di Nicuolo. The imprint also publishes popular licensed properties including Joss Whedon's
Firefly
from Greg Pak and Dan McDaid;
Buffy the Vampire Slayer
from Jordie Bellaire and David López; and
Mighty Morphin Power Rangers
from Ryan Parrott and Daniele Di Nicuolo.
Print copies of WE ONLY FIND THEM WHEN THEY'RE DEAD #1 FIRST PRINTING and WE ONLY FIND THEM WHEN THEY'RE DEAD #1 SECOND PRINTING are available now exclusively at local comic book shops (use
comicshoplocator.com
to find the one nearest you) or at the BOOM! Studios webstore. Digital copies can be purchased from content providers like comiXology, iBooks, Google Play, and Madefire. Print copies of WE ONLY FIND THEM WHEN THEY'RE DEAD #1 THIRD PRINTING will be available on September 30, 2020 exclusively at local comic book shops.
'BATWOMAN': LEAH GIBSON & NATHAN OWENS TO RECUR IN THE CW SUPERHERO SERIES
09/24/20 @ 4:34 pm EST
Source:
Deadline
| Categories:
DC
|
Comments
(0) |
E-mail Article
|
Add a Comment
Deadline
reports that
Jessica Jones
alumna Leah Gibson and Nathan Owens (
Devious Maids
) are set for recurring roles on the second season of The CW's
Batwoman
. Both will join new lead Javicia Leslie, along with Shivaani Ghai, who also recurs in the superhero series. Season 2 is slated to premiere in January.
Gibson will play Tatiana aka "The Whisper." She is a skilled assassin, unflappable and cold as ice in the face of danger. She is one of Safiyah's most important henchwomen and still harbors feelings for her powerful boss.
Owens will portray Ocean, a zen gardner and thinker with a complicated past. A loyal soldier and fighter, Ocean moves to Gotham looking for a new beginning.
As previously announced, Leslie will play new character Ryan Wilder who is about to become Batwoman, succeeding Ruby Rose's Kate Kane.
Batwoman
premiered last fall as the first superhero series in television history to feature an avowed LGBTQ character as the central character.
BATGIRL IS FINALLY RETIRING IN DC'S COMIC UNIVERSE
09/24/20 @ 4:25 pm EST
Source:
Screen Rant
| Categories:
DC
|
Comments
(0) |
E-mail Article
|
Add a Comment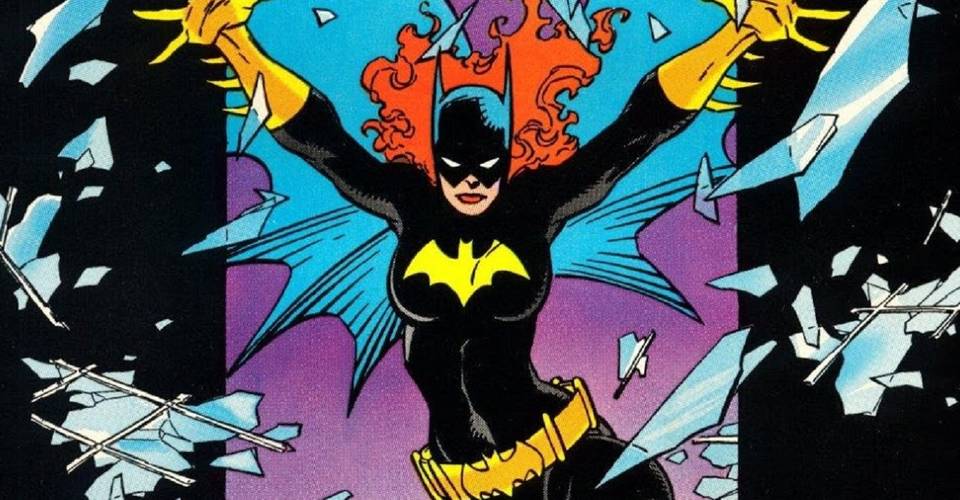 Spoilers ahoy for Batgirl #49!
Barbara Gordon has officially quit as Batgirl. (via
Screen Rant
)
Gordon has always felt like Gotham's most joyful vigilante, fighting crime with an exuberance that's entirely missing from the rest of the Bat-Family. This has frequently made
Batgirl
comics quite unique, because they've lacked the grim undertones that typically come from Batman and his nearest and dearest.
For all that's the case, though, Barbara has actually paid a heavy price for her good nature. This was best demonstrated in "The Killing Joke," in which the Joker crippled her as part of an insane attempt to break Commissioner Gordon. Barbara refused to let that stop her, reinventing herself as the computer hacker Oracle for a time, and ultimately regaining the use of her legs and taking to Gotham's skies once again. Naturally, the current "Joker War" featured a disturbing rematch between Batgirl and the Joker, with Barbara finally confronting the trauma the Clown Prince of Crime had put her to. Still, she emerged from "Joker War" with a smile on her face once again.
But this week's
Batgirl
#49, by writer Cecil Castellucci and artist Robbi Rodriguez, sees Barbara confront another traumatic situation. She learns her brother James has succumbed to dissociative identity disorder, and one of his personas is responsible for a spate of Batgirl-themed murders in Gotham. It all ends in a heartbreaking confrontation, with James choosing to commit suicide rather than to allow this shadow to eclipse him. Even more horrifically, former Commissioner Gordon sees James' death and misinterprets it, believing Batgirl to be responsible. The price for heroism has finally become too high, and Batgirl flees the scene of the crime, deciding to quit.
Batgirl
#49 is in stores now!
'CREEPSHOW' ANIMATED SPECIAL COMING TO SHUDDER IN OCTOBER
09/24/20 @ 1:09 pm EST
Source:
Bloody-Disgusting
| Categories:
MIsc
|
Comments
(0) |
E-mail Article
|
Add a Comment
Bloody-Disgusting
reports that Shudder is expanding upon the world of
Creepshow
with a brand new animated special this Halloween season, launching exclusively on Shudder October 26.
The special will feature two stories written by Stephen King and Joe Hill, Shudder announced on Twitter this afternoon, and directed by Greg Nicotero.
Kiefer Sutherland and Joey King will star.
The second season of Shudder's
Creepshow
, meanwhile, recently kicked off production. And a brand new book,
Creepshow: The Taker
, was just released this month by Scholastic.
THE UNSTOPPABLE GOES UP AGAINST THE STRONGEST THERE IS IN 'JUGGERNAUT' #2
09/24/20 @ 12:51 pm EST
Source:
Marvel
| Categories:
Marvel
|
Comments
(0) |
E-mail Article
|
Add a Comment
Renowned X-Men writer Fabian Nicieza (
X-Force
,
Deadpool
) and celebrated artist Ron Garney
(Captain America
,
Daredevil
) are taking the unstoppable Juggernaut in a bold new direction with a brand-new series! JUGGERNAUT #1 hit stands yesterday, and fans learned that Cain Marko's new path is as full of destruction and mayhem as ever before. The action continues next month when a matchup that True Believers have debated about for decades comes to life. That's right —it's Juggernaut VS Hulk in an epic clash that will shake the Marvel Universe to its core—literally!
JUGGERNAUT #2 (APR200889) Written by FABIAN NICIEZA Art by RON GARNEY Colors by MATT MILLA Letters by VC'S JOE SABINO
SEGA DEVELOPING MOVIE BASED ON 'YAKUZA' VIDEO GAME WITH 1212, WILD SHEEP
09/24/20 @ 12:45 pm EST
Source:
Variety
| Categories:
MIsc
|
Comments
(0) |
E-mail Article
|
Add a Comment
Variety
is reporting that Sega is developing a live-action adaptation from its
Yakuza
video game franchise with 1212 Entertainment and Wild Sheep Content.
Erik Barmack, Roberto Grande and Joshua Long will produce. 1212 and Wild Sheep are searching for writers for the script.
Yakuza is Sega's bestselling franchise after
Sonic The Hedgehog
. The game was first released on PlayStation 2 in 2005 and has since grown into a global franchise with an additional seven main title sequels and eight spin-off titles on all major gaming platforms.
The first game follows the story of Kazuma Kiryu being released from a 10-year prison sentence after taking the fall for the murder of his family's patriarch. After the entire Japanese underworld is pulled into the search for $100 million stolen from the vault of his former clan, Kiryu is forced back into the lawless world of the yakuza.
RED SONJA'S EARLIEST ADVENTURES EXPLORED IN NEW SERIES, 'PRICE OF BLOOD'
09/24/20 @ 12:40 pm EST
Source:
Dynamite
| Categories:
Dynamite
|
Comments
(0) |
E-mail Article
|
Add a Comment
Red Sonja swings into her new limited series, The Price of Blood, by Luke Lieberman and Walter Geovani this December.
Red Sonja caretaker Luke Lieberman returns to the fiery-haired heroine for another chapter in her early adventures. He's joined by fan-favorite Sonja artist Walter Geovani (
Death-Defying 'Devil, Clean Room
) whose prolific work on the character goes back over a decade, most celebrated being his run with Gail Simone. The blood-soaked colors are handled by Adriano Augusto, while the slashing sound effects are brought by Taylor Esposito.
"Sonja has had a really rough road, and it has made her very jaded, so she is searching for the brighter side of life. That is why she is so angry when this moment of happiness and innocence is stolen from her in this series," said writer Luke Lieberman. "The goal with Sonja, as with any good storytelling is to do something different than everything that has come before while staying true to her roots. That is always the balance - between honoring to the history and being open to the future."
"It´s great to be back! I'm always happy and honored to draw such an iconic character," said artist Walter Geovani. "Sonja is a badass, cutting heads off, but she also has an emotional side."
This new series takes place in the months following Lieberman's last saga,
Birth of the She-Devil
[in paperback now], but can be read completely standalone like any great pulpy sword and sorcery tale. After the brutal events of that story, Sonja is looking to cut loose and drown out all the atrocities she has witnessed with ale. She travels to Aquilonia to attend the Festival of Fire with her new friend Elli.
Though Sonja's escape is destined to be shortlived, as local forces have a starkly different interpretation of the festival's patron god, Mitra. They come in to drench the festival in blood and Sonja finds herself invariably resisting them, and along the way spending time behind bars. Will the She-Devil With a Sword overcome this bloodshed and can she save the lives of those around her?
A pack of five brilliant covers grace the debut issue of this series. Geovani contributes one himself, and is joined by fantasy comics art pioneer Arthur Suydam, Red-regular Joseph Michael Linsner, a fearsome cosplay cover, and last but certainly not least, a ferocious piece by comics legend Michael Golden!
RED SONJA: THE PRICE OF BLOOD #1
is solicited in Diamond Comic Distributors' October 2020 Previews catalog, and slated for release in December 2020. Comic book fans are encouraged to preorder copies of the issue with their local comic book retailers. It will also be available for individual customer purchase through digital platforms courtesy of Comixology, Kindle, iBooks, Google Play, Dynamite Digital, ComicsPlus, and more!