'JURASSIC WORLD: DOMINION' RESUMES SHOOTING, STUDIO DENIES HALT DUE TO COVID-19
07/10/20 @ 11:13 pm EST
Source:
Variety
| Categories:
MIsc
|
Comments
(0) |
E-mail Article
|
Add a Comment
Variety
reports that Universal Pictures' "Jurassic World: Dominion" has resumed shooting this week in the U.K. with the studio denying a press report of a production halt due to positive COVID-19 tests among the crew.
"Any reports indicating that 'Jurassic World: Dominion' has halted production are categorically untrue," said a Universal spokesperson. "The production is in its fifth day of shooting today, and we're thrilled to be back in front of the camera on this incredible project."
Several U.K. outlets reported Friday that more than one crew member had tested positive after production resumed on July 6 at the U.K.'s Pinewood Studios. Pre-production on the big-budget sequel was halted in March as the coronavirus swept across the globe.
"Jurassic World: Dominion" is scheduled to open in less than a year on June 11, 2021.
LEVAR BURTON ON WHETHER HE'LL APPEAR IN SEASON 2 OF STAR TREK: PICARD
05/09/21 @ 1:04 pm EST
Source:
YouTube
|
Comments
(0) |
E-mail Article
|
Add a Comment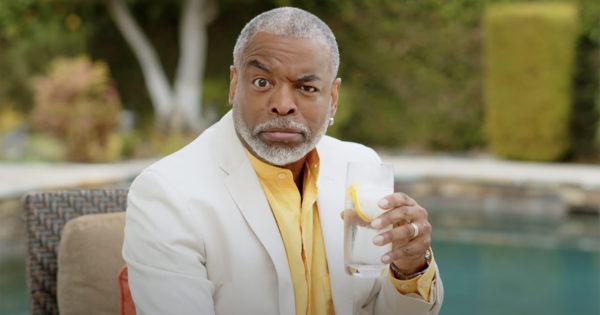 While actor
LeVar Burton
has been in the news a lot lately following his successful campaign to be a guest-host on
Jeopardy
, the actor will not be reprising his role as Geordi La Forge on the second season of
Star Trek: Picard
. While appearing on The View,
he told
his former co-star Whoopi Goldberg that: "I can say unequivocally that I am not doing season two of Picard."
But don't let that discourage you as the actor remains optimistic that his character will eventually turn up on the Paramount+ series: "Here is the thing. I believe it is reasonable, in fact practical, to assume that Picard still knows these people. They're his friends. I think we might see more of his friends. At least I hope we do before this is all over."
Burton appeared in all 176 episodes of
Star Trek: The Next Generation
from 1987 to 1994, in the four follow up films and an appearance of
Star Trek: Voyager
.
REPORTS CLAIM ETERNALS 2 IS ALREADY IN THE WORKS
05/09/21 @ 12:24 pm EST
Source:
Twitter
|
Comments
(0) |
E-mail Article
|
Add a Comment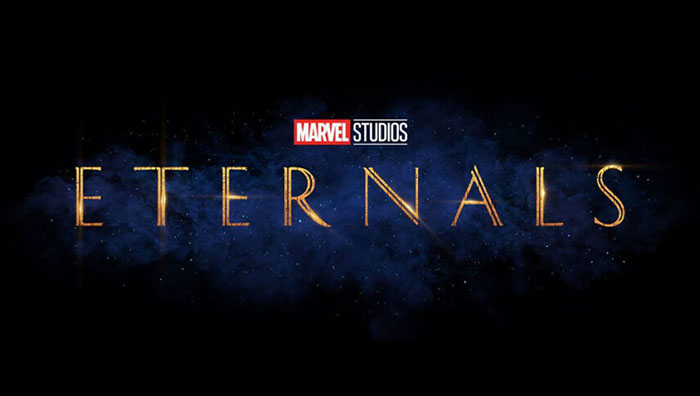 Let's be honest here, even the worst
Marvel Studios
film is better than a lot of other things hitting the theaters over the last decade. The only film not to get a sequel so far has been the
Incredible Hulk
and that's more due to the distribution deal with Universal than anything to do with the character. So it should come as no surprise to anyone that Marvel is already in development on
Eternals 2
, when the
Eternals
itself doesn't open up until this November.
This news comes from film pundit
John Campea
who is said to have reached out to a contact in the know to ask why some talked about films weren't mentioned in the
Marvel Studios Celebrates the Movies
video
that was released on Monday. Campea's
source stated
: "It's basically the same reason
Avengers 5
and
Eternals 2
weren't announced. They were only announcing those films up to 2023 that have verified release dates. There are over 20+ projects on the board."
The accuracy of this statement remains to be seen, but it would be a mistake for the studio to not lock
Chloe Zhao
into a sequel as quickly as possible after her recent Academy Award win for
Nomandland
.
LEGENDS CO-SHOWRUNNER TALKS DOMINIC PURCELL'S EXIT
05/09/21 @ 12:02 pm EST
Source:
TV Line
|
Comments
(0) |
E-mail Article
|
Add a Comment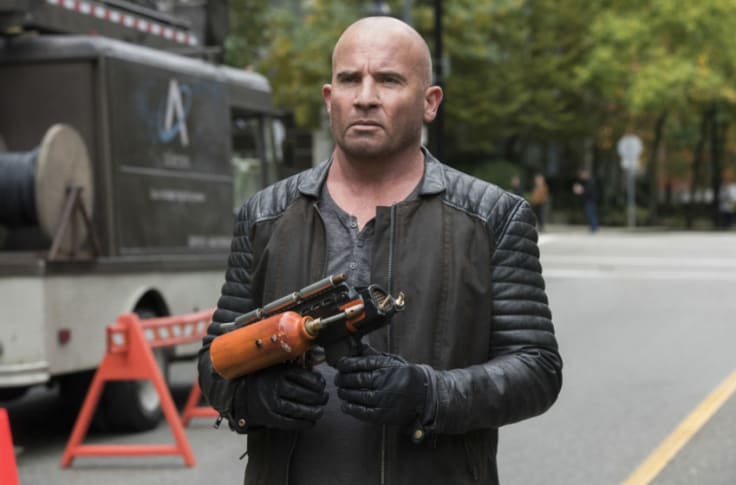 After shaking things up on
Legends of Tomorrow
with what appeared to be disgruntled social media posts, things with
Dominic Purcell
have settled down. While the actor is still leaving the series, he has a handshake-agreement to return periodically as the series progresses. The agreement was with co-showrunner Phil Klemmer, who told
TVLine
:
"I think Dominic summed it up pretty well – not with his first post, but with his later posts. I think everybody just needs a break from the show, myself included, and even when people leave the Waverider, there's always a seat open for people to come back. I'm looking forward to having him on the show next season."
Purcell plays Mick Rory aka Heat Wave, a former member of Flash's Rogues Gallery turned reluctant hero and founding member of the Legends. With his departure from the series, it leaves only
Caity Lotz
who play Sara Lance as the only OG team member that Rip Hunter put together on the series.
BEN AFFLECK FINDS HIS ROBIN AT VAX LIVE CONCERT
05/09/21 @ 11:47 am EST
Source:
Twitter
|
Comments
(0) |
E-mail Article
|
Add a Comment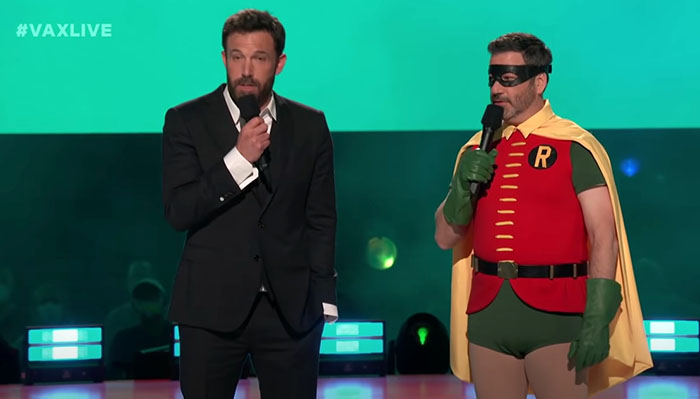 During last nights
Vax Live
broadcast to celebrate the return of shared experiences that we haven't been able to do during the pandemic, there was an appearance of
Ben Affleck
and
Jimmy Kimmel
. While the actor appeared in a rather nicely tailored suit sans tie, the late-night host appeared in a classic Robin costume reminiscent of the one
Burt Ward
wore in the 1966
Batman
television series.
Kimmel played that he was upset that Affleck didn't come dressed in his Batman suit and he talked about having bought the costume using his stimulus check, which Affleck reminds him that wasn't the purpose of the check.
The event, which was taped on May 2nd and aired last night, featured the
Foo Fighters
,
Jennifer Lopez
,
J Blavin
,
Eddie Vedder
and
H.E.R
. with appearances by
David Letterman
,
Sean Penn
,
Olivia Munn
and more. Affleck and Kimmel were there to announce that major sporting leagues were donating tickets to big events like the Super Bowl in support of Covid relief.
CW DEBUTS AZIE TESFAIR'S NEW GUARDIAN UNIFORM
05/08/21 @ 3:57 pm EST
Source:
Entertainment Weekly
|
Comments
(0) |
E-mail Article
|
Add a Comment
The CW has released a first look image of
Azie Tesfair
in her new Guardian uniform. Tesfair plays Kelly Olsen, sister of James Olsen (
Mehcad Brooks
) who took on the role of the shield-wielding vigilante early in the series before he exited the show. While the male Guardian was in all silver, Tesfair's uniform is blue and gold, which is much more accurate to the characters comic counterpart.
Co-Showrunner
Jessica Queller
told
Entertainment Weekly
"that has been our plan since the beginning of creating the role. We just wanted to find the right context for it, and so it just evolved really beautifully in the context of the social justice stories we wanted to tell in season 6." Kelly, who has used the shield in the past, officially takes up the mantle in the 12th episode of the show's final season. The episode will be directed by
Arrow
alum,
David Ramsey
who will also appear as his character John Diggle.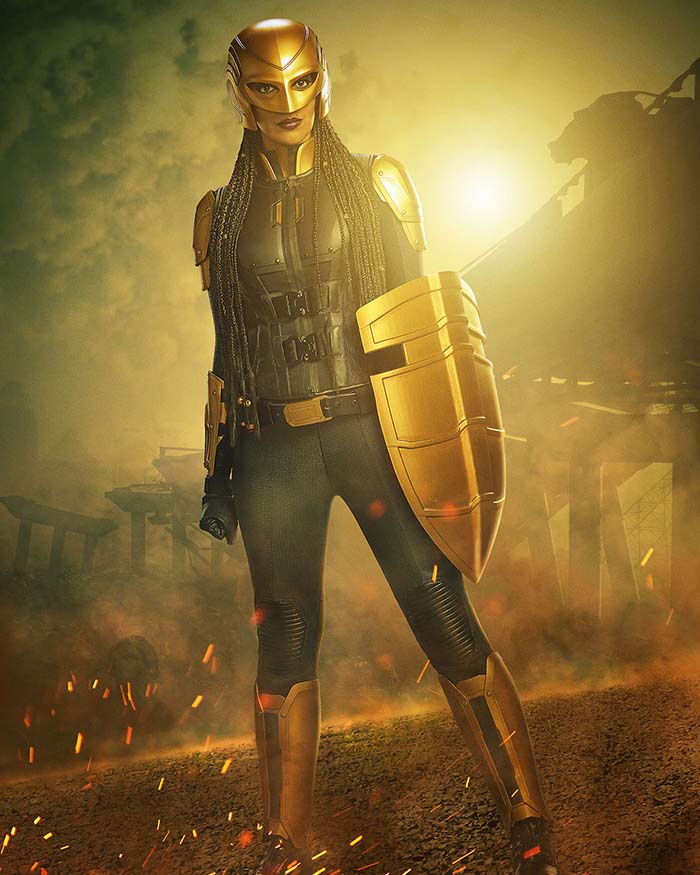 JOHN ROMITA JR. RETURNS TO MARVEL FOR THE TRIAL OF MAGNETO
05/08/21 @ 3:32 pm EST
Source:
Marvel.com
|
Comments
(0) |
E-mail Article
|
Add a Comment
Marvel Comics released a new teaser image for an upcoming X-Men event, the
Trail of Magneto
. The event promises to "divide mutantkind" and the image gives us a look at a different costume for the Master of Magnetism, showing a much darker outfit with a coat and matching helmet, but all with white trim. The publisher promised more information next week.
But the big takeaway here may be the artist involved as the work is done by
John Romita Jr
., an artist who spent most of his career with Marvel, following in his father's footsteps, but left the company and went over to DC in 2014 where he worked on
Superman
comics. This would mark Romita's return to the House of Ideas. The series is set to begin in August.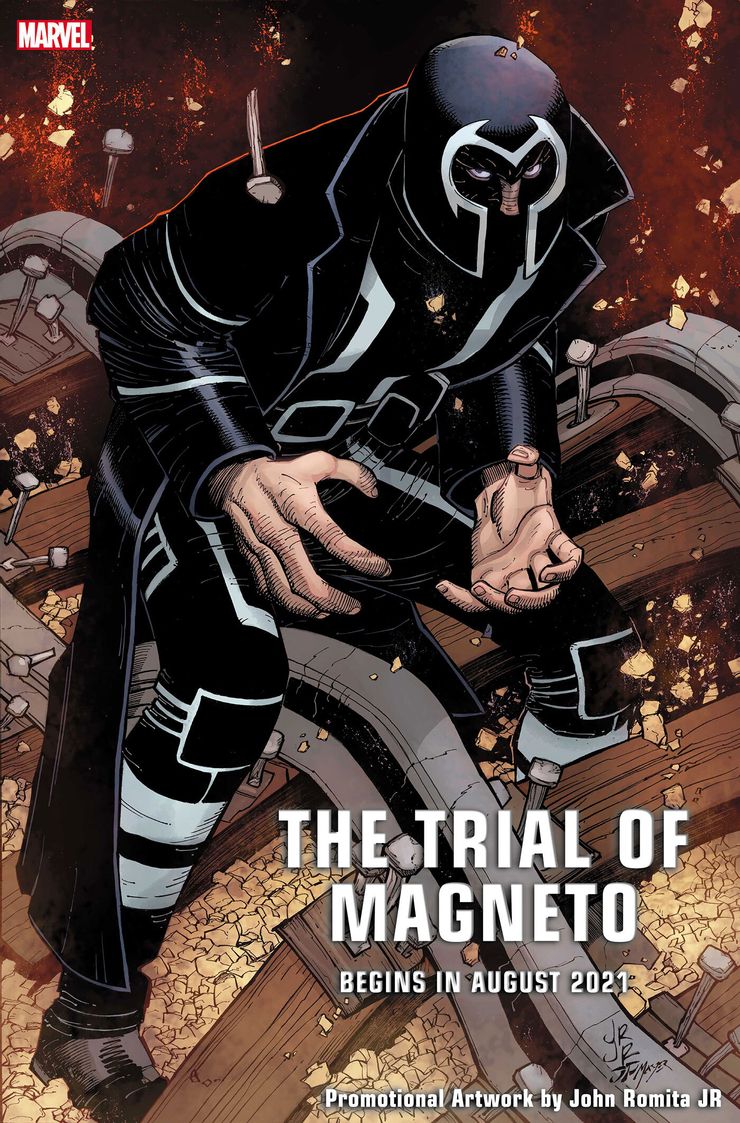 FIRST IMAGES OF SEBASTIAN STAN AND LILY JAMES AS PAM & TOMMY
05/08/21 @ 4:02 pm EST
Source:
The Hollywood Reporter
|
Comments
(0) |
E-mail Article
|
Add a Comment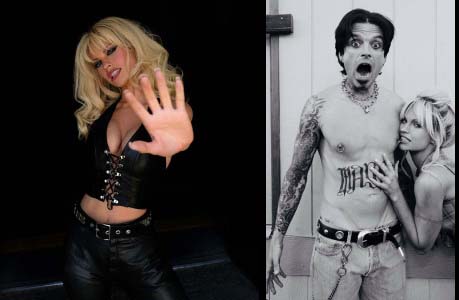 Hulu has released the first images for their upcoming limited series
Pam & Tommy
, a comedic take on the release of the first-ever viral video in history, the
Pamela Anderson
and
Tommy Lee
sex tape. The film stars
Lily James
as the former Playmate turned
Baywatch
star and
Sebastian Stan
as the drummer for the band
Mötley Crüe
.
The series is being written by
Rob Siegel
and
DV DeVincentis
and directed by
Craig Gillespie
who previously worked with Stan on
I, Tonya
. It's focused on the time in the couple's life when they filmed a sex tape during the honeymoon and then had it stolen and released on-line. They would go on to sue the distributor, Internet Entertainment Group, and eventually reach a settlement where the tape became public again.
James, who is best known for playing
Cinderella
, and Stan, who is coming off of
The Falcon and the Winter Soldier
, are joined by an interesting cast that includes
Seth Rogen
, who play the man who stole the tape,
Nick Offerman
,
Taylor Schilling
,
Andrew Dice Clay
,
Pepi Sonuga
and
Spencer Granese
. Neither Anderson nor Lee are involved in the production. No release date has been set.
WRATH OF MAN LEADS BOX OFFICE WITH AN A- CINEMASCORE
05/08/21 @ 2:59 pm EST
Source:
Deadline
|
Comments
(0) |
E-mail Article
|
Add a Comment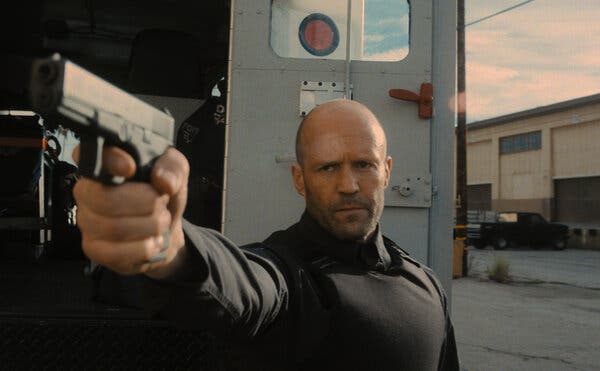 This was supposed to be the weekend of
Black Widow
, but with Marvel moving their first film release since 2019 to July 9th, it left the slot open for another film to step up in what would normally be considered the first weekend of Summer Movies season. Jumping into the spot is Miramax's new film
Wrath of Man
, directed by
Guy Ritchie
and starring
Jason Statham
.
The R-rated film is expected to pull in $8M for the three-day weekend, a better haul than the last R-rated action release,
Nobody
, which pulled in $6.8M. This makes
Wrath of Man
the top grossing action film geared towards an older male audience since the pandemic started. But the film is likely to have legs as the Cinemascore came in at an A- and Screen Engine/Comscore PostTrak has moviegoers rating it 77% positive and 58% would definitely recommend.
ACTRESS TAWNY KITAEN HAS DIED AT THE AGE OF 59
05/08/21 @ 2:38 pm EST
Source:
Deadline
|
Comments
(0) |
E-mail Article
|
Add a Comment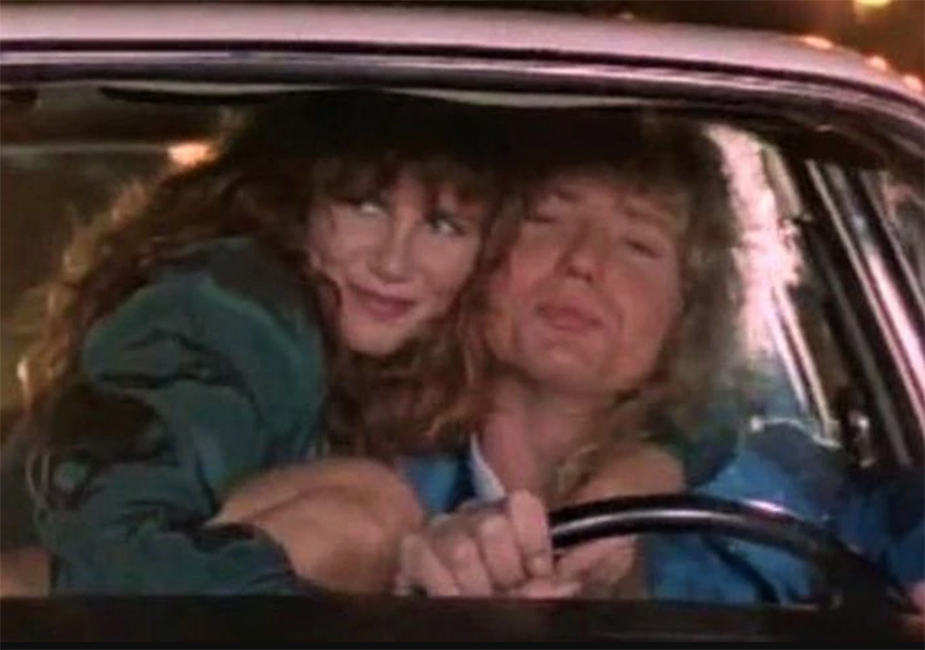 Actress
Tawny Kitaen
died on Friday at the age of 59. According to
Deadline
, no cause of death has been given. Kitaen grew to fame along with the rock band
Whitesnake
as she appeared in to of their earliest videos,
Here I Go Again
and
Is This Love
, which helped the bands multiplatinum album hit No. 1 in the late 80s. She also starred in two 1984 films, the
Tom Hanks
comedy
Bachelor Party
and
the Perils of Gwendoline
. She also appeared in the 2014 film
After Midnight
.
Kitaen went on to marry the band's lead singer
David Coverdale
in 1989 but divorced in 1991, she would later go on to marry California Angels pitcher
Chuck Finley
in 1997 with whom she had two daughters, Wynter (29) and Raine (22). No memorial plans have been revealed.
DYNAMIC FORCES ON THE EXPERIENCE! ORIGINAL COMICS ART SHOW TONIGHT!
05/07/21 @ 3:58 pm EST
Source:
Dynamic Forces
| Categories:
MIsc
|
Comments
(0) |
E-mail Article
|
Add a Comment
Watch us on YouTube or Facebook!
DYNAMIC FORCES ORIGINAL COMICS ART SHOWON THE COMIC BOOK SHOPPING EXPERIENCE TONIGHT!
WE LOVE COMICS & ARTwith Nick Barrucci and Will Gabri-El(7PM - 8PM EDT)
Here's some of what you'll see! ...
Luke Ross. Captain America #43 pg.18
H.Porter. Green Arrow #3 cover


Dan Jurgens. Action Comics/ Deadman #606 pg. 22




The Amazing Spider-Man. Signed by John Romita Sr., John Romita Jr., and Paul Mounts.


Batgirl and Spider-Woman. Signed by George Perez




Heroines. Signed by George Perez




Deadpool. Signed by Jaime Jameson and Joel Adams


Dan Jurgens. Fantastic 4 Movie Adaptation. #1 pg.38




Superman. Signed by George Perez



SEE YOU TONIGHT!!!



And on Saturday from 6PM - 8PM EDT, don't miss

COMIC COLLECTIBLES BY DYNAMIC FORCES

with Nick Barrucci



WATCH LIVE PROGRAMMING 6PM - 10PM 7 DAYS A WEEK