FACE THE PARANORMAL IN BEN 10™: THE MANCHESTER MYSTERY ORIGINAL GRAPHIC NOVEL
07/10/19 @ 6:31 pm EST
Source:
BOOM! Studios
| Categories:
MIsc
|
Comments
(0) |
E-mail Article
|
Add a Comment

BOOM! Studios today announced BEN 10™: THE MANCHESTER MYSTERY, the newest middle grade original graphic novel based on Cartoon Network's global hit series Ben 10™, with Rainbow Award-winning writer CB Lee (Not Your Sidekick) and artist Francesca Perrone (Steven Universe), in stores March 2020.

Ben Tennyson isn't your average 10-year-old...he's also the wielder of the Omnitrix, an alien device that allows Ben to shift into ten different alien forms from around the galaxy. Together with his cousin Gwen and Grandpa Max, they protect the world from alien incursions.

The game's afoot in BEN 10™: THE MANCHESTER MYSTERY as Ben Tennyson attempts to solve the mystery of a famous haunted house! Solving the Manchester Mystery would guarantee Ben a spot on his favorite supernatural television show but as he investigates the abandoned home, with his trusty cousin Gwen and Grandpa Max to round out the ghost hunting team, new secrets are revealed and it turns out not everything is as it seems. Science meets the supernatural as Ben wields the Omnitrix to pit aliens against ghosts in this thrilling new tale of mystery!

CB Lee is a Lambda Literary Award-nominated writer of young adult science fiction and fantasy. Her works include the Sidekick Squad series (Duet Books), Ben 10™ (BOOM! Studios), and All Out (Harper Teen). CB loves to write about queer teens, magic, superheroes, and the power of friendship. When not nationally touring as an educator, writer and activist, CB lives in Los Angeles, where she can neither confirm nor deny being a superhero.

"Ben thinks he's going to be bored at the 'Living Museum' at the historical reenactment town of Manchester, but when he finds out his idols the Mystery Boys are there investigating some strange disappearances, he's excited to prove himself." said writer, CB Lee. " It was so much fun to write this ghostly adventure with Ben, Gwen and Grandpa Max as they put together clues and solve a mystery!"

Francesca Perrone is a comic book artist from Italy. In 2017, Perrone graduated from the Scuola Internazionale di Comics in Naples. Perrone has drawn a series of covers for theSteven Universe comic book series for BOOM! Studios, and in 2019, will debut Bianca - Little Lost Lamb with Italian publisher, Shockdom.

"What mysteries lie in the Manchester House? Could it be... haunted? It's up to Ben, Gwen and Grandpa Max to find it out in this thrilling new adventure," said artist, Francesca Perrone. "I couldn't have been happier when I received the chance to bring to life this amazing script, and I hope you'll be as excited as I am!"

This is the fourth original graphic novel release from the partnership between BOOM! Studios and Cartoon Network, featuring a cover by artist Mattia di Meo (Adventure Time). Fans can find BEN 10™: THE TRUTH IS OUT THERE from CB Lee and Lidan Chen is available in bookstores everywhere, and keep an eye out for the upcoming debut of BEN 10™: FOR SCIENCE! from CB Lee and artist Mattia di Meo in July 2019.

"We had a lot of fun throwing Ben, Gwen, and Grandpa Max into an adventure that's packed full of spooky fun for the team as they confront phenomenon that can't be explained by science. . . or so we think." said Matthew Levine, Editor, BOOM! Studios. "Will Ben prove that there are such things as ghosts? And if they are real, how will Team Tennyson deal with being stuck in a house full of them?! CB and Francesca push Ben to the limits of understanding in this thrilling installment of Ben's adventures."

BEN 10™: THE MANCHESTER MYSTERY is the latest release from BOOM! Studios' award-winning KaBOOM! imprint, home to comics for middle grade and younger readers including licensed series such as Adventure Time, Steven Universe, Ben 10, and Over The Garden Wall, along with original series like Just Beyond: The Scare School by R.L. Stine and Kelly & Nichole Matthews, Hex Vet by Sam Davies, RuinWorld by Derek Laufman, and Pandora's Legacy by Kara Leopard, Kelly & Nichole Matthews.

Cartoon Network's Ben 10™ was recently greenlit for season four and is expected to premiere globally beginning 2020. The new season will follow Ben, his cousin Gwen and Grandpa Max on adventures to some of the world's most popular destinations including Italy, Japan and Mexico. Season four will continue to empower its worldwide fanbase through new alien transformations, action-packed battles with villains and more. Ben 10™is produced by Cartoon Network Studios and created and executive produced by Man of Action Entertainment.

Print copies of BEN 10™: THE MANCHESTER MYSTERY will be available for sale in March 2020 at local comic book shops (use comicshoplocator.com to find the nearest one), bookstores and the BOOM! Studios webstore. Digital copies can be purchased from content providers, including comiXology, iBooks, Google Play, and the BOOM! Studios app.



'DARK ONE' EXCERPT: BRANDON SANDERSON UNVEILS FANTASY GRAPHIC NOVEL
06/05/20 @ 3:07 pm EST
Source:
Hollywood Reporter
| Categories:
MIsc
|
Comments
(0) |
E-mail Article
|
Add a Comment
Fans of fantasy novelist Brandon Sanderson have an unexpected treat waiting for them this morning: the first chapter to his next book. The new work from the author of the
Mistborn
and
Stormlight Archive
series is available at the bottom of this post (via
THR
).
Brandon Sanderson's Dark One
is a break from the norm; it's a graphic novel from Vault Comics, originally announced as being in the works two years ago, based on an original idea from Sanderson. The book will be written by Collin Kelly and Jackson Lanzing from a story by Sanderson, with art by Nathan Gooden and colors from Kurt Michael Russell. Lettering on the project comes from Deron Bennett.
The chapter below was originally intended to be Vault Comics' Free Comic Book Day release this year. The event was indefinitely postponed from its original May 2 date, leaving the issue without a home — until now.
The debut of the material coincides with the news that the complete graphic novel is now available for preorder in both
Sanderson's web shop
and
the Vault Comics web store
. The first 500 preorders will include an exclusive bookplate signed by Sanderson as well as access to an exclusive live-stream Q&A with the author. Those preordering will also receive a bonus pack featuring behind-the-scenes content, and an additional 50 percent off other Vault digital editions.
Copies that are preordered will ship at the end of August. A wider release in comic and book stores remains unscheduled, meaning that the title is, for now, exclusively available via the Sanderson and Vault web stores.
To read the first chapter,
click here
.
DC GARNERS TWELVE 2020 EISNER AWARD NOMINATIONS
06/05/20 @ 2:59 pm EST
Source:
DC Comics
| Categories:
DC
|
Comments
(0) |
E-mail Article
|
Add a Comment
The nominees for the 32nd annual Will Eisner Comic Industry Awards were announced today, and DC has earned twelve nominations! Celebrated as "the Oscars of the comics world," for over three decades the prestigious Eisner Awards have recognized the industry's very best releases and talent.
Chosen by a highly lauded panel of judges and voted on by industry professionals, this year's winners will be announced in July. All professionals in the comic book industry are eligible to vote at
www.eisnervote.com
. The deadline for voting is June 18.
Congratulations to all the 2020 Eisner Award nominees! DC's titles and creators are represented among their peers with the following nominations:
Best Continuing Series:
The Dreaming
, by Simon Spurrier and Bilquis Evely et al. (DC)
Best Limited Series:
Naomi
by Brian Michael Bendis, David Walker, and Jamal Campbell (DC)
Best Publication for Teens:
Harley Quinn: Breaking Glass
, by Mariko Tamaki and Steve Pugh (DC)
Best Graphic Album—Reprint:
Cover
, vol. 1, by Brian Michael Bendis and David Mack (DC/Jinxworld)
Best Writer:
Mariko Tamaki,
Harley Quinn: Breaking Glass
(DC)
Best Penciller/Inker or Penciller/Inker Team:
Bilquis Evely,
The Dreaming
(DC)
Steve Pugh,
Harley Quinn: Breaking Glass
(DC)
Best Coloring:
Matt Hollingsworth,
Batman: Curse of the White Knight, Batman White Knight Presents Von Freeze
(DC)
Best Painter/Multimedia Artist:
David Mack,
Cover
(DC)
Best Lettering:
Deron Bennett,
Batgirl, Green Arrow, Justice League, Martian Manhunter
(DC)Clayton Cowles,
Aquaman, Batman, Batman and the Outsiders, Heroes in Crisis, Superman: Up in the Sky, Superman's Pal Jimmy Olsen
(DC)
Best Cover Artist:
David Mack,
Cover
(DC)
A full list of nominees can be found at
https://www.comic-con.org/awards/eisner-awards-current-info
BISHOP GETS A NEW COSTUME IN 'MARAUDERS'
06/05/20 @ 2:51 pm EST
Source:
ComicBook
| Categories:
Marvel
|
Comments
(0) |
E-mail Article
|
Add a Comment
The "Dawn of X" relaunch has established a new status quo for Marvel's X-Men, while also bringing back and celebrating some of their most iconic elements. That has especially been the case for Bishop, the former time-traveling mutant who now serves as a member of the pirate ensemble Marauders. The first ten issues of the series have brought about some major changes for Bishop -- including a brand-new costume. The recently-released
Marauders
#10 gave Bishop a surprising new ensemble to wear while on missions, while also honoring some of the most iconic elements of his original costume. (via
ComicBook
)
The issue revolves around the Marauders (sans-Kate Pryde, who is currently dead and apparently unable to be resurrected on Krakoa) trying to invade a Russian freighter, which has been working to recreate Forge's evil technology.
Events unfold in a handful of panels wherein fans get to check out Bishop's newest costume. It consists of a dark red suit that includes a red and black jacket, a belt, and a leg holster, complete with a new version of his iconic red scarf.
Bishop - and his new costume - are expected to be featured next in
Marauders
#11, currently scheduled to be released on August 12th.
HOW '2000 AD' WRITER ALEX DE CAMPI CRAFTED 'FULL TILT BOOGIE'
06/05/20 @ 2:38 pm EST
Source:
Hollywood Reporter
| Categories:
MIsc
|
Comments
(0) |
E-mail Article
|
Add a Comment
THR
reports that
Judge Dredd
isn't the only character embarking on a new journey in
2000 AD
— next week, the British anthology series launches a brand-new serial aimed at younger readers, titled
Full Tilt Boogie
.
Named for the spaceship adopted by the story's protagonist, Tee — a teenage bounty hunter accompanied by a support team that includes her grandmother and a pet cat that may or may not have unusual abilities —
Full Tilt Boogie
is the creation of Alex De Campi (Image Comics'
No Mercy
and the upcoming
Madi
with Duncan Jones) and artist Eduardo Ocaña.
The debut of the serial in
2000 AD
Prog 2184 is actually the
second
appearance of the property in
2000 AD
;
Full Tilt Boogie
first appeared as a one-off strip in last year's
2000 AD Regened
special issue, with reader reaction leading to this new extension, building out the galaxy the space opera exists in, and the many wonders (and threats) to be found inside.
"Full Tilt Boogie
is a love letter to the space operas I grew up watching:
Gatchaman
and
Space Battle Cruiser Yamato
, in their bad US dubs / recuts as
Battle of the Planets
and
Star Blazers
. I was never a
Star Trek
or
Star Wars
kid; these were what I loved best," De Campi told THR.
"I'd been playing with the idea of
Full Tilt Boogie
for a long time, and it existed as a pile of notes and part-completed scripts across notebooks and Word files for years. Tee, the Black Dog, everyone already existed," she continued. "Then, Tharg [
2000 AD
's resident fictional editor] called, and asked if I had anything that would work for an all-ages issue of
2000 AD
."
Thus the one-shot.
"And then — honestly, to my complete surprise — folks
wrote into 2000 AD
and asked for more of it," De Campi said. "We have more
Full Tilt Boogie
because readers asked for it, and I'm still stunned and very thankful to the readership of
2000 AD
for supporting our story."
2000 AD
Prog 2185, featuring the first regular episode of
Full Tilt Boogie
, will be available digitally June 10.
DC CUTS TIES WITH DIAMOND COMIC DISTRIBUTORS
06/05/20 @ 2:18 pm EST
Source:
Hollywood Reporter
| Categories:
DC
|
Comments
(0) |
E-mail Article
|
Add a Comment
In a seismic shift for the comic book industry, DC has cut ties with Diamond Comics Distributors. The announcement was made via an email to retailers sent Friday morning, with the company telling customers that all orders for DC product will be fulfilled by Lunar Distribution and UCS Comic Distributors for periodical releases and Penguin Random House for graphic novels and collected editions.
An email sent to retailers explained, "We recognize that, to many of you, this may seem like a momentous decision. However, we can assure you that this change in DC's distribution plans has not been made lightly and follows a long period of thought and consideration. The change of direction is in line with DC's overall strategic vision intended to improve the health of, and strengthen, the Direct Market as well as grow the number of fans who read comics worldwide."
The message continued, "In the near term, Diamond will only be fulfilling orders placed through June 1 Final Order Cut-Off and will not solicit the sale of new DC titles further. To ensure a smooth transition for retailers, DC will suspend Final Order Cut-Off for June 8, making those books available to order on Final Order Cut-Off on June 15."
A spokesperson from DC told
The Hollywood Reporter
, "After 25 years, DC and Diamond Comic Distributors are ending their long-standing relationship. Moving forward, comic book retailers can obtain their DC books from Penguin Random House, or their books and periodicals through Lunar or UCS comic book distributors. DC continues to be committed to providing the Direct Market with best in class service and the fans with the world's greatest comic books."
As of this writing, there had been no response from Diamond.
DISNEY REPORTEDLY DEVELOPING LIVE-ACTION REMAKE OF 'THE BLACK CAULDRON'
06/05/20 @ 10:35 am EST
Source:
ComicBook
| Categories:
Disney
|
Comments
(0) |
E-mail Article
|
Add a Comment
Walt Disney Pictures is reportedly developing a live-action remake of its 1985 animated film
The Black Cauldron
. Disney re-acquired the rights to
The Chronicles of Prydain
, the five-part novel series penned by Lloyd Alexander that inspired the animated feature, in 2016. Published between 1964 and 1968, the fantasy series —
The Book of Three
,
The Black Cauldron
,
The Castle of Llyr
,
Taran Wanderer
, and
The High King
— was first optioned by the studio in 1971. The animated feature, largely inspired by the first two novels but having little resemblance to Alexander's works, will reporedly receive a re-do.
It's not yet known whether
Black Cauldron
is being eyed for a theatrical release or a bow on Disney+, where the studio premiered its live-action
Lady and the Tramp
. Disney is also developing a live-action
Lilo & Stitch
for the streaming service. (via
ComicBook
)
Disney's animated
Black Cauldron
followed the magical adventure of assistant pig keeper Taran and his allies — Princess Eilonwy of Llyr, minstrel Fflewddur, wood creature Gurgi, and Hen Wen, a pig with the ability to predict the future — who banded together to keep a maniacal monarch, the evil Horned King, from possessing the Black Cauldron and using its demonic powers to raise an army of the dead and conquer the world.
'TERRIFIER 2': NEW PHOTOS RELEASED
06/05/20 @ 10:25 am EST
Source:
Facebook
| Categories:
MIsc
|
Comments
(0) |
E-mail Article
|
Add a Comment
The Facebook page of Terrifier 2 has released photos for the upcoming sequel.

More details of the movie, which is currently being edited by the filmmakers during the coronavirus quarantine, are expected soon.

No release date has been set as of yet.




MEDAL OF HONOR RECIPIENT DANIEL INOUYE'S BATTLEFIELD HEROISM GETS GRAPHIC NOVEL
06/05/20 @ 10:10 am EST
Source:
Task & Purpose.com
| Categories:
MIsc
|
Comments
(0) |
E-mail Article
|
Add a Comment
Daniel Inouye's life is littered with examples of triumph in the face of adversity, personal sacrifice, and acts of physical and moral courage, both on and off the battlefield.

As a civilian, Inouye treated the wounded during the attack on Pearl Harbor. He enlisted in the Army at a time when the loyalty of Japanese Americans like him was in constant question. And during World War II, he distinguished himself on battlefields across Europe, no where more so than in Italy, where he led a frontal assault against a heavily defended German position, and was grievously wounded, twice, yet never once faltered.

He went on to receive the Medal of Honor, the nation's highest award for valor, and became the first Japanese American to be elected to the United States Senate.

It seems only fitting then that Inouye, whose life reads like the origin story of a super hero, should get the comic book treatment.

The newest addition to the Association of the United States Army's Medal of Honor series was created by a cast of prolific comic book creators whose work spans the DC and Marvel universes.

"I was so pleased to be able to tell the senator's story and describe part of the history of the 442nd," said Chuck Dixon (Batman, The Punisher, The 'Nam), who wrote the script for the graphic novel.

Dixon was joined on the project by Christopher Ivy (G.I. Joe, Avengers, Flash), Peter Pantazis (Justice League, Superman, Wolverine) and Troy Peteri (Spider-Man, Iron Man, X-Men).

The entire series can be read on the Association of the United States Army's website for free.
THE CW REPORTEDLY EYEING 'HUNGER GAMES' ACTRESS TO PLAY NEW BATWOMAN
06/05/20 @ 9:53 am EST
Source:
We Got This Covered
| Categories:
DC
|
Comments
(0) |
E-mail Article
|
Add a Comment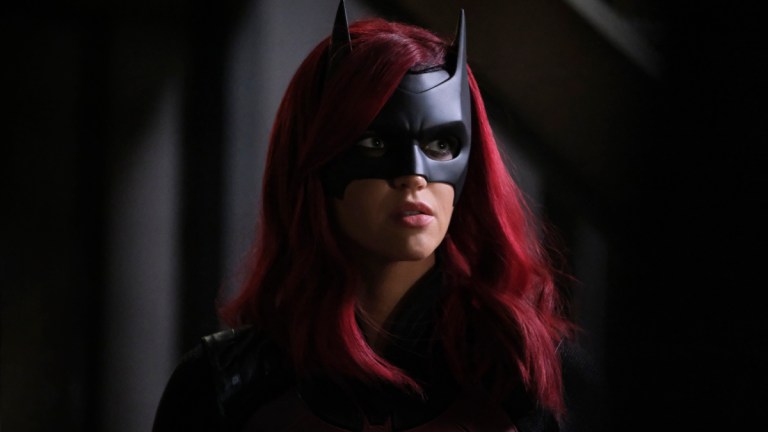 Fans were shocked when Ruby Rose announced her departure from
Batwoman
after the first season finale. From what we've heard from insiders though, her exit wasn't a big surprise within the show. Rose was reportedly unhappy with the unrelenting schedule of shooting network television and being stuck in Vancouver, and she felt the series was limiting her movie career.
The second season of
Batwoman
is set to air in January 2021, meaning they'll need to start filming the moment the COVID-19 restrictions lift. That tight timeframe also means that The CW is now busily hunting for someone to step into the cape and cowl. So far, the network has somewhat narrowed their potential casting choices by confirming that the role will be played by an LGBTQ actress, and now
We Got This Covered
is reporting one name that's being eyed.
Sources close to WGTC say that The CW is currently looking at
The Hunger Games
actress Amandla Stenberg, who's also appeared in
Everything, Everything
,
The Hate U Give
,
Where Hands Touch
and Netflix's
The Eddy.
She identifies as non-binary, has come out as gay and is outspoken about her feminist views, all of which should make her a good fit for
Batwoman
. Stay tuned!
BOOM! STUDIOS CELEBRATES PRESTIGIOUS 2020 EISNER AWARD NOMINATIONS
06/05/20 @ 9:42 am EST
Source:
BOOM! Studios
| Categories:
MIsc
|
Comments
(0) |
E-mail Article
|
Add a Comment
BOOM! Studios is proud to announce it has received three nominations and one shared nomination in the 2020 Eisner Awards, honoring the best in the comic book industry. This includes three nominations for BOOM! Studios' new original series and graphic novels – along with one shared nomination for letterer, Jim Campbell.
The full list of nominated comics and talent are below:
Best New Series
:
Once & Future
, by Kieron Gillen and Dan Mora (BOOM! Studios)
Best New Series
:
Something is Killing the Children
, by James Tynion IV and Werther Dell'Edera (BOOM! Studios)
Best Graphic Album- New
:
New World
, by David Jesus Vignolli (Archaia)
Best Lettering
: Jim Campbell,
Black Badge, Coda
(BOOM! Studios);
Giant Days, Lumberjanes: The Shape of Friendship
(BOOM! Box);
Rocko's Modern Afterlife
(KaBOOM!);
At the End of Your Tether
(Lion Forge);
Blade Runner 2019
(Titan);
Mall, The Plot, Wasted Space
(Vault)
"It's an honor to receive this recognition from the Eisner Awards committee," said Matt Gagnon, Editor-in-Chief, BOOM! Studios. "We're incredibly proud of the brilliant work that our creative partners and the BOOM! Studios team consistently put into our titles. On behalf of everybody at BOOM! we congratulate all the creators that have been nominated!"
The Will Eisner Comic Industry Awards are presented under the auspices of Comic-Con International, a nonprofit educational organization dedicated to creating awareness of and appreciation for comics and related popular artforms, primarily through the presentation of conventions and events that celebrate the historic and ongoing contributions of comics to art and culture.
A full list of nominees can be found at the
Eisner Award website
.