DF INTERVIEW: DENIZ CAMP MIXES HISTORY, POLITICS AND COMICS LORE INTO THE SAGA OF '20TH CENTURY MEN'
07/05/22 @ 3:25 pm EST
Source:
Dynamic Forces
| Categories:
MIsc
|
Comments
(0) |
E-mail Article
|
Add a Comment
DF Interview: Deniz Camp mixes history, politics and comics lore into the saga of '20th Century Men'
By Byron Brewer
At the end of the 20th century, superheroes, geniuses, madmen, and activists rush towards WWIII! A Soviet "iron" hero, a super-powered American president, an insane cyborg soldier, an Afghan woman hellbent on building a better life for her people: these strange yet familiar beings collide in a story that mixes history, politics, and comics mythology into something totally new.
Welcome to 20th Century Men – from writer Deniz Camp and artist S. Morian – where the edges of our reality and fiction touch, overlap… and then explode! I had to learn about this new book right away, and so sat down and chatted with scribe Deniz Camp.
Byron Brewer: Deniz, tell readers about the inspiration for 20th Century Men, a very layered, speculative comic, I would say. Is this a concept you have been carrying around for awhile? It is very tight and concentrated, as good comics are.
Deniz Camp:
I have been thinking about it for a long time, but the story has changed and evolved in the writing, as I think all the best ones do. The main goal is, and has always been, to put as much humanity into these pages as possible. I think people are their most beautiful when they are at their lowest, that vulnerability is the truest, bravest, most inspiring thing in the world. War doesn't interest me for the sake of war, war interests me because it's human beings in extremis, and there you can find every human characteristic in heightened state. Everyone is beautiful, and ugly, there, often at the same time.
In terms of being tight/concentrated, I think that's just my overall obsession. Decompressed comics can be and have been great, but the ones that made me a fan were the ones that gave you a lot. It takes a lot more work, but I'm not here to make disposable comics. I want you to be reading and rereading my comics all month, all year, for the rest of your life.
Byron: Can you give us an overview of the atmosphere of the world you and artist S. Morian are building here? What is life like on this Earth (I assume), and how did it get this way?
Deniz Camp:
This world is pretty similar to our own, actually. I wanted to keep the story grounded and historical, to intertwine the fantastic with real events. The major difference is that super soldiers have been a significant factor in the outcome of both world wars, Korea, Vietnam and, now, Afghanistan. The Soviet Union is stronger here than it was in the real world, thanks to the super-technology and economic reforms of one of our characters, Petar Platonov, The Iron Star. Much of what we know from our world still happened, but HOW it happened is different; for instance, there was a Chernobyl meltdown in this world, but it was the result of a super-powered conflict, not a technological malfunction.
Most of the action takes place in Afghanistan, during the incredibly brutal Soviet invasion and occupation of the 1980s. In our world, the Soviets have managed almost complete victory thanks to the direct intervention of the Iron Star. But things quickly change, and the International "Great Powers" — represented by super-powered stand-ins — converge on the country to fight their proxy war, without consideration for the damage they do to the Afghan people.
There will be a bunch of easter eggs and fun twists for fans of history and pop culture, but you won't need to know of that to enjoy it.
This is a world very much on the brink, with sentient weapons of mass destruction working in the brutal interest of their states with almost total impunity. It's a powder keg that seems ready to blow at any moment.
Byron: Introduce readers to your protagonists, which I am guessing are "...a Soviet 'iron' hero, a super-powered American president, an insane cyborg soldier, an Afghan woman hellbent on building a better life for her people". Who are they, and what is their common denominator?
Deniz Camp:
We have a pretty large cast, none of whom are the "main" character. Our POV shifts issue to issue, and the goal here is to establish for the audience one interpretation of events, and then, through other characters, undercut or challenge that interpretation.
We start with Petar Platonov, the soviet diplomat-hero the Iron Star. He's an alcoholic genius weapons manufacturer who built himself a futuristic suit of armor. Sound familiar?
We also see President Thomas Goode. Goode was one of the first super-soldiers, emerging in WWII with the name The American Dream. He is America's greatest hero, having defeated the Nazi Uber-mench, commanded American forces in Vietnam, and is generally one of the most beloved Americans to ever live. He's also a sociopath who sees war as a purifying process, and as the president he's got the power to do something about it.
There's Egon Teller, an American technological genius who helped design American weapons as "The Big Idea" in Vietnam and has since become the richest man in the world. He regrets pretty much everything and is trying to atone, with mixed results.
Azra is an Afghan woman who is extremely smart — even smarter than she lets on — and is trying to balance all the various factions for the good of her people. When we open she works for Platonov as his right hand, but by the first issue she leaves to pursue her own goals.
Finally, there's a Soviet reporter nicknamed Krylov. He comes to the war to report on what's happening, "to find the truth about war". It quickly becomes clear he was not at all prepared.
There are many, many other characters, and I genuinely empathize and love each of them, for all their madness and flaws. It's a big, sprawling cast, but we try to make all of them come alive.
Byron: No spoilers, but you can tell from issue #1 that there will be a great deal of subtext in this mini-series – which, I agree, is for readers to interpret each to his own. But from a writer's POV crafting such a tale, talk about juggling historic fact and fiction, trope politics and, best of all, comic book lore into such a satisfactory blend. Very different!
Deniz Camp:
I'm glad you think so! I guess it just comes out of a mix of a lot of stuff that interests me. You can't really understand characters without understanding their context, geographical, historical, cultural. It's all one thing, and I spend a lot of time reading about all that, even before I started planning this story.
The deeper you go the more complicated you realize it all is, for everyone — and also, beautiful. And terrible. And funny. I think we're able to get some of that complication into the book. I'm really proud of that.
The key is the characters. I know it's a cliche, but it really is true; everything is in service of making these people come alive.
Byron: 20th Century Men has some brutal character work, especially the first issue. What character in the limited series best reflects its creator (scribe Camp)?
Deniz Camp:
There's a character we introduce in the second issue, a Russian reporter nicknamed Krylov. The artist based his face on mine, so that's the obvious one! He's a young man way out of his depth, not as smart as he thinks he is, no less destructive for being "well meaning". Sounds about right!
Byron: Haha!… Talk about your collaboration with S. Morian, and the artist's epic contributions to this saga.
Deniz Camp:
This has been the most intimate collaboration of my life, without a doubt. S. Morian is a natural storyteller and a total genius. Our process is chaotic and work intensive and beautiful. We brainstorm together before I start to write a script, then I write a full script with panels and all the traditional stuff — then he changes what needs to be changed, sometimes drastically, sometimes not at all. He compensates for my weaknesses in a big way, and magnifies my strengths; he gets what I'm TRYING to do, and often has a better way of doing it.
He has such a variety of styles and techniques at his disposal, and changes them almost every scene to better fit the story. It is impossible to overstate how much he adds. There is no book without him.
When the art comes back I basically rewrite the whole thing from scratch to better fit his work. The end result is something that feels as though it were made by one person, I think, a person more talented than either of us alone.
And the process is dynamic, always changing. Occasionally I'll give him just a basic description of something and he'll go and make a scene, and I'll letter it from scratch. It's such an incredible experience, truly. Chaotic and scary at times, but I think that comes out on the page.
He isn't just a collaborator, he is my brother, and the friendship that has emerged from creating this book is one of the best things ever to come out of my comics career.
Byron: Deniz, what other projects in which you are involved can you tell readers about?
Deniz Camp:
My creator owned series, Agent of WORLDE, comes out from Scout Comics June 29th. It's a mad, sci-fi spy story half a decade in the making in the vein of Hard Boiled, the Filth, and Casanova, with the most intricate, beautiful art you've ever seen from series artist Filya Bratukhin (and colorist/designer/saint Jason Wordie) — comparisons are often made to Geof Darrow and Frank Quitely, and with good reason. Each issue is a self contained mission, as Agent Philip Blank faces time travelers, aliens, robot armies, and his belligerent Orangutan boss.
Bloodshot Unleashed launches in September from Valiant Comics. My partners on that are Jon Davis Hunt (of The Wildstorm fame), Jordie Bellaire and Hassan Otsmane Elhaou. Another "done in one" series, we are doing beautiful violence in 20 pages, as Bloodshot tracks down a bunch of escaped living weapons and struggles with his own demons. Every issue is centered around an incredible action set piece, but we also go very deep into Bloodshot's head (figuratively and literally). I'm extremely happy with how it's turning out; there's never been a Valiant book quite like it.
And then, soon to be announced, I've got a middle grade graphic novel coming out sometime in 2024, I think. It's different for me, but exciting. But I'm not allowed to talk about it.
Dynamic Forces would like to thank Deniz Camp for taking time out of his busy schedule to answer our questions. 20th Century Men #1 from Image Comics is slated to be on sale Aug. 17th!
For more news and up-to-date announcements, join us here at Dynamic Forces,
www.dynamicforces.com/htmlfiles/
, "LIKE" us on Facebook,
www.facebook.com/dynamicforcesinc
, and follow us on Twitter,
www.twitter.com/dynamicforces
.
BRAD PITT AND BULLET TRAIN LEAD WEEKEND BOX OFFICE
08/07/22 @ 1:38 pm EST
Source:
Deadline
|
Comments
(0) |
E-mail Article
|
Add a Comment
With another slow weekend at the box office, Sony's new action flick
Bullet Train
raced to the top with a $30.1 million opening. The film, from director
David Leitch
, has quite the cast including
Brad Pitt
,
Joey King
,
Aaron Taylor-Johnson
,
Brian Tyree Henry
,
Andrew Koji
,
Michael Shannon
,
Sandra Bullock
,
Hiroyki Sanada
,
Bad Bunny
,
Karen Fukuhara
,
Masi Oka
,
Logan Lerman
, and
Zazi Beetz
and industry experts think the film will likely reach $100 million while in the theaters.
DC League of Super-Pets
hung on to the family audiences, bringing in $11.2 million it's second weekend while
Nope
grabbed the horror audiences with $8.05 million in it's third week.
Thor: Love and Thunder
grabbed the fourth spot with $7.6 million taking it close to $700 million worldwide as it is likely nearing the end of its theater run and heading to Disney+ in the next few weeks.
Minions: Rise of Gru
slipped into the fifth spot with $7.11 million in its sixth and likely final weekend taking it to $334.5 million, very close to the original
Minions
$336 million total.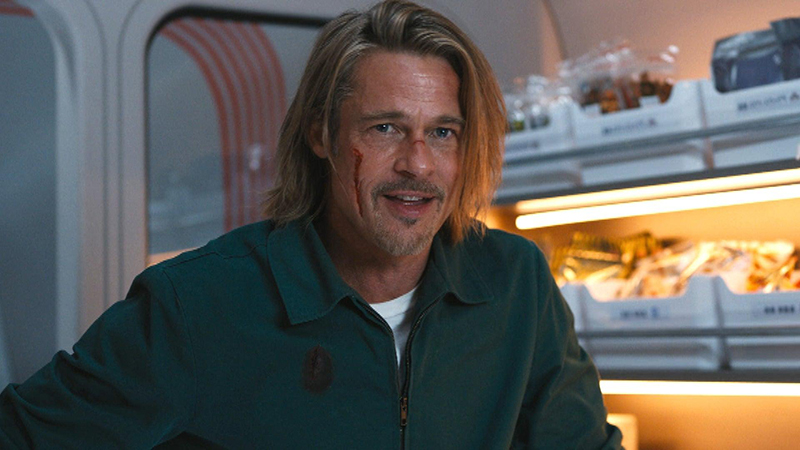 THE ROCK SHARES DC LEAGUE OF SUPER-PETS POST CREDIT SCENE
08/07/22 @ 1:19 pm EST
Source:
Instagram
|
Comments
(0) |
E-mail Article
|
Add a Comment
Never one to pass up a chance to promote an existing or upcoming project,
Dwayne "the Rock" Johnson
shared the post-credit scene for
DC League of Super-Pets
on his
Instagram account
. With the video, he also wrote: "The world is starting to simmer with excitement about the earths shattering SUPERMAN vs BLACK ADAM⚡️showdown one day. But until then… BLACK ADAM'S DOG ~ ANUBIS⚡️ has a few choice words for SUPERMAN'S DOG ~ KRYPTO. The definition and philosophy of ANTIHERO is quite intriguing… And YES… If you listen closely, I voice BOTH DOGS AND BLACK ADAM in this scene."
DC League of Super-Pets
is in theaters now and features Johnson as Krypto,
Kevin Hart
as Ace,
John Krasinski
as Superman and
Keanu Reeves
as Batman. Johnson is also set to play Black Adam in the upcoming film of the same name along with
Pierce Brosnan
,
Aldis Hodge
,
Noah Centineo
,
Sarah Shahi
,
Marwan Kenzari
and
Quintessa Swindell
. It will be in theaters in October.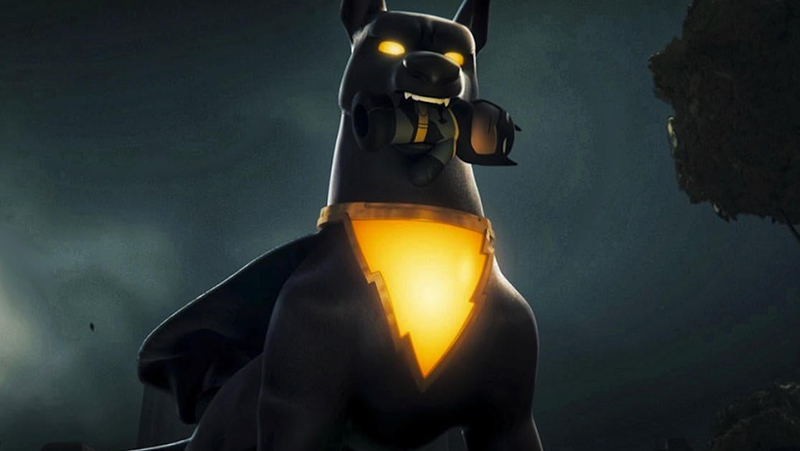 WOODY HARRELSON RESPONDS TO VIRAL COMPARISON TO BABY
08/07/22 @ 1:05 pm EST
Source:
Instagram
|
Comments
(0) |
E-mail Article
|
Add a Comment
You've seen it before, a picture of a baby that looks surprisingly like a famous person? I know I've seen quite a few that look like Patton Oswald… he just has that kind of face. Well, on Wednesday a woman from Northern Ireland named Danielle Grier Mulvenna posted of photo of her nine-month-old daughter Cora smiling next to a picture of Zombieland actor Woody Harrelson and the resemblance is uncanny. But the best part is that Harrelson saw the comparison and
responded with
a poem he called "Ode to Cora". Harrelson wrote, "You're an adorable child. Flattered to be compared. You have a wonderful smile. I just wish I had your hair." Mulvenna responded to the poem by saying, "You made our day. Can't wait to show her when she's older. You have a fan for live xxx."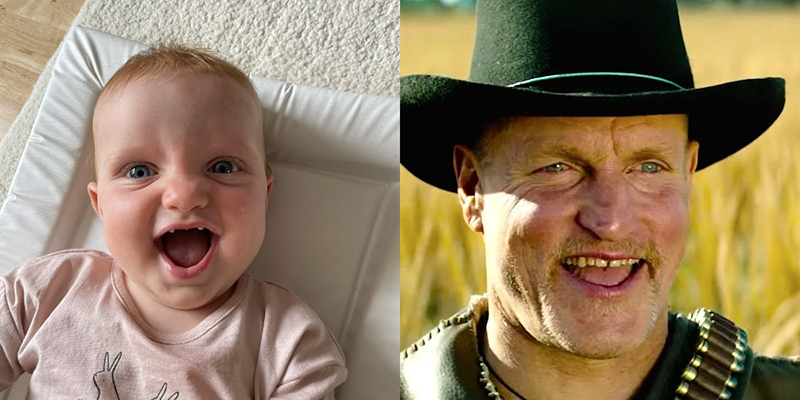 OUR BEST LOOK AT DAREDEVIL'S NEW YELLOW & RED COSTUME
08/06/22 @ 3:57 pm EST
Source:
Twitter
|
Comments
(0) |
E-mail Article
|
Add a Comment
The official twitter account for
She-Hulk
posted a
series of images
that when you just look at the post, makes up the logo for the series. But when you click on each part of the logo, it shows additional part of the images that include
Mark Ruffalo
as the Hulk,
Tim Roth
as Abomination,
Benedict Wong
and Wong and finally
Charlie Cox
as Daredevil. While all the other images were things we've seen in the trailer, the image of Daredevil is the best close up we've seen of the character in his new yellow and red outfit. The image, seen below, shows that while a different color, it doesn't look too different from his Netflix outfit but word is that by the time he shows up in
Echo
and his own series, he'll have new threads, so this might be them just using the existing costume for this series.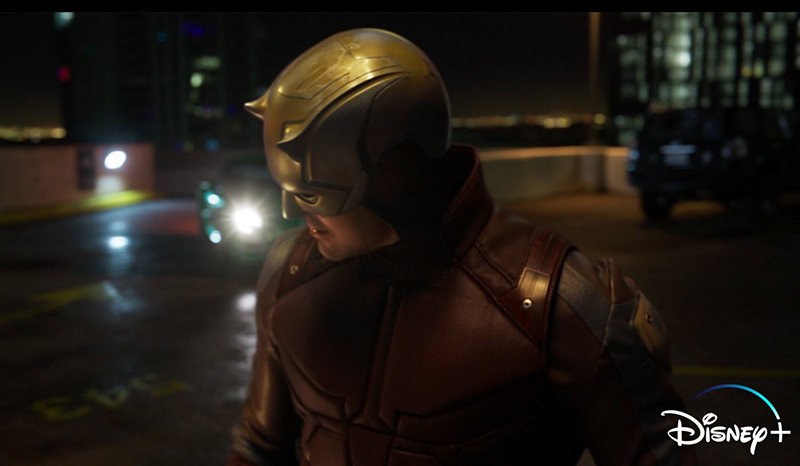 TIM ROTH TALKS RETURNING TO THE MCU
08/06/22 @ 3:25 pm EST
Source:
Forbes
|
Comments
(0) |
E-mail Article
|
Add a Comment
Tim Roth
is the second actor from the 2008
Incredible Hulk
film to return to the MCU. The first was the late
William Hurt
who turned up in
Captain America: Civil War
as General Thaddeus "Thunderbolt" Ross and would appear again in
Avengers: Endgame
and
Black Widow
. Roth, who played Emile Blonksy aka the Abomination in the early Marvel Studios film popped up for a cameo with
Benedict Wong
in last year's
Shang-Chi and the Legend of the Ten Rings
and is seen in trailer for the upcoming Disney+ series
She-Hulk: Attorney
at Law which debuts on August 18th. While Hurt and Roth are the only two actors to reprise their roles, the titular character and his alter ego of Bruce Banner have been a mainstay of the franchise for year with actor
Mark Ruffalo
replacing
Ed Norton
as The Hulk staring in
the Avengers
movie. In an interview with Forbes, Roth talked about working with Ruffalo. "Yeah, I was like, 'You've changed.' It's kind of fun. We used to hang around and muck about between takes, and we had a nice time. I very much respect Mark as an actor, so even under those bizarre and wonderful circumstances, that one was a treasure." He also talked about returning to the character after a decade and seeing his co-stars working clued him in on what to do. "Once I started shooting on it, I didn't know how to go about my business, and it was a bit disconcerting. Tatiana Maslany is incredible, and
She-Hulk
is a comedy, and she's bloody good at comedy but, to be fair, she's pretty, pretty good at everything. When Mark Ruffalo showed up to do his stuff that I was involved in and saw the two of them interacting, it was a penny drop moment for me, and I went, 'Oh, that's what we're doing. Oh, okay,' and then I knew what to do. Basically, on the first segment I was involved in, I got some serious direction from them about we go about our business there, and then it was all playtime. It was a lot of fun."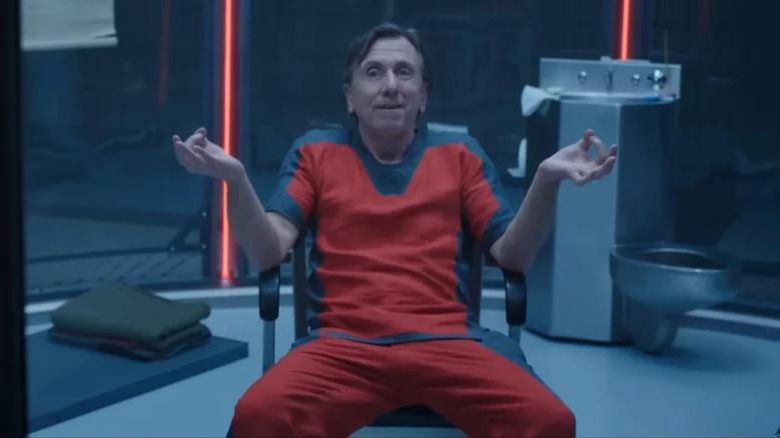 BATGIRL DIRECTOR SHARES BTS PHOTO WITH GRACE AND KEATON
08/06/22 @ 3:03 pm EST
Source:
Vulture
|
Comments
(0) |
E-mail Article
|
Add a Comment
Still reeling from the sudden cancellation of his film,
Batgirl
co-director
Adil El Arbi
shared a photo on social media of himself with stars
Leslie Grace
and
Michael Keaton
in their full costumes from the film. The $90 million film was axed even though principal photography was completed and a cut had already been shared with a test audience. The reasoning for the cancellation is said to be that the film isn't a high enough quality to release in theaters and that is the new direction the company is taking with DC Film projects. Warner Bros Discovery is planning to use a special tax write-off option that have during a short window after a merger.
Batgirl
and the sequel to
Scoob!
are both being used in that way as the company believes they will make more money back as write-offs than they would recoup by spending the money to finish and market the films. El Arbi and his co-director,
Bilall Fallah
, have said in a statement that they were "shocked and saddened" by the news and have received support from fellow directors
Edgar Wright
and
James Gunn
as well as Marvel Studios president
Kevin Feige
who the pair worked with earlier on the
Ms. Marvel
Disney+ series. By taking the write-off, WBD will not be able to release the film in anyway that might make a profit including releasing it on HBO Max.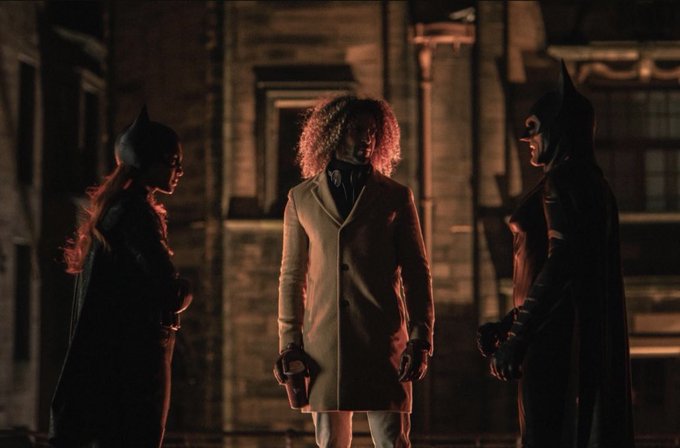 MATT SMITH WONDERS IF THERE'S TOO MUCH SEX IN HOUSE OF DRAGONS
08/06/22 @ 2:50 pm EST
Source:
Rolling Stone
|
Comments
(0) |
E-mail Article
|
Add a Comment
Matt Smith
, former star of
Doctor Who
, talks about his upcoming role as Prince Daemon Targaryen in the
Game of Thrones
spinoff series for HBO,
House of Dragons
. In his interview with Rolling Stone, he wondered if all of the sex in the series was necessary. "You do find yourself asking, 'Do we need another sex scene?' And they're like, 'Yeah, we do.' I guess you have to ask yourself: 'What are you doing? Are you representing the books, or are you diluting the books to represent the time [we're living in]?' And I actually think it's your job to represent the books truthfully and honestly, as they were written." His personal opinion? "Yeah – slightly too much, if you ask me," he said. But did he ask himself if we needed him dancing shirtless in
Morbius
? Probably not.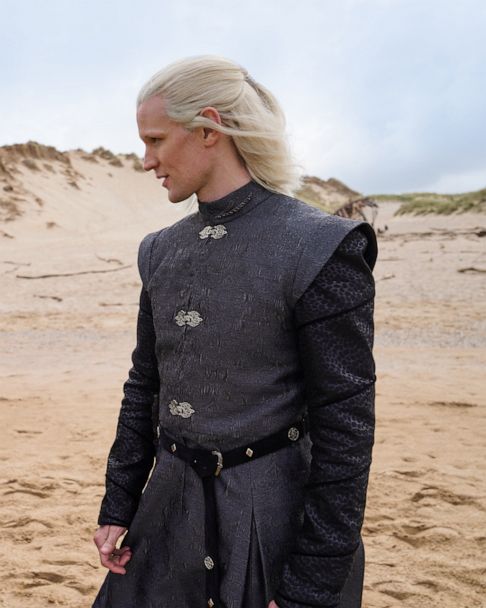 THE ORIGIN OF SAKURA-SPIDER REVEALED, MORE IN 'EDGE OF SPIDER-VERSE' #3
08/05/22 @ 10:26 am EST
Source:
Marvel
| Categories:
Edge of Spider-Verse
|
Comments
(0) |
E-mail Article
|
Add a Comment
This past week, the Spider-Verse as we know it was transformed! EDGE OF SPIDER-VERSE #1 marked the beginning of a new era of Spider-Verse storytelling with a new status quo for Araña, the roaring debut of Spider-Rex, and more! And things are only just getting started as each issue of this new limited series will contain more thrilling additions to the Spider-Verse mythos in the form of new heroes, fresh journeys for iconic favorites, and the rise of a dark threat that could end the Spider-Verse for good. The series will serve as the foundation for Dan Slott's next Spidey epic, beginning in October's SPIDER-MAN #1.
Here's what fans can expect from the third issue in this exciting saga, EDGE OF SPIDER-VERSE #3, on sale September 14:
· What if Felicia Hardy became a Spider-hero? Dan Slott teams up with artist Sumeyye Kesgin to answer that question with the debut of super thief Night-Spider! Check out her sleek look, designed by artist superstar artist Kris Anka, in a special design variant cover!
· Introduced in the hit
Deadpool: Samurai
manga and fresh off her recent appearance in
Deadpool: Black, White, & Blood
, Sakura-Spider strikes out on her own! Learn the origins of this breakout new hero in a story by her creators,
Deadpool: Samurai
creative team Sanshiro Kasama and Hikaru Uesugi!
· Author Nikesh Shukla makes his Marvel Comics debut alongside a squad of the best artists in the business including Mark Bagley, Paco Medina, David Baldeón, Gerardo Sandoval and Abhishek Malsuni with the return of fan-favorite hero Pavitr Prabhakar, AKA Spider-Man: India!
Check out all the covers for EDGE OF SPIDER-VERSE #3 plus a first look at interior artwork, and stay tuned in the weeks ahead for more news about what's to come in EDGE OF SPIDER-VERSE!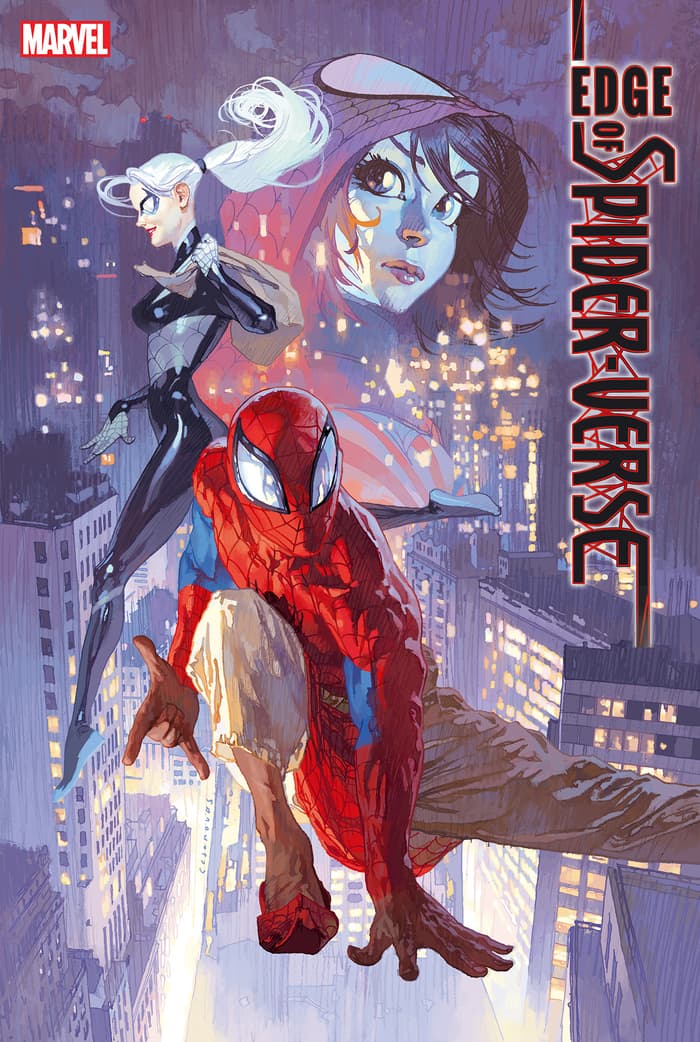 NEW PUBLISHER FRANK MILLER PRESENTS DROPS SURPRISE $1 PREVIEW COMIC ON AUGUST 17
08/05/22 @ 9:36 am EST
Source:
GamesRadar
| Categories:
MIsc
|
Comments
(0) |
E-mail Article
|
Add a Comment
Frank Miller Presents (FMP), the new publishing imprint created and curated by the titular comic book legend, will publish its first title to specialty comic book stores served by Diamond Comic Distributors on Wednesday, August 17 in what FMP calls a "surprise drop."
The original 32-page Ashcan Edition comic book features two stories: Frank Miller's Ronin Book II by Miller, Philip Tan, and Daniel Henriques, and Ancient Enemies by FMP publisher Dan DiDio along with Danilo Beyruth and Alex Sinclair. The special comic will also feature sneak previews of other upcoming FMP titles.
The FMP Ashcan Edition will have a suggested retail price of $1 to readers and collectors but will be sent to comic book retailers free of charge as an introduction to the new publisher.
The 10-page Ronin Book II story recaps Miller's original Ronin series published by DC in 1983 prior to The Dark Knight Returns and catches up with Casey McKenna as she "travels across the ravaged landscape of America in search of the new Ronin."
The 17-page Ancient Enemies story is a prequel to the upcoming series, which is about a "thousand-year-old galactic war before the primary combatants arrived on Earth and threatened all existence." (via
GamesRadar
)
DC WILL HAVE 10-YEAR PLAN AKIN TO MARVEL'S PLAYBOOK, SAYS DAVID ZASLAV
08/05/22 @ 9:12 am EST
Source:
Hollywood Reporter
| Categories:
DC
|
Comments
(0) |
E-mail Article
|
Add a Comment
Just two days after Warner Bros. Discovery made the stunning move to cancel the HBO Max film
Batgirl
, an unapologetic CEO David Zaslav sought to reassure Wall Street there is a cohesive plan for the future of DC,
Variety
reports.
"You look at Batman, Superman, Wonder Woman, Aquaman — these are brands that are known everywhere in the world," Zaslav said during an earnings call Thursday. "We have done a reset. We've restructured the business where we are going to focus, where there is going to be a team with a 10-year plan focusing just on DC. We believe we can build a much more sustainable business."
DC has long wished to emulate the success of the Disney-owned Marvel Studios, which Kevin Feige has built into the highest-grossing film franchise in history. Zaslav recently brought Feige's former boss, retired Disney film chief Alan Horn, on as an adviser. During the earnings call, Zaslav suggested DC would try to emulate the Marvel playbook.
"It's very similar to the structure Alan Horn, [former Disney CEO] Bob Iger and Kevin Feige put together very effectively at Disney. We think we can build a much stronger, sustainable growth business out of DC," said Zaslav. "As part of that, we are going to focus on quality. We are not going to release any film before it's ready. … DC is something we can make better."
"We are very excited about them. We've seen them. We think they are terrific, and we think we can make them even better," Zaslav said in terms of marketing and distributing the upcoming films, which also include
The Flash
, starring controversial actor Ezra Miller.