ARCHIE COMICS HAS GOT EVERYTHING COVERED!
07/01/11 @ 3:26 pm EST
Source:
|
Comments
(0) |
E-mail Article
|
Add a Comment
By Brian Hofacker

Flip through the latest issue of Previews and you will see that most titles from the "big two" are offered with at least one variant edition cover or interesting incentive editions such as "sketch" or "concept" art editions offering a glimpse into the art process, and the "virgin art" editions to show off the art uninterrupted by logo or copy.

It's no secret that in today's comic book market publishers have made a business of selling covers as much as they have the tales of heroes and villains, and although some fans are left disheartened by this costly trend, if the case is that the story and character take priority, there really should be little doubt that publishers are working primarily to benefit everyone in this ever-changing industry, especially since most publishers go to great lengths to crown their books with the work of top caliber artists such as Alex Ross, Frank Cho, Jim Lee, David Finch and many others.

Some fans consider the alternate covers a marketing tactic that has become out of control and problematic to the expectations of the veteran collector and the habits of the completist. However, fans should keep in mind that if the additional covers offer quality work and with no lasting change in final impression (unless to create further interest in the elements), most complaints sound off with very little acceptable legitimacy. That is not to say that all concerns are cynical noise; for instance, there are issues that many of the alternate covers of today, though great works of art, more often than not have very little to do with the story. Pin-ups or unrelated action scenes are always thrilling, and if the art is by the likes of top talent such as Alex Ross or David Finch can itself be worth the cover price. Still, one may want to ask if these designs are too far a stretch from the typical and iconic covers of decades past to be considered an effective part of the comic book genre. Is the offering of a cover that is separate from the main function of the work damaging to the lasting impression created by the overall product?

Fortunately, for anyone feeling lost in the escape of comic books, there is Archie Comics!

Archie Comics rarely strays from the recipe when it comes to their covers. The latest issue of Archie, Veronica or Betty is as perfect a coupling of story and cover as any comic has ever been. For decades, Archie Comics have made no illusions of being anything more than fun-filled stories wrapped in a timeless masterpiece by offering story-specific or related covers by an "Archie style" artist such as Stan Goldberg, Dan Parent and Jim Amish (who more often not are the interior artist as well; imagine that!)

One of the secrets to the success of Archie Comics is the "cliffhanger on the cover" design, which ranges from classic cases of Betty seeing Archie flirting with Veronica, to modernized situations of Veronica's cell phone being confiscated by her father.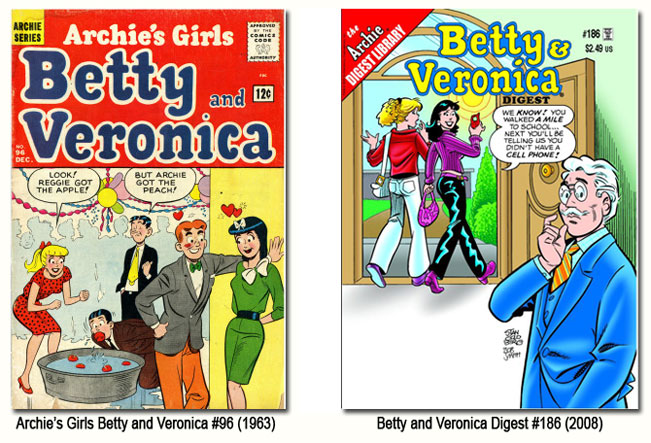 The "cliffhanger on the cover" is not unique to Archie Comics, as anyone privy to old tales by industry legends will tell; often times writers were made to develop stories around cover designs. It is a genius strategy, really; why wait for the end for the most exciting part of the book?

As enticing and exciting as these "cliffhanger covers" can be, Archie Comics find another alluring accomplishment with humorous covers. For instance, it's hard to resist a smile when gazing at the cover of Archie's Girls Betty and Veronica #30 (1951) when Veronica questions the bank teller to whether or not she draws any interest, to which he answers "I'll say you do!" while the gang gawk through the window.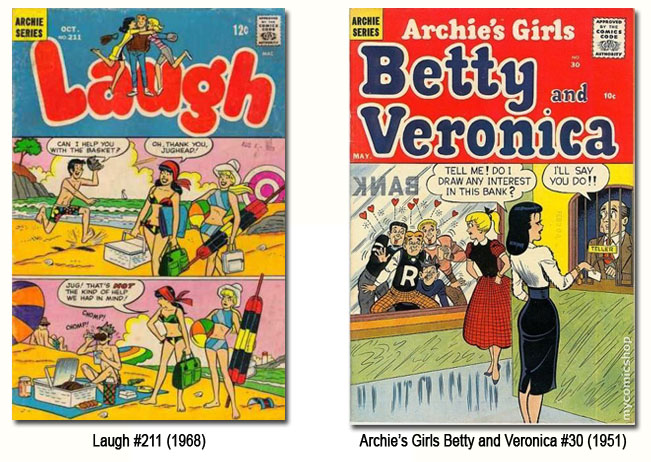 And Jughead, of course, is always a source of humor through either his hunger or practical wisdom.

Certainly not to be forgotten are Archie's girls. Long before there was Something about Mary, there was something about Betty and Veronica, and there's no doubt that the cover of Betty #192 and Veronica #206 proves it!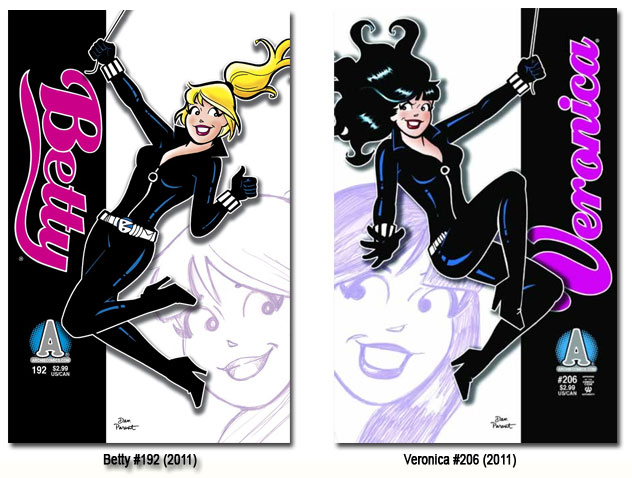 And Archie often agrees….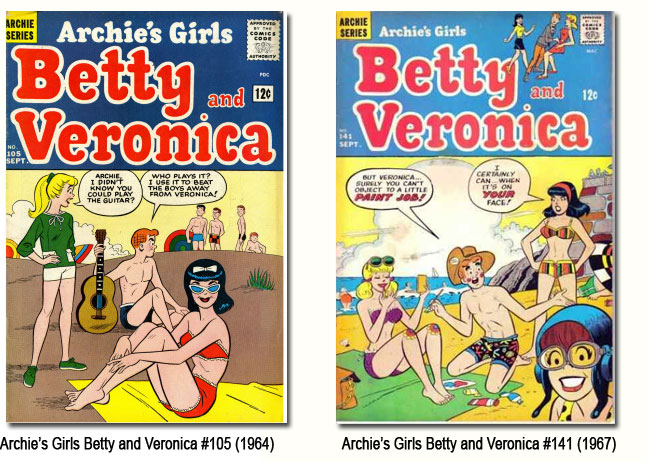 Iconic and friendly, Archie and the gang do not need variant covers and polybags to demonstrate their value in the shadow of the latest senses-shattering crisis or crossover. Sure, there is an overwhelming draw to see the Marvel Universe changed forever or the DC Universe rocked to its very core, but there is also genuine good time to be had in Riverdale for all generations; if not today, than somewhere in the over 70 years of incredible covers.

Becasue really… Wouldn't it be nice if we could all just say a magic word and escape to Riverdale once in a while?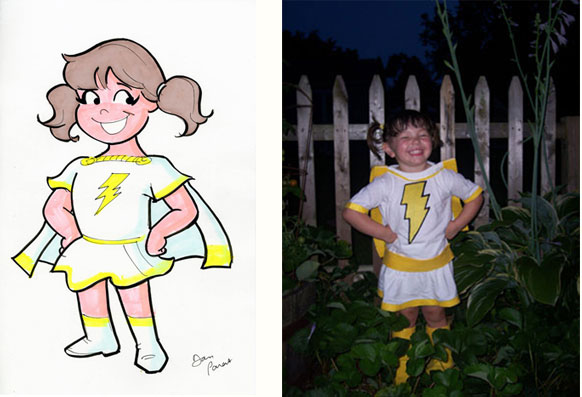 There you go, now go pick up an issue of Archie!
________________________________________________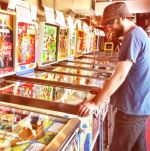 About Brian Hofacker:
When not saving the world from space monkeys, zombies and killer robots, Brian works for Dynamic Forces and Dynamite Entertainment, doing all kinds of cool stuff like marketing, editing and writing books such as the Art of Vampiralla. Brian also writes an occasional weekly/monthly/yearly columns, "What's in Brian's Bin" and "Literature in Comics 101" for DF. He is also the award-wanting creator/artist/writer/reader of DF Backing Board Theater. Currently Brian is hard at work on his novel Hookers and Hellfire: The Last Days of Post-Modernism, a work of didactic meta-fiction about hookers and hellfire and the last days of post-modernism. If you would like to be interviewed or if you have product that you would like reviewed for DF, please email brian@dynamicforces.com
DENNY O'NEIL COMIC BOOK ARTIFACTS SELL FOR OVER $33K AT AUCTION
03/04/21 @ 10:09 am EST
Source:
GamesRadar
| Categories:
MIsc
|
Comments
(0) |
E-mail Article
|
Add a Comment
Tools of the trade and books once belonging to legendary comic writer Dennis O'Neil are headed to new homes.
O'Neil, the longtime Batman and Green Lantern/Green Arrow scribe, passed away in 2020, and many of his belongings were auctioned off by Metropolis Collectibles via ComicConnect.com on March 2. The 31 lots in total sold for just over $33,000 (before 15% buyers' premium).
Many of the lots, 18 in all, were custom-bound volumes of O'Neil's work. One volume containing the very rare Canceled Comic Cavalcade, a nearly 1000-page omnibus DC rushed out in '78 to secure copyright on canceled titles, sold for a whopping $11,000. The previous known record for a copy of Canceled Comic Cavalcade (by itself) was $3860.
Another bound volume of O'Neil's work on The Question sold for a staggering $5000, buoyed by the fact that it contained O'Neil's handwritten notes on the book.
Some of O'Neil's personal items also went up on the auction block. His typewriter (and Batman mouse pad) sold for $430, while his desk went for $2766. (via
GamesRadar
)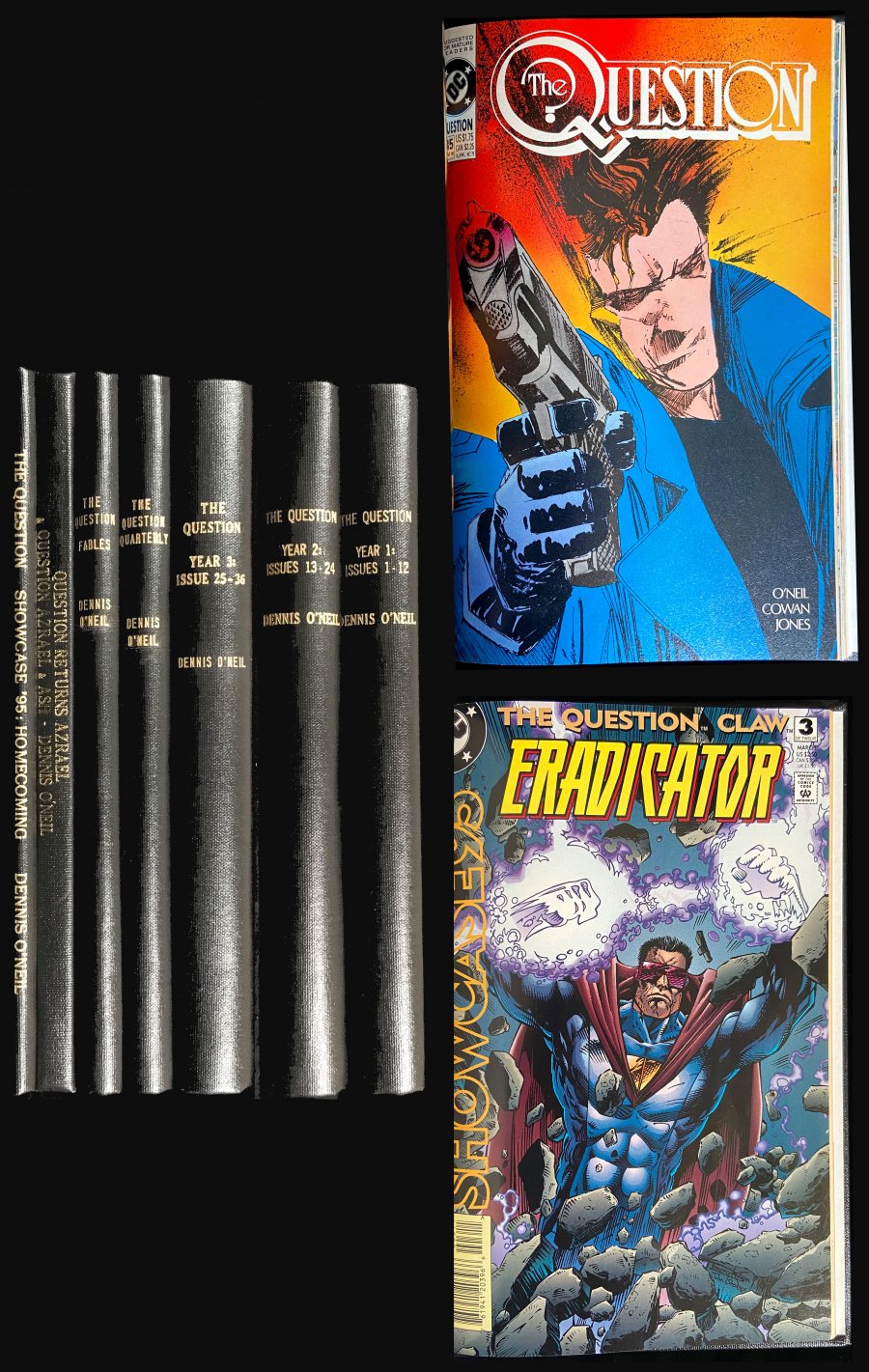 'SOUTH PARK VACCINATION SPECIAL' REVEALS FIRST TRAILER FOR NEW EPISODE
03/04/21 @ 9:59 am EST
Source:
ComicBook
| Categories:
MIsc
|
Comments
(0) |
E-mail Article
|
Add a Comment
South Park
is bringing out a brand new
Vaccination Special
this month on Comedy Central. The show released a trailer that picks up where things left off in Colorado.
Cartman, Stan, Kyle, and Kenny are all rocking masks and terrifying their neighbors. The boys will have to go gather as many vaccine doses as possible and try to get their teacher back. Some of the students at the school won't be on-board with the scheme. Others will try and help Cartman and his friends get all those dosages. People trying to stop distribution, others trying to finesse their way into an early shot, and other strange elements of modern life are all being targeted by the special.
The Pandemic Episode
last year took a similar approach by drawing on the entire news cycle of 2020. By the end, the characters were just exhausted and wanted a break from everything going on. So, it stands to reason there will be some other kind of statement near the end of this one. (via
ComicBook
)
South ParQ The Vaccination Special
will air on MTV2 on Wednesday, March 10th at 8 p.m. ET/PT.
Trailer:
https://youtu.be/0CtDvYhi3P4
'BLACK ADAM': THE ROCK'S DC FILM LANDS A SPRING START DATE
03/04/21 @ 9:50 am EST
Source:
CBR
| Categories:
DC
|
Comments
(0) |
E-mail Article
|
Add a Comment
Filming on Dwayne Johnson's
Black Adam
is set to begin this April, according to producer Hiram Garcia.
"We're getting started soon, you know actually, we begin filming in April, we'll be in Georgia, home away from home," Garcia said. "We're really excited man, we have everything is ramped up, we're so fired up for this."
Garcia also discussed how passionate he and Johnson were about making
Black Adam
a reality.
"This is very special to us, and you know, not only Black Adam, but JSA, and all these characters we're introducing to the world and, what we want to do with it, we're just... Look, we were supposed to have been filming last year. COVID, like it delayed everyone, it kinda got in the way, but we're happy we're able to pause, regroup, and now we're going to be getting going, and by April we'll be shooting and on track to bring this thing home."
The film has yet to receive a release date. (via
CBR
)
NICKELODEON GREENLIGHTS 'THE PATRICK STAR SHOW'; TO PREMIERE SUMMER 2021
03/04/21 @ 9:45 am EST
Source:
NickAlive
| Categories:
MIsc
|
Comments
(0) |
E-mail Article
|
Add a Comment
Nickelodeon has given the official greenlight to
The Patrick Star Show
(13 episodes), the second spinoff of the number-one animated series SpongeBob SquarePants. Produced by Nickelodeon Animation Studio,
The Patrick Star Show
is a family sitcom starring Patrick and the rest of his family as they are constantly disrupted by Patrick's wild whims and surreal imagination. The series will debut this summer on Nickelodeon.
"Nickelodeon is diving deeper into Bikini Bottom to give fans a look at our lovable young adult Patrick Star and his entire family with a sitcom only he could imagine up," said Ramsey Naito, President, Nickelodeon Animation. "This second original spinoff allows us to expand our reach, tell new stories and connect with our audience around the world who continue to love these characters."
The Patrick Star Show
follows a younger Patrick Star living at home with his family, where he hosts his own show for the neighborhood from his television-turned-bedroom. His little sister, Squidina, works behind the scenes to make sure Patrick's show is always running smoothly, while his parents, Bunny and Cecil and his grandpa, GrandPat, each support Patrick in their own hilariously absurd ways. The Star family's unpredictable adventures often inform, integrate, and sometimes even interfere with Patrick's TV show, but one thing is for sure: his bizarre life always makes for great television!
Longtime voice of Patrick Star, Bill Fagerbakke, lends his voice as the young adult Patrick alongside new cast members: Tom Wilson (SpongeBob SquarePants, Back to the Future) as Cecil Star, Patrick's fun-loving, happy-go-lucky dad who always puts his family first; Cree Summer (A Different World, Inspector Gadget) as Bunny Star, Patrick's loving, sea star mom who is a kooky oddball; Jill Talley (SpongeBob SquarePants) as Squidina Star, Patrick's eight-year-old little sister who sees herself as Patrick's executive producer for his imaginary TV show; and Dana Snyder (The Penguins of Madagascar, Chowder) as GrandPat Star, Patrick's genius grandpat, the most intelligent member of the Star family. Summer also voices Grandma Tentacles, Squidward's grandma.
Additional cast members include veteran actors Tom Kenny (SpongeBob SquarePants), Rodger Bumpass (Squidward Tentacles), Carolyn Lawrence (Sandy Cheeks), Clancy Brown (Mr. Krabs), Mr. Lawrence (Plankton). (via
NickAlive
)
WARNERMEDIA CHIEF JASON KILAR TEASES MYSTERIOUS 'HARRY POTTER' SEQUELS
03/04/21 @ 9:38 am EST
Source:
Hollywood Reporter
| Categories:
MIsc
|
Comments
(0) |
E-mail Article
|
Add a Comment
WarnerMedia CEO Jason Kilar talked about expanding the world of
Harry Potter
for HBO Max and Warner Bros. during an appearance at an investors conference on Thursday.
"There's this little thing called
Harry Potter
, which is one of the most beloved franchises. And we're incredibly thankful to be able to partner with J.K. Rowling and so I would argue there's lot of fun and potential there as well," Kilar told the Morgan Stanley Technology, Media and Telecommunications Conference during a session that was webcast.
Kilar did not elaborate on what those development plans might be, but recent speculation has pointed to Warner Bros. looking to expand the famed film franchise by putting a
Harry Potter
live-action TV series in early development at HBO Max.
And on the movie front, there's talk Warner Bros. could be developing a new tentpole based on the
Harry Potter and the Cursed Child
stage play. Discussion about possible sequels for
Harry Potter —
whose rights Warner Bros. controls along with creator J.K. Rowling — came as Kilar was talking about the creative fortunes going forward for Warner Bros.
And that trajectory continues to be bound up with HBO Max as WarnerMedia parent AT&T has placed a big bet on streaming with its direct-to-consumer offering. Kilar pointed to HBO and HBO Max now standing at a combined 41.5 million subscribers to date, well ahead of projections. (via
THR
)
'SOUL,' 'WOLFWALKERS' LEAD ANNIE AWARDS ANIMATED FEATURE NOMS
03/03/21 @ 10:29 pm EST
Source:
Hollywood Reporter
| Categories:
MIsc
|
Comments
(0) |
E-mail Article
|
Add a Comment
THR
reports that
Soul
and
Wolfwalkers
lead the Annie Awards feature nominations with 10 apiece. They are followed by
Onward
and
Over the Moon
, with seven apiece, and
The Croods: A New Age
and
The Willoughbys
, with six apiece.
Disney/Pixar's jazz-themed
Soul,
directed by Pete Docter and co-directed by Kemp Powers, is nominated for best animated feature, while
Wolfwalkers,
the Tomm Moore and Ross Stewart-helmed Apple original Irish fantasy produced by Cartoon Saloon and Melusine with domestic theatrical distribution from GKIDS, is nominated for best independent animated feature. Both movies scored nominations for directing, character animation, character design, FX, music, production design, storyboarding and writing.
Soul
is additionally nominated for editing while
Wolfwalkers
earned its tenth nom for voice acting (Eva Whittaker as Mebh).
Also nominated for best feature are
Onward, The Croods: A New Age, The Willoughbys
and
Trolls World Tour.
The best independent animated feature category also includes nominees
A Shaun the Sheep Movie: Farmageddon, Calamity Jane, On-Gaku: On Sound
and
Ride Your Wave.
The category for an independent animated film was added to the event in 2015. In four of the last five years, the winner of the best animated feature category went on to win the Oscar for best animated feature.
The Annie Awards for animation will be presented by ASIFA-Hollywood during a virtual ceremony on April 16.
A complete list of nominations can be seen
by clicking here
.
'DR. BRAIN' KOREAN WEBTOON TO GET LIVE-ACTION TV SERIES
03/03/21 @ 10:22 pm EST
Source:
Variety
| Categories:
MIsc
|
Comments
(0) |
E-mail Article
|
Add a Comment
Variety
reports that Apple has ordered a live-action series adaptation of the Korean webtoon
Dr. Brain
. The series will be the first completely Korean-language project at the streamer.
Kim Jee-Woon will write and direct, with
Parasite
star Lee Sun-Kyun set to star. The series is currently in production in South Korea and is slated to debut later this year.
Dr. Brain
follows a brain scientist who is obsessive about figuring out new technologies to access the consciousness and memories of the brain. His life goes sideways when his family falls victim to a mysterious accident, and he uses his skills to access memories from his wife's brain to piece together the mystery of what actually happened to his family and why.
SILK: NEW SHOWRUNNER, CASTING DETAILS REPORTEDLY REVEALED
03/03/21 @ 10:16 pm EST
Source:
ComicBook
| Categories:
Marvel
|
Comments
(0) |
E-mail Article
|
Add a Comment
A lot of characters from the Marvel Comics universe are set to head to the small screen in the coming years, between an array of Marvel Studios series set for Disney+, and Sony series that are expected to debut on Amazon Prime. The first series announced for the latter category is
Silk
, a live-action series that is expected to follow the story of Cindy Moon.
While details have been relatively slim since the series was announced last year, a new report from
The Illuminerdi sheds light on how the cast and crew of the series are coming together. The report indicates that Sang Kyu Kim (The Walking Dead, Jupiter's Legacy) is set to serve as showrunner and executive producer on the series.

The report also includes a casting description for Cindy Moon, who is described as a Korean-American between 19 and 29 years old who is a kid from Queens who is on her own for the first time. Although she's a total beginner in law enforcement and fighting crime, she is said to love the feeling of beating up criminals to let her frustrations out, and has an affinity for '80s and '90s pop culture. She also struggles with her identity and heritage, but she tries to focus on her family, friends, and relationships.

While there's no telling exactly who will be cast in the lead role, the report also reveals that producers Phil Lord and Chris Miller have reportedly met with actress Adeline Rudolph, who is best known for her role on Chilling Adventures of Sabrina and currently appears on Riverdale.

Good Trouble and Atypical alum Lauren Moon was previously in talks to write the Silk series. The show will be part of Lord and Miller's overall deal to develop Spider-Man-themed TV shows. (via ComicBook)
LIVE-ACTION 'PINOCCHIO' CASTS JOSEPH GORDON-LEVITT AS JIMINY CRICKET, CYNTHIA ERIVO AS BLUE FAIRY
03/03/21 @ 10:33 pm EST
Source:
Variety
| Categories:
Disney
|
Comments
(0) |
E-mail Article
|
Add a Comment
Variety
reports that Jospeh Gordon-Levitt will provide the voice of Jiminy Cricket, while Cynthia Erivo will play the Blue Fairy in Disney's live-action retelling of
Pinocchio
.
They join a cast that includes Tom Hanks as Geppetto and Luke Evans as The Coachman. In addition, Benjamin Evan Ainsworth, who previously starred in
Flora and Ulysses
, will voice Pinocchio, the puppet who dreamed of becoming a real boy, with Keegan-Michael Key as the voice of Honest John and Lorraine Bracco as the voice of Sofia the Seagull, a new character.
Pinocchio
will combine live-action elements with extensive visual effects.
The film will be directed by
Forest Gump's
Robert Zemeckis and written by Zemeckis and Chris Weitz. Production will begin this month in the U.K. and the film will debut on Disney Plus, the company's streaming service. Andrew Miano and Weitz are producing through their company Depth of Field along with Zemeckis's Imagemovers.
ANIME EXPO 2021 CONFIRMS VIRTUAL EVENT
03/03/21 @ 10:03 pm EST
Source:
ComicBook
| Categories:
MIsc
|
Comments
(0) |
E-mail Article
|
Add a Comment
Anime Expo was just one of many conventions last year, anime or otherwise, that was forced to transition from an in-person event to a virtual one, and it seems as if the long-running convention might be disappointing fans as they confirm that they will be following suit this year with their 2021 Con taking place virtually.
In an official statement, the convention noted that the event which was slated for this summer, in the month of July specifically, would need to take place digitally thanks to the coronavirus pandemic still in the world today.
In the official statement delivered by Ray Chiang, the Chief Executive Officer for the Society of the Promotion of Japanese Animation, the convention is confirmed to be going completely virtual for its 30th-anniversary event that will be landing this summer:
"With the continued uncertainties surrounding the COVID-19 pandemic, it is apparent that we will not be able to safely hold a physical show this July for Anime Expo 2021. We will miss gearing up for a full weekend of parading around the LACC and reuniting with friends just as much as you will, but we take comfort in knowing this separation is only temporary and that it's the right thing to do. While we're not able to meet in-person, we still want to celebrate 2021 in honor of our 30th anniversary, and we will continue to share stories, photos, and memories with #AnimeExpo30th!" (via
ComicBook
)