SEVERAL 'X-MEN' FILMS COMING TO DISNEY+ THIS SUMMER
06/29/20 @ 9:48 pm EST
Source:
Nerdist
| Categories:
Marvel
|
Comments
(0) |
E-mail Article
|
Add a Comment
This year marks the 20th anniversary of the original
X-Men
film. Though they're not part of the Marvel Cinematic Universe, they got the Marvel movie domination ball rolling. And that first
X-Men
movie is one of four films in the franchise coming to Disney+ this summer. The 2000 blockbuster arrives on the service on Friday, August 7th.
X-Men: Days of Future Past
drops July 10th,
X-Men: Apocalypse
on July 17th, and finally,
The Wolverine
lands on Sepember 4th. The 2005
Fantastic Four
movie is also coming to the streaming service on August 28th.
But that's not the only Marvel action coming to Disney+ this summer.
Ant-Man and the Wasp flies in on Friday, August 14th, making Disney's MCU library almost complete. The only missing titles from the MCU at this point will be Sony's two Spider-Man films, along with The Incredible Hulk. Universal distributed the latter. (Nerdist)


GEM MINT COLLECTIBLES TEAMS WITH DYNAMITE FOR HIS FIRST EXCLUSIVE VARIANT
12/02/20 @ 5:20 pm EST
Source:
Dynamite
| Categories:
Dynamite
|
Comments
(0) |
E-mail Article
|
Add a Comment
Dynamite is linking up with fan-favorite comic book and collectibles YouTuber Gem Mint Collectibles for his first-ever exclusive variant cover. Featuring a stunning Vampirella by artist Ken Haeser and incorporating Gem's signature diamond imagery,
fans can get this limited collectible comic on Indiegogo now!
"I'm beyond excited to work with Dynamite for my first exclusive cover!" said Stephen Small aka Gem Mint. "Ken did a great job delivering my vision of Vampirella holding a gem surrounded by loot. I know fans of the channel and Dynamite are going to dig this unique cover!"
Today Gem Mint Collectibles is one of the foremost destinations for comic book, graphic novel, statue and trading card collectors on YouTube. Gem got his start on Instagram in 2014 building up his name by selling and trading comics and key issues. Then he kicked off his channel on YouTube and just a couple years later is rounding the corner on 100 thousand subscribers and 15 million views. Fans come to him for his laid back personality, fun streams and discussions with his wife Phie, and all the latest news and reviews. With a specialty in unboxing and analyzing the biggest statues, biggest books and keeping fans updated on the biggest keys, he's an essential source for collectors.
For his first-ever exclusive variant cover, Dynamite brought in acclaimed and multitalented creator Ken Haeser. He's a graduate of the prestigious Kubert School of cartoon and graphic art and is best known for his creator-owned series
The Living Corpse.
His diverse, adaptable style has graced the covers, interiors, and scripts of such wide ranging properties as
Grumpy Cat, Batman, Teenage Mutant Ninja Turtles, Back to the Future,
and much more.
The Indiegogo campaign offers a bounty of options for all kinds of collectors. For the same sweet price, the cover can be had with traditional trade dress, as a virgin logo-free edition, or in black and white. A discounted combo deal offers all three main variants as one package. Fans looking for something more one-of-a-kind or collectible can opt for copies signed or remarked by Ken Haeser, or CGC graded copies!
With Gem Mint's prestige among statue collectors, Dynamite is also offering two of its most popular recent Vampirella statues as an add-on to pledges. A stunning sixth scale piece is modeled after one of the most iconic images of the Daughter of Drakulon by definitive artist Jose Gonzalez. A beautiful bust statue pulls from and expands on superstar Stanley "Artgerm" Lau's sold-out cover for
Vampirella
#2. Stay tuned to the
Gem Mint Collectibles YouTube channel
for a closer look at these statues and discussion of the new variant. And make sure to follow Dynamite across social media for news on any stretch goals or additions to the campaign.
Underneath the exciting new exclusive cover is the yet to be released
Vampirella
#16. This issue kicks off the epic second-year cycle of the smash-hit 50th-anniversary relaunch of Dynamite's flagship character. The always daring, boundary-breaking, critically acclaimed Christopher Priest continues his "Netflix-style" take on the character as he continues to introduce new characters, reimagine classic ideas, and bring in insightful themes. The vampiric vixen must now return to her home planet of Drakulon in search of her missing mother, with whom she has a very complicated relationship. But first she must find the man who brought her to Earth in the first place and re-create the miraculous moment from her origin. Fans can also pick up issue #15 in stores now for a great standalone issue between arcs.
GET YOURS HERE!
AUBREY PLAZA JOINS JASON STATHAM IN GUY RITCHIE'S NEW UNTITLED THRILLER
12/02/20 @ 4:07 pm EST
Source:
Deadline
| Categories:
MIsc
|
Comments
(0) |
E-mail Article
|
Add a Comment
Following her scene-stealing role in the romantic comedy
Happiest Season,
Aubrey Plaza is switching genres as she is set to co-star Jason Statham in the Guy Ritchie untitled thriller formally known as
Five Eyes
. Miramax is producing and financing with STX handling distribution.
The film was sold at the TIFF Virtual sales room and became one of, if not the biggest sale, during the market, as STX aggressively pursued it after working with Ritchie on
The Gentlemen.
Ritchie will direct and produce from a screenplay written by
The Gentlemen
scribes Ivan Atkinson and Marn Davies with revisions by Ritchie. Atkinson will also produce. Miramax will finance and produce with STXfilms, who most recently worked with Ritchie on
The Gentlemen
, is handling worldwide distribution and sales.
The story follows MI6 guns-and-steel agent (Statham) who is recruited by a global intelligence alliance to track down and stop the sale of a deadly new weapons technology that threatens to disrupt the world order. Reluctantly paired with CIA high-tech expert, Fortune sets off on a globe-trotting mission where he will have to use all of his charm, ingenuity and stealth to track down and infiltrate billionaire arms broker. (via
Deadline
)
EASTMAN & LAIRD'S 'TEENAGE MUTANT NINJA TURTLES: THE LAST RONIN' WILL HAVE A MASSIVE SECOND PRINT RUN
12/02/20 @ 3:51 pm EST
Source:
IDW
| Categories:
TMNT
|
Comments
(0) |
E-mail Article
|
Add a Comment
With more than 37,000 current preorders and climbing, IDW is proud to announce that high anticipation for the second printing of
Teenage Mutant Ninja Turtles: The Last Ronin
#1 has necessitated a whopping 50,000-unit print run — the largest reprint quantity in the company's history since their debut 20 years ago! Longtime
TMNT
readers and curious newcomers are invited to visit their local comic book shops next Wednesday, December 9th, to snag a copy of this comic book milestone!
An epic miniseries three decades in the making from the minds of
TMNT
co-creators Kevin Eastman and Peter Laird,
Teenage Mutant Ninja Turtles: The Last Ronin
takes place in a future New York City far different from the one we know today, where a lone surviving Turtle goes on a seemingly hopeless mission to obtain justice for his fallen family and friends. The debut issue hit stands on October 28th, immediately selling out and prompting a new printing that features a re-colored cover by Eastman, Esau Escorza, and Isaac Escorza.
"I want to reach out to all of the incredible fans and comic book retailers who went above and beyond with their support for
The Last Ronin
!" says Eastman. "It's taken thirty-two years to bring it to life, and even in the middle of a tumultuous year of production, you all waited for us to get the job done right… and showed us some serious love! We appreciate you all -- stay safe and stay tuned, because the rest of the series is coming soon!"
The Last Ronin
is based on an unpublished 1987 story concept by Eastman and Laird, with script by Tom Waltz, layouts by Eastman, pencils and inks by Esau and Isaac Escorza, colors by Luis Antonio Delgado, letters by Shawn Lee, and edits by Bobby Curnow. The series will run for five issues, with each issue oversized at 7" x 11" and 48 pages in length. IDW publisher Nachie Marsham says, "The huge success of
The Last Ronin
is a testament to the enduring fandom for
Teenage Mutant Ninja Turtles
and the creative team's ability to knock it out of the park. We're overwhelmed with gratitude for the fans, the retailers, and everyone involved creatively on the project —
The Last Ronin
is a wonderful example of what makes these characters special to so many readers, and to the strength of storytelling in comics."
Fans eagerly awaiting the next chapter in the
TMNT: The Last Ronin
storyline will be looking forward to the January 27th release date of issue #2! Secrets of this dark future will be revealed as The Ronin meets an unexpected new ally and the Foot Clan attempts to thwart his mission of vengeance.
"We hit the ground running with issue #1, and have no intentions of letting up with the second issue or beyond," says Waltz. "If you think the future looks dramatic for our last ronin, just wait until you see the history that has brought him to this point!"
For information on how to acquire copies of
TMNT: The Last Ronin
comic books, please contact your local comic shop or visit
www.comicshoplocator.com
to find a store near you.
HUGH KEAYS-BYRNE, DASTARDLY VILLAINS IN 'MAD MAX' FILMS, DIES AT 73
12/02/20 @ 3:41 pm EST
Source:
Hollywood Reporter
| Categories:
MIsc
|
Comments
(0) |
E-mail Article
|
Add a Comment
Hugh Keays-Byrne, who portrayed Toecutter in
Mad Max
before returning 36 years later to play another villain for Australian director George Miller, Immortan Joe, in
Mad Max: Fury Road
, has died. He was 73.
Brian Trenchard-Smith, who directed Keays-Byrne in the 1975 film
The Man From Hong Kong
(also known as
The Dragon Flies
), reported that the actor died Tuesday in hospital. No other details were immediately available.
Keays-Byrne also was known for his turn as the back-stabbing Grunchlk on the Australian-American series
Farscape
and a 2004 miniseries.
Miller cast Keays-Byrne as the ruthless biker/gang leader Toecutter in the low-budget
Mad Max
(1979), then asked the actor to return to the franchise as Immorten Joe, the oxygen-mask-wearing leader of a post-apocalyptic village who uses women to birth his followers, in
Mad Max: Fury Road
(2015).
In an interview with
USA Today
, the filmmaker said he wanted to bring back Keays-Byrne because an early print of the original
Mad Max
was released with a poor American dub of his voice. "I always felt so guilty about that. I thought I had to make up for it in some way," he said.
Keays-Byrne also was reportedly on board to play the Martian Manhunter in Miller's Justice League film that was set for a 2009 release but abandoned. (via
THR
)
DF News extends its sincere condolences to Mr. Keays-Byrne's family, friends and fans.
'MOTORHEADS': TEEN DRAMA SERIES IN THE WORKS AT IMDB TV
12/02/20 @ 3:34 pm EST
Source:
Deadline
| Categories:
MIsc
|
Comments
(0) |
E-mail Article
|
Add a Comment
Deadline
reports that IMDb TV is developing
Motorheads
from John A. Norris and Cavalry Media, a coming-of-age ensemble drama that leans into the escapism and joy that comes from everything from changing the oil on your first car to your first kiss. In a blue collar steel town trying to reinvent itself, some characters will navigate the hierarchy and rules of high school, while others will be running from a dark past looking for new beginnings.
Norris is currently an EP on The CW's
All American
. Prior to that, he served as a Co-EP on CBS'
Bull,
a Co-EP on ABC's
Deception
and as Supervising Producer on The CW's
One Tree Hill
. Norris was also an EP and Co-Showrunner on VH1's comedy series
Hindsight
.
Says Cavalry Media Co-founder Dana Brunetti, "In such a challenging year, it's refreshing to see IMDb TV be so bullish with an exciting, new and original series. We were fortunate to find a talented and seasoned showrunner like Johnny Norris to bring this idea to life with a thrilling and diverse world of characters and stories."
'WONDER WOMAN 1984' EYES EARLY DEBUT ON DEMAND IN U.K.
12/02/20 @ 3:28 pm EST
Source:
Variety
| Categories:
DC
|
Comments
(0) |
E-mail Article
|
Add a Comment
Wonder Woman 1984
" will play in cinemas in the U.K. for just one month from Dec. 16 before potentially getting a premium video-on-demand (PVOD) release on Sky,
Variety
reports.
It's understood that the deal between Warner Bros. and Comcast-backed pay-TV operator Sky isn't yet complete and exact terms are still being hammered out, but discussions are in advanced stages. While the blockbuster sequel starring Gal Gadot won't appear in theaters and on the movie service day and date, the move signifies unprecedented flexibility on the part of the country's exhibitors.
Sources indicate that the Wednesday, Dec. 16 theatrical release date for
Wonder Woman 1984
first mooted by Warners last week in its international release plan has now been confirmed with local exhibitors. Meanwhile, it's believed that
Wonder Woman 1984
could drop on Sky as early as one month after the movie hits theaters, though this isn't yet confirmed. The film could appear in various forms on Sky — for example, it may be rented via a standard transactional VOD deal through Sky Store, and then land on movie service Sky Cinema.
The Sky deal is a clear sign of the times in the U.K. and it's worth noting that exhibitors are keen for the arrangement to be an exception made in extraordinary circumstances rather than the rule going forward.
CHRIS CLAREMONT RETURNS TO WOLVERINE
12/02/20 @ 8:46 am EST
Source:
Marvel
| Categories:
Marvel
|
Comments
(0) |
E-mail Article
|
Add a Comment
Marvel Comics has announced a new and exclusive Wolverine story by legendary X-Men creator Chris Claremont!
Anyone who orders the Marvel Made Paragon Collection: Chris Claremont Premier Bundle, will also receive a 20-page, bagged and boarded comic book featuring a cover by iconic artist Steve McNiven! This story will be included alongside a gorgeous faux-leather, hand-numbered hardcover that collects a handful of Claremont's most notable works, alongside other exclusive offerings like lithographs from renowned artists Joe Quesada, Art Adams, Marcos Martin, Phil Noto, Salvador Larroca, and Philip Tan, and an exclusive variant comic book cover of WOLVERINE (2020) #6 by Olivier Coipel. To make the hardcover one of the most rare and sought after collectibles for all X-Men fans, each copy will be signed by Chris Claremont and include one of four iconic X-Men quotes handwritten by the author.
Tied directly into Wolverine's classic 1982 series, this new comic story will be a standalone tale that expands on Logan's redemptive saga in Japan.
"Time passes—unnoticed—and the hours I spent pitching to Frank in a mid-summer I5 tailback (that's a "traffic jam" for everyone on the west side of the Pond) became a 4-issue triumph," recalls Claremont of his 1982 run.
"Not so long after that, those issues were joined by a two-part sequel to become something even better. For me, it was a chance to work with Frank Miller and Paul Smith—two of the finest storytellers in this business, then and now—to create a story that reads as well today as it did then. Action-a-plenty, sure, but most satisfying of all for me, characters that were visually alive and emotionally vital. And those characters are who we'll be seeing again in this exclusive new book."
This issue is only available as part of the Marvel Made Paragon Collection: Chris Claremont Premier Bundle. Make sure you order yours now, (or gift to the X-fan in your life), and don't miss the opportunity to own this rare and essential comic.
The Marvel Made Paragon Collection: Chris Claremont Premier Bundle
is available for pre-order on
MarvelMade.net
.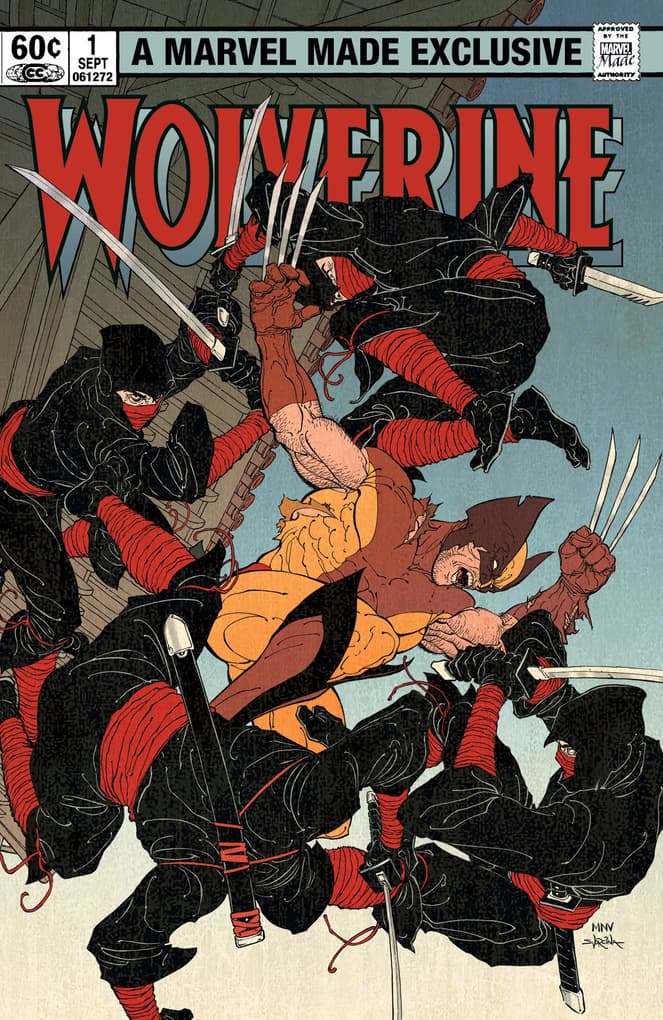 'SPACE BASTARDS' TO DEBUT WITH BLACK LIGHT VARIANT
12/02/20 @ 10:01 am EST
Source:
ComicBook
| Categories:
MIsc
|
Comments
(0) |
E-mail Article
|
Add a Comment
Artist Dan Panosian will provide a one-in-ten variant cover when Humanoids debuts new comic book
Space Bastards
by
The Boys
artist and co-creator Darick Robertson and writers Eric Peterson and Joe Aubrey this January.
What's so special about it? Well, you can see -- under black light. Rather than going with a foil variant or a die-cut cover, Humanoids sprung for a black light variant for Panosian's cover, one of three that also includes a 50/50 virgin variant cover by Robertson himself.
The series marks another potentially franchise-friendly, creator-owned book with Robertson's name on it, after things like
Transmetropolitan
,
The Boys
,
Happy!
, and
Oliver
, his latest Image Comics title with
Rogue One: A Star Wars Story
scribe Gary Whitta. (via
ComicBook
)
In
Space Bastards
, David S. Proton is a meek, unemployed accountant desperate for money. He joins the Intergalactic Postal Service only to be paired with Manny Corns (a.k.a. "The Manicorn"), a sardonic brute who thrives on the competition provided by the company. And things only get worse from there.
The oversized debut issue of
Space Bastards,
which will feature 44 pages of story, drops on Wednesday, January 13.
'SUPERMAN & LOIS' STAR SHARES BEHIND-THE-SCENES LOOK AT SAFETY MEASURES ON SET
12/02/20 @ 6:58 am EST
Source:
ComicBook
| Categories:
DC
|
Comments
(0) |
E-mail Article
|
Add a Comment
The ongoing COVID-19 pandemic turned the entertainment industry upside down earlier this year with production shutdowns, but many television shows have been back at work for several weeks now including shows in The CW's Arrowverse.
In Vancouver, where many of those shows film, production is underway on several shows including the upcoming
Superman & Lois
, albeit production with a whole host of new safety protocols. Now,
Superman & Lois
star Elizabeth Tulloch is showing off some of those protocols on social media.
On Twitter, Tulloch shared photos of just two of the ways the set of the upcoming Arrowverse series is encouraging social distancing, including an orange safety cone with a "stay 6 feet apart" displayed on it and a sign on a seat that very clearly says "do not sit here", both with the Superman emblem. (via
ComicBook
)
Superman & Lois
is set to debut Tuesday, February 23, 2021 at 9 p.m. ET/8 p.m. CT on The CW.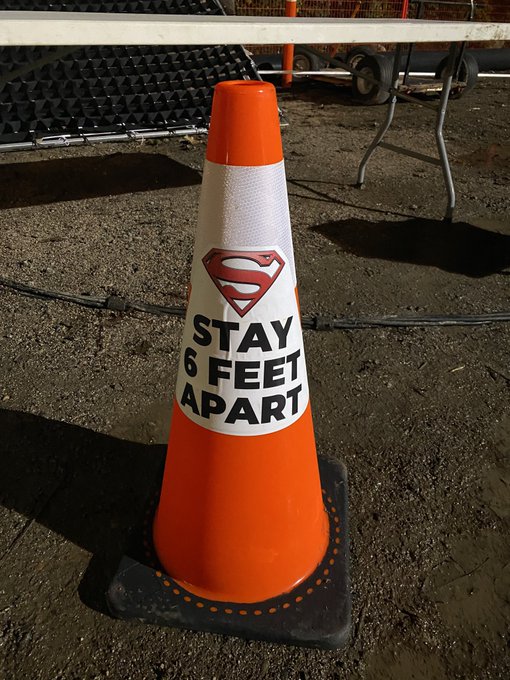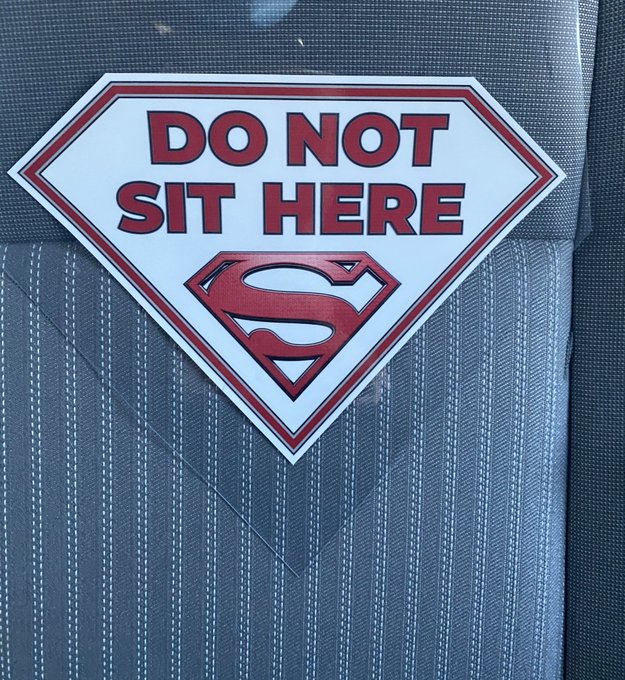 LUCASFILM REPORTEDLY WANTS SEBASTIAN STAN FOR YOUNG LUKE IF MARK HAMILL APPROVES
12/02/20 @ 6:52 am EST
Source:
We Got This Covered
| Categories:
Star Wars
|
Comments
(0) |
E-mail Article
|
Add a Comment
Mark Hamill has reiterated on several occasions that the conclusion of the Skywalker Saga coincided with the end of his time portraying Luke Skywalker. Of course, out of all the legacy players who returned for the Sequel Trilogy, Luke's contribution was arguably the weakest in the grand scheme of things, although that's no fault of the actor.
The most famous Jedi in the galaxy was seemingly given a pretty short shrift. After appearing onscreen for about two seconds at the end of
The Force Awakens
, the depiction of Luke in
The Last Jedi
was completely at odds with the character, something that Hamill admitted he wasn't happy with. Now a bitter loner instead of the beacon of hope he once was, Luke eventually saves the day before dying, and his return as a kindly Force Ghost in
The Rise of Skywalker
was viewed as just one of many retcons.
There've been rumors sweeping the internet lately that Luke Skywalker could be poised to show up again in that galaxy far, far away, either in a prequel movie or a cameo appearance in
The Mandalorian
, and Sebastian Stan (MCU's Bucky Barnes/Winter Soldier) has been linked to a younger version of the iconic figure for a while now, something which has gained some real traction online. In fact, some insiders have claimed that Lucasfilm is leaning in the same direction as the fans. However, that would reportedly come with the caveat that Hamill would have personal approval over the person cast as his successor. (via
We Got This Covered
)