DF INTERVIEW: ERICA SCHULTZ DELIVERS 'THE DEADLIEST BOUQUET'
06/27/22 @ 10:40 am EST
Source:
Dynamic Forces
| Categories:
MIsc
|
Comments
(0) |
E-mail Article
|
Add a Comment
DF Interview: Erica Schultz delivers 'The Deadliest Bouquet'
By Byron Brewer
Jasmine Hawthorn was a hard-edged Nazi hunter who trained her children well in the art of espionage. But in 1998, when her complicated past finally catches up with her, it's up to her three estranged daughters, Rose, Poppy and Violet, to solve their mom's murder – if they can avoid killing each other in the process.
From Image Comics comes The Deadliest Bouquet, written by Erica Schultz with art by Carola Borelli and Gab Contreras. I know a good story when I hear of one, so I set out to quiz my friend, scribe Erica Schultz, about this coming comics mini-series.
Byron Brewer: Erica, the basic story behind your espionage limited series The Deadliest Bouquet has danced around your brain for some time now. Tell readers the inspiration for this comic.
Erica Schultz:
Honestly, and I know how this sounds…but I don't know where the idea came from. I was on the phone with another comics creator, Liana Kangas, and I blurted out the idea of this family with three generations of assassins. It would span from before the Second World War to the mid- to late 1990s, and throughout those decades, the story would explore generational trauma, family dynamics, and how we all deal with the world around us.
When I write, I create a timeline of significant events like the birth and death of characters, as well as things that would push a character into a new trajectory. So I started with the grandparents of the three main characters. Who were their parents? What kind of life did they live? How did those lives intersect, and what was the outcome?
I had a lot of false starts on the story, and there are several scenes that are written that didn't make it into the final printed version. Shout out to story editor James Emmett for helping find the most important parts that would streamline the story. And who knows? Maybe if there's a streaming series made of it, it will explore all the other bits and bobs. (wink wink)
Byron: I immediately thought of Charlie's Angels when I read the solicit for Bouquet. Can you introduce the three sisters here who are your chief protagonists – Rose, Poppy and Violet? Who are they?
Erica Schultz:
Rose, Poppy and Violet are three young women with a very unusual upbringing. Jasmine, their mother, whose death is the impetus for the story, taught them about being assassins and protecting themselves.
Rose is the oldest, and she's the one who has gone out of her way to be the most responsible. Taking on all that responsibility comes with a price, though. It's a combination of resentment and an inflated self worth. Rose is resentful for not living a life she wants to live because she's saddled with the family business (a flower shop), but she also makes sure her two younger sisters know that she's the one in charge.
Poppy is the middle child. She left home after some credits at a community college because her boyfriend proposed. Poppy saw her marriage to Derek as a way out of the dysfunctional family dynamic. She raised her two kids without any knowledge of how she was trained or what happened to her as a child. Unfortunately, because of Jasmine's death, Poppy is brought back into the fold, and she's forced to confront the family and dysfunction that she tried so hard to keep in her rear view mirror.
Violet is the youngest. She's the most erratic and petulant. She's also the one who will fight to the death for her family. Violet left home not to pursue a family life but because she felt Jasmine was holding her back. The only one to continue the "art of assassination," Violet travels the world modeling…and picking up hits along the way. Violet will never back down from a fight no matter who the antagonist is. And heaven help you if you threaten her family in any way.
Byron: I am very intrigued with the girls' mother, Jasmine Hawthorn, a hard-edged Nazi hunter who trained her daughters in the art of espionage. Without spoilers, can you offer some hints as to her backstory as a Nazi hunter?
Erica Schultz:
More is written in my notes for the story (which is why it NEEDS a streaming series), but Jasmine was born just after World War II. She had a twin brother named Chrys, and the two were raised with their parents among a motley crew of fighters and soldiers from all over the world who were tasked with finding Nazis who escaped prosecution in the final days of the war. Leif and Dahlia, Jasmine's parents, raised her and Chrys to speak multiple languages, use all different types of firearms and weapons, and how to kill without being caught. Raised within a multicultural and multinational group, Jasmine learned everything she could. She had a very strong moral compass that pointed due North. But she was broken when her brother was killed on their first mission. Believing it was her fault, Jasmine ran away to the U.S. where she met Lionel Hawthorn.
Lionel was an only child who loved flowers and plants. He met Jasmine while she was admiring the greenery at the Bronx Botanical Gardens. She was using her skills as a thief to survive in New York, but she saw Lionel as a way to survive. She also saw his abuse of her as penance for her brother's death.
Far too often, domestic abuse survivors blame themselves directly for the abuse or assume God or someone is punishing them for something they did. Jasmine felt so responsible for Chrys' death that she endured Lionel's abuse. Then one day…she didn't take it anymore.
Byron: What other characters we will encounter through this 5-issue series can you spotlight here for readers?
Erica Schultz:
There are glimpses of Dahlia, Jasmine's mother, as well as Jasmine in the past. Lionel makes an appearance, too. The story spans decades, so there are a lot of flashbacks. Think of it like the show This Is Us where you see the same people in different times in their lives.
We'll also be introduced to two cops: Detective Bayani and Officer Gutierrez. They're investigating Jasmine's murder. Rose, Poppy and Violet have to make sure they don't go digging too deep… especially in the backyard.
Byron: A spy story MUST have a behind-the-scenes manipulator or similar, even as a MacGuffin. Hoping to sidestep a "Read the book" response, can you give readers any indication or clues at all that a character indeed plays this role here? And if yes, I am assuming The Fourth Reich may have something to do with it also?
Erica Schultz:
Not to disappoint you or the rest of the readers, but the story has more to do with the sisters, their relationships with their mother, and their relationships with each other than it does with any Reich. The environment we're forged in tends to influence whom we become. Jasmine's upbringing was definitely influenced by going after Nazis who fled Germany and other occupied areas. Rose, Poppy and Violet were trained not to hunt Nazis, but to protect themselves, albeit to the nth degree. It's more family drama and murder mystery with a dash of international espionage than my previous book, M3.
If there are any MacGuffins to be had, it's in the exploration of Jasmine's past and present to try and discern who murdered her.
Byron: Solicit materials from Image Comics put this story happening, at least in part, in the late 1990s and term it "nostalgia". (I am at the age when I think of the 90s as ten years or so ago, LOL!) Tell us a little about what artist Carola Borelli and you may have done to research the period for this unique series.
Erica Schultz:
The "present-day" part of the story dealing with Rose, Poppy Violet, and Jasmine's murder takes place in February 1998. I was a junior in college then, so research for me was just opening up a shoe box of photos.
I pulled a good deal of reference for Carola for fashion and some of the technology that was used then. In 1998, there was a grunge meets pop meets enthusiasm for the new millennium vibe in the air. People didn't know what to expect from Y2K. Some people had cell phones. If you weren't super rich, you'd have to wait until 9 p.m. to call someone, because then it wouldn't use up your minutes.
All those very 90s influences are reflected in the aesthetic of the story.
I pitch it as Clueless meets Singles meets Law & Order.
Byron: Talk about the art of Carola Borelli and why it is the right fit for The Deadliest Bouquet. We might want to mention colorist Gab Contreras as well.
Erica Schultz:
There were several false starts with this project, and it was a back and forth to find an artist. Carola was a great fit because she keyed in on not only the acting of the characters emoting, but also the style of clothes, and the attitude of each of these sisters. Rose, Poppy and Violet all have very strong personalities, and they come out in different ways. Carola is able to really convey the emotion of a scene and bring what the character is thinking to the forefront.
If you've ever heard me on a podcast talking about how comics are made, I usually say that every step should make the comic better. You have great line art; it's going to be made better by great colors. Gab brings the palette of the mid to late 90s to enhance Carola's linework.
Byron: Erica, what coming projects in which you are involved can you tell readers about here?
Erica Schultz:
While I can't talk about everything I'm currently working on, I have some projects that are coming out in the next few months.
Moon Knight Black, White and Blood #3 is out in July from Marvel and features a story written by me and drawn by the incredible David Lopez. I'm a huge fan of Moon Knight, and getting the opportunity to write him is a bucket list item I'm glad I get to check off.
The trade paperback of Bylines In Blood is out in August from AfterShock. This story was so much fun to work on with Van Jensen and Aneke. They're incredible collaborators. This was also my first time working with AfterShock, and those peeps are all right. (wink wink)
The Deadliest Bouquet #1 is also in stores in August, and there are three fantastic covers you can order. Adriana Melo, Natasha Alterici and Liana Kangas lent their talents, and I couldn't be happier. They're all fantastic creators, so definitely check out their other works.
Dynamic Forces would like to thank Erica Schultz for taking time out of her busy schedule to answer our questions. The Deadliest Bouquet #1 from Image Comics is slated to be on sale Aug 10th!
For more news and up-to-date announcements, join us here at Dynamic Forces,
www.dynamicforces.com/htmlfiles/
, "LIKE" us on Facebook,
www.facebook.com/dynamicforcesinc
, and follow us on Twitter,
www.twitter.com/dynamicforces
.
BRAD PITT AND BULLET TRAIN LEAD WEEKEND BOX OFFICE
08/07/22 @ 1:38 pm EST
Source:
Deadline
|
Comments
(0) |
E-mail Article
|
Add a Comment
With another slow weekend at the box office, Sony's new action flick
Bullet Train
raced to the top with a $30.1 million opening. The film, from director
David Leitch
, has quite the cast including
Brad Pitt
,
Joey King
,
Aaron Taylor-Johnson
,
Brian Tyree Henry
,
Andrew Koji
,
Michael Shannon
,
Sandra Bullock
,
Hiroyki Sanada
,
Bad Bunny
,
Karen Fukuhara
,
Masi Oka
,
Logan Lerman
, and
Zazi Beetz
and industry experts think the film will likely reach $100 million while in the theaters.
DC League of Super-Pets
hung on to the family audiences, bringing in $11.2 million it's second weekend while
Nope
grabbed the horror audiences with $8.05 million in it's third week.
Thor: Love and Thunder
grabbed the fourth spot with $7.6 million taking it close to $700 million worldwide as it is likely nearing the end of its theater run and heading to Disney+ in the next few weeks.
Minions: Rise of Gru
slipped into the fifth spot with $7.11 million in its sixth and likely final weekend taking it to $334.5 million, very close to the original
Minions
$336 million total.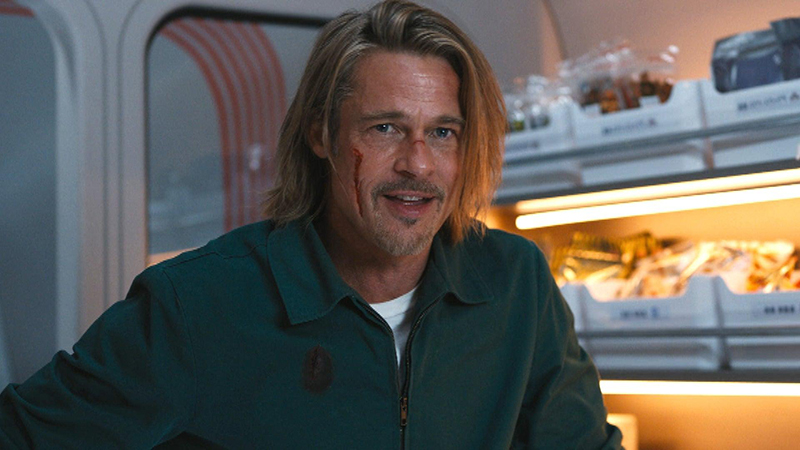 THE ROCK SHARES DC LEAGUE OF SUPER-PETS POST CREDIT SCENE
08/07/22 @ 1:19 pm EST
Source:
Instagram
|
Comments
(0) |
E-mail Article
|
Add a Comment
Never one to pass up a chance to promote an existing or upcoming project,
Dwayne "the Rock" Johnson
shared the post-credit scene for
DC League of Super-Pets
on his
Instagram account
. With the video, he also wrote: "The world is starting to simmer with excitement about the earths shattering SUPERMAN vs BLACK ADAM⚡️showdown one day. But until then… BLACK ADAM'S DOG ~ ANUBIS⚡️ has a few choice words for SUPERMAN'S DOG ~ KRYPTO. The definition and philosophy of ANTIHERO is quite intriguing… And YES… If you listen closely, I voice BOTH DOGS AND BLACK ADAM in this scene."
DC League of Super-Pets
is in theaters now and features Johnson as Krypto,
Kevin Hart
as Ace,
John Krasinski
as Superman and
Keanu Reeves
as Batman. Johnson is also set to play Black Adam in the upcoming film of the same name along with
Pierce Brosnan
,
Aldis Hodge
,
Noah Centineo
,
Sarah Shahi
,
Marwan Kenzari
and
Quintessa Swindell
. It will be in theaters in October.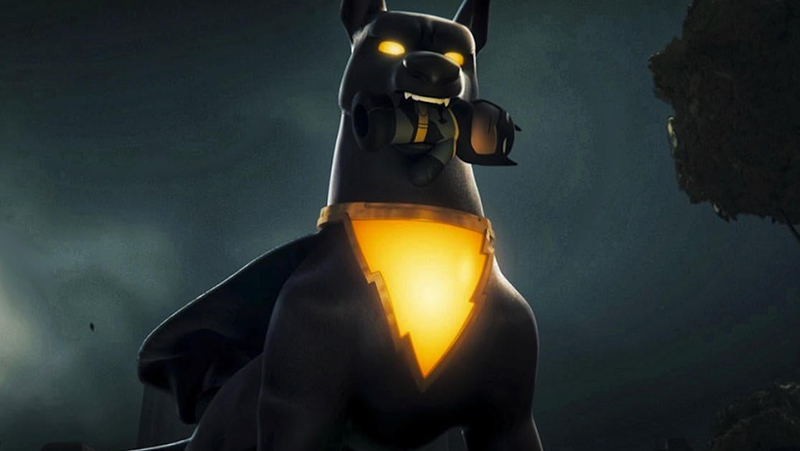 WOODY HARRELSON RESPONDS TO VIRAL COMPARISON TO BABY
08/07/22 @ 1:05 pm EST
Source:
Instagram
|
Comments
(0) |
E-mail Article
|
Add a Comment
You've seen it before, a picture of a baby that looks surprisingly like a famous person? I know I've seen quite a few that look like Patton Oswald… he just has that kind of face. Well, on Wednesday a woman from Northern Ireland named Danielle Grier Mulvenna posted of photo of her nine-month-old daughter Cora smiling next to a picture of Zombieland actor Woody Harrelson and the resemblance is uncanny. But the best part is that Harrelson saw the comparison and
responded with
a poem he called "Ode to Cora". Harrelson wrote, "You're an adorable child. Flattered to be compared. You have a wonderful smile. I just wish I had your hair." Mulvenna responded to the poem by saying, "You made our day. Can't wait to show her when she's older. You have a fan for live xxx."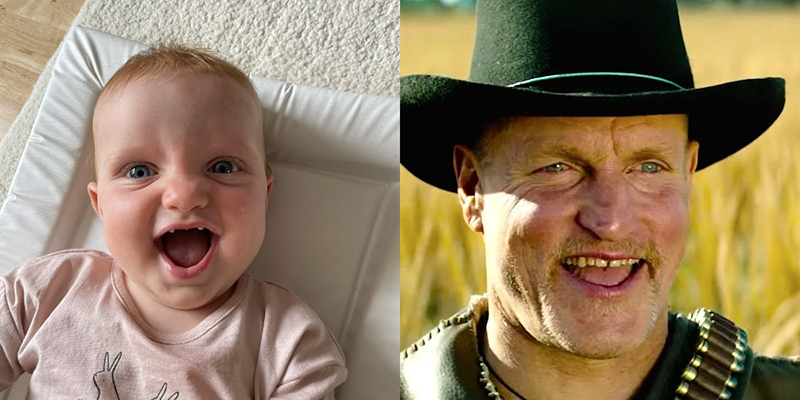 OUR BEST LOOK AT DAREDEVIL'S NEW YELLOW & RED COSTUME
08/06/22 @ 3:57 pm EST
Source:
Twitter
|
Comments
(0) |
E-mail Article
|
Add a Comment
The official twitter account for
She-Hulk
posted a
series of images
that when you just look at the post, makes up the logo for the series. But when you click on each part of the logo, it shows additional part of the images that include
Mark Ruffalo
as the Hulk,
Tim Roth
as Abomination,
Benedict Wong
and Wong and finally
Charlie Cox
as Daredevil. While all the other images were things we've seen in the trailer, the image of Daredevil is the best close up we've seen of the character in his new yellow and red outfit. The image, seen below, shows that while a different color, it doesn't look too different from his Netflix outfit but word is that by the time he shows up in
Echo
and his own series, he'll have new threads, so this might be them just using the existing costume for this series.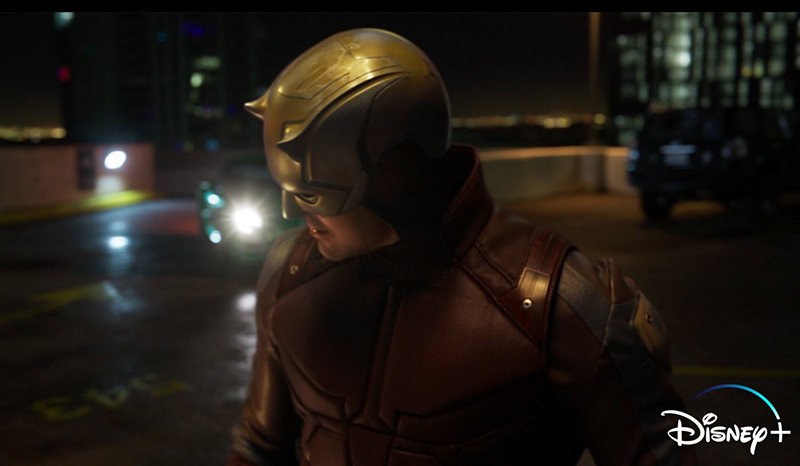 TIM ROTH TALKS RETURNING TO THE MCU
08/06/22 @ 3:25 pm EST
Source:
Forbes
|
Comments
(0) |
E-mail Article
|
Add a Comment
Tim Roth
is the second actor from the 2008
Incredible Hulk
film to return to the MCU. The first was the late
William Hurt
who turned up in
Captain America: Civil War
as General Thaddeus "Thunderbolt" Ross and would appear again in
Avengers: Endgame
and
Black Widow
. Roth, who played Emile Blonksy aka the Abomination in the early Marvel Studios film popped up for a cameo with
Benedict Wong
in last year's
Shang-Chi and the Legend of the Ten Rings
and is seen in trailer for the upcoming Disney+ series
She-Hulk: Attorney
at Law which debuts on August 18th. While Hurt and Roth are the only two actors to reprise their roles, the titular character and his alter ego of Bruce Banner have been a mainstay of the franchise for year with actor
Mark Ruffalo
replacing
Ed Norton
as The Hulk staring in
the Avengers
movie. In an interview with Forbes, Roth talked about working with Ruffalo. "Yeah, I was like, 'You've changed.' It's kind of fun. We used to hang around and muck about between takes, and we had a nice time. I very much respect Mark as an actor, so even under those bizarre and wonderful circumstances, that one was a treasure." He also talked about returning to the character after a decade and seeing his co-stars working clued him in on what to do. "Once I started shooting on it, I didn't know how to go about my business, and it was a bit disconcerting. Tatiana Maslany is incredible, and
She-Hulk
is a comedy, and she's bloody good at comedy but, to be fair, she's pretty, pretty good at everything. When Mark Ruffalo showed up to do his stuff that I was involved in and saw the two of them interacting, it was a penny drop moment for me, and I went, 'Oh, that's what we're doing. Oh, okay,' and then I knew what to do. Basically, on the first segment I was involved in, I got some serious direction from them about we go about our business there, and then it was all playtime. It was a lot of fun."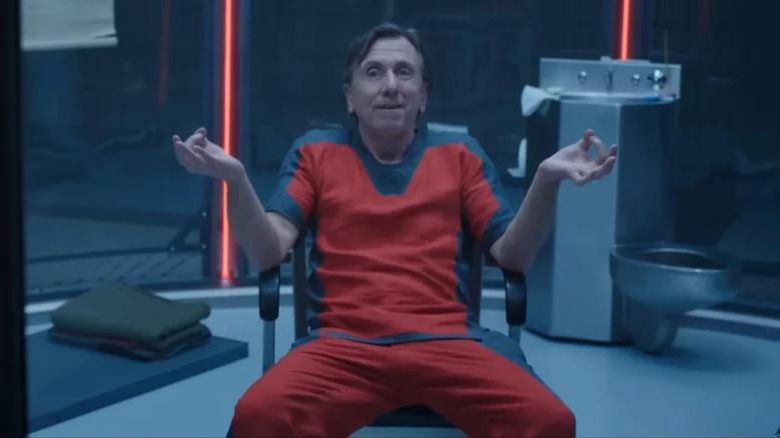 BATGIRL DIRECTOR SHARES BTS PHOTO WITH GRACE AND KEATON
08/06/22 @ 3:03 pm EST
Source:
Vulture
|
Comments
(0) |
E-mail Article
|
Add a Comment
Still reeling from the sudden cancellation of his film,
Batgirl
co-director
Adil El Arbi
shared a photo on social media of himself with stars
Leslie Grace
and
Michael Keaton
in their full costumes from the film. The $90 million film was axed even though principal photography was completed and a cut had already been shared with a test audience. The reasoning for the cancellation is said to be that the film isn't a high enough quality to release in theaters and that is the new direction the company is taking with DC Film projects. Warner Bros Discovery is planning to use a special tax write-off option that have during a short window after a merger.
Batgirl
and the sequel to
Scoob!
are both being used in that way as the company believes they will make more money back as write-offs than they would recoup by spending the money to finish and market the films. El Arbi and his co-director,
Bilall Fallah
, have said in a statement that they were "shocked and saddened" by the news and have received support from fellow directors
Edgar Wright
and
James Gunn
as well as Marvel Studios president
Kevin Feige
who the pair worked with earlier on the
Ms. Marvel
Disney+ series. By taking the write-off, WBD will not be able to release the film in anyway that might make a profit including releasing it on HBO Max.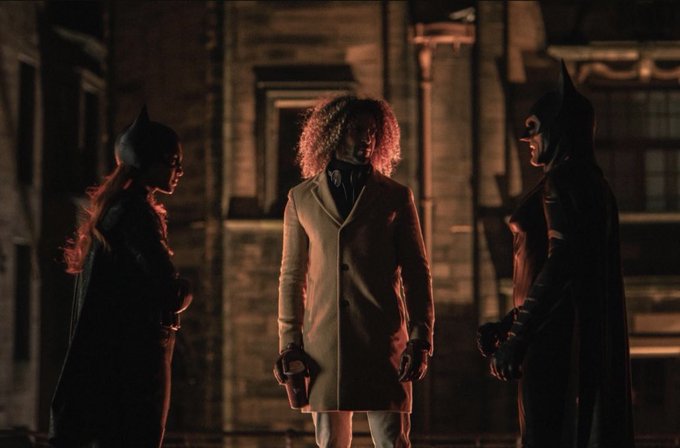 MATT SMITH WONDERS IF THERE'S TOO MUCH SEX IN HOUSE OF DRAGONS
08/06/22 @ 2:50 pm EST
Source:
Rolling Stone
|
Comments
(0) |
E-mail Article
|
Add a Comment
Matt Smith
, former star of
Doctor Who
, talks about his upcoming role as Prince Daemon Targaryen in the
Game of Thrones
spinoff series for HBO,
House of Dragons
. In his interview with Rolling Stone, he wondered if all of the sex in the series was necessary. "You do find yourself asking, 'Do we need another sex scene?' And they're like, 'Yeah, we do.' I guess you have to ask yourself: 'What are you doing? Are you representing the books, or are you diluting the books to represent the time [we're living in]?' And I actually think it's your job to represent the books truthfully and honestly, as they were written." His personal opinion? "Yeah – slightly too much, if you ask me," he said. But did he ask himself if we needed him dancing shirtless in
Morbius
? Probably not.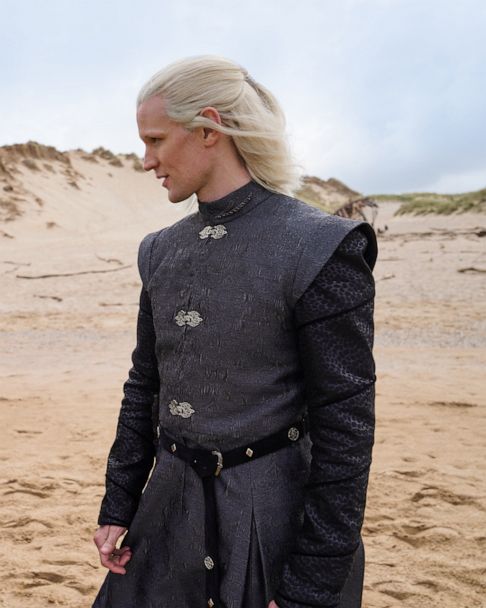 THE ORIGIN OF SAKURA-SPIDER REVEALED, MORE IN 'EDGE OF SPIDER-VERSE' #3
08/05/22 @ 10:26 am EST
Source:
Marvel
| Categories:
Edge of Spider-Verse
|
Comments
(0) |
E-mail Article
|
Add a Comment
This past week, the Spider-Verse as we know it was transformed! EDGE OF SPIDER-VERSE #1 marked the beginning of a new era of Spider-Verse storytelling with a new status quo for Araña, the roaring debut of Spider-Rex, and more! And things are only just getting started as each issue of this new limited series will contain more thrilling additions to the Spider-Verse mythos in the form of new heroes, fresh journeys for iconic favorites, and the rise of a dark threat that could end the Spider-Verse for good. The series will serve as the foundation for Dan Slott's next Spidey epic, beginning in October's SPIDER-MAN #1.
Here's what fans can expect from the third issue in this exciting saga, EDGE OF SPIDER-VERSE #3, on sale September 14:
· What if Felicia Hardy became a Spider-hero? Dan Slott teams up with artist Sumeyye Kesgin to answer that question with the debut of super thief Night-Spider! Check out her sleek look, designed by artist superstar artist Kris Anka, in a special design variant cover!
· Introduced in the hit
Deadpool: Samurai
manga and fresh off her recent appearance in
Deadpool: Black, White, & Blood
, Sakura-Spider strikes out on her own! Learn the origins of this breakout new hero in a story by her creators,
Deadpool: Samurai
creative team Sanshiro Kasama and Hikaru Uesugi!
· Author Nikesh Shukla makes his Marvel Comics debut alongside a squad of the best artists in the business including Mark Bagley, Paco Medina, David Baldeón, Gerardo Sandoval and Abhishek Malsuni with the return of fan-favorite hero Pavitr Prabhakar, AKA Spider-Man: India!
Check out all the covers for EDGE OF SPIDER-VERSE #3 plus a first look at interior artwork, and stay tuned in the weeks ahead for more news about what's to come in EDGE OF SPIDER-VERSE!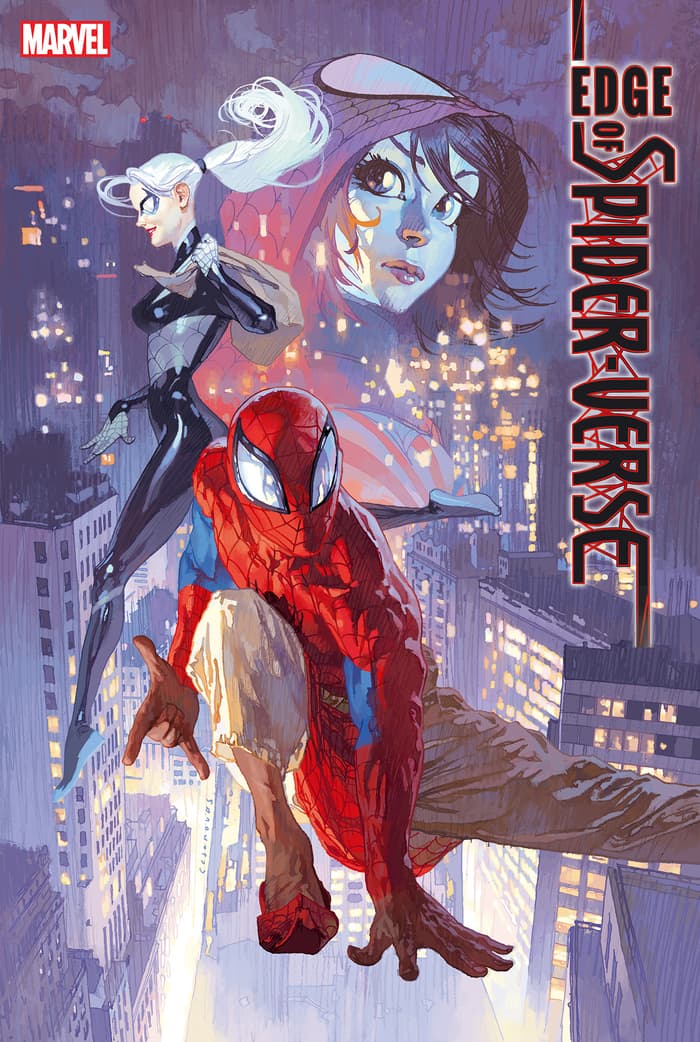 NEW PUBLISHER FRANK MILLER PRESENTS DROPS SURPRISE $1 PREVIEW COMIC ON AUGUST 17
08/05/22 @ 9:36 am EST
Source:
GamesRadar
| Categories:
MIsc
|
Comments
(0) |
E-mail Article
|
Add a Comment
Frank Miller Presents (FMP), the new publishing imprint created and curated by the titular comic book legend, will publish its first title to specialty comic book stores served by Diamond Comic Distributors on Wednesday, August 17 in what FMP calls a "surprise drop."
The original 32-page Ashcan Edition comic book features two stories: Frank Miller's Ronin Book II by Miller, Philip Tan, and Daniel Henriques, and Ancient Enemies by FMP publisher Dan DiDio along with Danilo Beyruth and Alex Sinclair. The special comic will also feature sneak previews of other upcoming FMP titles.
The FMP Ashcan Edition will have a suggested retail price of $1 to readers and collectors but will be sent to comic book retailers free of charge as an introduction to the new publisher.
The 10-page Ronin Book II story recaps Miller's original Ronin series published by DC in 1983 prior to The Dark Knight Returns and catches up with Casey McKenna as she "travels across the ravaged landscape of America in search of the new Ronin."
The 17-page Ancient Enemies story is a prequel to the upcoming series, which is about a "thousand-year-old galactic war before the primary combatants arrived on Earth and threatened all existence." (via
GamesRadar
)
DC WILL HAVE 10-YEAR PLAN AKIN TO MARVEL'S PLAYBOOK, SAYS DAVID ZASLAV
08/05/22 @ 9:12 am EST
Source:
Hollywood Reporter
| Categories:
DC
|
Comments
(0) |
E-mail Article
|
Add a Comment
Just two days after Warner Bros. Discovery made the stunning move to cancel the HBO Max film
Batgirl
, an unapologetic CEO David Zaslav sought to reassure Wall Street there is a cohesive plan for the future of DC,
Variety
reports.
"You look at Batman, Superman, Wonder Woman, Aquaman — these are brands that are known everywhere in the world," Zaslav said during an earnings call Thursday. "We have done a reset. We've restructured the business where we are going to focus, where there is going to be a team with a 10-year plan focusing just on DC. We believe we can build a much more sustainable business."
DC has long wished to emulate the success of the Disney-owned Marvel Studios, which Kevin Feige has built into the highest-grossing film franchise in history. Zaslav recently brought Feige's former boss, retired Disney film chief Alan Horn, on as an adviser. During the earnings call, Zaslav suggested DC would try to emulate the Marvel playbook.
"It's very similar to the structure Alan Horn, [former Disney CEO] Bob Iger and Kevin Feige put together very effectively at Disney. We think we can build a much stronger, sustainable growth business out of DC," said Zaslav. "As part of that, we are going to focus on quality. We are not going to release any film before it's ready. … DC is something we can make better."
"We are very excited about them. We've seen them. We think they are terrific, and we think we can make them even better," Zaslav said in terms of marketing and distributing the upcoming films, which also include
The Flash
, starring controversial actor Ezra Miller.