TAIKA WAITITI ATTACHED TO 'FLASH GORDON' AS FOX/DISNEY ANIMATED FILM
06/24/19 @ 3:09 pm EST
Source:
Deadline
| Categories:
Disney
|
Comments
(0) |
E-mail Article
|
Add a Comment
Deadline
reports that Fox/Disney has attached
Thor: Ragnarok
director Taika Waititi to
Flash Gordon
to do it as an animated feature film. It was rumoredthe inventive filmmaker was signing on to write and direct, but his camp indicates it's too early to gauge exactly what his role would be.
Flash Gordon
returns to its origins here. It began in 1934 as a science-fiction comic strip created and originally drawn by Alex Raymond to compete with
Buck Rogers
. Earth is threatened by a collision with the planet Mongo, and Flash is sent off in a rocket ship in an attempt to stop the disaster. He's pitted against Mongo's tyrannical ruler Ming the Merciless.
'BLADE' BEING REBOOTED FOR MCU WITH MAHERSHALA ALI; 'FANTASTIC FOUR' ALSO IN THE WORKS
07/20/19 @ 10:22 pm EST
Source:
Deadline
| Categories:
Marvel
|
Comments
(0) |
E-mail Article
|
Add a Comment
Deadline
reports one of the true surprises, IMHO, of the Marvel Comic-Con session: that two-time Oscar winner Mahershala Ali is set to play Blade in a reboot from Kevin Feige's MCU.
No other details were revealed.
The original from New Line Cinema starred Wesley Snipes and featured Marv Wolfman and Gene Colan's hybrid vampire/vampire slayer from Marvel's
Tomb of Dracula
.
Snipes'
Blade
was an R-rated film, so it will be interesting to see if Disney's MCU goes for a version like that. New Line churned out three films.
Feige also promised that other titles on the horizon include a
Fantastic Four
reboot, with
Guardians of the Galaxy 3, Captain Marvel 2,
and
Mutants
on the horizon beyond 2021. No other details were given on those movies.
'THOR 4' IS 'THOR LOVE AND THUNDER' OPENING FALL 2021 --COMIC-CON
07/20/19 @ 10:13 pm EST
Source:
Deadline
| Categories:
Marvel
|
Comments
(0) |
E-mail Article
|
Add a Comment
Jane is plain no more!
MCU is going the comic book route,
Deadline
reported Saturday night, as Natalie Portman becomes female Thor in
Thor 4
. She played Jane Foster in the first two
Thor
movies. The film will open in Fall 2021.
Returning director Taika Waititi was on hand to talk about
Thor 4
along with
Tessa Thompson
who played Valkyrie in
Thor: Ragnarok
along with Chris Hemsworth. Valkyrie will be "re-investing in her people" and rebuilding Asgard, said Thompson.
Ironically, in the comics, Jane Foster has recently become Valkyrie!
And what's happened to MCU's male Thor post-
Endgame
? "He's heading to the 7-11 for a little Netflix subscription and at this point he might be on the couch, who knows?" said Hemsworth.
'DOCTOR STRANGE' SEQUEL BILLED AS FIRST MCU HORROR FILM AT COMIC-CON
07/20/19 @ 10:02 pm EST
Source:
Variety
| Categories:
Marvel
|
Comments
(0) |
E-mail Article
|
Add a Comment
A sequel to
Doctor Strange
was announced as expected on Saturday at Marvel's Comic-Con panel — what we didn't see coming was the tone.
Director Scott Derrickson said the film, titled
Doctor Strange in the Multiverse of Madness
, will mine the original comics and play up "the gothic, the horror." Derrickson said it will lead Benedict Cumberbatch to dark and damaging places, though he will have company in Elizabeth Olsen, who will reprise her role as the Scarlet Witch.
The events of her Disney+ series
Wandavision
will lead her to Doctor Strange's doorstep, Marvel Studios president Kevin Feige said. (via
Variety
)
MARVEL FINDS ITS SHANG-CHI WITH CHINESE-CANADIAN ACTOR SIMU LIU
07/20/19 @ 9:56 pm EST
Source:
Hollywood Reporter
| Categories:
Marvel
|
Comments
(0) |
E-mail Article
|
Add a Comment
Canadian actor Simu Liu, who is best known for his role on CBC sitcom
Kim's Convenience
, has been set to star in Marvel Studios'
Shang-Chi,
playing the titular character. Also joining the movie will be
Crazy Rich Asians
star Awkwafina and veteran actor Tony Leung.
THR
reported on the announcements made at Marvel's presentation at Comic-Con in the cavernous Hall H arena, where Marvel Studios head Kevin Feige said the movie's full title would be
Shang-Chi and the Legend of the Ten Rings
and would be hitting theaters in Feb. 12, 2021.
Destin Daniel Cretton is directing the stand-alone movie which the studio hopes can be a cultural breakthrough in the same way
Black Panther
was in 2018.
MARVEL REVEALS CAST AND PLOT DETAILS FOR 'THE ETERNALS'
07/20/19 @ 9:52 pm EST
Source:
Variety
| Categories:
Marvel
|
Comments
(0) |
E-mail Article
|
Add a Comment
King Kirby's second-gen Marvel creation is coming to the big screen!
At SDCC, the first film announced at Marvel's presentation on Saturday, unarguably the hottest ticket of the weekend, confirmed months of speculation by unveiling cast of
The Eternals
: Angelina Jolie, Salma Hayek, Richard Madden, Brian Tyree Henry, Kumail Nanjiani, Lauren Ridloff and Don Lee will star as 35,000-year-old aliens.
"This movie will allow those who have never felt represented in movies, in this case superheroes, to be represented. I love my diverse family," Hayek said on stage.
A release date for the movie has also been revealed: November 6, 2020. (via
Variety
)
RECORD BREAKER! 'AVENGERS: ENDGAME' PASSES 'AVATAR' TO BECOME BIGGEST MOVIE IN HISTORY
07/20/19 @ 9:45 pm EST
Source:
Variety
| Categories:
Marvel
|
Comments
(0) |
E-mail Article
|
Add a Comment
It finally happened. Avengers Assemble!
Variety
reports that after
Avatar's
impressive 10-year reign as box office champion,
Avengers: Endgame
has officially dethroned James Cameron's sci-fi epic to become the biggest movie of all time.
On Saturday, Disney and Marvel's blockbuster crossed $2.7892 billion at the global box office, and will exceed the $500,000 in ticket sales needed to surpass
Avatar's
$2.7897 billion benchmark.
Avengers: Endgame
has amassed $853 million at the domestic box office and $1.9 billion internationally. Outside of North America, the superhero flick had especially strong performances in China ($614 million), the United Kingdom ($114 million), South Korea ($105 million), Brazil ($85 million) and Mexico ($77 million).
The ever-determined studio re-released
Avengers: Endgame
in theaters last month in an effort to push the epic finale to ultimate box office glory. And now that Disney inherited the Fox film empire, the studio is home to seven of the top 10 highest-grossing films ever.
SCDD50: 1966 BATMAN'S ROBIN, BURT WARD, TO APPEAR IN THIS FALL'S ARROWVERSE CROSSOVER
07/20/19 @ 8:16 pm EST
Source:
TV Line
| Categories:
DC
|
Comments
(0) |
E-mail Article
|
Add a Comment
TV Line
reports that the portrayer of the classic
Batman
series' Robin is set to pop up in this fall's Arrowverse crossover event om The CW.
Caroline Dries, the executive producer of
Batwoman
, announced the fun casting during the new Arrowverse series' San Diego Comic-Con panel on Saturday.
"We've got a ton, a ton, a ton of characters coming into the five-part event," said Dries (per KSite TV), who is currently involved in writing the crossover. "Burt Ward will be making an appearance."
This bit of news comes on the heels of it being announced that
Legends of Tomorrow
's Brandon Routh will reprise his
Superman Returns
title role for the crossover.
Inspired by the famous DC Comics arc, this year's crossover, "Crisis on Infinite Earths," will be a five-parter involving
Arrow, The Flash, Supergirl, Legends of Tomorrow
and
Batwoman
. The first three parts will air in December; the other two, including the
Legends
installment, will air after the midseason break, in early 2020.
SDCC 2019: BEGINNING THIS OCTOBER... THE DAWN OF X
07/20/19 @ 8:08 pm EST
Source:
Marvel
| Categories:
Marvel
|
Comments
(0) |
E-mail Article
|
Add a Comment
Straight from the magnificent Marvel Next Big Thing panel at San Diego Comic-Con 2019, a blinding light heralds a new day... Starting this October, six brand-new series by the most captivating creators in the universe signal the DAWN OF X!
"House of X and Powers of X lay the groundwork for a whole new world of X-Men stories for years to come, and the Dawn of X books are the promise of that new world come to life," said X-Men Senior Editor Jordan D. White. "They are the start of the new era that will change how we think of the X-Men and the kinds of stories we tell with them. It all begins here."
Beaming out of the pages of HOUSE OF X and POWERS OF X, the Children of the Atom seize the future.
And it all begins with
X-MEN #1
.
This October, new era dawns! The X-Men find themselves in a whole new world of possibility…and things have never been better!
Mutant mastermind Jonathan Hickman and superstar artist Leinil Yu reveal the saga of Cyclops and his hand-picked squad of mutant powerhouses!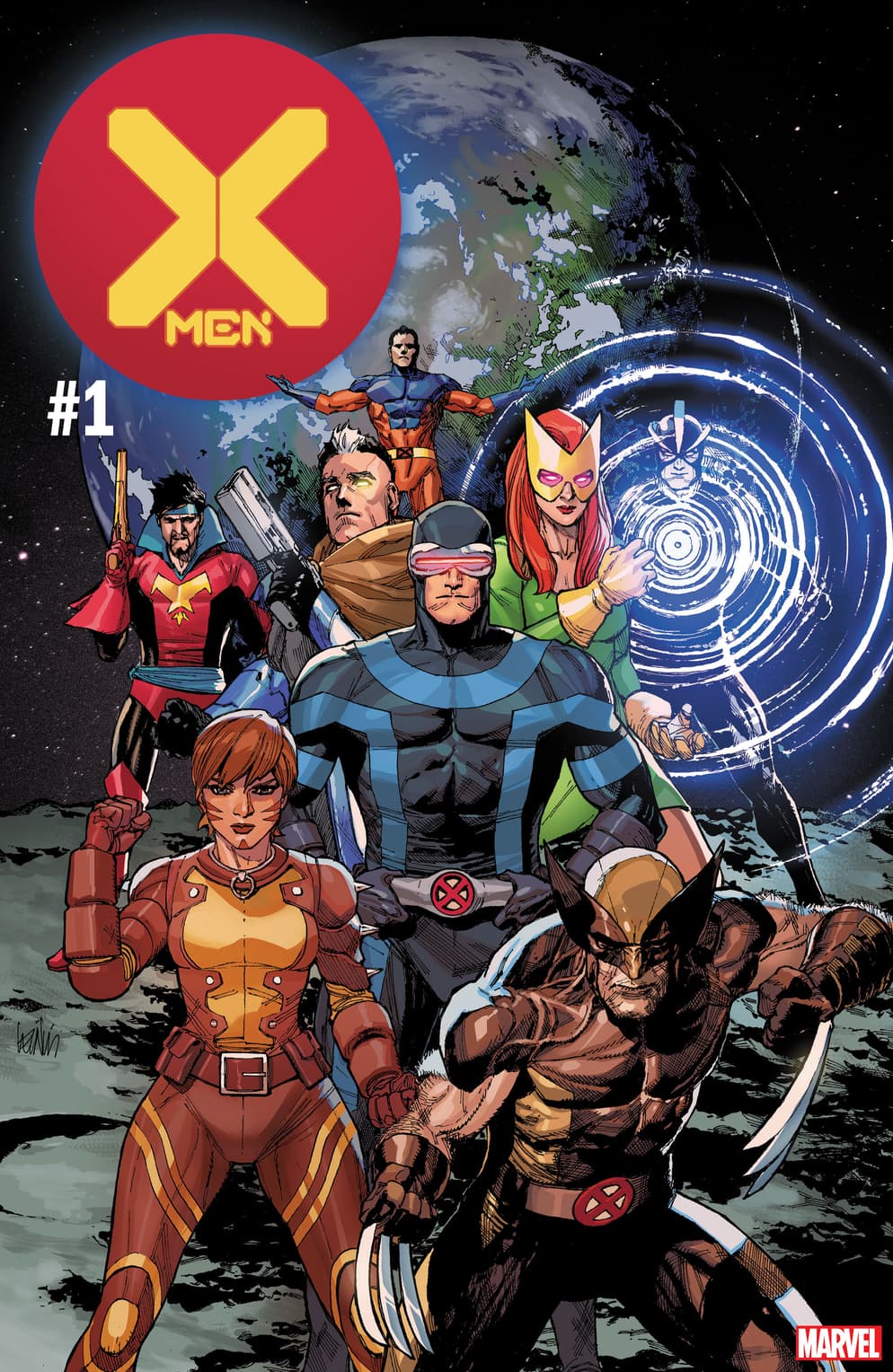 X-MEN #1 cover by Leinil Yu
Then, as this new era dawns, a new connection forms between mutants and the magic of the world…and that of Otherworld! Coming in October:
EXCALIBUR #1
!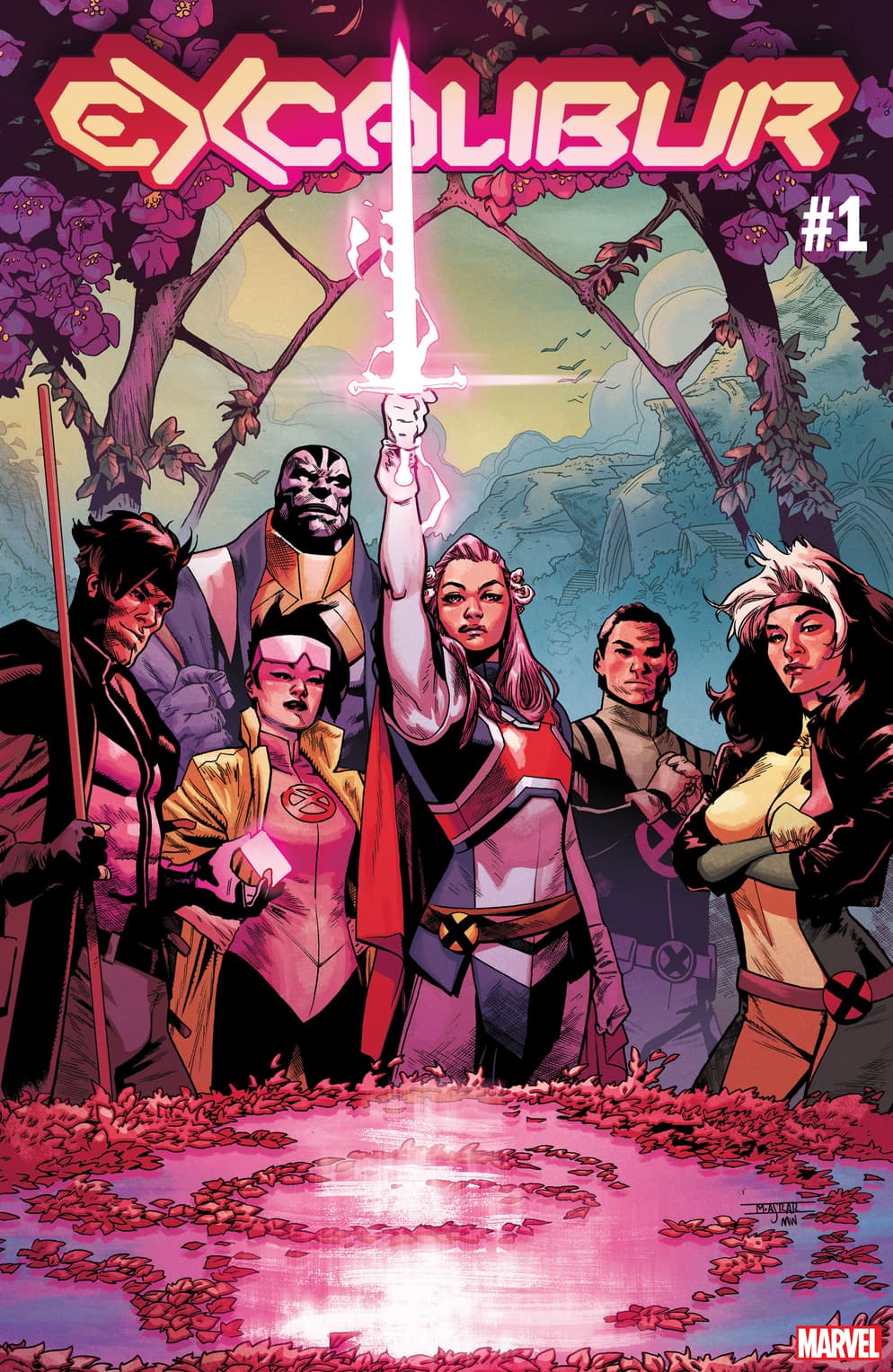 EXCALIBUR #1 cover by Mahmud Asrar
Writer Tini Howard and artist Marcus To join forces to shape a new day!
Mutantkind has always been special…as has their relationship with the world—or WORLDS—around them. Can the new Captain Britain forge a new way through the chaos with her companions Rogue, Gambit, Jubilee, Rictor…and Apocalypse!?
Next, writer Gerry Duggan and artist Matteo Lolli craft a tale that illustrates how, even in this glorious new dawn, Mutantkind faces hardships and oppression from their human counterparts...
Led by Captain Kate Pryde and funded by Emma Frost and the Hellfire Trading Company, Storm, Pyro, Bishop, and Iceman sail the seas of the world to protect those hated and feared as the
MARAUDERS
!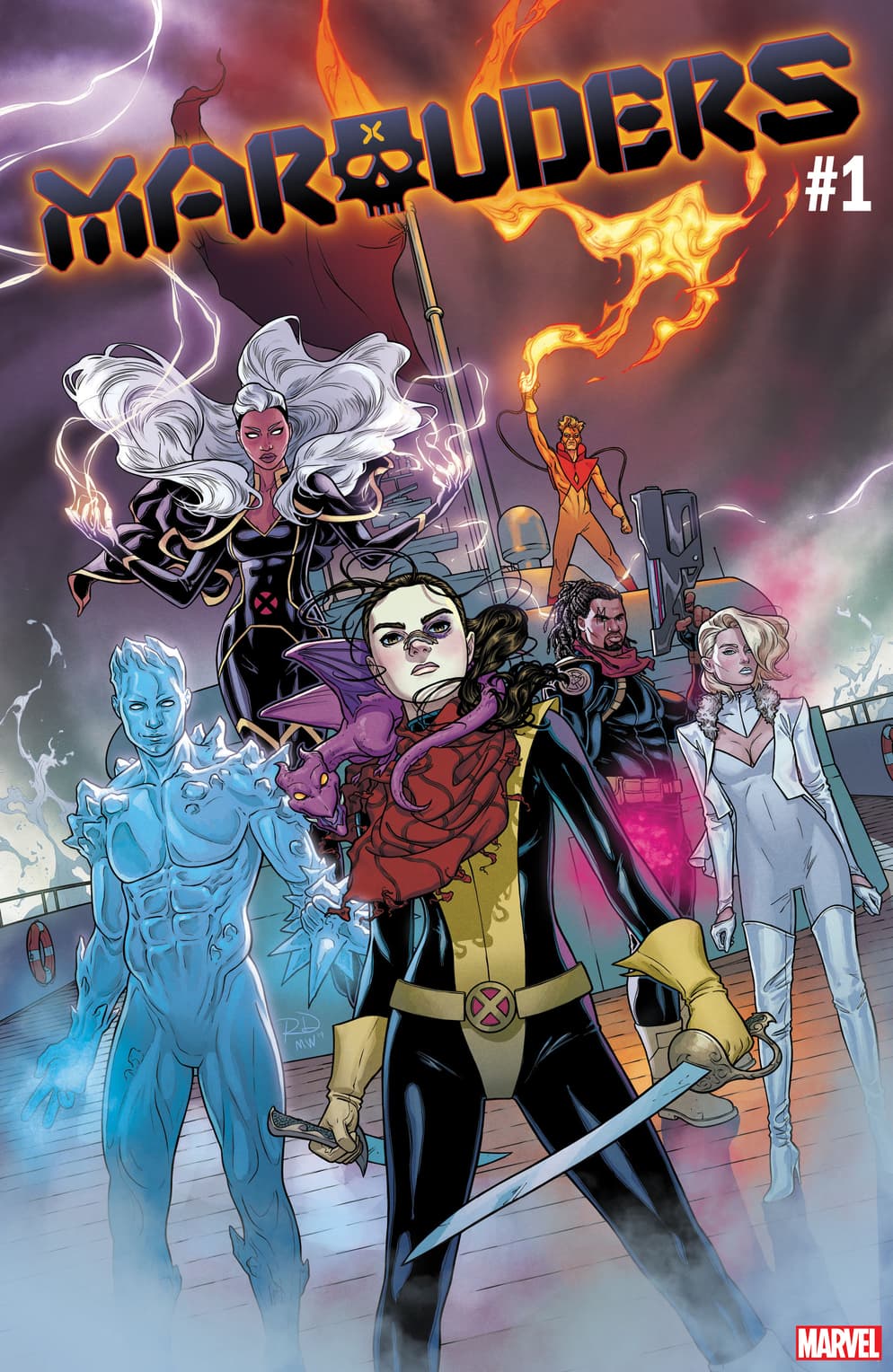 MARAUDERS #1 cover by Russell Dauterman
Then, this November, Jonathan Hickman joins fellow writer Ed Brisson and artist Rod Reis for
NEW MUTANTS #1
!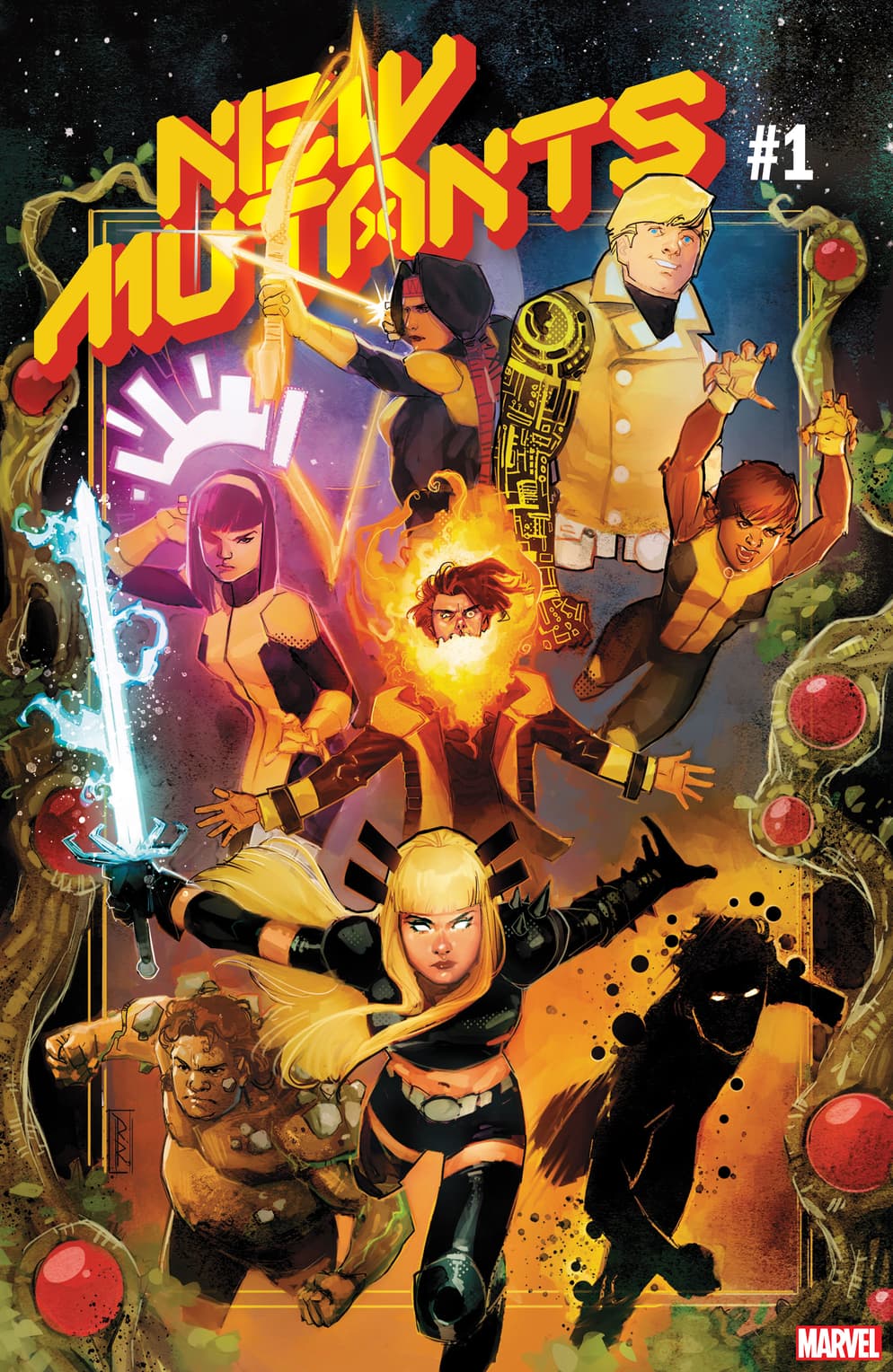 NEW MUTANTS #1 cover by Rod Reis
Hickman and Reis continue with issue #2 as the next generation claims the future! The classic New Mutants—Sunspot, Wolfsbane, Mirage, Karma, Magik, and Cypher—get together with a few new friends—Chamber and Mondo—to seek out their missing member and share the good news…a mission that takes them into space alongside the Starjammers!
Elsewhere, not all belong in paradise... And some become
FALLEN ANGELS
!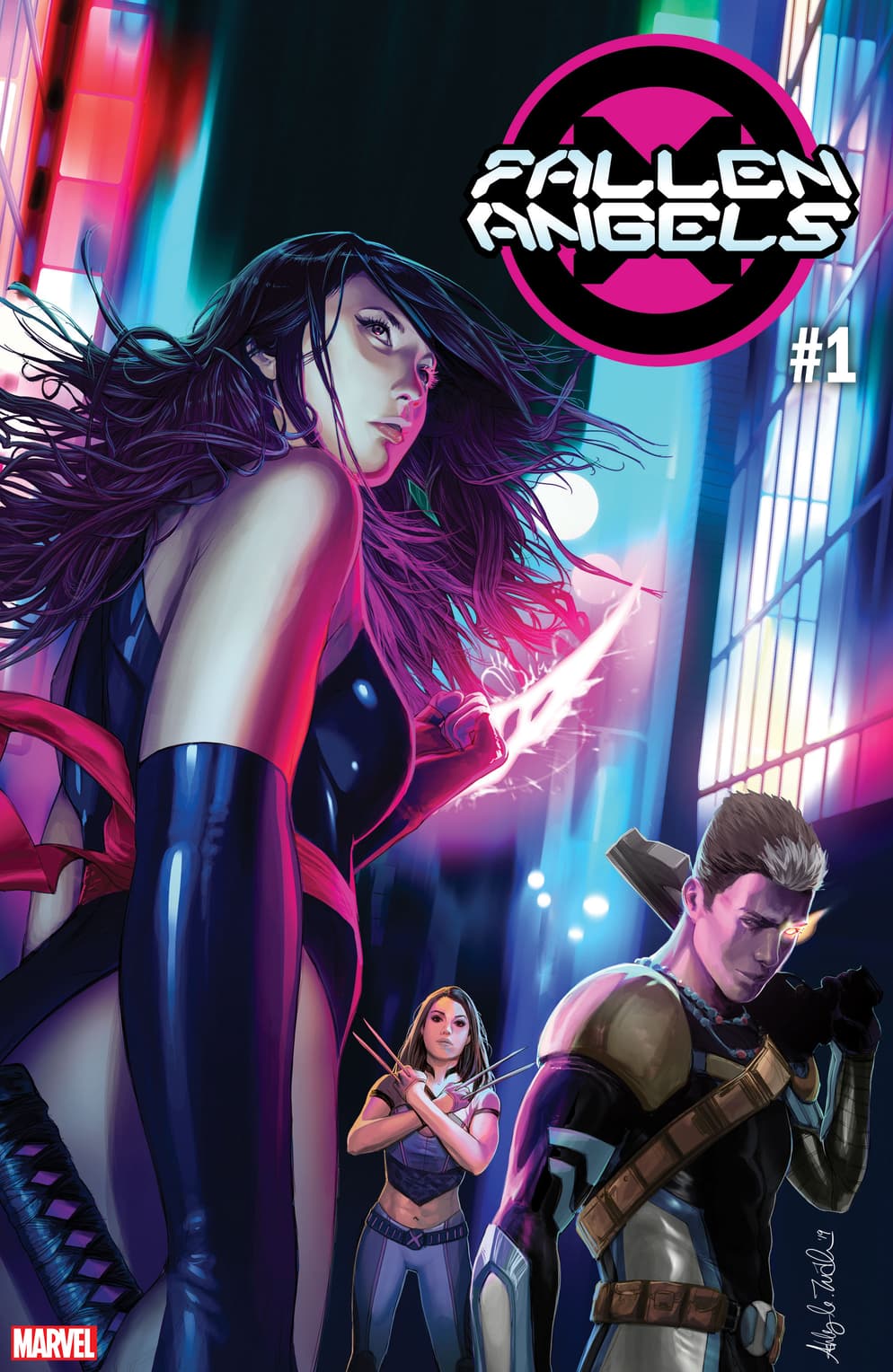 FALLEN ANGELS #1 cover by Ashley Witter
Written by Bryan Edward Hill with art by Szymon Kudranski, Psylocke finds herself in this new world of Mutantkind unsure of her place in it… But when a face from her past returns only to be killed, she seeks help from others to get vengeance. Cable and X-23 join Kwannon for a personal mission that could jeopardize all of mutant existence!
And finally, the cost of the future isn't cheap... And that's where
X-FORCE
comes in!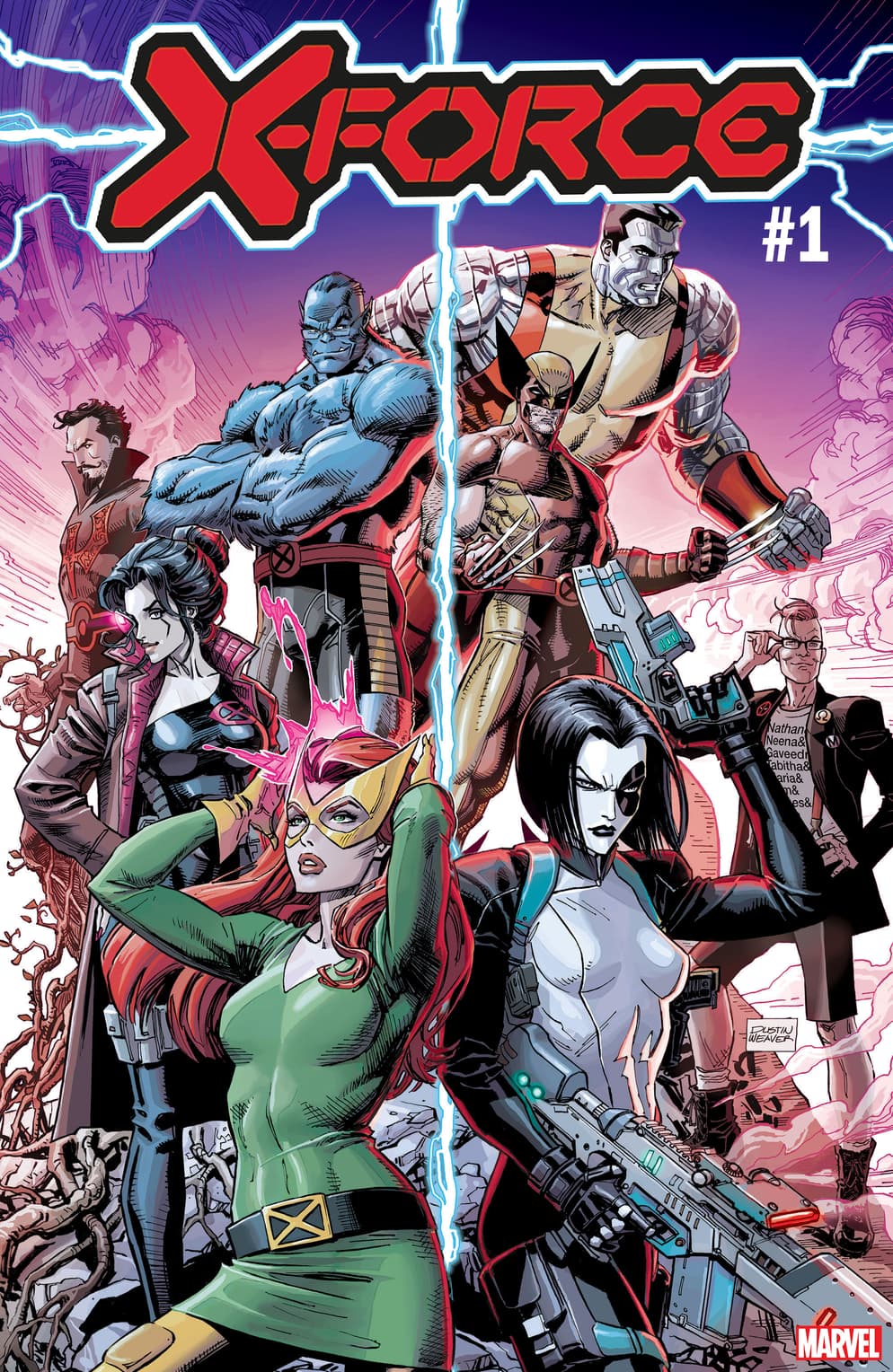 X-FORCE #1 cover by Dustin Weaver
Written by Benjamin Percy with art by Joshua Cassara, X-Force is the CIA of the mutant world—one half intelligence branch, one half special ops. Beast, Jean Grey, and Sage on one side—Wolverine, Kid Omega and Domino on the other.
In a perfect world, there would be no need for an X-Force. We're not there…yet.
SDCC50: 'WESTWORLD' SEASON 3 TRAILER DEBUTS
07/20/19 @ 7:50 pm EST
Source:
Hollywood Reporter
| Categories:
MIsc
|
Comments
(0) |
E-mail Article
|
Add a Comment
THR
reports that Jonathan Nolan and Lisa Joy's HBO drama
Westworld
, originally set in a futuristic wild west theme park populated by killer robots, returns for its third season in 2020 with several new faces in tow, including Aaron Paul, Lena Waithe, and Vincent Cassel.
Along with the new faces, a deadly new setting: Los Angeles, where Dolores (Evan Rachel Wood) has escaped following the collapse of the theme park.
What does the new American setting mean for season three? At Comic-Con, Nolan and Joy (among other panelists) answered those questions primarily in the form of a revealing new trailer.
And here it is:
https://youtu.be/64CYajemh6E
SDCC50: 'STAR TREK: PICARD': THE CAPTAIN'S BACK ON THE BRIDGE IN NEW TRAILER
07/20/19 @ 7:45 pm EST
Source:
CBS All Access
| Categories:
Star Trek
|
Comments
(0) |
E-mail Article
|
Add a Comment
The Captain returned home at SDCC50 as Patrick Stewart, wrapped in the familiar mantle of Jean-Luc Picard, joined other factions of the Star Trek franchise and took over Hall H with fresh Trek news for all.
CBS All Access
has released the Comic-Con trailer for
Star Trek: Picard
(below), but fans also got word that some familiar faces will be joining
Picard
for the series: fellow
Next Generation
cast Brent Spiner, Jonathan Del Arco and Jonathan Frakes and
Voyager
's Jeri Ryan.
Picard trailer:
https://youtu.be/KbXy0f0aCN0