MARVEL'S 'DARK AGES' BEGIN! DESCEND INTO THE DARKNESS IN NEW SERIES
06/18/21 @ 4:16 pm EST
Source:
Marvel
| Categories:
Marvel
|
Comments
(0) |
E-mail Article
|
Add a Comment
The world outside your window…is about to end. This September,
New York Times
best-selling writer Tom Taylor (
X-Men: Red
,
All-New Wolverine
) will team up with Marvel's Stormbreaker artist Iban Coello (
Venom, Black Knight: Curse of the Ebony Blade
) for a thrilling new vision of the Marvel Universe in DARK AGES.
Foreshadowed in last year's
Free Comic Book Day: X-Men
and in today's series of mysterious teasers, this highly anticipated limited series will see heroes from every corner of the Marvel Universe unite against a new threat –
and fail
. Their defeat will usher in an exciting new age full of heartbreaking loss and unimaginable stakes. As the world is remade, fans will meet fascinating new versions of their favorite heroes as they fight to overcome insurmountable odds and restore hope to the universe.
"I'm excited to team up with the brilliant Iban Coello on one of the most epic stories I've ever been involved in," said Taylor. "Marvel's Dark Ages is a story unlike any we've told before. And it all begins with the shocking revelation of what the Watcher has been watching for. A danger older than the Earth threatens everything. And for once, the heroes who have saved the planet time and again find themselves almost completely powerless in the face of it. X-Men and Avengers will assemble. Spider-people and the Fantastic Four will come together. Heroes for Hire will fight alongside Champions. But none of it will be enough. The lights are about to go out... forever."
Check out the cover and prepare for an all-new saga of the Marvel Universe as you've never seen it before when DARK AGES #1 hits stands on September 1st.
'LEGENDS OF TOMORROW' TRAILER DROPS FOR THE REST OF SEASON 6
07/25/21 @ 11:59 pm EST
Source:
The CW
| Categories:
DC
|
Comments
(0) |
E-mail Article
|
Add a Comment
As part of their Comic-Con@Home event over the weekend,
The CW
and Warner Bros. released a trailer for the remaining episodes of
Legends of Tomorrow
sixth season.
The trailer focuses a lot of attention on John Constantine, whose quest to regain his magic has been driving a lot of recent story.
Legends of Tomorrow
stars Caity Lotz as Sara Lance/White Canary, Dominic Purcell as Mick Rory/Heat Wave, Nick Zano as Dr. Nate Heyood/Steel, Tala Ashe as Zari Tarazi, Jes Macallan as Ava Sharpe, Matt Ryan as John Constantine, Adam Tsekhman as Gary Green, Olivia Swann as Astra Logue, Shayan Sobhian as Behrad Tarazi and Lisseth Chavez as Esperanza "Spooner" Cruz.
Trailer:
https://youtu.be/lFTbTeGRL4Y
SHOWTIME SETS 'DEXTER' PREMIERE DATE; SNEAK PEEK TRAILER
07/25/21 @ 11:50 pm EST
Source:
Deadline
| Categories:
MIsc
|
Comments
(0) |
E-mail Article
|
Add a Comment
Nearly a decade since everyone's favorite serial killer moved away and became a logger in 2013, Showtime's
Dexter
is back—at Comic-Con@Home, at least. The show's big return to Comic-Con featured Michael C. Hall, series showrunner from seasons 1-4, Clyde Phillips, executive producers Marcos Siega and Scott Reynolds, and Julia Jones, who will make her debut in the limited series as Dexter's love interest Angela Bishop.
The panelists discussed where fans will find Dexter, a former Miami Metro Police Department forensic technician who moonlights as a notorious serial killer, when the next 10 episodes premiere on Nov. 7 at 9 p.m. ET/PT.
"It was important that this not be
Dexter
season 9," Phillips stated. We wanted to acknowledge that nearly 10 years have passed and we pick up with Dexter being in another place far away from Miami."
The limited series revival was announced by Showtime in October with Phillips and Hall onboard. It was later revealed both Jennifer Carpenter and John Lithgow would also appear even though their characters Debra Morgan and Arthur Mitchell (The Trinity Killer) died in the original. (via
Deadline
)
Sneak Peek Trailer:
https://youtu.be/hA-oCTUrNfE
NETFLIX'S 'ARMY OF THIEVES' FIRST TEASER TRAILER
07/25/21 @ 11:41 pm EST
Source:
Deadline
| Categories:
MIsc
|
Comments
(0) |
E-mail Article
|
Add a Comment
A teaser trailer to
Army of Thieves
is out, along with key art and first-look images from the eagerly awaited prequel to Zack Snyder's
Army of the Dead,
which bowed in May.
The story takes place before the events of
Army of the Dead
during the beginning stages of the zombie outbreak. Ludwig Dieter is in his early days of safecracking and is hired by a mysterious woman to pull off a heist with the help of a misfit crew of aspiring thieves.
The film is coming to Netflix in the fall of 2021, exact release TBA.
Army of Thieves
is directed by: Matthias Schweighöfer, with screenplay by Shay Hatten, based on a story by Zack Snyder & Shay Hatten. Producers are Zack Snyder, Deborah Snyder, Wesley Coller, Dan Maag, and Matthias Schweighöfer, with Schweighöfer, Nathalie Emmanuel, Ruby O. Fee, Stuart Martin, Guz Khan, and Jonathan Cohen in the cast. (via
Deadline
)
Teaser trailer:
https://youtu.be/OdbXnboJCVw
2 NEW CLIPS FROM FEAR THE WALKING DEAD SEASON 7
07/25/21 @ 3:03 pm EST
Source:
YouTube
|
Comments
(0) |
E-mail Article
|
Add a Comment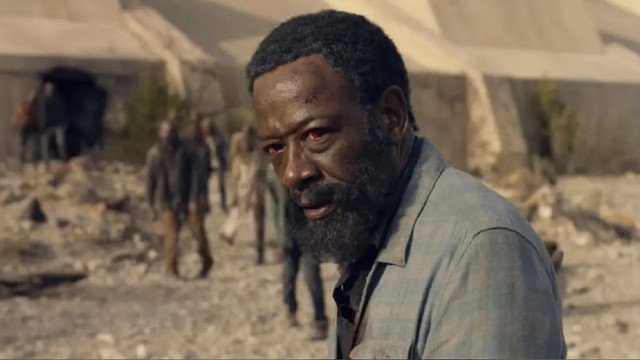 Another announcement from Comic-Con@Home is that season 7 of
Fear the Walking Dead
will debut on October 17th and will include new cast member
Gus Halper
(
Dickinson
) and the return of
Sydney Lemmon
as Isabelle. But along with the news, AMC dropped not
one
, but
two
clips from the upcoming season. The first clip shows us Morgan (
Lennie James
) and Grace (
Karen David
) on the submarine after the nuclear detonation while the second shows June (
Jenna Elfman
) and John (
Keith Carradine
) finding that the explosion has opened up a secret room in their bunker with a very dark past.
NETFLIX SETS PREMIERE DATE FOR FINAL SEASON OF LUCIFER
07/25/21 @ 2:50 pm EST
Source:
YouTube
|
Comments
(0) |
E-mail Article
|
Add a Comment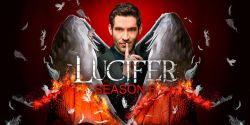 All good things must come to an end, and that's true for
Lucifer
as well. In a
new video
debuted at Comic-Con@Home, we see the Netflix series has set September 10th as the premiere date for the final season. And while the series is wrapping up and Lucifer has a lot of mysteries of his own to figure out, series lead Tom Ellis assured fans that he'd still be getting involved with cases in the final season. "Oh, I think it's in his DNA now. There may be the odd thing to solve but he's got a lot of mysteries to solve, to be honest, in Season 6."
FIRST LOOK AT DOCTOR WHO SEASON 13
07/25/21 @ 2:40 pm EST
Source:
YouTube
|
Comments
(0) |
E-mail Article
|
Add a Comment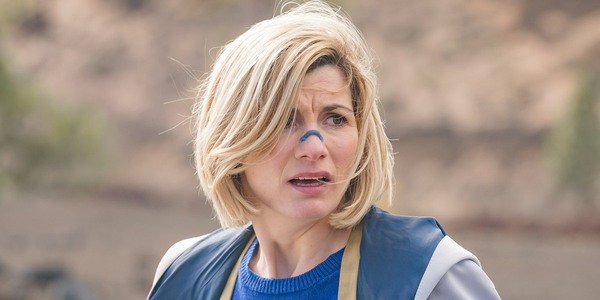 The BBC has just dropped the first
teaser trailer
for the 13th season of
Doctor Who
. The trailer was presented at the Comic-Con@Home panel and then released on-line. The panel consisted of
Jodie Whittaker
,
Mandip Gill
and newcomer
John Bishop
and the series showrunner
Chris Chibnall
to discuss the upcoming season of the long-running series. While the season is still in production, the episodes are expected to premiere later this year. The new season will be slightly different, focusing on one singular story told over eight episodes. The season was shortened because of the pandemic. Chibnall said in the panel that this will be, "the most ambitious thing we've done since we've been on the series."
MEET THE FINAL BIG BAD FOR THE WALKING DEAD
07/25/21 @ 2:30 pm EST
Source:
YouTube
|
Comments
(0) |
E-mail Article
|
Add a Comment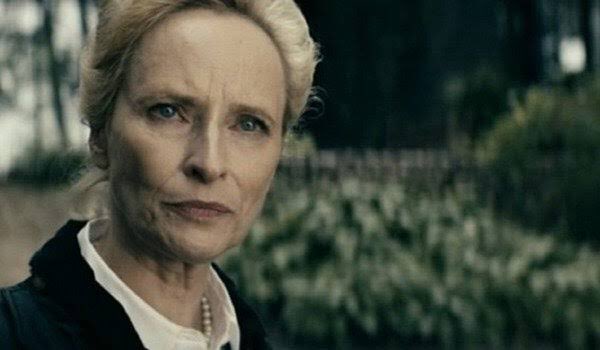 AMC has dropped
a trailer
for the finale season of
The Walking Dead,
and we learn who the last big bad is going to be. Playing neurotic Pamela Milton, the head of the Commonwealth, a network of survivor communities, will be veteran actor
Laila Robins
(
The Boys
). Also the role of the Commonwealth bookkeeper Lance Hornsby has gone to
Josh Hamilton
(
This Is Us
) while the actor playing Pamela's son Sebastian is still unknown. In the comics it's Sebastian who kills Rick Grimes. Other new cast members include
Richie Coster
(
Happy!
),
Michael James Shaw
(
Blood & Treasure
) and
Margot Bingham
(
She's Gotta Have It
). The eleventh and final season of
The Walking Dead
will premiere on August 22nd.
SNAKE EYES AND OLD FIGHT IT OUT IN SOFT BOX OFFICE WEEKEND
07/24/21 @ 2:52 pm EST
Source:
The Hollywood Reporter
|
Comments
(0) |
E-mail Article
|
Add a Comment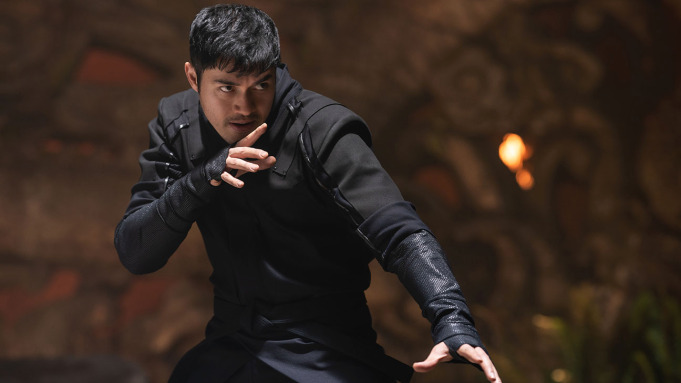 Whether you blame the Delta Variant, the day & date openings on streaming services or Comic-Con@Home, the bottom line is that this is a very soft weekend at the box office which isn't great news for the two new films fighting it out for the top spot.
The Hollywood Reporter
is giving the nod to the new
M. Night Shyamalan
film
Old
is looking to pull in $16M for the weekend while
Henry Golding
lead
Snake Eyes: G.I. Joe Origins
film is a close second with $14.2M. Neither total is what their respective studios were hoping, especially disappointing for Hasbro and Paramount which hoped to use this new film to relaunch the G.I. Joe Franchise.
The next two films on the list are ones that had previously opened and were already available on a streaming platform. Marvel's
Black Widow
had a horrible second weekend but bounced back a little here with an $11M weekend putting it in third place. The film is also available for a premium fee on Disney+. On the other hand,
Space Jam 2
is facing a 65% to 70% drop in its second week and it's free to watch on HBO Max.
The hardest hit by the low box office weekend may be the
Mark Wahlberg
specialty film
Joe Bell
. The film opened in just over 1,000 theaters and will struggle to make $800,000 this weekend. These are definitely not the kind of numbers the film industry was hoping for.
WHEEL OF TIME GETS FIRST POSTER
07/24/21 @ 2:28 pm EST
Source:
Deadline
|
Comments
(0) |
E-mail Article
|
Add a Comment
During their virtual panel from Comic-Con@Home, Amazon Studios released the first teaser poster for their upcoming fantasy series
Wheel of Time
. The image focuses on the character of Moiraine played by
Rosamund Pike
. Moiraine is a member of a secretive and powerful all-female organization called Aes Sedai and she heads out on a dangerous journey with five young men and women. One of the five is prophesied to be the Dragon Reborn who will either save or destroy humanity.
The series, which is now set to debut in November of 2021, adapts the novels by
Robert Jordan
set in a world where magic exists but only women can use it. The series will also feature
Joshua Stradowski
,
Marcus Rutherford
,
Zoe Robins
,
Barney Harris
,
Madeleine Madden
,
Daniel Henney
, and
Michael McElhatton
.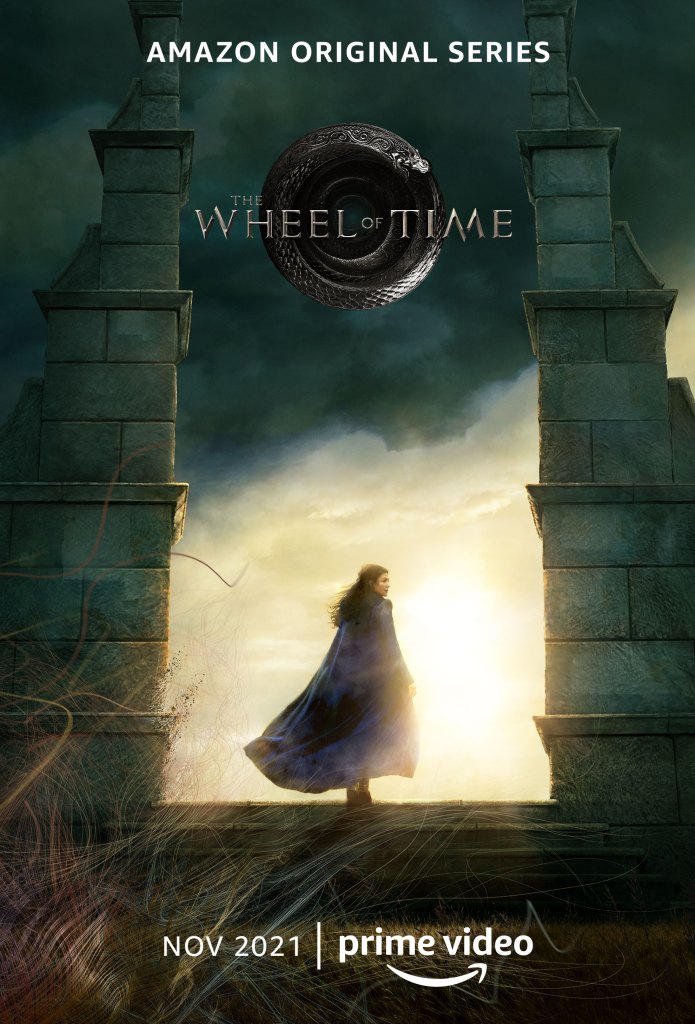 STARZ RELEASES SNEAK PEEK OF HEELS
07/24/21 @ 2:14 pm EST
Source:
YouTube
|
Comments
(0) |
E-mail Article
|
Add a Comment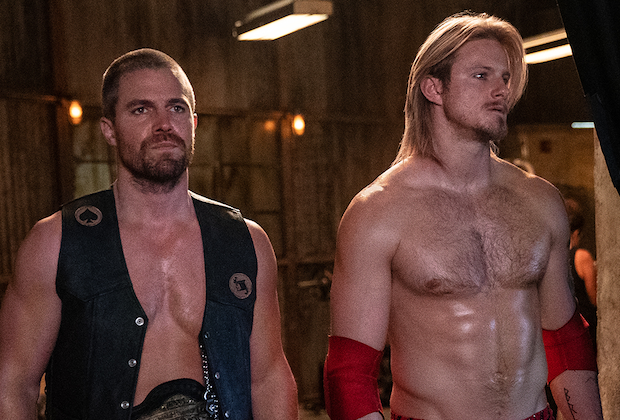 One of the things coming out of Comic-Con@Home yesterday was a
sneak peek video
for the new Starz drama
Heels
. And while this series is basically a small-town family drama centered around a Friday night wrestling league, the show has a ton to offer for non-wrestling fans as well. The series stars former
Arrow
lead
Stephen Amell
, former
West Wing
alum
Mary McCormack
, it's being put together by
Loki
head writer
Michael Waldron
and one of the regulars is former Pittsburgh Steelers player
James Harrison
. It also stars Alexander Ludwig, Alison Luff, Kelli Berglund, Allen Maldonado and Chris Bauer. We also learn in the clip that the majority of the stunts/moves being done in the series are by the actors themselves.
Heels debuts on Starz August 15th.