MARVEL REVEALS THE FUTURE OF THE X-MEN IN FINAL 'X-MEN: THE SEMINAL MOMENTS' DOCUMENTARY SHORT EPISODE
06/18/19 @ 2:02 pm EST
Source:
Marvel
| Categories:
Marvel
|
Comments
(0) |
E-mail Article
|
Add a Comment
Just a month before the highly-anticipated debut of HOUSE OF X and POWERS OF X, Marvel released an all-new episode of X-MEN: THE SEMINAL MOMENTS featuring series writer Jonathan Hickman and other legendary Marvel creators as they shed light on what the future holds for mutants across the universe!

"When Jonathan set out to tell this story, he set out to change the way people think about the Marvel mutants forever…it really shakes things up," said X-Men Editor Jordan D. White. "The first time he told it to me, I was upset. I was like, 'We can't do that. We CAN'T do that.' The more I thought about it, the more I went, 'Wait hang on, what if we did...'"

As HOUSE OF X and POWERS OF X is set to shake the Marvel Universe to its core, Hickman revealed what fans might expect from the series:

"There's no alternate universe version of the X-Men that we're doing – time travel, or any of that kind of stuff. This is a very cause and effect, very linear narratively straightforward story," said Hickman. "I think the most important thing about X-Men is obviously the way that individual readers identify with the characters…my obligation is to be true to the character even though you're putting them in new circumstances and be true to the spirit of what it means to write an X-Men book."

HOUSE OF X and POWERS OF X – written by Jonathan Hickman with art by Marvel's Young Gun Pepe Larraz, R.B. Silva, and colorist Marte Gracia – will build from every major X-Men milestone since 1963 up through the current X-Men series and storylines fans know and love, including some of Marvel's most iconic characters from over the decades.

The next seminal moment in the history of the X-Men begins this July!

Video: https://www.youtube.com/embed/h_hfjRpXW-s


HBO'S LAST OF US GETS BEANPOLE DIRECTOR KANTEMIR BALAGOV
01/16/21 @ 2:17 pm EST
Source:
The Hollywood Reporter
|
Comments
(0) |
E-mail Article
|
Add a Comment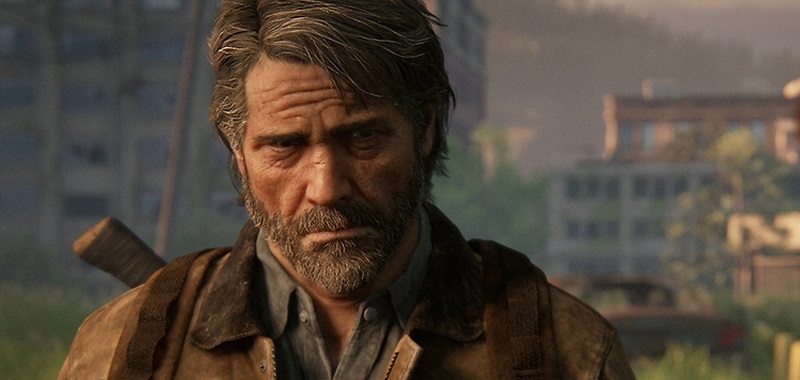 The Hollywood Reporter is
reporting
that the upcoming series adaptation of The Last of Us will be directed by the hit of Cannes, Kantemir Balagov, who recently debuted his film Beanpole to rave reviews at the film festival. The Circassian director replaces Johan Renck who had to drop out due to scheduling conflicts. Renck's partner on Chernobyl, Craig Mazin, is writing and executive producing the series along with Neil Druckmann who is the writer and creator of the game.
The Last of Us tells the story of a plague racked world where a jaded smuggler is hired to get a 14-year-old girl out of the quarantine zone as she may be the key to curing the pandemic.
With the hiring of Balagov, it's obvious that HBO is wanting to go with a serious, somber adaptation as his film Beanpole told the story of the dark relationship between two women in the aftermath of the Siege of Leningrad during WWII.
JOHN WICK SCRIBE TAPPED FOR LIVE-ACTION D&D SERIES
01/16/21 @ 2:01 pm EST
Source:
The Hollywood Reporter
|
Comments
(0) |
E-mail Article
|
Add a Comment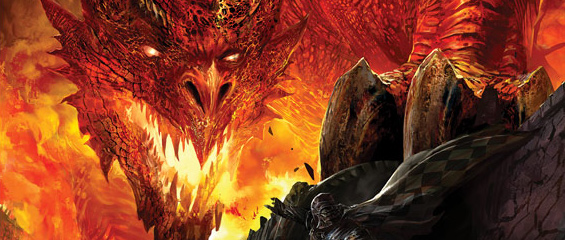 The Hollywood Reporter is… well,
reporting
, that Paramount and Hasbro/eOne are beginning casting on a
Dungeons & Dragons
feature film and begging the groundwork for a television series. To pen the script and develop the pitch for a live-action series, the studios have turned to John Wick writer/creator Derek Kolstad. This is just part of eOne's efforts to transform the popular RPG game into an entertainment franchise as the studio is said to be working with multiple writers to develop various projects in the fantasy universe.
Kolstad wrote the original
John Wick
series as a spec called
Scorn
. He would then go on to work on both sequels and is currently working on the Marvel Studios upcoming
Falcon and the Winter Solder
series for Disney+.
MOST EXPENSIVE BATMAN COMIC SELLS FOR $2.2 MILLION
01/16/21 @ 1:50 pm EST
Source:
The Hollywood Reporter
|
Comments
(0) |
E-mail Article
|
Add a Comment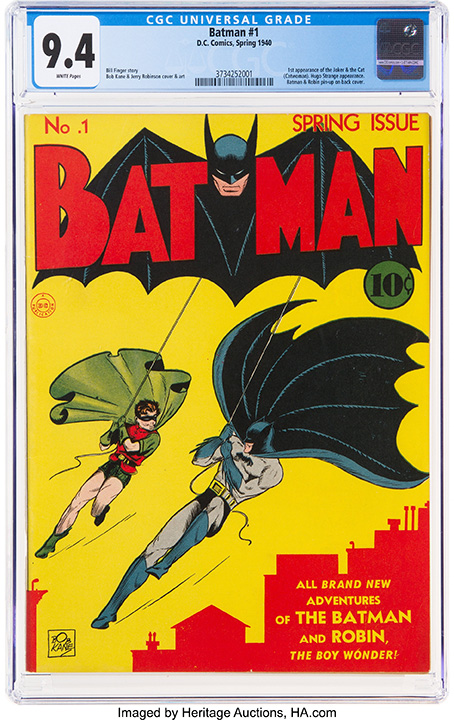 A 9.4 CGC designated copy of Batman #1 from 1940 sold at auction this week for just over $2.2 million dollars, making it the most expensive Batman comic ever sold. As part of the weekend event at Heritage Auction house that started on Thursday, the sale surpassed the previous high for a Batman issue when Detective Comics #27, the first appearance of Batman, sold back in November for $1.5 million.
The Batman #1 issues was last owned by Billy T. Gates who bought it back in 1979 from a comic shop in Houston, Texas for $3,000. Gates sadly passed away back in 2019, leaving his collection to his son.
The issue marks only the third comic to break the $2 million mark with two different copies of Action Comics #1, the first appearance of Superman, both went for over $2 million. One of them being the famed, Nicolas Cage-owned copy. A third issues of Action Comics #1 is still the most expensive comic ever sold having gone under the hammer for $3.2 million back in 2014.
NHL COACH INSPIRES PLAYERS WITH COBRA KAI GESTURE
01/16/21 @ 1:34 pm EST
Source:
Deadline
|
Comments
(0) |
E-mail Article
|
Add a Comment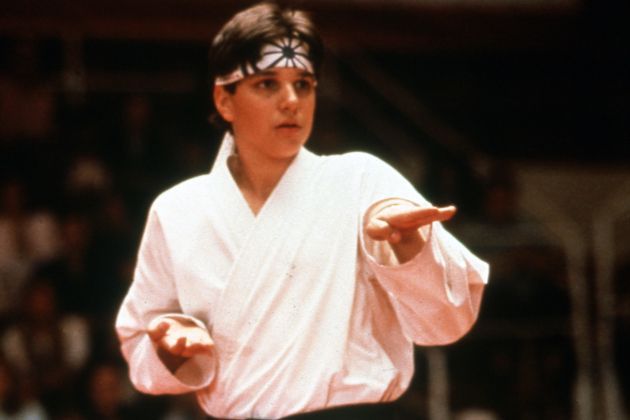 Seems we're not the only ones obsessing over Cobra Kai on Netflix. During his post-game address after a victory, Washington Capitals' coach Peter Laviolette decided to motivate the team by given away bandanas to the best offensive and defensive players of the game. Right winger T.J. Oshie won the Cobra Kai bandana for offensive prowess while Brenden Dillon was awarded the Miyagi-Do bandana for his rampart-like defense. You can see the
presentation here
.
When posted to Twitter, the moment was brought to the attention of Ralph Macchio who of course plays Daniel LaRusso in both the original films and the spinoff Netflix series. Macchio, a big hockey fan and supporter of the New York Islanders post a
shout out
back to the coach. And while he was impressed by the move… he's still loyal to his Islanders.
CHARLIE COX REPORTED ON THE SET OF SPIDER-MAN 3
01/16/21 @ 1:16 pm EST
Source:
Cinema Blend
|
Comments
(0) |
E-mail Article
|
Add a Comment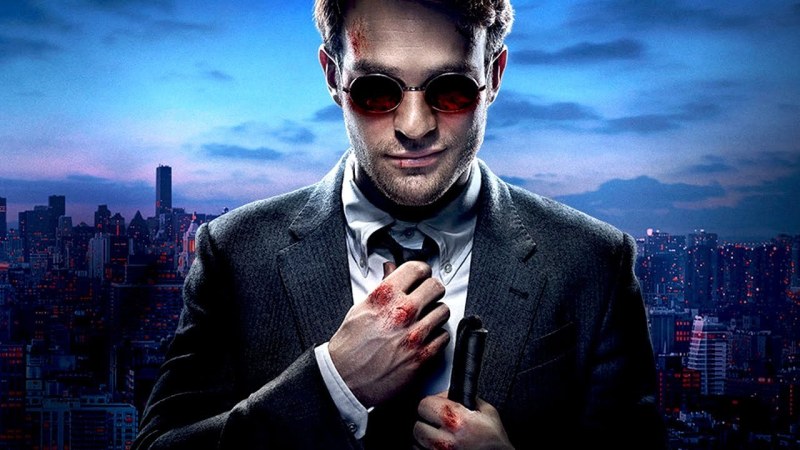 Back in December we started hearing rumors that Marvel Studios were going to be bringing Charlie Cox over from the Netflix series to play Matt Murdock in the upcoming third Spider-Man film. These rumors made sense since the last time we saw the Wall-Crawler, J. Jonah Jameson was telling the world that he was really Peter Parker, which could lead to some serious legal trouble that might have him calling on the Lawyers from Hell's Kitchen. Could a teenager be in violation of the Sokovia Accords?
Now we're hearing, thanks to Bandon Davis and the new
Phase Zero podcast
, that Cox has been seen on the Spider-Man 3 set, though no report on if he was dressed in a suit or the familiar red and black armor.
When asked recently by
Collider
about the possibility of Cox returning as Murdock, Marvel Studios president Kevin Feige was typically coy saying: "I look at anything that's happened before, whether it's our movies, whether it's Marvel entertainment TV series, in particular, obviously the comics, video games, cartoons, all of it is available as inspiration for the future of Marvel. That's they way the comics have worked for many years. So, we'll see."
Trying to read between the lines there, combined with the report of Cox being seen on set, I'd say the likelihood of Murdock showing up in the movie are high, but I wouldn't count on him being the exact same one from the TV series. Feige may pick and choose what to pull from the Netflix series and what to jettison. He's known for liking Cox, Vincent D'Onofrio as Kingpin, Kristen Ritter as Jessica Jones and Jon Bernthal as the Punisher, so he may bring over those actors and recast others. Time will tell.
'BATTLESTAR GALACTICA' REBOOT PRODUCER DETAILS UNCONVENTIONAL RELEASE STRATEGY
01/15/21 @ 3:06 pm EST
Source:
ComicBook
| Categories:
Battlestar Galactica
|
Comments
(0) |
E-mail Article
|
Add a Comment

Streaming services have changed the expectations of audiences when it comes to how we consume storylines, as a number of streamers debut an entire season's worth of episodes all at once, as traditional TV networks typically only release one episode at a time.
Battlestar Galactica
is a beloved piece of sci-fi lore that is associated with tackling ambitious themes, with the upcoming reboot of the concept from
Mr. Robot
creator Sam Esmail turning both narrative expectations and release expectations on their heads, as he detailed that the new project is considering an erratic release strategy that would experiment with non-linear storytelling.
"When I spoke to Peacock about it, and Mike Lesslie who's an amazing writer – he's the one who's showrunning and writing the pilot – the one thing we got excited by is do we release an episode a week, [release all at once]?" Esmail shared with
Collider
. "For me, it was like, let's get in there and tell the right story and it will tell us how many episodes. We may dump three episodes in a row because it's a three-episode-long battle sequence that needs to be dropped in a row even though they're three signifying chapters, and maybe each chapter is switching a point of view within that battle sequence. There may be a 20-minute episode that's the backstory of one of the characters that gets dropped right after that."
He added, "So we're gonna really experiment with form on this one because
Battlestar
, again, given the rich mythology that's in there already, we want to hit every nook and cranny and because of the format, because of Peacock and streaming – and they've been such great partners with us in trying to experiment – we want to get in the writers' room and let the story tell us how it wants to be released." (via
ComicBook
)
YOUR FIRST LOOK AT 'DUNE: HOUSE ATREIDES' #4
01/15/21 @ 2:49 pm EST
Source:
BOOM! Studios
| Categories:
MIsc
|
Comments
(0) |
E-mail Article
|
Add a Comment
BOOM! Studios today revealed a first look at DUNE: HOUSE ATREIDES #4, adapted & scripted by Brian Herbert and Kevin J. Anderson, who co-wrote the eponymous prequel novel based on Frank Herbert's notes and illustrated by artist Dev Pramanik (
Paradiso
), colorist Alex Guimarães (
Buffy: Every Generation
) and letterer Ed Dukeshire (
Once & Future
), in partnership with Herbert Properties LLC and in full coordination with Abrams ComicArts, who published the first of three graphic novel adaptations of Herbert's original classic novel
DUNE
in Fall 2020.
Leto Atreides has discovered the horrifying truth behind Ix's success, calling House Vernius' true nature into question and possibly spelling the House's demise. The Harkonnens' deadly influence continues to spread, forcing Duncan Idaho to take drastic measures; Reverend Mother Gaius Mohiam to play her trump card with the Baron. Pardot Kynes forms an alliance with the Freman that will change the course of Dune's history. Meanwhile, Crown Prince Shaddam and Hasimir Fenring continue unraveling their plot to oust the Emperor Elrood...
Created by visionary writer Frank Herbert,
Dune
debuted in 1965, has sold millions of copies and is arguably the most admired science fiction novel of all time. After winning the Hugo Award and inaugural Nebula Award,
Dune
inspired a best-selling novel series and led to multiple live-action adaptations, including the upcoming feature film from Legendary Pictures. The influence of
Dune
extends well beyond the world of entertainment, with an incalculable influence on modern scientific thinking about politics, religion, outer space, environmentalism and more.
The DUNE: HOUSE ATREIDES limited series is published in coordination with Abrams ComicArts, who will release a graphic novel trilogy adapting Frank Herbert's original novel
Dune
, with volume one published on November 24, 2020. The
Dune
graphic novels from ComicArts are also adapted and scripted by Brian Herbert and Kevin J. Anderson, and will be illustrated by Raúl Allén and Patricia Martín, and feature covers by Bill Sienkiewicz.
DUNE: HOUSE ATREIDES is the newest release from BOOM! Studios' eponymous imprint, home to critically acclaimed original series, including
BRZRKR
by Keanu Reeves, Matt Kindt, and Ron Garney;
We Only Find Them When They're Dead
by Al Ewing and Simone Di Meo;
Seven Secrets
by Tom Taylor and Daniele Di Nicuolo;
Something is Killing the Children
by James Tynion IV and Werther Dell'Edera;
Faithless
by Brian Azzarello and Maria Llovet; and
Abbott
by Saladin Ahmed and Sami Kivelä. The imprint also publishes popular licensed properties including
Buffy the Vampire Slayer
from Jordie Bellaire and David López,
Firefly
from Greg Pak, Lalit Kumar Sharma & Daniel Bayliss, and the
Mighty Morphin
and
Power Rangers
series from Ryan Parrott, Marco Renna, and Francesco Mortarino.
DUNE: HOUSE ATREIDES #4 features main cover art by Lorenzo De Felici (
Oblivion Song
) and variant cover art by Mike Del Mundo (
Avengers
).
Print copies of DUNE: HOUSE ATREIDES #4 will be available on January 27, 2021 at local comic book shops (use
comicshoplocator.com
to find the nearest one), or at the BOOM! Studios webstore. Digital copies can be purchased from content providers like comiXology, iBooks, Google Play, and Madefire.
DUNE: HOUSE ATREIDES #4 features main cover art by Lorenzo De Felici (
Oblivion Song
) and variant cover art by Mike Del Mundo (
Avengers
).
'TINTIN' COMIC BOOK ART BREAKS AUCTION RECORD AT $3.1 MILLION
01/15/21 @ 2:45 pm EST
Source:
ABC News
| Categories:
MIsc
|
Comments
(0) |
E-mail Article
|
Add a Comment
A Tintin drawing by the Belgian artist Herge has sold in Paris, France, for 2.6 million euros ($3.1 million), breaking the record for the most expensive comic book art in history.
The 1936 work in Chinese ink, gouache and watercolor was destined as a cover for
The Blue Lotus
, the fifth volume of the adventures of Tintin, a young reporter created by Herge.
The work features a red dragon on a black background by the frightened character's face. It never graced store shelves because it was deemed too expensive to reproduce on a wide scale, a victim of the artist's craftsmanship.
In
Blue Lotus,
Tintin travels to China during the 1931 Japanese invasion with his dog, Snowy, to investigate and expose Japanese spy networks, drug-smuggling rings and other crimes.
The record price set at the sale organized by the Artcurial auction house did not include auction fees. Work by Hergé, whose real name was Georges Remi, previously set the record for the most expensive pieces of comic book art with the front pages of Tintin comic books that also sold for 2.6 million euros, including auction fees. (via
ABC News
)
THE AVENGERS JOIN THE BATTLE AGAINST THE KING IN BLACK
01/15/21 @ 2:37 pm EST
Source:
Marvel
| Categories:
Marvel
|
Comments
(0) |
E-mail Article
|
Add a Comment
Now fully underway, Donny Cates and Ryan Stegman's KING IN BLACK has taken the entire Marvel Universe by storm. And in April, the year's most talked-about event will explode in the pages of Jason Aaron's AVENGERS. Featuring art by Luca Maresca (
Marvel's Spider-Man: The Black Cat Strikes
), AVENGERS #45 will star Blade and a vampire army taking on Knull's forces.
The vampire hunter has been at the forefront of battles throughout KING IN BLACK and now the vampire hunter will pay a dark price that will change his world forever. Setting up Blade and the Avengers for what's to come, AVENGERS #45 is a key chapter in the King in Black saga that fans won't want to miss. Check out the cover by Cory Smith below and pick up the issue when it hits stands in April.
CARNAGE UNLEASHED ON PEACH MOMOKO'S 'CARNAGE: BLACK, WHITE, & BLOOD' #1 COVER
01/15/21 @ 2:33 pm EST
Source:
Marvel
| Categories:
Marvel
|
Comments
(0) |
E-mail Article
|
Add a Comment
Recently announced as a member of the inaugural class of Marvel's Stormbreakers, superstar artist Peach Momoko continues to turn out bestselling variant covers for Marvel's hottest titles. Fans can now see her latest creation, featuring a depiction of Spider-Man's scariest foe reimagined in Momoko's trademark style, for CARNAGE: BLACK, WHITE & BLOOD #1.
Featuring all-star creators such as Donny Cates, Ken Lashley, Sara Pichelli, and more, CARNAGE: BLACK, WHITE, BLOOD will present Carnage's most spine-chilling tales in BLACK, WHITE AND BLOOD. See Momoko's cover below and don't miss adding this latest variant cover masterpiece to your collection when CARNAGE: BLACK, WHITE, AND BLOOD #1 hits stands in March.