MARVEL REVEALS THE FUTURE OF THE X-MEN IN FINAL 'X-MEN: THE SEMINAL MOMENTS' DOCUMENTARY SHORT EPISODE
06/18/19 @ 2:02 pm EST
Source:
Marvel
| Categories:
Marvel
|
Comments
(0) |
E-mail Article
|
Add a Comment
Just a month before the highly-anticipated debut of HOUSE OF X and POWERS OF X, Marvel released an all-new episode of X-MEN: THE SEMINAL MOMENTS featuring series writer Jonathan Hickman and other legendary Marvel creators as they shed light on what the future holds for mutants across the universe!

"When Jonathan set out to tell this story, he set out to change the way people think about the Marvel mutants forever…it really shakes things up," said X-Men Editor Jordan D. White. "The first time he told it to me, I was upset. I was like, 'We can't do that. We CAN'T do that.' The more I thought about it, the more I went, 'Wait hang on, what if we did...'"

As HOUSE OF X and POWERS OF X is set to shake the Marvel Universe to its core, Hickman revealed what fans might expect from the series:

"There's no alternate universe version of the X-Men that we're doing – time travel, or any of that kind of stuff. This is a very cause and effect, very linear narratively straightforward story," said Hickman. "I think the most important thing about X-Men is obviously the way that individual readers identify with the characters…my obligation is to be true to the character even though you're putting them in new circumstances and be true to the spirit of what it means to write an X-Men book."

HOUSE OF X and POWERS OF X – written by Jonathan Hickman with art by Marvel's Young Gun Pepe Larraz, R.B. Silva, and colorist Marte Gracia – will build from every major X-Men milestone since 1963 up through the current X-Men series and storylines fans know and love, including some of Marvel's most iconic characters from over the decades.

The next seminal moment in the history of the X-Men begins this July!

Video: https://www.youtube.com/embed/h_hfjRpXW-s


TEYONAH PARRIS CAST AS THE ADULT MONICA RAMBEAU
07/22/19 @ 9:27 am EST
Source:
Deadline
| Categories:
Marvel
|
Comments
(0) |
E-mail Article
|
Add a Comment
Deadline
reports that Teyonah Parris has been cast as an adult Monica Rambeau for the coming Disney+ series
WandaVision,
involving the titular android Avenger (Paul Bettany) and the Scarlet Witch (Elizabeth Olsen).
A juvenile version of the Rambeau character was part of the
Captain Marvel
film, which took place in 1995
.
Comics readers will recall that Monica was once called Captain Marvel herself as a member of the Avengers, and actually led the team under the sponsorship of Captain America.
The events of
WandaVision
will take place after the events of
Avengers: Endgame.
MARVEL'S 'ETERNALS': FIRST LOOK REVEALED
07/22/19 @ 9:15 am EST
Source:
Marvel Studios
| Categories:
Marvel
|
Comments
(0) |
E-mail Article
|
Add a Comment
A piece of key art from
Marvel Studios
' much-discussed coming film of Jack Kirby's second visit to Marvel Comics,
The Eternals
, has been released online. It is our first look at the MCU reimagining, although the Celestials have been reffed several times in the cosmic MCU.
In their full Kirby glory, the gigantic Celestials -- key to creation of both the Eternals and their rivals, the Deviants -- walk the surface of a planet (maybe a young Earth?).
The Eternals
is set for release on November 6, 2020.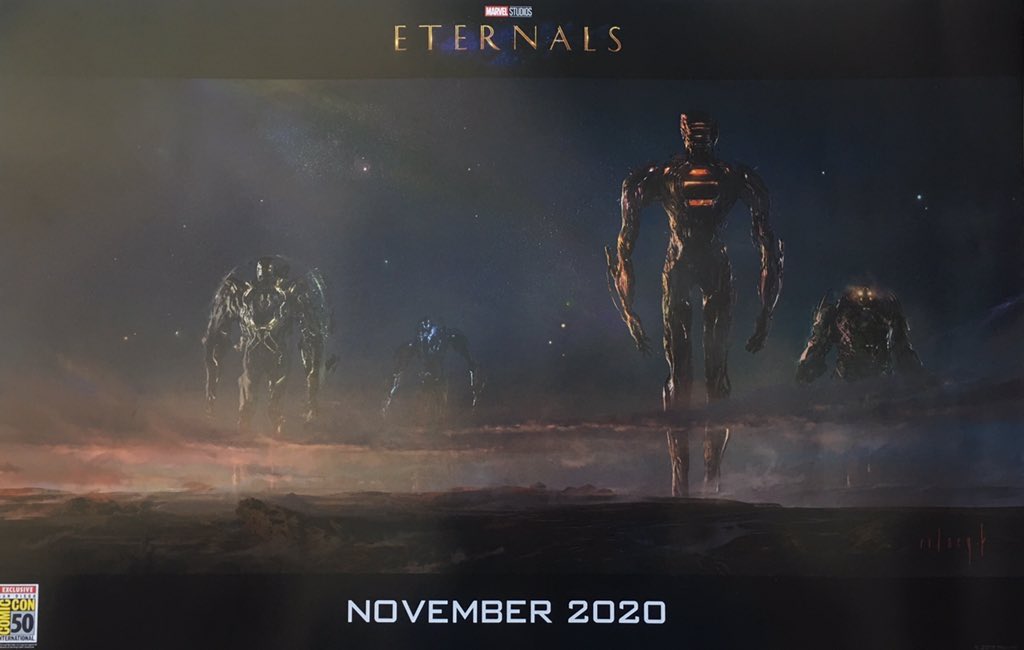 'SUPERMAN: RED SON' ANIMATED MOVIE ANNOUNCED
07/22/19 @ 9:07 am EST
Source:
Screen Rant
| Categories:
DC
|
Comments
(0) |
E-mail Article
|
Add a Comment
Screen Rant
reports that news of an animated adaption of the acclaimed mini-series,
Superman: Red Son,
has been announced.
The movie will start off DC's animated lineup in 2020, which will also contain
Justice League Dark: Apokolips War
and
Superman: Man of Tomorrow
.
A
Superman: Red Son
adaption was originally reported to be in development back in January.
'THE FLASH': SENDHIL RAMAMURTHY TO PLAY DC VILLAIN BLOODWORK
07/22/19 @ 9:01 am EST
Source:
Deadline
| Categories:
DC
|
Comments
(0) |
E-mail Article
|
Add a Comment
Deadline
reports that a new villain is headed to Central City. Former
Heroes
star Sendhil Ramamurthy is set for the recurring role of Dr. Ramsey Rosso, aka DC villain Bloodwork, in the upcoming sixth season of The CW's
The Flash.
Ramamurthy's Dr. Ramsey Rosso is a brilliant physician with a genius intellect, and the world's leading expert on hematological oncology. A former colleague of S.T.A.R. Labs' Caitlin Snow (Danielle Panabaker), Rosso rekindles their friendship after they are reunited by an unexpected event. But their longtime bond is quickly shattered when the doctor's desire to defy the laws of nature takes him down a dark path…one that transforms Rosso from an old friend into the most chilling villain Team Flash has ever faced: the monstrous Bloodwork.
The series returns for season 6 on Tuesday, October 8 at 8/7c on The CW.
'WATCHMEN' OFFICIAL TRAILER RELEASED
07/22/19 @ 9:06 am EST
Source:
HBO
| Categories:
DC
|
Comments
(0) |
E-mail Article
|
Add a Comment
HBO
released an official trailer for its much-anticipated
Watchmen
series.
Here it is:
https://youtu.be/rX9EEYddMRM
'BLADE' BEING REBOOTED FOR MCU WITH MAHERSHALA ALI; 'FANTASTIC FOUR' ALSO IN THE WORKS
07/20/19 @ 10:22 pm EST
Source:
Deadline
| Categories:
Marvel
|
Comments
(0) |
E-mail Article
|
Add a Comment
Deadline
reports one of the true surprises, IMHO, of the Marvel Comic-Con session: that two-time Oscar winner Mahershala Ali is set to play Blade in a reboot from Kevin Feige's MCU.
No other details were revealed.
The original from New Line Cinema starred Wesley Snipes and featured Marv Wolfman and Gene Colan's hybrid vampire/vampire slayer from Marvel's
Tomb of Dracula
.
Snipes'
Blade
was an R-rated film, so it will be interesting to see if Disney's MCU goes for a version like that. New Line churned out three films.
Feige also promised that other titles on the horizon include a
Fantastic Four
reboot, with
Guardians of the Galaxy 3, Captain Marvel 2,
and
Mutants
on the horizon beyond 2021. No other details were given on those movies.
'THOR 4' IS 'THOR LOVE AND THUNDER' OPENING FALL 2021 --COMIC-CON
07/20/19 @ 10:13 pm EST
Source:
Deadline
| Categories:
Marvel
|
Comments
(0) |
E-mail Article
|
Add a Comment
Jane is plain no more!
MCU is going the comic book route,
Deadline
reported Saturday night, as Natalie Portman becomes female Thor in
Thor 4
. She played Jane Foster in the first two
Thor
movies. The film will open in Fall 2021.
Returning director Taika Waititi was on hand to talk about
Thor 4
along with
Tessa Thompson
who played Valkyrie in
Thor: Ragnarok
along with Chris Hemsworth. Valkyrie will be "re-investing in her people" and rebuilding Asgard, said Thompson.
Ironically, in the comics, Jane Foster has recently become Valkyrie!
And what's happened to MCU's male Thor post-
Endgame
? "He's heading to the 7-11 for a little Netflix subscription and at this point he might be on the couch, who knows?" said Hemsworth.
'DOCTOR STRANGE' SEQUEL BILLED AS FIRST MCU HORROR FILM AT COMIC-CON
07/20/19 @ 10:02 pm EST
Source:
Variety
| Categories:
Marvel
|
Comments
(0) |
E-mail Article
|
Add a Comment
A sequel to
Doctor Strange
was announced as expected on Saturday at Marvel's Comic-Con panel — what we didn't see coming was the tone.
Director Scott Derrickson said the film, titled
Doctor Strange in the Multiverse of Madness
, will mine the original comics and play up "the gothic, the horror." Derrickson said it will lead Benedict Cumberbatch to dark and damaging places, though he will have company in Elizabeth Olsen, who will reprise her role as the Scarlet Witch.
The events of her Disney+ series
Wandavision
will lead her to Doctor Strange's doorstep, Marvel Studios president Kevin Feige said. (via
Variety
)
MARVEL FINDS ITS SHANG-CHI WITH CHINESE-CANADIAN ACTOR SIMU LIU
07/20/19 @ 9:56 pm EST
Source:
Hollywood Reporter
| Categories:
Marvel
|
Comments
(0) |
E-mail Article
|
Add a Comment
Canadian actor Simu Liu, who is best known for his role on CBC sitcom
Kim's Convenience
, has been set to star in Marvel Studios'
Shang-Chi,
playing the titular character. Also joining the movie will be
Crazy Rich Asians
star Awkwafina and veteran actor Tony Leung.
THR
reported on the announcements made at Marvel's presentation at Comic-Con in the cavernous Hall H arena, where Marvel Studios head Kevin Feige said the movie's full title would be
Shang-Chi and the Legend of the Ten Rings
and would be hitting theaters in Feb. 12, 2021.
Destin Daniel Cretton is directing the stand-alone movie which the studio hopes can be a cultural breakthrough in the same way
Black Panther
was in 2018.
MARVEL REVEALS CAST AND PLOT DETAILS FOR 'THE ETERNALS'
07/20/19 @ 9:52 pm EST
Source:
Variety
| Categories:
Marvel
|
Comments
(0) |
E-mail Article
|
Add a Comment
King Kirby's second-gen Marvel creation is coming to the big screen!
At SDCC, the first film announced at Marvel's presentation on Saturday, unarguably the hottest ticket of the weekend, confirmed months of speculation by unveiling cast of
The Eternals
: Angelina Jolie, Salma Hayek, Richard Madden, Brian Tyree Henry, Kumail Nanjiani, Lauren Ridloff and Don Lee will star as 35,000-year-old aliens.
"This movie will allow those who have never felt represented in movies, in this case superheroes, to be represented. I love my diverse family," Hayek said on stage.
A release date for the movie has also been revealed: November 6, 2020. (via
Variety
)