'MEN IN BLACK: INTERNATIONAL' SET TO ZAP $40M OPENING
05/23/19 @ 11:46 am EST
Source:
Deadline
| Categories:
MIsc
|
Comments
(0) |
E-mail Article
|
Add a Comment
Deadline
is reporting that
Men in Black: International,
Sony's reboot of
Men in Black
with
Thor: Ragnarok
thespians Chris Hemsworth and Tessa Thompson, arrived on tracking this morning with a $40M start. The pic opens on June 14.
While lower than the $50M-plus 3-days of the Will Smith-Tommy Lee Jones' movies,
Men in Black: International
isn't being launched over the holiday frames like those pics, and it's the studios means of taking the franchise in a new direction. Whether this film pops further or not will, natch, boil down to reviews and word of mouth.
The original 1997
Men in Black
opened at a time when the star system still worked at the box office, and it was Will Smith's subsequent July 4th opener after being crowned the B.O. king of the holiday with 1996's
Independence Day.
'THE BOYS': COUNT THE MIDDLE FINGERS IN THE TRAILER
07/14/20 @ 5:28 pm EST
Source:
ComicBook
| Categories:
The-Boys
|
Comments
(0) |
E-mail Article
|
Add a Comment
A week after debuting the season two teaser trailer for
The Boys
, Amazon Prime Video (via
ComicBook
) has come back with some homework: How many middle fingers are in the teaser for the new episodes?
A clear trademark of the series at this point, you can re-watch the trailer below and give it the old college try in tallying the total.
By our count there are three middle fingers, however there is one potential wrinkle. One of the middle fingers gets severed from the man that is extending it, and it flies upward and back towards the camera. Does this count as four total middle fingers? It's technically a different shot and moment from the initial bird-flipping, but comes from a previously seen bird-flipper.
The Boys
will return for season 2 with new episodes on September 4 with its first three episodes and with five weekly episodes following in the subsequent weeks.

Take a look at it for yourself by clicking here.
'GIRL POWER': RINGO-NOMINATED ALL-AGES SERIES RETURNS WITH A NEW JET-SETTING TALE
07/14/20 @ 5:18 pm EST
Source:
Action Lab
| Categories:
MIsc
|
Comments
(0) |
E-mail Article
|
Add a Comment
Jupiter Jet has dreams of soaring across the solar system as she embarks on an all-new sci-fi adventure! This fall, Action Lab Comics is proud to announce the return of the Ringo Award-nominated series
Jupiter Jet with Jupiter Jet and the Forgotten Radio
, a gorgeous full-color 120 page OGN trade paperback written by Jason Inman and Ashley Victoria Robinson (
Science!: The Elements of Dark Energy
), with art by Ben Matasuya (
Midnight Massacre
) and colors by Elizabeth Kramer, cover by Jonboy Meyers (
Teen Titans, Spawn
).
Seventeen year-old superhero Jupiter Jet has kept Olympic Heights safe for the last year. Her flying skills are unmatched, and the city loves her. But she wants to do more.
Jupiter Jet sets out to liberate humanity from the clutches of The Praetors, the aliens that imprisoned them—not even her little brother's discovery of a long-forgotten radio can change her mind.
When the mysterious Black Flyer arrives in orbit and threatens her world, Jupiter Jet finds out that her flying techniques may not be up to the task. Being a hero requires more than just a jetpack. Does Jupiter Jet have the courage to save her entire planet?
"I love science fiction. Spaceships, robots, and unknown enemies with laser blasters are great fodder for a writer," said Jason Inman. "Where
Jupiter Jet
Volume 1 was an all-ages homage of the adventure serials of yore, Jupiter Jet and the Forgotten Radio plonks our hero deep in the realm of sci-fi. I can't wait for comic fans of all-ages to read how this journey will push Jupiter Jet forward and where it will lead her next!"
"The best thing Jupiter Jet brought us was readers of all ages. Families coming together to meet Jacky Johnson and watch her take to the sky, " said Ashley Victoria Robinson. "I felt tremendous responsibility to evolve Jacky into the young woman these growing families would meet again in
Jupiter Jet and the Forgotten Radio
. This new chapter is something I am so proud of, as it echoes so many stories I have loved."
"I think the one word that sums up
Jupiter Jet and the Forgotten Radio
for me is growth," said Ben Matasuya. "Not only do we see our Jupiter Jet universe expand and reveal new adventures, I think our creative team has grown so much too. Jason, Ashley, Taylor, and I have grown as storytellers in our respective fields and also our Jupiter Jet family has grown with the addition of Liz, our amazing new colorist. The possibilities for this world and this team are endless!"
"As a fan of the series before I was hired as the colorist, Jupiter Jet was a blast to work on!" said Elizabeth Kramer. "Bringing the story and artwork to full color was a joy and a challenge blending new genres and settings while keeping the time-y era look. I can't wait for people to read it!"
Jupiter Jet and the Forgotten Radio
is slated for release in comic shops October 7, 2020 and on bookstore shelves October 20th.
'CANTO & THE CLOCKWORK FAIRIES' GETS A SECOND PRINT!
07/14/20 @ 5:13 pm EST
Source:
IDW
| Categories:
IDW
|
Comments
(0) |
E-mail Article
|
Add a Comment
As great and valiant as there ever was, Canto on his one-shot quest,
Canto & the Clockwork Fairies
, has sold out the first run! The delightful tale written by David M. Booher and drawn by Drew Zucker, not only gets a second printing, but our hero Canto has also found a way to San Diego Comic-Con International's Comic-Con @ Home with an exclusive variant cover by Drew Zucker and Vittorio Astone!
Return to Canto's world and follow the brave clockwork hero as he leads his people out from their home in Arcana to find somewhere—and something—new! When Canto encounters a group of captured fairies, it's up to him to liberate them, but can he do it without being captured himself?
"Despite the uncertainty surrounding the pandemic, Drew and I pushed forward with our clockwork knight in the hopes we'd be able to keep telling his story," said David Booher. "We couldn't have imagined that 2020—with all its challenges—would see the release of
Canto & the Clockwork Fairies
and the sequel to his saga in
Canto II: The Hollow Men
. The response from shops and readers has been overwhelming. Thank you to everyone for continuing with us on Canto's journey."
"This year has obviously been a challenging year not just for comics, but for everyone," said Drew Zucker. "Despite everything though, Canto has continued to be a source of support for David and I, and we felt strongly that this was the type of storytelling we wanted to put out into the world. With
Canto & the Clockwork Fairies
approaching its release and
Canto II: The Hollow Men
not far behind, we have been overwhelmed by the fans and retailer support. There are no words for what this has done for the both of us and we could not be more excited to not only set Canto off on his next adventure, but for everyone to take it with him."
Canto & the Clockwork Fairies
from IDW hits shops on July 22nd.
EVEL KNIEVEL LIMITED SERIES SCRAPPED BY USA NETWORK, CASUALTY OF PANDEMIC
07/14/20 @ 5:08 pm EST
Source:
Deadline
| Categories:
MIsc
|
Comments
(0) |
E-mail Article
|
Add a Comment
Deadline
reports that USA Network will not be going forward with
Evel,
its high-profile limited series starring
This Is Us
' Milo Ventimiglia as the larger-than-life '70s daredevil Evel Knievel.
The limited series was to film during Ventimiglia's hiatus from
This Is Us
. The project was fully cast and staffed; production was about to begin when it was forced to shut down on the last day of prep, March 13, due to the coronavirus pandemic.
With Ventimiglia's window of availability closing, no definitive path to production restart in the U.S. amid a surge of new COVID-19 infections, which makes synching up everyone's schedules a daunting proposition, a decision was made not to proceed with the series at USA.
'HELSTROM': FIRST LOOK REVEALED OF MARVEL SERIES
07/14/20 @ 5:03 pm EST
Source:
IGN
| Categories:
Marvel
|
Comments
(0) |
E-mail Article
|
Add a Comment
Hula (via
IGN
) has released a gallery of the first
Helstrom
official photos.
Created by Roy Thomas and Gary Friedrich, Daimon Hellstrom (yes, the comics were a little more on the nose with their spelling) first debuted in the pages of Ghost Rider #1 in 1973 before being spun off into his own series, and later became a member of the Defenders, while Daimon's sister Satana (created by Thomas and artist John Romita Sr.) first appeared in Vampire Tales #2, going on to team up with the Thunderbolts and often crossing paths with Doctor Strange. As her name suggests, Satana is a little more comfortable with her demonic heritage than her brother.
The new series centers around Daimon (Tom Austen) and Ana Helstrom (Sydney Lemmon), the son and daughter of a mysterious and powerful serial killer, as they track down the worst of humanity - each with their own unique skills (and familial baggage).
Helstrom
will reveal more during the show's Comic-Con@Home panel on Friday, July 24 at 3 p.m. PT and is slated to come to Hulu in October.
'THE GOONIES': BOSSLOGIC UNVEILS COVER ART FOR 4K RELEASE
07/14/20 @ 11:33 am EST
Source:
ComicBook
| Categories:
MIsc
|
Comments
(0) |
E-mail Article
|
Add a Comment
The Goonies
is finally getting a 4K Ultra HD. Better yet, Warner Brothers Home Media enlisted fan-favorite designer BossLogic to help design the cover artwork for the home media release — and it's a thing of glory.
Featuring the titular group towards the top of the design, One-Eyed Willy's skull takes up most of the cover, a common sight for fans of the cult classic. (via
ComicBook
)
The film is currently celebrating its 35th anniversary.
The Goonies
will be released on 4K Ultra HD on September 1st.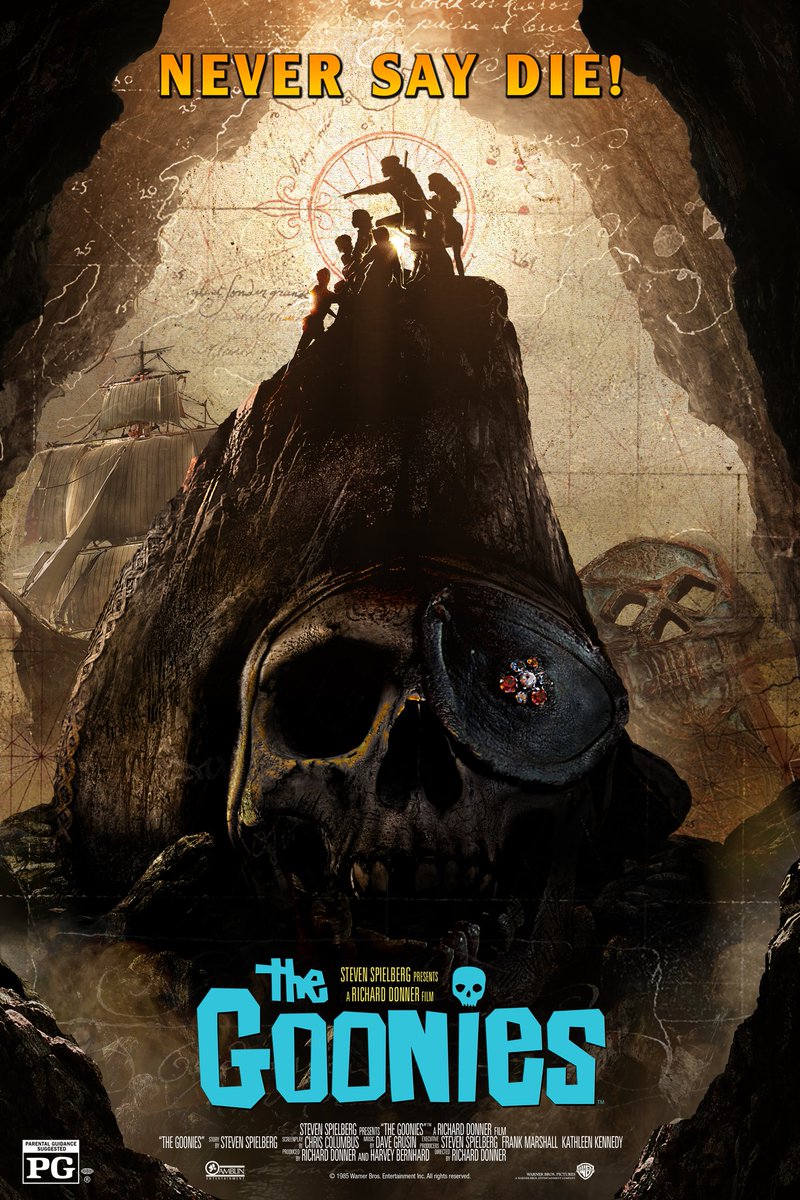 JAPANESE DUB CAST FOR LIVE-ACTION 'MULAN' REVEALED
07/14/20 @ 11:21 am EST
Source:
Anime! Anime!
| Categories:
Disney
|
Comments
(0) |
E-mail Article
|
Add a Comment
Yoshimasa Hosoya, Kensho Ono, Subaru Kimura, Hiroki Yasumoto, and Yutaka Hatanaka have been selected as dubbing actors for the Japanese version of Disney's live-action movie
Mulan
. (via
Anime! Anime!
)
Hosoya (Reiner Braun in
Attack on Titan
, Joe in
Megalobox
) will be dubbing Chen Honghui, an original character created for the live-action film as Mulan's new love interest (rather than Li Shen, as seen in the original animated movie).
Kimura (Takeshi Goda in
Doraemon,
Pesci in
JoJo's Bizarre Adventure: Golden Wind
Pesci) will be voicing Yao, Hatanaka (
Yu-Gi-Oh! Zexal
's Yuma Tsukumo,
Ushio and Tora
's Ushio Aotsuki) will be Ling, Yasumoto (Chad Sato in
Bleach, One-Punch Man
's King) will voice Chien Po, and Ono (Giorno Giovnanna in J
oJo's Bizarre Adventure: Golden Wind,
Tetsuya Kuroko in
Kuroko's Basketball
) will be an archer named Cricket.
Disney's live-action
Mulan
is currently slated for a release in Japanese theaters on September 4th, while it is slated to release in August in the United States. Both are of course subject to change.
'INVINCIBLE' ANIMATED SERIES DETAILS WILL BE REVEALED DURING VIRTUAL SKYBOUND XPO
07/14/20 @ 10:54 am EST
Source:
ComicBook
| Categories:
Image
|
Comments
(0) |
E-mail Article
|
Add a Comment
Invincible
co-creator Robert Kirkman confirms new details behind the adult animated series coming to Amazon Prime Video will be revealed during the virtual Skybound Xpo taking place July 18 and 19.
Comic book readers would have received their first look at the Amazon Studios series in an eight-page sneak peek contained in the pages of a previously announced
Invincible
#1 Free Comic Book Day reprint — featuring an animation-inspired variant cover from series co-creator and artist Cory Walker — but the free comic was delayed until August 5 when the annual Free Comic Book Day was retooled into a summer-long event amid the coronavirus pandemic.
The two-day virtual convention will be live streamed on the official Skybound Entertainment YouTube and Facebook pages starting Saturday, July 18 at 11 AM.
Invincible
stars Steven Yeun (
The Walking Dead
) as the voice of Mark Grayson, who becomes a costumed crime-fighter when he finally inherits superhuman powers from his father: the alien Omni-Man (voice of
Spider-Man
star J.K. Simmons), the planet's most powerful superhero. (via
ComicBook
)
'STARGIRL': "SHINING KNIGHT" PHOTOS RELEASED
07/14/20 @ 10:46 am EST
Source:
The CW
| Categories:
DC
|
Comments
(0) |
E-mail Article
|
Add a Comment
The CW
has released photos for "Shining Knight", the upcoming episode of
Stargirl.Stargirl
airs Tuesdays at 8/7c on The CW. New episodes of the series debut Mondays on DC Universe. "Shining Knight" debuts Monday, July 27 on DC Universe and Tuesday, July 28 on The CW.
'BUFFY THE VAMPIRE SLAYER: WILLOW' #1 FIRST PRINTING SELLS OUT
07/14/20 @ 10:37 am EST
Source:
BOOM! Studios
| Categories:
Buffy
|
Comments
(0) |
E-mail Article
|
Add a Comment
BOOM! Studios announced today that BUFFY THE VAMPIRE SLAYER: WILLOW #1, the premiere issue of the brand new five-issue limited series, from award-winning writer Mariko Tamaki (
Laura Dean Keeps Breaking Up With Me, Harley Quinn: Breaking Glass
), acclaimed artist Natacha Bustos (
Moon Girl and Devil Dinosaur
), colorist Eleonora Bruni, and letterer Jodi Wynne, has sold out at the distributor level!
In response to the overwhelming support from retailers and fans, BOOM! Studios has announced BUFFY THE VAMPIRE SLAYER: WILLOW #1 SECOND PRINTING, available in August 2020 and featuring brand new cover art by comic artist and illustrator Naomi Franquiz (
Unbeatable Squirrel Girl
).
After everything—and everyone—she lost to the Hellmouth, Willow is leaving Sunnydale on a world-spanning road trip in search of her true self. She stumbles on a community of people like her: lost witches looking for answers...but there's a darkness at the heart of it, one that reminds Willow of something she's felt before, something that she fears inside herself. Now, truly alone for the first time in her life, Willow must rely only on her instincts—and her magic—to save herself from a threat Buffy never prepared her to face...or the rest of the world will pay the price.
"It's been an absolute blast getting WILLOW #1 in stores as everyone's favorite nerdy witch strikes out on her own for an adventure that introduces longtime fans and new readers to the greater, wider magical world of the Buffyverse," said Filip Sablik, President, Publishing & Sales, BOOM! Studios. "The amazing creative team of Mariko, Natacha, Eleonora, and Jodi have made this premiere issue a must-have, which is why we're very excited to announce a second printing with a beautifully illustrated new cover by Naomi Franquiz!"
BUFFY THE VAMPIRE SLAYER: WILLOW is the newest release from BOOM! Studios' eponymous imprint, home to critically acclaimed original series, including
Once & Future
by Kieron Gillen and Dan Mora;
Something is Killing the Children
by James Tynion IV and Werther Dell'Edera;
Faithless
by Brian Azzarello and Maria Llovet;
The Red Mother
by Jeremy Haun and Danny Luckert;
King of Nowhere
by W. Maxwell Prince and Tyler Jenkins;
Alienated
by Simon Spurrier and Chris Wildgoose;
Seven Secrets
by Tom Taylor and Daniele Di Nicuolo; and
We Only Find Them When They're Dead
by Al Ewing and Simone Di Meo. The imprint also publishes popular licensed properties including Joss Whedon's
Firefly
from Greg Pak and Dan McDaid;
Buffy the Vampire Slayer
from Jordie Bellaire and David López; and
Mighty Morphin Power Rangers
from Ryan Parrott and Daniele Di Nicuolo.
Print copies of BUFFY THE VAMPIRE SLAYER: WILLOW #1 SECOND PRINTING will be available for sale on August 5, 2020 exclusively at local comic book shops (use
comicshoplocator.com
to find the nearest one). Digital copies of BUFFY THE VAMPIRE SLAYER: WILLOW #1 can be purchased from content providers, including comiXology, iBooks, Google Play, and Madefire.