'EPIC': BRITTANY O'GRADY TO HEADLINE ABC'S FAIRYTALE DRAMA PILOT
04/14/21 @ 2:44 pm EST
Source:
Deadline
| Categories:
MIsc
|
Comments
(0) |
E-mail Article
|
Add a Comment
ABC's fairytale drama pilot
Epic
has found its princess. Brittany O'Grady (
Star, Little Voice
) has been tapped as the lead in the project, from
Once Upon a Time
creators Adam Horowitz and Edward Kitsis.
Epic
is described as a romantic anthology series that reinvents fairy tales for a new audience.
O'Grady will play Luna, a fairytale princess made cynical by a broken heart. She doesn't believe in love stories, which is unfortunate because she is about to find herself caught in the most epic one of all — her own.
Epic
was penned by former
Once Upon a Time
writer Brigitte Hales, who executive produces with Horowitz and Kitsis. O'Grady joins previously cast Eleanor Fanyinka in the pilot, produced by ABC Signature. (via
Deadline
)
'THE GREEN KNIGHT' RELEASES NEW TRAILER
05/11/21 @ 11:17 am EST
Source:
ComicBook
| Categories:
MIsc
|
Comments
(0) |
E-mail Article
|
Add a Comment
Movie fans have a lot of highly-anticipated blockbusters to look forward to this year, including a number of the films that were previously delayed due to the ongoing COVID-19 pandemic.
Among those is
The Green Knight
, the star-studded take on the Arthurian legend that has captivated a lot of movie lovers since the first trailer was released last year. With the film's July release date drawing near, A24 Films is providing fans with an updated look at the film, in the form of an over two-minute-long trailer.
An epic fantasy adventure based on the timeless Arthurian legend,
The Green Knight
tells the story of Sir Gawain (Dev Patel), King Arthur's reckless and headstrong nephew, who embarks on a daring quest to confront the eponymous Green Knight, a gigantic emerald-skinned stranger and tester of men. Gawain contends with ghosts, giants, thieves, and schemers in what becomes a deeper journey to define his character and prove his worth in the eyes of his family and kingdom by facing the ultimate challenger. (via
ComicBook
)
The Green Knight
is set to be released on July 30th.
Trailer:
https://youtu.be/sS6ksY8xWCY
'ALADDIN' TO REAPPEAR ON BROADWAY; 'LION KING' TO ROAR AGAIN
05/11/21 @ 11:08 am EST
Source:
Deadline
| Categories:
Disney
|
Comments
(0) |
E-mail Article
|
Add a Comment
Disney Theatrical Productions'
Aladdin
will reopen on Broadway at the New Amsterdam Theatre on Tuesday, September 28,
Deadline
reports. Tickets go on sale today – and the service fees are on Disney.
The latest Broadway production to announce its return since New York Gov. Andrew Cuomo gave the go-ahead for a Fall return at 100% capacity (providing prevailing Covid guidelines are met),
Aladdin
is Disney's second long-running musical to announce its reopening today:
The Lion King
was one of three big productions – along with
Hamilton
and
Wicked
– to unveil a Sept. 14 return.
In announcing the
Aladdin
return, Disney also disclosed some changes to its ticketing practices for the shows, including news that the company will pay 100% of Ticketmaster service and order fees. And in keeping with Broadway's greater flexibility in exchange policies during at least the early months of reopening, Disney has announced that
Lion King
and
Aladdin
ticket-buyers can exchange or cancel tickets at no charge up to and including the day of performance.
'MS. MARVEL' SERIES COMPLETES PRODUCTION IN THAILAND DESPITE VIRUS RESURGENCE
05/11/21 @ 11:01 am EST
Source:
Variety
| Categories:
Marvel
|
Comments
(0) |
E-mail Article
|
Add a Comment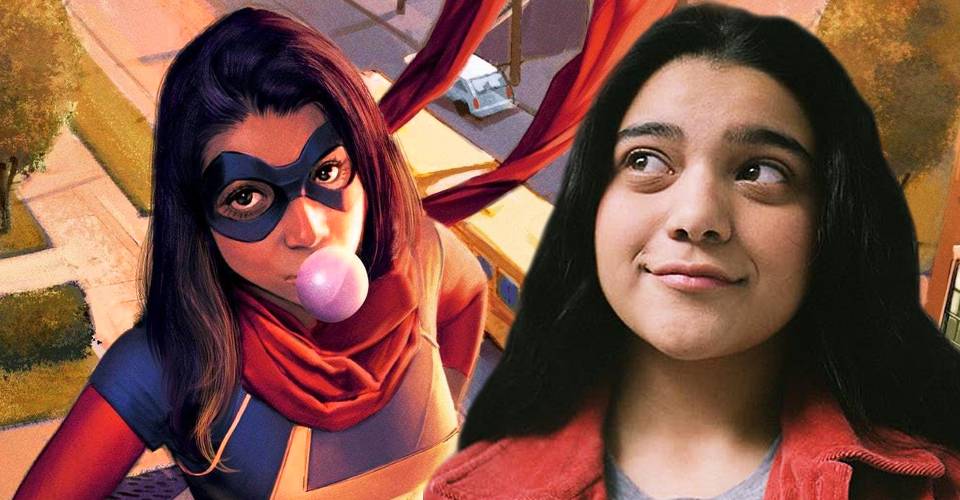 Production has wrapped on
Ms. Marvel
, a Marvel Studios series with a Muslim teen lead character and a significant Asian cast,
Variety
reports. Filming was relocated to Thailand after a stint in the state of Georgia.
Marvel released a teaser trailer for the show in December, before the shift in filming location. In it, Marvel Studios president Kevin Feige described Ms. Marvel "as one of the newer characters in the Marvel Comic Universe."
The six-part series features newcomer Iman Vellani as Kamala Khan, a New Jersey-raised teenager who discovers that she has special powers. The character arc has her finding out who she is and learning about relationships.
The completed series is set to premiere on the Disney+ streaming service, but Disney has not confirmed a release date firmer than late 2021.
FIRST TRAILER FOR STEPHEN KING'S 'LISEY'S STORY' RELEASED
05/11/21 @ 10:51 am EST
Source:
Nerdist
| Categories:
MIsc
|
Comments
(0) |
E-mail Article
|
Add a Comment
Apple TV+ has released the first trailer for
Lisey's Story
, based on the Stephen King novel of the same name. It's a dream project for fans, as King has written EVERY episode of the series. Pablo Larraín (
Jackie
) is also on board as director.
In
Lisey's Story
, Julianne Moore stars as the eponymous Lisey Landon, who recently lost her husband Scott (Clive Owen), a famous novelist. The "deeply personal, pensive thriller" follows Lisey as she comes to grips with a series of unsettling memories about her marriage that she has deliberately blocked out of her mind. Joan Allen, Jennifer Jason Leigh, Dane DeHaan, Ron Cephas Jones, and Sung Kang also star. (via
Nerdist
)
The first episode of
Lisey's Story
premieres on Apple TV+ on June 5.
Trailer:
https://youtu.be/BqcI0kk-Cts
'WWE THE NEW DAY: POWER OF POSITIVITY' COMICS SERIES
05/11/21 @ 10:39 am EST
Source:
BOOM! Studios
| Categories:
WWE
|
Comments
(0) |
E-mail Article
|
Add a Comment
BOOM! Studios, in partnership with WWE, today revealed the brand new two-issue limited series
WWE THE NEW DAY: POWER OF POSITIVITY, available in July 2021 featuring WWE Superstars Kofi Kingston, Big E and Xavier Woods, by writers Evan Narcisse (Rise of the Black Panther) and Austin Walker (Friends At The Table), and artist Daniel Bayliss (Mighty Morphin Power Rangers).

Kingston, Woods and Big E have collectively won 11 Tag Team Championships in WWE, including the longest reign in WWE history! This new series will allow fans to discover the origins and struggles of the three WWE Superstars before that fateful day when they realized they were together than apart.

"Collaborating with my colleague Austin Walker so we could tap into the personalities of The New Day to tell the origin story of this history-making trio has been an incredibly enriching experience," said Narcisse. "We tried to write a love letter to an unseen side of WWE history, and I'm so excited that WWE fans everywhere will finally be able to read how Kofi, Xavier, and Big E came together to form sports entertainment's most electrifying tag team."

WWE THE NEW DAY: POWER OF POSITIVITY #1 features main cover art by series artist Bayliss and variant cover art by acclaimed illustrators Rahzzah (Wolverine) and Ernanda Souza (King in Black: Captain America).

"When Evan Narcisse and I started planning WWE The New Day: The Power of Positivity, we realized right away that it was a perfect fit. Kofi, Big E, and Xavier are as extraordinary as the very best comic book heroes, and their journey from up-and-coming underdogs to de facto superstars is one of struggle, identity, and perseverance. All of that, plus bright and vivid art from Daniel Bayliss? That's a dream match if ever there was one." said Walker.

WWE THE NEW DAY: POWER OF POSITIVITY is the newest release from BOOM! Studios' eponymous imprint, home to critically acclaimed original series, including BRZRKR by Keanu Reeves, Matt Kindt, and Ron Garney; We Only Find Them When They're Dead by Al Ewing and Simone Di Meo; Seven Secrets by Tom Taylor and Daniele Di Nicuolo; Something is Killing the Children by James Tynion IV and Werther Dell'Edera; Once & Future by Kieron Gillen and Dan Mora; Proctor Valley Road by Grant Morrison, Alex Child, and Naomi Franquiz; and Eve by Victor LaValle and Jo Mi-Gyeong. The imprint also publishes popular licensed properties, including Dune: House Atreides from Brian Herbert, Kevin J. Anderson, and Dev Pramanik; Mighty Morphin and Power Rangers from Ryan Parrott, Marco Renna, and Francesco Mortarino; and Magic from Jed McKay and Ig Guara.

Print copies of WWE THE NEW DAY: POWER OF POSITIVITY #1 will be available for sale in July 2021 exclusively at local comic book shops (use comicshoplocator.com to find the nearest one) or at the BOOM! Studios webstore. Digital copies can be purchased from content providers, including comiXology, iBooks, Google Play, and Madefire.


FIRST IMAGES FROM ANIMATED 'INSPECTOR SUN AND THE CURSE OF THE BLACK WIDOW'
05/10/21 @ 4:59 pm EST
Source:
Deadline
| Categories:
MIsc
|
Comments
(0) |
E-mail Article
|
Add a Comment
The Thinklab Media and Kapers Animation have revealed first images from
Inspector Sun and the Curse of the Black Widow
, the animated noir-ish family thriller now in production in Spain for expected completion in Summer 2022. The director is Julio Soto Gúrpide (
Deep)
with a screenplay by Rocco Pucillo who won the 2013 Samuel Goldwyn Writing Award for it.
The film takes place in the 1930s on a luxury seaplane flying from Shanghai to San Francisco, and the animated murder-mystery movie is set in this sumptuous world where humans and insects co-exist. Humans travel in the cabin whilst the insects travel in great style below; to an insect, a Pan Am clipper is the size of the Titanic. Spiders are the police in this vivid world and Inspector Sun is the most famous of them all. With a nod to the past movies of Charlie Chan and Agatha Christie, Inspector Sun is pitted once again against his nemesis, the Red Locust. Bankrupt millionaires, femmes fatales, hitmen and smugglers add to the mystery.
Inspector Sun is voiced by comedian Ronny Chieng (
Crazy Rich Asians, The Daily Show,
and the upcoming Marvel release of
Shang-Chi and the Legend of the Ten Rings
).The film is being made in Navarre (Spain) supported by Navarre´s Government and its local Tax Incentives and is produced by Adriana Malfatti Chen, Gúrpide, Karl Richards, Peter Rogers, Jason Kaminsky, and Pucillo, the latter also currently working as Story Editor for a new Nickelodeon series
Middelpost Post
. (via
Deadline
)
MURDER AT THE HELLFIRE GALA LEADS INTO 'THE TRIAL OF MAGNETO'
05/10/21 @ 4:29 pm EST
Source:
Marvel
| Categories:
Marvel
|
Comments
(0) |
E-mail Article
|
Add a Comment
From writer Leah Williams (
X-Factor
) and rising star artist Lucas Werneck (
Empyre: X-Men
) comes THE TRIAL OF MAGNETO, a new X-Men series launching in August. Spinning out of the stunning events of June's Hellfire Gala, THE TRIAL OF MAGNETO will deal with the aftermath of a violent death that occurs on mutantkind's big night.
A horrific murder. A horrifying revelation. A trial that will divide the new mutant nation.
This thrilling saga will threaten the Reign of X and upend the world of mutants. And with the very future of Krakoa hanging in the balance, mutantkind's relationship with the rest of the Marvel Universe may never be the same. The current team of mutant investigators from Leah Williams' acclaimed run on
X-Factor
will play a vital role in solving this complex mystery, and fans should pick up
X-Factor
#10, a Hellfire Gala tie-in and the final issue of the series, on June 30th to discover whose tragic fall leads into this new X-Men epic.
"When has Magneto ever allowed bureaucracy to get between himself and what's just? In the island paradise of Krakoa, safe haven and home for mutants--Magneto's hard-fought, greatest desire of seeing his people at peace and thriving has finally been achieved. But Magneto's loyalty extends only as far as it is first
earned
, so after the Hellfire Gala, when he learns that even a paradise could still be filled with lies...the TRIAL OF MAGNETO will begin," Williams teased.
"I am so looking forward to working with Leah, especially with this project," Werneck said. "Leah has incredible sensitivity in her writing and is able to craft stories that are layered and mysterious and fun for readers so I think she is perfect to write this story. Participating in the Hellfire Gala and now being invited to be part of this project is really a dream."
The truth is hidden, the danger is far from over, and the trial has begun. Be there for the story that will shake Krakoa to its core when THE TRIAL OF MAGNETO #1 hits stands on August 18th! In the meantime, check out the classified cover by Valerio Schiti below and stay tuned for the final version which will reveal the character who meets their untimely end at the Hellfire Gala.
DAVE BAUTISTA JOINS CAST OF 'KNIVES OUT 2' FOR NETFLIX
05/10/21 @ 4:48 pm EST
Source:
Deadline
| Categories:
MIsc
|
Comments
(0) |
E-mail Article
|
Add a Comment
In the first big casting to Rian Johnson's upcoming sequel to
Knives Out,
Deadline
reports that Dave Bautista is set to join Daniel Craig in the next installment, which Netflix recently landed the rights to in a monumental deal.
Deadline first reported in March that Netflix was closing a deal north of $400 million for the next two installments, a historic deal for streamers. Johnson is back to write and direct the pic and will produce with his partner Ram Bergman with Craig reprising the role of super sleuth Benoit Blanc.
Netflix had no comment.
Plot details are unknown at this time other then Craig returning to solve another mystery revolving around a large cast of suspects. It is also unknown who Bautista will be playing in the pic. Production is set to start this summer in Greece.
STEVE ORLANDO & LUCIANO VECCHIO DREAM UP SOMNUS FOR 'MARVEL'S VOICES: PRIDE' #1
05/10/21 @ 4:21 pm EST
Source:
Marvel
| Categories:
Marvel
|
Comments
(0) |
E-mail Article
|
Add a Comment
Last week, fans got their first glimpse at a brand-new hero set to debut this June: SOMNUS! Fans eager to learn more about this mysterious character will have to pick up MARVEL'S VOICES: PRIDE #1 where his fascinating backstory will be told by critically acclaimed writer Steve Orlando (
Wonder Woman
,
Curse of the Man-Thing
) and, in her Marvel Comics debut, Eisner-nominated artist Claudia Aguirre (
Hotel Dare
).
A mutant who had an extraordinary impact on an X-Man long ago, Somnus' powers give him total control of people's dreams, but he was never able to follow his own. Now, Somnus is given a second chance at life, and he's determined to make the most out of it on the thriving mutant nation of Krakoa! With a mesmerizing costume design by artist Luciano Vecchio and unique mutant gifts, it's time for Somnus to step up in a big way and become the hero he was always destined to be.
"Somnus, Carl Valentino, is inspired not only by my own family history, but by my experiences with past generations of LGBTQ+ folks from across the country, people I wouldn't have met without comics," Orlando explained. "While there is still plenty of work to do, we've also come a long way as a community. Somnus is a chance to explore how my own late queer relatives may have felt, living in more prejudiced times. He's also a chance to celebrate past generations as a whole and acknowledge the strides we've made that they may not have lived to see. And with the Krakoan era being one of relative utopia for mutantkind, Somnus will bring a fresh perspective, and respectful gut check, to the young mutants of the present who may not know just how hard some had to fight for all mutants have achieved. Within the story and without, Somnus will be a new, complex character carrying a message of respect, power, and vision."
"Marvel's Voices: Pride is ticking so many dream assignments for me! On top of doing the cover, a frame variant, and a story that I got to write myself, I also got to design a new queer character introduced in a story written by Steve Orlando," Vecchio said. "I'm so happy to finally collaborate officially with Steve and I fell in love with Somnus' concept and backstory right away. I got some input from him and editor Sarah Brunstad but also a lot of liberty to propose ideas. This time the design process itself felt almost like channeling. I wanted him to have an air of 'man of your dreams,' very charming and human but unreachable at the same time. Some visual elements are a mix of Mod fashion, a bit of Hellfire Gala influence, and a palette based on Etruscan vase art as a nod to the god he's named after."
Somnus will also be the star of Luciano Vecchio's celebratory MARVEL'S VOICES: PRIDE #1 Frame Variant cover! An homage to the iconic Marvel 25th Anniversary covers released in 1985, Somnus takes the spotlight surrounded by some of Marvel's brightest LGBTQ+ heroes. Check out the fully revealed cover below and don't miss this uplifting Marvel story when Somnus makes his first appearance in MARVEL'S VOICES: PRIDE #1 on June 23rd!
'HOW IT ENDS' SELLS TO MGM'S AMERICAN INTERNATIONAL PICTURES
05/10/21 @ 4:16 pm EST
Source:
Variety
| Categories:
MIsc
|
Comments
(0) |
E-mail Article
|
Add a Comment
How It Ends
, a serene apocalyptic comedy from partners Zoe Lister-Jones and Daryl Wein, has been acquired by MGM's American International Pictures label,
Variety
reports.
The film was an official selection at the 2021 Sundance Film Festival, written, directed and produced by Lister-Jones and Wein. American International Pictures will release the project in theaters and on digital platforms on July 20 in the U.S. The company also holds worldwide distribution rights.
The project follows Liza (Lister-Jones), traversing across Los Angeles on the eve of the end of the world. As she reconciles relationships with parents, old lovers and friends, she walks in step with a metaphysical projection of her younger self (Cailee Spaeny of HBO's
Mare of Eastown
).
The project features dozens of cameos from top comedy stars and actors including Whitney Cummings, Tawny Newsome, Finn Wolfard, Nick Kroll, Logan Marshall Green, Bobby Lee, Fred Armisen, Glenn Howerton, Bradley Whitford, Ayo Edebiri, Sharon Van Etten, Olivia Wilde, Paul W. Downs, Raymond Cham Jr., Lamorne Morris, Angelique Cabral, Rob Huebel, Paul Scheer, Helen Hunt, Colin Hanks, Charlie Day, Mary Elizabeth Ellis and Pauly Shore.