DYNAMITE: MAKE TOMORROW YOUR OWN #NEWCOMICBOOKDAY!
03/31/20 @ 7:11 pm EST
Source:
Dynamite
| Categories:
Dynamite
|
Comments
(0) |
E-mail Article
|
Add a Comment
Make Tomorrow (Or Today) Your Own #NewComicBookDay!
If you haven't heard already, unfortunately, regular new comic books will not be in stores tomorrow for this week. We will be keeping you updated. BUT that doesn't mean it can't be #NewComicBookDay for you still! Dynamite has several ideas on how you can still enjoy this treasured day of the week for us fans and support the community you love! Scroll down for even more awesome deals!





Support Your Local Comic Shop!

This is the perfect opportunity to show your appreciation for a small business that you visit often and provides community. First, make sure to check with them about their current hours if they are able to be open. Or many stores are currently experimenting with innovative techniques like curbside pickup, direct delivery to your home, or standard shipping. Pick up your pull list, consider purchasing gift cards for yourself or loved ones, and pick out some books you've had on the wishlist!

Here are some quick recommendations of recent releases, classics & critically acclaimed gems!

RED SONJA VOL 1: SCORCHED EARTH TP

Writer: Mark Russell I Art: Mirko Colak
[dynamite.com/htmlfiles/viewProduct.html?PRO=C1524112763]
Cover: Amanda Conner
No man knows the place of her birth, nor where she learned to wield a sword to shame many a male. They know only that she is called The She-Devil of The Hyrkanian Steppes. That, and RED SONJA.

MARK RUSSELL (The Flintstones) and MIRKO COLAK (Conan) bring a savage tale of metal and blood. A world conqueror possesses a massive army and a fatal prophecy. A bastard sorceress craves revenge. And a fearsome red-haired warrior is made wartime ruler of a homeland set for decimation.

ISBN-13: 978-1-5241-1276-9



THE BOYS OMNIBUS VOL 1 TP

Writer: Garth Ennis I Art: Darick Robertson

Cover: Darick Robertson
All-new printing collecting the first 14 issues of the critically acclaimed series, now heading to live-action on Amazon Prime! This is going to hurt! In a world where costumed heroes soar through the sky and masked vigilantes prowl the night, someone's got to make sure the "supes" don't get out of line. And someone will!

ISBN-13: 978-1-5241-0859-5

PETER CANNON THUNDERBOLT OVERSIZED HARDCOVER
Writer: Kieron Gillen I Art: Caspar Wijngaard


Cover: Caspar Wijngaard
His level of genius is matched only by his heroics, and in humanity's darkest hour, he's the hero they need the most-alas, poor humanity. Peter Cannon-the man known as Thunderbolt-is only too happy to leave civilization to face its end. Kieron Gillen (The Wicked + the Divine) teams up with powerhouse artist Caspar Wijngaard (Doctor Aphra) as he returns to the superhero genre with a dark, humorous and relentless love song to the genre. Well, "Love Song" in a Leonard Cohen Love Song kind of way. Peter Cannon, Thunderbolt: saving a world he hates.

ISBN-13: 978-1-5241-1279-0






MARS ATTACKS TP

Writer: Kyle Starks I Art: Chris Schweizer


Cover: Chris Schweizer
Spencer hasn't finished a dang thing in his life. So, when he goes to visit his dad to see if maybe he can borrow some money, the last thing on his mind is global survival. Now Spencer and his father are on the run, trying to avoid being space-ray'd by a bunch of destruction happy Martians, heck bent on zapping them dead!




Writer Kyle Starks (Rick and Morty, Rock Candy Mountain) and artist Chris Schweizer (The Creeps, Unbeatable Squirrel Girl) bring you the face melting experience of a lifetime with Mars Attacks for the first time at Dynamite!
ISBN-13: 978-1-5241-0994-3

Plus Don't Miss Out On These Other Sweet Deals We Have Right Now!

FREE! First issues available on ComiXology, with more to come!

Almost 2,000 pages of James Bond comics for just $15!

Just launched! Dan Fraga's return of Black Flag featuring Red Sonja & Evil Ernie!

And another cool collectible crossover cover! Art Thibert's Black & White meet Vampirella!

Superhero comics sale almost over - don't miss these deals!


The entire Dynamite team appreciates your support! If any of the titles above are not at your local comics shop, click on any of the images and check out our website for more information.



BE IN ON THE LATEST REVIEWS, INTERVIEWS AND NEWS AT DYNAMITE!

Bettie Page Returns in New Series from Karla Pacheco (NEW!)

The Green Hornet Strikes In New Series By Scott Lobdell! (NEW!)

Two Vampirella Graphic Novels Heat Up the Summer in June! (NEW!)

Sacred Six Expands Christopher Priest's Vampirella Universe!

Christopher Priest's Redefining Run on Vampirella Collected!

The Boys Returns to Comics!

Nancy Drew Is Dead in New Comic Series!

Also, be sure to follow us on FACEBOOK, TWITTER and @DynamiteComics for the most updated announcements. #DaretobeDynamite
AMERICA'S MOST WANTED TO RETURN WITH HOST ELIZABETH VARGAS
01/23/21 @ 5:09 pm EST
Source:
Entertainment Weekly
|
Comments
(0) |
E-mail Article
|
Add a Comment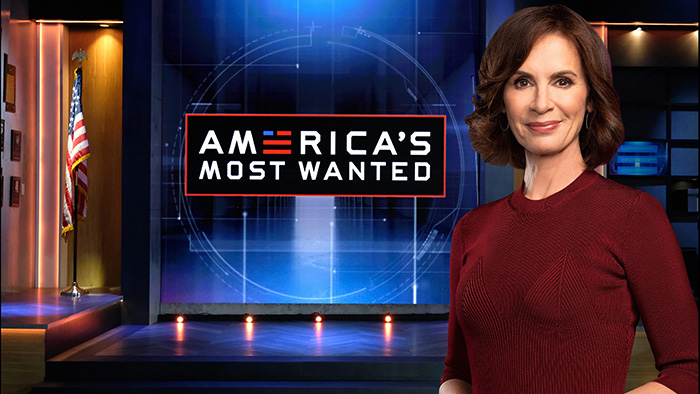 One of the series that helped put Fox on the map as a network was America's Most Wanted. During its original 25-season run, the series helped capture over 1100 criminals including 17 from the FBI's Most Wanted list. Originally hosted by John Walsh, the series debuted in 1988 and ran until 2011 on Fox and jumped over to Lifetime for 2012 before calling it quits.
Now fox has announced the series will be returning with a new host, Emmy-winning journalist and former ABC News anchor Elizabeth Vargas. The series, which will debut in March, will take advantage of the advancements in crime-fighting technology including using augmented reality and 3-D avatars to help illustrate what suspects may look like. They also plan to lean heavily on social media to connect with viewers.
The series will be available on Fox, Fox Now, Hulu and their streaming platform Tubi.
CGC FIRST APPEARANCE OF MARY JANE WATSON GOES ON SALE
01/23/21 @ 4:54 pm EST
Source:
Auction on The EXP
|
Comments
(0) |
E-mail Article
|
Add a Comment
At 6pm EST / 3pm PST, a series of CGC graded comics will be going up for sale from the personal file copies of legendary artist John Romita Sr. Included in those books are the first appearance of Mary Jane Watson in Spider-Man #42 and the her first cover appearance on Spider-Man #59. And we now how great Romita was at drawing Mary Jane.
Look for it on The Exp along with other books from the file:
https://www.facebook.com/TheCBSE/?view_public_for=105218181541820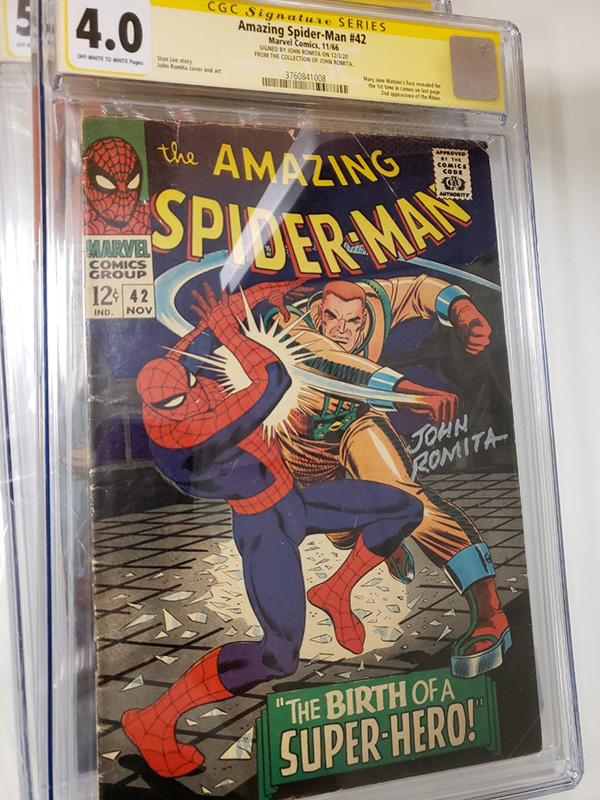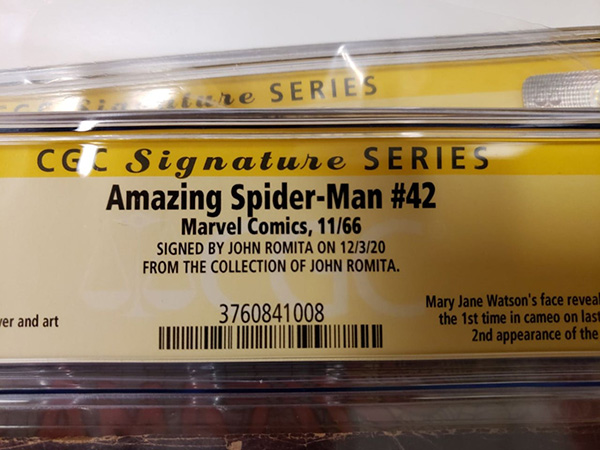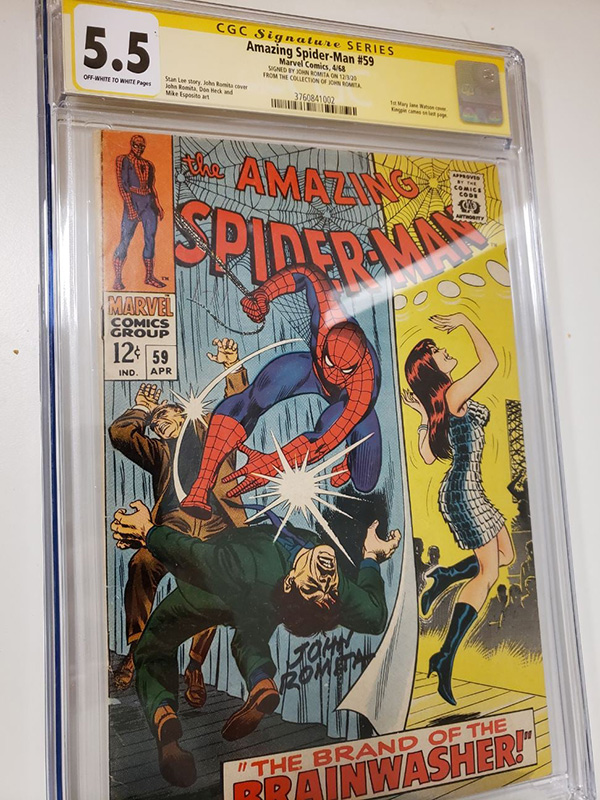 WANDAVISION SHOWRUNNER NOT EVEN THINKING OF SECOND SEASON
01/23/21 @ 4:29 pm EST
Source:
The Hollywood Reporter
|
Comments
(0) |
E-mail Article
|
Add a Comment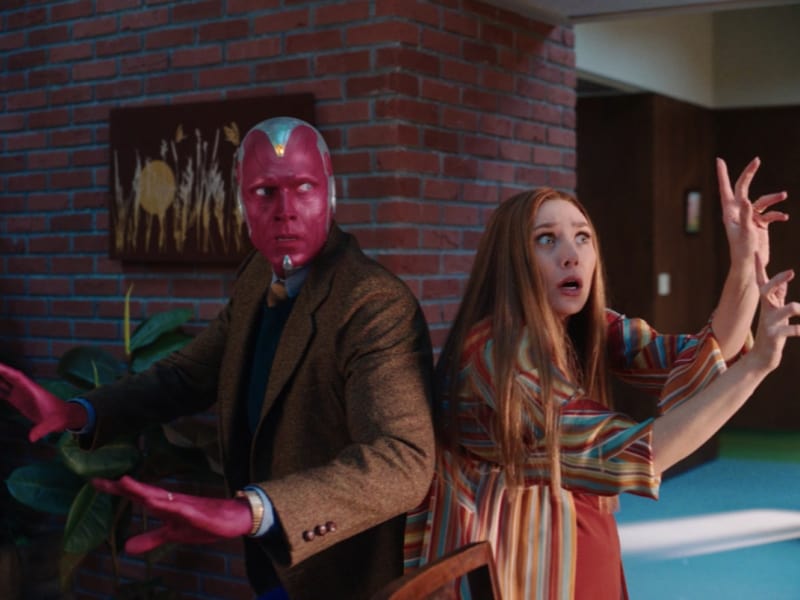 Any time there's a successful start to a new television series, the question of a second season comes up immediately and decisions have to be made. It doesn't work that way in the Marvel Cinematic Universe as everything is driven by the overall story which is mapped out expertly by studio president Kevin Feige. So, while we are three episodes into WandaVision on Disney+, any thoughts of a second bow have to be kept in check.
Series boss Jac Schaeffer, who had already worked on both Captain Marvel and Black Widow before taking on the sitcom-inspired tale, spoke with
The Hollywood Reporter
about keeping the focus on the story at hand.
"I cannot talk about second season. That really fits in with the Marvel philosophy. Kevin is so great at coming out and being like, 'Here's what's happening!' to a point. 'Here's the field, and this is where the field drops off.' A second season is not something that can be discussed that's on the field quite yet."
And if you're worried it may feel incomplete, don't be.
"It was always the design with these shows that they feel like a run of a comic. In that way, it feels very complete. It's an emotional completion I stand by and feel great about and always was very much baked in."
KIRKMAN'S INVINCIBLE GETS PREMIERE DATE
01/23/21 @ 4:13 pm EST
Source:
Deadline
|
Comments
(0) |
E-mail Article
|
Add a Comment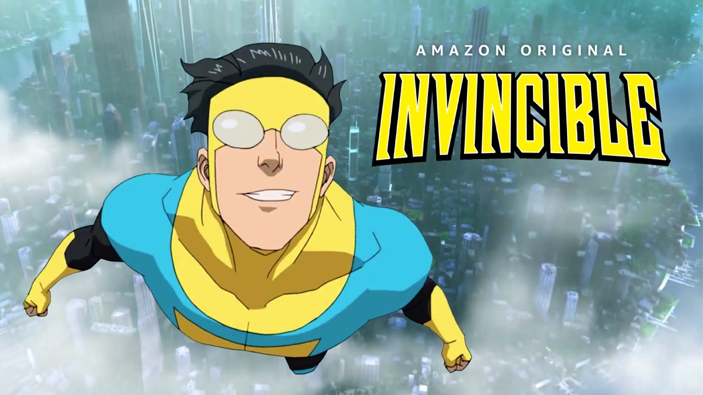 We may not have the big films in the theaters, but we are getting a lot of heroes on our television and on March 26th, we can add one more as
Robert Kirkman's
Invincible
is set to debut on Amazon Prime. There will be three episodes released on the first day with new releases each Friday until the finale on April 30th.
An extended clip for the series was released and can be seen here:
https://youtu.be/a4F7PFwtayc
The animated series is based on the popular Skybound/Image comic of the same name created by Kirkman, Cory Walker and Ryan Ottley. It tells the story of a 17-year-old Mark Grayson (Steven Yuen) who discovers he has inherited superpowers from his father, Omni-Man (J.K. Simmons). While he learns to become a hero, he starts to learn that maybe his father wasn't exactly who he thought.
The series also stars Sandra Oh, Seth Rogen, Gillian Jacobs, Andrew Rannells, Zazie Beetz, Mark Hamill, Walton Goggins, and Grey Griffen.
A QUIET PLACE PART II GETS BUMPED AGAIN
01/23/21 @ 3:59 pm EST
Source:
Deadline
|
Comments
(0) |
E-mail Article
|
Add a Comment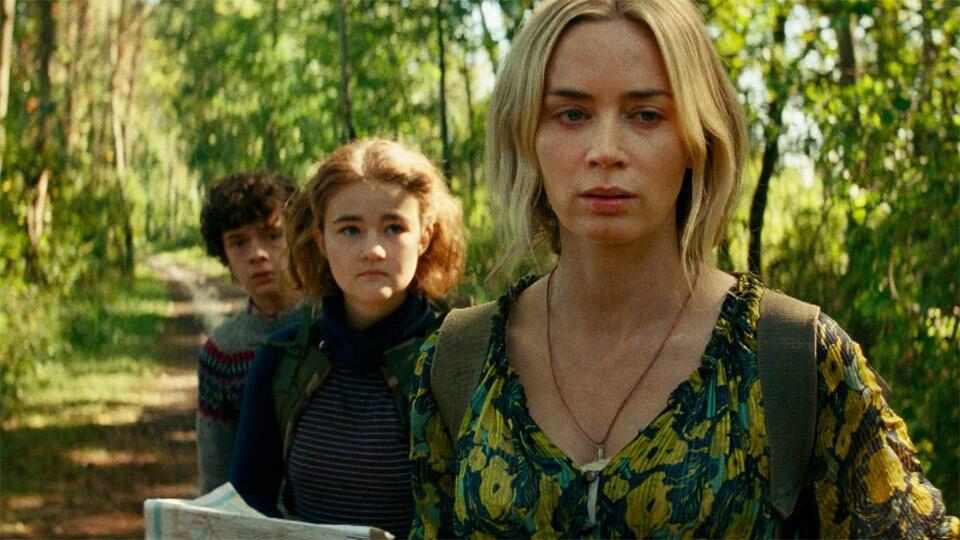 Films appear to be on the move again due to the pandemic and not even a horror sequel is immune.
A Quiet Place Part II
is now scheduled to be released September 17th, 2021. This is the fourth date the film has had, originally slated to be released March 20th, 2020. That got bumped to September 4th, 2020 and then April 2021 and now finally coming out this fall.
Directed by
John Krasinski
, the sequel follows the Abbott family as they continue to face the terrors of their world while forced to remain silent. But those that hunt by sound are not the only threat the family will have to endure. The initial film in the franchise pulled in $188 million domestically and $340 worldwide back in 2018.
In its new slot, it will go up against the
Kenneth Branagh
lead
Death on the Nile
, Sony's
The Man from Toronto
and
The Boss Baby: Family Business
.
MARVEL REVEALS FIRST LOOK AT NEW CHARACTERS FOR 'HEROES REBORN'
01/22/21 @ 4:42 pm EST
Source:
ComicBook
| Categories:
Marvel
|
Comments
(0) |
E-mail Article
|
Add a Comment
Marvel shocked everyone when they announced the return of Heroes Reborn in 2021, but outside of a logo we didn't really have any context for what that meant. Now we're starting to at least get a few more details, namely in the form of some new characters that will be showing up in the storyline. So far we've got two new characters that are clearly a mash-up of well-known heroes and villains, starting with a character that is a combination of Juggernaut and Doctor Doom.
Next we have a character that seems to be a mix of the Scarlet Witch and the Enchantress. The green tint to the costume feels like Enchantress while the headdress and the design of the powers she's using scream Scarlet Witch.
Marvel also revealed two more images from the event. The third image features what looks like Peter Parker taking a photo on top of the Daily Bugle building of someone flying away, which some have theorized is Hyperion. The fourth image shows two SHIELD agents, and they are Reed Richards and Ben Grimm. Reed is in a lab coat and looking at some files and Grimm is holding a massive gun, so this seems to be a very different spin on the Fantastic Four. (via
ComicBook
)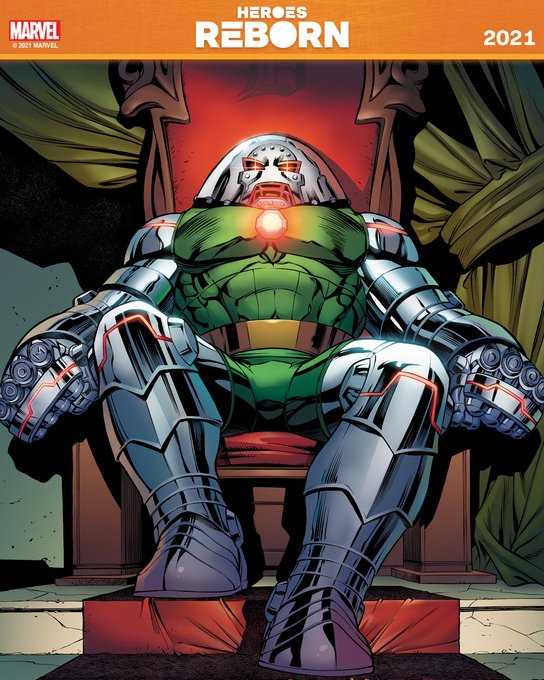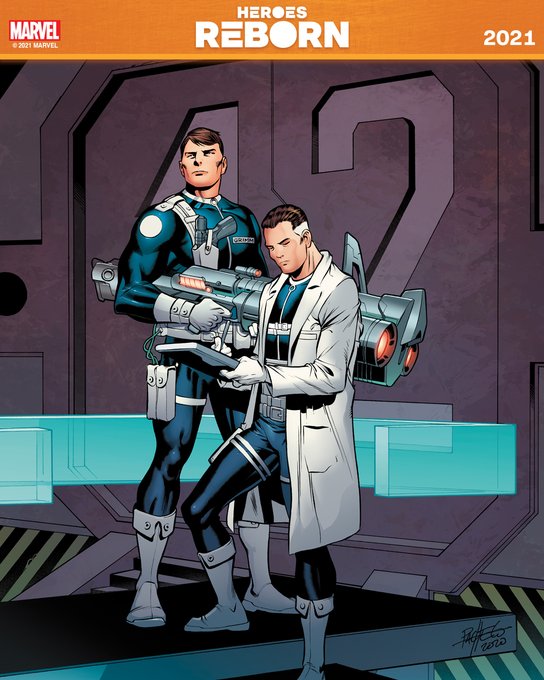 PIXAR'S 'SOUL' RECORDS HISTORIC NIELSEN STREAMING WIN IN CHRISTMAS BOW ON DISNEY+
01/22/21 @ 4:30 pm EST
Source:
Deadline
| Categories:
Disney
|
Comments
(0) |
E-mail Article
|
Add a Comment
Soul
, the Pixar animated feature released on Disney+ on Christmas Day, made history on Nielsen's weekly U.S. streaming rankings, finishing No. 1 for the week of December 21 to 27.
With 1.669 billion total minutes of streaming, the film beat out
The Office
, which racked up 1.435 billion minutes in its waning days on Netflix. (It moved this month to NBCUniversal's Peacock.) Disney also notched its first week with two titles in the top 10. Powered by its second-season finale,
The Mandalorian
finished fifth with about 1 billion minutes of viewing, after topping the chart in the previous week in a milestone for Disney+.
Originally ticketed for theaters,
Soul
became one of dozens of studio releases re-routed to streaming and video on demand due to the coronavirus pandemic. Disney opted to make it one of three major 2020 releases, along with
Hamilton
and
Mulan
, available only to Disney+ subscribers.
Soul
and
Hamilton
were free for subscribers, but
Mulan
had a $30 "premier access" charge on top of the monthly fee. (via
Deadline
)
'THE KING'S MAN,' 'BOB'S BURGERS' AMONG LATEST DISNEY FILM DELAYS
01/22/21 @ 4:44 pm EST
Source:
Variety
| Categories:
Disney
|
Comments
(0) |
E-mail Article
|
Add a Comment
As the coronavirus pandemic continues to impact Hollywood, Disney has delayed another round of movies.
On Friday, numerous titles, all from the company's 20th Century Studios and Searchlight banner, were shifted out of the first half of the year.
Among those films are
The King's Man
, which moved from March 12 to Aug. 20, while animated family film
Ron's Gone Wrong
has been pushed from April 23 to Oct. 22.
Bob's Burgers
, a movie based on the popular TV show that was set for April 9, has been taken off the release calendar entirely.
Meanwhile, four Searchlight titles have been given new release dates: horror film
The Night House
(July 16), the Jessica Chastain-led biopic
The Eyes of Tammy Faye
(Sept. 24), supernatural thriller
Antlers
(Oct. 29 in limited release) and Guillermo del Toro's twisted suspense drama
Nightmare Alley
(Dec. 3 in limited release).
THE COMIC BOOK SHOPPING EXPERIENCE DEBUTS NEW SHOWS AND SPECIAL GUESTS
01/22/21 @ 4:21 pm EST
Source:
Comic Book Shopping Experience
| Categories:
MIsc
|
Comments
(0) |
E-mail Article
|
Add a Comment
The Comic Book Shopping Experience, the newly launched comic book and collectibles platform marrying shopping with entertainment, and offering pop culture fans an immersive multi-platform programming experience debuted to audiences everywhere earlier this week. Now, the Comic Book Shopping Experience announces it's opening weekend programming slate, including special guest Neal Adams!
Following widespread attention in the New York Times, Hollywood Reporter, the number one consumer comic book news source Bleeding Cool, as well as ICv2, the highly influential industry report, The Comic Book Shopping Experience debuted on Tuesday with daily programming continuing this evening at 5:30pm EST and on through the weekend.
The full weekend programming slate for the remainder of the week can be found below:
Friday January 22
5:30PM: The debut of "Talking Shop," a brand new longform interview show, with this week's guest: legendary artist Neal Adams!
8PM: A Comic Shop's Aaron Haaland hosts a live sales show!
Saturday January 23
6PM: "Dynamic Forces Presents: Cool Comic Collectibles and More!" featuring select
comics from the personal collection of John Romita Sr. CGC Pedigree Edition featuring
the first appearance of Mary Jane, as Mary Jane's first cover appearance!
8PM: A new episode of "What We Do in the Comic Shop" w/Dr. Christina Blanch
Sunday January 24
6PM: The debut of Fat Jack's Comicrypt
8PM: Return to A Comic Shop with Aaron Haaland!
Look for news on next week's first full week of programming, kicking off Monday with the debut of Jen King's brand-new show "Mish Mosh," followed by the debut of six shooter, Jesse James!
The Comic Book Shopping Experience pools the collective expertise of three thought leaders of the comics and collectibles industry to create a viable new platform for sales and promotion of comics, graphic novels, collectibles and gaming, all while promoting the comics retail community. The Comic Book Shopping Experience is a bold new venture that teams retailers Jen King and Jesse James with CEO/Publisher Nick Barrucci. Jen and Jesse are also the co-founders of Comic Book Shopping Network and Nick Barrucci is the founder of Dynamic Forces and Dynamite Entertainment. Kyle Northrop serves as the platform's executive producer. The Comic Book Shopping Experience offers opportunities for participation from retailers, creators, content creators, podcasters, brands, and more.
Together, this team, along with friends around the comics retailing landscape will carry the industry forward and elevate the comic book medium to command the widespread attention it deserves. Tune in today on Twitter, Facebook, and Instagram for updates on programming, exclusive offerings, and so much more!
Twitch: The_exp
FaceBook: The_exp
Twitter: The_exp1
Instagram: the_exp1
CELEBRATE BLACK HISTORY MONTH WITH EXTRAORDINARY COVERS BY ERNANDA SOUZA
01/22/21 @ 4:15 pm EST
Source:
Marvel
| Categories:
Marvel
|
Comments
(0) |
E-mail Article
|
Add a Comment
Announced last year, Marvel Comics will honor Black History Month with a series of variant covers depicting their most prominent Black heroes. Today, Marvel is proud to present the additional covers that will make up February's collection. A celebration of the legacy of Black heroes in Marvel Comics' storytelling, these beautiful pieces of art will grace the covers of our most popular ongoing titles throughout the month of February and feature depictions of Storm, Black Panther, Miles Morales, Falcon, War Machine, Blade, Ironheart, and the new Valkyrie who recently appeared in KING IN BLACK: RETURN OF THE VALKYRIES #1. These beloved characters will be brought to life in the distinct, electrifying style of rising star artist Ernanda Souza in her Marvel Comics debut.
"First of all, I have to say that working for Marvel is a huge dream come true. I grew up watching Marvel movies and TV shows—especially the X-Men animated series in the '90s—and playing the whole Arcade franchise games. And to be honest, I never thought I would ever do work with them, but I'm glad to say I did," Souza said. "As an Afro/Latin artist, it's a big honor for me to start with the company and work on some of the characters I like and who represent the Black community. Representation with respect is always a good thing, there can never be too much. I know I can only speak for myself, but I hope I did them justice."
Be sure to pick them at your local comic shop throughout the month of February.