DYNAMITE: MAKE TOMORROW YOUR OWN #NEWCOMICBOOKDAY!
03/31/20 @ 7:11 pm EST
Source:
Dynamite
| Categories:
Dynamite
|
Comments
(0) |
E-mail Article
|
Add a Comment
Make Tomorrow (Or Today) Your Own #NewComicBookDay!
If you haven't heard already, unfortunately, regular new comic books will not be in stores tomorrow for this week. We will be keeping you updated. BUT that doesn't mean it can't be #NewComicBookDay for you still! Dynamite has several ideas on how you can still enjoy this treasured day of the week for us fans and support the community you love! Scroll down for even more awesome deals!





Support Your Local Comic Shop!

This is the perfect opportunity to show your appreciation for a small business that you visit often and provides community. First, make sure to check with them about their current hours if they are able to be open. Or many stores are currently experimenting with innovative techniques like curbside pickup, direct delivery to your home, or standard shipping. Pick up your pull list, consider purchasing gift cards for yourself or loved ones, and pick out some books you've had on the wishlist!

Here are some quick recommendations of recent releases, classics & critically acclaimed gems!

RED SONJA VOL 1: SCORCHED EARTH TP

Writer: Mark Russell I Art: Mirko Colak
[dynamite.com/htmlfiles/viewProduct.html?PRO=C1524112763]
Cover: Amanda Conner
No man knows the place of her birth, nor where she learned to wield a sword to shame many a male. They know only that she is called The She-Devil of The Hyrkanian Steppes. That, and RED SONJA.

MARK RUSSELL (The Flintstones) and MIRKO COLAK (Conan) bring a savage tale of metal and blood. A world conqueror possesses a massive army and a fatal prophecy. A bastard sorceress craves revenge. And a fearsome red-haired warrior is made wartime ruler of a homeland set for decimation.

ISBN-13: 978-1-5241-1276-9



THE BOYS OMNIBUS VOL 1 TP

Writer: Garth Ennis I Art: Darick Robertson

Cover: Darick Robertson
All-new printing collecting the first 14 issues of the critically acclaimed series, now heading to live-action on Amazon Prime! This is going to hurt! In a world where costumed heroes soar through the sky and masked vigilantes prowl the night, someone's got to make sure the "supes" don't get out of line. And someone will!

ISBN-13: 978-1-5241-0859-5

PETER CANNON THUNDERBOLT OVERSIZED HARDCOVER
Writer: Kieron Gillen I Art: Caspar Wijngaard


Cover: Caspar Wijngaard
His level of genius is matched only by his heroics, and in humanity's darkest hour, he's the hero they need the most-alas, poor humanity. Peter Cannon-the man known as Thunderbolt-is only too happy to leave civilization to face its end. Kieron Gillen (The Wicked + the Divine) teams up with powerhouse artist Caspar Wijngaard (Doctor Aphra) as he returns to the superhero genre with a dark, humorous and relentless love song to the genre. Well, "Love Song" in a Leonard Cohen Love Song kind of way. Peter Cannon, Thunderbolt: saving a world he hates.

ISBN-13: 978-1-5241-1279-0






MARS ATTACKS TP

Writer: Kyle Starks I Art: Chris Schweizer


Cover: Chris Schweizer
Spencer hasn't finished a dang thing in his life. So, when he goes to visit his dad to see if maybe he can borrow some money, the last thing on his mind is global survival. Now Spencer and his father are on the run, trying to avoid being space-ray'd by a bunch of destruction happy Martians, heck bent on zapping them dead!




Writer Kyle Starks (Rick and Morty, Rock Candy Mountain) and artist Chris Schweizer (The Creeps, Unbeatable Squirrel Girl) bring you the face melting experience of a lifetime with Mars Attacks for the first time at Dynamite!
ISBN-13: 978-1-5241-0994-3

Plus Don't Miss Out On These Other Sweet Deals We Have Right Now!

FREE! First issues available on ComiXology, with more to come!

Almost 2,000 pages of James Bond comics for just $15!

Just launched! Dan Fraga's return of Black Flag featuring Red Sonja & Evil Ernie!

And another cool collectible crossover cover! Art Thibert's Black & White meet Vampirella!

Superhero comics sale almost over - don't miss these deals!


The entire Dynamite team appreciates your support! If any of the titles above are not at your local comics shop, click on any of the images and check out our website for more information.



BE IN ON THE LATEST REVIEWS, INTERVIEWS AND NEWS AT DYNAMITE!

Bettie Page Returns in New Series from Karla Pacheco (NEW!)

The Green Hornet Strikes In New Series By Scott Lobdell! (NEW!)

Two Vampirella Graphic Novels Heat Up the Summer in June! (NEW!)

Sacred Six Expands Christopher Priest's Vampirella Universe!

Christopher Priest's Redefining Run on Vampirella Collected!

The Boys Returns to Comics!

Nancy Drew Is Dead in New Comic Series!

Also, be sure to follow us on FACEBOOK, TWITTER and @DynamiteComics for the most updated announcements. #DaretobeDynamite
'STARGIRL': NEW "HOURMAN AND DR. MID-NITE" PHOTOS
06/02/20 @ 5:23 pm EST
Source:
The CW
| Categories:
DC
|
Comments
(0) |
E-mail Article
|
Add a Comment
The CW
has released photos for "Hourman and Dr. Mid-Nite," the coming episode of
Stargirl
set to debut Monday, June 15th on DC Universe and the following day, Tuesday, June 16th, on The CW.
As Courtney (Brec Bassinger) sets her sights on recruiting more members to the Justice Society of America, Pat (Luke Wilson) finds himself one step closer to learning which ISA members may be in Blue Valley.
'MISSION: IMPOSSIBLE 7' SET TO RESTART FILMING IN SEPTEMBER AFTER CORONAVIRUS HIATUS
06/02/20 @ 5:15 pm EST
Source:
Deadline
| Categories:
MIsc
|
Comments
(0) |
E-mail Article
|
Add a Comment
Deadline
reports that
Mission: Impossible 7
is preparing to leap back into action again in September after the Paramount feature was forced to radically change its shooting plans in February because of the coronavirus pandemic.
Speaking to BBC on Tuesday following the publication of British Film Commission safety protocols, first assistant director Tommy Gormley said he was "convinced" that the Tom Cruise franchise can get back to work again in the next three months and be wrapped by May 2021.
"We hope to restart in September, we hope to visit all the countries we planned to and look to do a big chunk of it back in the UK on the backlot and in the studio, so September through to end April/May is our targets. We are convinced we can do this," Gormley told BBC.
WATCH TRAILER FOR GRAPHIC NOVEL 'ALL TOGETHER NOW'
06/02/20 @ 5:11 pm EST
Source:
Hollywood Reporter
| Categories:
MIsc
|
Comments
(0) |
E-mail Article
|
Add a Comment
All Together Now
is the second book in the graphic novel series by Hope Larson that started with 2018's
All Summer Long
, nominated for a 2019 Eisner Award and named one of
Kirkus Reviews'
best books of the year. In this latest installment, protagonist Bina is struggling to deal with the way in which romance is complicating her life — whether it's the difficulty of dealing with her bandmates dating, or the crush her best friend seems to have developed on her. Can she work out how to deal with affairs of the heart (hers and others) before everything goes too wrong to fix?
The 192-page title, released by FSG Books for Young Readers, continues Larson's successful career as a YA creator; in addition to
All Summer Long
, she's also written and illustrated the
New York Times
best-selling
A Wrinkle in Time: The Graphic Novel
, and written the
Compass South
and
Knife's Edge
graphic novels for artist Rebecca Mock. (via
THR
)
All Together Now
will be released Aug. 4 in bookstores.
Here is the official trailer:
https://youtu.be/AN5E4MS58dQ
MARVEL STUDIOS WILL SOON REGAIN RIGHTS TO 'DAREDEVIL'
06/02/20 @ 5:04 pm EST
Source:
Looper
| Categories:
Marvel
|
Comments
(0) |
E-mail Article
|
Add a Comment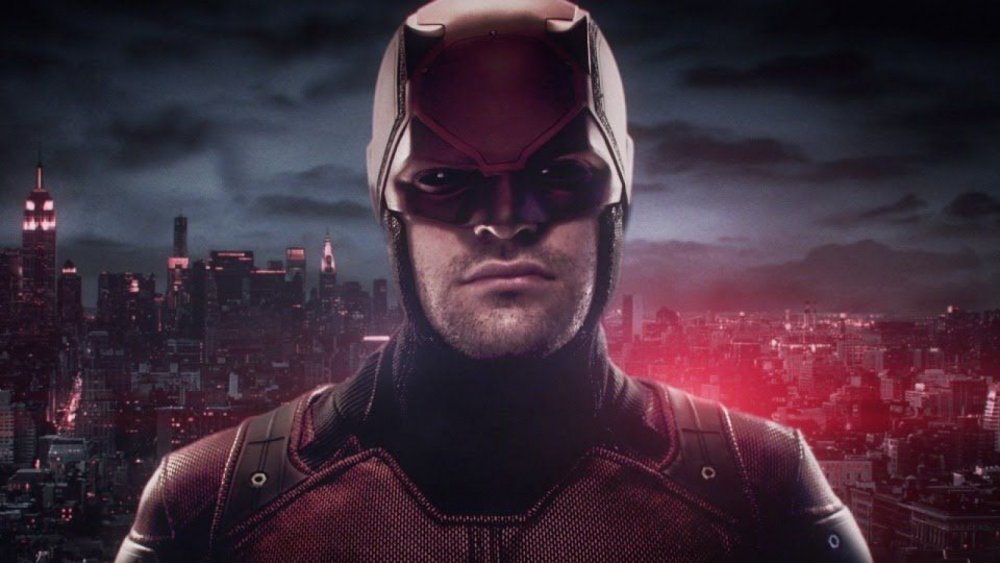 In six short months, the rights to Matt Murdock/Daredevil will officially be under the full control of Marvel Studios. What could this mean? Well, it could mean a lot of things — but the implication is that, sooner rather than later, the blind attorney and ninja vigilante will make an appearance in the Marvel Cinematic Universe.
Didn't
Daredevil
, the series that ran for three seasons on Netflix, take place in the MCU? Well, yes and no. Like most of Marvel Television's properties — which included Netflix shows like
Luke Cage
and
Jessica Jones
, ABC's
Agents of S.H.I.E.L.D.
, and several others scattered across multiple platforms — the action in
Daredevil
was technically supposed to be going down in the same universe in which Iron Man, Captain America, and the rest repelled an alien invasion of New York City in 2012. The logistical difficulties of making sure all of these disparate properties were snugly connected, though, proved to be difficult to overcome.
Agents of S.H.I.E.L.D.
managed to maintain its tenuous narrative connection to the films of the MCU for its first three seasons before largely giving up, and when it came to the Netflix shows, any references to the larger universe pretty much came via throwaway lines of dialogue, amounting to little more than lip service. This was in large part due to the fact that Marvel Studios (which produces the movies) and Marvel Television were two separate entities. Now, though, with the TV arm all but totally phased out and the film branch now handling small-screen projects like the MCU-set Disney+ series, future television endeavors are expected to be much more intimately connected with the films.
Under Marvel's agreement with Netflix, none of the main characters of the streamer's Marvel series —
Daredevil, Jessica Jones, Luke Cage,
and
Iron Fist
— could be used in any live-action projects for two full years after the cancellation of their respective series. With only six months to go until Marvel is free to bring the Devil of Hell's Kitchen back into the MCU fold in whatever way it sees fit, fans are beginning to wonder exactly what that will look like. Will Daredevil simply be picked up for a fourth season, perhaps for Disney+ or Hulu? Or will he instead get a rebooted series, or even a feature film? Stay tuned. (via
Looper
)
DYNAMITE: CHAOS! SKETCH CARDS BRING THE HORROR TO KICKSTARTER!
06/02/20 @ 4:43 pm EST
Source:
Disney
| Categories:
Dynamite
|
Comments
(0) |
E-mail Article
|
Add a Comment
The creeps and the crawlies of the Chaos! crew comes to Kickstarter today for a limited time sketch card celebration of their 25th anniversary!
Live right now
, and with
Early Bird Special discounts for the first 24 hours
, fans can get truly one-of-a-kind sketch cards featuring their favorite characters from the Chaos! universe. All manner of psychos, vamps, and demons are depicted by a diverse range of fan-favorite artists from the community. The likes of Evil Ernie, Purgatori, Chastity, Lady Demon, Mistress Hel, Jade, The Chosen, and countless other classic characters have been drawn in all kinds of styles and will be packed in special red and stamped Kickstarter-exclusive protective envelopes.
This limited-time offer will only last one week and then the cards and rewards will be shipped immediately after, to reward Chaos! and sketch cards fans for their tremendous support of the franchise and Dynamite through the years.
Sketch card artists who have contributed to this set include Roy Cover, April Reyna, Dan Curto, Daniel Gorman, Edward Santia, Huy Truong, Jeffrey C. Benitez, Joe DelBeato, Karl Jones, Ken Haeser, Kevin B. Cleveland, Lee Hunt, Mai Irving, Marcia Dye, Mitch Ballard, Norvien Basio, Rich Molinelli, Scott Harrell, Tone Rodriguez, Zachary Woolsey, Mikey Chiume Jr, and many more!
The campaign features many special reward options for collectors. Including glow-in-the-dark cards! As well as ways to focus on a favorite character such as Evil Ernie, Chastity or Purgatori - or all three. Rare puzzle card sets are available as well. For the comic fans and as an affordable add-on, Dynamite is also offering two critically acclaimed Chaos! graphic novels as well as surprise boxes of single issues mixed with other Dynamite classics. The to-the-point titled
Chaos
is the perfect entry point to the world for those wanting to dive right in. The 2014 miniseries event relaunched the wider world of Chaos! under the Dynamite banner. Written by Chaos! superfan Tim Seeley (
Nightwing, Hack/Slash
) and drawn by today's master of flirty demons, Mirka Andolfo (
Mercy, Catwoman
), fans welcomed the exciting revival. While the perfect companion is Tim and brother Steve Seeley's deep dive into the sick, rotted brain of Evil Ernie, the nightmarish centerpiece of Chaos!
The seeds of the Chaos! universe go all the way back to the creation of Ernie in 1991 by Brian Pulido and Steven Hughes. A couple of years later and the burgeoning Chaos! Comics was founded, becoming one of the hottest names in the competitive 1990s comics industry. Their unique concept of essentially taking a shared superhero world, but filling it with vicious, reprehensible, and straight-up evil characters with a horror and metal lens stood them out against the usual spandex. Artwork from legends like Steven Hughes and Ed Benes had fans biting their nails but unable to look away. That legacy continues today, in these sketch cards and beyond.
Check out the Kickstarter now! Don't miss the Early Bird deals!
FIRST LOOK: 'TIGER KING' COMIC BOOK COMING
06/01/20 @ 1:27 pm EST
Source:
TMZ
| Categories:
MIsc
|
Comments
(0) |
E-mail Article
|
Add a Comment
Joe Exotic's meteoric rise from farm boy to
Tiger King
fame is all laid out in an upcoming comic book ... and
TMZ
has the first look at Joe's origin story and its special edition cover.
TMZ obtained a couple of pages from Michael Frizell and TidalWave Production's new project,
Infamous Tiger King
, which hits the shelves at the end of June, and it's pretty wild.
The graphic novel picks up where
Tiger King
left off, with Joe behind bars and Jeff Lowe running the zoo ... and it depicts Joe as a larger-than-life character as it dives into his crazy journey from rural Kansas to pop culture icon.
To see the
Infamous Tiger King
preview,
click here
.
KATE LETH'S FIRST GRAPHIC NOVEL, 'MALL GOTH', FROM SIMON & SCHUSTER
06/01/20 @ 1:01 pm EST
Source:
Bleeding Cool
| Categories:
MIsc
|
Comments
(0) |
E-mail Article
|
Add a Comment
Publishers Weekly has reported that comics creator Kate Leth's
Mall Goth
is a new YA graphic novel being published by Simon & Schuster in the spring of 2022.
The comic "follows angsty teen goth Liv as she navigates the highs and lows of firsts—first out queer kid at school, first dead-end job as a store mascot, and first love that garners the unwanted attention of her teacher."
Leth tweeted: "Oh man, I've wanted to post one of these for a DECADE. I am beyond excited to announce: MALL GOTH My DEBUT GRAPHIC NOVEL coming at you in 2022." She continued, "YES this is why I've been so busy! YES this is both written and drawn by me! YES it will feature both striped armwarmers and an empathetic look at victims of grooming by predatory adults that will hopefully help young people identify red flags!!! YES IT WILL REFERENCE EVANESCENCE. Extreme thanks to @jenlinnan for believing in this project for the last few years (?!) as we've pitched and prepared. I'm so excited. AAAAH!! There's not much I can share yet, but it's probably okay to post this image from the initial pitch, right?" (via
Bleeding Cool
)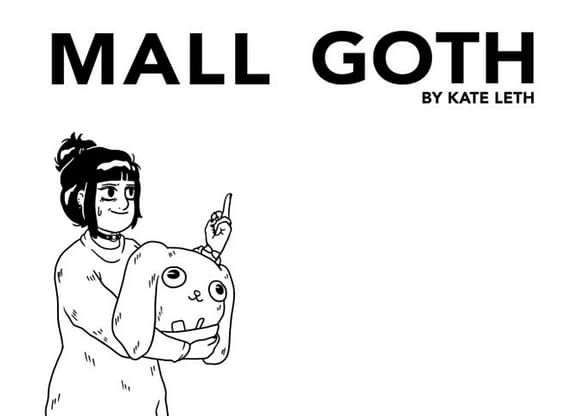 'THE FLASH' WILL BATTLE DC COMICS VILLAIN [SPOILER] IN SEASON 7
06/01/20 @ 12:50 pm EST
Source:
TV Line
| Categories:
DC
|
Comments
(0) |
E-mail Article
|
Add a Comment
The CW's
The Flash
first teased the introduction of the white-and-gold clad Godspeed during Season 5, when Barry and Iris' daughter Nora, in the year 2049, bested the sinister speedster with a good amount of help from the imprisoned Eobard Thawne aka Reverse-Flash.
The Season 6 premiere then established that Team Flash in the present day had chased down a total of four Godspeed drones, all of whom were incapable of speaking except in a screeching "modem language." When the real Godspeed
appeared
to show up in this season's penultimate hour, Barry was able to sideline him with the help of Hartley Rathaway/Pied Piper. Alas,
that
was not the real August Heart
either
, Barry came to realize.
After all these fake-outs, it would seem
The Flash
had teased Godspeed long enough and now is ready to actually play that villainous card. So come Season 7, premiering in early 2021, will Team Flash finally go up against the honest-to-goodness, one true Godspeed?
"Yes, you just might…,'" showrunner Eric Wallace coyly told
TVLine
during an end-of-season Q&A session, letting slip a bit of an evil laugh. "Because that's where we're going!"
'THE WRETCHED' REACHES RARE BOX OFFICE MILESTONE SHARED BY 'BLACK PANTHER' AND 'AVATAR'
06/01/20 @ 12:40 pm EST
Source:
Forbes
| Categories:
MIsc
|
Comments
(0) |
E-mail Article
|
Add a Comment
Over the last 23 years, only
Titanic, The Sixth Sense, Avatar, Black Panther
and now
The Wretched
have topped the box office for five consecutive weekends.
When there is only one movie pulling in anything resembling "business," at least among studios actually reporting grosses, it's not hard to be the top movie of a given day or weekend. Nonetheless, happenstance, luck and good (or terrible) timing has left IFC's
The Wretched
as the closest thing to a box office hit this summer. Brett Pierce and Drew T. Pierce's throwback horror title
The Wretched
earned another $181,000 this weekend in 75 theaters. That's an expansion from 59 theaters (mostly drive-ins) from last weekend, and a 23.4% drop from the previous Fri-Sun frame. For what it's worth, this is the first weekend where the film has dropped from its previous Fri-Sun gross.
The Wretched
, about a young teen who goes to live with his father during a contentious divorce only to stumble onto potentially supernatural shenanigans, opened on May 1 in just 12 theaters, again mostly drive-ins, with $65,908. It earned $69,608 (+5.6%) in weekend two in 19 theaters, $91,975 (+32.1%) in 21 theaters in its third weekend and then $216,288 over the Fri-Sun portion (+135.2%) of its $236.334 Fri-Mon Memorial Day weekend frame in 59 theaters. By this past Thursday, it had earned $659,760 in 28 days of domestic release. (via
Forbes
)
SPACEX'S CREW DRAGON SUCCESSFULLY DOCKS WITH THE SPACE STATION
06/01/20 @ 12:25 pm EST
Source:
The Verge
| Categories:
MIsc
|
Comments
(0) |
E-mail Article
|
Add a Comment
On Sunday morning, SpaceX's new Crew Dragon capsule successfully docked with the International Space Station, bringing the company's first crew to the orbiting outpost. Their arrival marks another major milestone for SpaceX's first crewed mission of the Crew Dragon, which successfully took off Saturday from Cape Canaveral.
Now, the Crew Dragon's passengers — NASA astronauts Bob Behnken and Doug Hurley — are set to begin an extended stay on board the ISS that could last up to four months. They will join three crew mates already living on board the station: NASA astronaut Chris Cassidy and Russian cosmonauts Anatoly Ivanishin and Ivan Vagner.
The Crew Dragon's docking showcased one of the biggest features of SpaceX's capsule: its automated docking system. The vehicle is designed to autonomously approach the ISS and latch on to a standardized docking port, without any input from its human passengers. SpaceX successfully showcased this ability last year when the company sent a test version of the Crew Dragon to the space station without a crew on board. But this time, the company needed to prove that the Crew Dragon could deliver when it had its most precious cargo on board. (via
The Verge
)