WITNESS THE EARLY YEARS OF RED SONJA IN NEW MINISERIES
03/18/19 @ 6:03 pm EST
Source:
Dynamite
| Categories:
Dynamite
|
Comments
(0) |
E-mail Article
|
Add a Comment
Dynamite invites fans to witness a young, raw and reckless adventurer in Red Sonja: Birth of the She-Devil this June!


Writer Luke Lieberman (Red Sonja: Doom of the Gods), artist and fellow Sonja all-star Sergio Davila (Conan, Project Superpowers) and colorist Ulises Arreola (Superman, Batgirl) have come together for an early tale of everyone's favorite fiery-haired heroine. This limited series will feature Red Sonja's trademark armor - and her temper. Not yet the legend she will become, but building a fearsome reputation!

Sonja finds herself against the demon conqueror Raka, whose alchemy turns men into thralls. Luckily her mentor Ozzyus is still kicking at this point. He was last seen toward the beginning of Dynamite's contributions to the Red Sonja mythos in the previous series by Lieberman and Peter David, Red Sonja vs. Thulsa Doom. Discussing where Red Sonja is at the start of this story, writer Luke Lieberman said, "This story is about her figuring out what kind of woman she wants to be, what she wants to do with her gift of violence. Sonja is a total badass, but what makes her so compelling and iconic is her humanity. She sees the world for what it is and she is who she is unapologetically. She has already taken the worst Hyboria can dish out, so there is nothing left to fear. Despite this hardness, or perhaps because of it, she recognizes innocence as rare and precious and she will protect it."

Readers can pick from three unique covers on each issue. Master painter Lucio Parrillo (Vampirella, Queen Sonja) delivers jaw dropping pieces. For a more old school option, interior artist Sergio Davila is drawing covers as well. Rounding out the selection is a set of cosplay photos starring fan favorite Shannon Kingston. Or collect them all of course!

"Red Sonja represents using the adversity we have in our lives and using it as the fire that burns in our bellies to fuel us to victory, whatever that means to us," said cosplayer Shannon Kingston. "It's not just dress up, it's channeling the soul of the character."

"Luke and Sergio make a killer combo, telling a dark, thrilling, and action-packed early Red Sonja adventure," said Joe Rybandt, Dynamite Executive Editor.

Sonja's modern day Hyborean heroics can be followed in the flagship Red Sonja by Eisner-nominated writer Mark Russell (Flintstones, Second Coming, Wonder Twins) and swords and sorcery-honed artist Mirko Colak (Conan). Also coming soon is Red Sonja & Vampirella Meet Betty & Veronica written by celebrated former Red Sonja writer Amy Chu (Poison Ivy) and Maria Laura Sanapo (DC Comics Bombshells, Charmed).




Red Sonja: Birth of the She-Devil #1 will be solicited in Diamond Comic Distributors' April 2019 Previews catalog, the premier source of merchandise for the comic book specialty market, and slated for release in June 2019. Comic book fans are encouraged to preorder copies with their local comic book retailers. It will also be available for individual customer purchase through digital platforms courtesy of Comixology, Kindle, iBooks, Google Play, Dynamite Digital, ComicsPlus, and more!
ANOTHER NEW MUTANTS CASUALTY IN THE WAR OF THE REALMS? [X-MEN #3 SPOILER]
06/26/19 @ 5:06 pm EST
Source:
Bleeding Cool
| Categories:
Marvel
|
Comments
(0) |
E-mail Article
|
Add a Comment
[Spoilers ahoy!]
Recently in
Uncanny X-Men
, fans have seen the death of Rahne Sinclair (Wolfsbane), one of the original New Mutants.
Today, we see Valkyrie fighting alongside the rest of the X-Men in
War Of The Realms: X-Men
#3. But it's not the former Defender Val who faces the final curtain to Valhalla. There are other original New Mutants to play with. (via
Bleeding Cool
)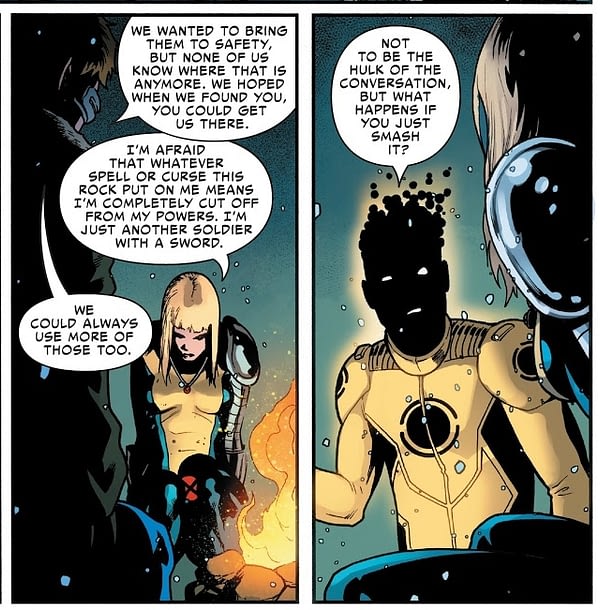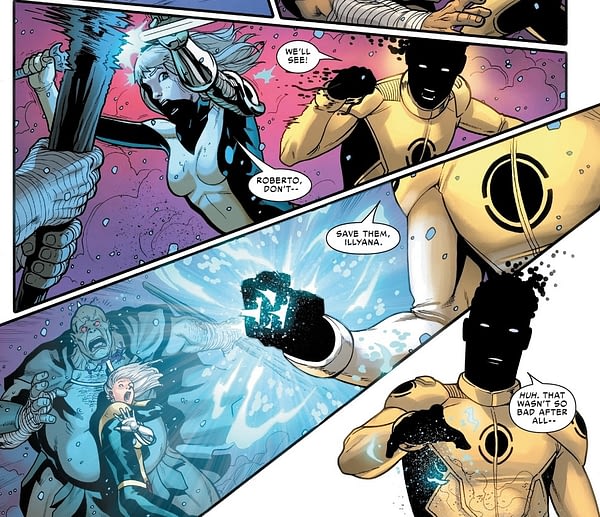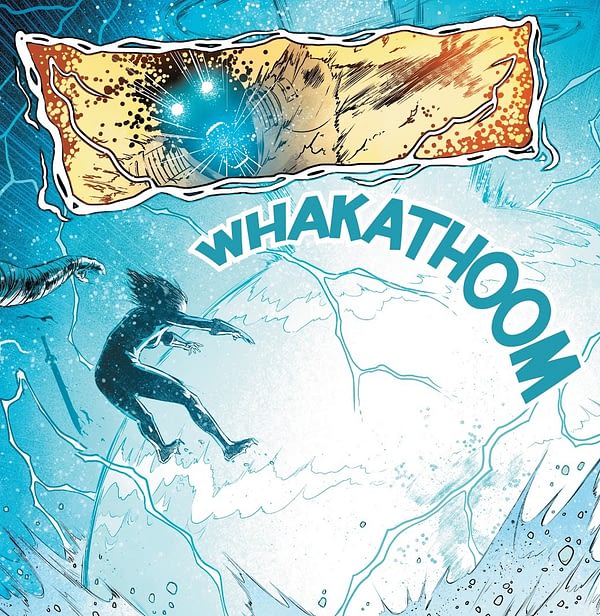 …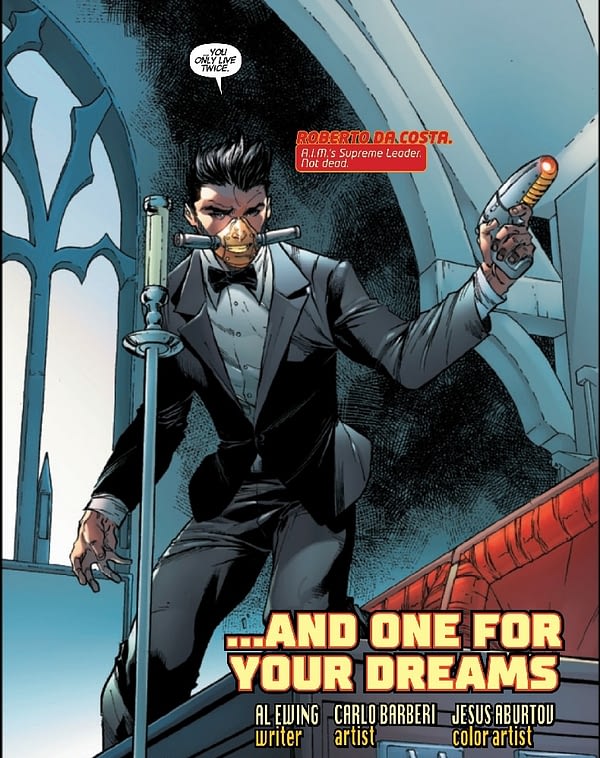 Psyche!
The War of the Realms: Uncanny X-Men #3 (of 3) is in stores now!
PECK AND ROMIJN IN A 'STAR TREK: SHORT TREKS' EPISODE
06/26/19 @ 4:31 pm EST
Source:
TrekToday
| Categories:
Star Trek
|
Comments
(0) |
E-mail Article
|
Add a Comment
Trek Today
reports that Star Trek fans sad to see the end of Ethan Peck's appearance as Spock, and who wanted more of Rebecca Romijn as Number One -- both on CBS All Access'
Star Trek: Discovery
-- will be pleased with the news that the duo will return in one of the four
Star Trek: Short Treks
episodes that have been announced.
Director Mark Pellington posted several images on
Instagram
telling fans that he had wrapped filming in Toronto on
Chaos Theory,
which stars Peck and Romijn. Pellington also used a hashtag in the post,
#chabon
, which may mean that Michael Chabon wrote the episode.
There was no mention of Anson Mount as Captain Pike.
HARRIET DYER, STAR OF NBC'S 'THE INBETWEEN', JOINS BLUMHOUSE-UNIVERSAL'S 'THE INVISIBLE MAN'
06/26/19 @ 4:24 pm EST
Source:
Deadline
| Categories:
MIsc
|
Comments
(0) |
E-mail Article
|
Add a Comment
Deadline
reports that Harriet Dyer, star of NBC procedural drama
The InBetween,
is boarding Leigh Whannell's
The Invisible Man
for Blumhouse-Universal.
Dyer joins the already announced cast of Elisabeth Moss, Aldis Hodge and Storm Reid. The pic will shoot in Dyer's native country of Australia next month, specifically Sydney.
The Invisible Man
hits theaters on March 13, 2020.
RUMOR: WARNER BROS. TO REPLACE BARRY ALLEN WITH WALLY WEST FOR 'FLASH' SOLO FILM
06/26/19 @ 4:15 pm EST
Source:
We Got This Covered
| Categories:
DC
|
Comments
(0) |
E-mail Article
|
Add a Comment
The Flash seems lost in the Speed Force right now on the big screen, as Ezra Miller's Scarlet Speedster has been AWOL in the DCEU since 2017's
Justice League.
The hero's solo movie has passed through many different hands since then and recent reports have pointed to Miller himself vacating the role.
We Got This Covered's
been informed by its source that the Warner Bros. is entertaining the idea of introducing Wally West into the DCEU to replace Miller's Barry Allen. We have to stress that this is just an idea right now and while there's a chance it could happen, it's too early to say for sure.
As for the Miller situation, the site reports that the
Fantastic Beasts
star's continued career as the Flash is "up in the air" at the moment and could go either way. It seems the strategy of working Wally into the franchise is being used as a contingency plan just in case Miller does leave. Meaning that if he does depart, don't expect a new actor as Barry in the DCEU, as the character will likely be swept aside in favor of Wally.
'ANNABELLE COMES HOME' RINGS UP $3.5M IN TUESDAY NIGHT PREVIEWS
06/26/19 @ 4:07 pm EST
Source:
Deadline
| Categories:
MIsc
|
Comments
(0) |
E-mail Article
|
Add a Comment
According to
Deadline
, New Line's
Annabelle Comes Home
raked in $3.5M in its Tuesday night previews that began at 6PM, which is higher than both
Conjuring
pics' previews (which respectively earned $3.3M and $3.4M). Industry projections believe that
Annabelle Comes Home
will file between $30M-$35M in its five-day run. By comparison, Blumhouse/Universal's
The First Purge
made $31.2M in its first five days a year ago. Gary Dauberman's feature directorial debut plays in 3,525 theaters today and tomorrow and jumps to 3,587 on Friday.
That figure is higher than the previews for the first
Annabelle
($2.1M),
The Conjuring
producers' production
Curse of La Llorona
($2.8M), the $2.5M Tuesday night preview of
First Purge
, and just under
Purge 3: Election Year
($3.6M).
Annabelle Comes Home
's Tuesday night is also under
Annabelle Creation
's Thursday night of $4M and
The Nun
's $5.4M (the latter being the biggest opener in
The Conjuring
universe and top earner as well at $365.6M).
'PSYCH: THE MOVIE 2 ANNOUNCEMENT TRAILER DROPS
06/26/19 @ 10:10 am EST
Source:
USA Network
| Categories:
MIsc
|
Comments
(0) |
E-mail Article
|
Add a Comment
USA Network
has released an official announcement trailer for Psych: The Movie 2.

On the trailer, series stars James Roday and Dule Hill appeared on a brief video to whet fan appetites for the coming TV movie.

Psych: The Movie 2 will be airing on USA this holiday season.

Trailer: https://twitter.com/i/status/1143594712311435264






CAPTAIN MARVEL' COMPOSER PINAR TOPRAK TO SCORE DC UNIVERSE SERIES 'STARGIRL'
06/26/19 @ 9:58 am EST
Source:
Film Music Reporter
| Categories:
DC
|
Comments
(0) |
E-mail Article
|
Add a Comment
According to
Film Music Reporter
, Pinar Toprak (
Captain Marvel, Fortnite
) has confirmed that she is scoring the coming DC Universe original series,
Stargirl.
The series is based on the DC characters created by Geoff Johns and stars Brec Bassinger in the title role.
Stargirl
is slated to premiere in 2020 on the streaming service.
'IRON SKY: THE COMING RACE' TRAILER RELEASED
06/26/19 @ 9:45 am EST
Source:
Vertical Entertainment
| Categories:
MIsc
|
Comments
(0) |
E-mail Article
|
Add a Comment
Vertical Entertainment
has released the official trailer for the sci-fi comedy
Iron Sky: The Coming Race
, which will be in theaters, On Demand and on Digital on Friday, July 19.
Synopsis:
Twenty years after the events of Iron Sky, the former Nazi Moonbase has become the last refuge of mankind. Earth has been devastated by a nuclear war but buried beneath the wasteland lies a power that could save the last of humanity -- or destroy it.
Trailer:
https://youtu.be/URTPgGEhmNM
'AVENGERS: ENDGAME' BLU-RAY, DIGITAL RELEASE DATES REVEALED WITH NEW TRAILER
06/26/19 @ 9:33 am EST
Source:
Marvel Studios
| Categories:
Marvel
|
Comments
(0) |
E-mail Article
|
Add a Comment
Marvel Studios has dropped a new trailer detailing the Blu-Ray and Digital release dates for its theatrical blockbuster,
Avengers: Endgame
.
Trailer:
https://twitter.com/i/status/1143866502325473280
DYNAMITE PRINTS OVER 130,000 COPIES OF VAMPIRELLA #1! BEST SELLING DEBUT ISSUE IN COMPANY HISTORY!
06/26/19 @ 10:58 am EST
Source:
Dynamite
| Categories:
Dynamite
|
Comments
(0) |
E-mail Article
|
Add a Comment
Vampirella is flying high for her big 50th anniversary! Dynamite proudly announces that the upcoming
Vampirella
#1 has blasted through expectations and is a massive success! The upcoming issue by writer Christopher Priest, artist Ergün Gündüz and a range of top tier cover artists fronted by Frank Cho will have an initial print run of 130 thousand copies!
This historic number includes all orders through Diamond, specialty retailers and creator exclusive covers. This incredible sales number is the highest for a full price comic in Dynamite's storied 15 year history. Furthermore, 130 thousand copies is higher than all recorded paid circulation numbers for the original Vampirella magazine - making this possibly also the best selling Vampirella comic book of all time! Dynamite cannot wait to see where things shake out on the charts with such strong offerings from competitors in July!
Dynamite is confident in this blockbuster new series and made the first issue returnable for retailers, which is also continuing for the second issue to allow retailers to order aggressively with minimal risk and maximum reward. Retailers can order without worry and be prepared to serve the needs of Vampirella diehards who go back 50 years themselves as well as the growing crowd of new fans!
"We cannot express enough how appreciative we are for the support from fans, retailers as well as support from retailers outside of the direct market and talent who have created covers for their own sales," said Nick Barrucci, Dynamite CEO and Publisher. "We knew we had a great creative team on this title with the incredible Christopher Priest being complemented by the lush art of Ergün Gündüz, and breathtaking covers to match. The 50th Anniversary will only happen once, so everything had to be perfect. Everyone from the creative team, editorial and sales & marketing worked hard together at all levels to make this a success. It's incredibly gratifying to get such a welcoming response back."
Dynamite's team is already working hard to continue this success through the year and moving forward. Vampirella #2 features an eye-popping main cover from Stanley "Artgerm" Lau, perhaps the biggest artist in the industry today. Then the next issue is spearheaded by the iconic J. Scott Campbell. Each issue features additional covers from talented artists as well as top cosplay models. Maybe there will be more Artgerm... Maybe one of the greatest comic artists of all time will bow out with a Vampirella cover as his final work... With the multiple Eisner Award-winning Jordie Bellaire writing the ongoing
Vampirella/Red Sonja
and even more surprises in 2019, it's shaking out to be quite the celebration!
Initial orders for
Vampirella
#2 are due this Thursday June 27.