THE SILVER SURFER WILL RETURN THIS JUNE IN 'SILVER SURFER: BLACK'
03/16/19 @ 10:39 am EST
Source:
Marvel
| Categories:
Marvel
|
Comments
(0) |
E-mail Article
|
Add a Comment
When we last saw the Silver Surfer, he was blown into a black hole along with more of the galaxy's best defenders in GUARDIANS OF THE GALAXY. But no story is ever truly over in the Marvel Universe, and Donny Cates is bringing the Sentinel of the Spaceways back in his own solo mini-series!
This June, Cates will be joined by artist Tradd Moore for SILVER SURFER: BLACK!
Here is the cover, also by Moore: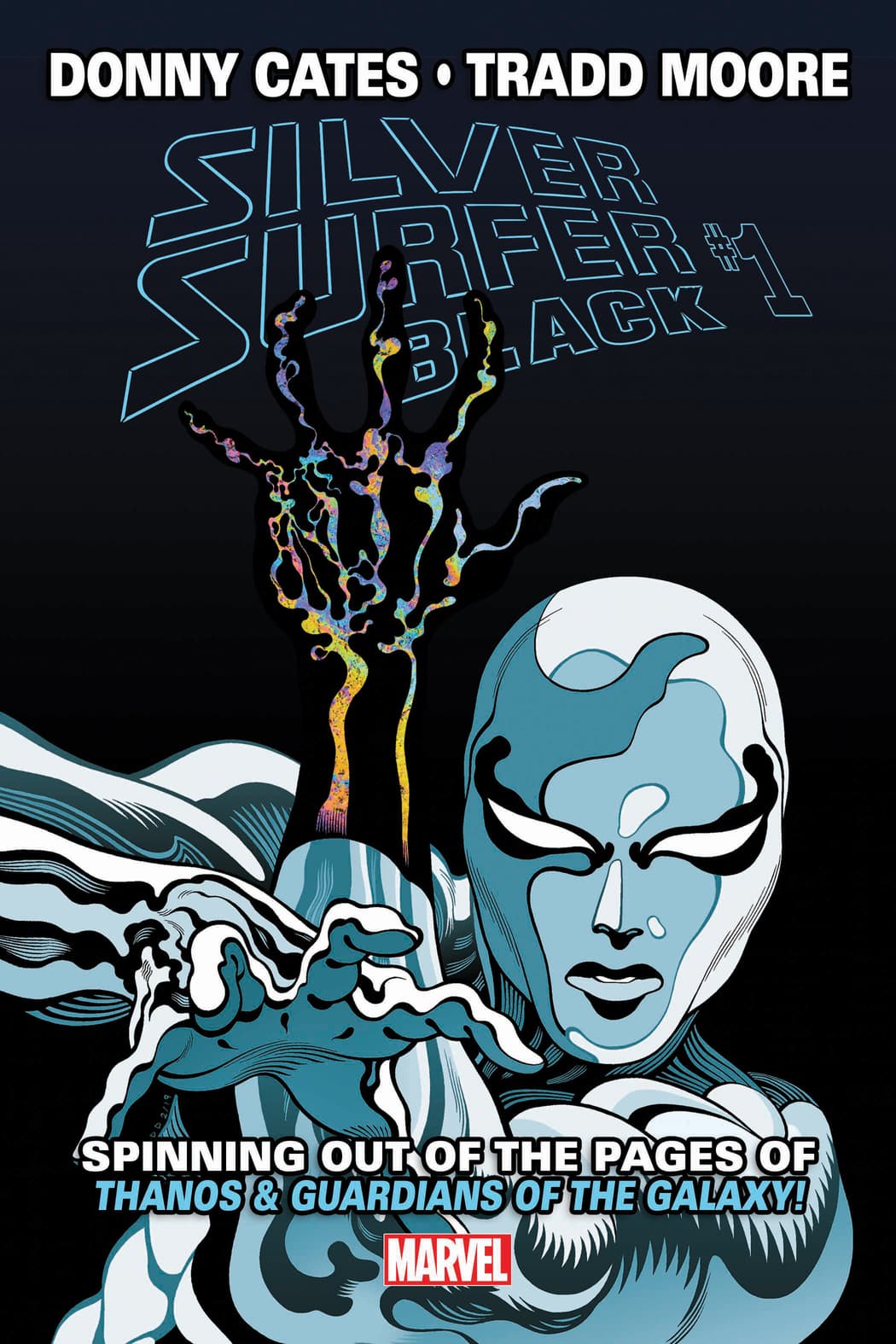 Editor Darren Shan had more to say about what fans can expect from the new series:
"When Donny Cates wrote the first issue of the new GUARDIANS OF THE GALAXY series, we both agreed that Silver Surfer's adventure wasn't going to end there, that there was still more story to be told about what happened to all the cosmic heroes that got sucked into the Black Order's wormhole. But Donny's imagination really kicked into gear when artist Tradd Moore signed on! Readers won't realize it, but SILVER SURFER: BLACK is a culmination of everything Donny has been writing since his THANOS run. And Tradd Moore is delivering some of the craziest visuals seen in a Marvel Comic today!"
We can also show you the issue's variant cover by Nick Bradshaw: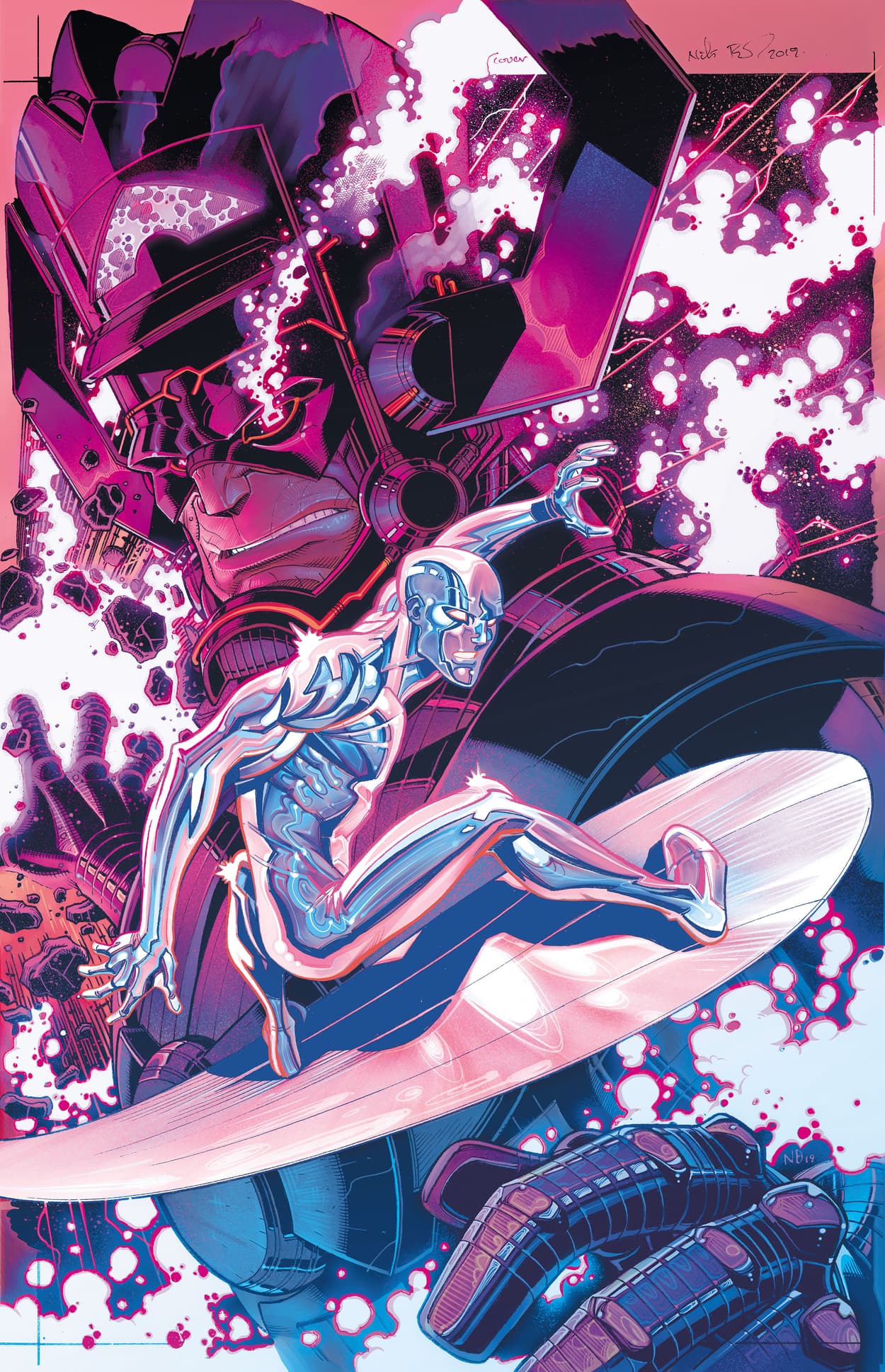 DC PRESENTS 'GENERATION ONE: AGE OF MYSTERIES'
02/18/20 @ 9:43 am EST
Source:
DC Comics
| Categories:
DC
|
Comments
(0) |
E-mail Article
|
Add a Comment
The path to DC's future continues to unfold in
Generation One: Age of Mysteries
! On sale in May,
Generation One: Age of Mysteries
is the first of five oversized Prestige format one-shots, each detailing a different age in DC's storied, super heroic legacy!
Generation One: Age of Mysteries
follows DC's
Generation
Zero: Gods Among Us
, in stores on Free Comic Book Day 2020.
"The
Generation
series of specials are built to bring the new DC timeline to life," said DC Publisher Dan DiDio. "With
Generation One: Age of Mysteries
and every subsequent volume we'll be shining a spotlight on the 80-plus-year publishing history of the DC universe while charting the course for the bright future of DC's characters. All of our greatest stories and events will create the backdrop and context for the great new adventures we have planned. Everything counts, and we guarantee there'll be surprises along the way!"
Readers of
Generation One: Age of Mysteries
will witness firsthand major events from throughout the history of the DC universe as seen through the eyes of characters like Wonder Woman, Lucius Fox, Alfred Pennyworth, Green Lantern (Alan Scott), The Spectre (Jim Corrigan), Mister Terrific (Terry Sloane), and others. The series of one-shots will also expose secrets from DC's history, such as:
What was the previously undocumented "big bang" of the Age of Mysteries?
Which character truly ushers in the dawn of Super Heroes, inspiring all the rest?
What was the real reason behind the Justice Society of America's retirement?
Which Golden Age hero will become history's greatest villain?
What contentious alliance kept the Wayne family dynasty alive after Thomas and Martha's deaths?
Who are the new, never-seen-before wildcards that will be instrumental in fashioning DC's push to the future?
These five books will have all the answers to these questions, setting up DC's boldest storylines ever while laying the groundwork for more excitement to come. The five
Generation
issues will feature a who's who of creative talent, with an overarching story by Brian Michael Bendis, Dan Jurgens, Andy Schmidt, Robert Venditti, and Joshua Williamson, illustrated by artists including Doug Mahnke, Bryan Hitch, Mikel Janín, Ivan Reis, David Marquez, and more.
Generation One: Age of Mysteries
is scripted by Andy Schmidt, with lead art by Doug Mahnke. Each of DC's
Generation
one-shots will feature a cover by Jim Cheung and a variant cover by Gary Frank.
Generation Two: Age of the Metahuman, Generation Three: Age of Crisis, Generation Four: Age of Rebirth
and
Generation Five: Age of Tomorrow
will follow monthly after
Generation One: Age of Mysteries
.
Generation One: Age of Mysteries
is a 48-page, Prestige format one-shot on sale at comic book stores and participating online retailers on May 27.
GREEN LANTERN 80TH ANNIVERSARY 100-PAGE SUPER SPECTACULAR #1 ARRIVES IN MAY
02/18/20 @ 9:32 am EST
Source:
DC Comics
| Categories:
DC
|
Comments
(0) |
E-mail Article
|
Add a Comment
Since the first Green Lantern was introduced in
All-American Comics
#16 in May 1940 by artist Martin Nodell and writer Bill Finger, the Green Lanterns have been fan-favorite characters with millions of comic book fans. From that first ring-wielding Lantern to the latest, and every strong-willed Super Hero in-between, many have spoken the Green Lantern oath and pledged to defend their home sector from evils of every nature. Now, in 2020, this corps of extraterrestrial space police built up from all alien races and places are celebrating 80 years of keeping the DC universe safe!
To commemorate the 80th anniversary of the original Green Lantern, Alan Scott, DC will be publishing
Green Lantern 80th Anniversary 100-Page Super Spectacular
#1 on May 20, 2020. Join us to see tales of all of the universe's most legendary Green Lanterns: Alan Scott, Hal Jordan, John Stewart, Guy Gardner, Kyle Rayner, Jessica Cruz and Simon Baz, plus appearances from other cosmic favorites!
In addition to a dynamic cover by Liam Sharp, fans and collectors can also look forward to eight variant covers spotlighting Lanterns throughout the decades, drawn by some of comics' premier artists:
1940's variant cover by Nicola Scott
1950's variant cover by Matt Taylor
1960's variant cover by Doug Mahnke
1970's variant cover by Neal Adams
1980's variant cover by David Finch
1990's variant cover by Philip Tan
2000's variant cover by Ivan Reis and Oclair Albert
2010's variant cover by Jim Lee and Scott Williams
The legendary lineup of creators contributing their talents to
Green Lantern 80th Anniversary 100-Page Super Spectacular
include Geoff Johns, Darryl Banks, Charlotte Fullerton McDuffie, Sina Grace, Mike Grell, Jeff Lemire, Ron Marz, Denny O'Neil, Fernando Pasarin, Ivan Reis, Rafa Sandoval, Mariko Tamaki, Peter J. Tomasi, James Tynion IV, Robert Venditti, and more—all with the goal to keep the galaxy glowing bright!
Green Lantern 80th Anniversary 100-Page Super Spectacular #1
is a prestige format comic book retailing for $9.99 and available at local comic retailers and digital retailers on May 20, 2020. Please consult your local comic book store for more information regarding the decade variant covers.
STEVEN SPIELBERG'S AMAZING STORIES TRAILER RELEASED BY APPLE TV+
02/17/20 @ 9:53 pm EST
Source:
Apple TV+
| Categories:
MIsc
|
Comments
(0) |
E-mail Article
|
Add a Comment
Apple TV+
has debuted the first teaser trailer for its reboot of the iconic Steven Spielberg TV series,
Amazing Stories
, which showcases the five new stories that fans can expect.
Amazing Stories
will premiere on Apple TV+ beginning on March 6.
Trailer:
https://youtu.be/8sa8EDeb3eQ
LEGENDARY SUPERMAN ARTIST CURT SWAN WOULD HAVE BEEN 100 TODAY
02/17/20 @ 9:28 pm EST
Source:
ComicBook
| Categories:
Superman
|
Comments
(0) |
E-mail Article
|
Add a Comment
Curt Swan, one of the artists most responsible for defining the look of Superman, was born 100 years ago today. The artist, who passed away in 1996, left DC with such a wealth of material -- both published and left in inventory drawers -- that unseen images from his time as a DC artist have continued to appear more or less right up until the current day, with a story he drew -- "An Enemy Within" -- appearing in
Action Comics
#1000 in 2018 with a new script provided by
Crisis on Infinite Earths
scribe Marv Wolfman (and a custom Dynamic Forces variant created from a Swan sketch).
Swan joined the Superman family of books in 1954 when he became the artist on
Superman's Pal, Jimmy Olsen
, and would go on (along with collaborator Murphy Anderson) to develop the look of the definitive Superman for 30 years. He was eventually let go when, following the events of
Crisis on Infinite Earths
, the Superman titles got a major overhaul from writer/artist John Byrne.
During his time on the titles, Swan would draw the Superman family in
Action Comics
,
Superman's Girl Friend Lois Lane
,
Superman's Pal Jimmy Olsen
,
Superman
,
World's Finest
, and the Superboy stories in
Adventure Comics
.
After successfully pitching an adventure strip that ran in newspapers (
Yellow Hair
, about a blonde boy raised by Native Americans), Swan would be hired on in 1956 as the regular artist on the
Superman
newspaper strip -- material that has recently been reprinted by IDW Publishing.
During his time on DC's main-line comic books, Swan would co-create dozens of characters, including Terra-Man, the Jack Nimball Toyman, Vartox, and Master Jailer, some of whom have gone on to feature prominent on The CW's
Supergirl
.
Swan's final work as the regular artists of the Superman titles was in the beloved story "Whatever Happened to the Man of Tomorrow?," which gave the pre-
Crisis on Infinite Earths
Superman a happily-ever-after. The story was written by Alan Moore and the first half, somewhat ironically, was inked by George Perez of
Crisis on Infinite Earths
fame. After John Byrne left
Superman
in 1988, Swan would come back briefly to hold down the fort until the series' new regular artist, George Perez, could get up to speed.
Swan's last Superman story was a short tale that appeared shortly after he passed away in
Superman: The Wedding Album
, the issue in which Superman and Lois Lane get married. (via
ComicBook
)
'THE ETERNALS' WILL REPORTEDLY RESURRECT ANOTHER 'AVENGERS: ENDGAME' STAR
02/18/20 @ 9:27 am EST
Source:
Cheat Sheet
| Categories:
Marvel
|
Comments
(0) |
E-mail Article
|
Add a Comment
Thanos' journey seemingly concluded when Iron Man snapped him out of existence in the final scenes of
Avengers:
Endgame
. Although fans watched Thanos turn to dust, he may return in a cameo in Marvel's upcoming film,
The Eternals
.
The movie follows a group of extraterrestrials who have been on Earth for thousands of years called the Eternals. What's interesting is that Thanos is actually closely related to the group.
In the comics, Thanos' parents were Eternals named Sui-San and A'lars, though he was born with a slight deviation. Thanos carries what is called a Deviant gene, which explains his physical appearance.
The Deviants are the main enemy of the Eternals and will play a part in the new movie. With Thanos having a clear link with both groups, it is possible that Marvel features a young version of Thanos in the film – though nothing official has been confirmed. (via
Cheat Sheet
)
The Eternals
is set to hit theaters on November 6, 2020.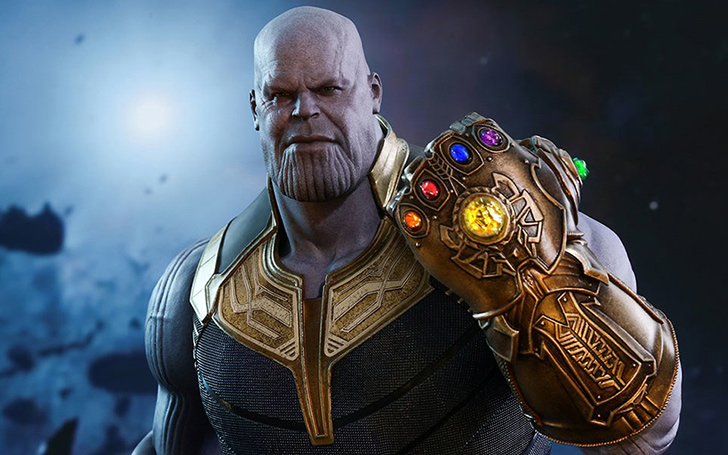 NEW SET PHOTO FROM 'THE FLASH' REVEALS GODSPEED'S RETURN
02/17/20 @ 4:32 pm EST
Source:
Heroic Hollywood
| Categories:
DC
|
Comments
(0) |
E-mail Article
|
Add a Comment
Filming for The CW's sixth season of The Flash is still underway in Vancouver. Now, a brand new set photo from Canadagraphs indicates that Grant Gustin's Scarlet Speedster will be facing off against a formidable foe we have seen before.

The set photo reveals that Godspeed will return in Episode 18 of the current season. Godspeed hails from the DC Rebirth comics and first appeared last year. In The Flash season six premiere, it was revealed that Team Flash is looking for the real Godspeed after catching several imposters.

You can see the return of Godspeed in the set photo below (via Heroic Hollywood).




'SONIC THE HEDGEHOG' BREAKS VIDEOGAME GAME PIC OPENING RECORD WITH $70M AND REPS 4TH BEST PRESIDENTS' DAY DEBUT
02/17/20 @ 4:13 pm EST
Source:
Deadline
| Categories:
Sonic
|
Comments
(0) |
E-mail Article
|
Add a Comment
Deadline
reports that Paramount's
Sonic the Hedgehog
will hit $70 million in four days, according to the studio, after a $16.5M Sunday that is down 20% from Saturday. The pic based on the Sega character remains the best domestic opening for a video game property on the big screen on both a three-day and four-day basis, and among all Presidents' Day openers it's the fourth best after Disney/Marvel's
Black Panther
($242.1M), Fox's
Deadpool
($152.1M) and Universal's
Fifty Shades of Grey
($93M).
The expectation by Paramount is that
Sonic
makes $12M on Monday. Industry estimates figure at this point in time that this 'A' CinemaScore movie has a final U.S.-Canada cume in the $200M vicinity.
SHADOWMAN FROM MASTERS OF HORROR CULLEN BUNN & JON DAVIS-HUNT COMING IN MAY
02/17/20 @ 4:08 pm EST
Source:
Valiant
| Categories:
MIsc
|
Comments
(0) |
E-mail Article
|
Add a Comment
Promo art by Tony Moore
Horror reaches new heights in SHADOWMAN #1 this May.
New York Times
bestselling writer CULLEN BUNN (
Venom
) and the terrifyingly talented JON DAVIS-HUNT (
Clean Room
) pull you into the darkness. In this brand-new series, Jack Boniface, a.k.a. SHADOWMAN, faces the terrors that tear at the fabric of humanity's world. Every chapter of SHADOWMAN is a standalone descent into horror while something far more sinister emerges from shadows.
Take a look at Jon and Eisner-winning colorist JORDIE BELLAIRE'S engrossing artwork below.
Art by Jon Davis-Hunt and Jordie Bellaire
"We're taking Shadowman in some directions he's never been taken before," said Cullen. "He's confronting a growing supernatural threat that is popping up all over the world. We are introducing the concept of the Blight, which is a weakening of the veil between our world and the Deadside. And these Blights occur in places of great sorrow and misery and evil." Cullen also teased a new threat that will have a major impact beyond this series. "We're also introducing a new villain who will be changing the face of the supernatural in the Valiant Universe."
Art by Jon Davis-Hunt and Jordie Bellaire
"If you like horror, or action, or superheroes (and certainly if you like all three of those things), then this is definitely the book for you," stated Jon. "If you don't like any of those things, then this book will change your mind. And did I mention the demon punching? Demons get punched. A lot."
Art by Jon Davis-Hunt and Jordie Bellaire
Editor HEATHER ANTOS says this is the perfect team to craft a frightening new take on Shadowman. "This is a horror comic dream team that looks and feels unlike anything I've experienced before. Everything is just... clicking. Each member of the creative team is a true master of their craft... and their craft this year is horror."
Art by Jon Davis-Hunt and Jordie Bellaire
The terrifying tale starts in SHADOWMAN #1 on May 20th, featuring colors by Jordie Bellaire, letters by Clayton Cowles, and covers by Jon Davis-Hunt, Rod Reis, Dave Johnson, Tony Moore, and Jeff Dekal.
'LOKI' TV SERIES MAY SET UP KANG THE CONQUEROR IN THE MCU
02/17/20 @ 3:46 pm EST
Source:
Screen Rant
| Categories:
Marvel
|
Comments
(0) |
E-mail Article
|
Add a Comment
Marvel's coming Disney+
Loki
show may set up Kang the Conqueror as the Marvel Cinematic Universe's next big bad. The show, starring Tom Hiddleston, will see the God of Mischief embody his nefarious persona from 2012's
The Avengers
. A more reformed version of the character was killed by Thanos at the beginning of
Avengers: Infinity War
. However,
Avengers: Endgame
revived the 2012 Loki when he escaped with the Tesseract.
That version of Loki will lead his own Disney+ series, using the Tesseract (the Space Stone) to meddle with history. After fans were given their first tease of
Loki
via an image of the character in the 1970s, an MCU Disney+ Super Bowl commercial briefly showed Loki sporting a Time Variance Authority jumpsuit. In the comics, the TVA is an organization that monitors the multiverse and subsequent timelines, eliminating those deemed too dangerous.
Loki
will reportedly introduce Kang the Conqueror, a time traveler who comes into contact with the TVA on more than one occasion. In the comics, Kang has close ties to both the Avengers and Fantastic Four. (via
Screen Rant
)
Loki
is slated to begin airing on Disney+ sometime in 2021.
'TALKING DEAD' GUESTS FOR 'THE WALKING DEAD' MIDSEASON PREMIERE SHOW
02/17/20 @ 3:23 pm EST
Source:
Undeadwalking.com
| Categories:
Walking Dead
|
Comments
(0) |
E-mail Article
|
Add a Comment
The return of
The Walking Dead
is slowly creeping up and many fans are getting excited about the AMC zombie drama coming back to their televisions. In addition, that means the aftershow
Talking Dead
will be back to dissect all the action and drama.
Feb. 23 will bring the airing of the TWD Season 10 midseason premiere. Afterward, Cooper Andrews (Jerry) and Lauren Ridloff (Connie) will join the
Talking Dead
couch opposite host Chris Hardwick. Also appearing is premiere episode director Michael E. Satrazemis. This marks Ridloff's fourth visit to the show and the 10th for Andrews. (via
Undeadwalking.com
)
The Walking Dead
returns with its midseason premiere, "Squeeze," Sunday, Feb. 23 at 9/8c on AMC.
Talking Dead
airs after the Season 5 premiere of
Better Call Saul
, part of a two-night return event on AMC.