RAYA AND THE LAST DRAGON LEADS A SURPRISINGLY DOWN BOX OFFICE
03/07/21 @ 3:00 pm EST
Source:
Variety
|
Comments
(0) |
E-mail Article
|
Add a Comment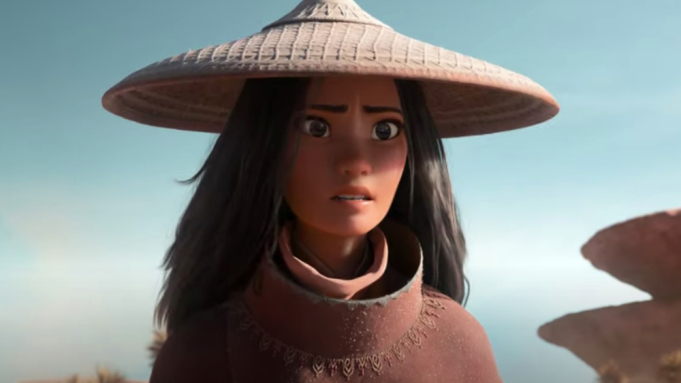 Even with the theaters in New York City reopening, tickets sales for the weekend were slow. Disney's
Raya and the Last Dragon
only pulled in $8.6 million compared to the $14.1 million
Tom & Jerry
made the previous weekend. Holding the animated film back may have been the studios decision to also release the film on Disney Plus for an addition $30 fee, which may seem expensive until you consider the cost of taking a family of four to a theater and there is far less risk of infection while sitting on your couch at home.
On its second weekend,
Tom & Jerry
made another $6.6 million domestically putting it in second place while the repeatedly delayed fantasy Adventure
Chaos Walking
came in third with just $3.8 million. While it may seem a bit of a surprise that the Lionsgate film starring
Tom Holland
and
Daisy Ridley
, which is based on a series of sci-fi novels, would do so poorly, but the film has been savaged by critics. It was originally set to premiere two years ago before reshoots were ordered.
RUSSELL CROWE CONFIRMS WHO HE'S PLAYING IN 'THOR: LOVE AND THUNDER'
04/22/21 @ 3:34 pm EST
Source:
ComicBook
| Categories:
Marvel
|
Comments
(0) |
E-mail Article
|
Add a Comment
Fans have been wondering who Russell Crowe would be playing in his big Marvel Cinematic Universe debut for a while now, as the actor will be appearing in the anticipated
Thor: Love And Thunder
.
Plenty of theories surfaced, and if you guessed he would be a god, well, you would have been right. Crowe revealed the role he is playing is ruler of the Greek gods Zeus, and he revealed it during an interview on JOY 94.9.
Crowe said "I'm gonna get on my bicycle. I'm gonna ride up to Disney Fox Studios, and around about 9:15 I shall be Zeus!"Crowe confirmed it was for
Thor: Love and Thunder
, and also said it was his last day to play the role, saying, "It's for
Thor
. It's my last day of Zeus-ing about and I'm going to enjoy it." (via
ComicBook
)
Thor: Love and Thunder
is slated to open in theaters on Feb. 11, 2022.
DYNAMITE: SONJAVERSAL EXPANDS EVEN MORE DUE TO FAN DEMAND
04/22/21 @ 3:21 pm EST
Source:
Dynamite
| Categories:
Dynamite
|
Comments
(0) |
E-mail Article
|
Add a Comment
Thanks to fabulous fan support, Dynamite and the creative team are excited to announce the extension of Sonjaversal and a great new jumping-on point!
The ultimate story of Red Sonja multiversal mayhem was originally set as a five issue miniseries. By popular demand, more is to come, starting with issue #6 this July. Writer Christopher Hastings (
Unbelievable Gwenpool
) and artist Pasquale Qualano (
Dejah Thoris
) return for an all-new story arc perfect for new readers while continuing the same boundless energy and creativity of the previous issues.
With the opening story blasting open the metaphorical toy chest and introducing an endless expanse of Sonja's battling for the fate of the universe, now the team will drill down and focus on select Sonja's in a more episodic format.
Making her moody debut in this issue is Noir Sonja! She's on the trail of someone making a huge splash in the criminal underworld - only problem is that they're dead. Actually, she has more problems, as a whole new onslaught of alternate Sonja's throw off her investigation.
"I love to play with genre, and this arc is going to be all about mashing up Red Sonja's sword and sorcery with noir, then gothic horror, then space opera, and 80s action movies. It's a blast," said writer Christopher Hastings.
Fans can stay tuned for full explorations of even more wildly unique takes on the She-Devil With a Sword!
A top tier team of cover artists bring their own multiverse-esque appeal to the title with the diverse stylings of Lucio Parrillo, Joseph Michael Linsner, Jae Lee, Junggeun Yoon, and of course Dynamite's fan-favorite cosplay covers.
SONJAVERSAL #6
is solicited in Diamond Comic Distributors' May 2021 Previews catalog, the premier source of merchandise for the comic book specialty market, and slated for release in July 2021. Comic book fans are encouraged to preorder copies of the issue with their local comic book retailers. It will also be available for individual customer purchase through digital platforms courtesy of Comixology, Kindle, iBooks, Google Play, Dynamite Digital, ComicsPlus, and more!
'JURASSIC WORLD: CAMP CRETACEOUS': SEASON 3 TRAILER RELEASED
04/22/21 @ 3:17 pm EST
Source:
Netflix
| Categories:
MIsc
|
Comments
(0) |
E-mail Article
|
Add a Comment
Netflix
and DreamWorks have unveiled the first full trailer for the next batch of episodes of acclaimed animated series
Jurassic World: Camp Cretaceous
, and Season 3 promises to be the most thrilling installment yet.
Jurassic World: Camp Cretaceous'
third season launches on Netflix on May 21.
Trailer:
https://youtu.be/h_0vTlkLGOc
A SHOWDOWN WITH SPIDER-MAN ON MICHAEL CHO'S 'SHANG-CHI' #1 COVER
04/22/21 @ 3:10 pm EST
Source:
Marvel
| Categories:
Marvel
|
Comments
(0) |
E-mail Article
|
Add a Comment
On May 19, award-winning writer Gene Luen Yang and rising star artist Dike Ruan continue their bold transformation of the Shang-Chi mythos in a brand-new ongoing series. To celebrate this exciting new chapter, SHANG-CHI #1-6 will have a collection of spectacular variant covers by renowned artist Michael Cho that foreshadow the epic brawls that await readers in each issue!
After the events of his last series, Shang-Chi has finally taken his place as the leader of the Five Weapons Society. But using an evil secret organization as a force for good won't be easy, and it's about to get a lot harder when Marvel's biggest heroes start to question his motives! Each issue of the action-packed first arc will pit Shang-Chi against a different Marvel hero including Spider-Man, Captain America, and Wolverine. In addition, the series will introduce new villains with sinister goals for Shang-Chi and his newfound family of warriors. The new series is perfect for longtime fans of the character and newcomers eager to learn more about Marvel's greatest fighter!
DYNAMITE: DEJAH THORIS & JOHN CARTER REUNITED IN NEW SERIES
04/22/21 @ 3:06 pm EST
Source:
Dynamite
| Categories:
Dynamite
|
Comments
(0) |
E-mail Article
|
Add a Comment
One of the oldest and most iconic couples in genre fiction reunite once more this summer in Dejah Thoris vs. John Carter of Mars by sci-fi superstar Dan Abnett!


Kicking off this July from Dynamite, Abnett (Guardians of the Galaxy, Aquaman) opens a new chapter in the storied history of Barsoom and its charismatic couple. Serving as a perfect jumping-on point for new and returning fans, while also continuing threads from Abnett's previous tales, the love of Dejah Thoris and John Carter will be tested by a grave new threat and cataclysmic planet-wide war.

"Now that John Carter has returned, is he still the legendary hero they all respect?," said writer Dan Abnett. "And are he and his beloved Dejah still working to the same ends? It's a tale of swords, sorcery, space gods and true love, an interplanetary romance in the true sense of both those words."

Barsoom has been in crisis, wracked by freak weather seemingly signifying a coming ice age. Matching turbulence has cropped up as conflict between the planet's many tribes and nations. The Earth-born hero of John Carter was missing. With Dejah Thoris and the help of her allies, stability has been established (for now) and John has been found, only for the true foes to take center stage in this new story.

The Longborn, ancient "space gods" of immense and mysterious power wildly outmatch the citizens of Barsoom. They may even be the original architects of all life in the Solar System, shaping the red planet in their image. Back to reclaim their creations to wipe the slate clean and start over, it is up to Dejah, John, and their allies to take on their biggest threat yet.

Artist Alessandro Miracolo joins the adventuring party with his kinetic style fresh off of the fantastic finale of Mark Russell's acclaimed run on Red Sonja. He and Abnett are joined once more by colorist Dearbhla Kelly and letterer Simon Bowland.

"This is a big responsibility," said artist Alessandro Miracolo. "These characters have previously been portrayed by great artists like Frank Frazzeta, Boris Vallejo, and my friend Pasquale Qualano. But more then anyone else, I was able to recover some of my father's drawings from when he enjoyed to paint the old stories of [Edgar Rice] Burroughs. See You soon on Barsoom, folks!"

In the classic tradition, the stories of Barsoom are matched with breathtaking covers from today's top science fiction and fantasy artists. For the first issue, Dynamite has recruited the likes of Lucio Parrillo, Joseph Michael Linsner, Miracolo, and a photo featuring cosplayer Rachel Hollon aka FacesByRachie.





DEJAH THORIS VS JOHN CARTER OF MARS #1 is solicited in Diamond Comic Distributors' May 2021 Previews catalog, the premier source of merchandise for the comic book specialty market, and slated for release in July 2021. Comic book fans are encouraged to preorder copies of the issue with their local comic book retailers. It will also be available for individual customer purchase through digital platforms courtesy of Comixology, Kindle, iBooks, Google Play, Dynamite Digital, ComicsPlus, and more!
OGN 'MAWRTH VALLIIS' PROMISES SCI-FI ADVENTURE THIS JULY
04/22/21 @ 10:34 am EST
Source:
Image
| Categories:
Image
|
Comments
(0) |
E-mail Article
|
Add a Comment
Writer/artist EPHK will take readers on a pulse-pounding, sci-fi journey through Mars' mysteries in the forthcoming
MAWRTH VALLIIS
. This original graphic novel will land in stores this July from Image Comics.
This unique story
is a fast-paced, 128-page, full-color, pocket-format experience all told in its original Martian language.
"[
MAWRTH VALLIS
is] Inspired by my new found love for the storytelling format of Mexican historietas and my never ending adoration of classic '70s European sci-fi narratives," said EPHK. "I think anyone who's into classic sci-fi adventure but also interested in new ways to discover it, would enjoy reading
MV
."
During a skirmish with an opposing Martian faction, a fighter pilot disobeys orders to pursue a fleeing foe. Guided by her determination and curiosity, she is led into a dangerous chase through Mars's forbidden valley where she will be confronted with the red planet's darkest of secrets.
MAWRTH VALLIIS is a visceral, immersive experience perfect for fans of Jesse Lonergan's Hedra and Rick Remender and Matteo Scalera's Black Science.
MAWRTH VALLIIS original graphic novel (ISBN: 978-1534320543, Diamond Code MAY210093) will be available on Wednesday, July 21 and in bookstores on Tuesday, July 27. It can be pre-ordered at your local
comic book shop
.
MAWRTH VALLIIS will also be available for purchase across many digital platforms, including Amazon Kindle, Apple Books, comiXology, and Google Play.
DESIGNER JAMIE MCKELVIE RETURNS FOR HIS FIRST CAROL DANVERS/CAPTAIN MARVEL STORY
04/22/21 @ 10:37 am EST
Source:
SYFY WIRE
| Categories:
Marvel
|
Comments
(0) |
E-mail Article
|
Add a Comment
Nine years ago, artist Jamie McKelvie unveiled a new costume for Marvel superhero Carol Danvers to accompany the character's new role as Captain Marvel. In the near-decade since, that costume has become a piece of superhero iconography recognized around the world, appearing in Marvel Cinematic Universe films and launching thousands of "Carol Corps" cosplayers higher, further, and faster.
This summer, for the first time, McKelvie will return to the character he helped relaunch to write and draw one of her stories.
SYFY WIRE
reports that McKelvie, co-creator behind hits like
Young Avengers
Volume 2 and
The Wicked + The Divine
, will be part of the upcoming oversized 30th issue of the current volume of
Captain Marvel
, which hits stores this July. McKelvie will take on both writer and artist duties on the character for the first time, to tell a story of Carol Danvers teaming up with another Marvel hero whose look he helped design: Kamala Khan/Ms. Marvel.
But McKelvie won't be doing the issue alone. This is an oversized 30th issue special, and that means the main
Captain Marvel
creative team of writer Kelly Thompson and artist Jacopo Camagni will also have plenty of room to soar.
Captain Marvel
#30 is in stores July 21.
DC LAUNCHING A SERIES TO CONTINUE 'JUSTICE LEAGUE UNLIMITED'
04/22/21 @ 10:19 am EST
Source:
ComicBook
| Categories:
DC
|
Comments
(0) |
E-mail Article
|
Add a Comment
DC is set to continue a much-loved DC animated universe with a new, digital-first comic book series that takes place in the universe of the fan-favorite
Justice League Unlimited
.
Starting in May, the publisher will release a seven-issue miniseries from writers James Tucker (
Batman Beyond
,
Batman: The Brave and the Bold
) and J.M. DeMatteis (
Justice League International
,
The Life and Times of Savior 28
). Titled
Justice League Infinity
, the series will be drawn by Ethen Beavers (
Bedtime for Batman
,
Indiana Jones Adventures
) and will debut on May 13 digitally on ComiXology and other ebook platforms, followed by a later physical release on July 6.
As
ComicBook.com
reports, this new series stars all of the fan-favorite characters from the revered series – Superman, Wonder Woman, Batman, The Flash, Green Lantern John Stewart, Hawkgirl and Martian Manhunter – banding together to face new dangers that not only threaten Earth, but the multiverse itself. These new stories will also give Tucker, DeMatteis, and Beavers the chance to incorporate a host of new characters from across the DC Multiverse when bringing these animated heroes and villains to comics.
The first digital chapter of this series arrives on participating digital platforms on Thursday, May 13, priced at $1.99. The 20-page print issue hits comic book stores on Tuesday. The issue #1 main cover is provided by Francis Manapul with a card stock variant cover created by Scott Hepburn (check local comic book stores for availability). Each 20-page issue sells for $3.99, with the card stock variant cover selling for $4.99 (variant covers for issue #1 only, check with your local comic book store for availability).
DC COMICS ANNOUNCES 'BLUE & GOLD' BY DAN JURGENS & RYAN SOOK
04/22/21 @ 10:11 am EST
Source:
DC Comics
| Categories:
DC
|
Comments
(0) |
E-mail Article
|
Add a Comment
Michael Carter, aka Booster Gold. A scoundrel from the future armed with stolen technology, a time machine and a robot pal named Skeets, is intent on making a name for himself in the past!
Ted Kord, aka Blue Beetle. The inheritor of a proud legacy of crimefighting who had no powers to speak of, but who carried on the Blue Beetle legacy with just his wits and his fists…is armed with a whole lot of gadgets and a sharp sense of humor!
Together, they're going to make headlines in DC Comics'
Blue & Gold,
a limited eight-issue miniseries by Dan Jurgens and Ryan Sook launching this July!
Desperate to regain the spotlight, Booster Gold looks to attract the public's (and Justice League's) attention the same way any washed-up, second-rate hero would—social media. The not-so-tech-savvy hero from the 25th century enlists the help of his best friend, Blue Beetle, who possesses both the money and the brains to help his old pal navigate the scary world of internet influencers.
Watch out, evildoers, our heroes are live and online!
Don't miss Dan Jurgens's triumphant return to Booster Gold, teaming with all-star artist Ryan Sook (
Legion of Super-Heroes
), telling a tale filled with heart…and maybe even redemption for DC's two favorite underdogs!
Blue & Gold
#1 (of 8) by Dan Jurgens and Ryan Sook arrives on July 20 with a cover by Sook ($3.99) and a card stock variant cover by Dave Johnson ($4.99).
ITíS THOR VS CAPTAIN AMERICA ON OLIVIER COIPEL'S NEW 'THOR' #15 COVER
04/22/21 @ 10:04 am EST
Source:
Marvel
| Categories:
Marvel
|
Comments
(0) |
E-mail Article
|
Add a Comment
July will see the beginning of a new arc in Donny Cates' acclaimed run on THOR titled "Revelations." Teaming up with Cates for this new storyline will be guest artist Michele Bandini (
King in Black: Spider-Man
), filling in for regular series artist Nic Klein who will return for the next arc. Seen on the jawdropping new cover by legendary Thor artist Olivier Coipel and colorist Matt Wilson, "Revelations" will pack plenty of surprises, including an explosive fight between Thor and Captain America.
Following the events of "Prey," the wounds of Donald Blake have not yet healed, and new Hel is afoot! With all inhabitants back in Asgard, and Odin's presence returned after being away so long, an air of tension now sits upon the throne! Father and son. All-Father and All-Father. Odin and Thor. Is this relationship forever doomed, and what does it mean for the Ten Realms? Check out Coipel's cover below as well as a variant cover by Nic Klein and don't miss the start of this Midgard-shaking new arc when THOR #15 hits stands on July 14th!