WANDAVISION TOPS THE CHARTS FOR THE MONTH OF JANUARY
02/28/21 @ 4:19 pm EST
Source:
Variety
|
Comments
(0) |
E-mail Article
|
Add a Comment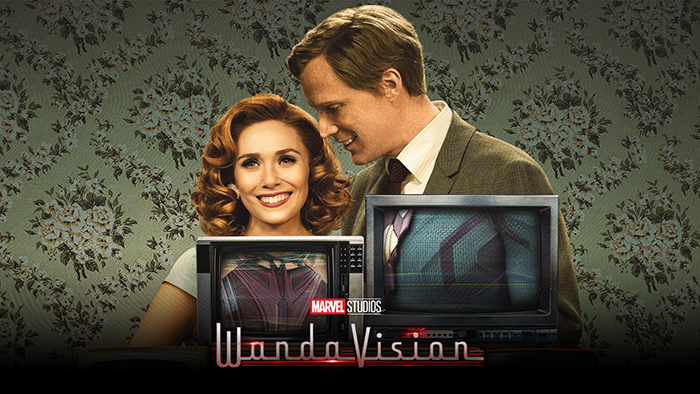 Variety
is reporting that
WandaVision
was the top title on video streaming platforms for the month of January. And keep in mind that unlike other contenders that had their entire season dropped at once, only four of the series nine episodes debuted in the first month of the year. This is from data provided to
Variety
by TVision, a TV analytics provider. Similar to Nielson Ratings, TVision tracks viewing of 25,000 titles among 5,000 households (14,000 individuals) and they measure shows on streaming services like Netflix, HBO Max, Hulu, etc as well as AVODs like YouTube, Roku Channel and Tubi.
The numbers suggest that
WandaVision
was viewed nearly 81.3x more than the average title across SVOD platforms in January. A total audience of 8,127 compared to the next series, the Netflix hit
Bridgerton
, which pulled in 6,808 and the movie
Soul
which pulled in 6,537.
Critics of Disney's focus on the streaming service have in the past said it was to dependent on their flagship series The Mandalorian, but the numbers for
The Mandalorian
in December were only 4,066 even with the finale episode surprise cameo. Perhaps it's time to move the 'flagship' label to
WandaVision
. Which leads to two unanswered questions, will
The Falcon and the Winter Soldier
be able to keep those kind of numbers and will these numbers force Marvel into a second season of a series that may have never intended to continue.
FALCON AND WINTER SOLDIER CAMEO CAUSES CONFUSION
04/17/21 @ 1:17 pm EST
Source:
Disney+
|
Comments
(0) |
E-mail Article
|
Add a Comment
If you're watching
The Falcon and the Winter Soldier
and had no idea who the "big named performer" was supposed to be playing when they popped up… don't worry, we've got you covered. But don't make the mistake that some people are making…
**** Spoilers ****
.
.
.
.
.
.
The best kept secrets since Luke Skywalker's appearance on
the Mandalorian
had to be award-winning actress
Julia Louis-Dreyfus
joining the MCU in the fifth episode of the current Disney+ series, but while most people recognized her from roles like Elaine Benes on
Seinfeld
or Selina Meyer on
Veep
, few but the most long-time comic reading fans knew exactly who Contessa Valentina Allegra de Fontaine is and what she might mean to the MCU. Even some sites and YouTubers made a misconnection when trying to explain just who the character is.
Most often called Val in the comics, she was created by Jim Steranko in the 1967 Strange Tales #159 as part of the European jet set that was recruited by Dum Dum Dugan to join S.H.I.E.L.D. She would excel in her training and become a love interest for Nick Fury which would lead to an odd love triangle between them and Steve Rogers who Val used to make Fury jealous. She would also go on to lead the agency's Femme Force which included Sharon Carter… also awkward because of Steve Rogers.
But we would later learn that Val was actually a sleeper agent for the Russian spy group Leviathan and she would go on to become Madame Hydra and finally end up as part of J.A.N.U.S. The Hydra angle is where a lot of people are making a mistake, as Madame Hydra is a title that gets passed to the current leader of the group. I've seen a few sites make the erroneous connection that Val is also the character Viper, who at times is Madame Hydra too, but she is not.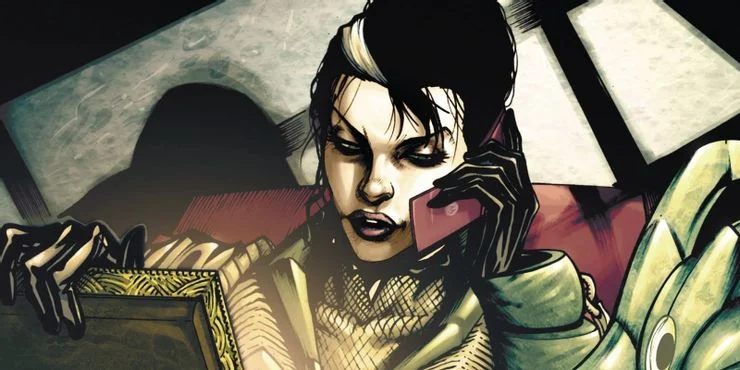 With the diverse history of the character being both agent of SHIELD, Hydra and Leviathan, it is impossible to tell yet just how the character fits in with the current MCU. It is also being reported that Val is set to appear in the Black Widow movie, which was originally slated to come out before Falcon and the Winter Soldier, meaning that we were already expected to know a bit more about her before she strolled up to John Walker in the latest episode.
DOOM PATROL TO ADD THE DEAD BOY DETECTIVES
04/17/21 @ 12:42 pm EST
Source:
The Direct
|
Comments
(0) |
E-mail Article
|
Add a Comment
The DC / HBO Max series
Doom Patrol
is gearing up for it's third season and there is a new casting announcement. According to
The Direct
,
Sebastian Croft
and
Ty Tennant
will play the Dead Boy Detectives Edwin Paine and Charles Rowland, two adolescent boys from the early 20th century who died and decided to stick around and solve supernatural crimes. The characters first appeared in The Sandman #25 and were created by Neil Gaiman and Matt Wagner.
Production on the third season is believed to have started in January of this year and a previous casting announcement revealed
Doctor Who's
Michelle Gomez would be playing the shapeshifting villain Madam Rogue when the series returns after having been shut down prematurely due to Covid-19 leaving the 10th episode of season two un-filmed and a unresolved cliffhanger to wrap up before moving forward.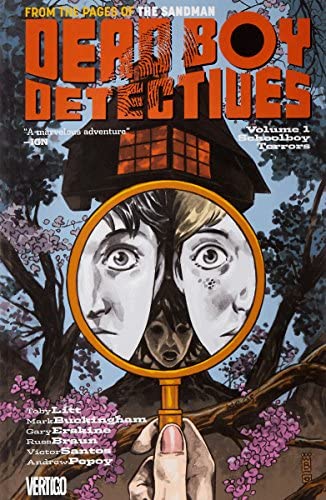 DISNEY RELEASES POSTER FOR STAR WARS: THE BAD BATCH
04/17/21 @ 12:30 pm EST
Source:
Twitter
|
Comments
(0) |
E-mail Article
|
Add a Comment
We've got an official poster for the upcoming Disney+ series,
Star Wars: The Bad Batch
. Released on the official
Star Wars Twitter
account. The series focuses on Clone Force 99, a group of clone troopers with genetic defects which grant them special abilities. The team consists of Wrecker, Tech, Crosshair, Hunter and Echo and we see the addition of a young clone named Omega. The poster also features Emperor Palpatine looming over them.
The characters were first introduced in the 7th season of
Star Wars: The Clone Wars
which also aired on Disney+. The story takes place in the time between
Revenge of the Sith
and
Star Wars: A New Hope
, after the execution of Order 66, which had the clone troopers kill the Jedi.
Also featured in the series is
Ming-Na Wen's
character from
The Mandalorian
, Fennec Shand. The series premieres on May 4th and is believed to be 14 episodes long.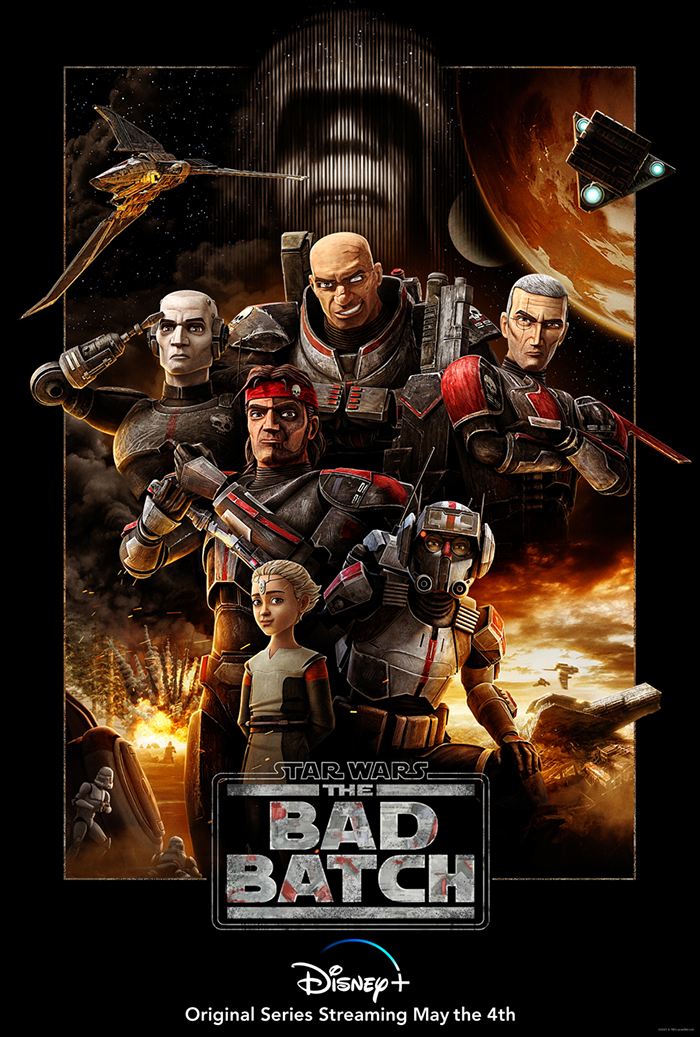 ADDAMS FAMILY ACTOR FELIX SILLA PASSES AWAY AT AGE 84
04/17/21 @ 12:11 pm EST
Source:
Deadline
|
Comments
(0) |
E-mail Article
|
Add a Comment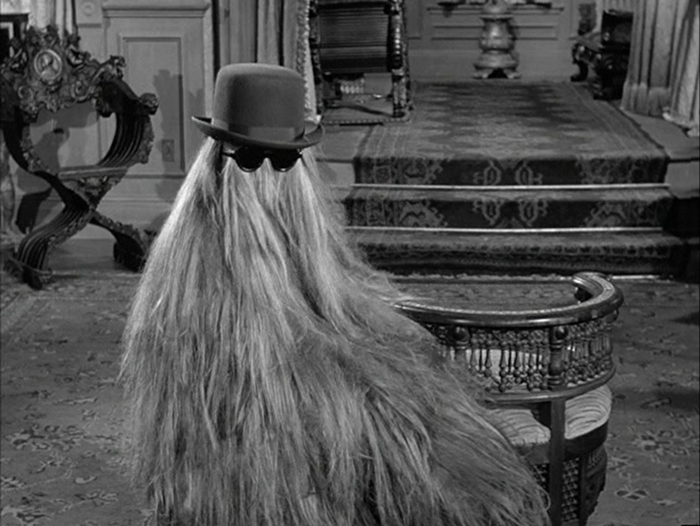 Actor
Felix Silla
passed away Friday at the age of 84 from pancreatic cancer. The actor appeared in some of the most popular genre series of the 60s, 70s and 80s including playing Cousin Itt on the
Addams Family
, Colonel Poom on
Lidsville
, Lucifer on the original
Battlestar Galactica
and the robot Twiki on
Buck Rogers in the 25th Century
. He also played Dink in
Space Balls,
a hang-gliding Ewok in
Return of the Jedi
, and the Emperor Penguin in
Batman Returns
.
His passing was announced on
Twitter
by his Buck Rogers co-star Gil Gerard who said: Felix died just a few hours ago and the only good I can draw from his passing is that he didn't suffer any longer. I will miss him terribly, especially the great time we had at our panels. Just him telling me to ," go ' f ' myself".
Silla was born in Italy, coming to the U.S. in 1955 and getting work as a trapeze artist and tumbler for Ringling Bros. and Barnum & Bailey Circus before finding work as a stuntman in 1962. Being just under 4 feet tall and weighing around 70 lbs lead him to acting roles in shows like
Bonanza
,
The Monkees
and the pilot episode of
Star Trek
.
One of his most endearing roles, Cousin Itt, was unique to the Addams Family series as it wasn't a character featured in the Charles Addams cartoons, but rather one created by a series producer. The hairy, bowler wearing character would appear in 17 of the series 64 episodes.
He is survived by his wife Sue and their children Bonnie and Michael.
ALFRED MOLINA CONFIRMS HIS RETURN AS DOC OCK
04/17/21 @ 11:46 am EST
Source:
Variety
|
Comments
(0) |
E-mail Article
|
Add a Comment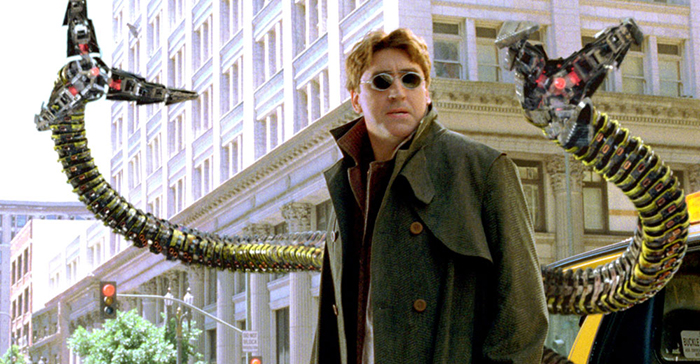 When you speak to an actor in the MCU, they all dance around giving away secrets (except
Tom Holland
) and mention the men who will "take them out" if they spill the beans. Then there's Alfred Molina who not only confirmed to
Variety
that he will be reprising his role of Otto Octavius in the upcoming
Spider-Man: No Way Home
, but he even talked about the filming.
"When we were shooting it, we were all under orders not to talk about it, because it was supposed to be some great big secret. But, you know, it's all over the internet. I actually described myself as the worst kept secret in Hollywood!"
What was it like to go back to a character from 2004? "It was wonderful. It was very interesting going back after 17 years to play the same role, given that in the intervening years, I now have two chins, a wattle, crow's feet and a slightly a slightly dodgy lower back."
In Spider-Man 2, the film ended with Doc Ock sacrificing himself to stop his reactor from exploding. According to Molina, director Jon Watts told him, "In this universe, no one really dies." And explained Otto's story would pick up from that moment in the East River.
While impressed by the de-aging process Marvel has done in the past, the 67-year old actor was concerned with how he would look in fight scenes, pointing out that he didn't have the physicality of his 17-year younger self. Then he remembered that most of his fighting was having a mean look on his face while the puppeteers made his metal arms do all the hard work. "It was fantastic."
The casting of Molina from the Sam Raimi / Tobey Maguire films combined with Jamie Foxx returning as Electro from the Marc Webb / Andrew Garfield era ties together two decades of Sony's Spider-Man films. The latest installment, Spider-Man: No Way Home, is set to be in theaters December 17th, 2021.
'LEGENDS OF TOMORROW': SEASON 6 PREMIERE PHOTOS RELEASED
04/16/21 @ 4:36 pm EST
Source:
The CW
| Categories:
DC
|
Comments
(0) |
E-mail Article
|
Add a Comment
The CW
has released a number of promotional photos for "Ground Control to Sara Lance," the season six premiere of
DC's Legends of Tomorrow.
The episode will air on May 2nd on The CW.
(
DAVID PETERSEN RETURNS TO THE WORLD OF 'MOUSE GUARD' IN 'THE OWLHEN CAREGIVER'
04/16/21 @ 4:19 pm EST
Source:
BOOM! Studios
| Categories:
MIsc
|
Comments
(0) |
E-mail Article
|
Add a Comment
BOOM! Studios today announced MOUSE GUARD: THE OWLHEN CAREGIVER, a special issue that collects three poignant tales that mark creator David Petersen's return to his beloved Eisner and Harvey Award-winning, New York Times bestselling series in this self-contained special, available in July 2021.
Which of life's biggest lessons can be learned from the smallest amongst us? A young mouse learns that compassion and kindness are the great virtues in
The Owlhen Caregiver
. Meanwhile,
Piper the Listener
finds a brave mouse venturing into wild country to learn the tongues of other beasts. And finally, a grizzled oldfur shares the lesson of putting a whisker out too far in
The Wild Wolf.
"I'm so pleased that readers get to walk back into the Mouse Territories, be accompanied by familiar Guardmice, and encounter snakes, owls, wolves, rams, otters, toads, and foxes again. Short stories are magical things. Despite their size, they are exactly the right shape to hold large messages of morality and virtue," said Petersen. "The common themes in these stories are ones of hope and of compassion, of service and the wellbeing of others. And every world could use more of that."
Mouse Guard
is a New York Times Bestselling, Eisner & Harvey Award winning comic book series written and illustrated by David Petersen. Digging into his love of animal stories and medieval role playing games, David created a fantasy adventure world of cloaked, sword wielding mice who protect the common mouse against threats of predator, weather, & wilderness. The stories are released as a series of miniseries available as individual comic issues first, and then collected into hardcover volumes.
"It's very exciting to return to the world of MOUSE GUARD and engage with the characters and stories that David has beautifully created and continues to expand upon," said Bryce Carlson, Editor, BOOM! Studios. "David has an incredible talent for writing and illustrating stories that bring the reader into the richly detailed world drawn from his imagination and it's simply a joy to spend time in this world and allow David to guide the journey."
MOUSE GUARD is the latest release from BOOM! Studios' ambitious Archaia imprint, home to graphic novels such as
Bolivar
by Sean Rubin;
Slaughterhouse-Five
by Kurt Vonnegut, Ryan North, and Albert Monteys;
The Sacrifice of Darkness
by Roxane Gay, Tracy Lynne-Oliver, and Rebecca Kirby;
Big Black: Stand at Attica
by Frank "Big Black" Smith, Jared Reinmuth, and Améziane,
We Served the People
by Emei Burell, and licensed series including
Lev Grossman's The Magicians
by Lilah Sturges and Pius Bak, as well as
Jim Henson's The Dark Crystal: Age of Resistance
and
Jim Henson's Labyrinth: Coronation.
Print copies of MOUSE GUARD: THE OWLHEN CAREGIVER, featuring cover art by Petersen, will be available for sale in July 2021 exclusively at local comic book shops (use
comicshoplocator.com
to find the nearest one) or at the BOOM! Studios webstore. Digital copies can be purchased from content providers, including comiXology, iBooks, Google Play, and Madefire.
KRISTEN WIIG AND ANNIE MUMOLO REUNITE ON DISNEY MOVIE ABOUT CINDERELLA'S STEPSISTERS
04/16/21 @ 4:16 pm EST
Source:
Variety
| Categories:
Disney
|
Comments
(0) |
E-mail Article
|
Add a Comment
Kristen Wiig and Annie Mumolo, the creative minds behind
Bridesmaids
and
Barb and Star Go to Vista Del Mar
, are reteaming on a movie about Cinderella's evil stepsisters.
Set at Disney, Wiig and Mumolo will write the screenplay for the musical comedy that reimagines the classic fairytale from the perspective of the two siblings who didn't get their happily ever after.
Wiig and Mumolo aren't expected to act in the film, which is still in the early stages of development. Will Ferrell and Jessica Elbaum are producing the movie via Gloria Sanchez Productions.
The two have been friends for decades, first meeting at the L.A. improv group The Groundlings in the early 2000s. In 2011, they wrote
Bridesmaids
, one of the most successful R-rated comedies in decades. The film — starring Wiig, Maya Rudolph and Melissa McCarthy — earned nearly $300 million at the box office and scored an Oscar nomination for original screenplay. (via
Variety
)
'BLACK PANTHER II' WON'T MOVE PRODUCTION FROM GEORGIA OVER VOTING LAW
04/16/21 @ 4:11 pm EST
Source:
Hollywood Reporter
| Categories:
Black Panther
|
Comments
(0) |
E-mail Article
|
Add a Comment
Black Panther II
will still film in Georgia despite the state's new, restrictive voting law.
In an op-ed published by
Shadow and Act
, the film's director Ryan Coogler says that the Marvel film will move forward with its plans to shoot in the Peach State this summer. The law has drawn widespread criticism for the way it enacts strict new ID requirements for absentee ballots, curtails the use of drop boxes and makes it a crime to give water and food to those waiting in line to vote. President Joe Biden has called it "Jim Crow in the 21st century."
In his piece, Coogler condemned the law, which was signed by Georgia's Republican Governor Brian Kemp at the end of March. "As an African-American, and as a citizen, I oppose all attempts, explicit and otherwise, to shrink the electorate and reduce access to the ballot," he wrote. Coogler learned of the bill, named SB202, just as he was about to head back to Georgia to shoot
Black Panther II
. "When I was informed of the passage of SB202 in the state, and its ramifications for the state's voters, I was profoundly disappointed."
The director explained that while he wanted to turn his disappointment into action, presumably by boycotting the state as some others have called for, he realized by speaking to local voting rights activists in Georgia that pulling business from the state would likely only hurt the very same people who will be most hurt by the new law. It's a point that's been made by multiple leaders in the state, including Stacey Abrams and Senator Jon Osoff, as well as several members of the local film community. "For those reasons, I will not be engaging in a boycott of Georgia," Coogler writes. "Our film is staying in Georgia."
Instead, he plans to use his influence to support organizations in the state that are working the hardest to fight voter suppression, making a donation to Stacey Abrams' Fair Fight Action. "I have made a personal commitment to raise awareness about ways to help overturn this harmful bill, and continue to get educated on this matter from people on the ground," he continues. "I will encourage everyone working with me to tap in with the local community directly affected by Senate Bill 202 and to leverage their influence and resources to aid in the fight for this particular and essential pillar of democracy." (via
THR
)
NEW MUTANT TEAM CHARTS COURSE FOR THE 'REIGN OF X' IN 'X-MEN' #1
04/16/21 @ 4:06 pm EST
Source:
Marvel
| Categories:
Marvel
|
Comments
(0) |
E-mail Article
|
Add a Comment
After months of speculation, Marvel Comics is proud to unveil the new team of X-MEN! Cyclops, Marvel Girl, Sunfire, Rogue, Wolverine, Synch and Polaris will be the lineup in X-MEN, the new ongoing X-series launching in July. Brought to you by a team of X-Men all-stars—writer Gerry Duggan, artist Pepe Larraz, and colorist Marte Gracia—this new flagship X-Men title will showcase the incredible adventures of the first X-Men team since the mutant nation of Krakoa was formed in Jonathan Hickman's revolutionary
House of X
and
Powers of X
.
The current era of X-Men has evolved mutant storytelling like never before. No longer protecting a world that hates and fears them, the X-Men said goodbye to their dream of coexistence and founded a thriving mutant homeland. But in the aftermath of
X of Swords
, original X-Men Cyclops and Marvel Girl realized that the world needed its premiere team of mutant super heroes. Things might be complicated between the nation of Krakoa and the rest of the Marvel Universe, but to the X-Men, things are simple—you do what's right, you protect those who need protecting and you save the world we all share. This new team are the chosen champions of mutantkind, and they're up for any battle to protect their people and their home planet.
"It's my privilege and honor to be reteamed with Pepe Larraz as we throw beautiful and deadly threats at the X-Men beginning in July," Duggan said. "Mutants have saved themselves, and are now going to save the world. Krakoa will grow roots in the capitol of the world, New York City, and the inaugural year will star Cyclops, Marvel Girl, Rogue, Wolverine, Synch, Sunfire and Polaris. The threats to Earth will come fast and hit hard, and every page from Pepe and Marte will blow your hair back.
See you in July." See the new team in all their glory on the main cover by Pepe Larraz as well as a special series of variant covers by Marvel's Stormbreaker artists! Over four connecting covers, this phenomenal jam-piece stands as an homage to Chris Claremont and Jim Lee's
X-Men
#1
, the all-time best-selling comic book that ushered in the franchise's nineties blockbuster era. Each elite artist turned out a stunning depiction of the following characters:
· Juann Cabal - Professor X
· Carmen Carnero - Marvel Girl
· Peach Momoko - Sunfire
· Iban Coello - Synch
· R.B. Silva - Cyclops
· Natacha Bustos - Wolverine
· Patrick Gleason - Rogue
· Joshua Cassara – Polaris
Don't miss the team's official debut during June's HELLFIRE GALA, the highly anticipated event that will tie in to all your favorite X-Men titles. And be there for mutant history in the making when X-MEN #1 hits stands on July 7th.