MARVEL RETURNS TO C2E2 WITH SIGNINGS, PANELS, MERCHANDISE, AND MORE
02/27/20 @ 9:05 am EST
Source:
Marvel
| Categories:
Marvel
|
Comments
(0) |
E-mail Article
|
Add a Comment
This weekend, Marvel returns to Chicago with a nonstop schedule of star-studded signings, panels, stage events, and more! From Friday, February 28 – Sunday, March 1, fans will want to stop by the Marvel Booth (
Booth #327
) and experience a thrilling series of events happening all weekend long.
From the moment the doors open, fans will be able to get their hands on
Marvel's convention-exclusive t-shirts
(while supplies last) featuring iconic characters like the web-slinging hero Spider-Man, the deadly assassin Black Widow, and more of their favorite Super Heroes. Fans will also have the chance to purchase
an exclusive Black Widow Spirit Jersey
only available at C2E2 this year!
For attendees at both C2E2 and ECCC this year, Marvel will also be offering an exclusive selection of individually numbered, bagged & boarded variant comics while supplies last, including:
·
X-MEN/FANTASTIC FOUR #1 GLOW-IN-THE-DARK VARIANT BY FRANK CHO
(limited to 3,000 total copies)
·
WOLVERINE #1 FLUORESCENT VARIANT BY JOHN TYLER CHRISTOPHER
(limited to 3,000 total copies)
·
GWEN STACY #1 GLOW-IN-THE-DARK VARIANT BY SARA PICHELLI
(limited to 3,000 total copies)
Looking for more comics? Fans can snag
an exclusive giveaway sketch variant of Excalibur #7
by artist Mahmud Asrar during the Marvel Fanfare with C.B. Cebulski panel, and Marvel Unlimited Plus members and Marvel Mastercard cardholders will be able to get
an exclusive ultra-rare variant cover of Captain Marvel #15– for FREE!*
Drawn by artist Todd Nauck, the cover presents Earth's Mightiest Hero Captain Marvel soaring through the cosmos - rendered in the inimitable style of Cosbaby by Hot Toys!
In addition to grabbing your exclusive variants, be sure to swing by Marvel's booth to check out Marvel Unlimited – Marvel's digital comics app providing access to over 27,000 digital comics. Anyone signing up for a subscription at the booth will receive a free Venom box, including an action figure, comics and more.** And Marvel Insiders, make sure you attend Marvel panels and visit the Marvel booth to capture special codes to earn tens of thousands of Marvel Insider points!
Marvel's signing schedule will include some of the biggest creators in the industry – including Chris Claremont, Al Ewing, Nick Spencer, Tini Howard, Ben Percy, Jonathan Hickman, Skottie Young, Eve L. Ewing, Rainbow Rowell, and many more!
Attendees at Skottie Young's signing on Friday will also be able to test their abilities for the mystical and mysterious Strange Academy! Marvel's first school of magic is in session this March, and Skottie Young wants YOU to apply! But do you have what it takes to train with the best of Marvel's sorcerers? Drop by the Marvel booth to apply for admission and find out if you are accepted or denied directly from Skottie himself – and receive a signed Strange Academy poster while you're at it!
*In order to redeem the comic, fans must come to the Marvel Booth #327 and present their Marvel Mastercard (if they are a Marvel Mastercard cardholder) OR Marvel Unlimited+ membership card or order confirmation (if they are a Marvel Unlimited+ member). One comic per member or cardholder. Comics are available while supplies last. **Supplies are limited. Must subscribe to Marvel Unlimited on site. Auto-renewal and other terms and conditions apply.
MARVEL ENTERTAINMENT PANEL SCHEDULE***:
FRIDAY, FEBRUARY 28:Marvel Artist Extravaganza: A This Week in Marvel Special Event12:00pm - 1:00pmRoom S401
Marvel's most amazing comic book series shine due to exceptional artists and storytellers creating each issue. This Week in Marvel invites writer & artist Skottie Young (
Strange Academy
) and other Mighty Marvel Guests who work on X-Men, Venom, Spider-Man, and more to talk about how they work with their creative teams and the unique storytelling process of the medium.
Marvel Fanfare with CB Cebulski1:15pm - 2:15pmRoom S401
This is your chance to meet the head of editorial at Marvel! In an exclusive and intimate panel experience, Editor in Chief
C.B. Cebulski
along with Marvel mega-stars
Jonathan Hickman
(
X-Men
) and
Al Ewing
(
Empyre
) will talk about anything and everything involved with Marvel Comics. Learn about the origin stories of these superlative storytellers straight from the source, and ask all of your burning questions during the Q&A! PLUS – Attendees of this panel will receive an EXCLUSIVE Excalibur #7 sketch variant, available while supplies last!
MARVEL COMICS: X-Men2:30pm - 3:30pmRoom S401
X-ceptional writer
Jonathan Hickman
(
X-Men
) is joined by Editor in Chief
C.B. Cebulski
, Senior Editor
Jordan D. White
, and a Krakoan Habitat's worth of X-Men creators
to bring you all-new data straight from the House of X House of Ideas! The Dawn of X has broken, and mutantkind has begun to leave a new mark on the world! But what comes next for Marvel's Merry Mutants? Find out in this can't-miss panel featuring
Gerry Duggan
(
Marauders, Cable
),
Tini Howard
(
Excalibur
),
Benjamin Percy
(
X-Force, Wolverine
),
Ed Brisson
(
New Mutants
),
Vita Ayala
(
Children of the Atom
), and
Leah Williams
(
X-Factor
).
SATURDAY, FEBRUARY 29:MARVEL COMICS: Empyre3:45pm - 4:45pmRoom S401
Come join us, brothers and sisters, as we enumerate upon the crimes of the intergalactic war criminals knows as the Avengers and the Fantastic Four, and take up arms in a mighty Kree & Skrull Alliance against them! The rally will be led by Ryan Penagos, with Alliance members Al Ewing, C.B. Cebulski, and Tom Brevoort in attendance in Emperor Hulkling's stead. The Kree and Skrulls are ready to present a united front against the Avengers – and any other Terrans that stand in their way. This panel will detail the battle plans to be chronicled in Marvel's earth-shattering comic event series of 2020…Your presence is mandatory.
MARVEL COMICS: Next Big Thing5:00pm - 6:00pmRoom S401
Al Ewing
!
Skottie Young
!
Donny Cates
! These titanic talents along with Editor in Chief
C.B. Cebulski
and Executive Editor
Tom Brevoort
unite to bring you the hottest Marvel projects of 2020! What cosmic calamity awaits the Guardians of the Galaxy in the outer reaches of space? Is Venom prepared to face his deadliest foe yet? And which class at Strange Academy has the hardest midterm? Learn the answers to these questions and more in this premier panel event!
SUNDAY, MARCH 1:Women of Marvel12:15pm - 1:15pmRoom S401
Today, telling stories for Marvel means stepping into a long lineage of characters and a vast web of backstories. What's it like to take on that challenge as a creator? This year at C2E2, Women of Marvel invites some of Marvel's celebrated storytellers to the stage to talk about how they stay true to their creative style while continuing the stories of comic book characters so many people know and love.
***Due to guest scheduling conflicts, Marvel's Storyboards World Premiere with Joe Quesada (originally scheduled for Saturday, February 29) has been cancelled***
MARVEL ENTERTAINMENT BOOTH SCHEDULE (#327):
FRIDAY, FEBRUARY 28:
11:00am – 11:30am –
Prop Store's Marvel Television Live Auction Preview
12:00pm – 1:00pm – MARVEL COMICS: X-MEN SIGNING
2:30pm – 3:30pm – Marvel Becoming: Cosplay Photo Op
3:45pm – 4:45pm – Marvel Comics: Strange Academy Signing & Application Test
6:00pm – 7:00pm – Marvel Super Hero Happy Giveaway Hour
SATURDAY, FEBRUARY 29:
11:00am – 11:30am – Marvel Mystery Message
12:00pm – 1:00pm – MARVEL COMICS: EMPYRE SIGNING
2:00pm – 3:00pm – Marvel Becoming: Costume Contest****
3:15pm – 3:45pm – Marvel: Universe of Super Heroes Exhibit Preview
4:15pm – 4:45pm – Marvel Mystery Message
6:00pm – 7:00pm – Marvel Super Hero Happy Giveaway Hour
SUNDAY, MARCH 1:
12:00pm – 12:30pm
–
Marvel Mystery Message
1:00pm – 2:00pm – Marvel Civil War: Empyre Edition
2:30pm – 3:00pm – Marvel Becoming: Kids Costume Event
4:00pm – 5:00pm – Marvel Super Hero Happy Giveaway Hour
MARVEL ENTERTAINMENT SIGNING SCHEDULE (#327):
FRIDAY, FEBRUARY 28:12:00pm – 1:00pm – MARVEL COMICS: X-MEN SIGNING
(feat. Jonathan Hickman, Gerry Duggan, Tini Howard, Benjamin Percy, Ed Brisson, Vita Ayala, Leah Williams)
3:00pm – 3:45pm – Al Ewing, Michael Cho, and Rachelle Rosenberg
3:45pm – 4:45pm
–
MARVEL COMICS: STRANGE ACADEMY SIGNING & APPLICATION TEST
(feat. Skottie Young)
5:00pm – 5:45pm – Rainbow Rowell, Robbie Thompson
SATURDAY, FEBRUARY 29:
11:00am – 11:45am – Leah Williams, Tini Howard, Vita Ayala
12:00pm – 1:00pm – MARVEL COMICS: EMPYRE SIGNING
(feat. Al Ewing, Tom Brevoort, C.B. Cebulski)
1:00pm – 1:45pm – Kyle Higgins, Rod Reis
3:00pm – 3:45pm – Benjamin Percy, Ed Brisson, Jonathan Hickman
SUNDAY, MARCH 1:
11:00am – 11:45am – Chris Claremont
12:00pm– 12:45pm – Nick Spencer, Pat Gleason, Ryan Ottley
2:00pm – 2:45pm – Eve L. Ewing, David Nakayama
****See Marvel.com/c2e2-costume-contest-rules for full terms and conditions
MARVEL TEASES THE DEATH OF A CHARACTER DURING 'EMPYRE'
07/02/20 @ 1:17 pm EST
Source:
ComicBook
| Categories:
Marvel
|
Comments
(0) |
E-mail Article
|
Add a Comment
Marvel's
Empyre
will have a huge effect on the Marvel Universe as a whole, but it will also have a much more personal effect on certain characters, at least from the description of one of the bigger tie-in issues. That would be Captain Marvel, which will see Carol and her friends becoming a new team of Accusers under the new King, who happens to be Hulkling. The description to
Captain Marvel
#21 actually lays out a bit of the big finale to the arc, teasing the end of the war overall but also the birth of an even more dangerous world. That said, the biggest takeaway is the tease that Carol will have to make a choice that "defines her life and the lives of those closest to her", which could mean someone doesn't make it through, and the cover only adds fuel to the fire.
Now, this could also just mean that the choice will have long term ramifications for part of her team, which includes War Machine, Spider-Woman, and Hazmat. All three are important to Carol, and she might have to make a choice that negatively affects at least one of them. (via
ComicBook
)
Captain Marvel
#21 hits comic stores later this year, and the arc kicks off in
Captain Marvel
#18, which hits stores soon.
FIRE POWER #1 ON SALE IN AUGUST WILL FEATURE NEW COVER ART
07/02/20 @ 1:05 pm EST
Source:
Image
| Categories:
Image
|
Comments
(0) |
E-mail Article
|
Add a Comment
The highly anticipated
Fire Power #1
issue by Robert Kirkman and Chris Samnee on sale Wednesday, August 5, and priced at $3.99, will feature different cover art from the free promotional edition (formerly: Free Comic Book Day edition) of the comic. This issue of
Fire Power #1
will also be extra length and feature additional backmatter not previously included in the promotional edition.
Fire Power #2
will also be available for sale on the same day.
In
Fire Power
, the one who wields the fire power is destined to save the world, but Owen Johnson has turned his back on that life. He doesn't want the power—he never did. He only wants to spend time with his family and live his life, but unseen forces are at work to make that impossible. Danger lurks around every corner as Owen's past comes back to haunt him.
Fire Power #1
—featuring a new cover by Samnee & Matt Wilson—(Diamond Code JUN200038) will be available at comic book shops on Wednesday, August 5.
Fire Power #2
(Diamond Code JUN200076) will be available at comic book shops on Wednesday, August 5.
Fire Power #3
(Diamond Code JUL200204) will be available at comic book shops on Wednesday, September 2.
Fire Power
will also be available for purchase across many digital platforms, including Amazon Kindle, Apple Books, comiXology, and Google Play.
The prequel original graphic novel,
Fire Power, Vol. 1: Prelude
(ISBN: 9781534316553, Diamond Code FEB200019), is available now at local comic shops and in bookstores on Tuesday, July 7. It can be ordered at an independent bookstore via Bookshop or IndieBound, or it can be ordered on Amazon, Barnes & Noble, Books-a-Million, and Indigo.
MARVEL COMICS TO PUBLISH NEW 'ALIEN' AND 'PREDATOR' STORIES
07/02/20 @ 1:06 pm EST
Source:
Marvel
| Categories:
Marvel
|
Comments
(0) |
E-mail Article
|
Add a Comment
Today Marvel Entertainment announced three iconic franchises – ALIEN, PREDATOR, and ALIEN VS. PREDATOR – will be launching all-new stories with Marvel Comics starting in 2021! The new comic series will feature new and classic characters from Earth and beyond to explore never-before-seen corners of both the Alien and Predator universes.
Following the debut of
Alien
in 1979 and
Predator
in 1987, the films built a cult following and expanded rapidly to include toys, games, novels, and comic books, eventually leading to 2004's landmark crossover
Alien vs. Predator.
Marvel's new stories will draw from all of these properties, building on decades of multimedia storytelling. Get a first look at next year's deadly new chapter with spine-chilling cover art by David Finch!
"There's nothing more thrilling than a story that will keep you at the edge of your seat, and
Alien
and
Predator
have delivered that time and time again!" C.B. Cebulski, Editor-in-Chief of Marvel, told IGN. "I can clearly remember where I was when I saw each of these modern masterpieces for the first time, and reveling in how both masterfully weave extraterrestrial dread and drama into some of the most iconic scenes we've ever seen on film. And it's that legacy that we're going to live up to!"
"The incredible legacies of both franchises offer some of the most compelling and exciting worldbuilding in all of science fiction," said Marvel Editor Jake Thomas. "It is a thrill and an honor to be able to add to that mythology and continuity with all-new stories set within those universes."
"
Alien
and
Predator
are the two of the most identifiable, iconic characters of all time, and I love them for that," said Finch. "But mostly, it's being fortunate enough to be a kid when they were new. I've seen every movie they've ever been in, and I cannot wait to see them wreaking havoc in the Marvel Universe. I drew my pictures of them with a massive smile on my face."
"As a visual medium, comics are the perfect place to build on those moments, and we here at Marvel are honored to begin telling these stories for fans everywhere," added Cebulski. "As our release schedule continues to return, we can't wait to share more in the coming months!"
Details on upcoming ALIEN
and PREDATOR
comic book titles, collections, reprints, and creative teams will be shared at a later date.
MARK RUSSELL'S RED SONJA ENTERS NEW ARC & COMES FULL CIRCLE!
07/02/20 @ 12:54 pm EST
Source:
Dynamite
| Categories:
Dynamite
|
Comments
(0) |
E-mail Article
|
Add a Comment
This September's
Red Sonja
#19 kicks off a new arc in writer Mark Russell's critically acclaimed treatise on leadership, war, and sword & sorcery action.
Hot new artist Alessandro Miracolo (
Zorro
) joins for this next stage of the run, as pieces fall into place and everything connects back around. Fans will want to track down his limited Independence Day variant cover for the preceding
Red Sonja
#18 in anticipation and to complete their collections. His exciting style follows in the footsteps of other great artists who have contributed to this volume, lead by Mirko Colak and Bob Q. Colorist Dearbhla Kelly and letterer Hassan Otsmane-Elhaou will continue on the title with their expert craft. While superstars Jae Lee and Joseph Michael Linsner continue their runs on covers, joined now by Miracolo and other exciting talents like Erica Henderson (
Assassin Nation
).
"Red Sonja returns to Shadizar in hope of ending the wars that have destroyed every kingdom they've touched," said Mark Russell. "But the end of one war is the cause of the next and how can she find the way out when every dead foe has someone to avenge them? This is the answer that the previous eighteen issues have been building up to."
"I am very happy to join this fantastic team and be welcomed to the Hyborian Age," said artist Alessandro Miracolo. "I grew up with the characters and stories of Robert E. Howard, so for me, this is a dream. And to follow the work of great artists like Mirko [Colak] and Bob Q, as well as collaborate on a book with one of my favorites in Jae Lee, it's hard to believe this is all real!"
Issues #19 through #24 will chronicle Sonja's return to her native land of Hyrkania only to discover that a figure who has lurked in the background has made a major move. Cyril, the orphaned son of Dragan the Magnificent, has taken the throne he feels belongs to him and is bent on avenging his father's death. To prevent further catastrophic warfare, Sonja travels to Shadizar with a mission to kill Cyril herself. What she doesn't know is what has happened through the course of the indispensable companion miniseries
Killing Red Sonja,
including all the allies and magical abilities Cyril has picked up in his journeys.
Red Sonja #19
is solicited in Diamond Comic Distributors' July 2020 Previews catalog, the premier source of merchandise for the comic book specialty market, and slated for release in September 2020. Comic book fans are encouraged to preorder copies of the issue with their local comic book retailers. It will also be available for individual customer purchase through digital platforms courtesy of Comixology, Kindle, iBooks, Google Play, Dynamite Digital, ComicsPlus, and more!
STREAMING & COMICS SENSATION THE BOYS COMES TO NOVELS!
07/02/20 @ 1:05 pm EST
Source:
Dynamite
| Categories:
The-Boys
|
Comments
(0) |
E-mail Article
|
Add a Comment
While fans of The Boys look forward to the second season debuting September 4, Dynamite is proud to announce official novel adaptations of the original storylines. With new details adding to the official canon, the first volume is available
right now in print and digitally.
Before it inspired the hit 2019 Prime television series and upcoming second season,
The Boys
shook the comic book world with its debut in 2006. Garth Ennis and Darick Robertson's celebrated series focused on a world where people with incredible powers existed and were far from responsible. Now as the exciting new miniseries
The Boys: Dear Becky
hits comic shops as the official sequel/prequel to the original run, Dynamite Books has gone back to the original six-issue story arc and adapted it into the first
The Boys
prose novel.
The Boys: Name of the Game
novelization by writer Dan Wickline takes a deep dive into a world where costumed heroes soar through the sky, and masked vigilantes prowl the night, and someone has to make sure the supes don't get out of line. Hughie Campbell is in love for the first time in his life. Everything is going perfectly with his girlfriend Robin until she is tragically killed as collateral damage in a battle between supes. Meanwhile, Annie January has just achieved her ultimate dream. As the hero Starlight, she is promoted to the most powerful team of heroes in the world – The Seven. That dream quickly turns into a nightmare when she traumatically learns the truth about her idols. The mysterious Billy Butcher lost his wife due to supes as well. He's tasked by the CIA to reunite his clandestine team to get the supes in check, by whatever means necessary. When Butcher recruits Hughie for The Boys, the grieving young man finds a purpose in a world of superpowered narcissists living like they're gods. When all these forces come together, all hell breaks loose.
Check out a teaser trailer for the book!
"I remember reading the first issue when it came out and just being floored. It was the type of story the industry needed," said writer Dan Wickline. "Garth and Darick have created such an amazing world over the series run, and I'm getting a chance to introduce that world to another audience that may not normally pick up a comic book, as well as revealing a few details and fleshing out parts that even longtime fans will greatly appreciate."
Dan Wickline started his career writing comics for a variety of different publishers including Humanoids, IDW, Image, Top Cow, Shadowline, and Zenescope. He co-wrote the recently released
SEAL Team Six: No More Volume 13
and has his own
Lucius Fogg
series of Urban Fantasy novels. In addition to editing the line, Dynamite Books also has more projects from Wickline around the corner, so stay tuned!
Pick up the first book in your preferred format here!
'STARGIRL': NEW "BRAINWAVE" PHOTOS
07/02/20 @ 9:00 am EST
Source:
The CW
| Categories:
DC
|
Comments
(0) |
E-mail Article
|
Add a Comment
The CW
has released photos for "Brainwave", the upcoming episode of
Stargirl.
The series airs Tuesdays at 8/7c on The CW. New episodes of the series debut Mondays on DC Universe. "Brainwave" debuts Monday, July 13 on DC Universe and Tuesday, July 14 on The CW.
MARVEL GIVES MISTY KNIGHT "WOLVERINE CLAWS"
07/02/20 @ 8:52 am EST
Source:
Screen Rant
| Categories:
Marvel
|
Comments
(0) |
E-mail Article
|
Add a Comment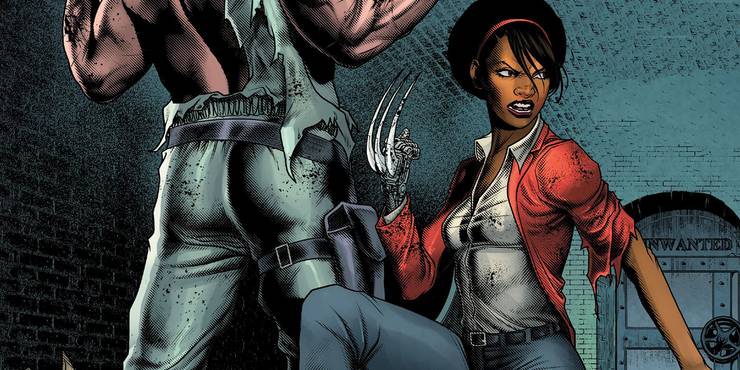 Spoilers ahoy for Ravencroft #5!
One of Marvel's most formidable martial arts experts has gotten her hand on a weapon belonging to an X-Men hero.
Misty Knight
has seen one crisis after another in the halls of Ravencroft: first a takeover by Carnage and now another siege from within. After losing her trademark bionic arm, she got a new one from a "top secret" source. As the new issue,
Ravencroft #5,
shows, this one comes with new features, including her own version of the Iron Fist, as well as Wolverine's forearm-mounted claws.
Last year, the
Absolute Carnage
event pitted Knight against Ravencroft inmates infected by the Carnage symbiote. Knight won the battle, but one of the infected ripped off her cybernetic arm to disable its features. After the event ended, the
Ravencroft
miniseries continued the story of Misty and her friends.
At the end of last month's issue #4, Misty fought back a horde of vampires by igniting her hand with energy, patterned after her friend Iron Fist's trademark chi-powered punches. This month, as she's joined by escapee The Punisher, she reveals another feature: three curved spikes emerging from her bionic hand's knuckles. The Punisher's impressed, calling them "wannabe Wolverine claws" and asking where her various upgrades are coming from. She replies that they're "top secret", reminding him that just because they're killing bloodthirsty vampires together doesn't mean she sees him as a trusted pal.
So where are her flashy new abilities coming from? We don't have a name for the organization replacing Marvel's destroyed SHIELD organization, but the shadowy group is evidently taking good care of its operatives. (via
Screen Rant
)
MARVEL TEASER: "KNULL IS COMING"
07/02/20 @ 8:34 am EST
Source:
GamesRadar
| Categories:
Marvel
|
Comments
(0) |
E-mail Article
|
Add a Comment
Marvel Comics is teasing a big story coming later this year for Venom and the Symbiotes, with a full-page house ad appearing in this week's Empyre Magazine that reads "Knull is coming – 2020".
Known for killing other deities, Knull is the evil god of the Symbiotes and has played an important role in the background of writer Donny Cates's ongoing
Venom
run, with Cates also incorporating Knull into his
Silver Surfer: Black
limited series and
Guardians of the Galaxy
run. Though Knull's influence and machinations have been felt across those series – and Knull himself appeared in
Silver Surfer: Black
– the implication of this teaser is that Eddie Brock/Venom, and by extension the core Marvel Universe, will finally run afoul of Knull firsthand later this year.
Prior to the release of
Venom
#25, Cates stated that the next story arc ("Beyond") will begin the path to Venom's next big event, while the upcoming
Web of Venom: Wraith
one-shot will be an integral part of that saga. (via
GamesRadar
)
'SPIDER-VERSE' PRODUCER TEASES "GROUNDBREAKING" ART FOR THE TOON'S SEQUEL
07/02/20 @ 8:16 am EST
Source:
ComicBook
| Categories:
Marvel
|
Comments
(0) |
E-mail Article
|
Add a Comment
After delighting countless fans and winning an Academy Award,
Spider-Man: Into the Spider-Verse
still remains a beloved part of the comic book movie world.
A sequel to the film has been officially in the works for quite some time now, and fans have been excited to see how it continues its unique sense of style and mind-boggling aesthetics.
If a new tweet from one of the film's producers is any indication, it seems like the film won't just continue those things -- it might outdo them.
Christopher Miller has taken to Twitter to tease that development:
"The development of new groundbreaking art techniques being done for the next Spider-Verse movie are already blowing me away. It's going to make the first movie look quaint," Miller tweeted. (via
ComicBook
)
Spider-Man: Into the Spider-Verse 2
is expected to land in theaters on October 7, 2022.
'THE BOYS': EXTENDED CLIP TEASES A DARKER SEASON 2
07/02/20 @ 8:01 am EST
Source:
Nerdist
| Categories:
The-Boys
|
Comments
(0) |
E-mail Article
|
Add a Comment
Amazon Prime's series adaptation of Garth Ennis'
The Boys
was one of last year's biggest and most pleasant surprises. The show, which was created by Seth Rogen and Evan Goldberg, presented a world where superheroes are power mad ego maniacs, largely controlled by one sinister corporation. Although it plays like a dark satire of mainstream superheroes, it also was surprisingly heartfelt and touching at times. (via
Nerdist
)
Now, Amazon Prime has released the first three-minute clip from the show's upcomng second season, which looks to be going to even darker places than the first.
Clip:
https://youtu.be/1OC5NSRW9Lw