'FIREFLY: BAD COMPANY' #1 REVEALS THE SECRET ORIGIN OF SAFFRON
02/21/19 @ 7:15 pm EST
Source:
BOOM! Studios
| Categories:
MIsc
|
Comments
(0) |
E-mail Article
|
Add a Comment
​
BOOM! Studios today revealed a first look at the highly anticipated FIREFLY: BAD COMPANY #1, the first oversized special issue from the company's sold out continuation of Joss Whedon's sci-fi epic, in partnership with 20th Century Fox Consumer Products, giving us the secret origin story of the infamous Mrs. Reynolds, available in stores March 2019.

Writer Josh Lee Gordon and artists Francesco Mortarino (Mighty Morphin Power Rangers), Giuseppe Cafaro (Power Rangers: Soul of the Dragon), and Moy R. (Dinosaucers) reveal the long awaited origins of the most beloved Firefly character in the 'Verse—SAFFRON! Long before she was Yolanda or Saffron or Bridget, she was a pickpocket on the streets of an Alliance planet, close enough to touch the rich and admire their wealth yet too far to ever dream of being a part of their glamorous world. Go all the way back to the early days of Saffron's story and learn how she became the extraordinary grifter and master thief who's wreaked countless havoc throughout the 'Verse and caused especial trouble for Serenity and her crew, including the current bounty on Mal's head in the pages of Firefly...unless she's lying about this, too.

FIREFLY: BAD COMPANY #1 features a main cover by Diego Galindo (Mighty Morphin Power Rangers) and a variant cover by Jamal Campbell (Green Arrow).

"Saffron is an enigma wrapped in a mystery surrounded by a puzzle, but at the heart of all the fake names and complicated lies is a woman who learned early on how to fend for herself and who knew that if she wanted anything in life, she had to go out and grab it," said Jeanine Schaefer, Executive Editor, BOOM! Studios. "BAD COMPANY takes us on an eye-opening journey through Saffron's early adventures as we discover the daring escapades that helped the infamous YoSaffBridge craft each new layer of mystery and intrigue around herself to become the baddest woman in the entire system."

Created by Whedon and set 500 years in the future in the wake of a universal civil war, FIREFLY centers on the crew of Serenity, a small transport spaceship that doesn't have a planet to call home. Captain Malcolm "Mal" Reynolds, a defeated soldier who opposed the unification of the planets by the totalitarian governed Alliance, will undertake any job — legal or not — to stay afloat and keep his crew fed. Thrust together by necessity but staying together out of loyalty, these disparate men and women are seeking adventure and the good life, but face constant challenges on the new frontier, such as avoiding capture by the Alliance, and evading the dangers you find on the fringes of the universe.

FIREFLY is the latest release from BOOM! Studios' eponymous imprint, home to a world-class group of licensed comic book series and ambitious original series, including Joss Whedon's Buffy The Vampire Slayer, Mighty Morphin Power Rangers, Planet of the Apes, Abbott, Mech Cadet Yu, Grass Kings, and Klaus.

Print copies of FIREFLY: BAD COMPANY #1 will be available for sale on March 20, 2019, exclusively at local comic book shops (use comicshoplocator.com to find the nearest one). Digital copies can be purchased from content providers, including comiXology, iBooks, Google Play, and the BOOM! Studios app.



MARVEL WAITING UNTIL AFTER 'AGENTS OF S.H.I.E.L.D.' TO REBOOT INHUMANS
09/23/19 @ 1:30 am EST
Source:
We Got This Covered
| Categories:
Marvel
|
Comments
(0) |
E-mail Article
|
Add a Comment
There haven't been many flops in the Marvel Cinematic Universe, but ABC's
Inhumans
is definitely one of them. The 2017 show earned such poor ratings and reviews that it was cancelled after just eight episodes.
Marvel is planning on rebooting the Inhuman Royal Family in the MCU and this time, Kevin Feige and Marvel Studios will be taking the characters out of Marvel Television's hands. That said, the intention is to wait a while until after
Agents of S.H.I.E.L.D.
ends with its upcoming seventh season before doing anything with the characters again.
From what
We Got This Covered
reports, they want some time to pass before they relaunch this particular part of the mythos.
But not too long, though, as we've heard that the Royal Family will feature in the
Ms. Marvel
Disney Plus show, Kamala Kahn aka Ms. Marvel being herself an Inhuman.
EMMYS: 'GAME OF THRONES' TAKES ONE LAST BOW WITH FINAL AWARDS HAUL
09/23/19 @ 1:19 am EST
Source:
Hollywood Reporter
| Categories:
MIsc
|
Comments
(0) |
E-mail Article
|
Add a Comment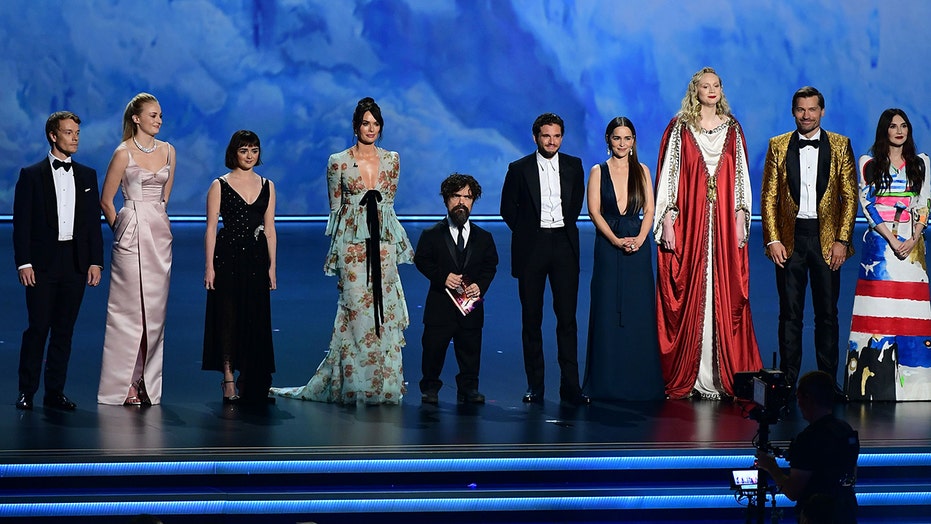 Game of Thrones
took home the prize for best drama series at the 71st annual Primetime Emmy Awards on Sunday.
Upon accepting the trophy, co-creator David Benioff said, "This all started in the demented mind of George R.R. Martin." Co-creator D.B. Weiss went on to thank the cast, noting that they make everything they write better. The team also thanked their collaborators at HBO for all their hard work over the years, along with "the hardest crew, joking that it's "amazing they are all still alive."
The show beat out fellow nominees,
Better Call Saul
(AMC),
Bodyguard
(Netflix),
Killing Eve
(BBC America),
Ozark
(Netflix),
Pose
(FX),
Succession
(HBO) and
This is Us
(NBC).
Overall,
Game of Thrones
was nominated for 32 Emmy Awards this year — which included 10 wins at the Creative Arts Emmys — breaking a record for the most noms in a single year. It was the fourth time the HBO fantasy drama led the pack of nominations, beginning in 2014 and ending with its final divisive season. (via
THR
)
'SPIDER-MAN: FAR FROM HOME' GAG REEL ONLINE
09/23/19 @ 12:57 pm EST
Source:
Sony
| Categories:
Marvel
|
Comments
(0) |
E-mail Article
|
Add a Comment
Sony
has released a gag reel from
Spider-Man: Far From Home
after the blockbuster was releases on digital.
Any fan of this movie in particular, or Spidey and his MCU stay, needes to enjoy this gag reel!
Gag reel:
https://youtu.be/P0gDIxGg8VY
'SUPERGIRL': SEASON 5 EXTENDED PREMIERE TRAILER RELEASED
09/23/19 @ 12:48 pm EST
Source:
The CW
| Categories:
DC
|
Comments
(0) |
E-mail Article
|
Add a Comment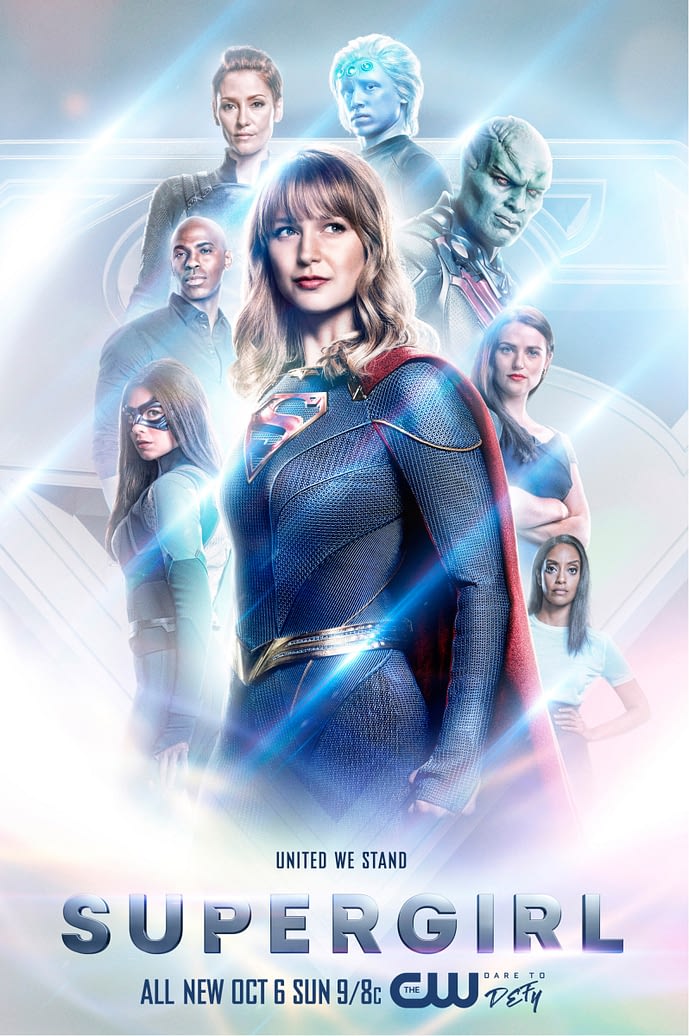 The CW
has released an extended variant of the trailer for the premiere episode of
Supergirl
Season 5.
The Girl of Steel returns on Sunday, Oct. 6, at 9/8c on The CW.
Extended trailer:
https://youtu.be/UaeUyvXqS4Y
'FEAR THE WALKING DEAD': SEASON 5 FINALE TRAILER RELEASED
09/23/19 @ 12:42 pm EST
Source:
AMC
| Categories:
Walking Dead
|
Comments
(0) |
E-mail Article
|
Add a Comment
AMC
has released its first look at the
Fear the Walking Dead
Season 5 finale, "End of the Line."
Fear the Walking Dead
airs its Season 5 finale Sunday, Sept. 29 at 9/8c on AMC.
Trailer:
https://youtu.be/dohUg6NkVEY
X-23 WILL EVENTUALLY REPLACE WOLVERINE IN THE MCU?
09/22/19 @ 2:51 pm EST
Source:
We Got This Covered
| Categories:
Marvel
|
Comments
(0) |
E-mail Article
|
Add a Comment
We Got This Covered
is reporting a tidbit of info that might shed some light on Marvel Studios' plans for the X-Men.
One of its industry insiders has clued the site in on what's in store for both Wolverine and X-23. It seems the elder clawed mutant will be introduced to the MCU and not long after, his clone/adopted daughter is going to take up the mantle, not unlike how Hawkeye plans to pass things on to Kate Bishop. Marvel is said to have big plans for her as well and want X-23 in the franchise sooner rather than later.
This decision might seem odd, but it makes sense the studio would choose to focus their efforts on X-23. After all, there've been plenty of movies that centered around Wolverine and since
Logan
proved to be an immense success among fans and critics, it's easy to see why Kevin Feige and the creative team over at Marvel would rather not go back to the well.
Stay tuned.
MARK HAMILL SHOUTS-OUT KEVIN CONROY FOR BATMAN DAY
09/22/19 @ 2:44 pm EST
Source:
Hypebeast
| Categories:
Batman
|
Comments
(0) |
E-mail Article
|
Add a Comment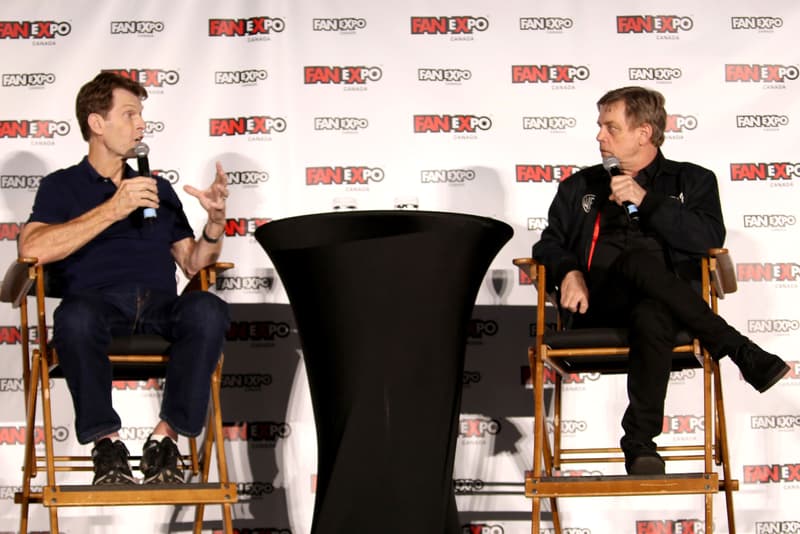 Original Luke Skywalker actor and long-time Joker voice actor, Mark Hamill, took to Twitter Saturday to shout out another OG in the animated
Batman
world — Kevin Conroy.
Having just celebrated the 27th anniversary of
Batman: The Animated Series
, Hamill took the time to pay homage to Kevin Conroy, aka the voice behind Batman from a plethora of Batman projects, just in time for the Dark Knight's 80th anniversary. (
While the two are sworn enemies when it comes to the DC Universe, this tweet shows the respect and admiration the two have for one another when not in character.
"It's #BatmanDay2019! Celebrating 80 years of everyone's favorite rodent-themed masked vigilante. For me, that means it's also @RealKevinConroy Day... my partner in crime, my one & only #CapedCrusader since 1992. #MadLove to you Batsy! #StillJokingAfterAllTheseYears", Hamill tweeted in honor of his Caped Crusader Conroy. (via
Hypebeast
)
NEW PETER PORKER SHORT HAS SPIDER-HAM FIGHTING SUPER VILLAINS AND EATING HOT DOGS
09/22/19 @ 2:31 pm EST
Source:
Marvel
| Categories:
Marvel
|
Comments
(0) |
E-mail Article
|
Add a Comment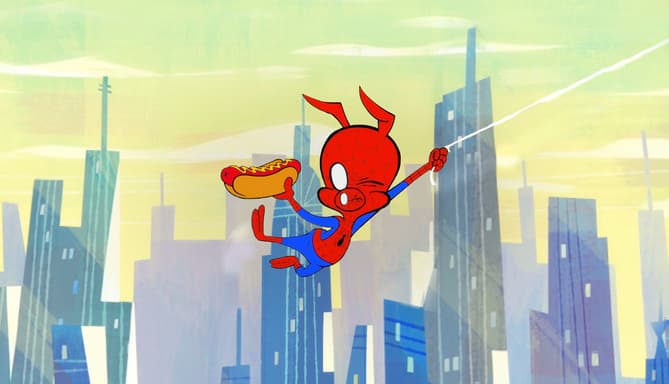 Though his hands might always be a little bit wet (it's because he just washed them), we still can't get enough of Peter Porker from
Spider-Man: Into the Spider-Verse
. Now that other loveable version of Spider-Man is back in a brand new short from the Oscar-winning movie, once again voiced by comedian John Mulaney.
In
Spider-Ham: Caught in a Ham
, what should be a typical day for Spider-Ham quickly turns chaotic when a mysterious portal threatens his cartoon reality and he comes face to face with villain Dr. Craw Daddy. Is that a great name for him? No! But that's the best name Spider-Ham's got right now, considering all he wanted to do today was eat his hot dog. Can he escape from this trouble,
and
finish his snack? We'll find out soon enough.
The short is directed by Miguel Jiron and produced by David Schulenburg and first appeared on Blu-ray features of
Spider-Man: Into the Spider-Verse
, which is available now.
'KRYPTON' STAR ALMOST APPEARED IN THE CW'S
09/22/19 @ 2:53 pm EST
Source:
Screen Rant
| Categories:
DC
|
Comments
(0) |
E-mail Article
|
Add a Comment
One face fans should not expect to make an appearance in the Arrowverse's hotly-anticipated "Crisis on Infinite Earths" crossover is that of
Krypton
star Cameron Cuffe.
The British-born actor played Superman's grandfather, Seg-El on SYFY's DC prequel series. Despite the heavy dose of skepticism surrounding the premise, the show earned positive reviews and impressive ratings when it debuted in 2018. Sadly, the numbers dropped significantly across its sophomore outing. As a result, the cable network axed both
Krypton
and its planned
Lobo
spinoff directly after the former's season 2 finale. (via
Screen Rant
)
Posting on
Twitter
, however, Marc Guggenheim revealed that they came close to an even bigger House of El reunion. As the creator of
Arrow
and
Legends of Tomorrow
, Guggenheim has served as a writer and producer on both shows. He also contributed to each crossover. Guggenheim co-wrote the
Crisis of Infinite Earths
adaptation with the original comic writer, Marv Wolfman. Responding to a request that he get Cuffe for the episodes, Guggenheim replied (along with a sad face image) that they actually tried but that they "couldn't make the dates work".
"ARROW" SEASON 8 POSTER
09/22/19 @ 2:18 pm EST
Source:
The CW
| Categories:
DC
|
Comments
(0) |
E-mail Article
|
Add a Comment
Green Arrow gets a final season poster as Number 8 arrives for
Arrow
on
The CW
.
Arrow
premieres on October 15.