'THE EXORCIST': BLUMHOUSE, UNIVERSAL & PEACOCK HORROR REDO SETS OLIVIA MARCUM
02/06/23 @ 11:51 am EST
Source:
Deadline
| Categories:
MIsc
|
Comments
(0) |
E-mail Article
|
Add a Comment
Olivia Marcum is the latest to join Blumhouse, Universal, Peacock and Morgan Creek's next installment of
The Exorcist,
Deadline
reports
.
She will star in the continuation of the original horror pic alongside previously announced Academy-Award nominee Leslie Odom Jr., Ann Dowd, Lidya Jewett and Ellen Burstyn, who is reprising her role as Chris MacNeil, in the fresh new take of the beloved property – a continuation of the quintessential possession horror film. The studios behind the latest redo scooped up the franchise rights for $400M.
The pic, the first in a new trilogy, is currently in production for an Oct. 13 release this year on the big screen. David Gordon Green of the recent Blumhouse/Miramax
Halloween
trilogy directs. Scott Teems (
Halloween Kills, The Quarry
), Danny McBride (
Halloween Kills, Halloween
) and Green teamed up for the story being penned by Peter Sattler (
Broken Diamonds
) and Green.
The original 1973
The Exorcist
counts a global box office of $441M, making it the highest grossing horror film for a 44-year-long run. The picture was also nominated for ten Oscars, including one for Burstyn, who was nominated for Best Actress. The film also nabbed the honor of being the first horror film ever nominated for Best Picture.
'ARCADE KINGS' TRAILER: DIVE FISTS FIRST INTO DYLAN BURNETT'S NEW COMIC SERIES
03/22/23 @ 10:43 am EST
Source:
Image Comics
| Categories:
Skybound
|
Comments
(0) |
E-mail Article
|
Add a Comment
Fists, family, and video game-infused fighting—all that and more is promised in Arcade Kings. Today Skybound debuts a brand-new trailer for the hotly anticipated prestige limited series by creator/writer/artist Dylan Burnett (Cosmic Ghost Rider, Ant-Man), colorists Walter Baiamonte and Sara Antonellini, and letterer AndWorld Design.
The epic new trailer grants a sneak peek at Joe, the best player at the Round House arcade. Everyone wants to knock him off the leaderboard, but he always wins. However, his undefeated streak faces its biggest threat yet when a new fighter with ties to Joe's past challenges him to his most physical battle yet!
The trailer can be viewed right
here
.
Arcade Kings
#1 debuts this May with main cover art from series artist and colorist Dylan Burnett and Walter Baiamonte, along with an open to order variant from Corey Lewis. The series will also feature a 1:10 "Fighting Game" Incentive Variant program by Jordan Gibson and a 1:25 "Limited Color" Incentive Variant program featuring the main cover inks by Dylan Burnett.
Arcade Kings #1 will be available at 
comic book shops
 and digital platforms including Amazon Kindle, Apple Books, comiXology, and Google Play on Wednesday, May 17, 2023.
EDDIE REDMAYNE TO LEAD 'THE DAY OF THE JACKAL' AT PEACOCK, SKY
03/22/23 @ 10:26 am EST
Source:
Variety
| Categories:
MIsc
|
Comments
(0) |
E-mail Article
|
Add a Comment
Eddie Redmayne has been cast in "The Day of the Jackal," Peacock and Sky's upcoming reimagining of Frederick Forsyth's novel and Universal's film of the same name. He will also executive produce the thriller series.
Redmayne will play the Jackal, who is hired by the OAS, a French dissident organization, to kill then-president of France Charles de Gaulle.
Ronan Bennett serves as showrunner of "The Day of the Jackal," which hails from Universal International's Carnival Films and was commissioned by Sky Studios and Peacock. Brian Kirk directs. Executive producers include Carnival CEO Gareth Neame alongside Nigel Marchant, as well as Sam Hoyle for Sky. Marianne Buckland serves as co-executive producer, Forsyth serves as consulting producer and Christopher Hall serves as producer. Production begins this year. The series will stream on Peacock in the U.S. and Sky in the U.K., Ireland, Italy, Germany, Switzerland and Austria. NBCUniversal Global Distribution will handle international sales of the series. (via
Variety
)
KELLY THOMPSON'S HISTORIC RUN OF 'CAPTAIN MARVEL' ENDS IN JUNE
03/22/23 @ 9:16 am EST
Source:
Marvel
| Categories:
Captain Marvel
|
Comments
(0) |
E-mail Article
|
Add a Comment
This June marks the end of an era for Carol Danvers! Writer Kelly Thompson will wrap up her extraordinary run on the character in CAPTAIN MARVEL #50, a double-sized issue featuring art by Javier Pina and David Lopez. As one of the longest-running writers on the character ever, Thompson's run will go down in Marvel Comics history: 50 issues of thrilling adventure, uplifting character-defining breakthroughs, and awesome powerhouse feats that are destined to inspire generation after generation of readers! From incredible story arcs like the revolutionary "Re-Entry" and Carol's dark turn in "The Last Avenger" to pivotal tie-ins to some of Marvel's biggest events like
War of the Realms
and
Empyre
, CAPTAIN MARVEL has been a Marvel must-read since the very start. Along the way, the title has garnered new lifelong Carol Danvers fans and delighted the character's devoted fanbase. True Believers won't want to miss Thompson's epic farewell that celebrates this incredible achievement!
It has been an impossible journey – one that's taken Carol Danvers across time and space and pitted her against enemies new and old. This historic run has put Marvel's premier heroine through the gauntlet, and now the boss of space burns brighter than ever. No one believed she would get this far. But that's the power of Captain Marvel and her Carol Corps: They will never give up. Higher, further, faster – to the very end.
"When Marvel asked me to write Carol's new Captain Marvel series back in 2018, in the lead up to her first film, I was delighted and also terrified. But I'm glad I didn't let the terror win, because it has truly been a fantastic experience," Thompson shared. "I've worked with some of the most incredible people in the business -- I'd list them all but at 50 issues it's a truly massive list! -- but I certainly have to call out editor Sarah Brunstad who brought me in and helped build this book from the very beginning. She has been a constant source of support through a run that I don't think either of us ever imagined would be nearly five years deep and heading toward issue 50. While it hasn't always been easy, I'm so proud of the stories we've told with Carol, but none of it would have been possible without the fans. Captain Marvel fans are some of the best comic fans -- and humans -- I've ever experienced, truly. So thank you for this run. We made it, but you all made it so loved, and so long. Thank you."
Don't miss this capstone to a record-breaking run as Thompson puts her final fingerprints on Earth's Mightiest Hero!
GODLIKE POWERS & MYSTERIES REVEALED IN YOUR FIRST LOOK AT 'MAGIC' #25
03/22/23 @ 9:09 am EST
Source:
BOOM! Studios
| Categories:
MIsc
|
Comments
(0) |
E-mail Article
|
Add a Comment
BOOM! Studios, under license by Hasbro, Inc. (NASDAQ: HAS) and in partnership with Wizards of the Coast LLC, announced today a first look at MAGIC #25, the final issue from acclaimed comics writers Jed MacKay (
Moon Knight
) and Rich Douek (
Superman Red & Blue
), artists French Carlomagno (
Mighty Morphin Power Rangers
) and Roberta Ingranata (
Witchblade
), colorists Mattia Iacono and Arianna Consonni of Arancia Studio, and letterer Ed Dukeshire, about a series of mysteries plaguing fan-favorite planeswalkers all over the Multiverse, available in April 2023.
In the epic conclusion to the longest continuous
Magic: The Gathering
comic series, Nicol Bolas, endowed with godlike powers, is ready to take back the Multiverse. At the edge of existence, our Planeswalkers are discordant, overpowered, and unprepared. Their only hope? Outnumbering the dragon… with more Planeswalkers packed onto the page than ever before! Simultaneously, the spectral voice haunting Jace is revealed, with a secret weapon that Jace must wield, if he can...
MAGIC #25 features main cover art by acclaimed artist Miguel Mercado (
Black Panther
), a polybagged Secret Planeswalker Variant Cover by Breno Tamura (
PIGS
), and a variant by Junggeun Yoon (
The Expanse: Dragon Tooth
).
MAGIC is the newest release from BOOM! Studios' eponymous imprint, home to critically acclaimed original series, including
BRZRKR
by Keanu Reeves, Matt Kindt, and Ron Garney;
Something is Killing the Children
by James Tynion IV and Werther Dell'Edera;
Once & Future
by Kieron Gillen and Dan Mora;
Eve
by Victor LaValle and Jo Mi-Gyeong;
The Many Deaths of Laila Starr
by Ram V and Filipe Andrade;
Wynd
by James Tynion IV and Michael Dialynas;
Grim
by Stephanie Phillips and Flaviano;
Briar
by Christopher Cantwell and Germán García;
Stuff of Nightmares
by R.L. Stine and A.L. Kaplan;
The Approach
by Jeremy Haun, Jason A. Hurley, and Jesus Hervas;
Damn Them All
by Simon Spurrier and Charlie Adlard;
Behold
,
Behemoth
by Tate Brombal and Nick Robles;
Specs
by David M. Booher and Chris Shehan;
Once Upon a Time at the End of the World
by Jason Aaron, Alexandre Tefenkgi, Leila del Duca, and Nick Dragotta;
Know Your Station
by Sarah Gailey and Liana Kangas;
A Vicious Circle
by Mattson Tomlin and Lee Bermejo;
Mosely
by Rob Guillory and Sam Lotfi;
Harrower
by Justin Jordan and Brahm Revel;
The Neighbors
by Jude Ellison S. Doyle and Letizia Cadonici; and the upcoming
The Seasons Have Teeth
by Dan Watters and Sebastián Cabrol. The imprint also publishes popular licensed properties, including
Dune: House Harkonnen
from Brian Herbert, Kevin J. Anderson, and Michael Shelfer;
Mighty Morphin Power Rangers
from Melissa Flores and Simona Di Gianfelice; and
The Expanse: Dragon Tooth
by Andy Diggle and Rubine.
Print copies of MAGIC #25 will be available for sale on April 5, 2023 exclusively at local comic book shops (use
comicshoplocator.com
to find the nearest one) or at the BOOM! Studios webstore. Digital copies can be purchased from content providers, including comiXology, iBooks, Google Play, and Kindle.
NETFLIX'S 'GEARS OF WAR' MOVIE TAPS 'DUNE' AND 'DOCTOR STRANGE' WRITER JON SPAIHTS
03/22/23 @ 9:05 am EST
Source:
Variety
| Categories:
MIsc
|
Comments
(0) |
E-mail Article
|
Add a Comment
Netflix's live-action adaptation of the popular video game "Gears of War" moves one step closer as Academy Award-nominated screenwriter Jon Spaihts has boarded the project.
Best known for co-writing "Dune," "Dune: Part Two" and "Doctor Strange," Spaihts will now take on the challenge of adapting "Gears of War," one of gaming's richest and most acclaimed video game sagas, with over 40 million copies sold.
"'Gears of War' is one of the all-time great action games, with vivid characters, a beautifully designed world, and a combat system that drives home the lethality of war and the importance of standing by your squadmates," Spaihts told
Variety
. "It wants to be cinema, and I'm thrilled to have the chance to help that happen."
In November 2022, Netflix announced a partnership with The Coalition to adapt the "Gears of War" universe. Together they plan to first adapt the game into a live-action feature film, followed by an adult animated series, with the potential for more stories to follow. The "Gears of War" games center on a society divided and on the brink of collapse, facing total extinction by the monstrous Locust alien race, a deadly, subterranean threat. A ragtag fireteam known as Delta Squad, led by disgraced sergeant Marcus Fenix, is now charged with leading humanity's last stand.
COMING ISSUES OF 'X-MEN' & 'INVINCIBLE IRON MAN' PAVE WAY FOR "FALL OF X"
03/21/23 @ 8:20 pm EST
Source:
Marvel
| Categories:
Marvel
|
Comments
(0) |
E-mail Article
|
Add a Comment
FALL OF X is coming, and as the X-Men brace themselves for the dark road ahead, they'll also find strength in mutantkind's new ally: Iron Man! Writer Gerry Duggan, currently helming the X-MEN and INVINCIBLE IRON MAN ongoing series, will weave together and feature essential stories in both titles that will impact the X-Men's upcoming status quo.
Things have already been set in motion as Feilong, the mutant-hating industrialist from Duggan's X-MEN, is now in control of Stark Unlimited's incredible resources and plans to use them in Orchis' vicious war against mutants. As events escalate, will Tony step up to become one mutantkind's greatest defenders? Or will he join them in the bleak world that awaits them all in FALL OF X?
Don't miss these key turning points in both titles starting in June:
Following their soon-to-be-shocking debut in FREE COMIC BOOK DAY 2023: AVENGERS/X-MEN #1, the new Stark Sentinels will have their first run-in with the X-Men in X-MEN #23. Feilong has devoted Iron Man's technology to build the next generation of Sentinels! These upgraded versions are as hard to beat as old Shellhead himself and are fully devoted to crushing the X-Men!
Then in INVINCIBLE IRON MAN #7, Tony Stark is in dire need of a win! But how does he plan to get ahead? By building a new suit of armor! The suit's first objective? Infiltrate and destroy Stark Industries! And that's not all, July's INVINCIBLE IRON MAN #8 will tie directly into this year's HELLFIRE GALA! As the X-Men celebrate mutantkind's biggest night, Iron Man has to contend with the new Stark Sentinels flying through New York! Can Tony stop these mutant-hunting machines alone?
Stay tuned for more FALL OF X news, including new title announcements!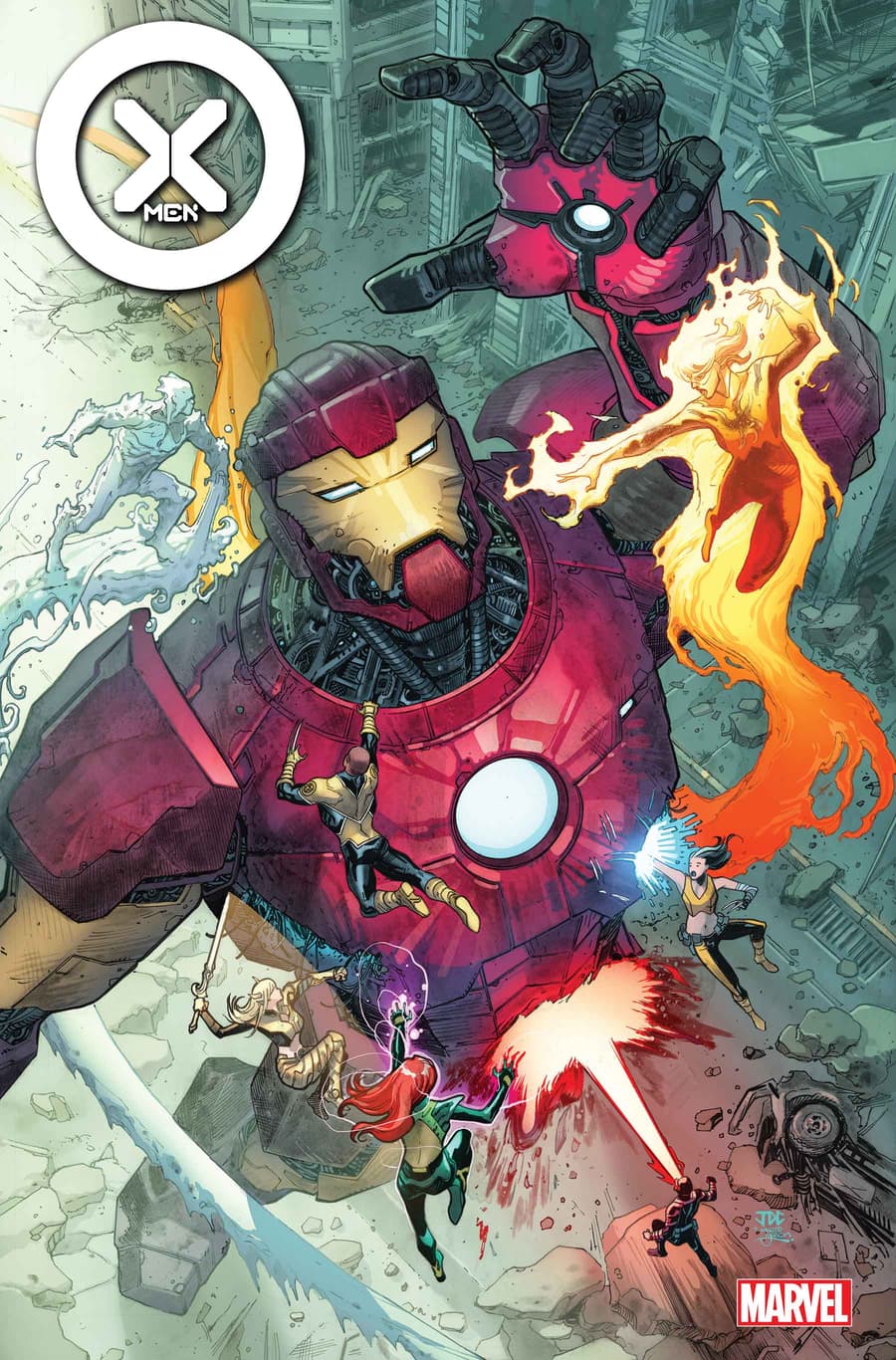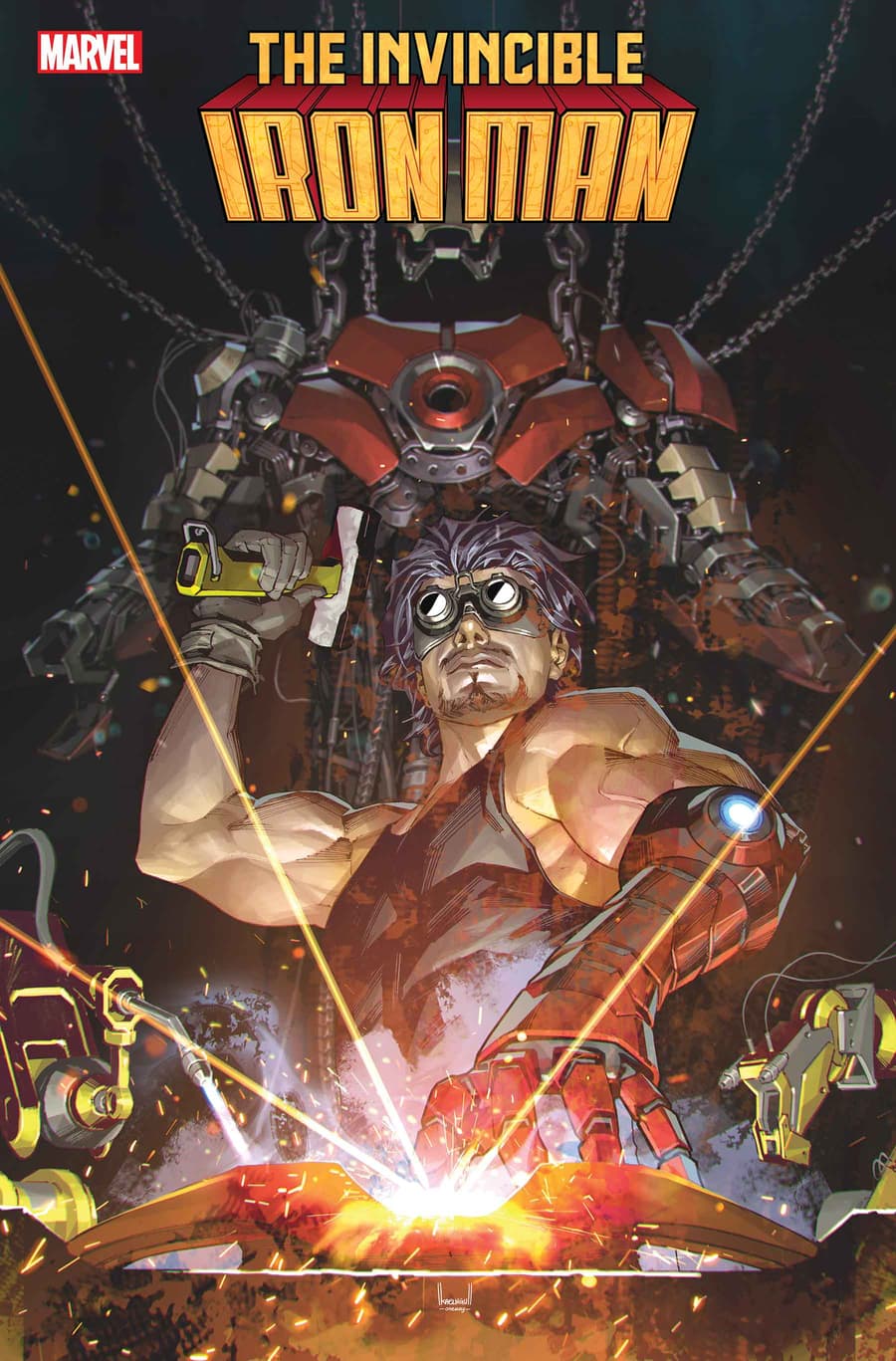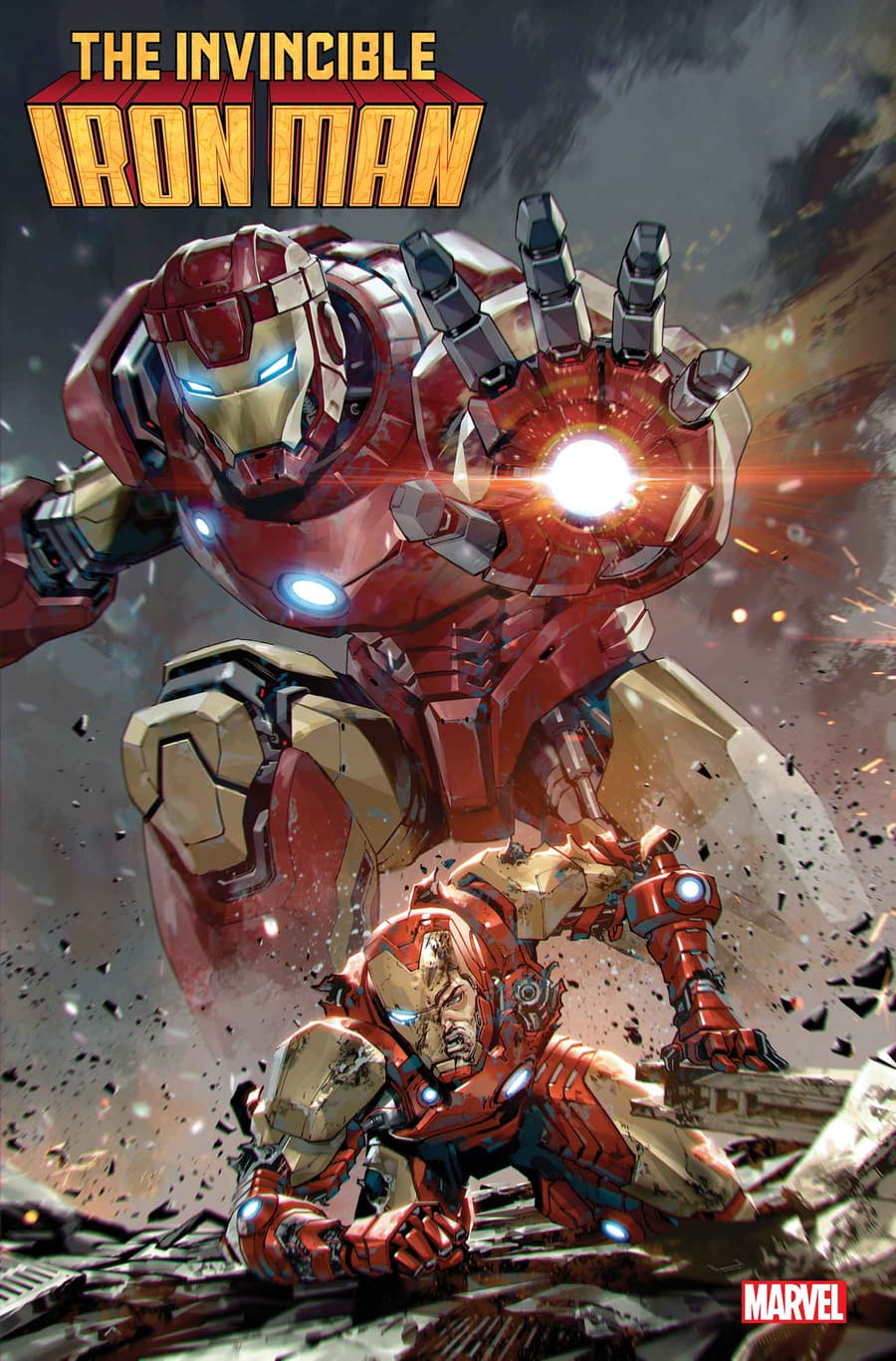 SUPERSTAR CREATOR MIRKA ANDOLFO BRINGS BETTIE PAGE TO ITALY!
03/21/23 @ 8:05 pm EST
Source:
Dynamite
| Categories:
Dynamite
|
Comments
(0) |
E-mail Article
|
Add a Comment
The queen of the pinups returns to comics this June to heat up the summer, as international superstar creator Mirka Andolfo finds the perfect match for her style and sensibilities, and she's taking Bettie Page home with her to Italy in a new series alongside artist Elisa Ferrari and co-writer Luca Blengino!
"Our goal is to tell an intense story with an intense character and an intense but realistic setting.," shared writer Mirka Andolfo.
It's
la dolce vita
for Bettie! Her latest adventure starts when she's been cast as the lead of a film shooting in historic and beautiful Rome. It's a Bettie Page escapade, so of course some shady-looking thugs attempt to kidnap her before she even gets the chance to enjoy the sights, sounds, smells, and tastes of Italy! Turns out, it's a case of mistaken identity. Miss Page just happens to look nearly exactly like their intended target. Will the dark angel be able to negotiate - or wiggle - her way out of this predicament? She'll also learn more about her mysterious doppleganger along the way.
One of the biggest names in comics, Mirka Andolfo is beloved for her flirty and fun writing and art on hit titles like
Sweet Paprika, Unnatural, Mercy
, and more, as well as huge titles from Marvel and DC Comics. She's shepherded Dynamite's own Red Sonja in a critically acclaimed run, but now she's tackling a character and legend that is such an obviously ideal fit for her talents! Not only that, but she's infusing the series with some of her native Italian style too!
Mirka and Elisa are joined by a cast of additional pinup greats to contribute stunning covers for the beautiful bombshell. Joseph Michael Linsner is back, and he's made his mark on the raven-haired risque queen through the years, back to his rare interior story produced for Playboy and then available to read in Dynamite's first Bettie collection. He's joined this time by Junggeun Yoon, Rebeca Puebla, Lesley "Leirix" Li, and of course Mirka herself - who depicts Bettie on an iconic Vespa!
BETTIE PAGE #1
is solicited in Diamond Comic Distributors' April 2023 Previews catalog, the premier source of merchandise for the comic book specialty market, and slated for release in June 2023. Comic book fans are encouraged to preorder copies of the issue with their local comic book retailers. It will also be available for individual customer purchase through digital platforms courtesy of Comixology, Kindle, iBooks, Google Play, Dynamite Digital, ComicsPlus, and more!
PAIZO'S 'STARFINDER' MAKES ITS EPIC COMICS DEBUT!
03/21/23 @ 2:11 pm EST
Source:
Dynamite
| Categories:
Dynamite
|
Comments
(0) |
E-mail Article
|
Add a Comment
Following the announcement and upcoming release of Dynamite's next hotly anticipated
Pathfinder
series, the first in several years, the publisher is announcing another huge collaboration with roleplaying industry leader Paizo.
Starfinder
, the tabletop innovator's other smash hit game and mythos, is coming to comic books for the first time in
Angels of the Drift
!
For the first ever
Starfinder
comic series coming to stores, Dynamite and Paizo hand picked the best creative voice to take the helm. James L. Sutter served on staff at Paizo for over a decade, including as Creative Director for
Starfinder
, playing a critical role in developing the world and systems, translating the beloved
Pathfinder
formula to a science-fantasy landscape. Sutter writes Angels of the Drift alongside artist Edu Menna (
Army of Darkness
).
"
Starfinder
is all about exploring the galaxy and having epic adventures, but at the end of the day it's also about your real-world experience as a player, sitting around a table having fun with your friends," said writer James L. Sutter. "I think the comic zeroes in on that feeling—that no matter how high the stakes get, both the game and the comic are meant to be fun."
Paizo has been charting the paths of
Starfinder's
"iconics" for over half a decade now in game art and supplemental material, but fans have been clamoring for a greater story focus on them, which is now here! Angels of the Drift is elevated by its fun, colorful cast of characters, like any great genre adventure. Navasi is a human woman and reformed pirate, serving as the group's fast-talking, plan-crafting de facto captain. The hulking, reptilian Obozaya is the main muscle. Ciravel is a precog elf who uses a hoverchair. The hot headed mechanic Quig comes along with a pet robot, and a deadly flamethrower. Last but certainly not least is Keskodai, an insectoid medic... and priest of a death goddess. This squad will all be pulled together as a disaster in the hyperspace dimension known as the Drift has completely thrown off the galaxy's ability to travel between worlds safely. It all goes south from there!
The series will feature a stunning trio of fantastic covers. Series interior artist Edu Menna is included in the pack, alongside Richard Pace (
Second Coming
) and Biagio d'Alessandro (
Pathfinder
). Pace's covers across the series will connect to form a larger image. All covers are all printed on premium cardstock paper.
Each issue also comes with extra content for players of the tabletop game: the full series will include playable character stats for all the heroes, new character options inspired by the comic, a brand new playable species, and more—all officially sanctioned by the Starfinder Society!
The
Starfinder
roleplaying game was officially released in the summer of 2017 and has quickly grown to be one of the most popular science-fantasy tabletop games. Alongside sister game
Pathfinder
, Paizo's twin titles have continued to attract all kinds of fans.
Dynamite's
Starfinder: Angels of the Drift
series will alternate publication months with
Pathfinder: Wake the Dead
through the remainder of 2023, giving Paizo fans a great chance to follow both series and their connected mythos.
STARFINDER: ANGELS OF THE DRIFT #1
is solicited in Diamond Comic Distributors' April 2023 Previews catalog, the premier source of merchandise for the comic book specialty market, and slated for release in June 2023. Comic book fans are encouraged to preorder copies of the issue with their local comic book retailers. It will also be available for individual customer purchase through digital platforms courtesy of Comixology, Kindle, iBooks, Google Play, Dynamite Digital, ComicsPlus, and more!
'VICTORY': VAMPIRELLA'S LOVER TURNED FOE STARS IN SOLO SERIES
03/21/23 @ 2:03 pm EST
Source:
Dynamite
| Categories:
Dynamite
|
Comments
(0) |
E-mail Article
|
Add a Comment
This summer the Vampirella franchise welcomes another new series and an exciting new path for one of its newest stars, as Victory gets the spotlight with writer David F. Walker and artist Brett Weldele this June!
First introduced in the mythos-shattering
Vampirella
#0 on Free Comic Book Day 2019, fans were introduced to Victoria Harris by Christopher Priest and Ergün Gündüz. The gorgeous African American woman came into Vampirella's life and alongside other newcomers, set her on quite the roller coaster ride. The two were briefly lovers, and Victoria found herself enamored by Vampi's remarkable abilities - and even her iconic costume. Along the way she's since been bestowed with a cursed, demonic ring and turned against her friend by Lilith, the mother of Drakulon.
This summer Eisner-winning writer David F. Walker, of such critically acclaimed hit series as
Bitter Root, Naomi, Planet of the Apes, Shaft
, and more, is joined by artist Brett Weldele (
The Surrogates, The Beauty
) are leveling up Victory from a pawn in the grand game, to a major player. With a stunning white variation on the classic Vampirella costume, and her newly granted powers, how will she leave her own mark on the world, good or bad? Fans will also get to see which old foe (or friend..?) is about to show up to cheer her on.
"Victory is an interesting supporting character, but the thing to keep in mind is that she's been a supporting character, and for me those characters are always more fun to write," said writer David F. Walker. "When you take a successful supporting character and elevate them to leading character status, it is important to remember that what you're doing is adding to someone that already exists – it's like adding spices, or even ingredients, to a meal that's already been cooked. The key is to enhance what is already there, and in my mind the best way to do that is to explore previously unknown aspects of who they are, and then take them to places that challenge what they think of themselves."
Now with each page dedicated to the character's individual story, readers will get a much deeper look at Victory in and out of the costume. The series will dive into nuggets of both her past and present, including her largely unrevealed traumatic childhood. Artist Brett Weldele is a perfect fit in expanding this lore, with his unique painted style and experience.
Weldele added, "It's natural to want to make the definitive version of a character, especially one who has a lot of story left to be told. As a painter, I gravitate towards other painters - Frazetta, Sanjulian. I admire the linework and atmosphere of Jose Gonzalez. Big shoes for sure, but I think with my two decades in this industry I'm bringing something unique to the table. I want to explore that sense of atmosphere, but with a modern flair. It's also fun to world-build around Victory and what her solo adventures entail. We're imbuing Victory with the flavor of exploitation films that David and I love. It's the secret sauce and a common theme in our collaborations."
A talented crew of contributors round out the covers available on the first issue and series. Dave Johnson, Bryan Hitch, Ariel Diaz, Carla Cohen, and Geebo Vigonte all do covers. Cosplayer Alicia Marie also portrays Victory for the character's first dedicated cosplay cover, with fan-favorite Rachel Hollon guest starring too for double the fun!
VICTORY #1
is solicited in Diamond Comic Distributors' April 2023 Previews catalog, the premier source of merchandise for the comic book specialty market, and slated for release in June 2023. Comic book fans are encouraged to preorder copies of the issue with their local comic book retailers. It will also be available for individual customer purchase through digital platforms courtesy of Comixology, Kindle, iBooks, Google Play, Dynamite Digital, ComicsPlus, and more!
DYNAMITE ADDS INDUSTRY VETERAN SCOTT NYBAKKEN TO TEAM
03/21/23 @ 2:02 pm EST
Source:
Dynamite
| Categories:
Dynamite
|
Comments
(0) |
E-mail Article
|
Add a Comment
Dynamite Entertainment announces the hiring of comics heavy hitter Scott Nybakken as Director, Marketing. Nybakken will report to VP of Sales and Marketing Alan Payne and will work alongside Dynamite's Director of Sales Vince Letterio and Marketing Coordinator Vincent Faust as the company bolsters its sales and marketing department.
"I'm very excited to be joining the Dynamite team -- I've known Nick Barrucci from the earliest days of Dynamic Forces, and right from the start I've seen that he and Dynamite have published some of the best books in the business," said Nybakken. "Now I've finally got the chance to make sure that everyone else on the planet knows it as well!"
"Scott's resume speaks for itself, and we are very fortunate that he's coming on board and adding his experience to our company and our growth," said Dynamite CEO/Publisher Nick Barrucci.
Among Nybakken's core responsibilities in the new position will be steering the ship for Dynamite's monthly solicitations section in Diamond Comics Distributor's Previews catalog for retailers and fans. He will also be conducting video interviews with the talented writers and artists crafting Dynamite's latest hit projects in comics and beyond. That content can be found on Dynamite's
YouTube
channel,
Instagram
,
TikTok
, and other platforms.
In one capacity or another, Nybakken has toiled in the ink-stained comics mines for more than 30 years. His career in the industry started as an editor for the historic magazine The Comics Journal, published by Fantagraphics Books. During his more than two decades with DC Comics, he played a critical role in building the company's standard-setting and award-winning graphic novel line, for which he edited over 1,000 titles ranging from the biggest sellers to carefully curated archival projects. He has additionally worked with Insight Editions, and done spots of freelance media writing and editing. In his new position at Dynamite, he is hoping to finally meet Red Sonja.