VAULT ANNOUNCES 'HUNDRED WOLVES' BY NOVELIST MYKE COLE AND ARTIST TONY AKINS
01/24/20 @ 8:49 am EST
Source:
Vault Comics
| Categories:
MIsc
|
Comments
(0) |
E-mail Article
|
Add a Comment
Vault Comics is thrilled to announce
HUNDRED WOLVES
, a historically inspired fantasy comic series co-created by
award-winning novelist Myke Cole (The Sacred Throne Trilogy, The Shadow Ops Trilogy) and master artist Tony Akins (Fables, Hellblazer, Wonder Woman), with colors Vladimir Popov, letters by Jim Campbell, and designed by Tim Daniel.

HUNDRED WOLVES is set during the Siege of Vienna in 1683. Andrei and Oksana have left the Cossack band to raise their daughter on a farm they hold from the noble Count Ostoja, but the raiding life isn't done with them. Both the Hundred Wolves and the couple's new liege lord wish to employ their deadly skills—and neither will take no for an answer.

"The Siege of Vienna in 1683 is one of the most dramatic, visually arresting, and movie-ready stories in the history of warfare," said Myke Cole. "It arguably decided the future of the European and Turkish worlds both. And almost nobody has even heard of it."

"I only discovered it by chance (being a historian, I chase these things) and was immediately electrified," added Cole. "It is such an amazing story, a heroic defense in the face of arguably hopeless odds and a stirring, last-minute rescue from an unexpected quarter. I wanted to tell it to the world."

"As a historian, I can convey the drama in text, but no words can properly convey the sheer visual splendor - the tossing wings of the Polish knights, the fluttering white hoods of the Turkish janissaries, the sparking kick of matchlock muskets sounding the death knell of the mounted knight and heralding the dawn of modern warfare. And above all, the pluck and swagger of the Cossacks, with their punk-rock haircuts, flashing sabers, and belly-laughing defiance of imperial authority," said Cole.

"The HUNDRED WOLVES pitch document landed right where it needed to land: my lap," added Tony Akins." I'll just say it was kind of like a mix of romance and inspiration, my initial reaction to the story and setting. It had everything, and it was heavily based in history, and I love histories. So yeah, I'm that brother from the South Side of Chicago who's drawing a story about a family in 17th Century Ukraine who are caught between a rock and a hard place. That translates to some of my own experiences as an American, and particularly as an African-American."

The full synopsis of HUNDRED WOLVES can be found below:

"The Hundred Wolves are bloody-handed terrors of the steppe. Andrei and Oksana have left the Cossack band to raise their daughter on a farm they hold from the noble Count Ostoja, but the raiding life isn't done with them. Both the Hundred Wolves and the couple's new liege lord wish to employ their deadly skills—and neither will take no for an answer. From celebrated author Myke Cole (The Sacred Throne Trilogy, The Shadow Ops Trilogy) and venerable artist Tony Akins (Fables, Hellblazer, Wonder Woman) comes a story of war and family, blending historical fiction with a touch of fantasy."

HUNDRED WOLVES #1 will hit store shelves in April 2020. The first issue will drop with a special Pulp & Paint variant cover by Nathan Gooden & Tim Daniel.

DISNEY RELEASING NEW 'SIMPSONS' SHORT IN THEATERS AHEAD OF PIXAR'S 'ONWARD'
02/28/20 @ 4:49 pm EST
Source:
Syfy.com
| Categories:
Disney
|
Comments
(0) |
E-mail Article
|
Add a Comment
It's been nearly a year since the deal that allowed the Walt Disney Company to acquire 21st Century Fox and its many entertainment assets was finalized, and we're still seeing the various big and small changes to spin out of that massive acquisition. While many superhero fans have been focused on the impending introduction of the X-Men and Fantastic Four into the Marvel Cinematic Universe, that's far from the only major victory achieved. Disney also got
The Simpsons
, one of the most recognizable and popular entertainment brands in the world, as part of the deal, and the company is still finding ways to make those beloved characters a bigger part of its overall image.
In the past, this has included things like putting
The Simpsons
front and center in ads for things like Disney+, but now it also includes theatrical exhibition. The franchise's official Instagram revealed that, for the first time, the show will premiere a brand-new short film in front of a Disney release. The short, titled "Playdate with Destiny," will follow Maggie Simpson and will play in theaters everywhere in front of Pixar's latest adventure,
Onward
. (via
Syfy.com
)
Onward --
and
The Simpsons
short -- is in theaters March 6.
C2E2: THE NEXT GREAT X-MEN MILESTONE ANNOUNCED
02/28/20 @ 4:39 pm EST
Source:
Marvel
| Categories:
Marvel
|
Comments
(0) |
E-mail Article
|
Add a Comment
Mutant Massacre
.
Age of Apocalypse
.
Messiah Complex
. Some of the most iconic X-Men stories ever told have been realized as large-scale crossovers. This longstanding tradition continues this summer with X OF SWORDS.
Just announced to an enthusiastic crowd of X-Men fans at the X-Men Panel at C2E2, X OF SWORDS will be a 15-part crossover tying into your favorite X-Titles and led by Head of X Jonathan Hickman. In this sprawling saga, the new mutant nation of Krakoa faces their biggest challenge yet. Threatened by powerful forces from the unknown, ten mutants will rise up to defend their home. Arming themselves with legendary blades, both new and familiar ones from Marvel history, mutantkind will finally meet its mystical destiny. Impacting the entire X-Men franchise and setting the stage for the future of mutantkind, X OF SWORDS will be a modern X-Men epic that both longtime and new X-Men fans dare not miss.
"One of the cool things we are able to do now, because we've established the X-line and really know where we're going, is that we're able to try some different things out," said Hickman. "X of Swords will be an old school crossover that meanders through the entire line. It's almost like chapters of a story."
Last year, Jonathan Hickman reshaped the world of the X-Men with the top-selling
House of X
and
Powers of X
. Since then, the X-Men titles have become of the talk of the industry, each telling exhilarating stories set in this exciting new era. Don't miss the next chapter in Hickman's grand vision for Marvel's mutants when X OF SWORDS kicks off in July!
ONI ANNOUNCES SUMMER WEBCOMICS COLLECTIONS
02/28/20 @ 4:32 pm EST
Source:
Oni Press
| Categories:
MIsc
|
Comments
(0) |
E-mail Article
|
Add a Comment
Oni Press adds multiple collections of some of the web's most beloved comics to their 2020 publishing slate. Following up on this month's release of Valerie Minelli's
Mrs. Follein
hardcover collection, and the all-new omnibus editions of Chris Onstad's seminal strip
Achewood
, Oni Press announces three more print editions of modern webcomics for the summer season!
Starting in May, Oni will collect Kyle Latino's
Savage Beard of She Dwarf
, a humorous young adult fantasy webcomic that tells the heartwarming story of a lonely dwarf searching for her place in the world.
She Dwarf believes herself to be the last dwarf in existence. Hoping to find evidence to the contrary, She Dwarf sets out on a mission to find the lost dwarven city of Dammerung. But Dammerung isn't on any map and will not be easily found. Strong forces stand in She Dwarf's way. Begrudgingly forced to take on a partner to aid in her mission, She Dwarf is joined by war barbarian, Hack Battler. Together, the pair will face vengeful shorcs, sludge demons, mutant bear monsters, and more. When warned by an elf named Drift of the dangers of searching for the lost city, She Dwarf will come face to face with the consequences of her quest. Driven by memories of her mother, She Dwarf is more determined than ever to unearth the truth of the dwarves.
Series creator Kyle Latino says "That scrappy little webcomic I drew is gonna be an honest, for-real graphic novel! Don't that just beat all! All seven chapters of the Savage Beard of She Dwarf will be printed in luscious color and hit store shelves next spring! I couldn't have done it without the support of my readers. THANK YOU ALL!"
In June, mainline pure
Hell Was Full
in a first-time collection of Branson Reese's notoriously dark and hilarious webcomic, complete with the infamous alt text and an illogical amount of brand-new material. A group of raccoons gnaw on God's severed head; a man brags to his friend about driving a Transformer out of its own funeral; a toaster revolts against its master. These are just some of the scenes in the pitch-black world of
Hell Was Full
, the popular webcomic that blends the bleak and the absurd into a delicious dadaist cocktail.
"On a scale of one to 'ah oh my god holy shit!' I'm off the charts excited for this collection of comics to hit unsuspecting bookshelves nationwide" says creator Branson Reese. "Working with Oni Press and especially Amanda Meadows has been a dream come true. They've taken my -frankly- disgusting little fever dreams and turned them into an extremely beautiful book. Oh man. You're just gonna flip for this book, I tell ya! Hell of a book!"
In August, hilarious indie comics darling
Frankie Comics
is collected for the first time in this full-color hardcover edition – purrfect for cat lovers everywhere. Fans of Johnny Wander, Pusheen, and Chi's Sweet Home will love this collection of the hit webcomic by Rachel Dukes.
When they discover a kitten asleep in their doorway, real-life artist couple Rachel and Mike immediately fall prey to her charms. Soon, the new queen of their home is a blue point Siamese cat named Frankie. Stealing snacks, making mischief, and taking snuggling very seriously, Frankie proves, again and again, the wholesome joys of a feline companion.
"I started Frankie Comics to amuse myself during a period of isolation in my final year of grad school, and its popularity as a webcomic took me by complete surprise. Creating Frankie, meeting fans, and befriending other cat enthusiasts has changed my life, truly" says creator Rachel Dukes. "Years on, I'm so excited and happy to be releasing a remastered, full-color collection of the series for a new generation of readers – I could purr!"
Look for more information on these new collections and others in the Oni Press summer 2020 lineup in the coming weeks!
Available now is the first-time collection of Valérie Minelli's global hit webcomic,
Mrs. Follein
in a deluxe hardcover.
Valérie Minelli's tremendously popular comics have been stirring emotion in people all over the world with heartfelt and earnest strips making fun of the mundane. These perfectly poignant webcomics find inspiration in the everyday, encompassing rainy coffee mornings, playful relationship adventures, and quiet introspective moments. The small, unexpected minutes that quilt life together.
Small Hours: A Mrs. Frollein Collection
was released in finer comic shops and bookstores everywhere on February 18, 2020.
'INVISIBLE MAN' APPEARS WITH $23M-$25M OPENING WEEKEND
02/28/20 @ 4:27 pm EST
Source:
Deadline
| Categories:
MIsc
|
Comments
(0) |
E-mail Article
|
Add a Comment
Deadline
reports that
The Invisible Man
is on his way to a $9.1M first day, including last night's $1.65M, for a 3-day between $23M-$25M at 3,610 theaters.
Advance ticket sales are reportedly far ahead of Universal/Blumhouse's
Ma
which posted at first day of $7.2M and opening of $18.1M last June. As of this report, ticket sales are surging so by tonight we may see a higher result. At this range, it's a very good start for the $7M Univeral-Blumhouse production.
Get Out
posted a first day of $10.8M, which included $1.8M previews, on its way to a $33.3M start.
Paramount's 3rd weekend of
Sonic the Hedgehog
is taking 2nd with an estimated $13.85M at 4,177 off a Friday of $3.2M (-50%), -47%, and running total by Sunday of $126.1M.
C2E2: SILK RETURNS!
02/28/20 @ 4:15 pm EST
Source:
Marvel
| Categories:
Marvel
|
Comments
(0) |
E-mail Article
|
Add a Comment
Back in 2014, the world learned that Peter Parker wasn't the only one who was bitten by the radioactive spider in
Amazing Fantasy
#15. Equipped with spider powers of her own, Cindy Moon took the Marvel Universe by storm as the beloved super hero Silk! Just announced at C2E2, Silk will weave a new web this July, filled with ruthless new villains including the cat demon Kasha as Cindy takes on a new investigative reporter gig under the one and only J. Jonah Jameson.
Acclaimed novelist Maurene Goo (
I Believe in a Thing Called Love
,
Somewhere Only We Know
) makes her grand foray into comic books alongside superstar artist Takeshi Miyazawa to deliver a thrilling series that will pack action, heart, and relevatory insights about the character. Cindy's new mission will quickly turn as personal as it is deadly and prove Silk to be one of Marvel's most dynamic and intriguing heroes.
"The opportunity to write a Korean American super hero—a woman, no less—is one that I never thought would come my way," Goo said. "I'm so excited to flex this writing muscle and to explore new stories for Silk—a character I love. Her fierceness and loyalty are qualities I understand and relate to, and I hope readers feel the same as she fights new foes and protects old friends."
Don't miss a beat of the latest adventures of Cindy Moon when SILK #1 swings into comic shops in July!
SILK #1 Written by Maurene Goo Art by Takeshi Miyazawa Cover by Stonehouse On Sale July 2020
FIRST TIME EVER! MCFARLANE DRAWS SPAWN & SPIDER-MAN TOGETHER!
02/28/20 @ 11:30 am EST
Source:
Twitter
| Categories:
MIsc
|
Comments
(0) |
E-mail Article
|
Add a Comment
Todd McFarlane, one of the artists famed for leaving Marvel Comics to form Image Comics in the 1990s, has returned to the web, so to speak. And brought his greatest creation with him.
McFarlane has tweeted out an image of Spider-Man and his mega-creation, Spawn, together for the first time! The rendering is for a new cover to this year's Overstreet Comic Book Price Guide.
On
Twitter
accompanying the drawing, the comics creator wrote:
"This is a momentous occasion in Comic Book History! It's been 27 years since I left @Marvel Comics and drew Spider-Man professionally. But for the first time ever, Spawn and Spider-man, TOGETHER!"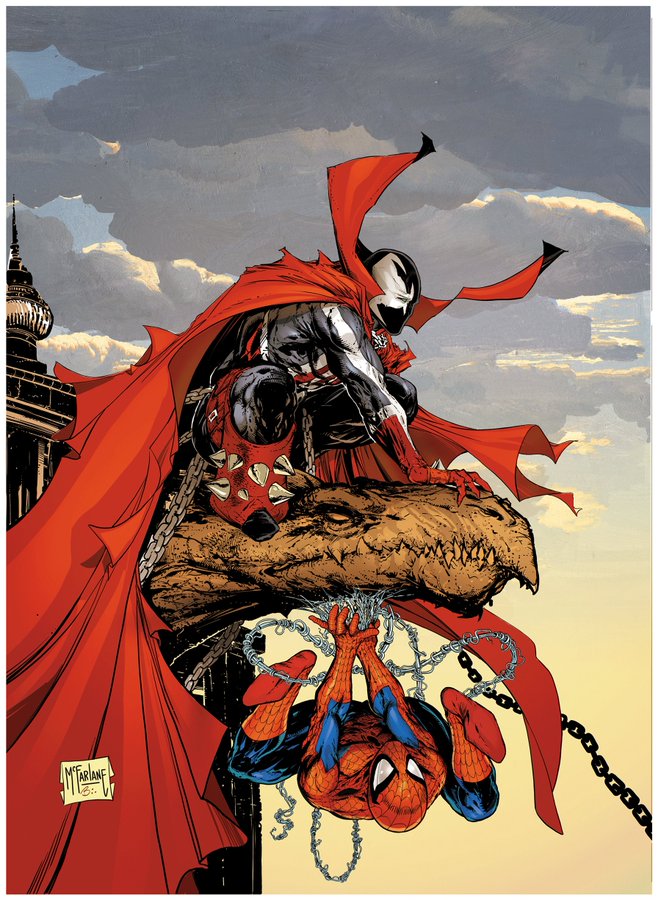 'PENNYWORTH' ADDS FIVE NEW SERIES REGULARS AS PRODUCTION BEGINS ON SEASON 2
02/28/20 @ 11:18 am EST
Source:
Deadline
| Categories:
DC
|
Comments
(0) |
E-mail Article
|
Add a Comment
James Purefoy (
The Following, Sex Education
), Edward Hogg (
Taboo, Harlots)
, Jessye Romeo (
Curfew, In the Long Run
), Ramon Tikaram
(Brassic, The Victim
) and Harriet Slater
(Faunutland and the Lost Magic)
are set as series regulars opposite Jack Bannon for the upcoming second season of Epix's DC origin story
Pennyworth,
from Warner Horizon Scripted Television.
Purefoy, Hogg and Romeo are new cast members for the upcoming season, and Tikaram and Slater, who recurred in season 1, have been promoted to series regulars. The 10-episode sophomore season began production in the UK in January at Warner Bros. Studios Leavesden, with an eye towards a summer 2020 premiere on Epix.
Purefoy will play Captain Gulliver Troy. Alfie's former SAS Captain, Gulliver Troy is a charismatic, cultured brute and a powerful man of appetites – whether that be drink, women or danger.
Hogg will portray Colonel Salt. A would-be despot masquerading as an obedient civil servant, Salt is a calculating killer, whether by pen or sword. (via
Deadline
)
Romeo will play Katie Browning. An idealistic art student whose life is uprooted by civil war, Katie is righteous, defiant and wonderfully naive.
Tikaram is Inspector Victor Aziz. Season one's charming, sardonic Inspector Aziz returns, keeping his clear head and dry wit even as London descends into chaos.
Slater is Sandra Onslow. Budding 60s starlet, Alfie's on-again-off-again girlfriend, Sandra, is now resident singer in his club, with dreams of becoming the next Sandie Shaw.
NEW 'MONSTER HUNTER' MOVIE POSTERS REVEALED
02/28/20 @ 11:12 am EST
Source:
IGN
| Categories:
MIsc
|
Comments
(0) |
E-mail Article
|
Add a Comment
The
Monster Hunter
movie has two new teaser posters which have been revealed by
IGN
.
The posters show stars Tony Jaa and Milla Jovovich respectively, each holding weaponry drawn from the game series. Jaa, who plays The Hunter, is holding the Great Hunter's Bow, Jovovich (playing Lieutenant Artemis) totes a Great Sword, the Giant Jawblade. The desert setting they're in is based on the look of Monster Hunter World's Wildspire Wastes area.
The film arrives in theaters on September 4.
'THE INVISIBLE MAN' SHOWS UP WITH $1.65M ON THURSDAY NIGHT
02/28/20 @ 11:03 am EST
Source:
Deadline
| Categories:
MIsc
|
Comments
(0) |
E-mail Article
|
Add a Comment
Deadline
reports that Universal-Blumhouse's
The Invisible Man
made its first appearance last night at 7PM shows nationwide with $1.65M, an an amount of cash that's near both studios' previous collaborations,
Get Out
($1.8M Thursday) and
Split
($2M).
Both 2017 titles overperformed their $20M-predicted tracking at the time, with
Split
posting a $40M start, and
Get Out
taking $33.3M.
Invisible Man,
directed and written by Leigh Whannell, is forecasted to be in the mid to high $20M range, a solid start for the $7M net production shot with Australian tax credits; however, like
Split
and
Get Out,
it's expected to go higher potentially in the $30M+ zone.
Exits and reviews indicate that's possible with
Invisible Man
's Rotten Tomatoes score at 92% Certified Fresh being just under
Get Out
's 98% certified fresh, but much higher than
Split
's 77% certified fresh and
Halloween
's 79% certified fresh. The RT score is key because that's the catalyst which will persuade non-genre diehards to buy tickets.
'DAY OF THE DEAD' AND 'THE SURREALTOR' TV SERIES ORDERED BY SYFY
02/28/20 @ 11:00 am EST
Source:
Deadline
| Categories:
MIsc
|
Comments
(0) |
E-mail Article
|
Add a Comment
Deadline
reports that Syfy has given 10-episode straight-to series orders to
Day of the Dead,
based on George A. Romero's classic zombie film, from Cartel Entertainment (
Creepshow
); and
The Surrealtor,
from Blue Ice Pictures (
Ginny and Georgia)
. Both are expected to air on Syfy in 2021.
The Day of the Dead
order follows the straight-to-series pickup by Syfy of another classic horror movie title,
Chucky,
as the network continues to expand its slate into the horror genre. Syfy has been investing in high-end scripted content with a focus on edgy, younger-skewing shows with off-kilter sensibility, including comic book adaptations.
The NBCUniversal cable network, which is mounting a major push in animation, also has been increasingly betting on straight-to-series orders vs. pilots with four in a row:
Vagrant Queen
, based on the comic and also produced by Blue Ice Pictures,
Chucky, Day of the Dead
and
The Surrealtor.