ARNOLD SCHWARZENEGGER IN MINOR CAR ACCIDENT
01/22/22 @ 2:49 pm EST
Source:
Deadline
|
Comments
(0) |
E-mail Article
|
Add a Comment
Reports of former Terminator actor and ex-California Governor
Arnold Schwarzenegger
having been in a cart accident are coming in with photos of the actor shown at the scene. The accident happened about a mile from Schwarzenegger's home at the intersection of Sunset Boulevard and Allenford Avenue near Paul Revere Charter Middle School according to LAFD officials. The incident involved his GMC Yukon, a Toyota Prius and a Porsche Cayenne with photos showing the GMC up on top of the Prius. The only reported injury was to an unidentified woman who was taken by paramedics to a hospital, but her injuries were described as minor. Shwarzenegger's involvement was not confirmed by officials and the cause of the crash is under investigation. TMZ has photos from the scene.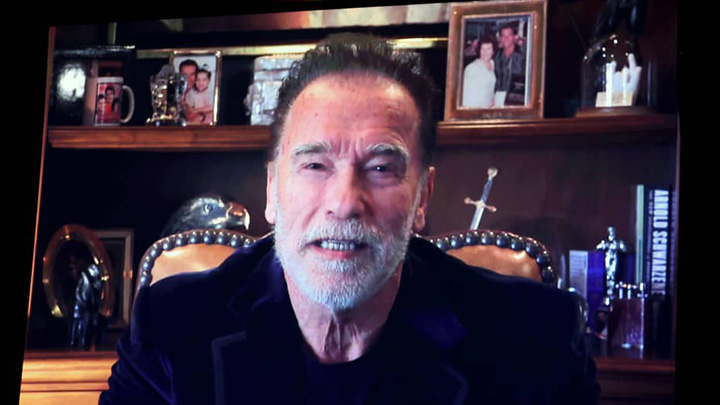 WASP LEADS AN AVENGERS TEAM INTO MURDER AND MYSTERY
06/10/23 @ 11:17 am EST
Source:
Marvel.com
|
Comments
(0) |
E-mail Article
|
Add a Comment
60 years ago, Janet Van Dyne stood alongside Earth's Mightiest Heroes as they assembled for the very first time and named them the AVENGERS! Now, during the team's milestone anniversary year, she'll lead them into all-new territory in a brand-new AVENGERS title—AVENGERS INC.! Debuting in September, this sharp new series will be crafted by two Marvel masterminds: writer Al Ewing and artist Leonard Kirk. Known for taking some of Marvel's greatest icons into fresh and unexpected directions in titles like
Immortal Hulk
and
Loki: Agent of Asgard
, Ewing now delivers that same treatment to the Avengers mythos by blending noir and super hero storytelling for suspenseful adventures unlike any in Avengers history. With acclaimed work in dynamic comic book titles like the pulpy
X-Factor
and the recent horror-fueled
Sabretooth
series, Kirk is the perfect artist to mix thrilling Avengers action with tense investigating and super powered sleuthing. Together, Ewing and Kirk will introduce readers to a whole new style of Avenging. It kicks off with a deadly conspiracy rooted in the ghosts of the Avengers' past that only founding Avenger Wasp can solve. But she won't be alone as she finds a new partner in Victor Shade! This former alias of Vision mysteriously resurfaces just as Janet discovers a score of super villain murders. Will he guide Wasp to the truth or is his familiar guise hiding the very clues Janet needs to crack the case? Fans can expect guest stars galore as this pulse-pounding series moves forward. The series will also pack direct connections to the other current Avengers ongoing series, Jed MacKay and C.F. Villa's
Avengers
. Her name is Janet Van Dyne. She's a hero. She's a celebrity. She's hunting a killer. His name is Victor Shade. He's a villain. He's an enigma. He just got killed. And together, they're out to solve every mystery in the Marvel Universe...starting with their own. "AVENGERS INC. takes the beating, buzzing heart of the original Avengers, teams her up with an undead mystery man with an identity so secret even he doesn't know it, and sends them both out to solve the most amazing, fantastic and uncanny whodunnits the Marvel Universe has to offer!" Ewing explained. "It's kind of a classic 'will-they-won't-they' crime-solving partnership - or it would be if the 'will-they' in question was 'save the world from...' well, that'd be telling. See you in September!" "I am unsure what can be said of AVENGERS INC. without spoiling anything for the readers. I can say this is a fun and intriguing take on some familiar characters that leans more into detective skills over super strength, wit rather than eye beams and cunning instead of small, genetically mutated, furry creatures," Kirk added. "Al is doing a bang up job with this and I am having a load of fun. I hope the audience does too." See superstar artist Daniel Acuña capture the spirit of the series in the first of his AVENGERS INC. covers and stay tuned for more news about this exciting new Avengers series arriving in September! For more information, visit
Marvel.com
.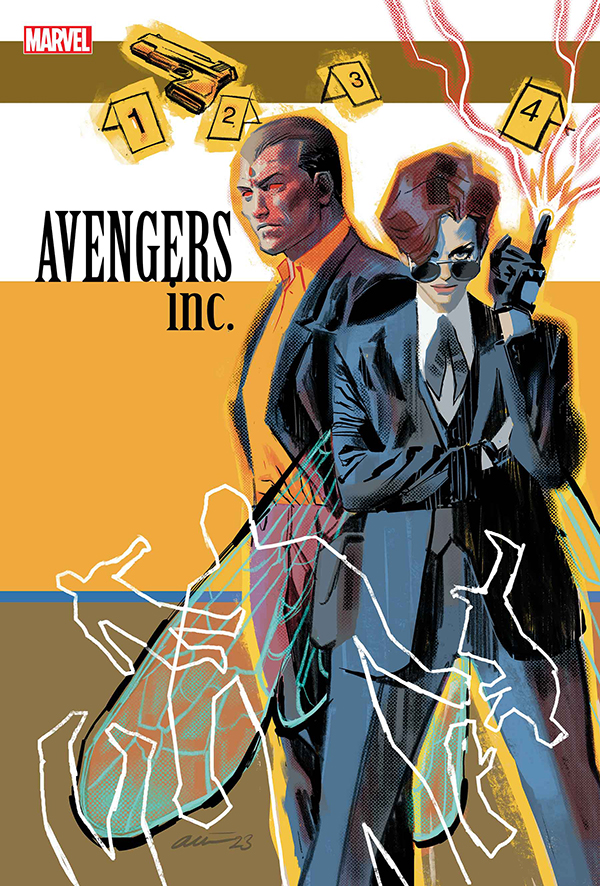 BIG EVENTS AND CAMEOS COMING FOR ANDOR
06/10/23 @ 11:13 am EST
Source:
Entertainment Weekly
|
Comments
(0) |
E-mail Article
|
Add a Comment
With the upcoming second and final season of
Andor
in the works, the question of cameos from
Rogue One
comes up as we know the season will lead directly into where the movie starts. This means that Cassian Andor, played by
Diego Luna
, could meet some of those characters from the
Tony Gilroy
film in the Tony Gilroy series. Previously Alan Tudyk, who voiced K-2SO previously had said that he would be reprising the role for the series but not in the first season.
Entertainment Weekly
asked Gilroy about the potential of cameos coming up:
"Of course. Yeah, I mean, yes. The answer is yes. And there are some that are inevitable, there are some that are surprising, there are some that we probably can't get for various reasons… But, you kinda know who's in the stew there. You certainly know who's gonna be on Yavin 4. [Cassian] and Mon Mothma have a scene together in 'Rogue [One]'. So yeah… And the calendar's inevitable, in some ways, for the people in this convention, for the people who really know this five years, there's some big events on the calendar that we have to pay attention to. And we will."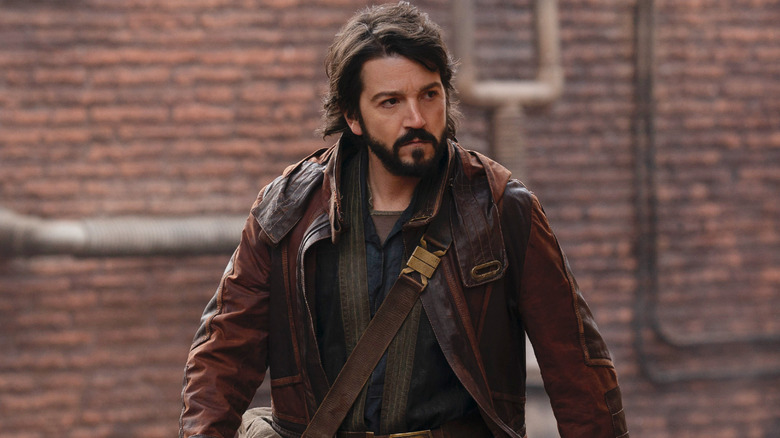 TOM HOLLAND ON HIS FUTURE AS SPIDER-MAN
06/10/23 @ 11:03 am EST
Source:
Inverse
|
Comments
(0) |
E-mail Article
|
Add a Comment
Even with announcing plans to take a year away from acting,
Tom Holland
recently got asked about the possibility of future
Spider-Man
movies for him. The young actor told
Inverse
:
"I'm going to have to plead the fifth there because I'm not prepared to start talking about the future of Spider-Man."
He went on to add:
"Whether or not it'll come to fruition, who knows? But right now it's looking pretty good, and we'll just have to wait and see."
But Holland sees himself as lucky to put on the mask:
"As everyone knows, I love him. He changed my life. I love the character. Should we find a way to tell his story and do justice to him, we will do so. But if we can't find a way to do that, and if we can't find a way to compete with the third one, then you know, he'll swing off into the sunset."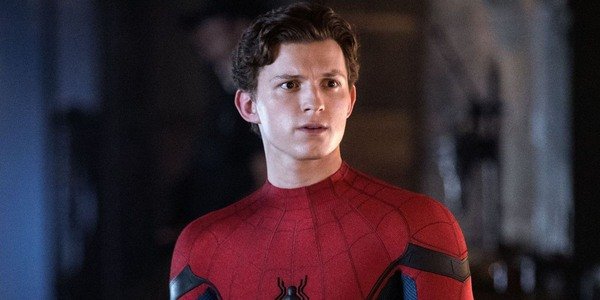 YOUNG ROCK CANCELLED AT NBC
06/10/23 @ 10:53 am EST
Source:
Deadline
|
Comments
(0) |
E-mail Article
|
Add a Comment
NBC has cancelled
Young Rock
after three seasons. There series' ratings dropped quite a bit over the last years going from 2.23 million viewers and a 0.39 rating in season two down to 1.4 million viewers and a rating of 0.25 this most recent time around… and both of those were down from the 3 million viewer average from its debut season. The series focused on the life of
Dwayne Johnson
growing up with his family while surrounded by professional wrestlers on into his time of playing college football all leading into the action star he is today. Johnson starred alongside
Joseph Lee Anderson
,
Stacey Leilua
,
Ana Tuisila
,
Adrian Groulx
,
Bradley Constant
,
Uli Latukefu
,
Fasitua Amosa
,
John Tui
and
Matthew Willig
.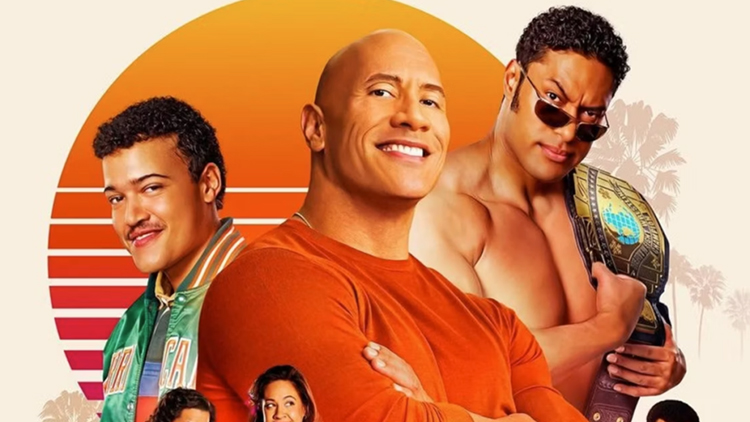 DC REVEALS FIRST LOOK AT NEW 'BIRDS OF PREY' RELAUNCH
06/09/23 @ 5:11 pm EST
Source:
ComicBook
| Categories:
DC
|
Comments
(0) |
E-mail Article
|
Add a Comment
The Birds of Prey are about to take flight once again!
On Friday, DC unveiled the first full details surrounding the upcoming
Birds of Prey
ongoing series, which will launch out of the Dawn of DC initiative in September. The new
Birds of Prey
book will be penned by Kelly Thompson, with art from Leonardo Romero and colors from Jordie Bellaire. The book's existence, and its potential roster, have captivated the Internet across the week, with Thompson announcing a new member of the team each day. Led by Dinah Lance / Black Canary, the team also includes Cassandra Cain / Batgirl, Big Barda, Lady Zannah / Zealot, and (as Thompson announced on Friday) Harley Quinn.
In
Birds of Prey
, Dinah Lance is one of the DC Universe's most elite fighters, and combined with her sonic scream, she's a fearsome foe in any scenario…but sometimes even the Black Canary needs help. Faced with a personal mission brought to her by a mysterious new ally, and up against near-impossible odds, she re-forms the Birds of Prey with an unrivaled group—Cassandra Cain, Big Barda, Zealot, and Harley Quinn—with only one goal: extraction of their asset at any cost. What could possibly go wrong?
"When I say this is a dream come true for me, I mean not just working on the iconic
Birds of Prey
title, but also the characters we were able to fold in, and the creative team we assembled," Thompson said in a statement. "Leonardo Romero and Jordie Bellaire were two of my first partners-in-crime making superhero books and I've been trying to make this happen ever since. It won't surprise anyone to learn that Leonardo and Jordie are even better than they were the last time we worked together—and working together on this wild book is pure magic." (via
ComicBook.com
)
'SKULL ISLAND' UNLEASHES KONG WITH NEW TRAILER
06/09/23 @ 3:06 pm EST
Source:
ComicBook
| Categories:
King Kong
|
Comments
(0) |
E-mail Article
|
Add a Comment
Kong is still licking his wounds from fighting against Godzilla in the recent crossover, but the ruler of Skull Island is looking to make a comeback on Netflix this summer with the new animated series, Skull Island. While the giant primate won't be fighting against the current king of the monsters, the upcoming series is slated to introduce some wild new beasts for Kong to fight. Now, a new trailer has given kaiju fans a closer look at not just Kong but the human characters that will populate the Legendary production bringing fans back to the Monsterverse.
Kong is actually set to return on a few fronts, not just hitting Netflix on June 22nd this month but a sequel to the Godzilla/Kong crossover arriving next year. Godzilla x Kong: The New Empire has already featured a first look at a new kaiju that might cause problems for both popular giant beasts. In terms of the upcoming animated series, it has yet to be seen which human characters, if any, from the live-action franchise will make a comeback here, though it's clear that the series is looking to populate its episodes with some wild kaiju to fill its runtime, including what appears to be a giant bulldog. (via
ComicBook.com
)
Skull Island trailer:
https://youtu.be/ZW6yJMeUjGg
HUGH GRANT JOINS 'HERETIC,' A24 HORROR MOVIE FROM 'A QUIET PLACE' DUO
06/09/23 @ 2:56 pm EST
Source:
Deadline
| Categories:
MIsc
|
Comments
(0) |
E-mail Article
|
Add a Comment
Following the release of his Paramount/eOne fantasy pic
Dungeons & Dragons: Honor Among Thieves
to critical acclaim and over $200M at the WW box office, Golden Globe winner Hugh Grant has entered talks to star in
Heretic
, a new horror film to be directed for A24 by Scott Beck and Bryan Woods, who also penned the script.
Plot details are officially under wraps, but the film is rumored to center on two young women of faith who are lured into a cat-and-mouse game in the home of an eccentric man. No word yet on who will be producing.
Featuring in the
Dungeons & Dragons
film adaptation as the rogue villain Forge, Grant has in recent years showcased all-new facets of his range in projects like the hit psychological thriller
The Undoing
, a limited series that was HBO's most-watched show of 2020, and Prime Video's
A Very English Scandal
, which had him playing Jeremy Thorpe, the member of the UK Parliament tried and acquitted on charges of conspiracy and incitement to murder his ex-boyfriend. (via
Deadline
)
THE CAST OF HICKMAN & SCHITI'S 'G.O.D.S.' DESCENDS INTO THE X-MEN'S 'HELLFIRE GALA'
06/09/23 @ 2:52 pm EST
Source:
Marvel
| Categories:
X-Men
|
Comments
(0) |
E-mail Article
|
Add a Comment
This July, mutantkind will host another game-changing night in X-MEN: HELLFIRE GALA 2023 #1 and all of the major players of the Marvel Universe are invited—including all-new characters that are set to debut this fall in Jonathan Hickman and Valerio Schiti's G.O.D.S.!
Fans can see Wyn, who recently debuted in FREE COMIC BOOK DAY: AVENGERS/X-MEN #1, alongside his rival Aiko Maki and assistant Dimitri on a newly announced variant cover for the one-shot by Valerio Schiti. With Eternity looming in the background, Schiti, designer and co-creator of the characters, captures this trio's frightening gravitas as they approach the X-Men's Hellfire Gala to witness the tragic onset of the FALL OF X! And within the pages of X-MEN: HELLFIRE GALA 2023 #1, these characters will make their first-ever appearance as they confront the X-Men face to face. After achieving immortality and terraforming Mars, mutantkind may think themselves gods, but when it comes to the building blocks of creation and the crossroads of magic and science, there's so much they and readers alike don't know…
The highly-anticipated G.O.D.S. series will see two of the comic book industry's greatest modern visionaries team up to revolutionize the Marvel Comics cosmology. In addition to seeing iconic omnipotent forces like Eternity, Infinity, and the Living Tribunal in shocking new light, readers will also meet the mysterious agents of THE-NATURAL-ORDER-OF-THINGS and THE-POWERS-THAT-BE, two factions that have schemed and clashed with each other for eons. What is a Babylon Event and why will its' occurrence finally bring this never-ending war out of the shadows?
"When I was given a chance to work with Jonathan on a new project, I accepted right away," Schiti said. "Then I discovered that we would be reimagining gods in the Marvel Universe: how they work, what they do, and how they interact with each other and humanity. It's the kind of project that makes you weak in the knees when you think about it. Luckily, Jonathan has the gift to make even the most complex stories surprisingly simple and understandable. His pitch inspired me almost immediately. The core of the story is so perfect and clear that it swept away my anxiety and turned it into a burst of creativity."
Check out Schiti's new cover below and get more hints at the full scope of the G.O.D.S. mythology in X-MEN: HELLFIRE GALA 2023 #1 on July 26!
SEAN MURPHY COVERS 'ALICE NEVER AFTER' #1
06/09/23 @ 2:44 pm EST
Source:
BOOM! Studios
| Categories:
MIsc
|
Comments
(0) |
E-mail Article
|
Add a Comment
BOOM! Studios today revealed the variant cover by Sean Murphy (
Batman: White Knight
) for ALICE NEVER AFTER #1, a new and haunting adventure from writer Dan Panosian (
An Unkindness of Ravens
), artists Giorgio Spalleta (
Magic
) with Cyril Glerum, colorist Francesco Segala with Gloria Martinelli, and letterer Jeff Eckleberry. Join Alice in another twisted take on
Alice in Wonderland
and continue to blur the lines between fantasy and reality this July.
Alice finally got her wish. Wonderland has become her new home, but with her abuser's avatar with the uncanny grin turning the mad residents of a moonstruck world against her, she's clawing for a little rationality amongst the chaos.
As Alice's sister Edith and her childhood friend Earl fight for a way to bring her back, Alice has to contend with whether or not her torment is due to her father, herself, or maybe a curious combination of both…
ALICE NEVER AFTER #1 features covers by series creator Dan Panosian, Jenny Frison (
Wonder Woman
), and InHyuk Lee (
Alien
).
ALICE NEVER AFTER is the newest release from BOOM! Studios' eponymous imprint, home to critically acclaimed original series, including
BRZRKR
by Keanu Reeves, Matt Kindt, and Ron Garney;
Something is Killing the Children
by James Tynion IV and Werther Dell'Edera;
Once & Future
by Kieron Gillen and Dan Mora; Eve by Victor LaValle and Jo Mi-Gyeong;
The Many Deaths of Laila Starr
by Ram V and Filipe Andrade;
Wynd
by James Tynion IV and Michael Dialynas;
Grim
by Stephanie Phillips and Flaviano;
Briar
by Christopher Cantwell and Germán García;
Stuff of Nightmares
by R.L. Stine and A.L. Kaplan;
The Approach
by Jeremy Haun, Jason A. Hurley, and Jesus Hervas;
Damn Them All
by Simon Spurrier and Charlie Adlard;
Behold
,
Behemoth
by Tate Brombal and Nick Robles;
Specs
by David M. Booher and Chris Shehan;
Once Upon a Time at the End of the World
by Jason Aaron, Alexandre Tefenkgi, Leila del Duca, and Nick Dragotta;
Know Your Station
by Sarah Gailey and Liana Kangas;
A Vicious Circle
by Mattson Tomlin and Lee Bermejo;
Mosely
by Rob Guillory and Sam Lotfi;
Harrower
by Justin Jordan and Brahm Revel;
The Neighbors
by Jude Ellison S. Doyle and Letizia Cadonici; and
The Seasons Have Teeth
by Dan Watters and Sebastián Cabrol. The imprint also publishes popular licensed properties, including
Dune: House Harkonnen
from Brian Herbert, Kevin J. Anderson, and Michael Shelfer;
Mighty Morphin Power Rangers
from Melissa Flores and Simona Di Gianfelice; Magic from Jed McKay, Rich Douek, and Ig Guara; and
The Expanse: Dragon Tooth
by Andy Diggle and Rubine.
ALICE NEVER AFTER will be available in comic shops on July 26, 2023. It is available for pre-order at your local
comic shop
. Digital copies can be purchased from content providers, including comiXology, iBooks, Google Play, and Kindle.
STAN LEE DOCUMENTARY TRAILER RELEASED BY MARVEL STUDIOS
06/09/23 @ 2:25 pm EST
Source:
ComicBook
| Categories:
Stan Lee
|
Comments
(0) |
E-mail Article
|
Add a Comment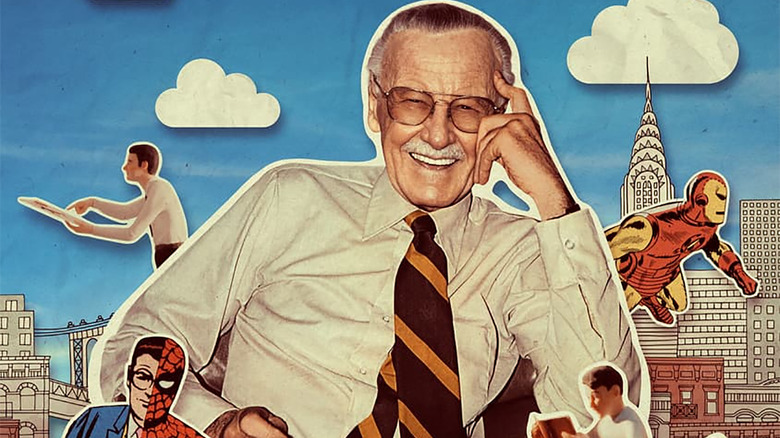 Marvel Studios has revealed the trailer for its
Stan Lee
documentary.
There will be a lot of emotional remembrances of the legendary comics creator when it hits Disney+ on June 16th. He would have turned 100 last year and Marvel announced the project to widespread applause. The joyous look back on his illustrious career is something a lot of fans have been looking forward to for a while.
As it stands, we have no more Stan Lee Marvel cameos to speak of. Longtime fans of Spider-Man, Iron Man, The Hulk, and other famous characters will have a lot to digest when the documentary hits Disney+.
The trailer does a pretty good job of capturing what made Stan Lee such a charismatic figure in comics fandom for all these years,
ComicBook.com
reports. His love for the characters and the fans made him a mainstay of this medium. As he aged, seeing Stan Lee in person became a huge honor for not only the people that read his work but also people who played these heroes on-screen.
Stan Lee
trailer:
https://youtu.be/rN45yyu_rCw