WHAT IF PETER PARKER BECAME VENOM?
01/20/21 @ 9:20 am EST
Source:
Marvel
| Categories:
Marvel
|
Comments
(0) |
E-mail Article
|
Add a Comment
This April, writer Chip Zdarsky and artist Pasqual Ferry team up for a Spider-Man story like none other in SPIDER-MAN: SPIDER'S SHADOW. The critically acclaimed writer, currently wowing readers with his Eisner-nominated work on Daredevil, has crafted a thrilling saga that will explore Peter Parker's dark side. Superstar artist Pasqual Ferry (
The Mighty Thor
) and colorist Matt Hollingsworth (
Hawkeye
) join him to bring to life one of the most ruthless Spider-Man stories Marvel Comics has ever told.
Peter Parker once put on an alien suit that nearly destroyed his life – but what if he'd never taken it off? Ignoring every warning, Spidey embraces the dark symbiote! Haunted by terrible nightmares and exhausted by an endless barrage of bad guys, Peter can't seem to catch a break these days. So when the Hobgoblin attacks, he finds a hero at the end of his rope…and vulnerable to new dark impulses. Spider-Man is about to change his rules – but is it truly Peter who is in charge?
"I'm thrilled to be kicking off a new era of "WHAT IF" stories with this tale of a Spider-Man gone bad! How bad will he be? Will he have a goatee and no hyphen in his name? Pick up issue one to find out! But seriously, I feel that with SPIDER'S SHADOW we're exploring some dark situations with Spidey and the Marvel Universe, while making it cool and fun to read. I think longtime fans will love it and new readers will be amazed at what Marvel lets us do," Zdarsky teased. "Pasqual and Matt are producing amazing work on this book. When every page comes in, I share them with all of my friends even though Marvel says I'm not allowed to do that."
"Since I started working at Marvel some long years ago, I always dreamed of drawing Spider-Man, I came close a couple of times to get it, but the God of Thunder and Iron Man got in the way at the last moment— which were quite a joy too. So when I was offered the opportunity to draw this miniseries, you can imagine my happiness. In addition, I always wanted to experiment with the black suit from
Secret Wars
so the icing on the cake was doing that in the form of a "What If" series set at the beginning of that journey," Ferry said. "Chip's script is really shocking and surprising, a delight for someone fan of the character like me, and I'm sure it will catch the readers as much as it is drawing it with me. Hold on to the seats, because SPIDER'S SHADOW is going to surprise you in a way that you cannot imagine!"
Check out the cover by Phil Noto below and don't miss this terrifying tale when SPIDER-MAN: SPIDER'S SHADOW #1 hits stands in April.
WAS WANDAVISION NAME CHOICE ONE LAST SITCOM NOD?
03/06/21 @ 4:13 pm EST
Source:
IMDB
|
Comments
(0) |
E-mail Article
|
Add a Comment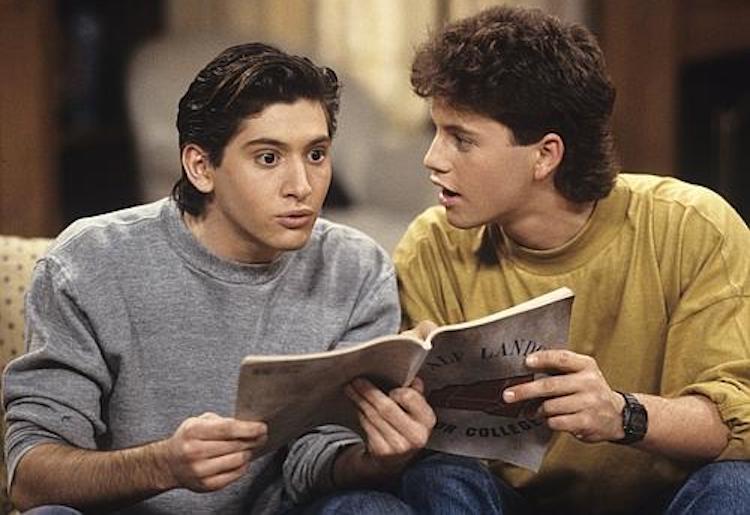 * Spoiler if you haven't see the Wandavision Finale *
Of all the interesting reveals in the series finale of
WandaVision
, the one that threw people the most was the revelation of Fake Pietro's real name. Discovered by Monica Rambeau (
Teyonah Parris
) from some mail and a head shot, it seems the character
Evan Peters
has actually been playing is named Ralph Bohner. And while the surname could be pronounced Bay-Ner as former Speaker of the House John Bohner used, the show called him Bow-Ner which Peters' mind-controlled character even laughed at.
But it is possible that this was one last nod to the sitcom motif the show had been running with. The series director
Matt Shakman
was a child actor himself and worked on a series called
Just the Ten of Us
, which was basically a spin-off of the series
Growing Pains
. And while the series starred folks like
Alan Thicke
,
Kirk Cameron
and
Tracey Gold
, one of it's stand out characters was Richard "Boner" Stabone played by
Andrew Koenig
, the son of
Star Trek
alum
Walter Koenig
.
DISNEYLAND TO REOPEN IN APRIL AFTER A YEAR
03/06/21 @ 3:49 pm EST
Source:
Entertainment Weekly
|
Comments
(0) |
E-mail Article
|
Add a Comment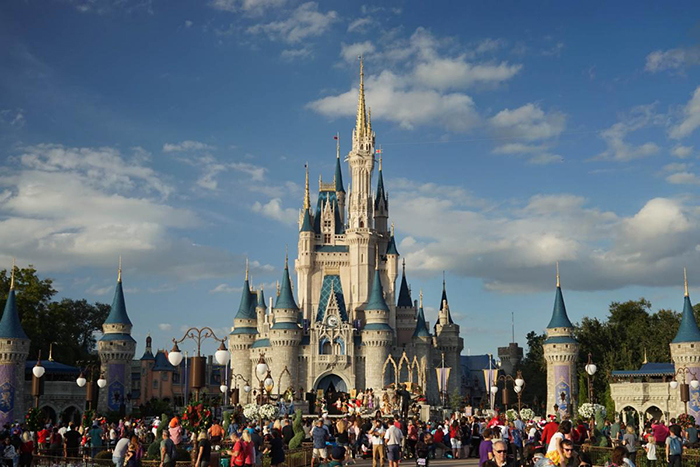 Most of the focus involving Disney of late has been centered on their streaming platform, and that's in part due to the fact that their Southern California amusement parks have been shut down. That's about to change. On Friday, California Health and Human Services Secretary
Mark Ghaly
announced that Disneyland and other amusement parks would be allowed to reopen at limited capacity starting on April 1st.
Case of COVID-19 have been dropping recently following the holiday surge and as long as the trend continues, the parks will be allowed to remain open. The rate of infection must remain below 7 cases per 100,000 in a county.
Disneyland closed in March of 2020, but its sister park Disneyworld in Orlando, Florida, has been open since July in a limited capacity. The park is said to have stringent safety measures including a mask mandate and has had not reported outbreaks.
JOHN STAMOS TIPS HAT TO ELIZABETH OLSEN
03/06/21 @ 3:32 pm EST
Source:
Instagram
|
Comments
(0) |
E-mail Article
|
Add a Comment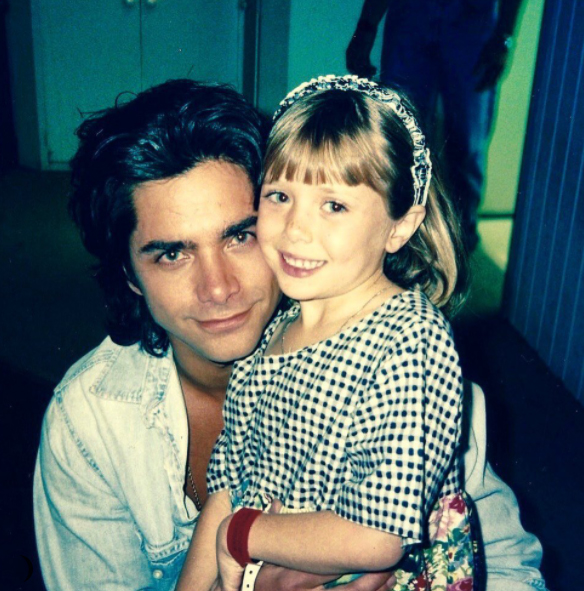 Elizabeth Olsen
is getting rave reviews for her performance as Wanda Maximoff in the Disney+ series
WandaVision
, but some of the sweetest praise comes from an old family friend of sorts. Olsen grew up around the set of
Full House
as her sisters Mary=Kate and Ashley shared the role of Michelle Tanner. One of the adult stars of the series,
John Stamos
, remembers Elizabeth fondly and posted a photo from back in the day to Instragram with a note.
"One day she's a little girl wandering the set, and next thing you know, she's taking over a whole town, mind-controlling the citizens to play out her favorite TV sitcoms! They grow up so fast…"
Stamos will also be on Disney+ in a new show called
Big Shots
that debuts in April.
SPIELBERG AND DUFFER BROS TO ADAPT KING/STRAUB NOVEL THE TALISMAN
03/06/21 @ 3:13 pm EST
Source:
The Hollywood Reporter
|
Comments
(0) |
E-mail Article
|
Add a Comment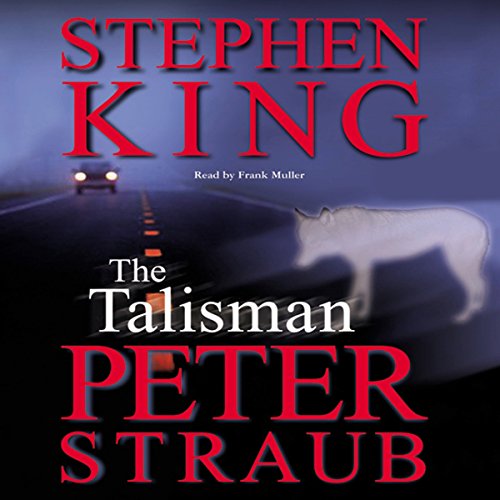 Steven Spielberg
really liked the idea of the
Stephen King
and
Peter Straub
novel
The Talisman
that he acquired the rights two years prior to the book being published and in perpetuity back in 1982. And according to
The Hollywood Reporter
, his 35 years spent developing the property is over as things are finally moving forward.
Spielberg's Amblin Television and Paramount Television Studios are teaming with
Stranger Things
creators the
Duffer Brothers
to adapt the novel for Netflix. They'll be bringing in
Curtis Gwinn
, who also worked on
Stranger Things
, to act as writer and showrunner for the project.
Talisman
is about Jack Sawyer, a 12-year-old boy, who sets out on an epic quest to save his dying mother. He searches for a talisman that can both save his mother and the world, but he must travel between the real world and a fantasy world called the Territories.
King and Straub released a sequel in 2001 called
Black House
that follows an adult Jack as a retired L.A. homicide detective trying to solve a series of murders in a small town in Wisconsin.
MARVEL LEGENDS FOR FALCON AND WINTER SOLDIER DROP EARLY
03/06/21 @ 2:43 pm EST
Source:
Disney+
|
Comments
(0) |
E-mail Article
|
Add a Comment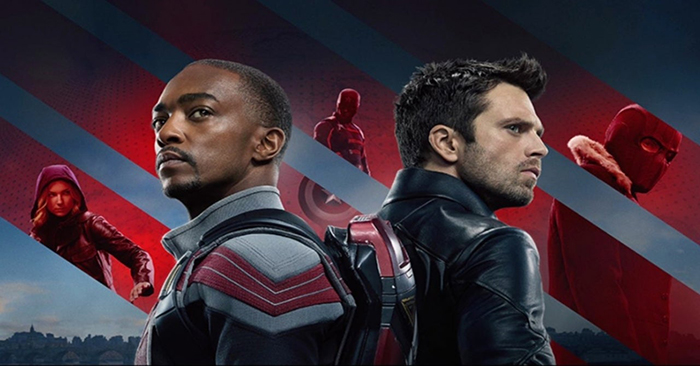 There seems to be a pattern forming on
Disney+
where they show a series, then take a week off before starting a new series and in that week in between they show a behind-the-scenes episode of the last show and give us something to set up the new series. At least that's what they did in the space between
The Mandalorian
and
WandaVision
. It was expected to be the same between
WandaVision
and the upcoming The Falco and the Winter Soldier. That seems to have slightly changed.
They released a
Star Wars: Gallery
for
the Mandalorian
and the week before
WandaVision
started they posted a new show called
Marvel Legends
with recap episode focused on Wanda Maximoff and The Vision. There is a look at the making of
WandaVision
scheduled for Friday March 12th and the new series starts the following Friday. But the
Marvel Legends
for The Falcon and The Winter Soldier have already been posted as of yesterday.
Each is a 7 to 8 minute recapping of the characters time in the MCU, in this case focusing on such films as
Captain America: The First Avenger
,
Captain America: The Winter Soldier
,
Captain America: Civil War
,
Avengers: Infinity War
and
Avengers: End Game
. Oh, and of course Falcon's appearance in
Ant-Man
.
The Falcon and the Winter Soldier
will be a six episode series running from March 19th to April 23rd and stars
Anthony Mackie
,
Sebastian Stan
,
Emily VanCamp
,
Daniel Brühl
,
Wyatt Russell
and
Erin Kellyman
and will feature the return of characters like Sharon Carter, Helmut Zemo and Batroc the Leaper.
'ZACK SNYDER'S JUSTICE LEAGUE' SUPERMAN TRAILER RELEASED
03/05/21 @ 1:50 pm EST
Source:
ComicBook
| Categories:
DC
|
Comments
(0) |
E-mail Article
|
Add a Comment
After a teaser released yesterday and centering on the Dark Knight, today it's the Man of Steel.
Superman (Henry Cavill) sports his black costume and silver glyph in a new image and short clip released via social media. Cavill was the first member of the Justice League to be cast or appear onscreen, originating his version of Clark Kent in 2013's
The Man of Steel
-- a movie that enjoyed a virtual screening that proved to be the setting for the
Zack Snyder's Justice League
announcement last year. The black costume, of course, also debuted in that film -- but only in a dream sequence, first appearing "for real" in the forthcoming release.
The film will spotlight a number of things that were originally planned for Snyder's two
Justice League
movies, including Darkseid, Granny Goodness, and other characters from Jack Kirby's
The New Gods
. Those characters would have interacted quite a bit more with Superman, had Snyder's multi-movie arc for the character played out as expected. (via
ComicBook
)
To see the teaser,
click here
.
FOUR GENERATIONS OF CAPTAIN AMERICA TEAM UP TO CELEBRATE THE HERO'S 80TH ANNIVERSARY
03/05/21 @ 1:40 pm EST
Source:
Marvel
| Categories:
Marvel
|
Comments
(0) |
E-mail Article
|
Add a Comment
Steve Rogers. John Walker. Bucky Barnes. Sam Wilson. In honor of the iconic hero's 80th anniversary, these four heroes who have taken up the mantle of Captain America will team up this June in a brand-new limited series THE UNITED STATES OF CAPTAIN AMERICA.
Written by Christopher Cantwell (
Iron Man
) with art by Dale Eaglesham (
Fantastic Four
), THE UNITED STATES OF CAPTAIN AMERICA will celebrate the character's incredible legacy by bringing together various Captains America from throughout the years for a grand adventure to find Captain America's missing shield and solve the mystery of his masked thief's plan. Along the way, fans will be introduced to fascinating new heroes who have been inspired to follow in Steve Roger's footsteps. Joining Cantwell and Eaglesham will be an all-star lineup of diverse and extraordinary creative teams who will dive even deeper into the origins and motivations of these new shield-bearers in special backup stories, starting with a revolutionary tale by writer Josh Trujillo and artist Jan Balzadua. This intriguing examination of the very concepts that define Captain America will explore the powerful impact the hero has had on the world outside your window.
The incredible saga kicks off when Captain America's shield is stolen. No one understands the value of the shield like those who've wielded it, so Steve Rogers and Sam Wilson set out on a road trip across America to chase down the thief. But instead, they find the Captains, everyday people from all walks of life who've taken up the mantle of Captain America to defend their communities. And for some reason, the shield thief wants them all dead. Can Sam and Steve get to them first?
"It's an incredible gift and definitely a creative challenge to take on the character of Captain America, especially during these unprecedented times in our country's history. With this miniseries we're hoping to explore what the idea of Captain America means at this precise moment—not just on the grand stage of the world—but to everyday and often overlooked communities throughout the United States," Cantwell explained. "This story is ultimately structured like a "road movie," harkening back in ways to old Bob Rafelson and Hal Ashby films, with Steve Rogers (and soon Sam Wilson, and later… other key members in Steve's life) getting to directly interact with those he represents as a symbol and has sworn to protect, but in an up close and personal way he hasn't experienced in a while. I'm extremely excited to show how the idea of Captain America has been conceptualized and translated by various groups in the country, and for me the juice of the story is Cap reconciling so many interpretations OF himself WITH himself, both as a person and as an icon. This kind of cross-country epic is uniquely American and seems like a fantastic way to celebrate the character's legacy right now."
Eighty years ago, industry pioneers Jack Kirby and Joe Simon introduced the world to Captain America and Marvel Comics is proud to commemorate this legendary character's anniversary with this bold new series. Stay tuned for more talent announcements and story details, and don't miss this exciting new chapter in the Captain America mythos when THE UNITED STATES OF CAPTAIN AMERICA hits stands on June 2nd.
NEW YORK CITY CINEMAS REOPEN TODAY AFTER A YEAR
03/05/21 @ 1:34 pm EST
Source:
Deadline
| Categories:
MIsc
|
Comments
(0) |
E-mail Article
|
Add a Comment
New York City, the nation's leading movie market along with still-shuttered Los Angeles, springs back to life Friday after being flattened by Covid-19 for nearly a year.
A pulse was detected in advance ticket sales with a handful of shows selling out at AMC Entertainment's flagship Empire 25 theater in Times Square including a 4:30 p.m.
Tom & Jerry
and evening screenings of
Boogie, Nomadland, Promising Young Woman, Wonder Woman 1984
and
Tenet
— as the Christopher Nolan pic released August 12 bends the laws of time. New releases
Raya and the Last Dragon
and
Chaos Walking
were big sellers on Day One uptown at the AMC Magic Johnson.
One excited customer is NYC mayoral candidate Andrew Yang — he'll will be heading out for a date night to celebrate. "That dinky, and let's be honest, tacky, sign in LA can't mask the fact NYC is the real entertainment capital. So get your popcorn ready, folks, because movie theaters are back in action and it's date night at the Yang household," the former Democratic presidential hopeful said in a press advisory. He'll be hitting the AMC Empire but didn't say which film.
But at 25% capacity — the limit set by Gov. Andrew Cuomo — sold-out shows don't mean what they used to. When Cuomo announced the reopening on February 22, he limited theaters to one out of every four available seats and no more than 50 people. That's a lot of X's on the seating chart. If you reserve at an AMC, the system automatically blocks out the seats on either side.
As vaccines roll out with increasing efficiency and Covid-19 cases fall in New York (and nationally), some in the industry think New York City could raise the 25% capacity to 50% relatively soon – maybe May or June. Theaters in the rest of New York State are already open at 50% capacity. (via
Deadline
)
'SUPERMAN AND LOIS' TEMPORARILY MOVES OFF SCHEDULE DUE TO PREVIOUS COVID-19 PAUSE, 'SUPERGIRL' FLIES IN TO HELP
03/05/21 @ 1:27 pm EST
Source:
Deadline
| Categories:
DC
|
Comments
(0) |
E-mail Article
|
Add a Comment
Deadline
reports that The CW's Superman & Lois is coming off The CW schedule temporarily after being impact by Covid-19.

The show will take a break after its fourth episode and will return for new episodes and to finish up the season on May 18.

Meanwhile, Supergirl will premiere its sixth and final season on Tuesday March 30 in that same timeslot.

Superman & Lois, which films in British Columbia in Canada, has been previously impacted by a positive test and shut down production temporarily. As a result of the schedule change, The CW will now air People Presents: Harry & Meghan's American Dream on Thursday March 25 at 8pm.
THE SQUADRON SUPREME TAKE OVER IN NEW 'HEROES REBORN' COVERS BY CARLOS PACHECO
03/05/21 @ 1:23 pm EST
Source:
Marvel
| Categories:
Marvel
|
Comments
(0) |
E-mail Article
|
Add a Comment
This May, HEROES REBORN will welcome readers to a world without Avengers! Rising up to take their place as Earth's Mightiest Heroes will be the Squadron Supreme in a startling new vision of the Marvel Universe brought to you by super hero masterminds Jason Aaron and Ed McGuiness. Get your first glimpse at the fascinating history behind this highly-anticipated saga in all-new variant covers by acclaimed artist Carlos Pacheco. These revealing covers offer exciting hints at the backstories behind the Squadron Supreme as well as the dangerous new threats they'll be facing! Look for them on your favorite titles throughout the month of April.
"The new Squadron Supreme of America have been a big part of my Avengers run almost since the beginning, and that has all been leading to this," Aaron said. "As militantly-nationalist, government-sponsored heroes operating out of Washington D.C., they've been calling themselves 'America's Mightiest Heroes' for a while now. In Heroes Reborn, they become much more. In this world where the Avengers never formed, the Squadron are now and have forever been Earth's Mightiest Heroes."
Check them out below and keep a lookout for more exciting news about HEROES REBORN!