SNEAK PEEK: A NEW TV SERIES FROM ROBERT KIRKMAN'S SKYBOUND AND NAT GEO WILD
01/13/19 @ 10:35 am EST
Source:
Skybound
| Categories:
MIsc
|
Comments
(0) |
E-mail Article
|
Add a Comment
Dead by Dawn, the first-ever horror nature series produced by Skybound Entertainment and Love Productions, premieres on Nat Geo WILD on Sunday, January 13 at 9/8c. Two episodes will premiere back to back on the 13th.

Check out a ten minute first look at the series here: https://www.youtube.com/watch?v=IBVJ8HGkwX4&feature=youtu.be&utm_campaign=website&utm_source=sendgrid.com&utm_medium=email

Inspired by classic, modern and cult classic films, Dead by Dawn uses innovative storytelling techniques to infuse suspense, tension, and eeriness into the terrifyingly real stories of life in the wild…after dark. Each episode will feature wildlife in different countries, from Costa Rica to Indonesia to the swamps of the USA. Once the sun goes down, creatures of the night battle for survival.

The Hills Have EyesSunday Jan 13 9/8c

The Arabian Desert comes to life at night, but where there's life there's death. After the sun sets, specialized predators emerge to take advantage of the cooler temperatures to feed through the night, from lizards that swim under the sand to spiders that run ten miles an hour.

Night of the Living DeadSunday Jan 13 10/9c

As the sun falls on the island of Java that denizens of this jungle metropolis are on edge. Nowhere is safe. Just before darkness swallows daylight, the night stalkers of Indonesia awaken with a lust for blood. Bats that eat 6,000 insects a night, baby pythons, and a fish that can crawl on land.
'SPIDER-MAN: FAR FROM HOME' VILLAIN MYSTERIO RUMORED TO GET HIS OWN SOLO MOVIE FROM SONY PICTURES
02/20/20 @ 10:53 pm EST
Source:
ComicBookMovie
| Categories:
Marvel
|
Comments
(0) |
E-mail Article
|
Add a Comment
Spider-Man: Far From Home
delivered an amazing, reimagined version of Mysterio and by the time all was said and done, he had revealed the web-slinger's secret identity to the world. While it seemed like Quentin Beck had died, he is the Master of Illusion, and a return somewhere down the line really seems inevitable.
Now come rumors that Sony Pictures wants to bring Jake Gyllenhaal back for a solo movie revolving around Mysterio, an idea they had before the actor was even cast in the
Spider-Man: Homecoming
sequel.
No details have been revealed beyond that, but with characters like Venom, Kraven the Hunter, and Morbius (whose movie will feature an appearance from The Vulture) all getting their own solo outings, it really does feel like Sony could be building to an eventual
Sinister Six
team-up movie. That's another project the studio has been sitting on for a number of years now. (via
ComicBookMovie
)
'THE FLASH': "GRODD FRIENDED ME" PHOTOS RELEASED
02/20/20 @ 10:45 pm EST
Source:
The CW
| Categories:
DC
|
Comments
(0) |
E-mail Article
|
Add a Comment
The CW
has released a new batch of photos for "Grodd Friended Me", the coming episode of
The Flash
.
The Flash
airs Tuesdays at 8/7c on The CW. "Grodd Friended Me" will air on February 25th.
ELI ROTH TO DIRECT ADAPTATION OF SCI-FI VIDEOGAME 'BORDERLANDS' FOR LIONSGATE
02/20/20 @ 10:41 pm EST
Source:
Deadline
| Categories:
MIsc
|
Comments
(0) |
E-mail Article
|
Add a Comment
Deadline
reports that Eli Roth is set to direct a feature take on the 2K first-person shooter PC-console game
Borderlands
for Lionsgate.
Borderlands
is set in the distant future, in which four "Vault Hunters" travel to the distant planet Pandora to hunt down an alien vault, rumored to contain advanced alien technology. The hunters find themselves battling the local wildlife and bandit population, but ultimately attempt to stop the head of a private corporation army from reaching the vault first.
Borderlands
has sold more than 57 million units around the globe, including over 22M units of
Borderlands 2.
More than 1M players every month still play the 2012 entry
Borderlands 2.
The third installment,
Borderlands 3,
was released last September and has clocked 8M units WW in sales. The third game was honored with the award for Best Multiplayer Game at Gamescom.
Production of the film will begin later this year.
'WESTWORLD' SEASON 3 TRAILER DROPS
02/20/20 @ 10:38 pm EST
Source:
HBO
| Categories:
MIsc
|
Comments
(0) |
E-mail Article
|
Add a Comment
HBO
has dropped a trailer for the third season of its series
Westworld
.
The sci-fi strangeness returns March 15.
Trailer:
https://youtu.be/pDJbFA32_QY
'BLOODSHOT' IMAX POSTER RELEASED
02/20/20 @ 10:29 pm EST
Source:
IMAX
| Categories:
MIsc
|
Comments
(0) |
E-mail Article
|
Add a Comment
IMAX
has released a new poster for the coming
Bloodshot
film starring Vin Diesel, the first foray of a Valiant Comics character on the big screen.
Bloodshot
flies into theaters on March 13.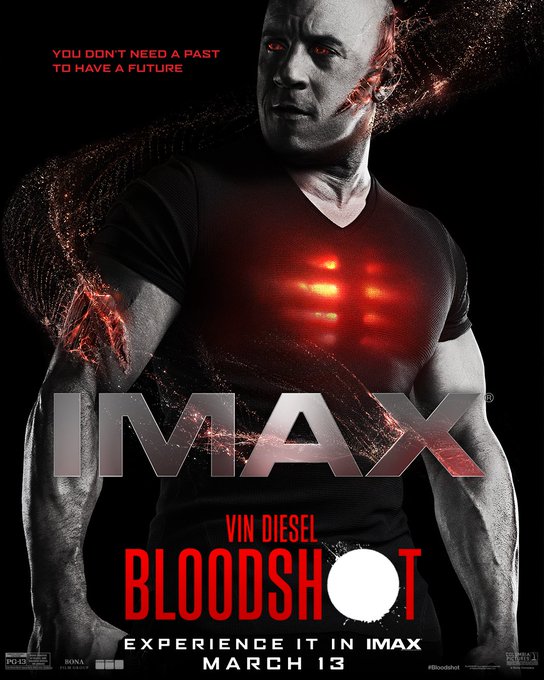 PREPARE FOR NON-STOP THRILLS WITH 'NON-STOP SPIDER-MAN'
02/20/20 @ 5:01 pm EST
Source:
Marvel
| Categories:
Marvel
|
Comments
(0) |
E-mail Article
|
Add a Comment
Just announced at ComicsPRO in Portland, Oregon, everyone's favorite web head will be starring in a new ongoing series this June from two of the comic book industry's greatest creators! Writer Joe Kelly and artist Chris Bachalo are teaming up to give readers the most web-slinging action that can possibly be contained in a comic book!
"[Editor] Nick Lowe has a superpower. He picks up the phone, calls me and says the exact combination of words that make me want to drop everything and dive head first into the Marvel Universe. Last time it was Spider-Man, Deadpool, Ed McGuinness. No brainer, YES," recounts Kelly. "This time it was Spider-Man, Non-Stop, Chris Bachalo. Again, YES... but 'Non-Stop?'"
NON-STOP SPIDER-MAN will combine the pulse-pounding action Spidey is known for with even MORE pulse-pounding action! Prepare for the comic book ride of your life featuring Spidey's best villains and his most amazing feats!
"Non-Stop Spider-Man is, for me, the best of what Marvel comics can be: relentless action, epic storytelling, mind-melting art, and relevant themes, all grounded by the heart and soul of one of my all-time favorite characters, Spider-Man," Kelly continued. "Chris and I want to redline your adrenaline and shatter your hearts, giggling the whole time. Please sign your waivers and gather your safety gear of choice before issue one comes out. I truly can't wait for this. Buckle up, Tigers."
Jumpstart your summer like never before by picking up NON-STOP SPIDER-MAN #1 when it swings into your local comic shop this June!
NON-STOP SPIDER-MAN #1Written by JOE KELLYArt by CHRIS BACHALOCover by DAVID FINCH
DYNAMITE: CHRISTOPHER PRIEST'S REDEFINING RUN ON VAMPIRELLA COLLECTED
02/20/20 @ 4:55 pm EST
Source:
Dynamite
| Categories:
Dynamite
|
Comments
(0) |
E-mail Article
|
Add a Comment
Dynamite announces the first of many collections compiling Christopher Priest's redefining run on Vampirella, due out in April.
Titled
Seduction of the Innocent
, this first trade paperback will collect issues #1-6 as well as the Free Comic Book Day 2019 #0 that kicked off the 50th-anniversary celebrations. Join writer Christopher Priest (
Black Panther, Deathstroke
) and Turkish artist Ergün Gündüz for their "Kelvin Universe" or Netflix-inspired take on the Daughter of Drakulon. Opening in media res and moving along the timeline, as only a Priest written tale can nail, the series serves a perfect jumping-on point, pushes countless new ideas to the forefront, while also subtly pulling pieces from across Vampi's five glorious decades. Nuns with guns, scandalous love triangles, psychotherapy, and every classic villain teaming up against our heroine, and it all centers around a mysterious, tragic plane crash!
"This book has been a remarkable surprise for me, the most fun I've had in years, thanks mainly to the sheer genius of Ergün Gündüz, whose vivid imagination and abandonment of the superhero house style in favor of Euro-animation has not only added enormous depth to my questionable writing but has inspired me to even deeper explorations of nonconventional creative approaches to a classic character who has most certainly been-there-done-that," said Christopher Priest. "For Vampirella's 50th we are shaking up the Etch-A-Sketch, breaking every rule Dynamite will let us break, yielding a fun and poignant work that's greater than the sum of its parts. I'm genuinely excited and energized to explore this character, redefining her voice as Vampi begins her next 50 years."
Ergün added, "I hope fans enjoy this book, as they read this deadly gorgeous lady's thrilling adventures and marvel at these dozens of variant covers by all-star artists"
"This retooling of Vampirella for her big anniversary had to be perfect and lead the pack for a strong year also being Dynamite's 15th anniversary," said Nick Barrucci, Dynamite CEO and Publisher. "Priest was the right choice and we can't imagine being any happier with how the book has turned out - but we're definitely happy about the critical and sales success it's seen! This is a perfect graphic novel for fans to return to and for newcomers who missed the issues to try out."
Clocking in at 160 pages, the tome will include a bounty of bonuses. Christopher Priest will be providing an introduction, as will artist Gündüz, and a special psychological evaluation of Ella Normandy written by Travis Langley, Ph.D. and J. Scott Jordan, Ph.D. (Batman and Psychology) in-character as Dr. Emmanuel Jemison Lewis Chary. Topping it all off is an expansive cover gallery featuring the likes of Artgerm, Alex Ross, Adam Hughes, J. Scott Campbell, Frank Cho, Joe Jusko, Lucio Parrillo, Derrick Chew, Joshua Middleton, Terry Dodson and countless more!
Fellow creators and critics agree this Vampirella is not to be missed!
"Unexpectedly dark and trippy ride that's worth checking out for fans and newcomers alike." - AIPT
"This Vampirella is everything it's supposed to be - sexy, bloody, exciting and shot through with dark humor - and yet like no Vampirella you've read before." - Ron Marz (
Green Lantern, Silver Surfer
)
"This is everything I could have hoped for... Highest possible recommendation." - SciFi Pulse
"Priest is at it again, taking a character we know and love and making us love her even more. A great introduction to readers old and new." - Jimmy Palmiotti (
Harley Quinn, Painkiller Jane
)
"The book comes together seamlessly, making it a strong start for a new ongoing series starring a character that has seen decades of stories." - ComicsBeat
VAMPIRELLA VOL 1: SEDUCTION OF THE INNOCENT
will be solicited in Diamond Comic Distributors' February 2019 Previews catalog, the premier source of merchandise for the comic book specialty market, and slated for release in April 2020. Comic book fans are encouraged to preorder copies of the issue with their local comic book retailers. It will also be available for individual customer purchase through digital platforms courtesy of Comixology, Kindle, iBooks, Google Play, Dynamite Digital, ComicsPlus, and more!
'STAR WARS: THE RISE OF SKYWALKER' GETS THE MARVEL COMICS TREATMENT THIS JUNE
02/20/20 @ 4:50 pm EST
Source:
Marvel
| Categories:
Star Wars
|
Comments
(0) |
E-mail Article
|
Add a Comment
Announced earlier today at ComicsPRO in Portland, Oregon, Marvel Comics will be putting the final chapter of the Skywalker saga to the page in a comics adaptation of
Star Wars: The Rise of Skywalker
. Writer Jody Houser (
Star Wars: TIE Fighter
) and artist Will Sliney (
Star Wars: The Rise of Kylo Ren
) will be teaming up to retell this epic story in STAR WARS: THE RISE OF SKYWALKER ADAPTATION #1. In addition to the shocking twists and turns that were present in the film, the five-issue limited series will also have brand-new story material for readers to enjoy!
"As a lifelong
Star Wars
fan, it was an honor to be asked to be a part of wrapping up the Skywalker saga with Marvel Comics," Houser said. "We have some fun plans to add scenes and material that weren't seen in the movie."
Relive Rey's quest, the Resistance's desperate last stand, and the return of an old enemy when STAR WARS: THE RISE OF SKYWALKER ADAPTATION #1 hits stands this June!
STAR WARS: THE RISE OF SKYWALKER ADAPTATION #1 (of 5)Written by JODY HOUSERArt by WILL SLINEYCover by PHIL NOTO INCLUDES UNREVEALED STORY!


DYNAMITE: SACREDSIX EXPANDS CHRISTOPHER PRIEST'S VAMPIRELLA UNIVERSE!
02/20/20 @ 4:46 pm EST
Source:
Dynamite
| Categories:
Dynamite
|
Comments
(0) |
E-mail Article
|
Add a Comment
Discover
sacredsix
, a new ongoing series this May as Christopher Priest expands his take on the wider Vampirella universe.
Enter: a tale of two towns in rural Georgia. One is Ashthorne, an impoverished farming town with a deadly secret. Otherwise known as "Vampire Valley," most of its citizens are vampires and sundry other ghouls, though not by choice or blood. These once-human victims are now shunned by society in the open but live peacefully and just want to be left alone to live their lives in peace. Meanwhile, the bright and shiny Sacred is a recently "manufactured" community lorded over by staunch conservatives for the express purpose of oppressing and ultimately destroying Ashthorne's residents. This tension will escalate as the series progresses, and instigate the arrival of the group of heroines…
Priest's new take on the DRACULINA character, real name Victory, is joined by fellow Vampi vixens PANTHA, NYX, and the surprise inclusion of fellow conflicted vampire CHASTITY, of Chaos! fame. Led by LILITH of Drakulon, the Cersei Lannister of space vampires and recruited by her son DRAGO, mayor of Ashthorne. The sixth and final core member will be a surprise… The one and only Vampirella will make some appearances as well. These women will go undercover in the exclusive rarified air of Sacred as students and fight against injustice by night against THE SIX.
In a thematic mashup of
True Blood
and
Sons of Anarchy,
sacredsix
is a multifaceted morality play and tale of two cities examining the conflict between human and inhuman, science and magic, agnosticism and faith, war and peace. Good and evil can be found all around, often coexisting. With this cast of complex characters with ever-shifting allegiances, anything can happen.
Christopher Priest is joined by artist Gabriel Ibarra (
Graveland
), colorist Mohan (
Red Sonja)
and letters from longtime Priest collaborator Willie Schubert (
Deathstroke, Batman
).
"I can see the headlines now: 'Priest Returns To Black Panther!' We are birthing a (literally) different animal and expansion of our version of the Vampirella shared universe," said writer Christopher Priest.
Artist Gabriel Ibarra added, "This mix of characters in diverse situations can be a challenge, but I'm putting all my effort into every single page. To be working with a legend like Priest is hard to even describe. He has such a clear vision through his scripts and I'm grateful to be bringing them to the page. I'm excited for fans to see what we're doing!"
Most exciting of all is that Jae Lee (
Batman/Superman, Inhumans
) will be doing interior pages for this series across the first five issues – a special sequence weaved into the main story recounting Pantha's newly revamped origin story. Pantha is now fully feline by default and can transform into a human woman, rather than vice versa.
"Not many creators reach legendary status. Christopher Priest is a legend and I'm honored to be working with him and Dynamite," said artist Jae Lee.
"Jae and I have made several attempts to develop something together," added Priest. "I am totally psyched to have finally found the right project for us."
A Who's Who of top cover artists are tagging in for the big debut issue and subsequent ones. Jae Lee leads the pack. One of the hottest cover artists today, Lucio Parrillo (
Vampirella, Dejah Thoris
), focuses on Chastity, Draculina and Nyx. With fans skyrocketing her career and garnering acclaim for her Vampirella covers, Meghan Hetrick (
X-Men/Fantastic Four
) is a natural addition. Rod Reis (
New Mutants
) captures the power and sensuality of these women with a rooftop lineup. While the incredibly talented and versatile José Ladrönn (
Cable, Final Incal
) chips in. An incentive cover from Joseph Michael Linsner (
Red Sonja, Dawn
) showcases the women in schoolgirl outfits, and an Icon Incentive remasters definitive Pantha artist Mark Texeira's (
Ghost Rider, Wolverine
) cover from Vampirella (2001) #8.
sacredsix #1
will be solicited in Diamond Comic Distributors' March 2019 Previews catalog, the premier source of merchandise for the comic book specialty market, and slated for release in May 2020. Comic book fans are encouraged to preorder copies of the issue with their local comic book retailers. It will also be available for individual customer purchase through digital platforms courtesy of Comixology, Kindle, iBooks, Google Play, Dynamite Digital, ComicsPlus, and more!
RANGER SLAYER SHATTERS HER FUTURE IN SPECIAL 'POWER RANGERS' ONE-SHOT
02/20/20 @ 4:43 pm EST
Source:
BOOM! Studios
| Categories:
MIsc
|
Comments
(0) |
E-mail Article
|
Add a Comment
BOOM! Studios, under license by Hasbro, Inc. (NASDAQ: HAS), today announced at the 14th Annual ComicsPRO, a brand new one-shot special issue POWER RANGERS: RANGER SLAYER #1, from acclaimed
Mighty Morphin Power Rangers
and
Saban's Go Go Power Rangers
writer Ryan Parrott and superstar artist Dan Mora (
Once and Future, Klaus
). This all-new one-shot, available in June 2020, featuring the villain turned fan favorite hero herself as she makes a choice that sets the stage for an epic event that reverberates throughout the universe!
The Ranger Slayer – AKA Kimberly Hart, the Pink Mighty Morphin Power Ranger from the alternate universe once ruled by Lord Dakkon - returns home and nothing is like she expected. In a world that only knows her as a villain, can Kimberly show her universe that she's become a hero...and is that even the right thing to do? Confronted by an old foe in a terrifying new form and finding her home in chaos, Kimberly will make a stunning choice that no Power Rangers fan can miss.
Currently, Power Rangers is celebrating 26 continuous years on the air, making it one of the longest running kids' live-action series in television history with nearly 900 episodes aired to date. Created by Haim Saban and launched in 1993 with
Mighty Morphin Power Rangers
, the franchise celebrates its milestone anniversary year with the 26th season, "Power Rangers Beast Morphers" currently airing on Saturdays at 8 a.m. (ET/PT) on Nickelodeon in the U.S.
"POWER RANGERS: RANGER SLAYER #1 brings us to the very personal and shocking aftermath of the events of
Shattered Grid
for one of the all-time fan favorites: Kimberly Hart, Ranger Slayer," said Dafna Pleban, Senior Editor, BOOM! Studios. "The consequences of Kimberly's choices during
Shattered Grid
and in this issue are so shocking that nothing will ever be the same again for those who inhabit Lord Drakkon's universe."
Print copies of POWER RANGERS: RANGER SLAYER #1 will be available in June 2020 at local comic book shops (use
comicshoplocator.com
to find the one nearest you), or at the BOOM! Studios webstore. Digital copies can be purchased from content providers like comiXology, iBooks, Google Play, and Madefire.
Softcover collections of MIGHTY MORPHIN POWER RANGERS, and other Power Rangers releases from BOOM! Studios are available now, everywhere books are sold.