DARICK ROBERTSON

SEND THIS TO A FRIEND!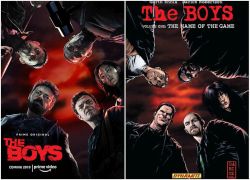 DF Interview: Darick Robertson remembers comic book 'The Boys', offers thoughts on coming TV series
By Byron Brewer
The Boys was a comic book written by Garth Ennis and co-created, designed and illustrated by Darick Robertson, originally published by Wildstorm before moving to Dynamite Entertainment.
The series is set between 2006–2008in a world where superheroes exist. However, most of the heroes in the series' universe are corrupted by their celebrity status and often engage in reckless behavior, compromising the safety of the world. For this reason, a super-powered CIA squad, known informally as "The Boys", is charged with monitoring the hero community. (The name for the group is Butcher's contribution, a reference from his neighborhood that those in power would send "the boys" to handle anyone causing trouble.)
Extreme violence and sexuality were the series' hallmark, and the comic ran, as Ennis had earlier said, for 72 issues.
Coming sometime in 2019 from Amazon Prime Video is a new TV series based on the fan-favorite comic book. Ennis and Robertson will share an executive producer credit on the show. DF was interested in what one so involved in the comic thought of both the past book and the coming television series based on it, so we caught up with the comic's co-creator, designer and illustrator, Darick Robertson.
Dynamic Forces: Darick, we'll hop right into the interview and pick up as we go along! So tell me, as you remember it, the genesis of what eventually became the Wildstorm comic book, The Boys.
Darick Robertson: It was back in 2003 and I was drawing Wolverine for Marvel and had just finished my five-year run on Transmetropolitan. Ennis and I had done a few successful miniseries at Marvel, like Fury MAX and Punisher: Born. That work had lead to a exclusive contract at Marvel and an offer to reboot Wolverine with Greg Rucka. Ennis had asked about collaborating on The Boys before then, but the exclusive offer I'd gotten from Marvel was too good to pass up.
But later on I was regretting my choice, as I knew creating an original book with Ennis would be something great. I have always been a big fan of his and the late, great Steve Dillon's Preacher. I could feel that the idea was strong and I loved his concept, but I had to pass. I figured it would go to Steve Dillon or John McCrea at that point. But, a year or so later, we were having lunch at the Malibu Dude Ranch up in Pennsylvania, and Ennis said to me that he'd been thinking about it, and told me, "It has to be you". So when I was done on Wolverine, would I want to work on co-creating The Boys? I was elated to have a second shot at something that I'd wished I'd said yes to immediately.
When Ennis originally approached me, we had thought it would be a book like Hitman and somehow fit into the DCU. But as we began to really explore the idea, we realized it would need to be in its own universe, Watchmen style.
Ennis found American superheroes kind of ridiculous as he didn't grow up with them the way that I had. I had a deep affection for both the DCU and the Marvel U, but I also have a good sense of humor and love satire and parody, being a huge fan of Mad Magazine as a kid. So the idea was a great fit for us as a team.
After meetings with Scott Dunbier and Hank Kanalz, we found a home for The Boys at Wildstorm and with one of my favorite editors ever (and human beings in general) Ben Abernathy at the editorial helm, everything looked prime.
I remember reading that first script and thinking, "I get to draw this. I get to tell this story."
I knew we were creating something special.
DF: For the uninitiated, tell us about the main cast for The Boys.
Darick Robertson: The main character is Billy Butcher, who goes by his last name. I recall Ennis wanted to name him 'Savage' originally and changed his mind later. Butcher is a veteran British soldier who fought in the Falkland Islands war and came from a rough childhood. His wife Becky turned him around until he lost her to a tragedy involving a superhero. Butcher was then recruited by a Special Ops guy for the Government named Mallory. Mallory was a WWII veteran and the original leader of The Boys. Their mission is to spy on and keep tabs on the superheroes, who are an ever-present threat to the world as they are literally walking, flying weapons. (Ennis told me he'd been inspired by James Ellroy and the show, The Wire.)
When we meet Butcher in The Boys #1, he's recruiting a lad called "Wee Hughie" who has also suffered a traumatic loss at the hands of a "supe" and Butcher offers him the chance to get even by joining The Boys, who have been dormant for a while. We meet Mother's Milk, the Frenchman and The Female at that point. All of them have their own history where Vought International, the giant corporate sponsor of Super Heroes in The Boys' universe, have affected or wounded them in some way.
The Frenchman seems half insane but is fiercely loyal, and is bonded to The Female who is the tiniest and deadliest member of the team. Mother's Milk is a clean freak and the most organized and altogether member of the team, something of a father figure. And Hughie is brought into the mix, unsure of what he's getting himself into.
DF: As the artist, did you have a favorite(s) to render?
Darick Robertson: I enjoyed drawing them all except "The Deep" as that helmet was a pain to draw each time and hard to make the character emote from inside it.
DF: Did you design the characters?
Darick Robertson: Yes. I'd have ideas and sketches and share them with Ennis. He was very clear on what he was going for, so I made many different attempts early on to capture it until he was pleased and we were on the same page.
I had a different vision of it initially, and had designed things like jackets with emblems and collars that identified each 'Boy' for their ability, before I came to see the team as Ennis saw them: grounded and gritty and resentful of anything 'supe'-like.
As the designs evolved, I suggested the Female be Japanese, Mother's Milk got hair, and I suggested a sketch I'd based on Simon Pegg for Wee Hughie, who was relatively unknown in the U.S. in 2004. Hughie was originally to be based on a friend of Ennis', but I never got pictures of him to design from. As a result, I was having a tough time homing in on Hughie's look. When I saw Simon in Spaced, he was playing an aspiring comic book artist who worked in a comic book store, and a total fan boy, I thought he'd just find it amusing if he ever saw our comic. By 2007, we were launching and he was an international star. Rather than be a jerk about it, he was "chuffed" when he saw it . Simon gave us his full blessing, and we became friends. (It's one of my favorite things about the Amazon show is that Simon's in it as Hughie's father!)
DF: Talk a little about the change-over from DC (which owned Wildstorm) to Dynamite Entertainment, and what effect that might have had on the continuing comic.
Darick Robertson: Well, that was one of the strangest Fridays of my life, waking up to a weekend of work to get through and having no job by the afternoon. I had two small children and we'd just bought a house we weren't sure we could afford and I was concerned because even though our sales and reviews were rock solid, we were hearing a lot of concern from DC that they were unhappy with the content. When we launched, I was many issues ahead, but as the scrutiny came in, I was back-tracking and adjusting finished work.
So I had started drawing ahead, to allow more time for review and changes, and then began to get behind schedule on the inking. So, when I got the call that we'd been cancelled at DC, due to irreconcilable differences about how to move forward, I wasn't really sure what was going to happen. It was strange to have a hit book and yet have it dropped for being the book we said it was going to be, the book that would "Out-Preacher Preacher".
But honestly, DC was great to us in the transition and I am eternally grateful for that aspect. It was just hard to wrap my head around their decision at the time.
The upside was that we were surprised how many other publishers immediately wanted the book, and Dynamite was willing to let us have free reign, keep our rights and do the comic we wanted to do, so it found a good home there. Plus Nick Barrucci does a great job of promoting his titles. We were back on the shelves relatively quickly, as I had drawn ahead, and we produced a best selling collection, issues 1-6, "The Name Of the Game". The early numbers were staggering for a book that had just been cancelled.
DF: Did you have a favorite storyline(s)?
Darick Robertson: I really enjoyed the first arc and the final run I did, "Butcher, Baker, Candlestick Maker".
DF: As far as the comic, it ended as Ennis said it would. Do you ever see Garth and you doing a sequel/update?
Darick Robertson: I have some ideas for back stories on the Seven, but as of now, we have no plans.
DF: What if anything can you tell us about the coming TV series on Amazon Prime based on The Boys?
Darick Robertson: It's a wonderful production headed up by Eric Kripke and produced by Seth Rogen and Evan Goldberg. I got to visit the set back in September and I met so many fans of the comic that were working on the show, my head was spinning. Art from the comics was everywhere in the production offices; on the walls, in the design rooms. It's being put together in an original fashion but with a very keen sense of what makes the comic work and with a lot of love and respect for the characters. I'm really happy and impressed with what I've seen and read so far, as I expected that if anyone ever got hold of it, they'd water it down to the point that they'd turn it into something that it isn't. I think, based on what I've seen, this show is hitting the sweet spot. It's not following the timeline of the comic and they have made some changes that are necessary in an adaptation, but everything was thought through and done with a great deal of enthusiasm and care for what Ennis and I created. That was evident. The promo shots alone are based on two of my covers, so that says to me they want to send a clear message to the fans that the production is in good hands.
DF: Don't you and Garth have a little to do with the show?
Darick Robertson: We're co-executive producers. I created some custom artwork for the show that you'll see on camera.
DF: Darick, what are you working on these days that you can tell readers about?
Darick Robertson: I'm just about to launch Oliver at Image Comics, with my good friend Gary Whitta. It's a steampunk-inspired reinterpretation of Oliver Twist set in a post-apocalyptic London. Gary wrote the films Book of Eli and Star Wars: Rogue One while we worked on this over the past decade, so needless to say, it's a great story. I've had a lot of time to develop the artwork and I'm very excited that it's finally being published. It launches in January of 2019 and will run for 12 issues.
Dynamic Forces would like to thank Darick Robertson for taking time out of his busy schedule to answer our questions. The Boys TV series will air on Amazon Prime Video in 2019! Stay tuned to DF News for updates on the coming series!
For more news and up-to-date announcements, join us here at Dynamic Forces, www.dynamicforces.com/htmlfiles/, "LIKE" us on Facebook, www.facebook.com/dynamicforcesinc, and follow us on Twitter, www.twitter.com/dynamicforces.
THE BOYS #7 COVER B - SIGNED BY GARTH ENNIS AND DARICK ROBERTSON
THE BOYS TPB - SIGNED BY GARTH ENNIS AND DARICK ROBERTSON
THE BOYS #7 - SIGNED BY GARTH ENNIS & DARICK ROBERTSON
THE ART OF THE BOYS: THE COMPLETE COVERS BY DARICK ROBERTSON - SIGNED AND REMARKED BY DARICK ROBERTSON
THE BOYS VOLUME 6: SELF-PRESERVATION SOCIETY LIMITED EDITION - SIGNED BY GARTH ENNIS
THE BOYS VOLUME 5: HEROGASM LIMITED EDITION - SIGNED BY GARTH ENNIS
THE BOYS VOLUME 4: WE GOTTA GO NOW LIMITED EDITION - SIGNED BY GARTH ENNIS
THE BOYS VOLUME 3: GOOD FOR THE SOUL LIMITED EDITION - SIGNED BY GARTH ENNIS
THE BOYS VOLUME 2: GET SOME LIMITED EDITION - SIGNED BY GARTH ENNIS
THE BOYS VOLUME 12: THE BLOODY DOORS OFF - SIGNED BY GARTH ENNIS
THE BOYS VOLUME 11: OVER THE HILL WITH THE SWORDS OF A THOUSAND MEN - SIGNED BY GARTH ENNIS
THE BOYS VOLUME 10: BUTCHER, BAKER, CANDLESTICKMAKER - SIGNED BY GARTH ENNIS
THE BOYS VOLUME 9: THE BIG RIDE - SIGNED BY GARTH ENNIS
THE BOYS VOLUME 8: HIGHLAND LADDIE - SIGNED BY GARTH ENNIS
THE BOYS VOLUME 7: THE INNOCENTS - SIGNED BY GARTH ENNIS
THE BOYS VOLUME 5: HEROGASM - SIGNED BY GARTH ENNIS
DEAN KOONTZ'S NEVERMORE #1 DARICK ROBERTSON "VIRGIN ART" DF COVER
---
NEW! 1. 11/30/2020 - SKYLAR PATRIDGE
5. 11/16/2020 - RYAN O'SULLIVAN