JOE HARRIS & MEGAN HUTCHISON

SEND THIS TO A FRIEND!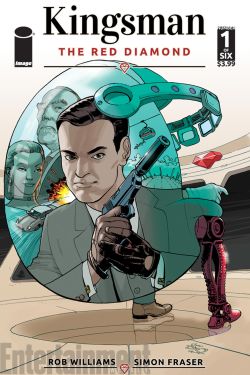 DF Interview: Joe Harris & Megan Hutchison bring mysteries of rock 'n' roll to life in Rockstars
By Byron Brewer
When a pattern of unsolved "groupie" murders from the 1970s resumes in present-day Los Angeles, nobody makes the connection except Jackie Mayer, a rock nerd with a strange connection to music's urban legends and lost history. Together with muckraking music writer Dorothy Buell, they soon uncover a vast conspiracy involving a legendary band, demonic possession and sacrifices to the dark gods of rock.
Fan-favorite writer Joe Harris (Great Pacific, The X-Files) and talented artist Megan Hutchison deliver a new ongoing series for Image Comics, Rockstars, exploring rock 'n' roll's untold mysteries and secrets.
What mysteries? What secrets? DF sat down with the creators to ask them just that!
Dynamic Forces: Joe, tell us what inspired Rockstars. Were there any great rock record albums from the 1970s that gave you that certain feel to which this book might be dedicated? I am thinking Hotel California, Rumors …?
Joe Harris: I'd lean more toward peak-era Led Zeppelin like Physical Graffiti. Early to mid-'70s Pink Floyd – like Meddle through Dark Side of the Moon and on through Wish You Were Here and particularly Animals (which is somehow underrated). I could rattle off Black Sabbath and Deep Purple songs I'd throw on a playlist too. What informs, particularly this opening arc, "Nativity in Blacklight," for me is the signature, sorcerous swirl. This idea that the music is lifting spirits, of various intentions and dispositions, up to heaven and out into the ether. I think Hotel California and Rumors are both albums ripe for building out a Rockstars-type musical conspiracy story, though. I think albums that would provide for a good oral history would likely make for a great backdrop we could explore untold aspects of.
DF: Were you a rock fan? Tell us about some of the most memorable concerts of your experience, if so?
Joe Harris: I remain a rock fan. I've been kind of "old for my age" since I was in elementary school, gravitating more toward the '70s while the rest of the kids were more enjoying our 1980s childhood. Surrounded by hair metal when I was a kid, I played guitar in a rock and blues band. Some of my biggest and greatest concert experiences:
The Rolling Stones at Roseland Ballroom here in NYC back in 2002, I think? I've seen the Stones numerous times in my life (and everyone should too, if they get a chance, because nothing lasts forever and they play 35 years younger than they are), but never up against the stage before. Truly life-affecting to have Mick Jagger and Keith Richards up in your face and tearing the roof off what was meant to be a more intimate venue setting for the biggest band of all time.
Jimmy Page and the Black Crowes, also at Roseland, back in 1999, I think? I missed Led Zeppelin aside from getting to watch the Live Aid reunion and other crappy, televised reunions when I was kid. And I'd gotten to see Robert Plant a few times during his great little 90s renaissance, but Jimmy Page had to reemerge after he kind of got lost, post-Zeppelin. I saw the Plant/Page tour some years earlier at Madison Square Garden, but this team up with the Crowes was, one, the coolest the otherwise really good Black Crowes ever were as they dressed up and cosplayed Zeppelin with Jimmy Page tearing sh*t up in what, again, was an intimate and venerable New York City venue that's no longer around. I really, deeply miss Roseland.
The first time I saw the Grateful Dead, I think I was 16 and illegally drove to the Meadowlands with a junior drivers license, and saw what turned out to be a well-remembered late-era Dead show.
Some years back, I saw Bright Eyes at Town Hall, the same classic old venue that a so-so-young Bob Dylan once lit up with buzz in the early 60s, and Conor Oberst had me shocked upright in my seat as he broke out the newly penned acoustic Bush-era anger anthem, When the President Talks to God and I felt, this … this is what it felt like to see Dylan back when.
I saw the Strokes around 2001 here in town. I've seen Radiohead more times than I can count. I've seen Springsteen with the E Street Band like a dozen times, but saw him on the awesome Seeger Sessions tour on the floor, at Madison Square Garden.
I've seen Phish more times than I'm almost proud to admit, but I'm just soft-selling my adoration for a band and phenomenon I got to watch grow, closeup, from the front of the Wetlands Preserve stage here in Manhattan when I was in college, through the arena and festival phenomenon they became.
So many weird and strange and wonderful one-off concert experiences being from New York City. I saw Tom Waits and just an out of tune piano at Radio City Music Hall during a Hurricane Katrina benefit. I saw Willie Nelson at Irving Plaza a few times. Bob Dylan more times than I remember, and Neil Young too.
DF: Quite the list! … What can you tell us about Jackie Mayer, Dorothy Buell and an unsolved pattern of "groupie" murders from the 1970s?
Joe Harris: Jackie Mayer has this strange relationship with music. He's sensitive to a particular energy, like this undercurrent or "connective tissue," he'll soon learn connects so many of strange secrets, hidden mysteries, urban legends and forgotten history that's floated around rock 'n' roll lore for years and years. Dorothy Buell is a music writer. Well, more of an aspiring muckraking investigative journalist, I think, railing against a declining popular music and entertainment complex and bemoaning the state of our media. Together, they end up uncovering this pattern of "groupie" murders connected to the founding guitar god leader of this huge 1970s band called Blue Rider, and realize those murders have resumed today.
DF: Often a location becomes almost a character in a story. Megan, how much research did you do into putting together the modern-day LA rock scene "stage" of this tale, combining it with demon possessions and things that go bump in the night? How important is that "atmosphere" to the overall story?
Megan Hutchison: I live in LA and it's a really big part of my life and culture so I try to include the vibe in my work. I do a lot of research because I want to be authentic to the city -- there is something very special and mysterious about LA. Also, I used to be a production designer for film and commercials so I put a lot into the sets and set dressing in everything I draw.
DF: How closely did you work with Joe on Rockstars #1? What can you tell us about that process?
Megan Hutchison: I'm really lucky in that Joe and I work so well together. Joe knows my strengths and writes to them and I know his interests so it takes the guesswork out of my drawing. We're also entreated in much the same thing so it makes the process much easier when our aesthetics match up. It's been a really fun trip.
DF: Does most of '70s rock slide easily into the world of sacrifices, demonic possession and other horrors found in Rockstars? Was there any particular band that inspired the conspirators in this tale?
Joe Harris: Well, I mean, I grew up in the '80s. The time when heavy metal was going to drag your children to hell and backwards messages were everywhere (real or imagined). But the 1970s, in particular, some of the mythology around Led Zeppelin really informs a lot of my thinking.
Megan Hutchison: I grew up in a conservative environment so I wasn't exposed to rock until much later in life. However, I was exposed to the "satanic panic" when I was a kid and I know that has greatly influenced my life. When I was eventually allowed to listen to metal, I was super into the mythos of Eddie from Iron Maiden. He both fascinated and terrified me.
DF: Guys, do you have any projects present or near-future you'd like to tell us about?
Joe Harris: I'm currently still writing The X-Files for IDW as well as the upcoming Ninjak vs. the Valiant Universe live-action web series Valiant is producing.
Megan Hutchison: I'm about to release another graphic novel, Vesna. I am also putting together two graphic novels, one of which I'm co-writing with Jimmy Palmiotti, as well as continuing work as a cover artist and trying to do art shows when I can.
Dynamic Forces would like to thank Joe Harris and Megan Hutchison for taking time out of their busy schedules to answer our questions. Rockstars #1 from Image Comics hits stores Dec. 14th!
For more news and up-to-date announcements, join us here at Dynamic Forces, www.dynamicforces.com/htmlfiles/, "LIKE" us on Facebook, www.facebook.com/dynamicforcesinc, and follow us on Twitter, www.twitter.com/dynamicforces
X-FILES #1 PHOTO COVER SIGNED BY JOE HARRIS
ALICE COOPER #1 PHOTO VARIANT CGC GRADED 9.8! Written by Joe Harris
ALICE COOPER #5 RARE DAVID MACK "VIRGIN ART" EDITION FEATURING GOLD ELITE EDITION SIGNATURE BY ALICE COOPER Written by Joe Harris
GREAT PACIFIC #1 GOLD SIGNATURE SERIES EDITION SIGNED BY JOE HARRIS!
GREAT PACIFIC #1 SILVER SIGNATURE SERIES EDITION SIGNED BY JOE HARRIS!
ALICE COOPER VOL. 1: WELCOME TO MY NIGHTMARE HARDCOVER SIGNED EDITION AUTOGRAPHED BY ALICE COOPER Written by Joe Harris
---
NEW! 1. 11/30/2020 - SKYLAR PATRIDGE
5. 11/16/2020 - RYAN O'SULLIVAN