KIERON GILLEN

SEND THIS TO A FRIEND!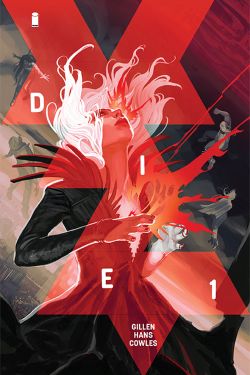 DF Interview: Kieron Gillen brings us Die, a horror fantasy that is part D&D, part goth Jumanji
By Byron Brewer
Die is a pitch-black fantasy where a group of forty-something adults have to deal with the returning unearthly horror they barely survived as teenage role-players. Think "Goth Jumanji." That only captures a sliver of what you'll find in the oversized debut issue – where fantasy gets all too real.
The Wicked + The Divine writer Kieron Gillen teams up with artist Stephanie Hans (The Wicked + The Divine 1831, Journey Into Mystery) for Die, Stephanie's first ongoing comic. DF wanted to delve a bit deeper into this mag, so we chatted it up with scribe Kieron Gillen.
Dynamic Forces: Kieron, you've described your new Image Comics series Die as Jumanji with goth sensibilities. Explain.
Kieron Gillen: It is me being a little playful. It's a huge book, in many dimensions, so having something which boils it down to a couple of words is fun.
But it's also not entirely inaccurate. Jumanji is about a game which exposes people in reality to a fantasy world. Die works in a similar place, but with far darker fantasies.
DF: Role-playing games have become huge again, just like they were in my late '70s/early '80s college days. Is that, at least in part, the genesis of this new series? Were you an RPG enthusiast?
Kieron Gillen: The timing has been interesting, hasn't it? I've got a past life as a games critic, and I'm always interested in seeing how these things come around. Die is certainly timely... but the timing didn't play a part in the inspiration. I was joking with a couple of friends while shopping in San Diego in 2016 about "Whatever happened to those kids from the 1980s D&D cartoon?" and then the whole core of the story downloaded across the rest of the day.
I played a bunch of role-playing games as a teenager. I've been in and out of the form ever since. It's something I find fascinating, and it's a useful metaphor for a lot of things we want to talk about. I've actually been writing a Die RPG to release as a PDF when the trade comes out. I'm all in.
DF: Give readers considering Die for their coming pull lists an extended pitch for the book.
Kieron Gillen: There's an excellent three-page teaser online which does the job. Go
to diecomic.com to see it. However, for those who love prose…
In 1991 six teenagers sat down and played a role-playing game. They disappeared.
Two years later, they were found wandering a forest, incapable of explaining where they'd been or who had taken them.
It was considered lucky that they'd managed to escape.
It's 2018. Those teenagers are now adults, and are about to discover that no one ever escapes.
It's a dark horror fantasy comic.
And as we said earlier, it's basically Goth Jumanji.
DF: Can you introduce your protagonists to us? What challenges face them, collectively and individually, as Die begins?
Kieron Gillen: Well, there's six of them. That could take some time, and likely be distracting. Each one is so individual, it's going to be overwhelming. I think it's better to talk about what draws them together, what drives Die. They're adults in their 40s looking at where their lives have ended up. Die is a book which is about comparing those teenage fantasies to their adult realities. Yes, it's a highly mid-life crisis book.
DF: Can you shed any light at all on the mystery of their disappearance in 1991, at least how that affects the way they see the world as adults in 2018? Any other non-spoilers?
Kieron Gillen: The teaser has been lots of fun. I'll say this: I think that's a good core pitch, as it gives you enough to know the book and hint at where it's going, but without telling you too much. It's also very much the start. By page 10, we're in 2018. The book motors. As such, I don't necessarily want to say too much more.
But how the experience shaped the adults is absolutely at the core of the book. They all carry scars, either emotional, physical or both. The emotional reality in the fantasy book is a big part of its appeal, I hope. It's a book that knows that dragons can be literal and
metaphorical.
DF: Talk about the art of Stephanie Hans. It certainly seems to create
the mood you have discussed for Die.
Kieron Gillen: If we've made a world, Stephanie is god. It's a book that will look like nothing else on the shelves. I've been showing artists the first issue on my phone and they've been incandescent in their joy at seeing something like this. It's not just that she hits one mood – she hits several moods, changing shades as is required. There's some stuff that's just painfully beautiful. There's other stuff which is just anguished. She's an artist who brings the emotions forward in the mind.
DF: What will a new reader find in Die that cannot be found anywhere else on the comics stand?
Kieron Gillen: I've just rhapsodized over Stephanie in the last answer. I could just cut and paste that here. It really is a startling looking book.
Apart from that... well, my Image books always aim high. I use the Goth Jumanji line as it's the simplest way to describe it before it's released, but when it's out, people will see how much is in there. Yes, it's an intense, adult drama about six people. It's also a metafantasy about the development of the genre, ala Planetary. It's also a riposte to the middle-age-spread of geek nostalgia culture. It's a whole lot. I just want to mail it to everyone so they can read it already. I'm as proud of it as anything I've ever done.
DF: Wow, that says a lot. … Kieron, any other projects current or near-future that you can share with readers?
Kieron Gillen: Actually, this is well-timed. We've just announced my book with Caspar Wijngaard for Dynamite, Peter Cannon: Thunderbolt. I've been out of the genre for a while, and wanted to do a fun, angry superhero pop comic. I'm having a bit too much fun with it. Out in January.
Dynamic Forces would like to thank Kieron Gillenfor taking time out of his busy schedule to answer our questions. Die #1 from Image Comics hits stores Dec. 5th!
For more news and up-to-date announcements, join us here at Dynamic Forces, www.dynamicforces.com/htmlfiles/, "LIKE" us on Facebook, www.facebook.com/dynamicforcesinc, and follow us on Twitter, www.twitter.com/dynamicforces.
PETER CANNON: THUNDERBOLT VOL. 2 #1
JAMES BOND: CASE FILES VOL. 1 HARDCOVER
ORIGIN II #1 SIGNED BY STAN "THE MAN" LEE
IRON MAN #9 DF EXCLUSIVE GOLD SIGNATURE SERIES SIGNED BY STAN LEE
THOR #607 - SIGNED BY BILLY TAN!
X-MEN #10 - SIGNED BY COVER ARTIST TERRY DODSON
UNCANNY X-MEN #535 - SIGNED BY TERRY DODSON!
---
NEW! 1. 11/30/2020 - SKYLAR PATRIDGE
5. 11/16/2020 - RYAN O'SULLIVAN