CULLEN BUNN & HEATH AMODIO

SEND THIS TO A FRIEND!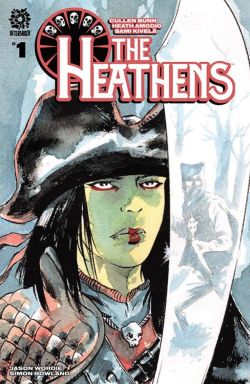 DF Interview: Cullen Bunn & Heath Amodio bring history's biggest big-bads back from the dead in 'The Heathens'
By Byron Brewer
When evil men and women escape from the depths of the eternal abyss, the Pirate Queen Lady Shih is sent to retrieve them. But when one of history's most notorious killers breaks free, even she needs help. Enter the Heathens: Shih, Lucky Luciano, Bumpy Johnson, Sofia the Golden Hand, and Billy the Kid. From Hell they came to mete out a justice as dark as their own tormented souls.
From the wonderfully wretched imaginations of AfterShock horror-alum Cullen Bunn (Eden, Piecemeal, Dark Ark) and Heath Amodio (SuperCLEAN), and illustrated by artist Sami Kivelä (Undone by Blood), in The Heathens evil meets its match – five of them, to be exact. I sat down with both writing horror honchos to hear about this one!
Byron Brewer: Cullen and Heath, this is definitely a spiritual spine chiller but we seem to have a nautical theme. Tell readers about how you guys got together to co-create The Heathens, and where the swashbucklers swang in. Has someone been watching too much SpongeBob?
Heath Amodio: Cullen and I are co-founders of our production company Hustle and Heart Films, which we launched in 2018. This is actually the third book we've collaborated on, but the first to come out. In regards to the pirate in the book, we wanted to use some of the coolest criminals in history. Lady Shih was an actual pirate queen that controlled the China Seas with around 1,200 ships and 70,000 pirates under her control. You don't get much cooler than Lady Shih.
Cullen Bunn: Yeah, I wouldn't say this is a nautical book, but we've got one helluva pirate as part of the cast. She is joining Lucky Luciano, Bumpy Johnson, Sofia the Golden Hand, and Billy the Kid. Think Elliot Ness's Untouchables, but far deadlier. This was Heath's initial concept, and he brought it to me and asked if I'd be interested in co-writing. I loved the idea, so here we are!
Byron: I haven't yet read one word on the Pirate Queen Lady Shih, but I am captivated by Andrea Mutti's beautiful variant which I take it is Lady Shih … or if not, ought to be! Talk a little about this character, and exactly what her supernatural duties are… and to whom?
Heath: The variant is indeed Lady Shih. I believe most of them will be. She's to the Heathens what Snake Eyes is to the Joes. The coolest character in a cast of cool characters. She's worked alone to hunt down infamous killers that have escaped from our version of eternity, and returned them in hopes of earning her own redemption.
Cullen: Shih immediately jumped to the foreground for us when we started working on this book. Her story is just so engaging. And she offers us the potential for a lot of really cool moments. Here's the interesting thing about this book, though. Don't get too attached! Just because a character is really cool doesn't mean they'll see the end of the adventure!
Byron: Potential for a fantastic supernatural supergroup (which I would personally love) with The Heathens. Without spoilers, tell us what you can tell us about its membership. I confess, the only name I recognize is Billy the Kid. I take it the other Heathens are based on real folks as well?
Heath: Yes, they're all real people. Bumpy Johnson and Lucky Luciano are two of New York's most notorious gangsters. They were on opposing sides of the war for Harlem, which Bumpy won. Lucky is best known for organizing the mob, and for establishing Murder Inc, which ensured that any mafia murders were sanctioned. Billy the Kid is the teenage gunslinger that took on crooked police and a violent cattle owner for murdering the man that took him in. Sofia (Sonya) the Golden Hand was one of the greatest con artists. She ran brilliant schemes that coaxed people out of their money or jewels. One such scheme is discussed in book 2.
Cullen: Yes! Even if you're not familiar with these figures, we will give you plenty of information on them. You'll get summaries of their past deeds. I dare say it might make some readers want to explore their real world exploits in a little more detail! And our main cast are not the only "real" people in the book. There are a few other historical figures who will be popping up.
Byron: Tell readers a little about the storyline for The Heathens. An extended pitch (or the beginning of one), please?
Heath: Lady Shih has been returning evil souls to their tortured eternities, but the most recent escapee is such a masterful killer that she's given a team of sorts. And they quickly discover they have more to worry about than one of the world's most infamous serial killers.
Byron: Any clues as to the really bad big-bad that brings our hall of Heathens together? I was looking again at Andrea's beautiful cover, and noticed a reflection in Lady Shih's (I think) sword which led me to my own guess.
Heath: The character reflected in Shih's sword is The Zodiac. He's featured in the book as well, and I think fans will really enjoy what Cullen does with him. The Ripper is the most dangerous killer in a book filled with them.
Cullen: Did I write the Zodiac scenes? I guess so. It feels like a million years since those pages were scripted!
Byron: Both of you are known for horror. There may not be a straight thread, but in your own minds does The Heathens compare to any of your past tales as far as "feel"?
Cullen: There are definitely some horror undertones in this book. Some issues, such as issue 4, do a deep supernatural horror dive. But it is still mostly an adventure book with some creepiness mixed in.
Byron: Talk about the wondrous works of artist Sami Kivela.
Heath: Sami crushed it. The emotions conveyed through the characters' faces are just as intense as the amazing action he brings to life. He also took some creative liberties with how the story was laid out visually that certainly added to how this exciting story comes across on the page.
Byron: Heath and Cullen, thanks for a great interview. Remind readers, if you would, on any project in which you may be involved coming up.
Heath: Cullen and I are working on a couple of projects for television, and we have several books coming out through Lion Forge over the next two years. I'd love for fans to check out our horror anthology book, Centralia. More big things are coming from us and our company! You can find me on Twitter and Instagram @theotherheath
Cullen: I have a number of creator-owned books coming out right now. Basilisk, The Last Book You'll Ever Read, Tales from Harrow County, and others. I also have Shadowman coming out from Valiant. And there are a few other projects, creator-owned and otherwise, in the works. To keep up with all the things I've got going on, you can check out my website (www.cullenbunn.com), follow me on Twitter (@cullenbunn), or sign up for my e-newsletter (which you can read through the site or Twitter).
Dynamic Forces would like to thank Cullen Bunn and Heath Amodio for taking time out of their busy schedules to answer our questions. The Heathens #1 from AfterShock Comics is slated to be on sale November 3rd!
For more news and up-to-date announcements, join us here at Dynamic Forces, www.dynamicforces.com/htmlfiles/, "LIKE" us on Facebook, www.facebook.com/dynamicforcesinc, and follow us on Twitter, www.twitter.com/dynamicforces.
ABSOLUTE CARNAGE: SCREAM #1 SIGNED BY CULLEN BUNN DUAL PACK!
ABSOLUTE CARNAGE: SCREAM #1 SIGNED BY CULLEN BUNN!
MOON KNIGHT ANNUAL #1 SIGNED BY CULLEN BUNN DUAL PACK!
MOON KNIGHT ANNUAL #1 SIGNED BY CULLEN BUNN!
DEADPOOL: SPECIAL MISSIONS #1 SIGNED BY CULLEN BUNN
VENOMVERSE #1 ULTRA-LIMITED SYMBIOTE SILVER EDITION - SIGNED BY CULLEN BUNN
X-MEN: BLUE #1 SKOTTIE YOUNG VARIANT ULTRA-LIMITED BLUE SIGNATURE SERIES SIGNED BY CULLEN BUNN
X-MEN: BLUE #1 SIGNED BY CULLEN BUNN
DARTH MAUL #1 ULTRA-LIMITED CRIMSON RED SIGNATURE SERIES EDITION SIGNED BY CULLEN BUNN
DEADPOOL BACK IN BLACK #1 SIGNED IN BLOOD RED BY CULLEN BUNN
---
NEW! 1. 01/18/2022 - JEREMY BASTIAN
2. 01/10/2022 - DAVID F. WALKER
3. 01/04/2022 - BENJAMIN PERCY