STEVE ORLANDO

SEND THIS TO A FRIEND!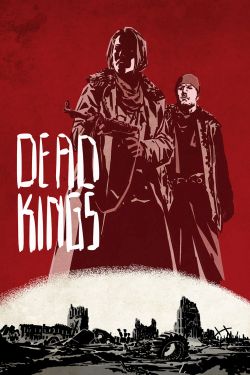 DF Interview: Steve Orlando weaves folklore of the future in Dead Kings
By Byron Brewer
Sasha never saw his younger brother … until the secret police made him disappear. Sasha Vasnetsov left Thrice-Nine – the dirty folklore world that limps along in the wreckage of a Technomagic War – thirty years ago and never looked back. But word that the secret police have sent his brother Gena to a work camp for the socially degenerate drags him back, with a promise to free Gena and return him to their mother before her fiftieth birthday. The only problem? Sasha isn't a fraction of the tough guy he tries to be, so if he's going to break back into Thrice-Nine, he'll need help ...
Written by Steve Orlando (Batman/Shadow, Crude, Midnighter, Virgil) and drawn by Matthew Dow Smith (October Girl, Suicide Squad, X-Files), Dead Kings continues Orlando's in-depth ex-ploration of retribution in all its dark, complex forms. DF sought out the scribe to get the lowdown on this new AfterShock series.
Dynamic Forces: Steve, what can you tell us about how this comic came to be? What was its genesis?
Steve Orlando: Dead Kings came about from a combination of opportunity and desire. After living in Russia in 2007 and studying Russian Folklore in school, and intensely following folklore in general since then, I wanted to tell a folklore epic not in the magical past, but in the magical future, a world after human nature and drive have brought the world to its knees with monolithic warsuits made of oil and iron. AfterShock was, I'm happy to say, quite supportive of my building this world with Matthew Dow Smith, someone I've known for years and have been dying to create with.
DF: You've said the saga takes place in "post-post-apocalypse." Tell us more about this world you and artist Matthew Dow Smith are creating.
Steve Orlando: This is a world that struggles on AFTER the world-ending wars. It's forever changed, with new maps and new rules. But even once structures fail and governments fall, there will always be power and those abusing it. In Thrice-Nine, what used to be the Slavic Empire, the government leaders have died, but their Secret Police, the Oprichniki, still enforce a brutal, subjective order. They have no captain, no leader, simply their fists and a desire to destroy anyone that would question their power. They're beyond authoritarian in a world where people struggle in shacks and towns drenched in magic fallout, just to live another day. There are always people finding new ways to survive, we're innovative, and even once we've killed the world we'll scrape through and this thing called humanity will begin to regrow.
DF: I usually touch upon the artist later in an interview with a writer, but, Steve, describe how important Matt's contributions are to this story. Did he design the characters and set pieces? If so, which are your favorites?
Steve Orlando: They're incredibly important. Matt is an amazing designer and draftsman who has been integral in building this world from brick one. The entire look of Dead Kings is owed to him and his intense creativity, from the characters, to the world and its history. His take on the opening, which begins in the home, quiet, in the iconic Russian Birch Forest and then balloons out into a massively scaled warsuit battle on the horizon is pitch perfect. Matt intrinsically understands this world and the themes at play, the artists and writers that influence the book, and he's key to its wonder.
DF: Spinning off the above, just a nod to color artist Lauren Affe. How important is her palette for this saga, for telling the Dead Kings story?
Steve Orlando: Lauren, like Matt, is a longtime friend who I've been dying to work with. Now, finally, the stars and schedules have aligned. Every member of the Dead Kings team is vital, and Lauren has the room and freedom to leave her mark on this world the same way as Matt does … as Thomas, our letterer, does. Her palette is inventive and evocative, from books like Revisionist to Stranger Things, she has an amazing ability to key in to the tone of a book and enhance it.
DF: Who is Sasha Vasnetsov, as a character? What challenges does Sasha face?
Steve Orlando: Sasha is the twin brother of Gena Vasnetsov, who was abducted by the Oprichniki and taken to a work camp for the socially degenerate. Years ago, Sasha abandoned Gena and their mother, refusing to live in the squalor of Thrice-Nine. Gena stayed, despite his mother objecting to his sexuality. Now he's been imprisoned, and Sasha, who was himself not totally comfortable with Gena, has vowed to rescue Gena and return him to their mother before her upcoming fiftieth birthday.
DF: Can you tell us more about Gena and introduce readers to some of the rest of the cast?
Steve Orlando: GENA is Sasha's brother, who argued with Sasha over his leaving Thrice-Nine. They've never been close, but Gena still strongly believes in family, which is why he can't leave his mother's side despite the danger to him as someone who doesn't fit the Oprichniki's idea of the mainstream. He's a prisoner in a work camp, but he's not waiting to be rescued. He's never waited for that.
MARIA KAMENAYA is Sasha's leathered, exhausted guide in Thrice-Nine. She survived the Great Iron War after years fighting in it, but refused to join the Oprichniki at its end. As such, she was banished by her own country, or what was left of it. Fighting for the Slavic Empire was her whole identity, it was her mother, father, teacher and lover. Then it turned its back on her, it asked her to go somewhere she couldn't. She's a haunted, deadly woman looking for something to believe in … and Sasha just might have it.
DF: What else about this world can you tell us?
Steve Orlando: This world is our ode to the Russian СКАЗКА, the folktale. What's unique about it is it takes all those tropes and colorful personalities and imagines them into the future, beyond the future we often call the finish line. It is in fact our imagined take on what the actual FOLKLORE OF THE FUTURE would be. In a thousand years, what will our world look like, and what tall tales will people tell in that time? Sasha and Maria's story is one of them. First we extrapolated our own world to create Dead Kings, and then we imagined what wonder tales would be passed word of mouth in that far flung time.
DF: I understand you are using the "plot and art-first" method for producing Dead Kings. How is that working for your collaboration thus far? What are the advantages (disadvantages)?
Steve Orlando: It's working incredibly! I feel, honestly, that this is a truer form of collaboration than working full script. And I believe that the more room each member of a creative team has to work, to innovate rather than just execute commands, the more surprising and organic a work is. Is it riskier? Absolutely. We each give up a bit of the control we're used to, but it is especially the writer who must check themselves and say this isn't "my story" it's "our story." It's a risk, but the reward is so much greater, a collaboration that truly feels aggregate and alive, and comics that overflow with creativity.
DF: Steve, what other projects you're involved in can you tell readers about?
Steve Orlando: You'll see me right now on Crude from Skybound, as well as The Unexpected and Wonder Woman at DC Comics! I'll be working with Diana from Issues 51-55, and The Unexpected is ongoing. As well, starting in the fall, I'll present Electric Warriors with DC Comics, imagining the shocking future in between Jack Kirby's Great Disaster and the birth of the Legion of Superheroes.
Dynamic Forces would like to thank Steve Orlando for taking time out of his busy schedule to answer our questions. Dead Kings #1 from AfterShock hits stores Oct. 24th!
For more news and up-to-date announcements, join us here at Dynamic Forces, www.dynamicforces.com/htmlfiles/, "LIKE" us on Facebook, www.facebook.com/dynamicforcesinc, and follow us on Twitter, www.twitter.com/dynamicforces.
THE SHADOW/BATMAN HARDCOVER - SIGNED BY STEVE ORLANDO
WONDER WOMAN #51 STANLEY ARTGERM LAU COVER ELITE GOLD SIGNATURE SERIES EDITION SIGNED BY STEVE ORLANDO
CATWOMAN #1 STANLEY ARTGERM LAU COVER CGC GRADED
THE SHADOW/BATMAN #1 DAVID FINCH CONVENTION FOIL EDITION - SIGNED BY STEVE ORLANDO
JLA/DOOM PATROL SPECIAL #1 SIGNED BY STEVE ORLANDO
SHADOW/BATMAN #1 DYNAMIC FORCES EXCLUSIVE ALEX ROSS VIRGIN COVER
THE SHADOW/BATMAN #1 (OF 6) ETHAN VAN SCIVER COVER - SIGNED BY ETHAN VAN SCIVER
JUSTICE LEAGUE OF AMERICA #1 BLANK VARIANT ULTRA-LIMITED EDITION SIGNED BY STEVE ORLANDO AND REMARKED WITH A BATMAN SKETCH BY KEN HAESER!
BATMAN/SHADOW #1 ULTRA LIMITED SHADOW SILVER SIGNATURE EDITION SIGNED BY STEVE ORLANDO
MIGHTY MORPHIN POWER RANGERS #0 ULTRA-LIMITED RED RANGER SIGNATURE EDITION SIGNED BY STEVE ORLANDO
MIDNIGHTER AND APOLLO #1 SIGNED BY STEVE ORLANDO!
SUPERGIRL #1 SIGNED BY STEVE ORLANDO
---
NEW! 1. 11/25/2020 - STEVE SKROCE
4. 11/16/2020 - RYAN O'SULLIVAN
5. 11/16/2020 - RYAN O'SULLIVAN