GERRY DUGGAN & JOHN McCREA

SEND THIS TO A FRIEND!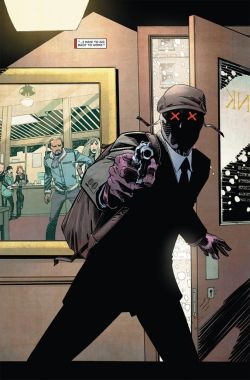 DF Interview: Gerry Duggan & John McCrea keep things hopping in Dead Rabbit
By Byron Brewer
Back in the '90s, Dead Rabbit was a prolific Boston stick-up man and hoodlum, until he took down one last big score and disappeared. Nobody ever discovered the truth: he retired to be with the love of his life. Now he's back in the mask to save her, but no one – not his wife, the mafia, or the cops – is happy that he's out of retirement.

From John McCrea, the artist and co-creator of Mythic and Hitman, and Gerry Duggan, the writer of Analog and Deadpool, comes the action-comedy-drama tale of Martin Dobbs, a.k.a. Dead Rabbit, the man who says he's descended from one of the original gangs of New York City. Get on board with the over-sized first issue of an all-new ongoing series from Image Comics.
What's it about? Glad you asked! And you'll be glad DF asked creators Gerry Duggan and John McCrea.
Dynamic Forces: Gerry and John, can each of you please give readers your take on the Dead Rabbit book as a whole. What was its genesis, and how did your collaboration form?
Gerry Duggan: I've been threatening John with more of me in his life for a long time. Eric Stephenson knew that we were both looking for a partner, and suggested we see if we could cook something up. The rest is comics history, thanks to John's truly sublime pages. He and Mike Spicer are a tremendous team. This will be your favorite noir and action comedy all rolled up in one package.
John McCrea: I met Gerry, what, five years ago, in Dublin at DICE, organized by the lovely folks at the Big Bang Comic Shop. I knew and enjoyed Gerry's work and had deliberately set out to wine and dine him, but he knew of me and was keen to team. Image is the way to go, and when Gerry pitched me a few ideas, Dead Rabbit stood out. There is a tremendous heart at the center of this noir comedy thriller, and that is the relationship of Martin and his wife, Megan.
DF: Describe the world we are entering.
GD: It's the world outside your window. Unemployment is low, and so is everything else: wages, benefits, quality of living. Martin Dobbs is hiding the fact that he's working for low wages in a warehouse store from his wife. He observes that he's no longer a thief but a victim at the beginning of the comic. But he has a secret mask that he can put on to try and change his luck.
JM: I am deliberately drawing stuff falling apart everywhere you look in this, homeless people are very apparent, it's the world we live in now, though it is maybe set a year or two from now.
DF: Gerry, can you please introduce us to Martin Dobbs? Give us a little feel for what he has been through and where he is headed as we meet him in #1.
GD: He's a middle-aged guy that thought he had enough put away from his days as a thief to live comfortably with his wife, Megan. He thrived in the 1990s as "Dead Rabbit," a masked criminal. He gave up the life of crime when he married Megan, and considered himself lucky to have survived all the action. But Megan's medical bills are piling up, and Dead Rabbit is going to have to come back if Martin and Megan are to have a shot at a happy ending.
DF: What role, if any, does Dobbs' wife play in the series?
GD: Megan's an important ongoing supporting character in the story. Her roll grows as the series rolls out.
DF: What is the main storyline for this action drama?
GD: An old hood comes out of retirement because he needs cash. It will upset some old enemies: first the mafia, then the cops. There's not a lot of justice in our world, and I think that's why we read comics. Dead Rabbit isn't a courtroom drama, but we promise some righteous anger and hilariously violent street justice.
DF: John, I loved your art in Mythic. How do you compare and contrast that project with something like you have with Dead Rabbit?
JM: Thanks, I wish Mythic had more of a run. Whereas Mythic was pure fantasy, Dead Rabbit is very rooted in our world, so I am using a lot of reference for backgrounds and places to make it feel real, and basing the people on friends of mine to give them a connectedness and plenty of character. Obviously, it is a noir thriller, so I am leaning heavily on my black markers, throwing in a lot of light and dark contrast.
DF: Did you get to design the characters for Dead Rabbit? If so, tell readers about the experience and any great challenges that may have arisen therein.
JM: For the main character, Gerry wanted a mask and a flat cap. I was unsure at first how that would work, but as the design progressed I realized that Gerry was spot on! It's very effective looking and gives him something I haven't seen in a masked vigilante before. The mask itself started out more complex, but it eventually distilled down to the two red crosses and little ears. Simple is better in design. I stole the gloves from the Octopus in The Spirit. I love Will Eisner's work.
DF: Tell us about using the tools of your art to establish the atmosphere for this series.
JM: Even though there are a lot of heavy brush black areas, I am putting a lot of detail into each panel – so I am using a fair amount of thin fine-liner pens for fiddling detail all the way up to thick markers for the atmosphere.
DF: Guys, tell readers a little, if you would, about other projects in which you may be involved.
GD: When I'm not busy with John, I'm writing at Marvel, and continuing my collaboration with David O'Sullivan on Analog for Image Comics. David just finished issue #6, and I'm working with Ryan Condal on the feature adaptation for Lionsgate. Chad Stahelski will have a draft to consider when he wraps up John Wick 3. Analog Vol 1 arrives the same day as Dead Rabbit # 1. Thanks in advance for picking both up. Hope you dig them.
JM: Dead Rabbit is it at the moment as far as comics go, but I am running a new class helping up-and-coming comic artists get their foot in the door of the industry. In fact, my students are running a Kickstarter so I am going to plug it here! If you want to support new UK talent, have a look, folks ...
https://www.kickstarter.com/projects/935657776/off-the-mark-comic-anthology
It'll have an all-new cover by myself too! Thanks and shameless plug over.
Dynamic Forces would like to thank Gerry Duggan & John McCrea for taking time out of their busy schedules to answer our questions. Dead Rabbit #1 from Image Comics hits stores Oct. 3rd!
For more news and up-to-date announcements, join us here at Dynamic Forces, www.dynamicforces.com/htmlfiles/, "LIKE" us on Facebook, www.facebook.com/dynamicforcesinc, and follow us on Twitter, www.twitter.com/dynamicforces.
DEADPOOL #1 - SIGNED BY DEADPOOL CO-CREATOR FABIAN NICIEZA AND REMARKED WITH A DEADPOOL SKETCH BY KEN HAESER
DEADPOOL #1 SIGNED IN BLOOD RED BY DEADPOOL CO-CREATOR FABIAN NICIEZA
DEADPOOL #1 FIRST PRINTING CANDY RETAILER VARIANT!
CHEWBACCA #1 REMARKED BY KEN HAESER
DEADPOOL #27 WEDDING ISSUE - GOLD SIGNATURE ELITE SERIES - SIGNED BY CO-CREATOR FABIAN NICIEZA!
THE BOYS: HIGHLAND LADDIE #1 INCENTIVE EDITION
THE BOYS DEFINITIVE EDITION VOL. 4 HC
THE BOYS VOL 9: THE BIG RIDE TPB
THE BOYS VOL. 5: HEROGASM LIMITED EDITION HARDCOVER
---
NEW! 1. 11/25/2020 - STEVE SKROCE
4. 11/16/2020 - RYAN O'SULLIVAN
5. 11/16/2020 - RYAN O'SULLIVAN