HITMAN: ACE OF KILLERS TPB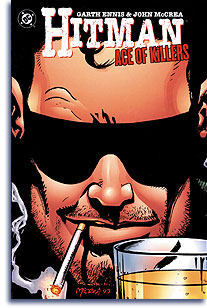 PRICE:
$14.36 MSRP: $17.95 YOU SAVE 20%
Written by Garth Ennis and featuring art by John McCrea and
Steve Pugh this TPB collects issue #'s 15 - 22 of Hitman and is now
available for 20% OFF cover price!

In the extremely funny and violent forth volume of the HITMAN series Tommy
Monaghan's past comes back to haunt him once again. Angered by Tommy's
previous attack against them the Arkannone a cabal of creatures residing
in Hell send the 10-foot tall skeletal demon Mawzir on a mission of
revenge. Realizing that his X-ray vision and telepathy are no match for the
six-armed artillery-toting hell spawn Hitman sends Catwoman and Etrigan
the Demon on a quest to hell to retrieve the one weapon that can stop
Mawzir the gun known as the Ace of Killers. But can a man who is paid to
trust a cat burglar and a duplicitous demon escape with his life?
Note: Please allow at least two weeks for processing (not including delivery time) from time of order.