JUSTIN JORDAN

SEND THIS TO A FRIEND!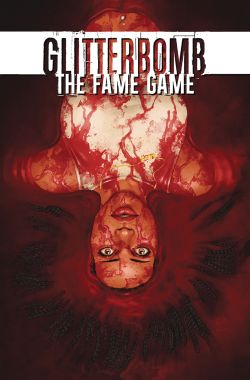 DF Interview: Justin Jordan practices The Family Trade
By Byron Brewer
Steampunk, alchemy and adventure meet the ocean. On an island city in a world where history didn't quite turn out like ours, a hidden family of spies, thieves and assassins makes sure that the world keeps going. Or they did, until Jessa Wynn, their youngest member, manages to start a civil war.
From Image Comics, co-writers Justin Jordan and Nikki Ryan, and artist Morgan Beem comes The Family Trade. DF wanted to know more, so we went to the gentleman who brought us such works as Luther Strode, Spread and Dead Body Road, Justin Jordan.
Dynamic Forces: Justin, as long as I've known you, you have had the most unique approaches to the most unique books on the shelves. What was the muse for your latest Image series, The Family Trade? How did it come about?
Justin Jordan: The Family Trade had its origins in a joke I made to Nikki Ryan, my co-writer and co-creator on the series. Her cousin was hopping around Europe going from country to country without a lot of explanation, so I asked if she was secretly an international assassin. Nikki said, well, that's the family trade.

I THINK she was joking.

But we got to talking about a family of assassins, and it sort of evolved from there. I'd sort of had this idea about what would happen if you built a city that's just floating in the sea, and that became the basis of the Float, the city the book is set in.

So we decided it was going to be kind of a steampunk thing, although there's precious little steam in it, and that all sort of came together to make The Family Trade. This was heavily influenced by Morgan Beem, artist and other co-creator on the book. We had her in mind from the earliest stages, which influenced the setting of the book. We were REALLY lucky she said yes to working on it.
DF: What can you tell us about the world that team has created here for this series? Certainly a little different.
Justin Jordan: The Family Trade takes place at an undisclosed time on an Earth where things went… somewhat differently than the real world. The basic point of departure is that during the age of sail, a very large portion of the British fleet decided to hell with the crown and made their own country. Basically by nailing their own ships together.

Since they were in a central location in the Atlantic and had a lot of guns, they became a hub for trading and political meetings, which allowed the city to keep expanding. So, basically, the Free Republic of Thessala aka The Float is this version of Earth's equivalent of Switzerland. A place for business and politic to happen while it remains studiously neutral.

The Float is run by the Clans, who are the descendants of the Officers of the original ship. The Float is kept floating by the work of The Family, who are the descendants of the crew of those ships. They work in secret, unknown to even the Clans, to make sure no one does anything that will jeopardize the city.
So because of the lack of British Navy for a while and because the Float exists, the world in which it exists ended up differently. Some new countries, some old countries with different roles than happened in our version of history.

And for reasons no one has ever figured out, there's stuff that works ONLY on the Float. Alchemy of a sort works, and the cats are smarter than the people (this might be true on our Earth too, but here they know it) and they can do some strange things with fish. None of which is true anywhere BUT the Float, and no one really knows why.
DF: Tell us more about the spies, thieves and assassins who populate your tale.

Justin Jordan: [These] descendants of the crew of the original ships that formed the Float really are a family, albeit a very extended one. But just as the crews of the ships had to make sure their officers didn't get them all killed, the Family has the self-appointed job of making sure the Clans don't disrupt the workings of the city.

So they do whatever they need to do to make that happen. They spy and keep tabs. They'll con people in to scandals to make sure they don't have the power to enforce bad decisions, and if need be they will kill people, although they generally prefer not to. They're the secret society that's just beneath the surface.
DF: Who is Jessa Wynn? In addition to her place among the "family," can you give readers some clues to her character? Is there any reflections at all of writer Jordan to be found in Jessa's character at all?
Justin Jordan: Jessa is very smart, very proactive and, alas, very overconfident. She's just turned of age to really starting working in, well, the family trade, and she decides in the first issue that she needs to kill someone who threatens the city.

But it turns out, she can't do it. And her trying and failing basically causes a whole lot of chaos. So that's Jessa: immensely capable, but lacking the judgment to really see what her actions will do. Fortunately for her and the Float, she's a very fast learner.

She's super-fun to write. She has a very dry sense of humor, and she's a character who doesn't wait for things to happen, she goes out and makes them happen. While she can kick butt if she needs to, her greatest skill is thinking on her feet, so writing her getting herself into and then out of trouble has been really entertaining. I think the readers are going to dig her.
DF: You're co-writing this with Nikki Ryan. Tell us how this collaboration came about and a little about the process thus far.
Justin Jordan: It's been really rad. It's fun working with someone who's both a friend and super smart. I've not done a lot of co-writing, so it's been interesting, in a good way, from that perspective as well. As I mentioned, this story exists very much because of Nikki.

The working process is basically me and Nikki talking about what the arc is going to be until we have a good idea for the main plot. Then I break it down into what I think the issues should be and Nikki gives me notes on that, until we have a solid outline for the arc.

With the issues themselves, it's a similar process. We get together, talk about what needs to happen in each issue and what would be fun to see, and then I write an outline, Nikki gives me notes, etc. And the same with the actual script.

It's worked really well, and the net result is something that is very different, in a very good way, from how I would write it if I were just writing the book alone. It's made for a better book, I think, which is always what I want out of a creative partnership.
DF: From what I have seen, artist Morgan Beem certainly seems to reflect that script well with her efforts thus far. Tell us your take on the art.

Justin Jordan: Morgan is amazing. Her art is fully watercolor, and I have loved it for years. Nikki and I wrote descriptions of the main characters and then just let Morgan do her thing. I am not, generally, a person who does a lot of giving the artist notes – I am more of the "pick the right person and let them do their thing" philosophy.

Which with Morgan has worked out great. She's got a great visual style and we all fell into a working groove really quickly and really well. Plus, she's awesome as a person, which is always a bonus for someone you're working with.
DF: Earlier we talked about how Family Trade came about. Is there any of your former series that you could compare this book too, even if it is an "other side of the coin" type of comparison?
Justin Jordan: That's a good question. There are some similarities with Luther Strode, although this book is notably lacking in gore. Both Luther and Jessa are talented people who are immensely capable but are hamstrung by a lack of experience. In Luther's case this goes tragically, whereas with Jessa the story is a LOT more optimistic.

DF: Justin, what else can readers look forward to from your fertile mind in the not too distant future?

Justin Jordan: Bunches and bunches of stuff. Let's see: The Family Trade comes out in October, as does the hardcover Luther Strode omnibus. Later this year, I have a book called Backways out from Aftershock. Early next year, I'm writing Sideways and Brimstone for DC, both part of their Dark Matter line. In February, I have Death of Love coming out from Image.

Beyond that, I've got an unannounced crime series and an unannounced fantasy book coming out. And you know, pitching stuff beyond that.
Dynamic Forces would like to thank Justin Jordan for taking time out of his busy schedule to answer our questions. The Family Trade #1 from Image Comics hits stores Oct. 11th!
For more news and up-to-date announcements, join us here at Dynamic Forces, www.dynamicforces.com/htmlfiles/, "LIKE" us on Facebook, www.facebook.com/dynamicforcesinc, and follow us on Twitter, www.twitter.com/dynamicforces.
EVIL ERNIE: GODEATER PAPERBACK
DEEP STATE #1 SIGNED BY JUSTIN JORDAN!
SPREAD #3 FIRST PRINTING SIGNED BY JUSTIN JORDAN!
SPREAD #2 SECOND PRINTING VARIANT SIGNED BY JUSTIN JORDAN!
SPREAD #1 THIRD PRINTING VARIANT EDITION SIGNED BY JUSTIN JORDAN!
SPREAD #2 FIRST PRINTING SIGNED BY JUSTIN JORDAN!
SPREAD #1 SECOND PRINTING ACTION FIGURE VARIANT EDITION SIGNED BY JUSTIN JORDAN!
GREEN LANTERN: NEW GUARDIANS: FUTURES END #1 3-D MOTION ULTRA-LIMITED GOLD SIGNATURE SERIES ELITE EDITION SIGNED BY JUSTIN JORDAN!
GREEN LANTERN: NEW GUARDIANS: FUTURES END #1 3-D MOTION ULTRA-LIMITED EDITION SIGNED BY JUSTIN JORDAN!
SPREAD #1 FIRST PRINTING SIGNED IN BLOOD RED BY JUSTIN JORDAN!
SPREAD #1 FIRST PRINTING SIGNED BY JUSTIN JORDAN!
---
NEW! 1. 11/30/2020 - SKYLAR PATRIDGE
5. 11/16/2020 - RYAN O'SULLIVAN