CHIP ZDARSKY

SEND THIS TO A FRIEND!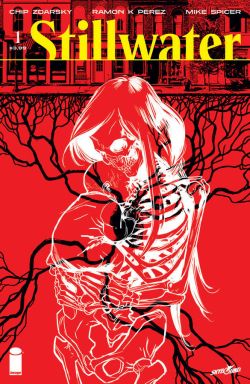 DF Interview: Chip Zdarsky pulls us into the gripping, creepy world of 'Stillwater'
By Byron Brewer
Nobody dies. In the town of Stillwater, that's not just a promise. It's a threat. Join writer Chip Zdarsky (The White Trees, Daredevil) and Eisner Award-winning artist Ramón K. Pérez (Jim Henson's Tale of Sand, Jane) as they dive into a world of horror and intrigue in Stillwater, a new ongoing Skybound/Image Comics series.
DF was fascinated with the saga of Stillwater, so we chatted up the coming ongoing with scribe Chip Zdarsky.
Dynamic Forces: Chip, is Stillwater something that you've been dwelling on a long time? It has that sense of a very well thought out concept. Tell us about its genesis.
Chip Zdarsky: Oh God, yeah. I started plotting it out in the middle of 2017! The idea of immortality in fiction is pretty well-trod, but I started picturing something on a much smaller scale and Stillwater came to the surface.
Skybound seemed like a perfect fit for the style and themes, so I brought it to them and we jumped into this together.
DF: Why was now the right time to try your hand at horror? I cannot recall that you have written any strictly horror mags, as this certainly is.
Chip Zdarsky: Yeah! I'm fascinated by almost every genre, and enjoy the challenge of mixing things up. I get as much joy out of writing Howard the Duck as I do Daredevil, y'know?
Horror and comedy have a ton in common as they're both about building toward revelation and surprise, so this didn't feel like a huge step writing-wise.
DF: What can you tell us about this new ongoing's storyline?
Chip Zdarsky: It's about a small town in the middle of nowhere called Stillwater that's harbored a secret for decades: those within the town's borders are immortal. A gift, a curse, a thing that needs to be protected from the world at large. How far will they go to do that?
DF: Can you introduce readers to some of your main protagonists here?
Chip Zdarsky: Yeah! The main character is a man named Daniel West. Living in the big city, he's a little lost and with that feeling comes some anger issues. But the town of Stillwater beckons him, and his life dramatically changes as a result.
The town has a bunch of mysterious characters who we'll learn about as time goes on. The intense and cool Sheriff Tanya, the hardened Judge Taylor, and the mysterious woman named Laura who risks everything.
A lot of the fun with this series is slowly rolling out the characters and delving into their backstory!
DF: Talk about your collaboration on Stillwater with the Eisner, Harvey and Shuster award-winning artist, Ramón K. Pérez.
Chip Zdarsky: Oh, Ramón is amazing. We've known each other for years as we're both Toronto-based, and it's been a real treat seeing him grow and expand as an artist from our early days in the industry. He's won all the awards and deserves every last one. He imbues emotion on every page and makes it all feel so alive. We're really lucky to have him on this book, along with the super-talented Mike Spicer on colors!
DF: Chip, what other current or future projects, in or out of comics, can you tell readers about?
Chip Zdarsky: Well, I am still writing Daredevil! The final issue of Sex Criminals is on my table right now! After that, I have a few creator-owned books being drawn right now which I'm excited to announce. Hopefully soon!
Looking at my board, I have eight projects, five of them secret, and it's killing me not to talk about them!
Dynamic Forces would like to thank Chip Zdarsky for taking time out of his busy schedule to answer our questions. Stillwater #1 from Skybound/Image Comics is slated to hit stores Sept. 16th!
For more news and up-to-date announcements, join us here at Dynamic Forces, www.dynamicforces.com/htmlfiles/, "LIKE" us on Facebook, www.facebook.com/dynamicforcesinc, and follow us on Twitter, www.twitter.com/dynamicforces.
SECRET WARS #1 PARTY RETAILER VARIANT BY CHIP ZDARSKY!
HOWARD THE DUCK #1 - ONE OF A KIND EVOLUTION OF HOWARD RETAILER VARIANT BY CHIP ZDARSKY!
HOWARD THE DUCK #1 - 1:25 RETAILER VARIANT BY CHIP ZDARSKY!
SEX CRIMINALS #1 RARE FOURTH PRINTING PHOTO COVER GOLD SIGNATURE SERIES ELITE EDITION SIGNED BY MATT FRACTION!
SPIDER-MAN: LIFE STORY #1 SKOTTIE YOUNG VARIANT ELITE GOLD SIGNATURE SERIES SIGNED BY JOHN ROMITA SR
SPIDER-MAN: LIFE STORY #1 ELITE GOLD SIGNATURE SERIES SIGNED BY JOHN ROMITA SR!
---
NEW! 1. 11/30/2020 - SKYLAR PATRIDGE
5. 11/16/2020 - RYAN O'SULLIVAN