CULLEN BUNN & JIMMYZ JOHNSTON

SEND THIS TO A FRIEND!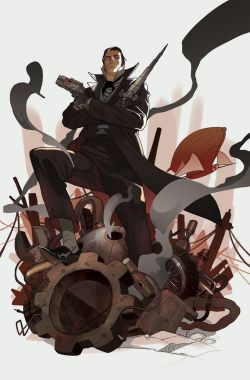 DF Interview: Cullen Bunn & JimmyZ Johnston kick off 'Democritus Brand and the Endless Machine' on Kickstarter
By Byron Brewer
Democritus Brand is a new adventurer in a steampunk version of the Victorian era. Exploring the world via his state-of-the-art airship, accompanied by a host of skilled companions, Brand is an archaeologist who is seeking the truth about the steam-driven wonders that have changed the world forever. This truth, of course, is not necessarily all that pleasant.
Cullen Bunn, JimmyZ Johnston and Federico de Luca have launched a Kickstarter campaign to fund the release of the first two issues of their upcoming comic book series, Democritus Brand and the Endless Machine. Bunn and Johnston are co-writing the series. De Luca is handing art chores. Simon Bowland is lettering the series. Baldemar Rivas is providing a variant cover for the first issue. DF wanted to hop on this ride from the get-go, so we talked with Democritus scribes Cullen Bunn and JimmyZ Johnston.
Dynamic Forces: Cullen and Jimmy, tell us about how the decision to create Democritus Brand and the Endless Machine came about. It's certainly not the first time you have teamed up (Micronauts, Wrath of Karza).
JimmyZ Johnston: I have known Cullen for close to 20 years now, since we were both dabbling in the world of horror prose. We have workshopped and created dozens of worlds and properties over the years. Across different genres and mediums. Democritus Brand has been tossed around for years by us.
Cullen Bunn: Yeah, long ago, Jimmy and I used to get together about once every couple of weeks, sit at a local bar, and brainstorm comic book ideas. Somewhere along the way, we got the idea of doing a steampunk comic, but we wanted to do something a little different with it. And, of course, I couldn't help but bring in some horrific elements!
DF: Why the crowdfunding route with Kickstarter, and why the unusual step of completing and offering TWO issues at once?
JimmyZ Johnston: We have been working on the idea for Democritus Brand for at least five years. It has shifted and changed throughout that time and there have been pitches put forth to traditional publishers. Ultimately, we decided that keeping the control of the story was an extremely important aspect to us and we didn't want to make the sacrifices and accommodations that editors wanted from us. Kickstarter is such a tremendously powerful tool for creators in this era and we have actually spent over a year debating what project to put forth and utilize it.
Going into it, we wanted to make sure and avoid the pitfalls projects often run afoul of. Having two issues completely done before launch was important to us. Script and art are there and ready to go. It gives us the ability to go straight to press when the project funds get disbursed and avoid the delays that are often seen with KS projects causing them to not ship out until a year after funding.
Cullen Bunn: I've long said that some projects are right for traditional comic book publishers and some are perfect for crowdfunding. I want to play in as many fields as I can, really, and I'm excited to try crowdfunding for this one.
Doing two issues at once was something we thought would set this campaign apart. We considered doing the issues as separate campaigns, but this is the best way of getting the book to readers as quickly as possible!
DF: Tell readers a bit about the world you are building here.
Cullen Bunn: This is a steampunk version of Victorian England. On the surface, you have all the trappings of that familiar setting. But we really wanted to dig into the idea of how society got there. If it wasn't a slow progression… if this jump in technology occurred over just 20 years… where would that come from? The basic idea is simple. Twenty years ago, explorers found an ancient mummy that seemed to be fused with technology. That mummy was reverse engineered, and society changed drastically because of it. Of course, we all know that curses abound when ancient crypts are pillaged.
JimmyZ Johnston: A big part of world building is trying to create something new. Combining cosmic horror with steampunk and Egyptian mythology has let us create a world that we feel is going to be fresh and new for readers. Familiar in some aspects but then taking that world and twisting and turning it. There are very few people that don't have some level of familiarity with Egyptian mythology and mummies (even if only from the Steve Martin song or the Brendan Fraser movies.)
The starting point of our story focuses on two main parts of the world: Egypt and England. It is an England that has been transformed because of the discovery of the mummy at the start of the book. That discovery is really the catalyst for why our world leapt into being a steampunk world.
DF: Introduce us to Democritus Brand.
Cullen Bunn: Charming. Handsome. Clever. Brilliant. A knack for getting into trouble. He's a genius professor with a roguish streak.
JimmyZ Johnston: In some ways, Democritus Brand is our Indiana Jones of the story. But combined with Doc Brown from Back to the Future. Equal parts mad scientist and intrepid explorer, but with an insatiable curiosity that means he will never be willing to leave well enough alone.
Cullen Bunn: Interesting. I was thinking he had a bit of James West (Wild Wild West) in him as well. Maybe that's because of the gadgets.
DF: Brand's airship has a host of skilled companions. Can you tell readers about a few of them here?
Cullen Bunn: Yes! Professor Brand isn't going it alone! At his side are the Countessa, a beautiful and dangerous dilettante; Conroy, a cunning street urchin, sort of an Artful Dodger; Zylphia, a soldier of the Crown; and Number 12, a pneumatic manservant (just don't ask what happened to numbers 1 through 11).
DF: Why is Federico de Luca the right artist for this steampunk horror saga?
Cullen Bunn: Federico just has such a rich style. His colors are vibrant, but he still manages to get this sense of grunginess across. And—let me tell you—when you get to the last page of the first issue, you'll know exactly why Federico is on board!
DF: What can you tell us about the Kickstarter campaign. How long does it continue and where can we learn more about it and the book?
Cullen Bunn: The campaign will run until August 7, 2020. Our goal is $7500 to fund the first two issues. As of this interview, I think we're at 91% of our goal! We have some really cool offerings. Digital issues, print issues, script PDFs, a variant cover by Baldemar Rivas, even one-on-one discussions with me. You can check out the campaign here at https://www.kickstarter.com/projects/cullenbunn/democritus-brand-and-the-endless-machine-issues-1-and-2?ref=9e5pnz
DF: Jimmy and Cullen, what other future projects, inside or outside comics, can you tell readers about?
Cullen Bunn: I have a few projects in the works right now, both for publishers and for crowdfunding campaigns. I'm not sure there is anything new I can talk about, but you know you'll be one of the first to know! You can follow my website (www.cullenbunn.com), my Twitter (@cullenbunn), or my Patreon (https://www.patreon.com/cullenbunn) for all the latest!
JimmyZ Johnston: Having opened a comic book store in Cuba, Missouri, two years ago, my projects tend to be centered mostly around day to day activities there. But I am always working in my head on both story ideas and game design ideas. If I ever get access to six more hours per day, these will start flowing quickly!
Dynamic Forces would like to thank Cullen Bunn & JimmyZ Johnston for taking time out of their busy schedules to answer our questions. Democritus Brand and the Endless Machine is currently up on Kickstarter. Keep watching DF News and comics-related social media for more information.
For more news and up-to-date announcements, join us here at Dynamic Forces, www.dynamicforces.com/htmlfiles/, "LIKE" us on Facebook, www.facebook.com/dynamicforcesinc, and follow us on Twitter, www.twitter.com/dynamicforces.
ABSOLUTE CARNAGE: SCREAM #1 SIGNED BY CULLEN BUNN DUAL PACK!
ABSOLUTE CARNAGE: SCREAM #1 SIGNED BY CULLEN BUNN!
MOON KNIGHT ANNUAL #1 SIGNED BY CULLEN BUNN DUAL PACK!
MOON KNIGHT ANNUAL #1 SIGNED BY CULLEN BUNN!
DEADPOOL: SPECIAL MISSIONS #1 SIGNED BY CULLEN BUNN
VENOMVERSE #1 ULTRA-LIMITED SYMBIOTE SILVER EDITION - SIGNED BY CULLEN BUNN
X-MEN: BLUE #1 SKOTTIE YOUNG VARIANT ULTRA-LIMITED BLUE SIGNATURE SERIES SIGNED BY CULLEN BUNN
X-MEN: BLUE #1 ULTRA-LIMITED BLUE SIGNATURE SERIES SIGNED BY CULLEN BUNN
DARTH MAUL #1 ULTRA-LIMITED CRIMSON RED SIGNATURE SERIES EDITION SIGNED BY CULLEN BUNN
DARTH MAUL #1 SIGNED BY CULLEN BUNN
MONSTERS UNLEASHED #1 SIGNED BY WRITER EXTRAORDINARE CULLEN BUNN
DEADPOOL BACK IN BLACK #1 SIGNED IN BLOOD RED BY CULLEN BUNN
---
NEW! 1. 12/04/2020 - JOSH BLAYLOCK
3. 11/30/2020 - SKYLAR PATRIDGE