STEVE NILES

SEND THIS TO A FRIEND!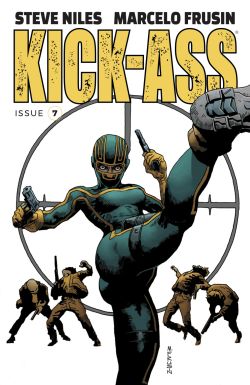 DF Interview: Steve Niles keeps mob-killing mom Kick(ing) Ass
By Byron Brewer
Image Comics' Kick-Ass begins a new arc and a new era with issue #7 this fall as co-creators Mark Millar and John Romita Jr. hand over the book's reins to writer Steve Niles and artist Marcelo Frusin.
The good news: The new creative team will continue the adventures of mob-killing mom Patience Lee!
In the series, Kick-Ass has wiped out Hoops Lucero and seized control of his criminal operations, but Violencia's set to bust out of jail and get his bloody revenge on our favorite superhero.
So where does this new arc go from there? To find out more, we sought out Millar's "favorite writer," Steve Niles.
Dynamic Forces: Steve, a Captain Obvious question (maybe more, LOL): How does it feel to follow in the footsteps of co-creators Mark Millar and John Romita Jr. (the latter of whom some of us watched grow up in Marvel's Bullpen Bulletins) on Kick-Ass?
Steve Niles: It's at the same time amazing because I love their work so much and intimidating for the exact same reason. Mark and John have created a great world and I just wanted to make sure I could do it justice. So far I'm having a lot of fun with it.
DF: Out of the gate (as we say here in Kentucky horse country), tell readers what they need to know coming into this new arc, which starts with September's issue #7.
Steve Niles: Hmm. I don't want to spoil anything in the current run so I'll be careful here. Patience continues to fight against crime organizations and creates a lot of new enemies.
DF: Tell us your perceptions of Patience Lee as a character.
Steve Niles: I admire her a lot. She's a veteran and a mother who moonlights as a masked hero. What's not to love? At the same time, she's very relatable, she wants to change the world, make it better for her children. She struggles with paying her bills, juggling work, motherhood (and fighting hardened criminals). One thing about typical superhero comics is getting that feeling of real danger to the characters. You really get that with Patience and root for her.
DF: What can you tell us about the new storyline?
Steve Niles: Things continue to escalate. As Patience knocks down crime bosses, she is torn about what she is doing and trying desperately to balance her crime-fighting life with her home life.
DF: So what happens now to the criminal operations of Hoops Lucero? Any hints?
Steve Niles: You'll have to read, can't say anything on that!
DF: I know jail is just a temporary stop for Violencia. How does this nightmare on legs work into the arc beginning in #7, or in future issues of Kick-Ass? What do you think of Violencia as a foe for Patience?
Steve Niles: The scary thing about Violencia is he is relentless and seemingly unstoppable. He's formidable. We'll see what happens with him!
DF: Talk about the art of Marcelo Frusin.
Steve Niles: I love it, he's amazing. Loved his work on Hellblazer. He has serious style, high contrast, great facial expressions. When drawing Kick-Ass, you have to be able to take on the fight scenes, which Marcelo does so well.
DF: Steve, what other things are springing from your kinetic keyboard these days?
Steve Niles: I'm keeping pretty busy. Finished Frankenstein Alive! Alive! with Kelley Jones taking on Bernie's final sketches and a full book of that will be out this fall. Been working on my ongoing series October Faction, and writing some new stories for Storm King Productions. Have some news coming down the pipeline, but waiting for the official announcements.
Dynamic Forces would like to thank Steve Niles for taking time out of his busy schedule to answer our questions. Kick-Ass #7 from Image Comics hits stores Sept. 12th!
For more news and up-to-date announcements, join us here at Dynamic Forces, www.dynamicforces.com/htmlfiles/, "LIKE" us on Facebook, www.facebook.com/dynamicforcesinc, and follow us on Twitter, www.twitter.com/dynamicforces.
MARK MILLAR AND JOHN ROMITA'S KICK ASS "ASS KICKING" TRADING CARDS - BOX
KICK-ASS 2 #2 FIRST PRINTING - SIGNED IN BLOOD RED BY TOM PALMER!
ASH AND THE ARMY OF DARKNESS #1 EXCLUSIVE SUBSCRIPTION VARIANT
LOT 13 #1 FIRST PRINTING CGC GRADED 9.8!
ARMY OF DARKNESS: ASH GETS HITCHED TRADE PAPERBACK
ARMY OF DARKNESS #1992.1 EXCLUSIVE SUBSCRIPTION VARIANT COVER
ASH AND THE ARMY OF DARKNESS TPB
---
NEW! 1. 11/25/2020 - STEVE SKROCE
4. 11/16/2020 - RYAN O'SULLIVAN
5. 11/16/2020 - RYAN O'SULLIVAN