JEFF PARKER

SEND THIS TO A FRIEND!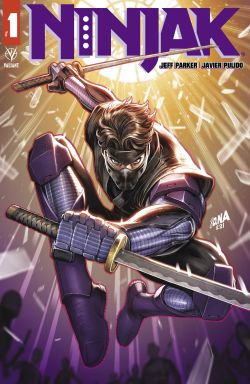 DF Interview: Jeff Parker explores what occurs when you take all the secrets of spies away in 'Ninjak'
By Byron Brewer
Out of the shadows and into the spotlight... the world's greatest superspy has been exposed! Colin King is Ninjak and he has a target on his back like never before. With enemies lurking around every corner, how will Ninjak survive when there's nowhere left to hide and the world is gunning for him?
Hang onto your hats, folks! Jeff Parker and Javier Puildo are about to take you on a non-stop thrill ride. Excited, I jumped aboard the Ninjak bullet train and sat down with scribe Jeff Parker to get the full story on the coming iteration of a Valiant Universe staple.
Byron Brewer: Jeff, as Ninjak returns in this brand new series, tell readers what your take is on the character. What do you like about him up to this point, and what makes your coming iteration different?
Jeff Parker: When the story begins, Ninjak has already left the services of the British secret service, that happened in the previous arc. But in our first issue MI6 gets absolutely annihilated, as far as being a source of covert ops. All their secrets are exposed, including a lot about Ninjak. So I think the reader, and probably Colin King himself, always assumed he'd eventually reconnect, go back in the fold. But we've now made a world where that's not going to happen. And I think there's no way Colin hasn't always defined himself by his origins and career with MI6. This might leave some operatives rudderless, but I think it makes him free to finally figure out who he is, when you take all that away.
BB: When readers, especially past Ninjak fans, pick up this new series, what kind of world will we find ourselves in?
Jeff Parker: One as dangerous as what they're used to, but maybe with an odd infusion of charm. Colin is pretty confident in his survival abilities by this point, and we see that he's not afraid to have a little swagger about it. So there's maybe more humor than before – dark humor, but still very escapist.
BB: What can you tell us about other characters appearing in the first storyline? Are there familiar faces? New additions? Can you introduce a few here?
Jeff Parker: His old boss Neville Alcott has a big role in the story and we get to examine their relationship more. Neville's job has not always kept him on Colin's good side, but he's still the closest thing to an old friend Ninjak has.
Our new character on Ninjak's side is Myna, a "Songbird Class" agent who was sent by MI6 to follow Colin around the world and keep up with his doings. She's not a killer, she's a classic spycraft and reconnaissance agent, of which there are probably many. But when the secrets spill out thanks to the group called DAYLIGHT, she's suddenly a target of the Secret Service's enemies too. Ninjak sees this and starts showing her his more dangerous world, and how one survives in it. Yet she's crucial to the overall battle even if she isn't a Ninja-Programme agent.
BB: And the big-bad(s)?
Jeff Parker: We're going to meet quite a few super-powered killers. In many ways, a lot of this story is Spies Vs. Supervillains. In issue one he's going to run into some mutants that might feel familiar. The main duo behind the group Daylight are much harder to get to, and they're referred to here as Kingmaker and Kingbreaker.
BB: Is there any past stories new readers approaching the title may need to catch up on? How friendly is this for those new readers?
Jeff Parker: If you've read no Ninjak before you'll be fine, and if you've read them all it works too. We didn't want anybody to have to do homework, this is a very welcoming jump-on point for new readers.
BB: Talk about your collaboration with artist Javier Pulido.
Jeff Parker: I love working with Javier! You won't find many artists who think as hard about cool ways to tell a story. We go back and forth a lot to realize scenes, and I think it gives the story a special energy. I hate to keep using 'cool' so much but his storytelling is just incredibly cool. He comes up with inventive ideas for even the smallest bits of action, he really makes use of the medium so you're truly reading comics, not just a movie in comics form. I think this series is going to be notable in his comics legacy. I probably make too much of his approach to composition and panel progression, because the real magic is how he makes you connect to the characters. There's so much charm to the whole cast that he imparts.
BB: Jeff, tell readers about any other projects coming out you may be involved in, inside or outside comics.
Jeff Parker: Another inventive story I'm doing right now is in the upcoming Red Sonja: Black White and Red from Dynamite, and I'm working with phenomenal artist Natalie Nourigat who's a rising star at Disney Animation. I'm not sure which issue that's in but should be soon too. Also if you want to bookmark it, I show off things and have a newsletter at my website, www.jeffparkerwrites.com
Dynamic Forces would like to thank Jeff Parker for taking time out of his busy schedule to answer our questions. Ninjak #1 from Valiant Comics is slated to be on sale July 14th!
For more news and up-to-date announcements, join us here at Dynamic Forces, www.dynamicforces.com/htmlfiles/, "LIKE" us on Facebook, www.facebook.com/dynamicforcesinc, and follow us on Twitter, www.twitter.com/dynamicforces.
RED SONJA: BLACK, WHITE, RED #2- DAVID NAKAYAMA LIMITED VIRGIN COVER
RED SONJA: BLACK, WHITE, RED #2- JONBOY MEYERS LIMITED VIRGIN COVER
RED SONJA: BLACK, WHITE, RED #2 - LUCIO PARRILLO LIMITED VIRGIN COVER
JAMES BOND ORIGIN VOL. 2 HARDCOVER - SIGNED BY JEFF PARKER
BATMAN 66 MEETS WONDER WOMAN 77 #1 SILVER SIGNATURE SERIES SIGNED BY JEFF PARKER!
FLASH GORDON #1 FIRST PRINT SIGNED BY SUPER STAR WRITER JEFF PARKER
BUFFY THE VAMPIRE SLAYER WILLOW WONDERLAND #1 FIRST PRINTING MEGAN LARA VARIANT SIGNED BY JEFF PARKER!
BUFFY THE VAMPIRE SLAYER WILLOW WONDERLAND #1 FIRST PRINTING DAVID MACK COVER SIGNED IN BLOOD RED BY JEFF PARKER!
THUNDERBOLTS #150 - SIGNED BY JEFF PARKER
HULK #29 - SIGNED BY JEFF PARKER!
X-MEN VS. AGENTS OF ATLAS #1 (OF 2) - SIGNED BY JEFF PARKER
---
NEW! 1. 05/24/2023 - DOUG WAGNER
3. 02/10/2022 - SIMON SPURRIER